Stained Glass Jello Recipe – Unique Holiday Dessert for Your Dinner Table
This post may contain affiliate links, view our disclosure policy for details.
Not only will this stained glass Jello recipe (or also known as broken glass Jello recipe) be the talk of your dinner table because it's such a unique holiday dessert but it is also a dessert recipe that you can prep and make before the holidays! Just pull it out of the refrigerator and serve it when you're ready!
Our other really popular holiday dessert recipes are Homemade English Toffee candy and our Turtle Pecan Clusters Recipe.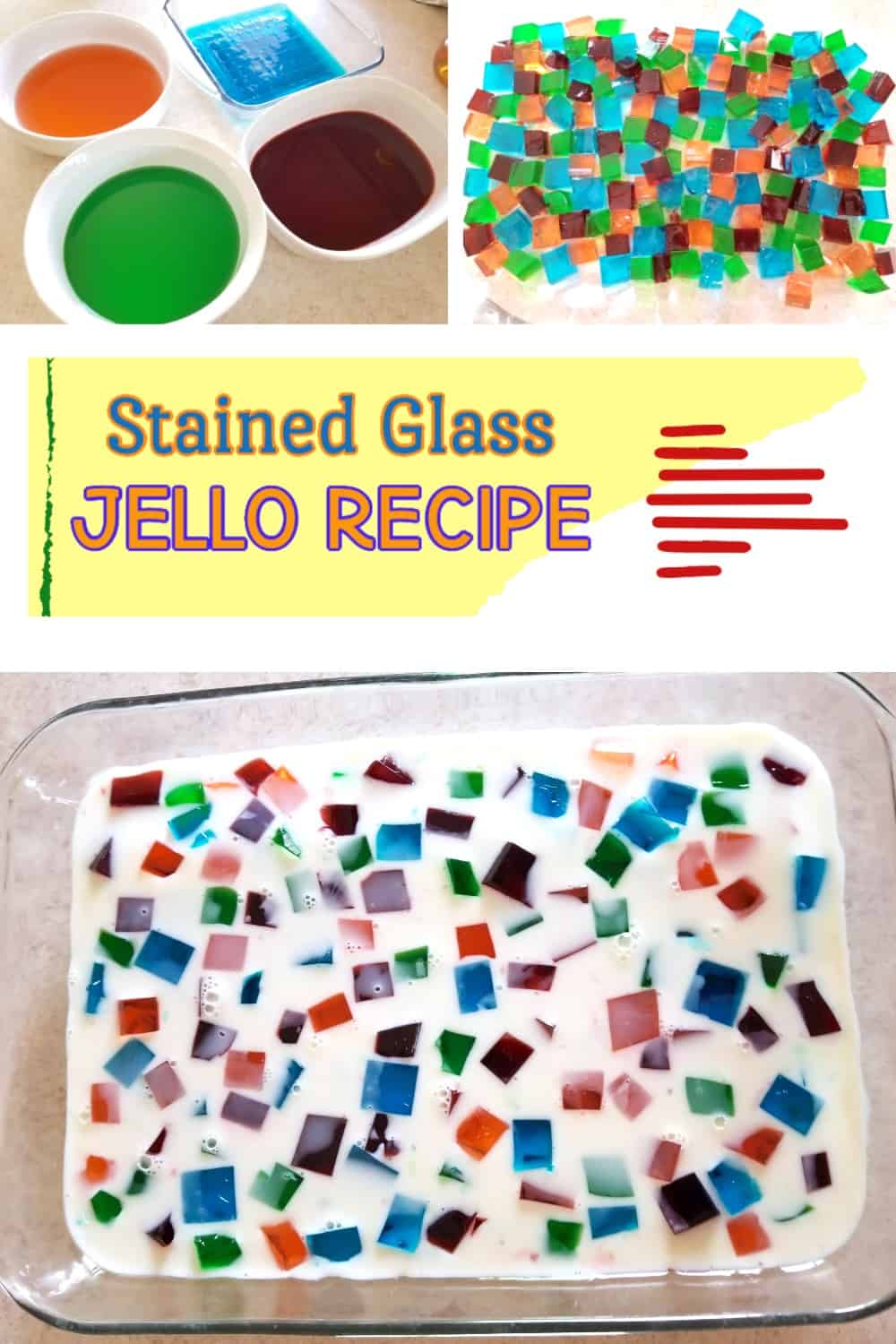 This holiday dessert will absolutely be the talk of the dinner table AND it's SO easy! It does take some time to put together – even though it's simple – so I do recommend making this over a two day period. This is a fun thing to make with the kids too!
They can help dissolve the gelatin and even cut the Jello cubes! (wonder how it tastes? Notes below on feedback from friends & family!)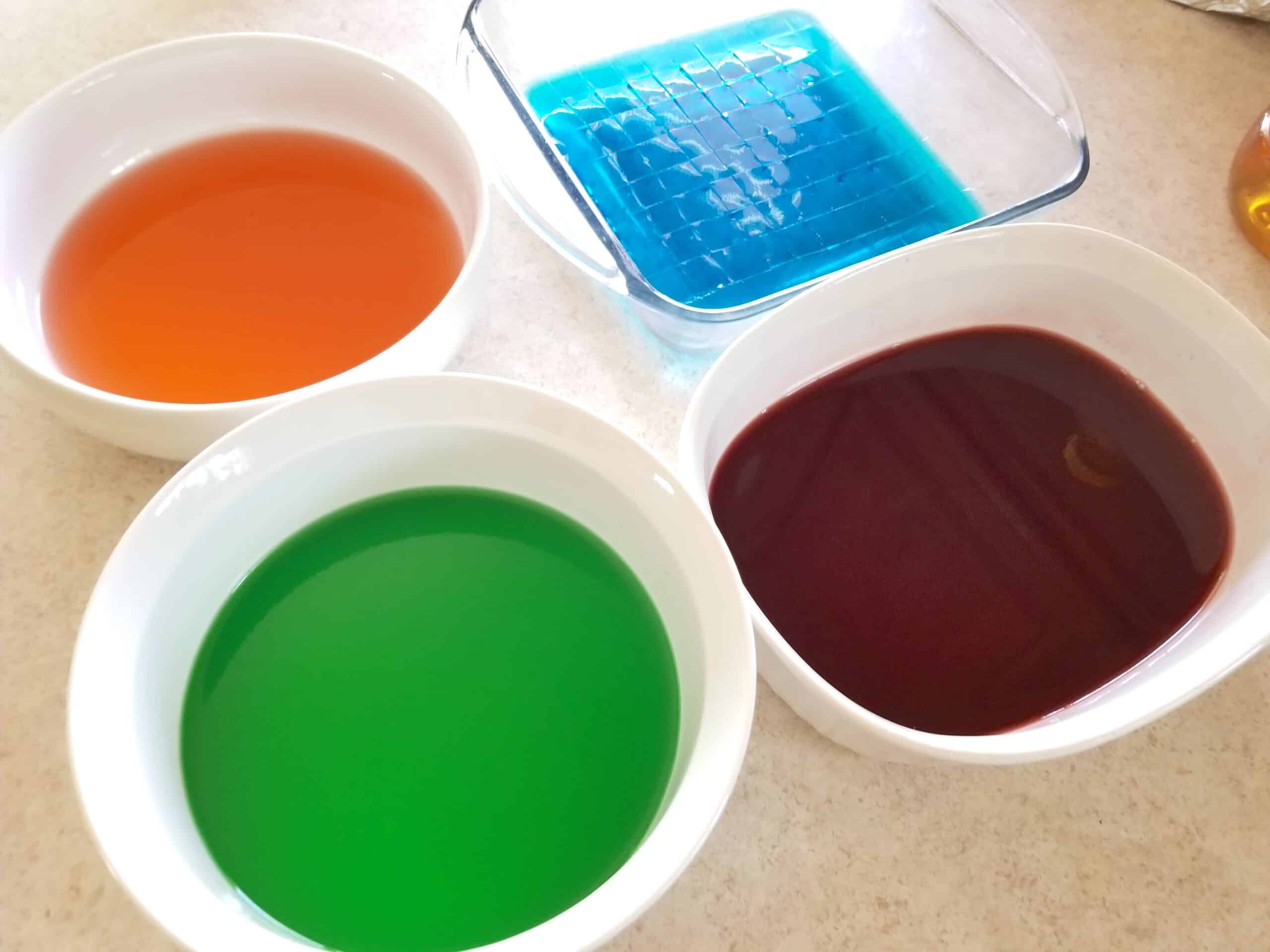 Pour each color of Jello into a separate dish and refrigerate until firm. Follow the directions on the box to make "jigglers" which is a more solid form of jello and works easiest with this stained glass jello recipe!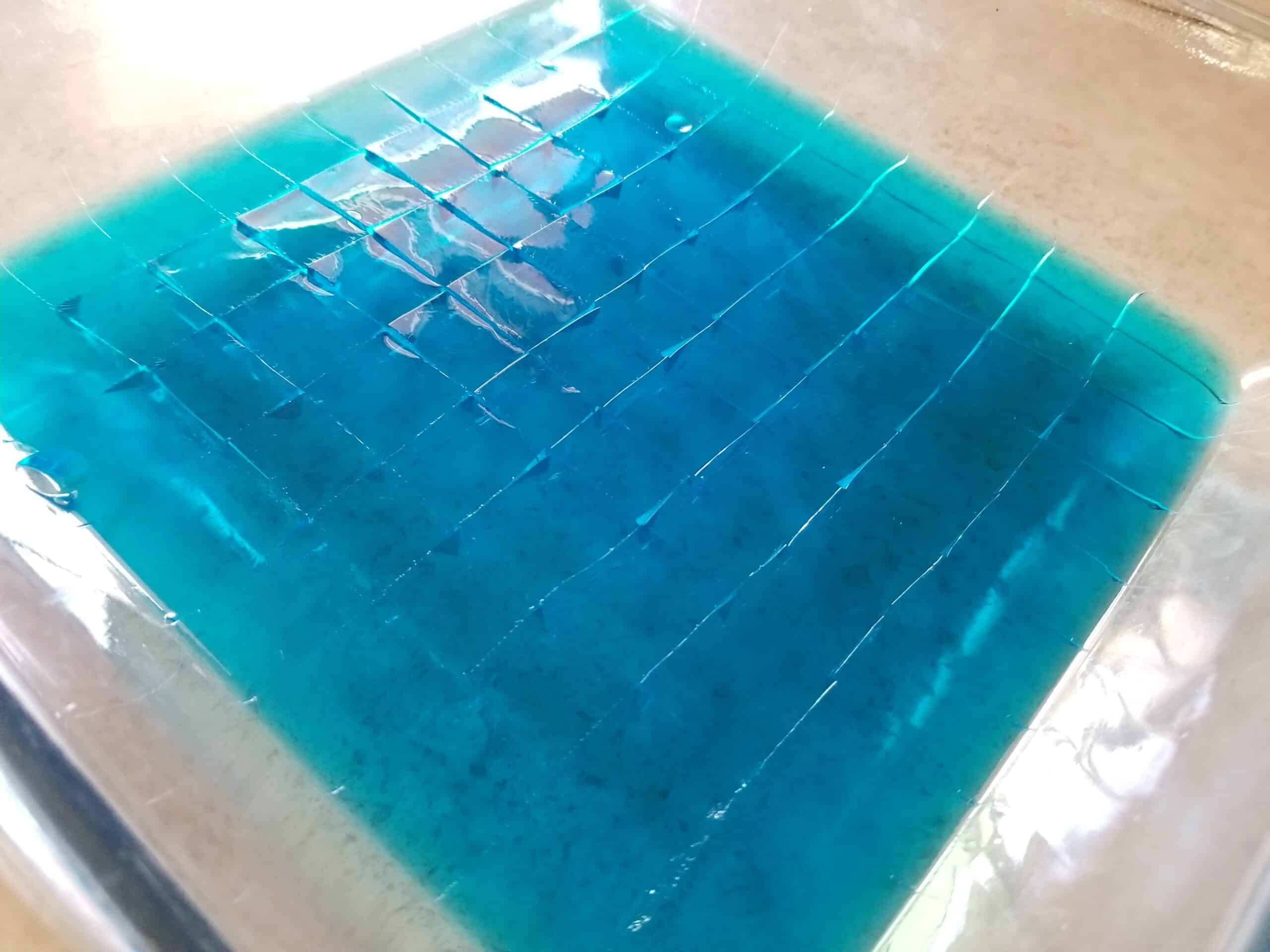 Once the Jello is firm cut each dish into small cubes. Don't worry if they aren't perfectly even – just cut the cubes the best you can! It doesn't matter if they are different sizes or even cut straight.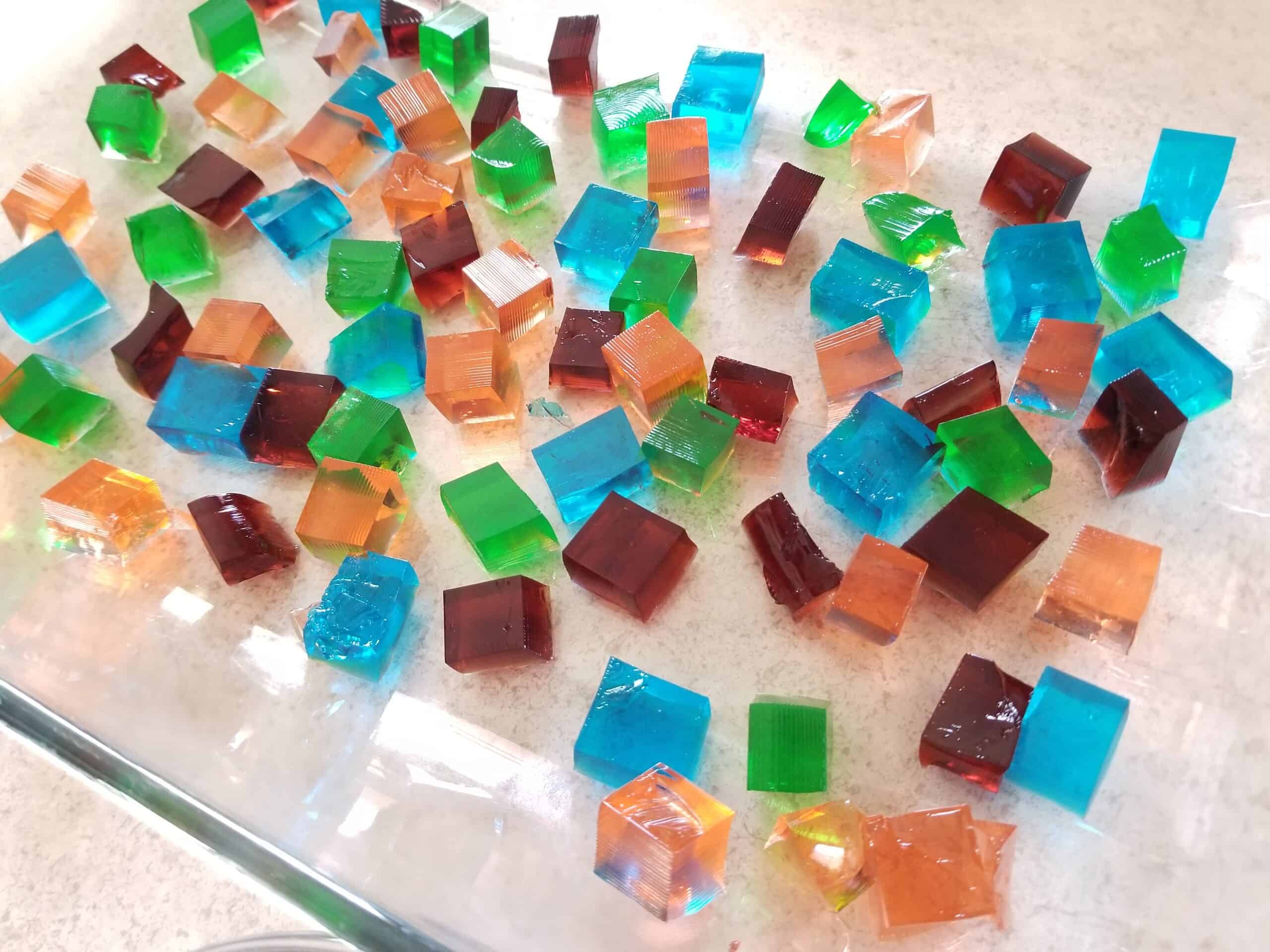 Once all of your four colors of Jello have been cut into squares, pour them all into a 9×13 clear baking dish. The first time I made this recipe I tried to make everything even and sit nice in the dish – it was a huge waste of time! Literally just dump all of the Jello cubes in the dish!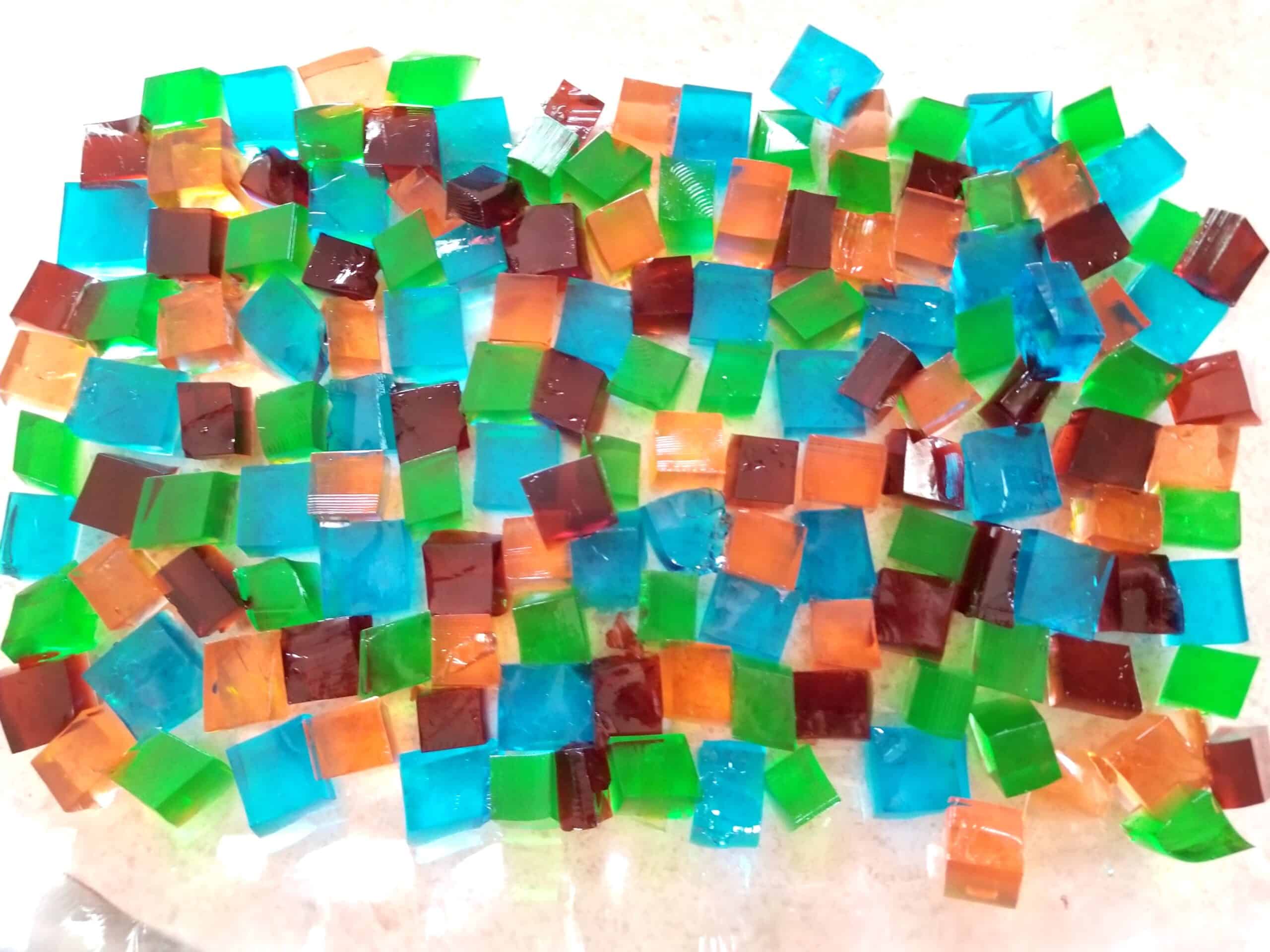 You'll have a huge pile. Remember you made four boxes of Jello – just heap it up in the dish and push them around so they are generally around the same height. It definitely does not need to be perfect.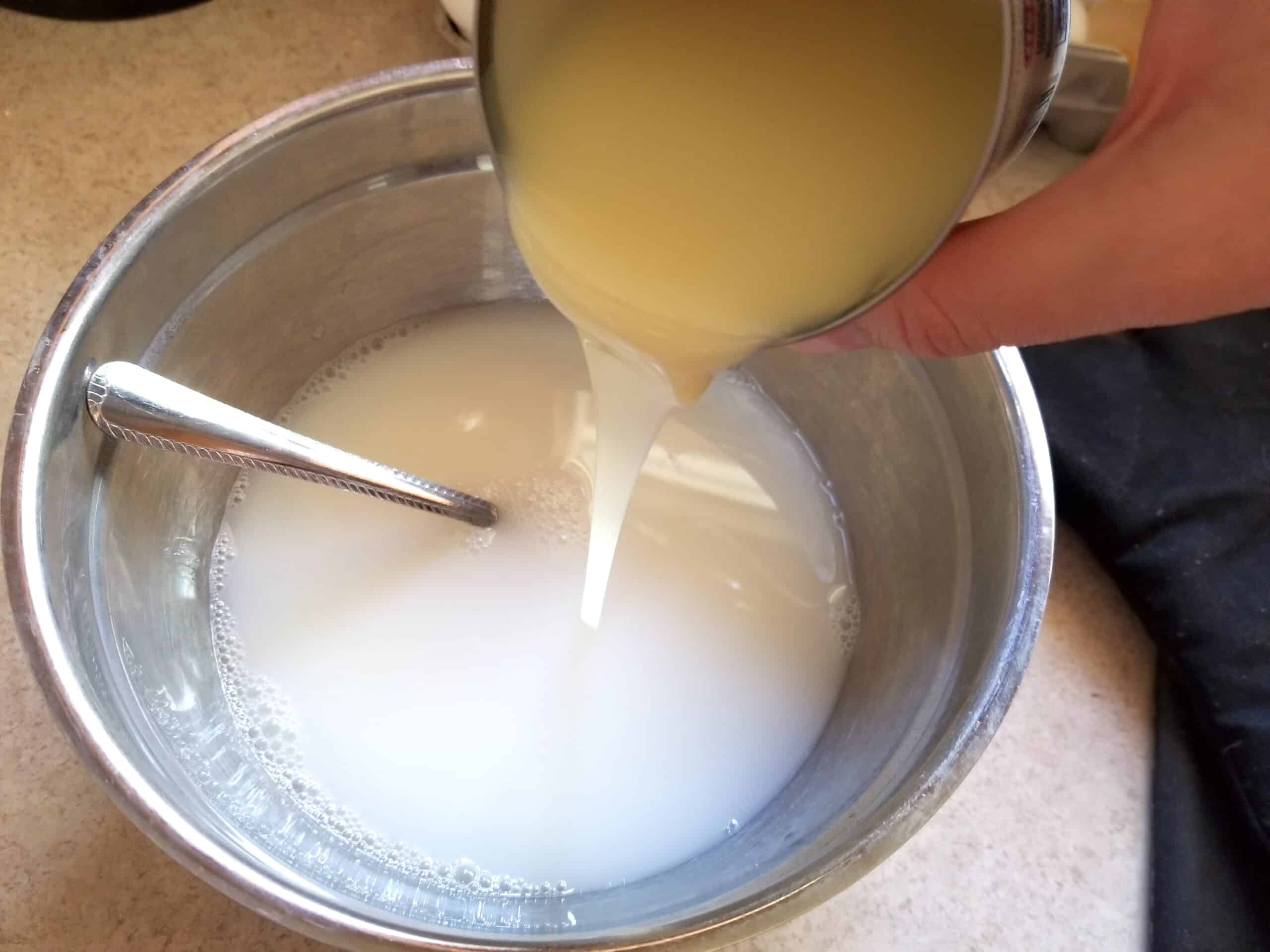 Now it's time to make the white gelatin to hold it all together! Dissolve your unflavored gelatin in hot water in a separate bowl. Let cool a bit to room temperature then stir in the condensed milk. Let cool completely.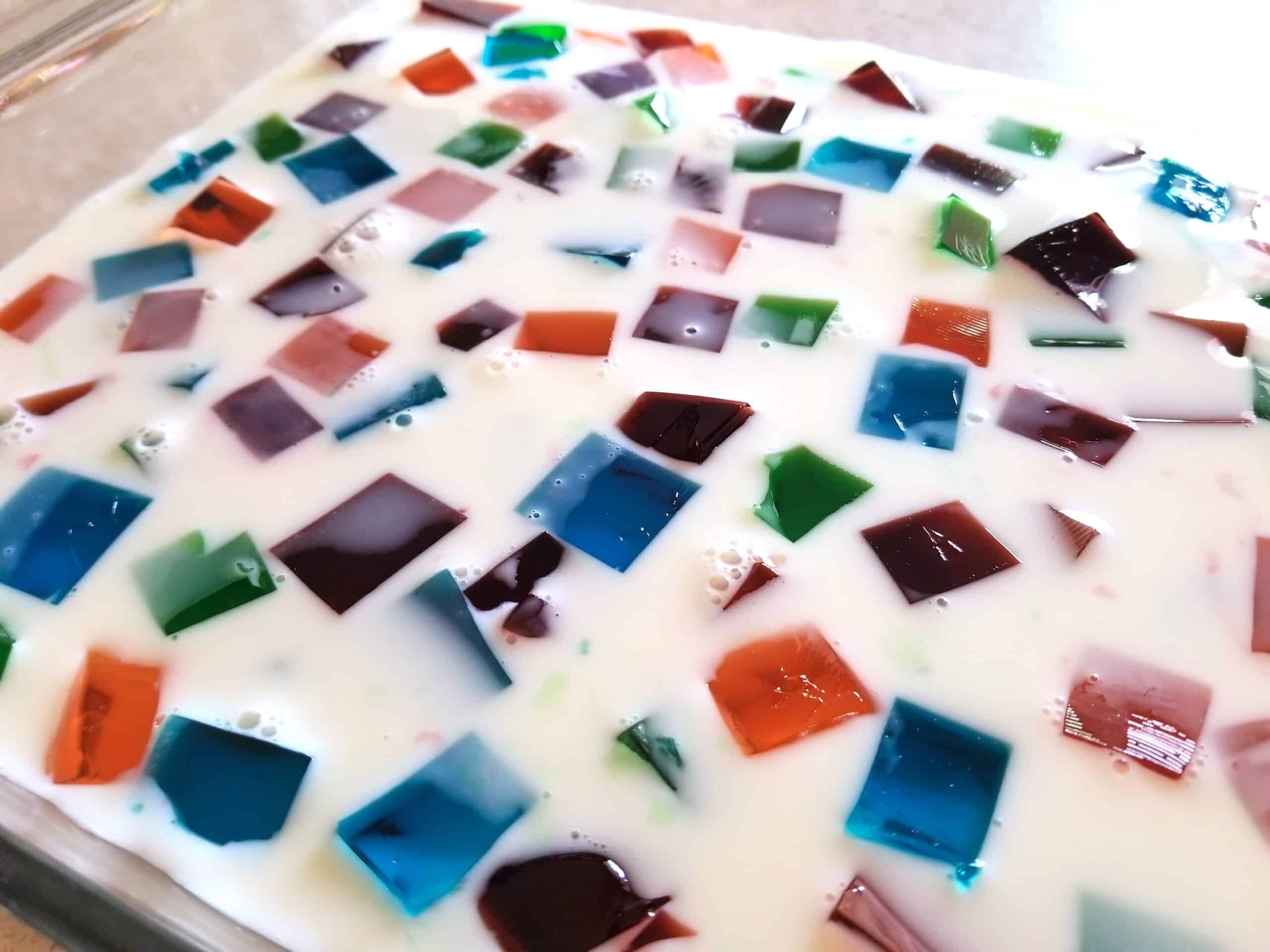 If the condensed milk mixture is too hot it can cause "bleeding" of the other Jello colors so you want it to be as cool as possible, but not so cool that it starts solidifying! You can see above that my mixture must have been a tiny bit warm because there was a very small amount of color leeching.
Once it's completely cool pour it into your prepared dish of Jello cubes.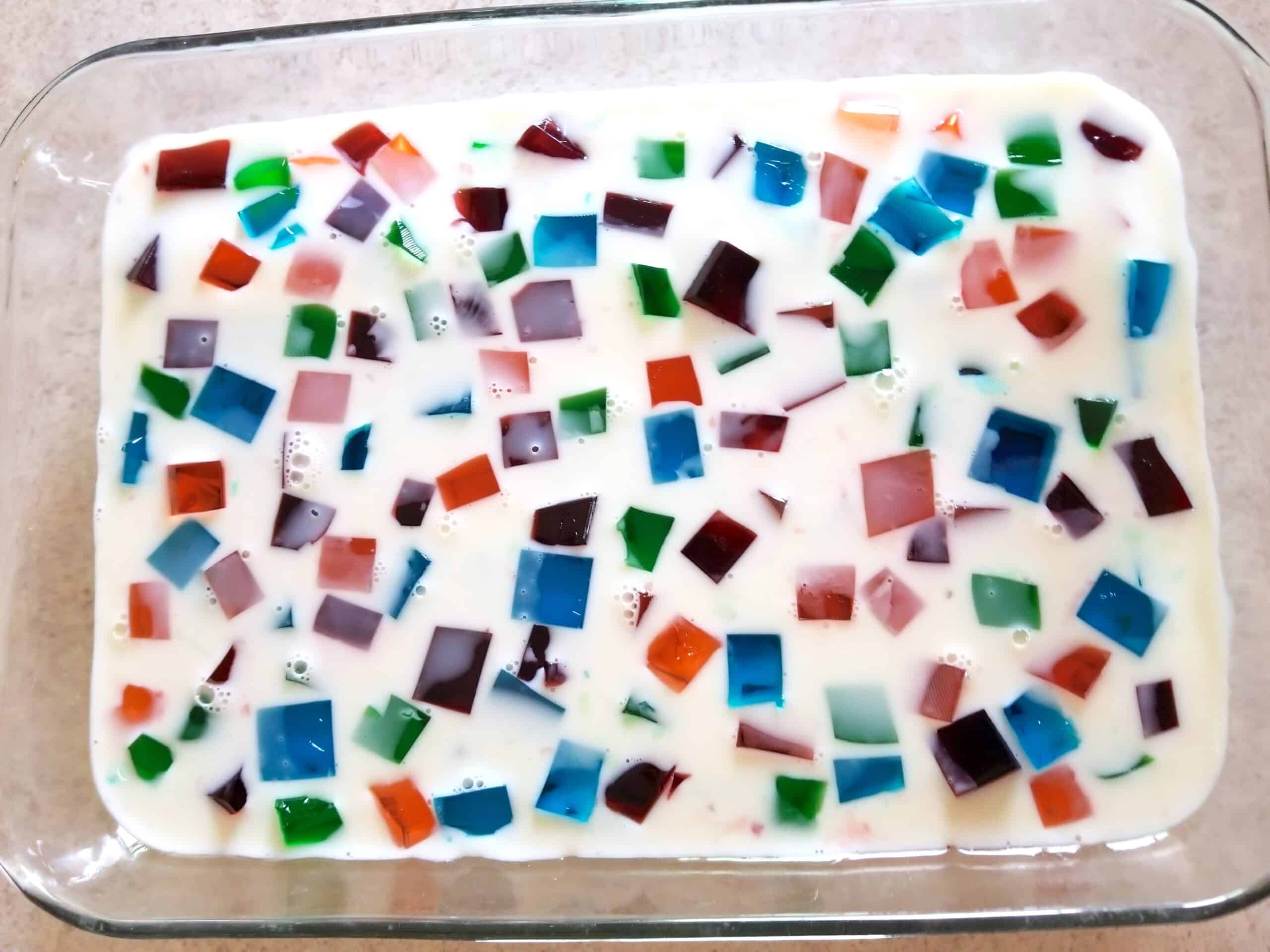 As you pour the milk gelatin mix over the Jello cubes you'll see it fill in all of the spaces and even bubble up a little like you see above – don't worry. Just place it in the fridge overnight to set it! You can make this up to two days ahead of time which is awesome for holiday meal prep!
Just pull it out, cut it into squares and serve it when you're ready! It's always a HUGE hit at our holiday meals!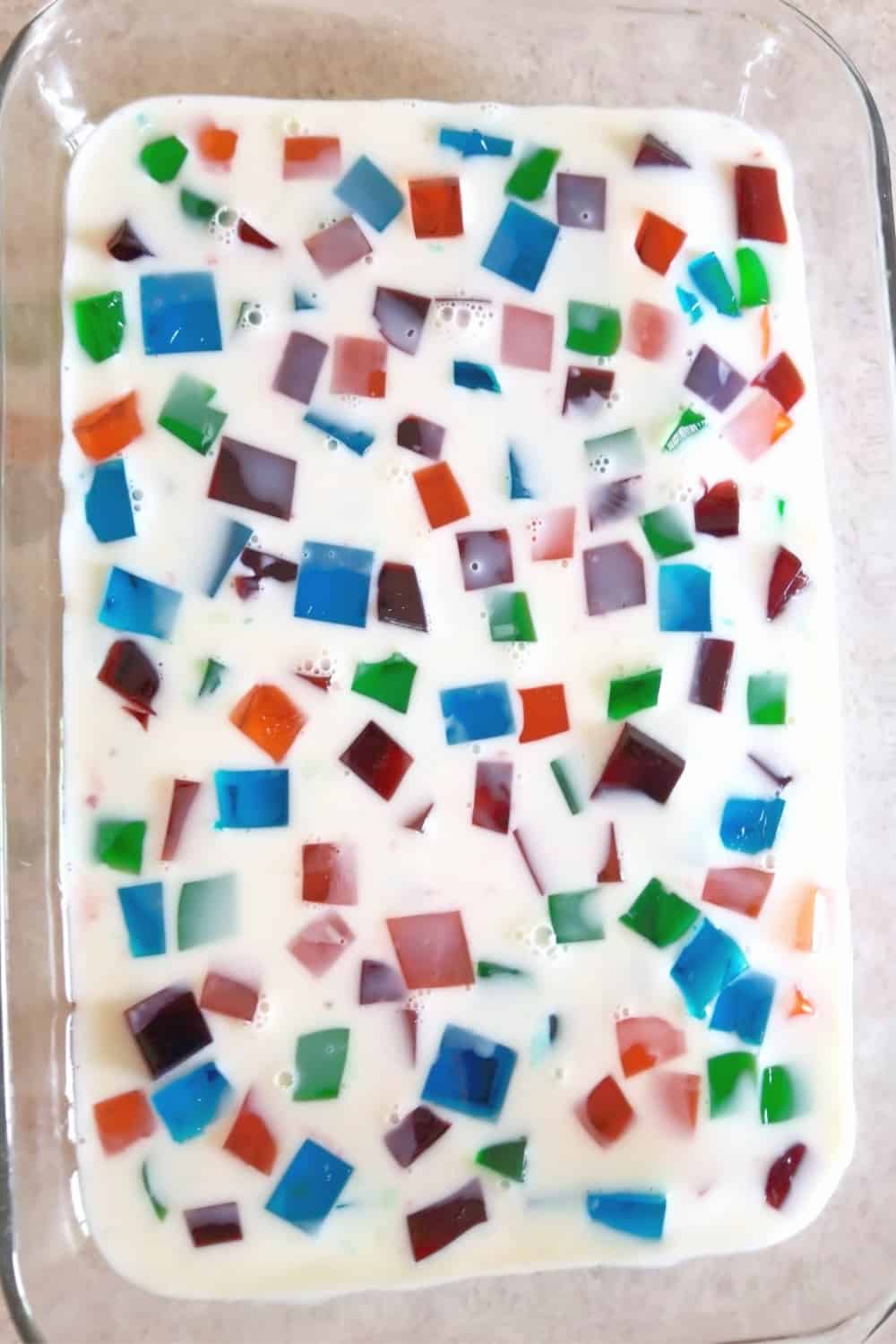 For those curious the white color doesn't taste like much, just a little sweet. It's the colored Jello that everyone likes best! So you can even modify it if you want a pack those colored cubes in there so there is less white gelatin but it's really personal preference.
Do you have a spin off of this recipe that you love to do? Let us know in the comments below!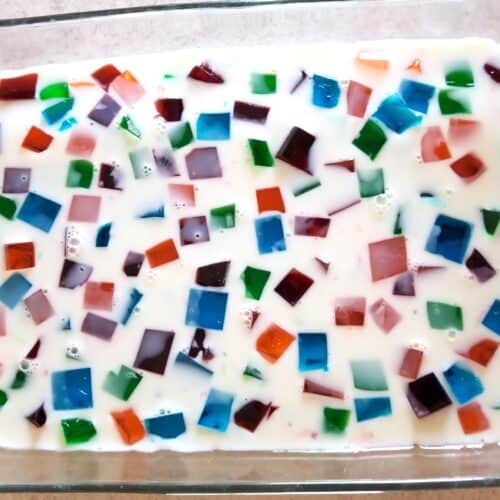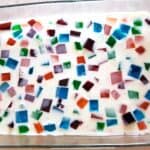 Stained Glass Jello
Easy Unique Holiday Dessert Recipe
Ingredients
4

boxes

Jello

each box a different color

1

can (14 oz)

sweetened condensed milk

2

packets

unflavored Knox gelatin

2

cups

boiling water
Instructions
Make each colored box of Jello as per "Jigglers" instructions on box. One color per dish.

Place all 4 Jello dishes in fridge till set firm.

Cut each Jello dish into small cubes then dump all into a 9×13 dish.

In separate bowl dissolve unflavored gelatin in 2 cups boiling water.

Cool, then stir in sweetened condensed milk.

Cool completely then pour over Jello cubes.

Set in fridge overnight or until firm.

Cut in squares and serve.