How to Make Wild Dandelion Honey Recipe – Foraging Edible Flowers
This post may contain affiliate links, view our disclosure policy for details.
The last few years I've become very interested in edible flowers and plants (including mushrooms!) and spent much of the summer learning how to process edible flowers in my own backyard! Below is a DELICIOUS tutorial on how to make wild dandelion honey recipe! At the bottom of the post you can print out our recipe!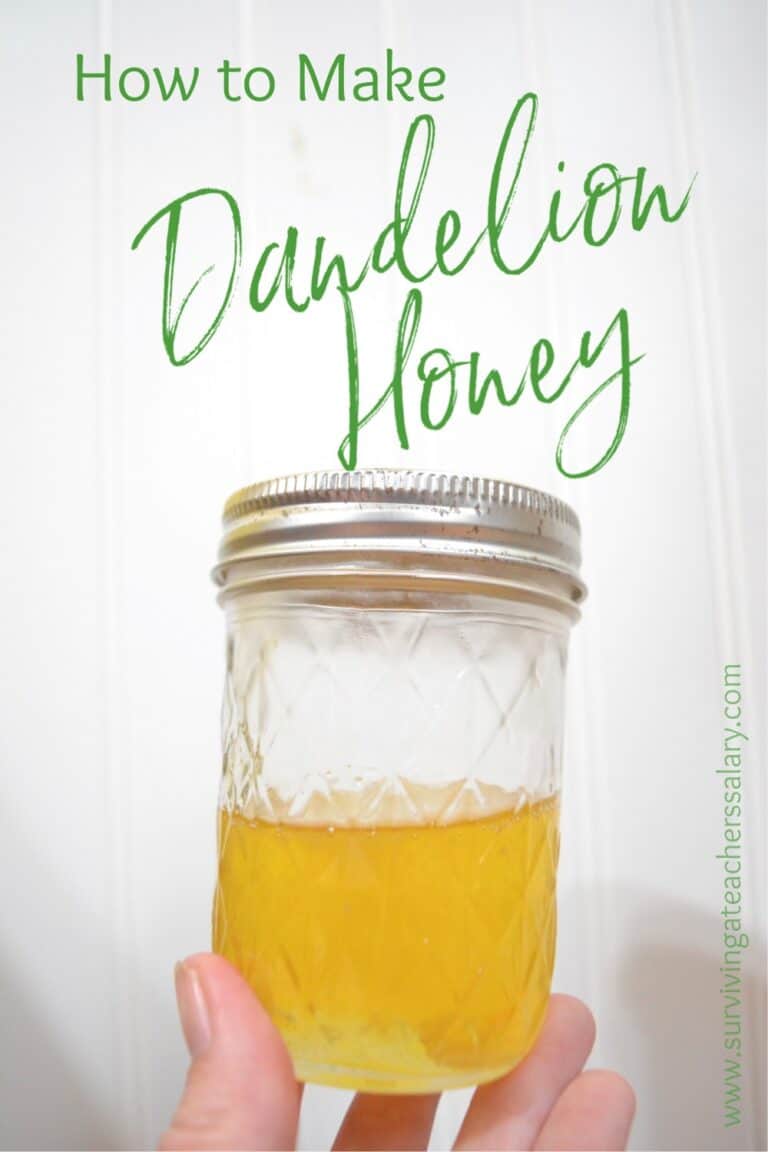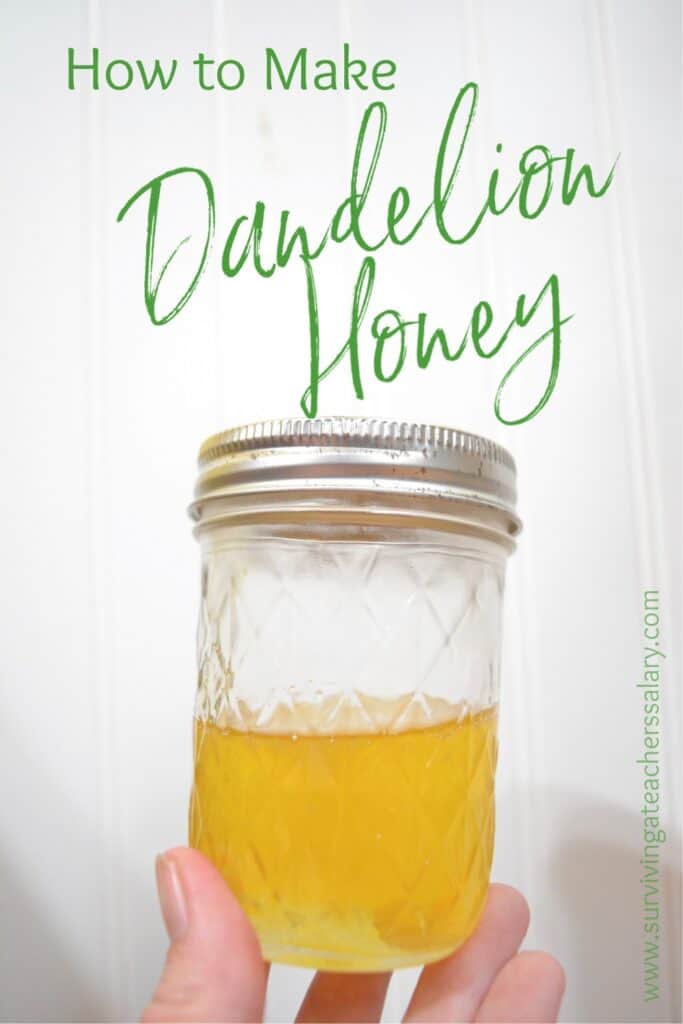 Most people groan when they look at dandelions popping up in their yard, but I see free food! Not only can you add dandelion greens in your salads, and use dandelion root for tea or as a coffee alternative, but you can even eat the dandelion flower!
It's SO incredibly easy to make this wild dandelion honey, and there's no need to get stung by bees or have an expensive bee box to make delicious honey.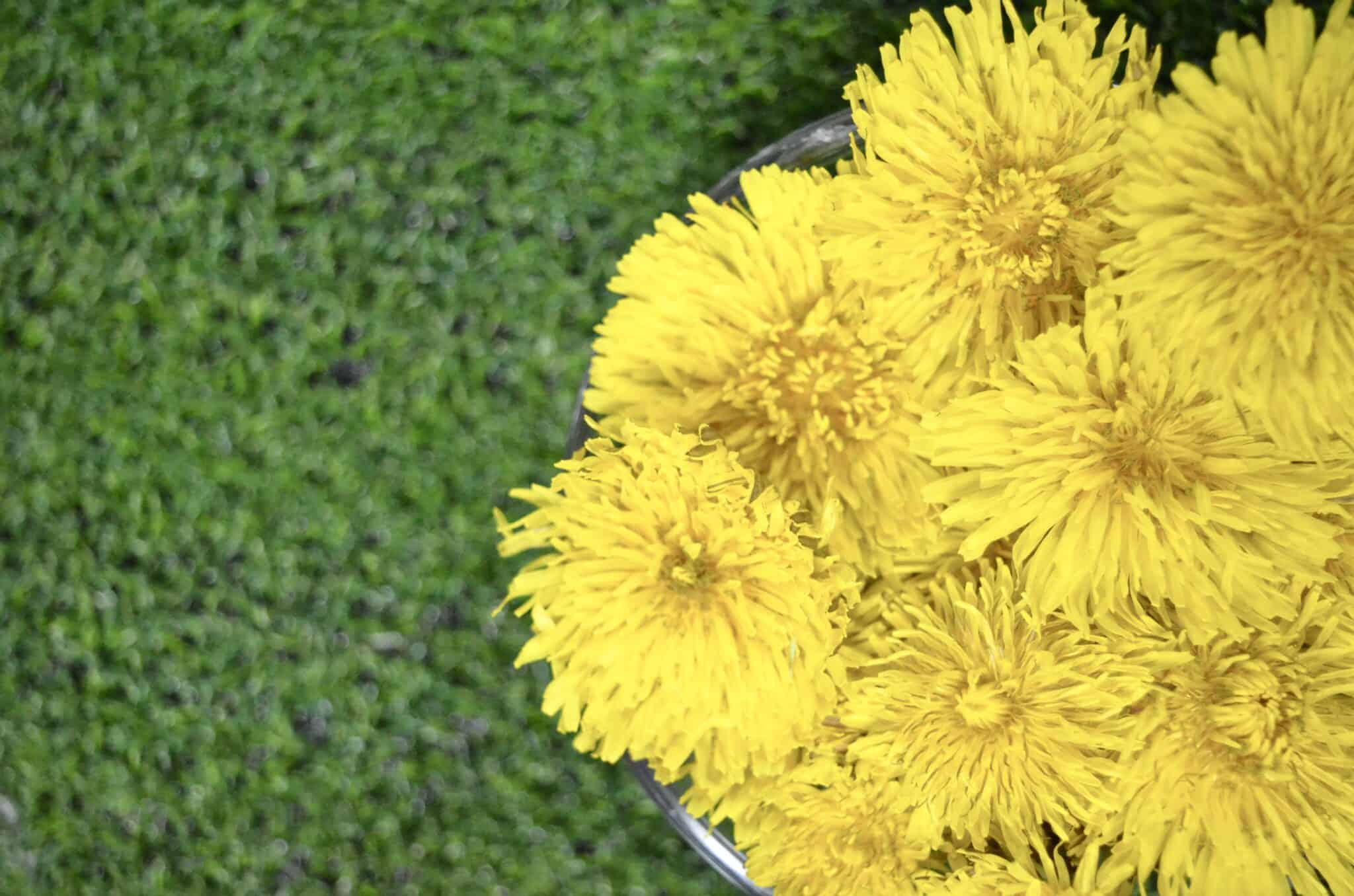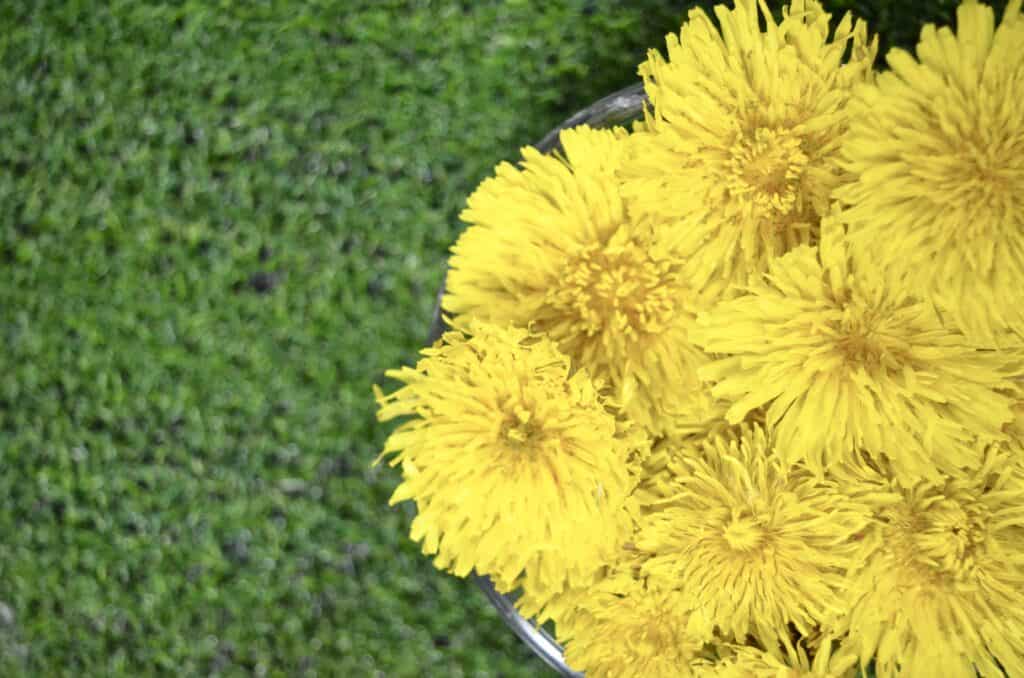 When I first heard about dandelion honey I had extreme doubts that you could make anything remotely like honey just by using dandelion flowers. But WOW! This dandelion honey blew my taste buds right out of the water! It's got a similar consistency and sweetness!
**A word of CAUTION – NEVER forage for dandelions (or anything for that matter) in yards that have been exposed to pesticides of any kind. If you're unsure, err on the side of caution and do not forage there.
How to Make Wild Dandelion Honey:
Follow our step by step tutorial below and see how easy it is to make wild dandelion honey! It takes some time but it's absolutely worth it! If you try it make sure to come back and leave us a comment and let us know how your dandelion honey turned out! Nothing better than fresh food from the outdoors! It's much cheaper too!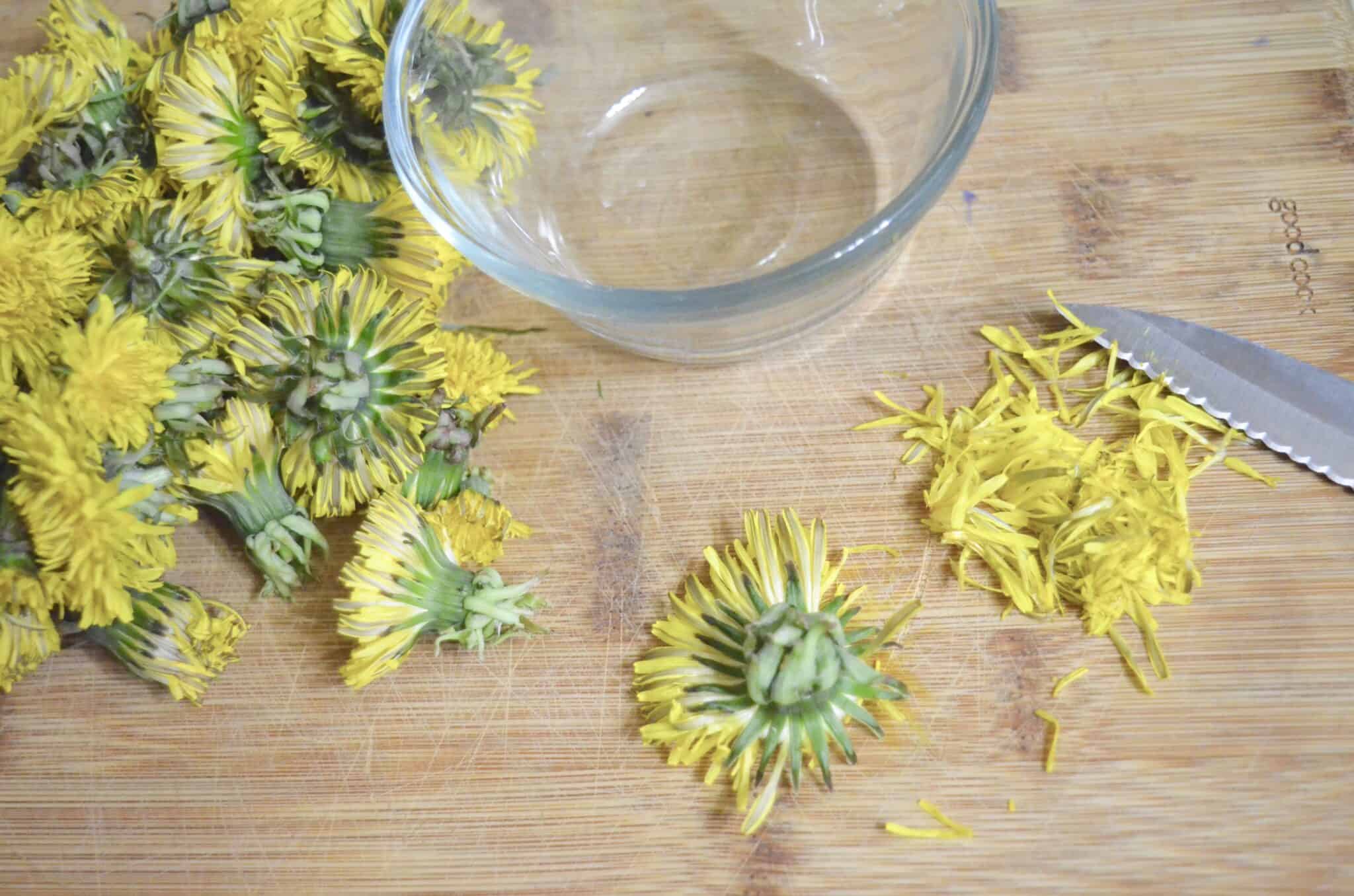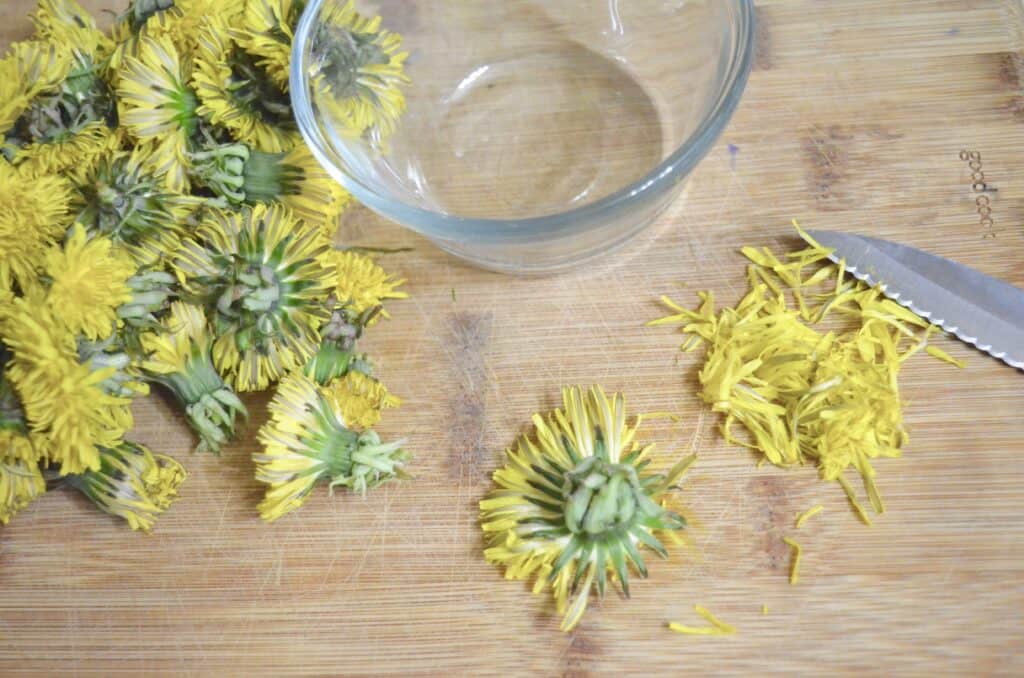 Remove the yellow flower petals from your dandelion flowers. You can do this easily by chopping the green stems off of your dandelions, then placing the flower head upside down onto a cutting board like you see above. This will allow you to easily remove as much of the yellow flower petals as possible. Then just run a sharp knife over the yellow flower petals and separate!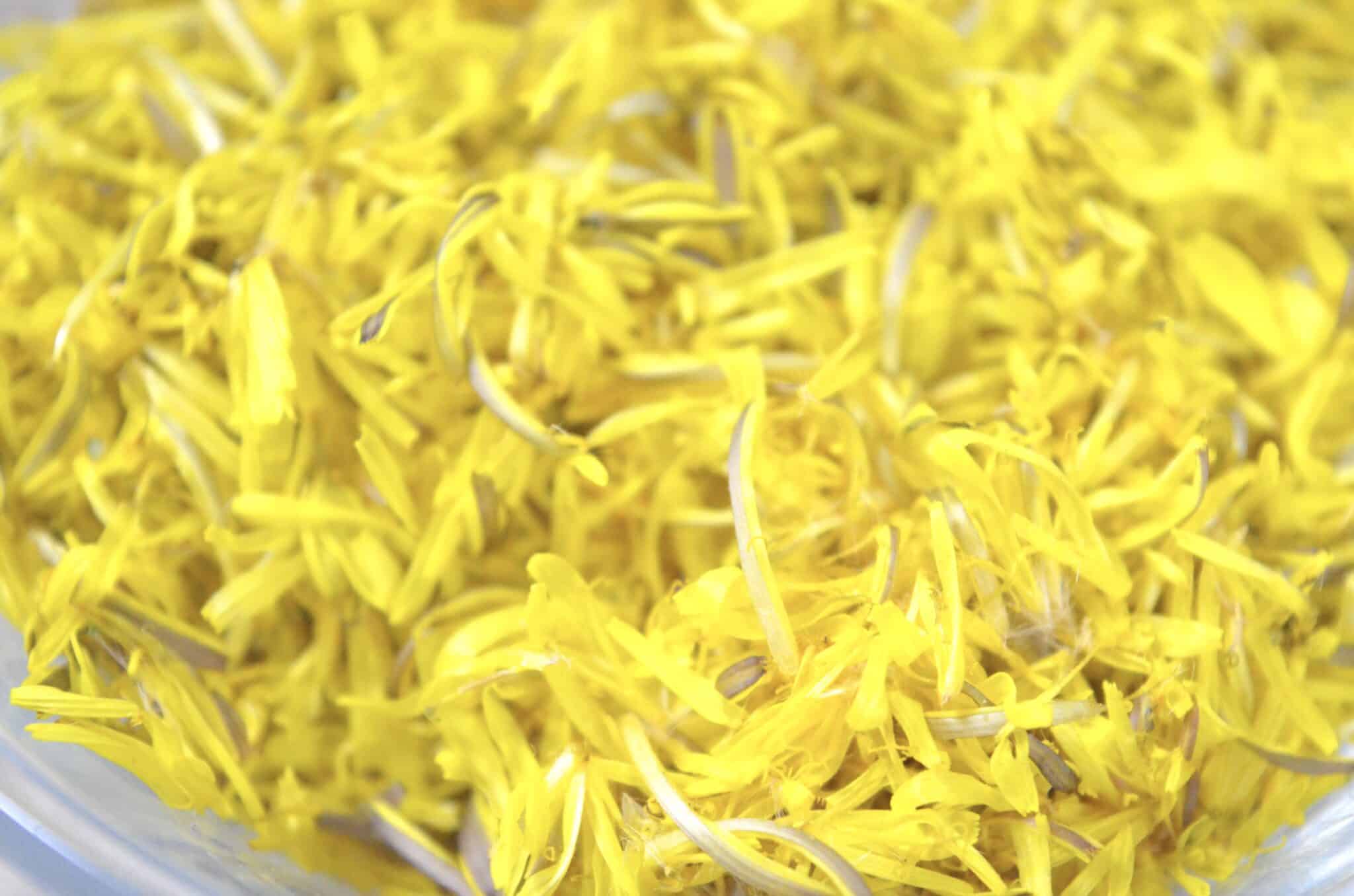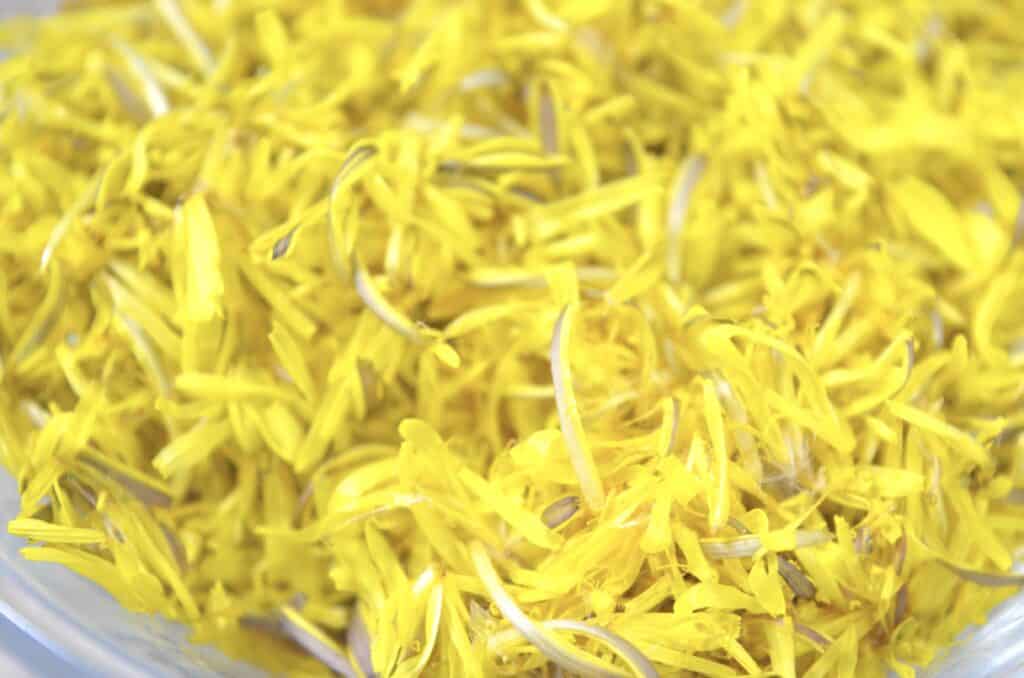 2. Add the dandelion petals, plus 1 cup of water for every cup of petals you've removed, into a cooking pot.
3. Add half of a lemon slice for every cup of water into your pot. Lemon goes a long way here so if you want your honey less citrus flavored add less lemon in. The lemon acts as a preservative, however, so you do need to keep the lemon in your honey unless you plan on consuming it immediately. Trial and error will help you determine how strong you want your lemon flavor to be!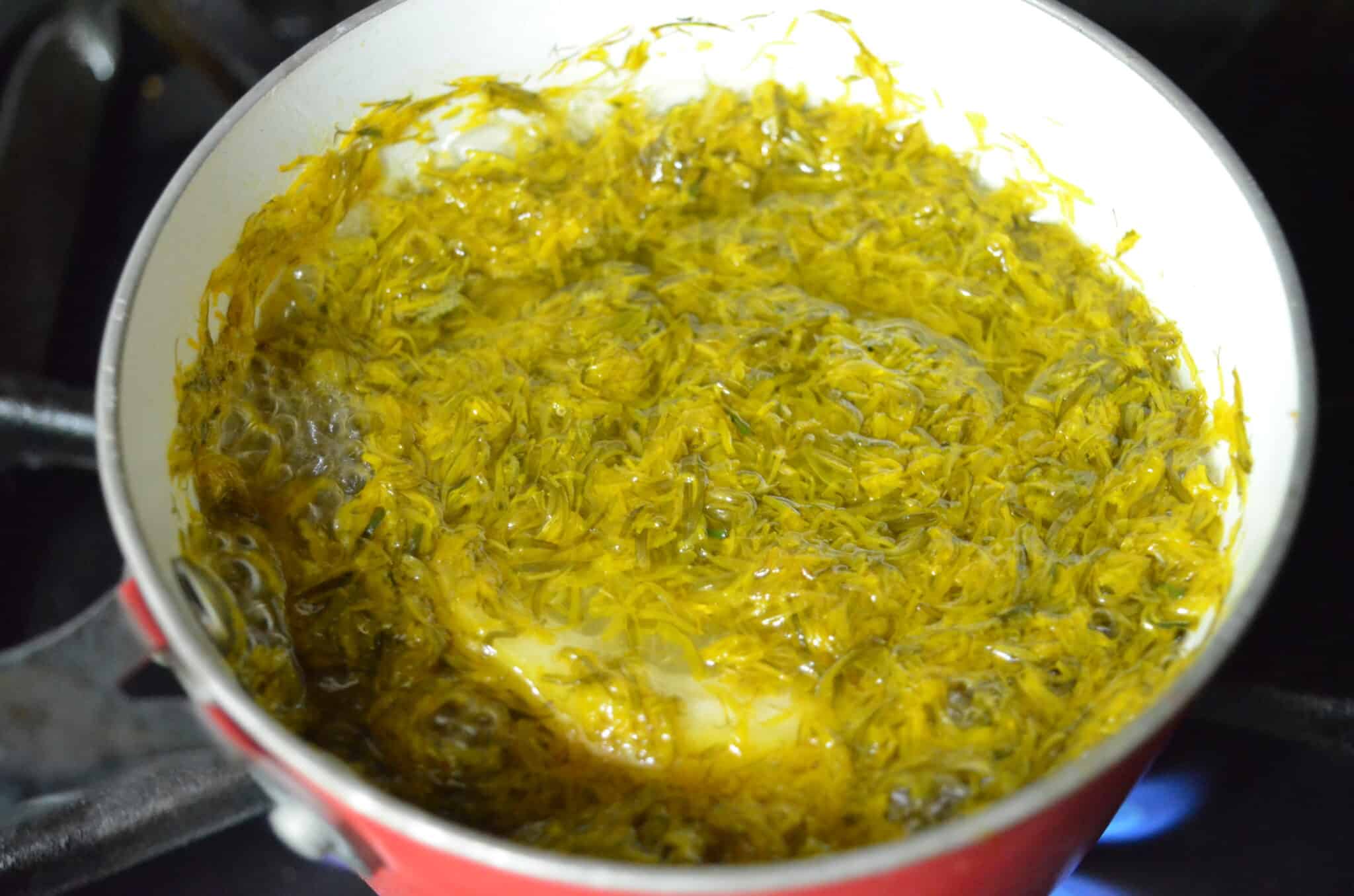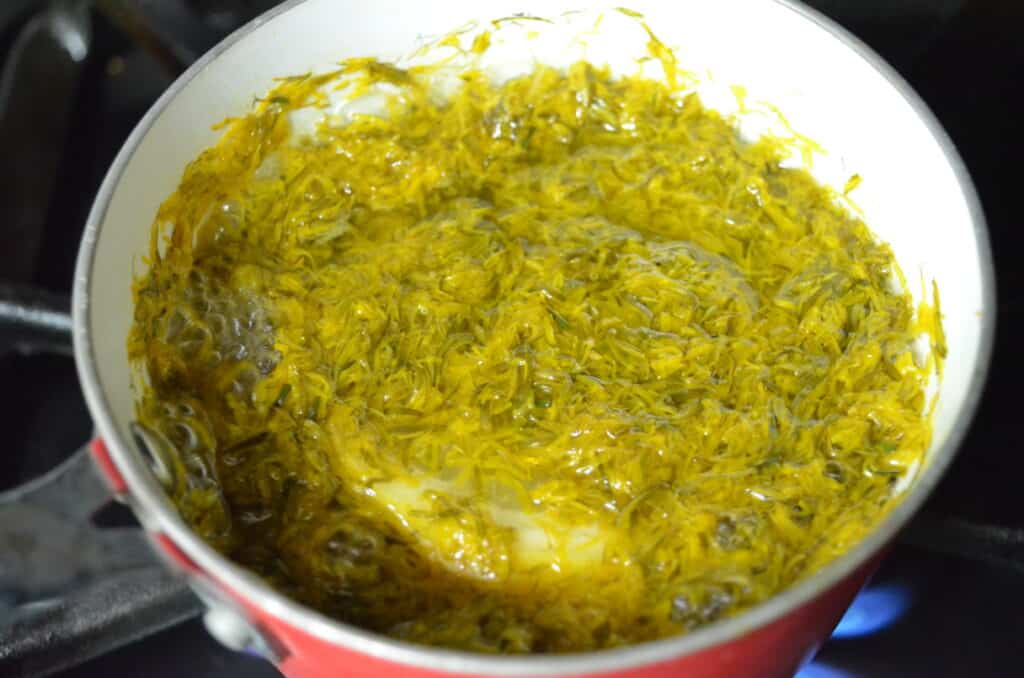 4. Boil the dandelion honey mixture for 30 minutes on your stovetop. Then steep your mixture on low for 6 hours. Don't worry – it will look weird and chunky and gloppy like you see in my photo above. Keep going!
5. Drain your dandelion honey mixture through a cheesecloth or small strainer to remove the dandelion petals.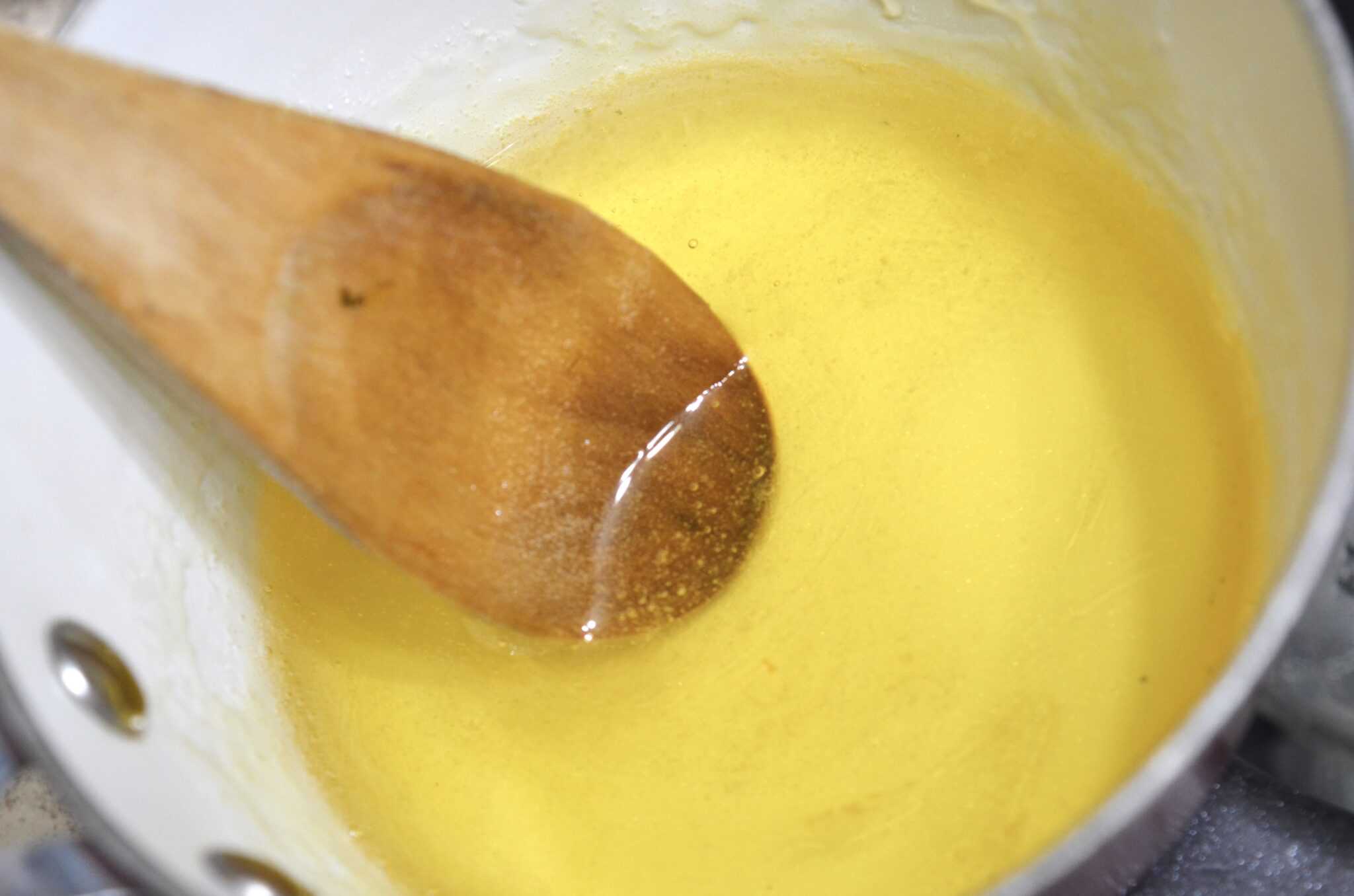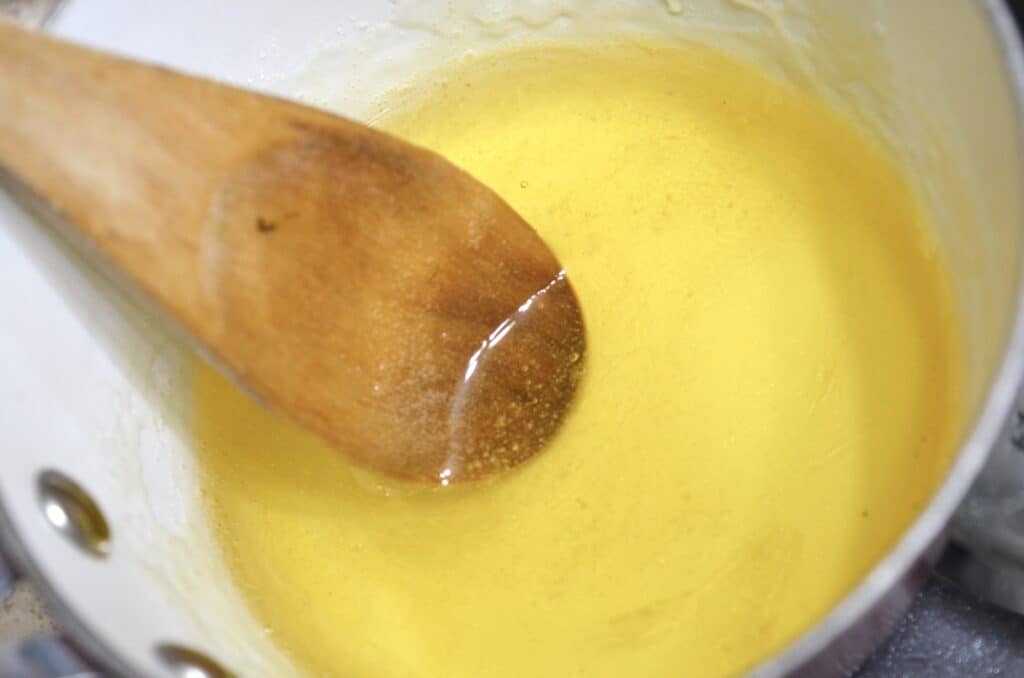 6. Lastly, boil your remaining dandelion honey mixture and simmer while slowly adding 1/2 cup of sugar for every cup of dandelion petals you've added. You will begin to notice the mixture thickening slightly. As it cools it will become quite thick like honey. Once it has cooled down it is safe to taste!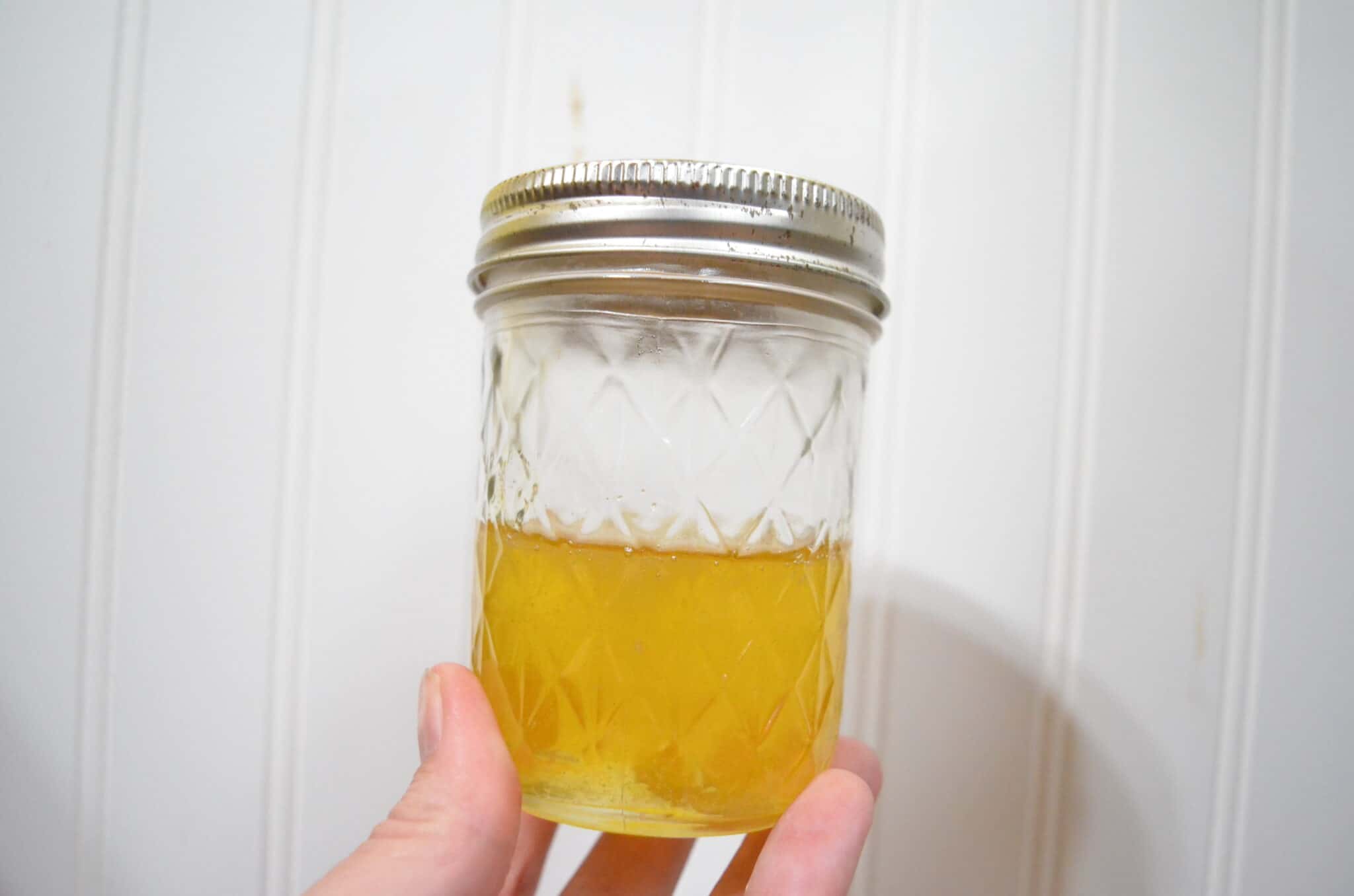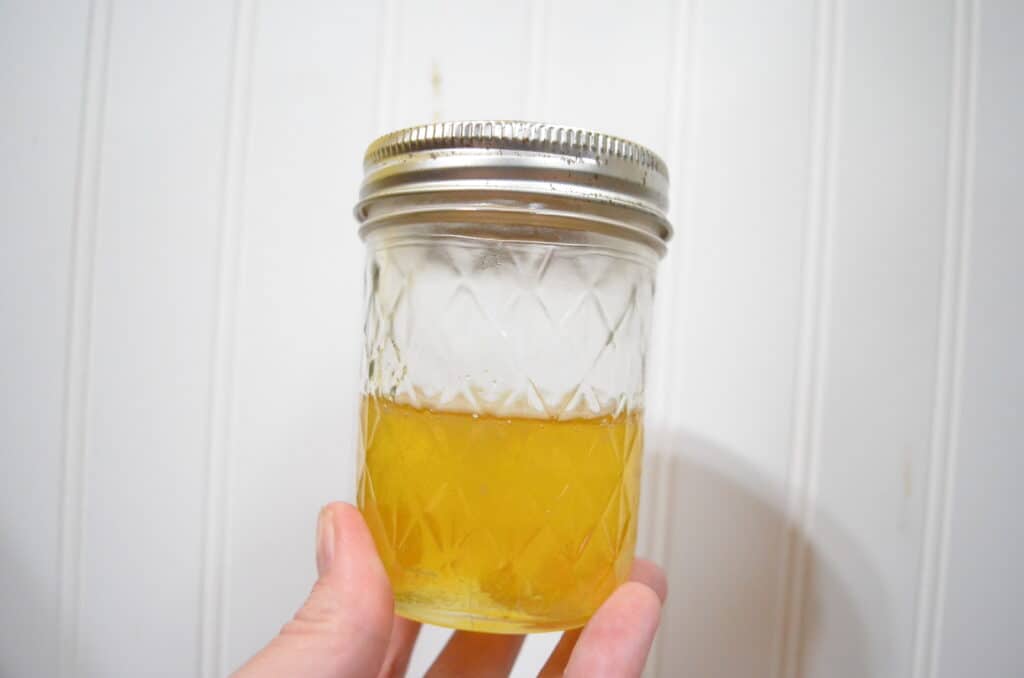 Congratulations! You've finished your batch of dandelion honey! I started off with a very small batch my first time – about a half pint of dandelion honey. I used a one quart sauce pan which was perfect for cooking this small of a batch. You can even use your extra dandelions to start a nature journal!
I can't remember how many dandelion flowers I actually had to start with, I just filled a colander full of dandelion weeds and began measuring out flower petals. If you find that you have harvested too many dandelions you can simply dry them for use in fresh tea! I store both my dried dandelion flowers and my fresh dandelion honey (kept in the refrigerator) in mason jars.
Yield: 1/2 pint
How to Make Wild Dandelion Honey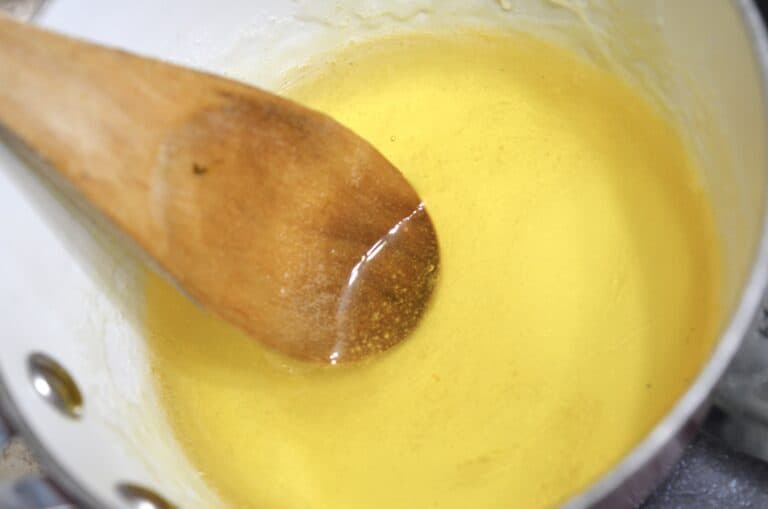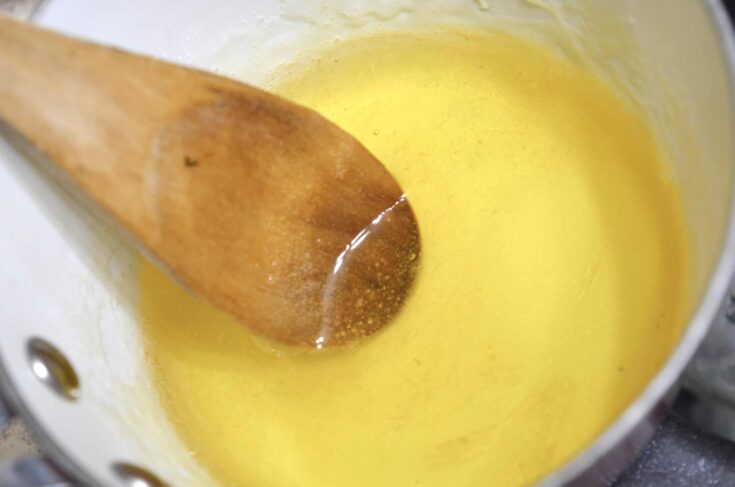 Recipe tutorial on how to make wild dandelion honey.
Cook Time
6 hours
30 minutes
Total Time
6 hours
50 minutes
Ingredients
1 cup of dandelion petals
1 cup of water
1/2 slice of lemon
1/2 cup of sugar
1 quart saucepan
Instructions
1. Remove yellow flower petals from your dandelion flowers.
2. Add dandelion petals and water into a one quart saucepan.
3. Add lemon.
4. Boil mixture for 30 minutes.
5. Steep mixture for 6 hours.
6. Drain mixture through cheesecloth or strainer.
7. Boil then simmer remaining mixture while slowly adding sugar.
8. Cool and store in mason jar in the refrigerator.
Recommended Products
As an Amazon Associate and member of other affiliate programs, I earn from qualifying purchases.
Nutrition Information:
Serving Size:
1 Tbsp.
Amount Per Serving:
Calories:

29
Carbohydrates:

7g
Nutrition information may vary based on ingredients and amounts.