PERFECT Home & Classroom Solution – Swiffer Sweep & Trap
This post may contain affiliate links, view our disclosure policy for details.
This is a sponsored post for SheSpeaks/Swiffer. All opinions are my own.
I HATE using a broom….did I say HATE!? I'm probably just lazy, I know, but I hate having to sweep and then get a dust bin to collect everything off the floor. Not only because my back hurts with too much bending down but my kids and animals just run through the my dirt piles while I'm cleaning!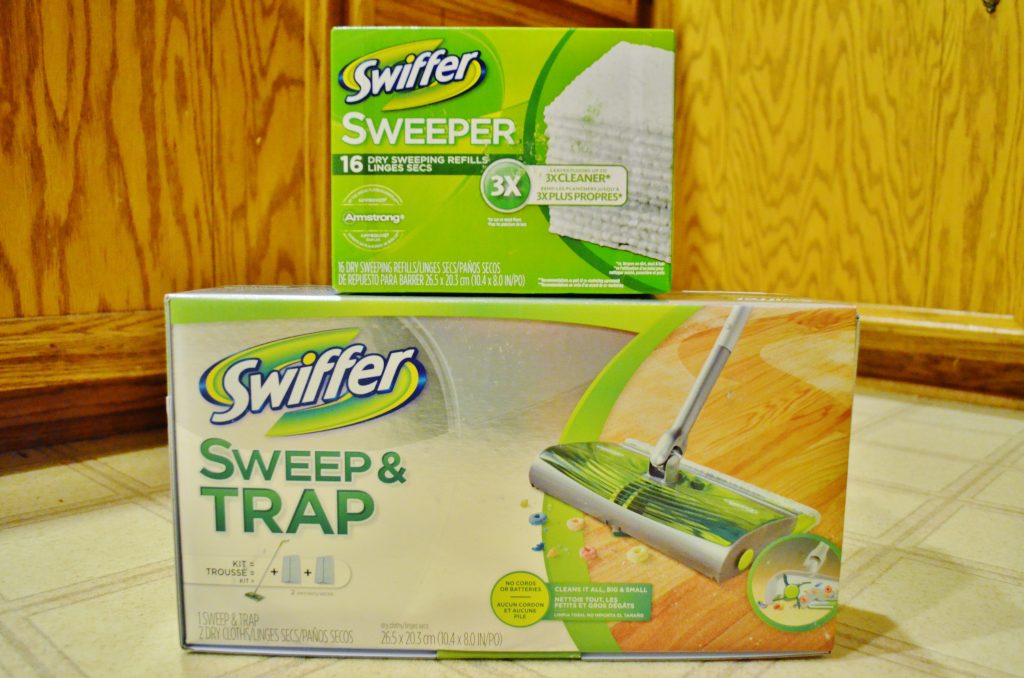 I was pretty intrigued when Swiffer offered to send me their new Sweep & Trap
because to be honest, I just couldn't imagine it would work that well. Although if it DID work I could see this as being a MUST have in the classroom!
I mean, my husband LOVES the traditional Swiffer with the little cleaning cloth but I'm not a huge fan of it because I STILL have to get the broom and dust pan out for the piles. And we ALL know how gnarly the floors can look at the end of the day with kids at home or in a classroom and the mess they leave on the floors….just so we know they were there!
Looking for an EASIER solution to sweeping? I highly recommend the EyeVac or Roomba!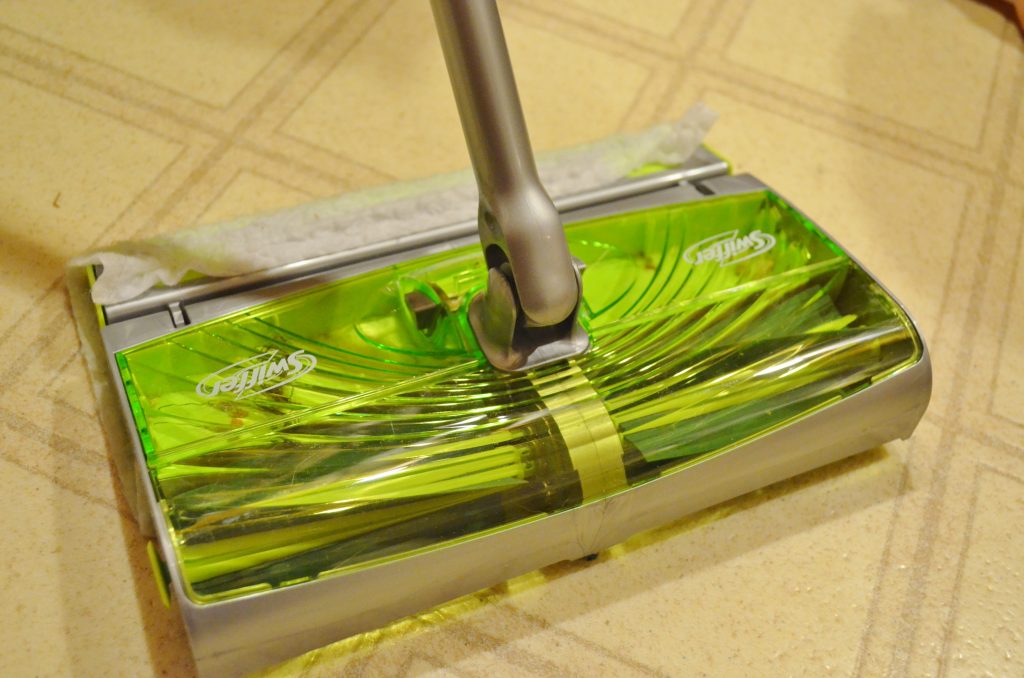 The Sweep & Trap came in a small box which was kind of surprising and it literally couldn't be easier to put together. You just put all the rods inside the next one and voila – it was completed! Underneath the "head" you attach a Swiffer cleaning cloth to help get those tiny particles but everything else is supposed to be picked up by the rubber "sweeper" the pushes it into the cleaning bin.
If you look closely at the photo above you can see some junk through the opaque green cover. That entire green piece easily comes right off and you can dump the contents into the trash.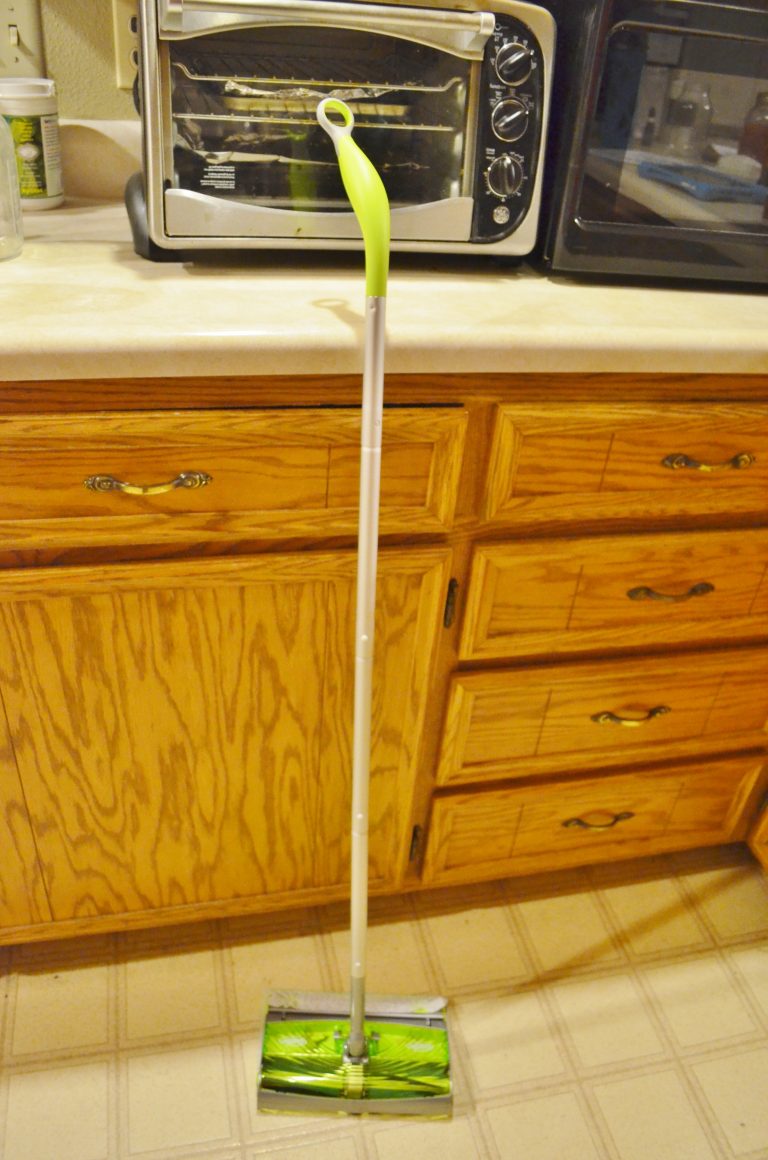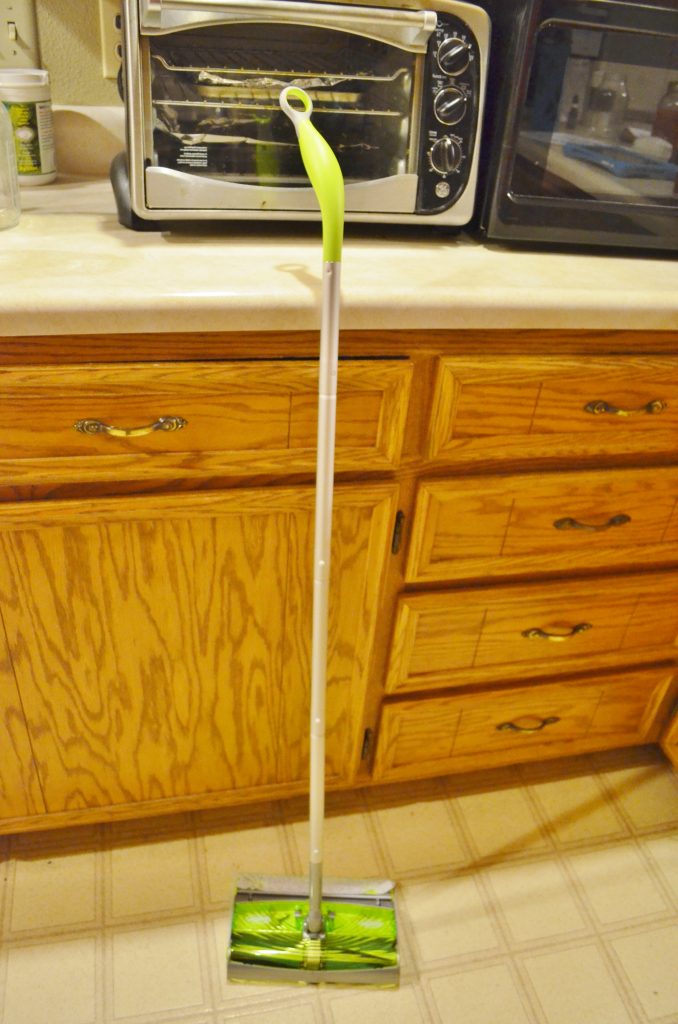 OK, so, realistically this is year another broom type sweeper item to clean your hard floors with – DOES IT REALLY WORK? When Swiffer sent me the set they also sent me a little baggy of wood chips and a baggy of screws and bolts to toss on the floor and "sweep" up.
Um, OK – I expected some of it to be picked up but the little pieces to stay on the floor.
SO I took a video of how it works, and how it worked, AND yes, I even dumped a container of PENCIL SHAVINGS on the floor because….well, that is one of the most annoying messes to clean in a classroom!
Check it out:
Overall I really liked the Swiffer Sweep & Trap. I mean, obviously there will be something that doesn't perfectly get picked up into the container trap and I haven't had this long so I'm not sure what a long term use will look like but it doesn't a pretty stinking good job.
I was pretty impressed with it. My kids LOVE using it which means I have less cleaning to do and it certainly is handy to use. You can't roll the sweeper backwards over a pile like you might a vacuum but the end does swivel very nicely so you can pretty easily turn the end around to come back through your dirt pile.