EyeVac Touchless Vacuum System Review = Less Back Pain!
This post may contain affiliate links, view our disclosure policy for details.
I received the product below to review. No monetary compensation was received.
Look at this futuristic EyeVac Touchless Vacuum system!

One thing I have struggled with my entire life is back pain – yes, even when I was just a few years old! It wasn't easy growing up having to quit gymnastics and tae kwon do because my back hurt so bad that I was reduced to tears in elementary school. It still stinks as an adult but I don't have time to slow down or slack off when it comes to cleaning!
I can't believe I've lived so long without my EyeVac Touchless Vacuum! You literally just sweep all the crud over to the front of the machine and it sucks it all up for you! This thing is a life saver! I've had SO many people over that absolutely fall in love with my EyeVac! It has helped me keep my floors cleaner just because it's so darn convenient.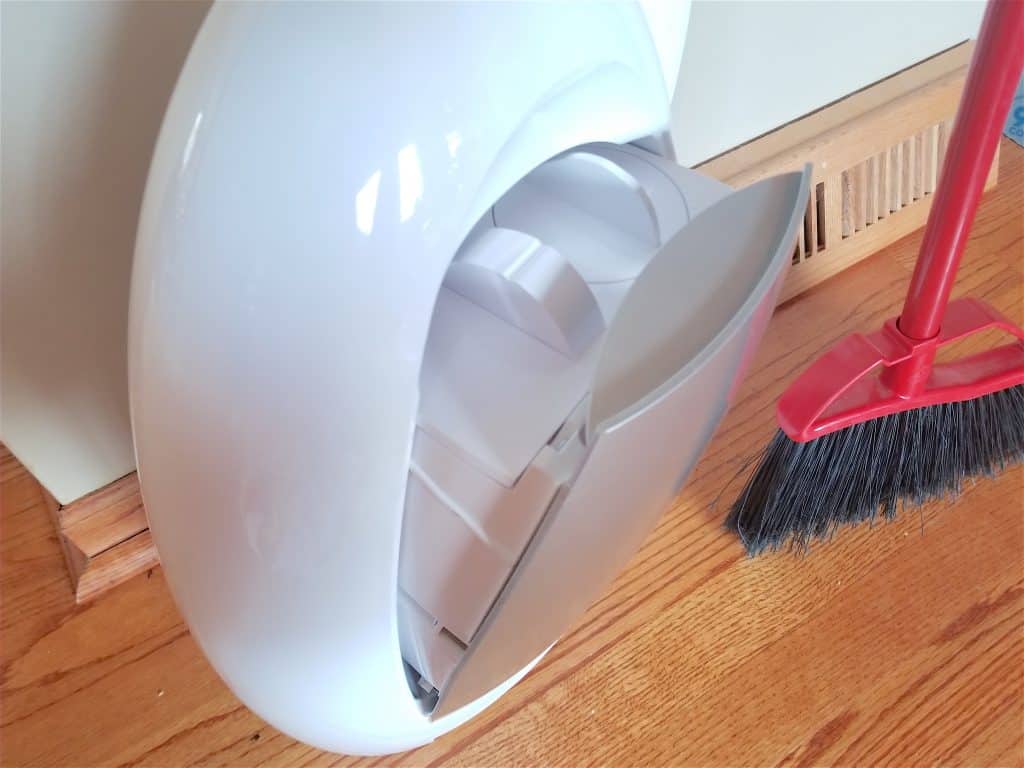 A few years ago we acquired a robotic vacuum cleaner which I thought would help my back pain but it doesn't hold much dirt and inevitably it always gets stuck somewhere on our carpeted areas. It just couldn't keep up with our busy family. I was always having to dig out the random pencil, necklace, etc.
I hated lugging out a big vacuum cleaner and sweeping was ok until I had to bend down a zillion times to use the dust pan. I felt like I just couldn't win.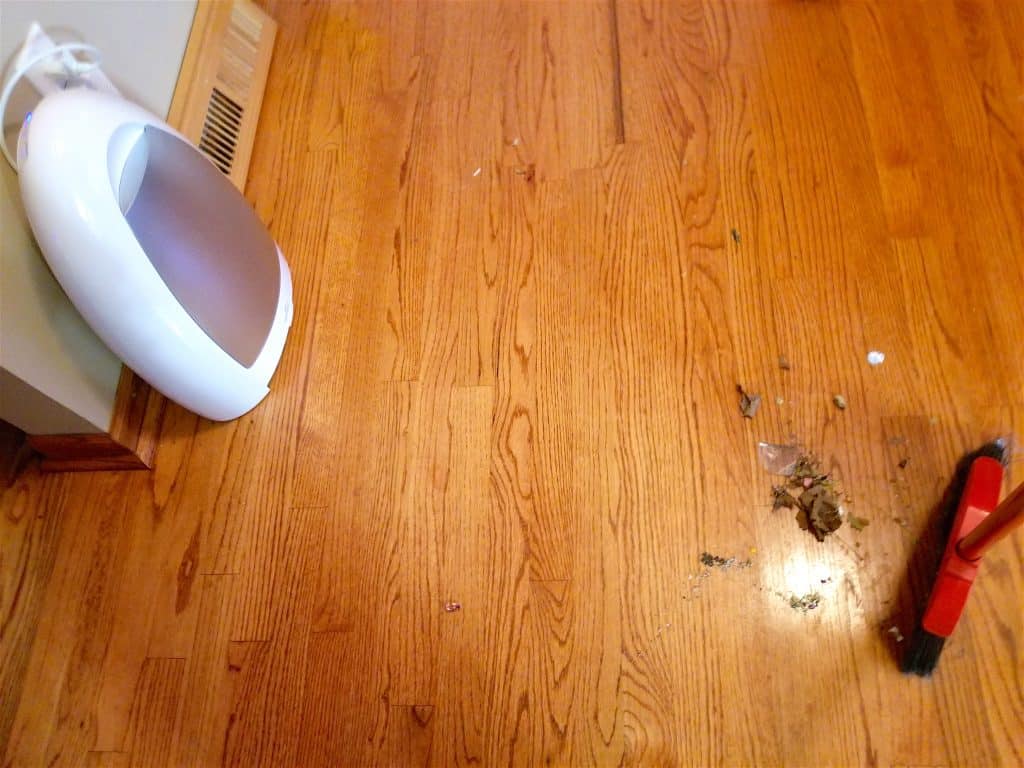 The EyeVac Touchless Vacuum system has revolutionized my cleaning!! You guys know I have 3 kids, a dog and cats so you can imagine the fur and dirt that my floors accumulate on a daily basis! I FINALLY feel like I am winning at keeping our floors cleaned!!!
We have mostly hardwood floors upstairs so I was curious to see how well this EyeVac Touchless Vacuum thing really worked. I mean I'm not getting any younger and figured I was doomed when it comes to cleaning floors. Every system I had tried either was too small, not powerful enough, or more trouble than it was worth.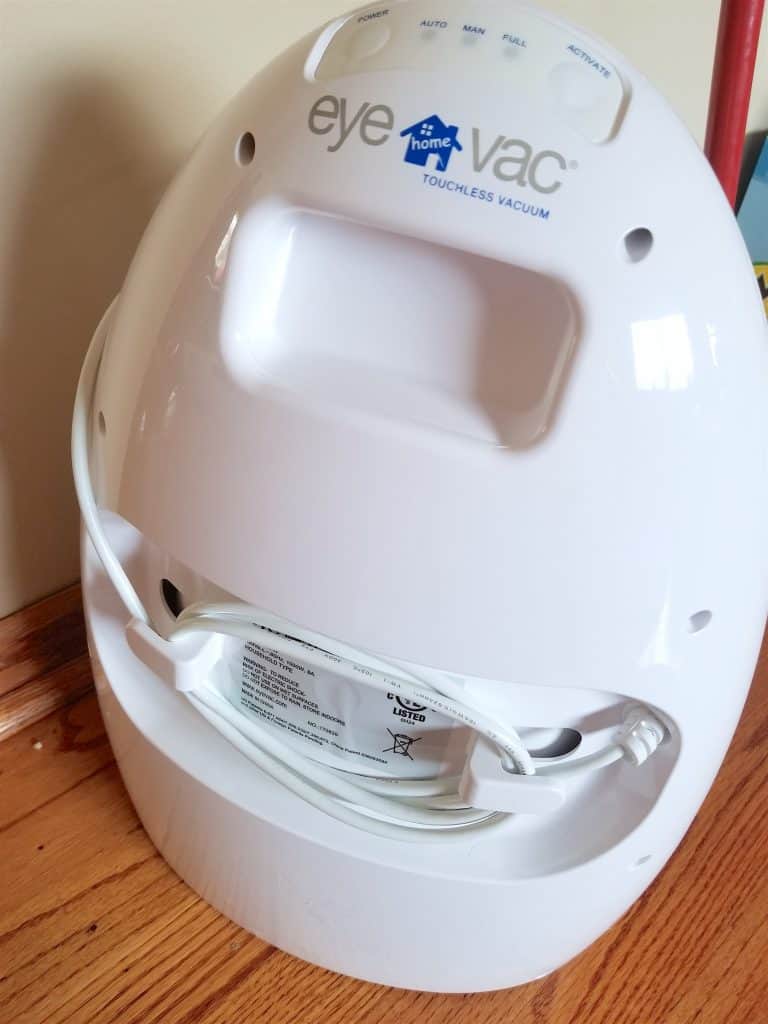 Literally the only thing you have to do with the EyeVac Touchless Vacuum when you pull it out of the box is place it on the floor and plug it in! That's IT! No fancy things to set up – just plug and sweep! The machine is quite stylish and doesn't take up much room at all. In fact you can even use this in a classroom – although it is very loud.
Once you sweep something right in front of it the infrared sensors trigger and  it rumbles to life. 100% of everything in front of it is sucked up. I've never had to "re-push" dust towards it. It's crazy loud but crazy strong & awesome.
It has a surprisingly powerful suction and has had no issues eating up our pet food, whole leaves that come in from outside, or anything other food and dust we've tried to feed it. This thing is a beast!
Inside of the EyeVac Touchless Vacuum:
It has a very large storage compartment so that you don't have to change it often. There is NO bag in the canister so no need to purchase additional supplies on that.
EyeVac Filter: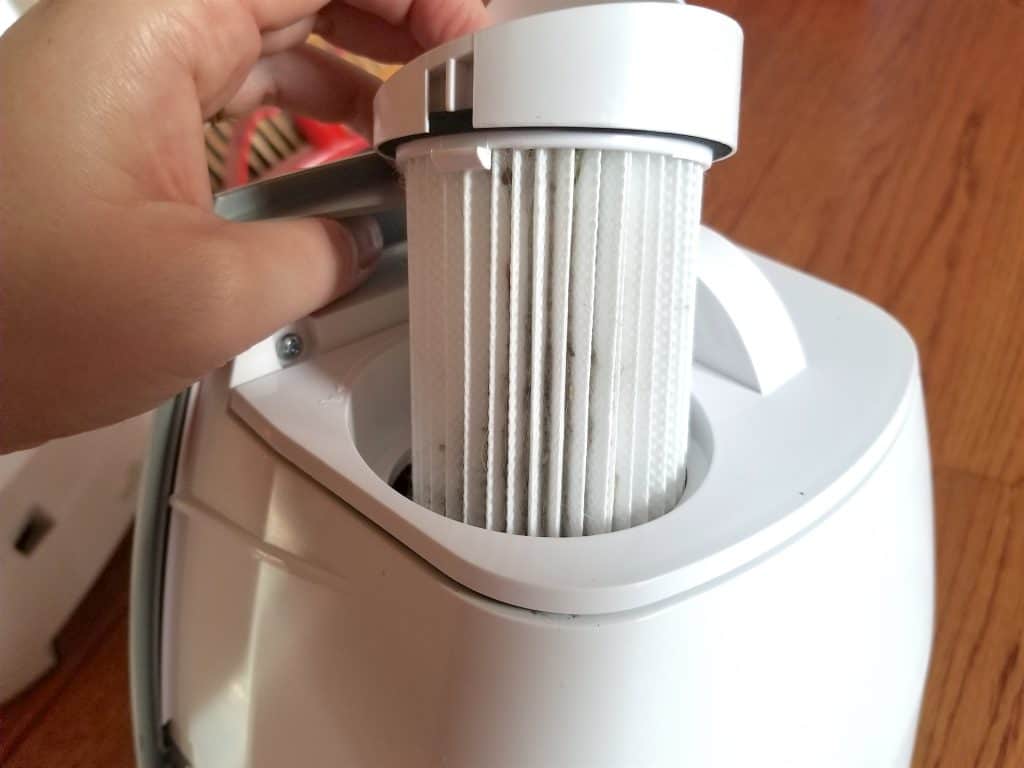 The one thing you need to know is that there is a filter inside of the "junk" compartment that you'll need to rinse and let thoroughly dry in between uses. Also in the machine is a HEPA filter that cleans and recirculates the air. Our machine is in our kitchen so it isn't a huge deal for us.
Aside from the noise which is expected (it is a vacuum after all!) this EyeVac is FANTASTIC! I HIGHLY recommend it to anyone! It's fantastic for home, classrooms, hair dressers, pet groomers, people with bad backs, letting your kids easily help you clean the floors….ok you get the idea! This is truly a great product and for under $100 it has made my life so much easier!
EyeVac offers a 100% no questions asked guarantee!! You can purchase an EyeVac  Touchless Vacuum system directly from EyeVac or Amazon.