MockMill Grain Mill Attachment for Stand Mixers Review
This post may contain affiliate links, view our disclosure policy for details.
Attachment shown was provided to facilitate the review below. All opinions are my own.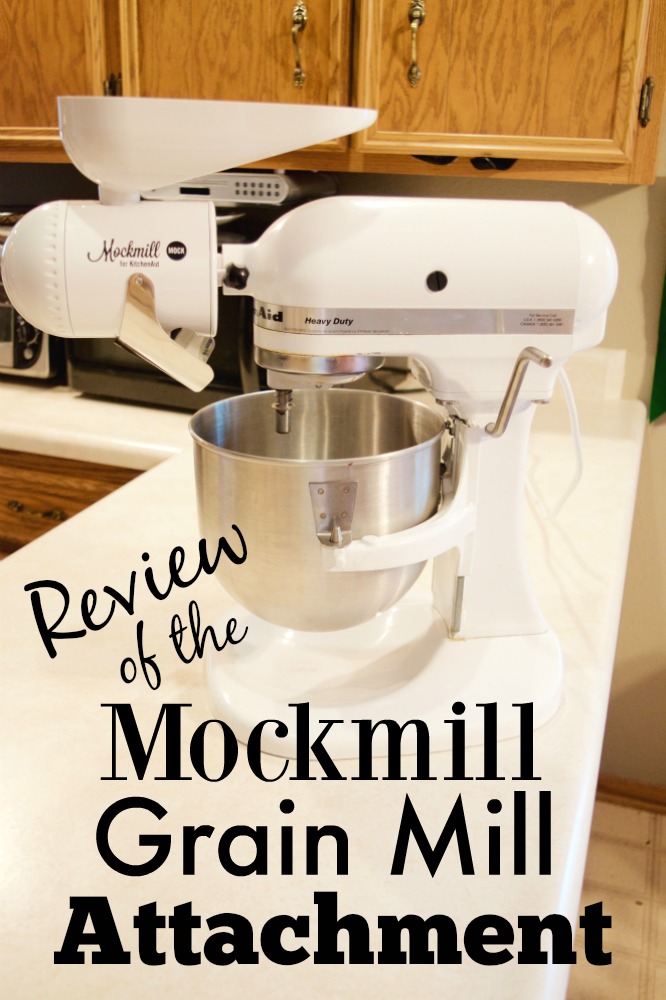 When my oldest son was diagnosed with Asperger's syndrome 5 years ago I began scouring everything I could get my hands on to learn about what we were eating and how to help turn our family's food choices into better ones. I had no idea what I was getting myself into! We are by no means a "crunchy" or green family – we eat plenty of junk – but we do try to make healthier choices and eat as much straight meats & fruits/veggies as we can.
We went gluten free for a while after my son's diagnosis but we simply couldn't afford the cost of the rice flour we wanted. Back then we couldn't afford the $300+ fancy grain mills (at that time) either – we were actually grinding rice in our coffee grinder to save some money on rice flour but it was SO chunky and time consuming. Not to mention I don't need ANOTHER big appliance in my house – I love that this is an attachment which takes up way less space! I wish I had known about the Mockmill grain mill attachment
that fits on our KitchenAid mixer years ago!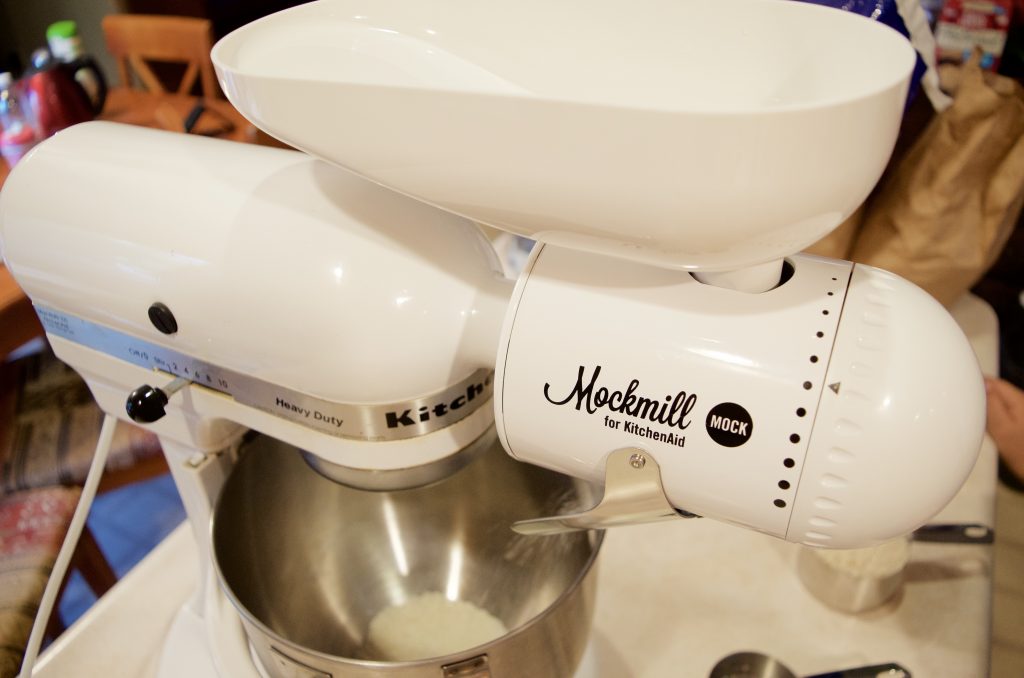 I read reviews on other grain mill attachments for our mixer but never felt like it fit what we needed so I never settled on purchasing one. What really sets the Mockmill mixer apart is that it uses STONES to grind the grains. (which also means you can't get it wet!) I truly wish I had known about this years ago! It is SO EASY to use and we definitely make breads and goodies with fresh grains more often now!
The Mockmill attachment fits ALL KitchenAid mixers, uses ceramic grinding stones (the housing itself is metal) and comes with a 2 year manufacturer's warranty.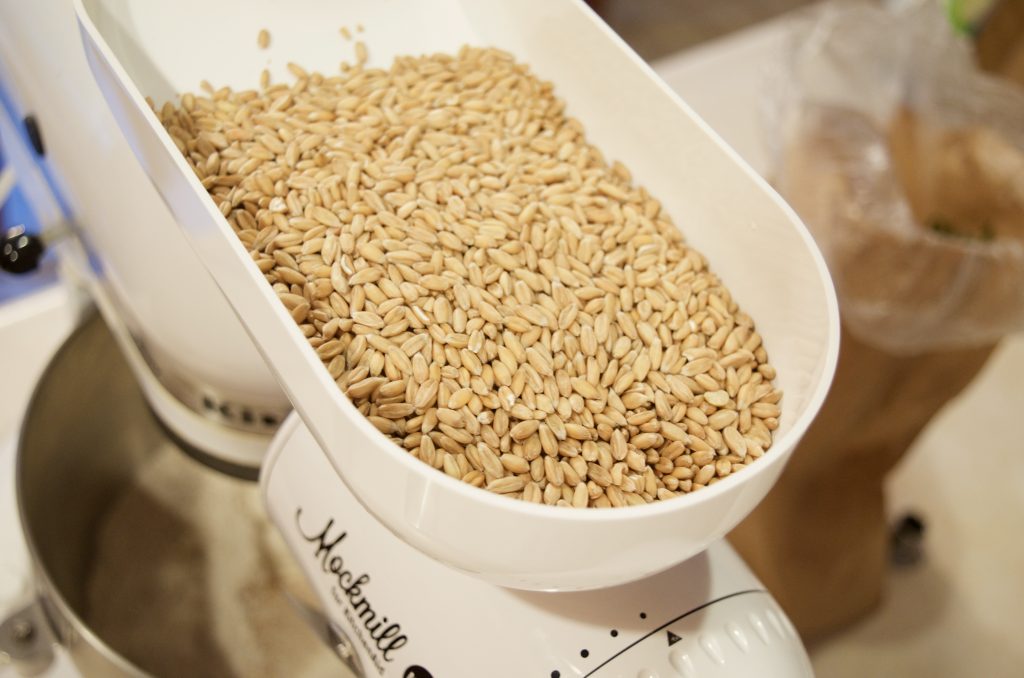 Once your Mockmill is attached to your stand mixer simply add your grains, adjust the settings, and turn on! It's THAT simple! In fact we leave our KitchenAid with our Mockmill attachment all set up on our countertop so that we can use it on a whim.
NOTE – the FIRST time you use your Mockmill follow the included directions closely as there are specific details about prepping your attachment to discard excess stone from the manufacturing process! You can use cheap rice for this!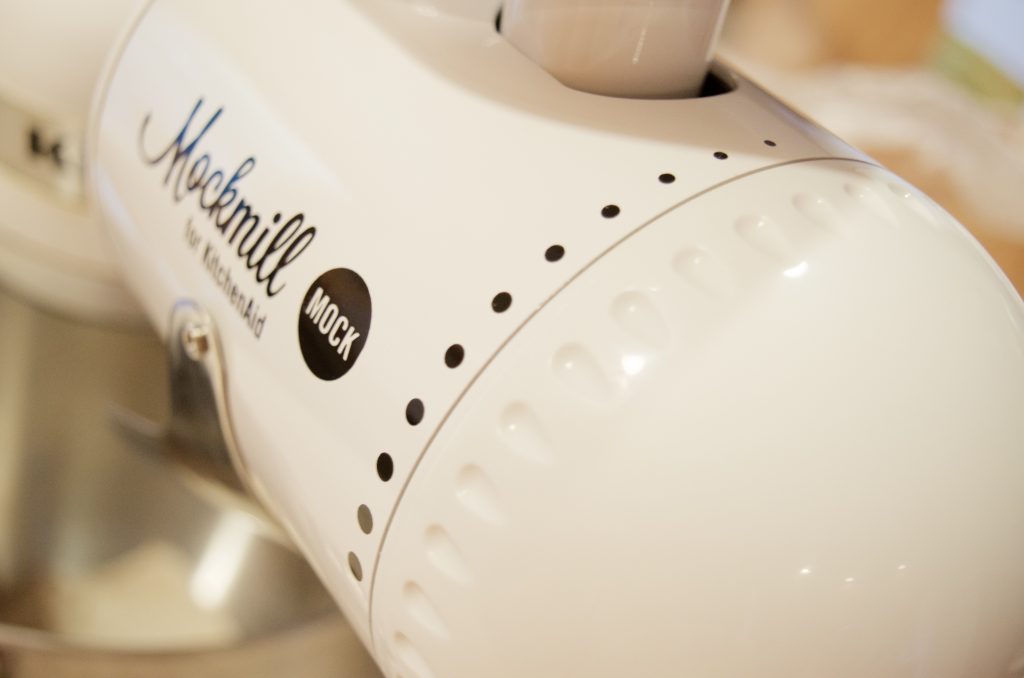 You can see here the dots are sized differently which indicates how fine the flour will be ground. The Mockmill attachment does a pretty stinking good job at fine flour! If you want it extra fine you may find you'll need to sift it through once but it's pretty darn close to what you'd find in the store and great for quick use!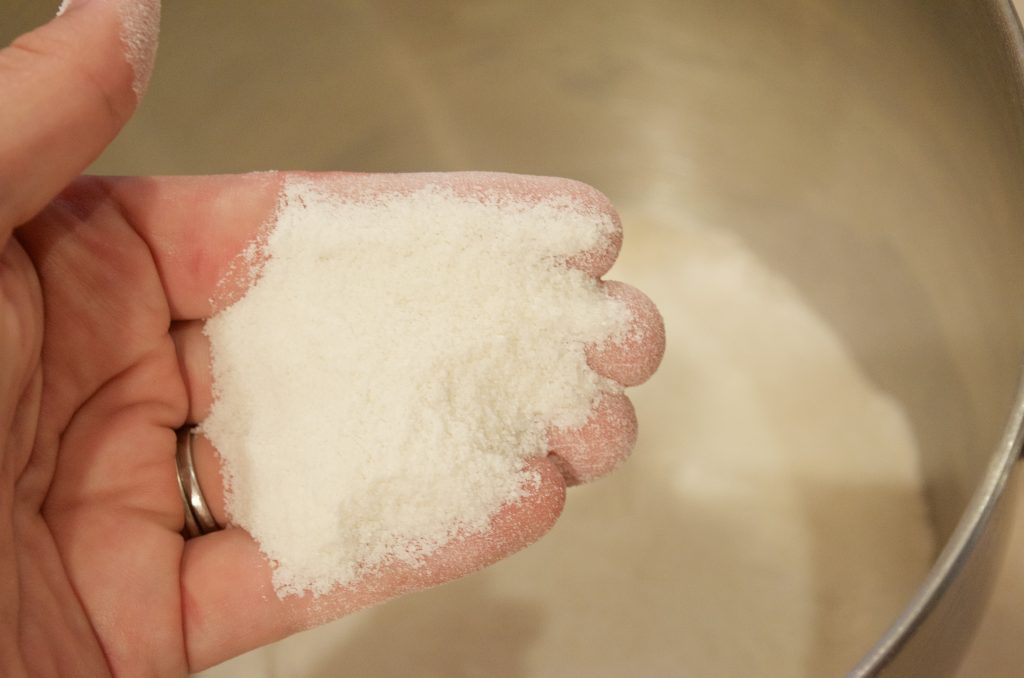 It's impossible to get a good photo of just how fine the flour turned out but you can get an idea here by looking at the powder "dust" on my fingers from my first batch of flour. The ceramic grinding stones have a self-sharpening feature so you don't have to worry about them getting dull.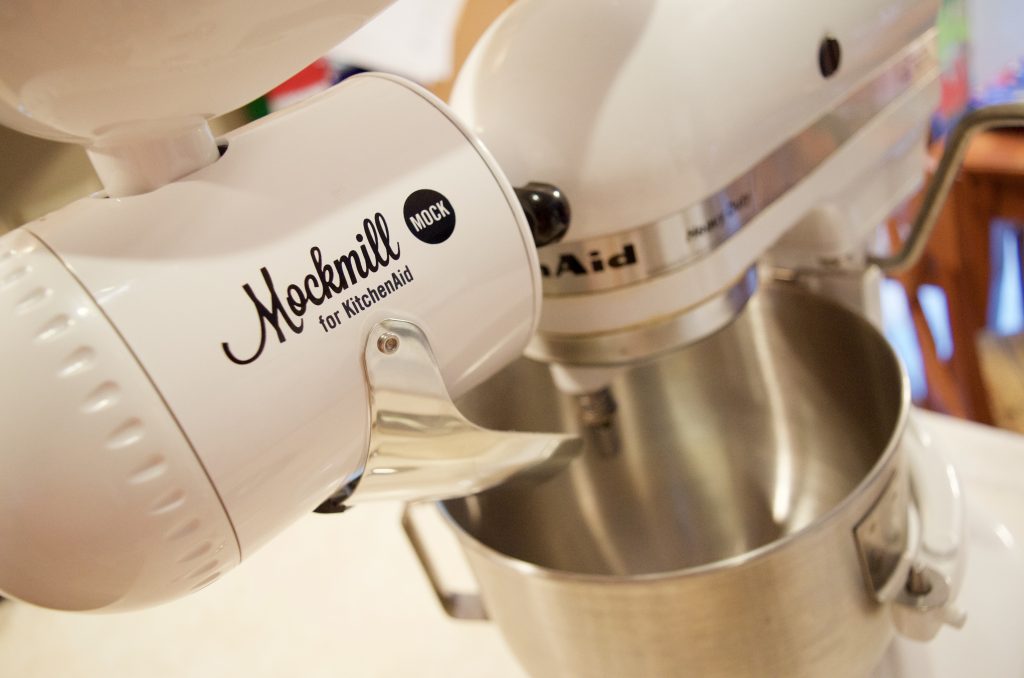 As the grain is ground by the stones inside the Mockmill the flour drops down into that little metal chute you see above and slides right into your mixer bowl. Now my poor stand mixer is more than 10 years old so I was worried about it overheating but I was able to grind quite a bit of flour before I felt the need to turn the machine off to cool down. It was an incredibly simple and smooth process to start up and use. I usually start grinding my grain before I pull out my other ingredients since it takes a few extra minutes to sit and grind.
There's virtually no setup AND no clean up which is an A+ in my book! Make sure you read the included booklet carefully because it will list what grains you CAN and CANNOT use in your Mockmill! (no wet or oily grains!) It's a lot of information but is extremely helpful! I recommend reading it through the first time before you use your attachment.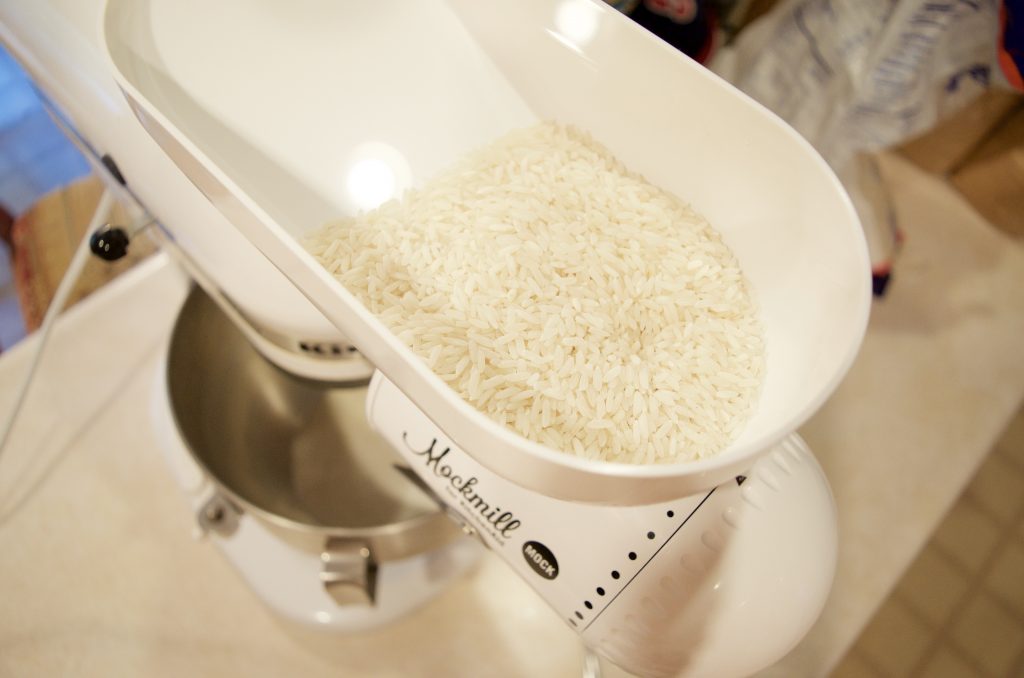 Where to Buy Fresh Grains:
*Whole Foods, Sprouts, & other Health Food Stores
*Some Local Grocery Stores
*Ethnic or Amish Stores
*Online
*Local Farmers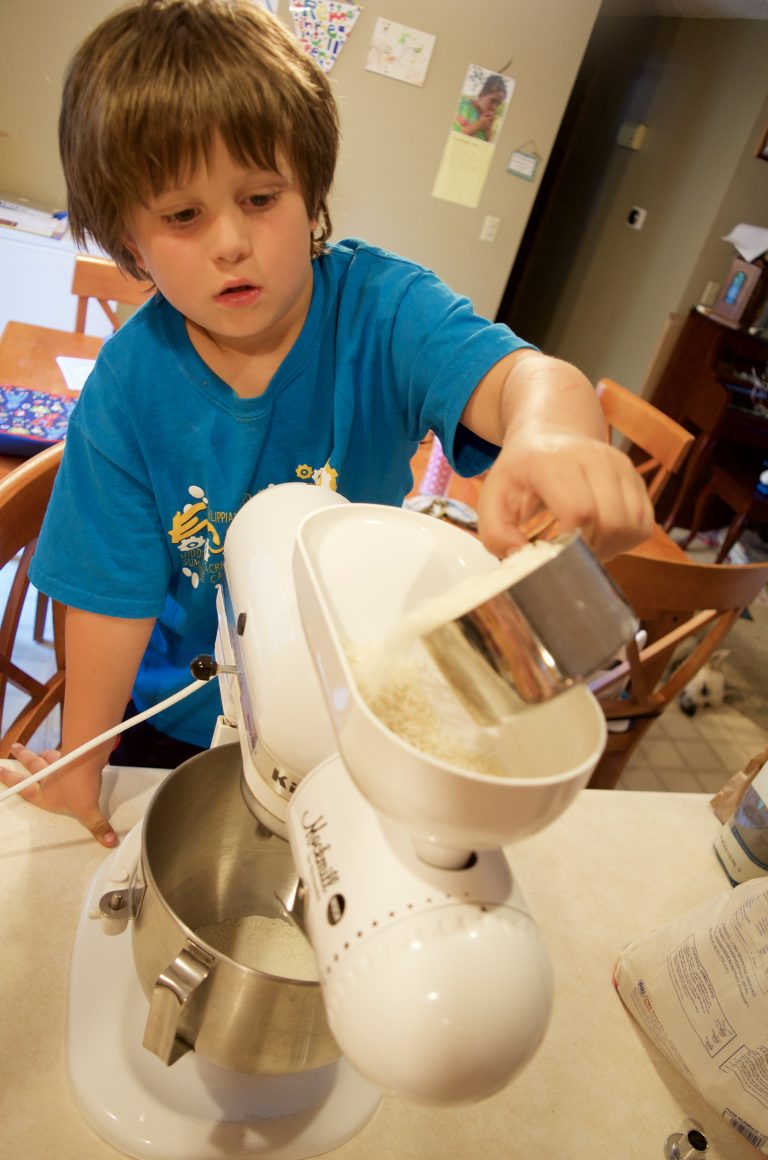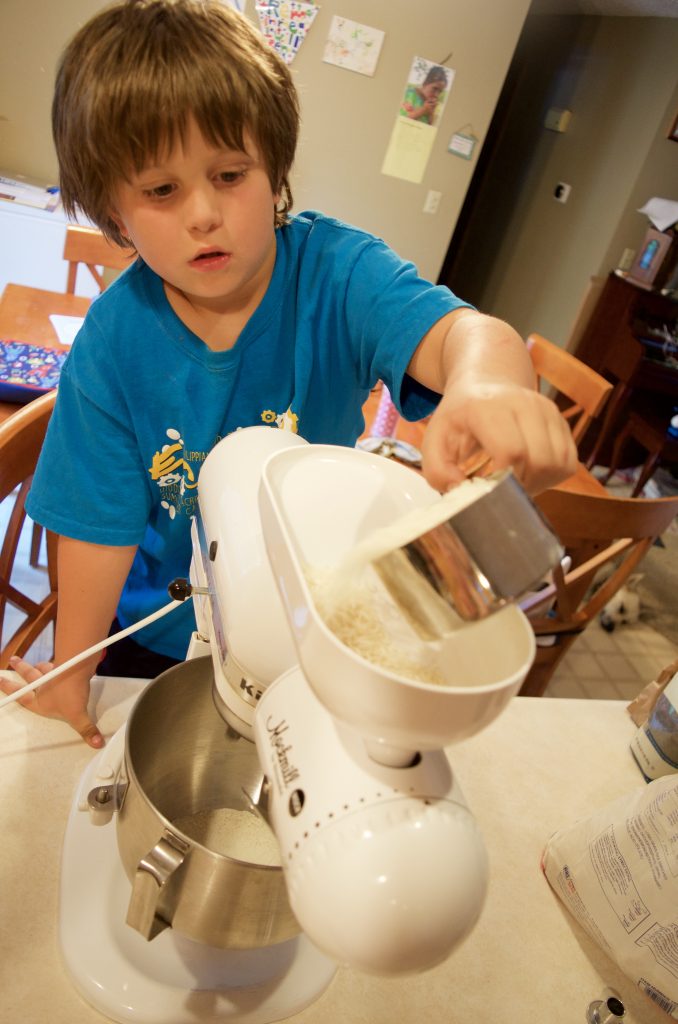 Since we went out of town for several weeks after receiving our Mockmill attachment we haven't used it as much as I wanted to but we have made several recipes with it and bought about 20 pounds of various fresh grains to experiment with! So we're still newbie grain millers! And every time we start our recipes the kids are eager to help pour the grain! We were sent the book Flour Power so we are using a bread recipe from that tomorrow to go with our venison chili for dinner!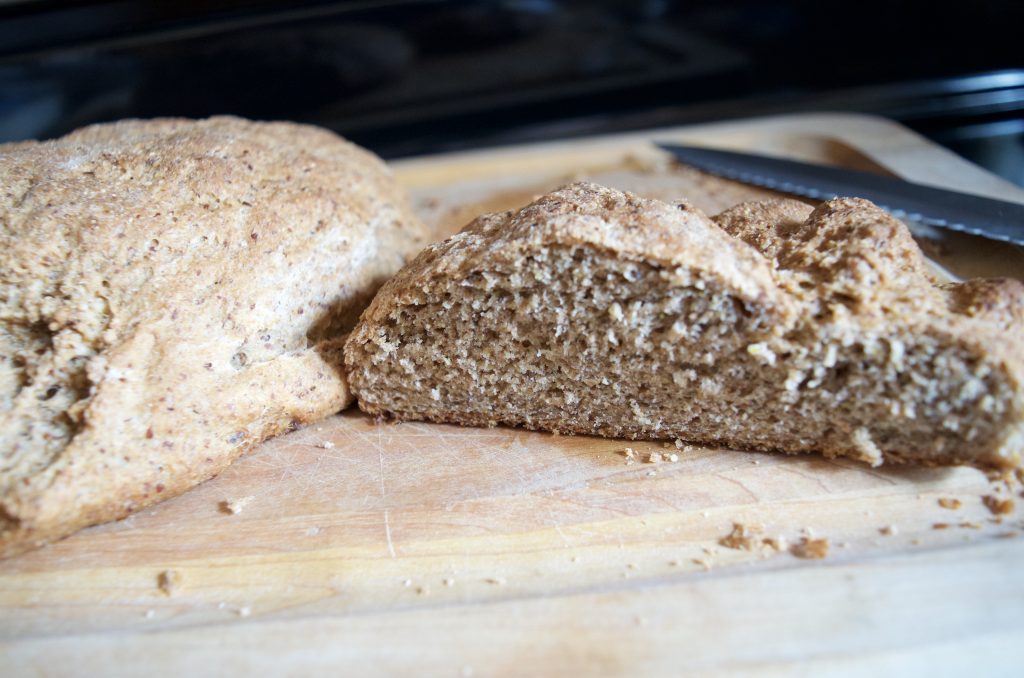 Things I've Learned as a Newbie Grain Miller:
*It's A LOT to take in! It's a scary new world of grains you've never heard of – it's OK! Join the club! I'm actually really appreciative that I'm learning about all of these new grains and what they do – who knew there were so many to choose from?! Ask around, read other bloggers posts that know what they are doing – I've learned a lot already!
*Search for FRESHLY MILLED flour recipes. YES – there IS a difference in the amount of flour you use when you're comparing store bought flour to freshly milled flour! I searched google and Pinterest as well as our Flour Power book to start with. Thankfully the bread photo you see above this was our first recipe we tried and was quite successful! (although we didn't use a loaf pan so it flattened out quite a bit!)
*It's cheaper and healthier! Whether you're milling fresh grain for dietary needs or to eat healthier the cost effectiveness far outweighs the price of the attachment in the long run. Scout around for the best grain prices and don't be afraid to try new recipes! Expect mistakes and learn from them!
The Cost of a Mockmill Grain Mill Attachment:
I did a LOT of research on grain mill attachments several years ago and again just before we received our Mockmill to compare prices and styles. I mentioned earlier that I never settled on purchasing a grain mill or attachment several years ago when we were looking for many reasons. Either the grain tray was too small, too narrow, too much upkeep, all metal, poor reviews, etc. I LOVE that the Mockmill has a HUGE tray you can pour a lot of grain into as well as having the grain ground by ceramic stones.
YES – feel FREE to share this in your food and parenting groups and with your friends! I would personally buy the Mockmill myself if I needed another grain mill attachment. I'm very happy with it and have used it for years after this review was posted! Amazon has the Mockmill priced at $179! This is HUGE!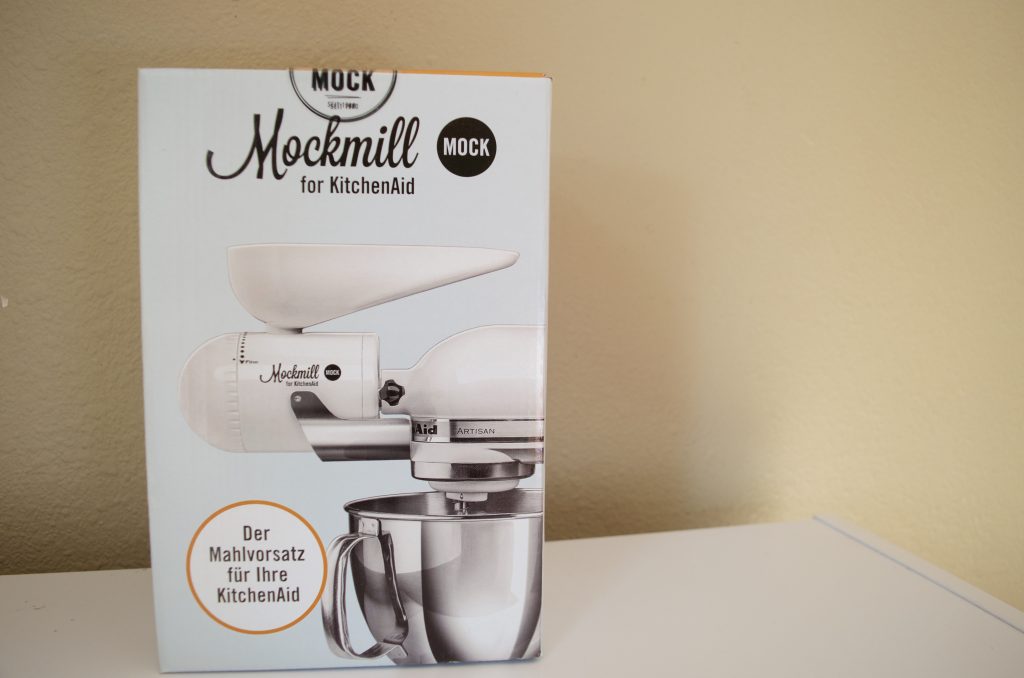 Again I'm a grain milling newbie but I'm 100% happy with this product and would absolutely purchase it in the future. I wasn't sure what to expect but it's definitely a high quality item that will be around in our household for a long time. It's very sturdy, easy to use, and does a fantastic job at grinding the various grains we've purchased. Feel free to e-mail me or leave a comment if you have any questions and I'll try to help answer them!