Making Life Easier with iRobot Roomba 870 Robotic Vacuum
This post may contain affiliate links, view our disclosure policy for details.
Disclosure: The reviewer has been compensated in the form of a Best Buy Gift Card and/or received the product/service at a reduced price or for free.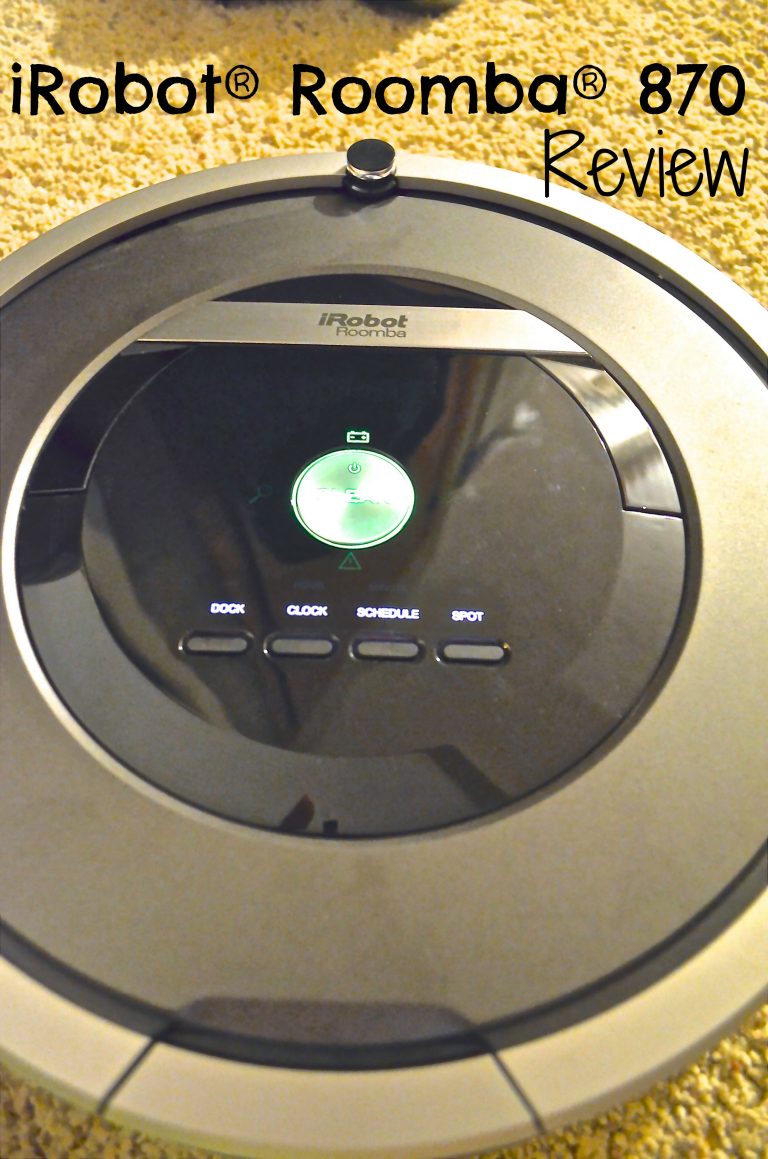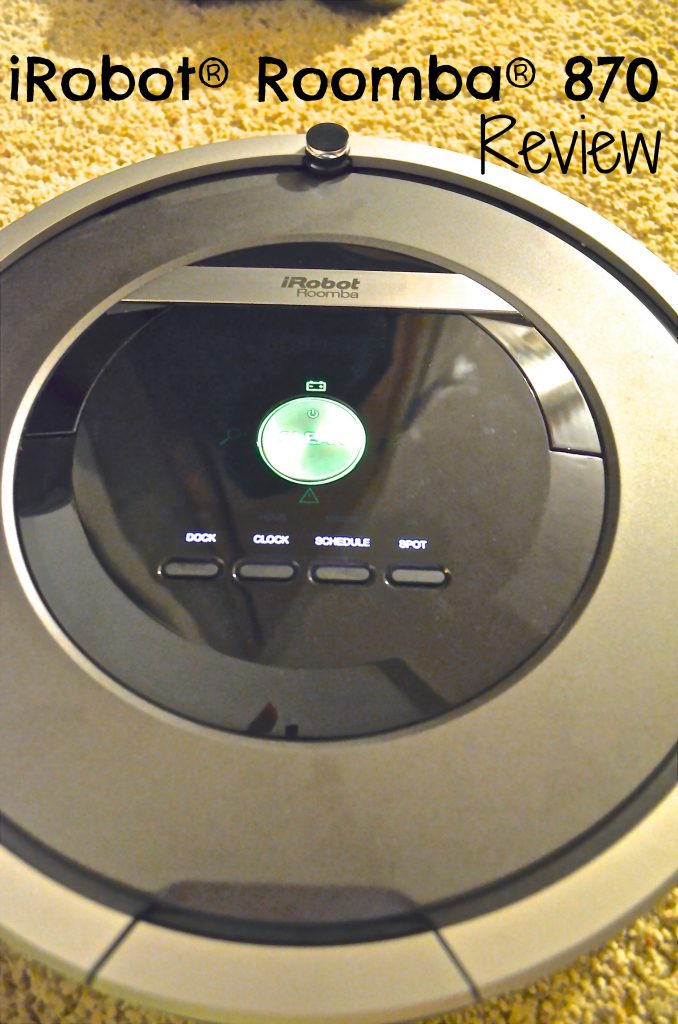 This is a simple review of the iRobot® Roomba® 870
and whether it's really worth buying an iRobot Roomba vacuum or not! We've all seen these too-good-to-be-true little circle robotic vacuums and I'm sure I'm not the only one who has drooled over how simple they make cleaning look! But the big question I'm sure you've all asked just like I had – is the price worth it and does it really work??
It's certainly not the conventional big vacuum we all grew up with! For me personally, my house is pretty much always a wreck thanks to my kids and our many pets so I was concerned about breaking the iRobot by sucking up too many of the wrong things. (I was imagining pencils jamming inside, computer cords, socks, and everything else my kids leave on the floor!)
There is always stuff on our floor! We also live out in the country which is pretty much the equivalent with constant dust flying through the house!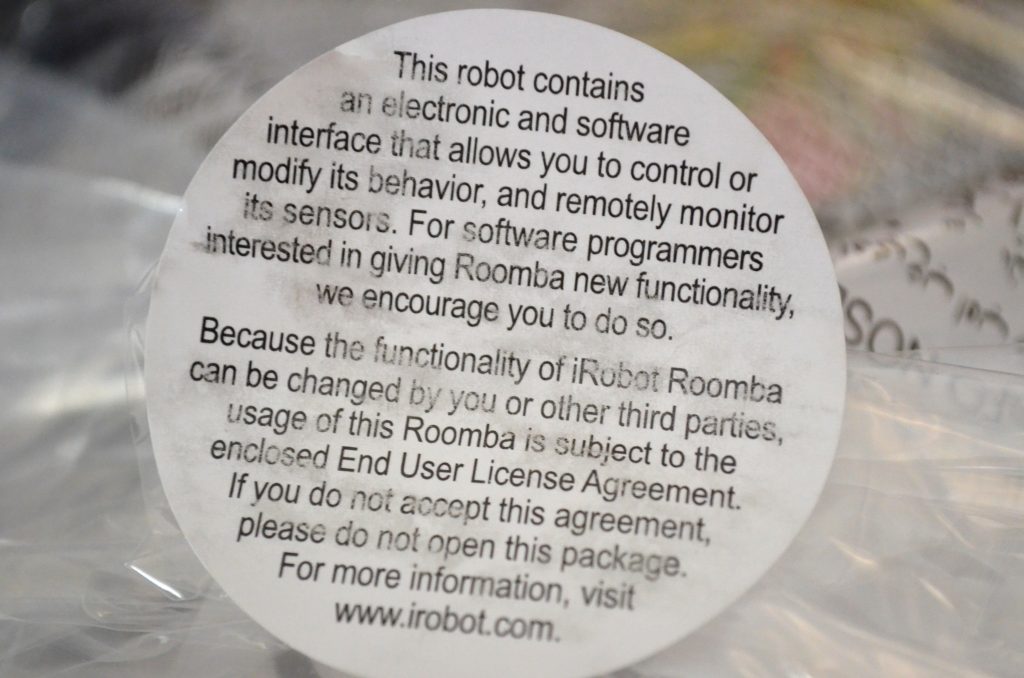 The first thing I noticed when I opened the box that I thought was really awesome is that they actually invite you to hack their product if you know how to code and rewrite software! I've never seen that on a product before! Just an interesting side note for you techy friends out there.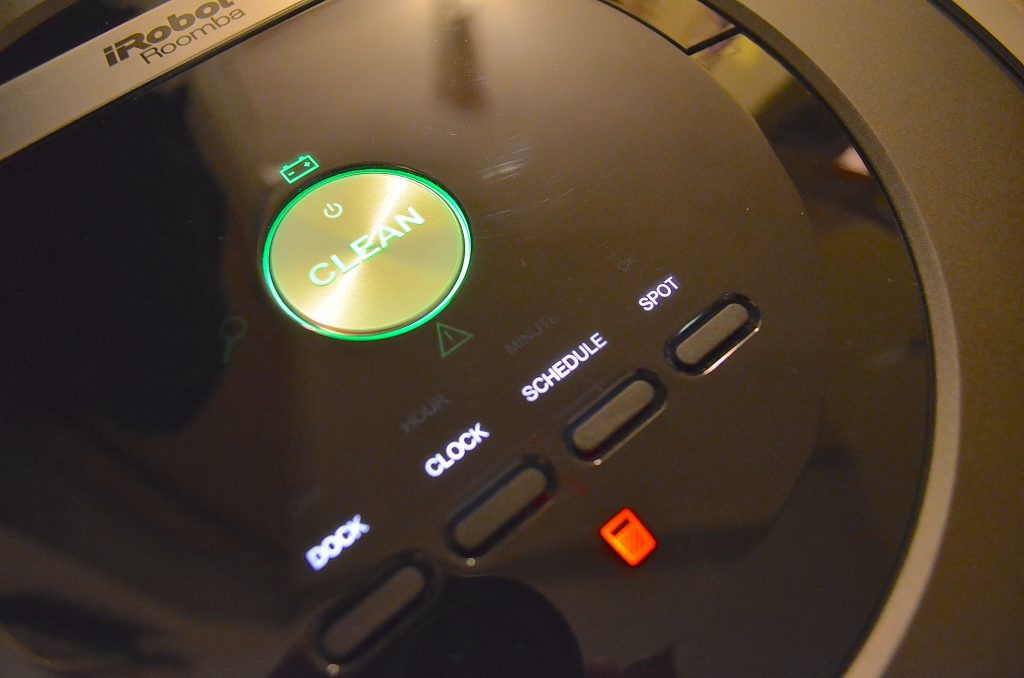 The iRobot® Roomba® 870 arrived partially charged so I was actually able to turn it on and set it up right away. The large CLEAN button you can press twice to have it clean any time you want. You can also press the DOCK button to send the vacuum to it's charger. (YES it actually docks and charges itself! I've never had to put it on the charger!)
You can also set the clock AND actually schedule the vacuum to auto clean at specific times during the day. It's really quite amazing. For me I let the kids press the CLEAN button as it's still a novelty for them.
At least for right now I don't have the auto scheduler set up because I still want to ensure that the floors are semi-clear before letting the vacuum run automatically, but I love that I have that option to auto schedule once my floors are clear.
The iRobot® Roomba® 870 comes with two "walls" which are little black boxes that send an automatic invisible beam out which allows you to block the vacuum off from anywhere you want. The vacuum comes about an inch or two from the invisible wall and automatically turns around going in another direction.
It docks ITSELF!
OK so now that I've told you a little about how the iRobot® Roomba® 870 the BIG question is how WELL does it really work and is it worth it?!
Is a Roomba vacuum cleaner worth it?
Pros
Runs itself!

Doesn't actually eat your cords!

Less manual labor required!

Stops before falling down stairs.
Cons
Cost

You still have to empty the small dirt compartment!

Some thick shag rugs are difficult to go up onto.

Your floors need to be clear of pencils, yarn, small toys, etc.
Unfortunately there's no magic fairy wand to just POOF your house into cleanliness but the iRobot® Roomba® 870
does a pretty good job of it! The vacuum has this neat feature where it won't eat your electric cords (and amazingly it doesn't!) so I was kind of skeptical whether it would actually pick up enough junk to make it worth the price. Not to mention the robot is a small circle – how much can it really hold?
Well for one, the vacuum has an indicator light on the top that will tell you it is full and needs to be emptied which is pretty cool although I try to make a point of emptying it each day anyway. It holds a pretty good amount of dirt – I was happy with the amount of junk it held before needing to be emptied. (just for the record I have 3 kids, 3 cats, and a dog in the house regularly!)
The sensors are fantastic and it doesn't bang into walls or doors (or other piles of junk laying around). It's tried to suck up a sock or two while I was doing laundry but it was incredibly easy to just pull it out. It's never eaten any cords or damaged anything in any way….and I have plenty of stuff laying around!
In the red "compartment" in the photo above is a HEPA filter and a replacement one is also included. ICK – let me tell you that it works because after using the vacuum only twice mine was pretty disgusting!
From Carpet to Hard Floor and back!
A HUGE bonus for me is that the iRobot® Roomba® 870 does BOTH carpet and hard floors and automatically goes from one to the other. Seriously – anything to make my life easier right now.
I don't know how life has gotten so crazy but between having a baby at home, 2 kiddos in school, volunteering at my husband's school, blogging, and running a big hydroponics greenhouse program for the school my time is severely limited and cleaning is not at the top of that list!
I do have a shag rug that the vacuum seems to have some trouble getting on but it runs seamlessly from my carpeted living room into my linoleum kitchen/dining room.
It easily fits under our beds, tables, and cabinets and always finds a way to back itself out so that it doesn't get stuck. And would you believe that it doesn't fall down my stairs? The iAdapt® Responsive Navigation Technology has cliff-detection sensors so don't worry about it taking a tumble off the stairs!
Although I used to vacuum at least part of my floors every few days now my floors ALWAYS look pretty great with the iRobot® Roomba® 870 running once or twice a day. I love feeling like my floors are cleaner and honestly it leaves me that much more time not having to run a quick vacuum so that I can work or spend more time with my kids.
I would still keep a stick vacuum around for those big instant messes your kids or pets will make but these robotic vacuum cleaners really help to trim down on my need for vacuuming quite so much.