Tissue Paper Flower Bouquet & Heart Sun Catchers Crafts
This post may contain affiliate links, view our disclosure policy for details.
Valentine's Day Two Timers! 2 Fun Crafts for Valentine's Day
Guest Post by Rheney Williams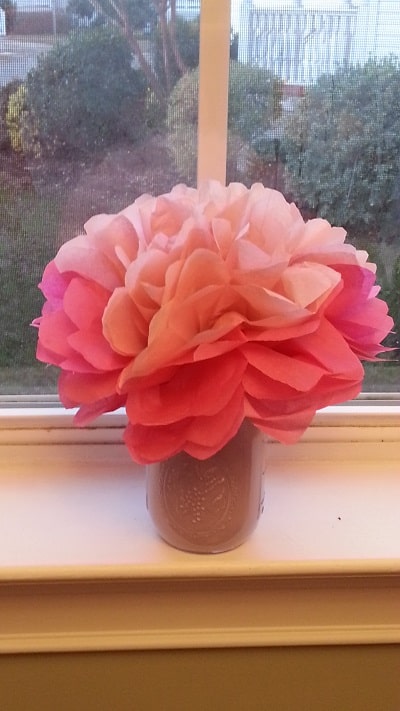 Even though I grew up in a family full of boys, I'm really a 'girlie girl' at heart and one of my favorites parts about Valentine's Day is getting to let that feminine flair fly free!
I love getting to use pink and purple craft materials and few things are as fun as glitter, wouldn't you agree?
And even if boys wouldn't agree that they love playing with frilly colors and sparkles, they would agree that their moms or other special women in their lives would love to receive something the boys had made with them in mind.
So here are two fun and inexpensive Valentine's Day craft projects that you can make with your kids to celebrate Heart Day in all of its girlie glory and display in your casement windows to share the love with everyone around you.
Tissue Paper Flower Bouquet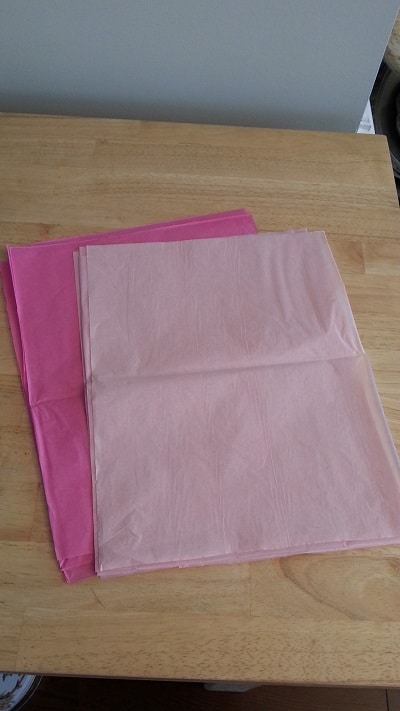 To make tissue paper flowers (like the one in the purple Mason jar above!), stack together sheets of tissue paper in at least two different colors.
I cut 8 sheets measuring about 7″ x 9″ each and stacked five sheets of pale pink on top of 3 sheets of hot pink.
Line them up and start folding them accordion-style in 1 ½" widths.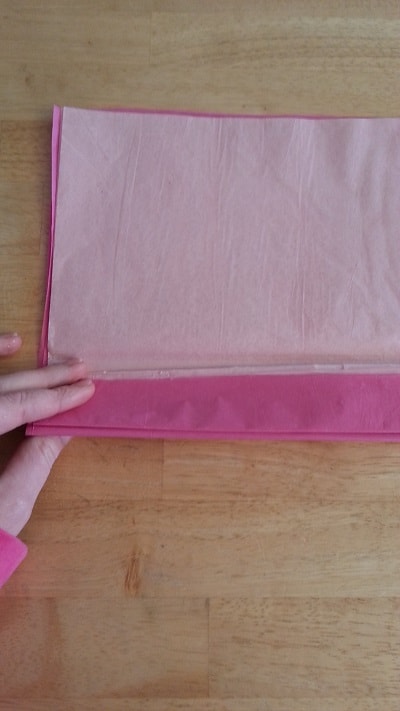 Wrap the entire accordion with a white chenille pipe cleaner and twist it around at the base to secure the folds.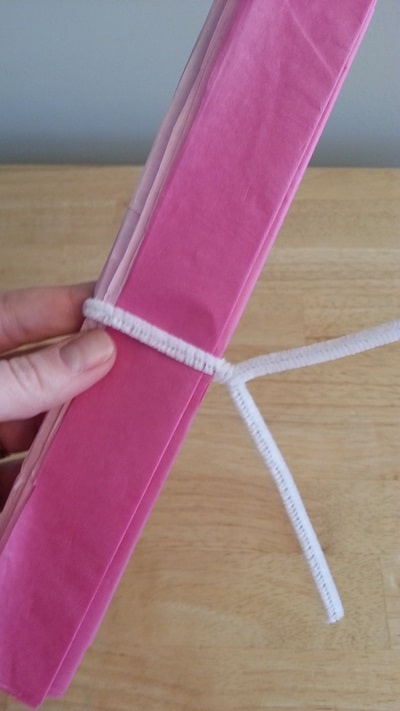 Create the curves of the blooms by cutting around each end with scissors.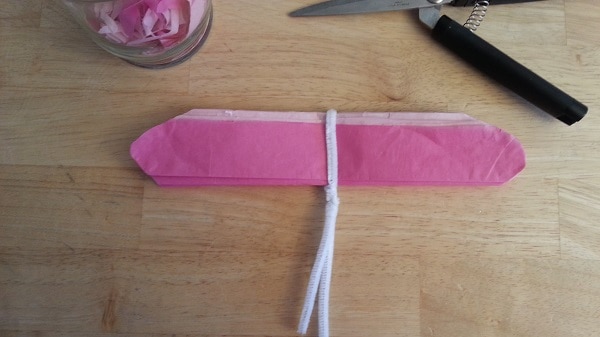 Holding the twist tie in your hand like a popsicle stick, carefully pull each layer of tissue paper up and towards the center, separating as you go.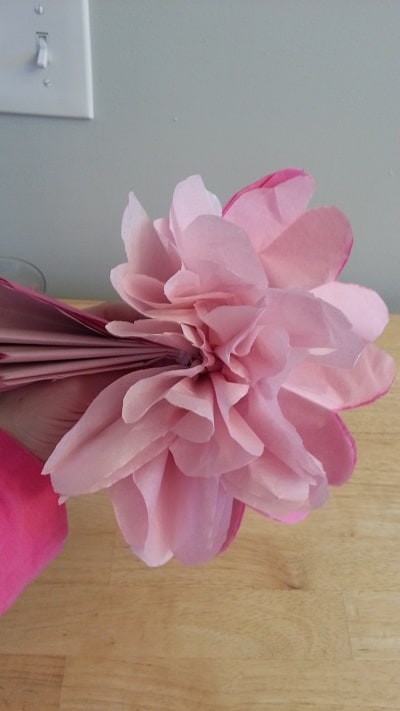 Continue all the way around the flower and fluff each petal into place!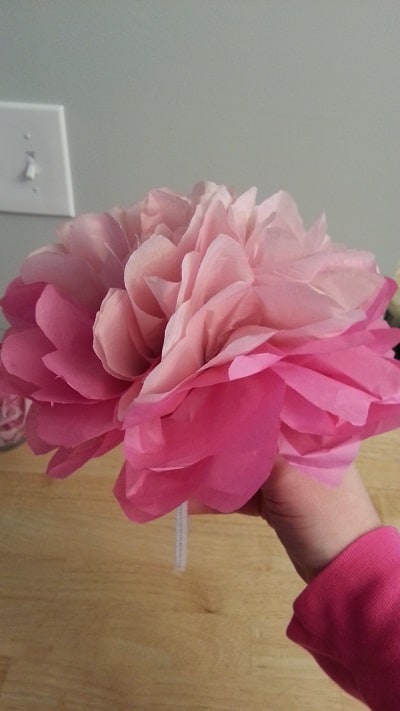 You can cut smaller pieces of tissue for smaller flowers and use any color combos you choose. And you're left with flowers that stay 'fresh' long after Valentine's Day.
Display them in a pretty vase on your windowsill and never worry about watering!
Valentine's Heart Sun Catchers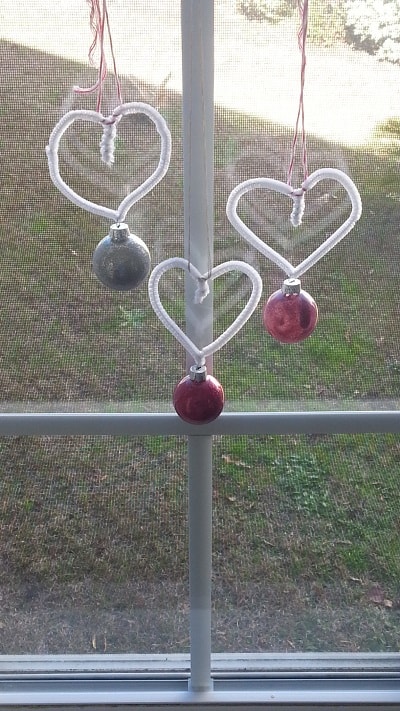 Don't worry – I didn't forget about the glitter portion of our projects! For this craft, you'll need extra fine glitter, a few more chenille pipe cleaners, glitter puff paint and pretty thread for hanging your sparkling sun catchers in your windows.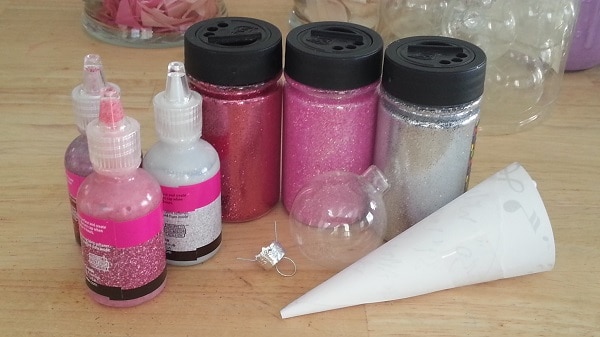 I used a few little glass ornaments plus glitter and matching paint in hot pink, light pink/purple and silvery white.
You could also use large ornaments and even the plastic ones if that's all you have on hand. However, the glass really is the best material for catching the light from the sun.
To create the glittery globes, remove the metal hook top and squeeze some of the glitter paint into the ornament. Cover the opening with your thumb and gently shake the ornament, turning and twisting it so that the inside is completely coated. Set it aside to dry slightly.
Meanwhile, make a tiny funnel with a sheet of paper wrapped into a cone and secured at the top with a piece of tape. Place the tip of the funnel into the top of the ornament and sprinkle in some glitter. Follow the same process for coating the inside of the ornament with the glitter. Leave it uncovered and upright at least overnight to dry. Replace the metal hook top on each ornament.
Take a pipe cleaner and thread it through the ornament hook, bending it in the middle into a "V" just above the hook top.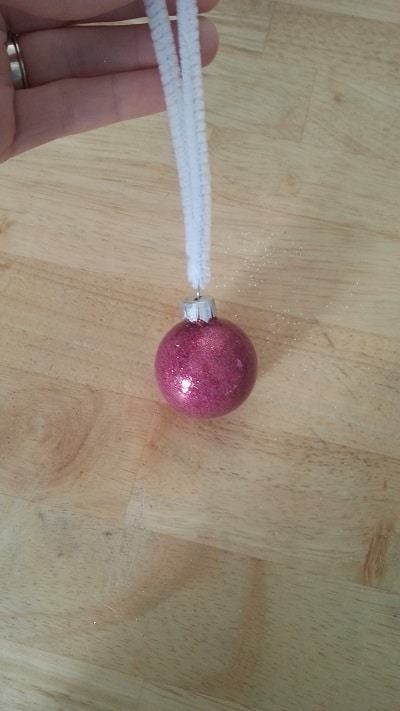 Take each end of the cleaner and loop them down to meet in the middle, creating a heart shape. Twist the ends together in the center.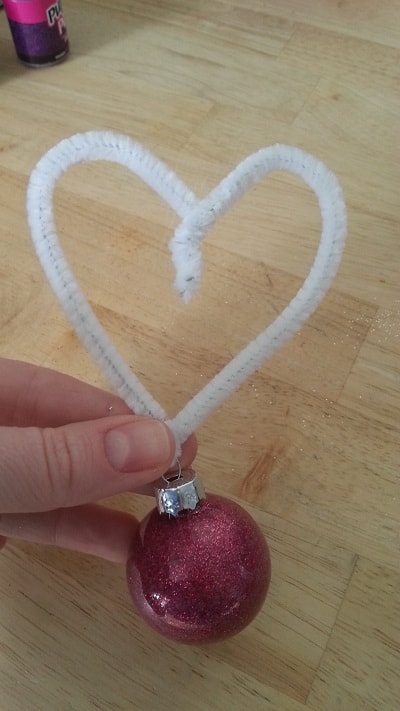 I used a red and white twisted thread and looped one end around each side of the heart to create a balanced 'swing' to hold the heart steady as it hangs.
If you can imagine a bench swing with a flat piece of wood as the seat with a hole drilled into each side and a long rope pulled down one hole and over and up through the other hole before securing both sides on the branch of a tree above? Same idea with an extra loop on each side!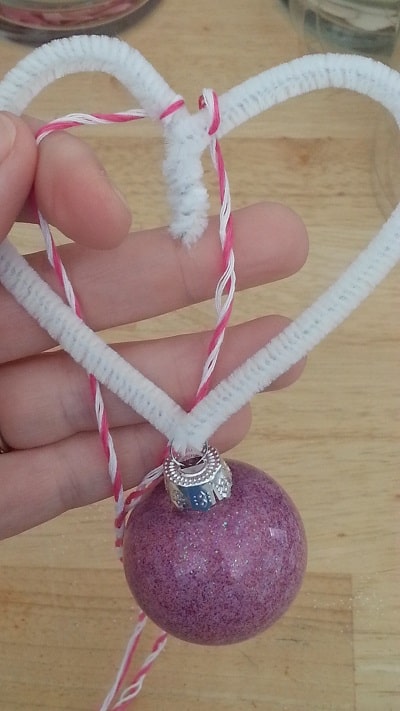 Hang them in your windows from a piece of tape looped through each threaded knot at the top of each ornament and securing them to the casement or you can even dangle them from your pulled-up window blinds.
Clean your window glass and wipe down the casement sides to really bring out the best in your glittery Valentine's Day globes!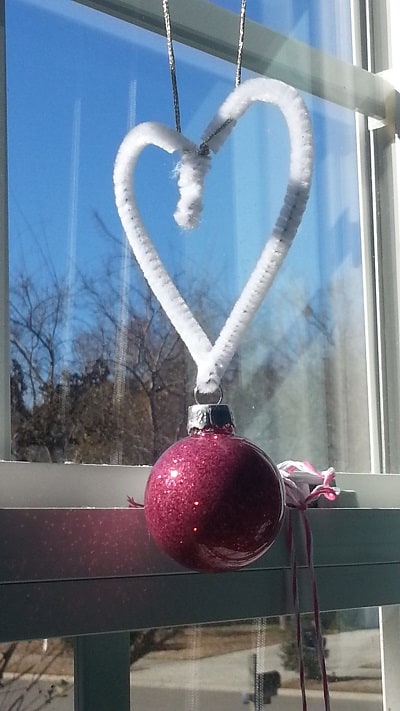 And now that you know how to dress up your windows from top to bottom this Valentine's Day, who's the lucky lady recipient? If you're making them for yourself (like I did!), what fun colors are you going to use?
Rheney Williams writes about DIY home décor projects for doors and windows for The Home Depot. In addition to writing about craft projects, Rheney is busy updating her Charleston, S.C., home with all manner of custom Lowcountry touches. To visit Home Depot's casement windows page, click here.