Is Disney's Jungle Cruise Movie Worth the Hype?
This post may contain affiliate links, view our disclosure policy for details.
Growing up in Florida I have built up so much nostalgia around iconic Disney World rides like the Jungle Cruise, Haunted Mansion, Pirates of the Caribbean, and others! We literally grew up taking field trips there (crazy right?!). SO when I saw the trailer for Disney's Jungle Cruise movie come out I absolutely knew I had to watch it! I have spent years riding the Jungle Cruise ride at Walt Disney World!
I wasn't really sure what to expect from the movie initially. Between it generally being based around such a truly iconic ride in real life (a hilarious one at that) and it being a cross between a slapstick film for Dwayne Johnson mixed with a throw-back expedition adventure feel – this movie could have gone a lot of directions!
Disney's Jungle Cruise is coming to 4K Ultra HD™, Blu-ray™ and DVD November 16th! It will include an Expedition Mode, 11 deleted scenes, bloopers and more!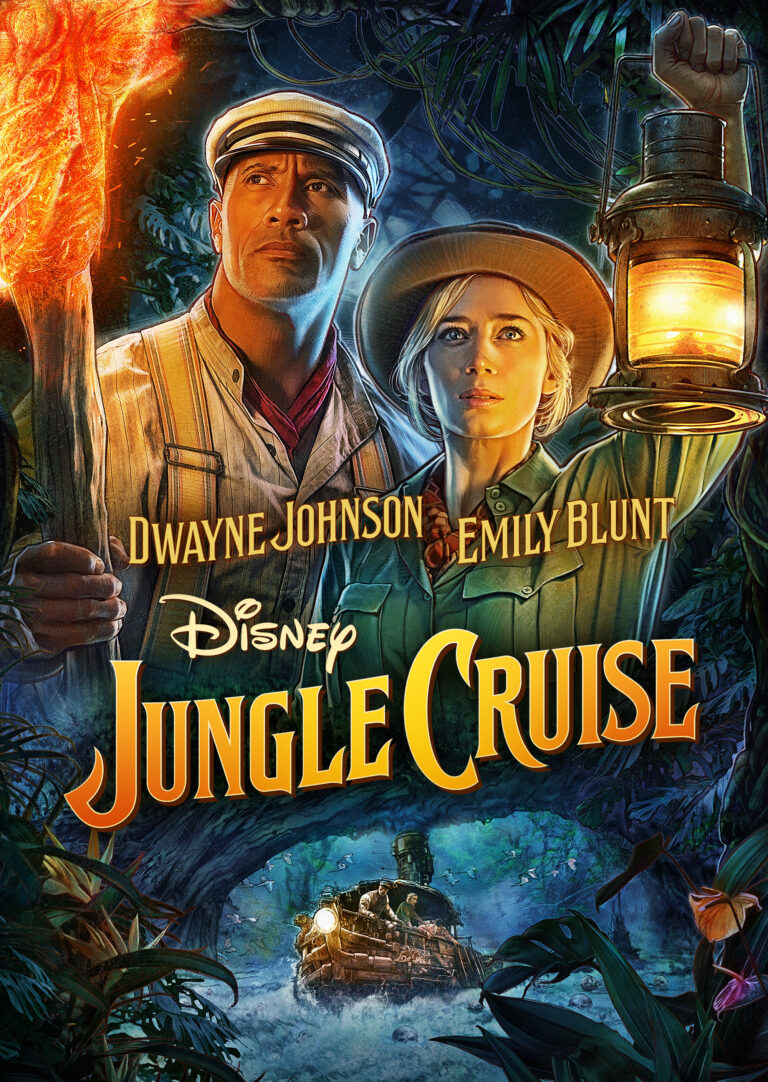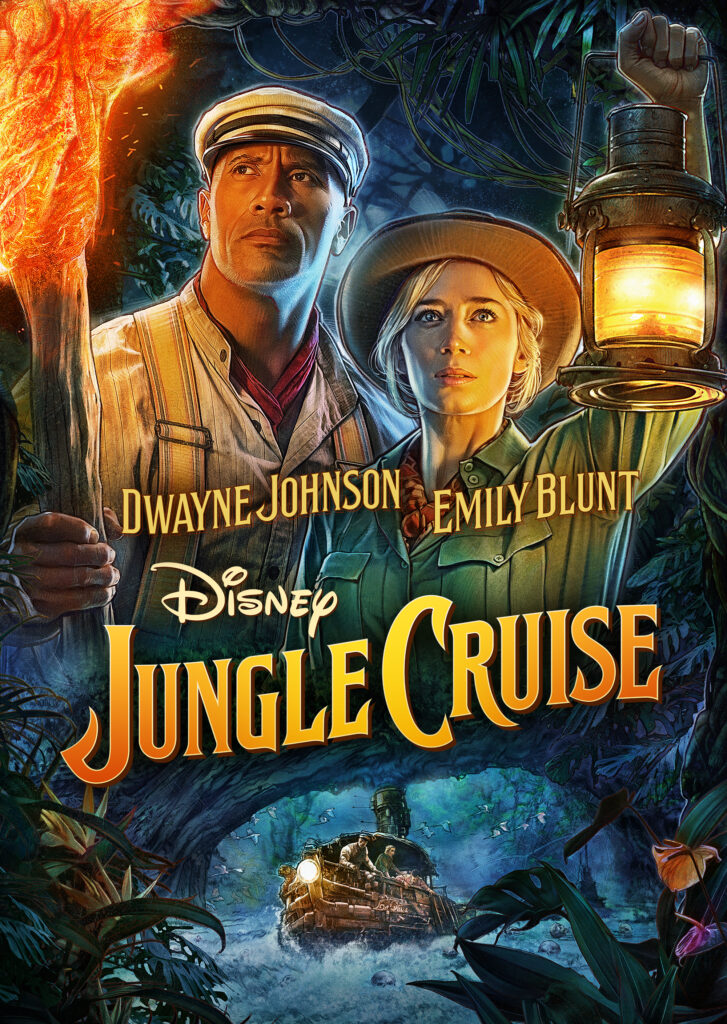 I did, however, immediately feel swept up in the perfect aura of the ride just by looking at the posters and trailer! The aesthetic for Jungle Cruise is definitely on point! Dr. Lily Houghton – a strong determined woman – is determined to make the world a better place and has set off in pursuit of a fabled ancient tree with magical healing abilities.
She comes across skipper Frank Wolff (as well as her brother MacGregor who is also long for the pursuit) and this unlikely team sets sail down the Amazon for the adventure of their lives. The witty skipper starts out hustling a good customer – anything for a quick buck! But as you progress deeper down the Amazon river the story line intertwines further and takes root into your emotion.
To be honest it's quite a mix of characters and personalities – I'm not sure how Disney did it! But it all works and we ended up enjoying the adventure of the Jungle Cruise!
---
How long is Disney's Jungle Cruise Movie?
The featured running time is about 127 minutes.

What is Disney's Jungle Cruise Movie Rated?
The Jungle Cruise movie is rated PG-13 for "sequences of adventure violence". Ok so what exactly does that mean? Think of the adventures of Indiana Jones, Robinson Crusoe or Goonies! Jungle Cruise is expectedly your run-of-the-mill adventure excitement from big jungle cats, scary bees, jungle fights, pirate-like stabbings and killings, etc. However true to Disney fashion – quite family friendly. For reference my 6 year old has happily watched it twice and she's pretty skittish when it comes to scary things.
---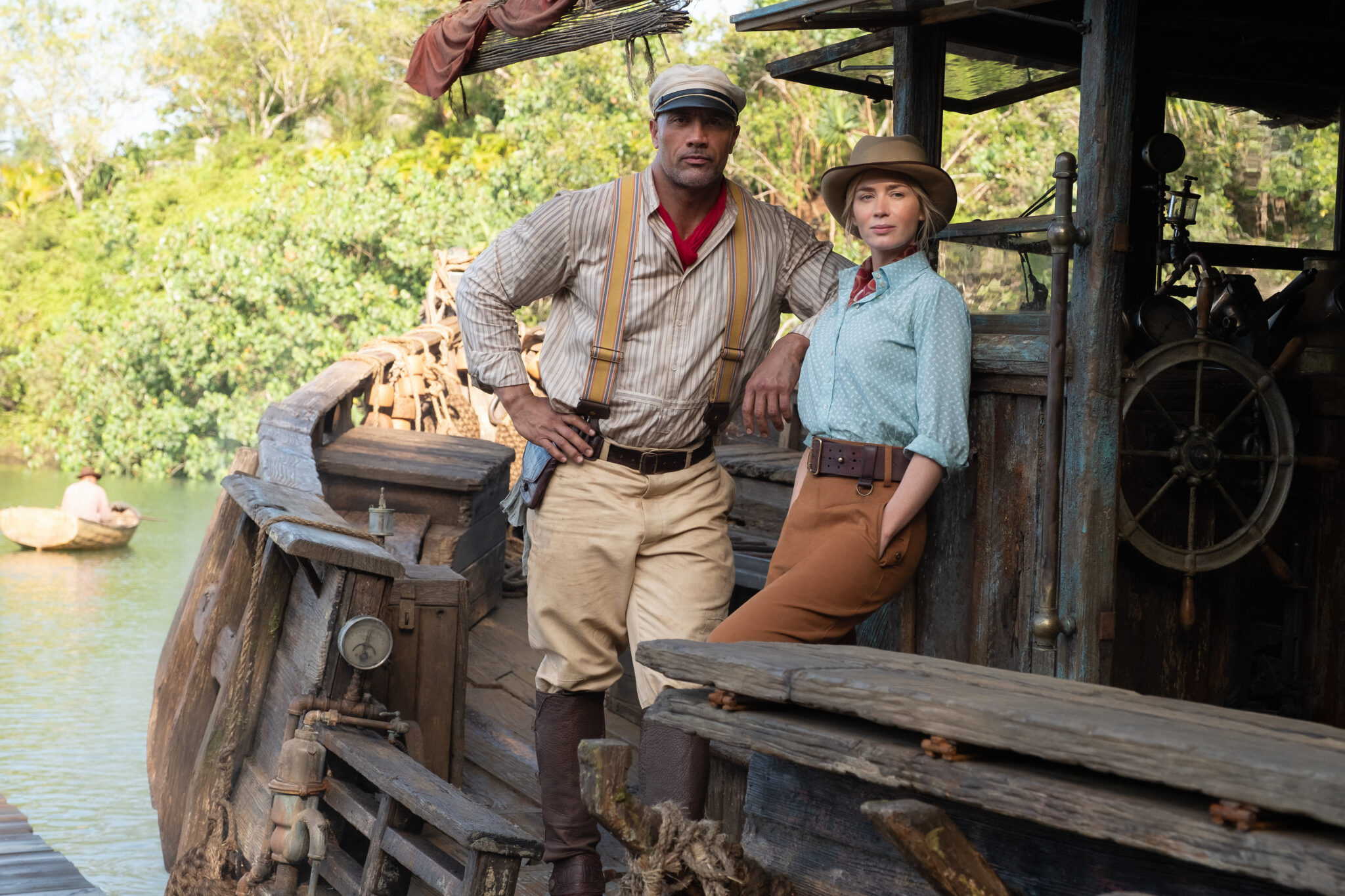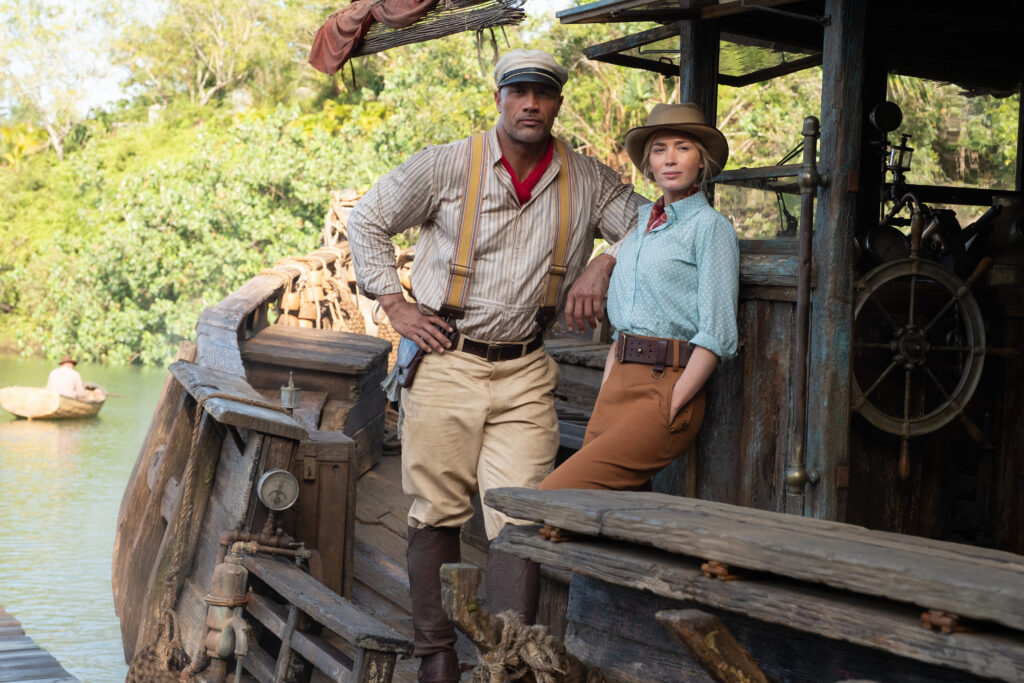 Watching Lily (above) get onto the boat in Jungle Cruise took me right back to every time I've stepped onto the actual Jungle Cruise ride. (Well, except that it looks totally different on the inside!)
Jungle Cruise Trailer: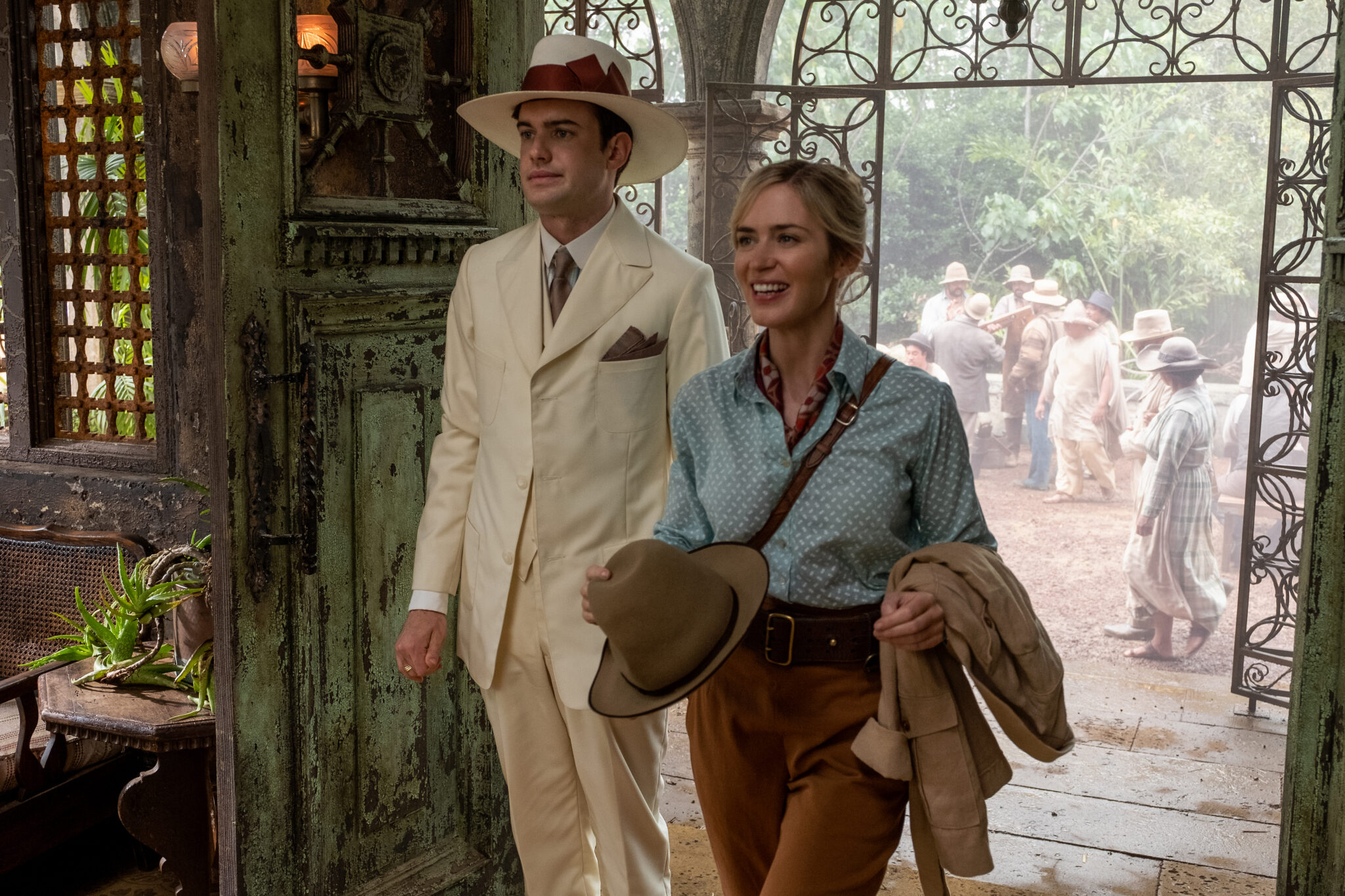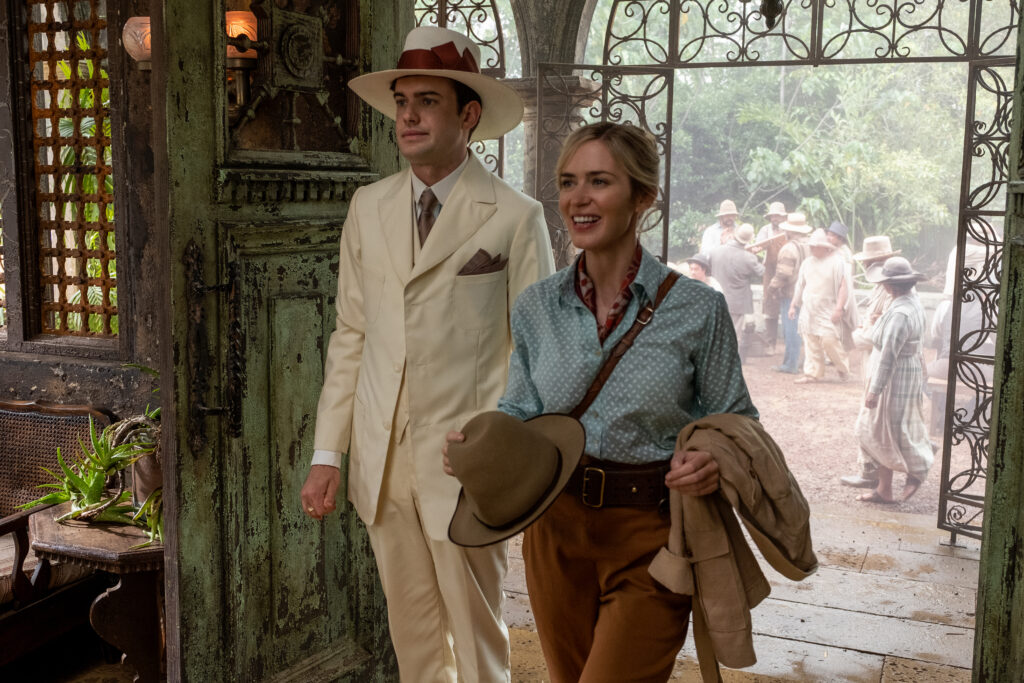 As you can see from the trailer and images the costumes and aesthetics are fabulous! I definitely felt like I was walking the streets of Disney World as a child looking between the bushes for hippos and jungle snakes! And I'm pretty sure that Dwayne Johnson had bonafide training from the guides on the actual Jungle Cruise rides because the silly jokes were straight out of their playbook!
Jungle Cruise Cast:
Dwayne Johnson as Frank Wolff
Emily Blunt as Lily Houghton
Edgar Ramirez as Aguirre
Jack Whitehall as MacGregor Houghton
Jesse Plemons as Prince Joachim
Paul Giamatti as Nilo
Veronica Falcon as Trader Sam
Directed by: Jaume Collet-Serra
Jungle Cruise Deleted Scenes List:
MacGregor Drives the Boat
MacGregor Water Skis
Joachim and Nilo On the Dock
Frank Talks to Proxima & Lily's Nightmares
Sub Gets Stuck
Proxima Surprises MacGregor
Frank Gets the Cold Shoulder
Trader Sam and Lily Walk in the Jungle
MacGregor and Trader Sam Say Goodbye
Frank Makes Tea for Lily
The Backside of Water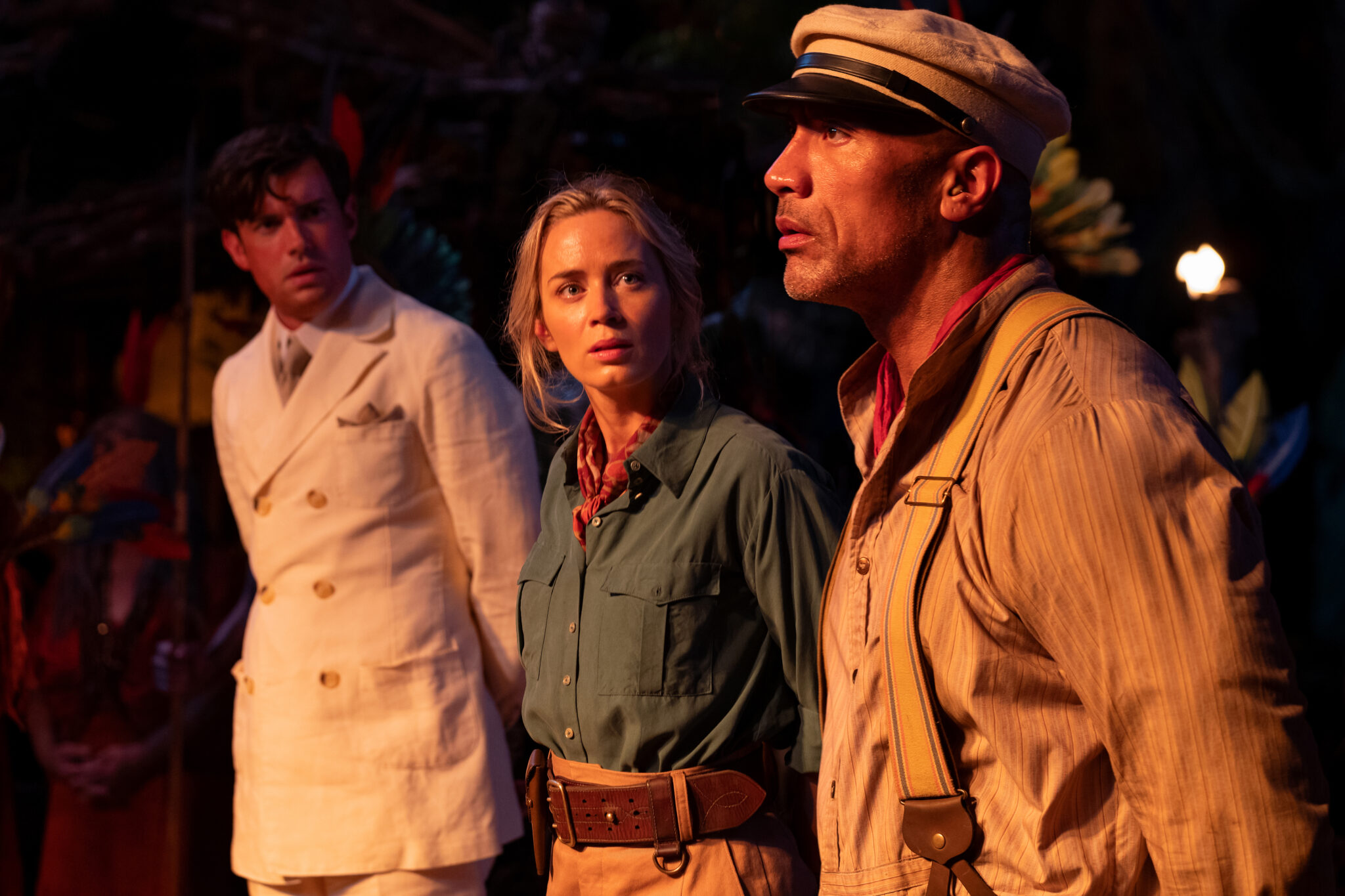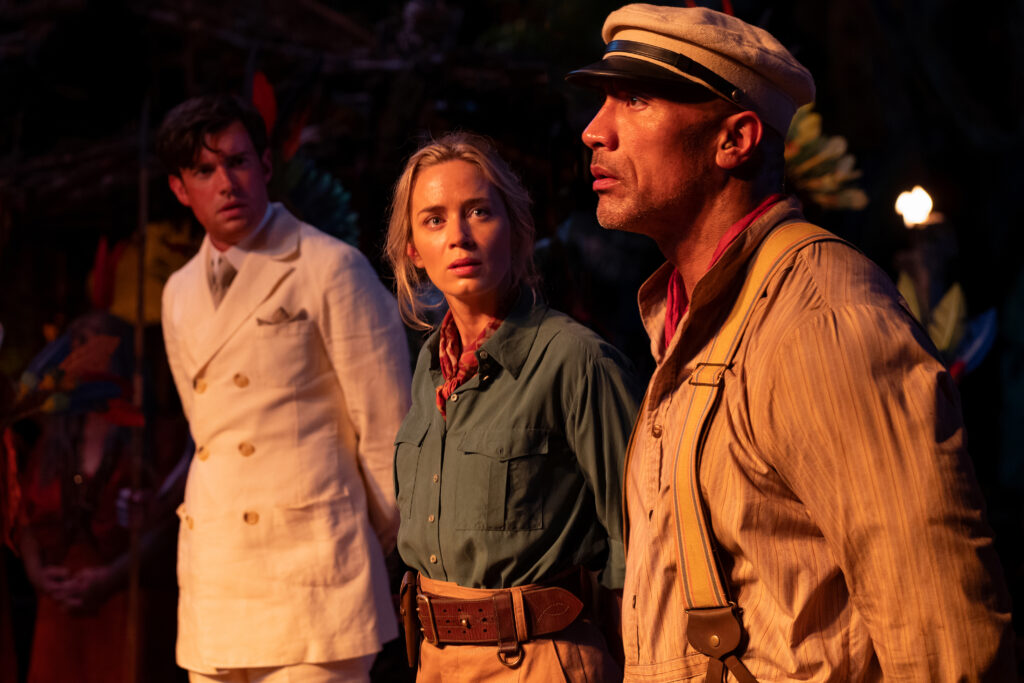 Jungle Cruise Bonus Features:
● Jungle Cruise Expedition Mode – Climb aboard a ramshackle tramp steamer (or your
own couch) to learn fun facts, discover Easter eggs and catch some pop-up trivia
throughout the movie.
● It's A Jungle Out There: Making Jungle Cruise – Director Jaume Collet-Serra, the
cast and crew discuss the importance of the film's elements, from casting to makeup to
the use of an ancient indigenous language, in creating the world that honors one of
Disneyland's most beloved rides.
● Dwayne And Emily: Undoubtedly Funny – Go on-set with the two stars, whose new-
found friendship helped them project a natural onscreen chemistry. Although their
characters challenge each other throughout the film, the actors make each other laugh. A
lot!
● Creating The Amazon – Explore the cinematic artistry involved in creating the world of
Jungle Cruise, including how Frank's boat coursed "dangerous" water in a tank in
Atlanta, how a town was built in Kauai, and how a ferocious jaguar came to life, among
other amazing effects.
● Once A Skip, Always A Skip – Join a panel of "Skippers" at the Disneyland Resort as
they reminisce about the rewards, challenges and surprises they've experienced while
helming the world-famous Jungle Cruise attraction, and hear their advice to aspiring
skippers everywhere!
● Outtakes – Step behind the scenes of the production to catch the cast in a series of flubs,
falls, foibles — and a whole lot of laughter.