Maximize Your Spooky Halloween Yard & Porch Home Decor By Doing This
This post may contain affiliate links, view our disclosure policy for details.
This post brought to you in partnership with AtHome.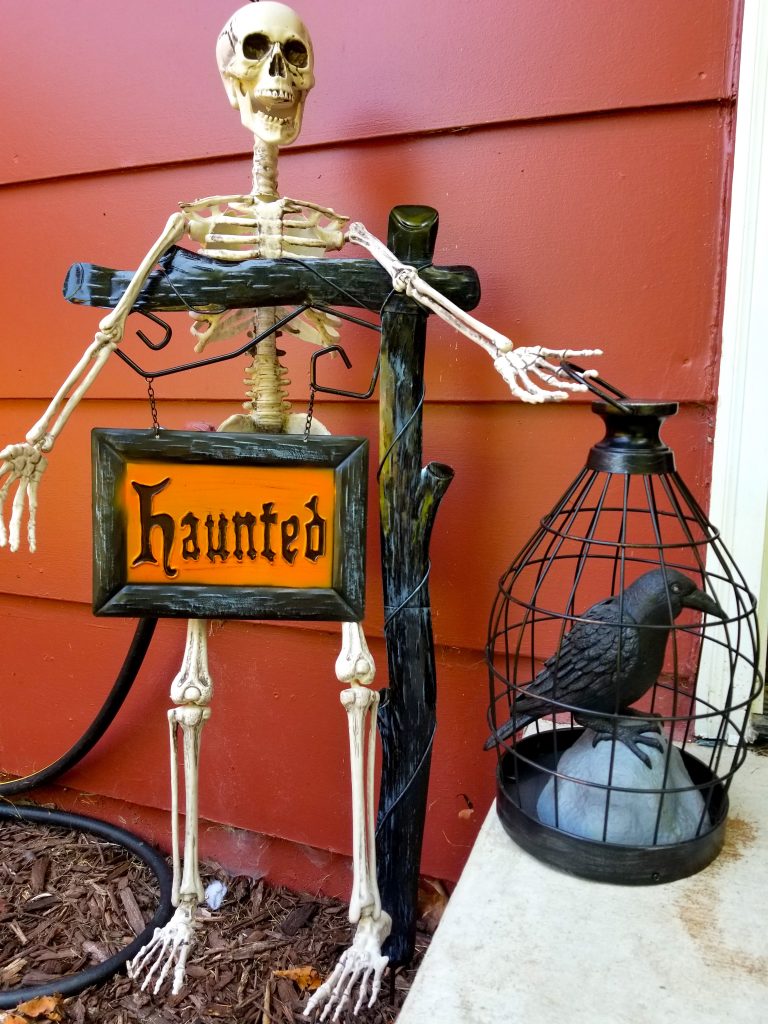 Anyone that knows me knows that I have a big heart for education and lifelong learning – but what REALLY gets me excited every year is Halloween! I am one of those people that could live with Halloween decorations every day of the year. We've been in a unique position the last 5 years of not being able to decorate for Halloween due to where we lived which was incredibly sad for both me & my kids! My husband promised me when we moved (which happened to be this past summer!) we could go ALL OUT for Halloween! THIS IS MY YEAR GUYS! And it's only the beginning!
I partnered with AtHome because I freaking love their store. If you've never been and you have an AtHome store near you YOU MUST GO – be prepared to be mesmerized for hours. It's amazing with an insane amount of selections. And unique items – not the same stuff you see everywhere else. I wanted to help give you some tips on how to maximize your front entry way and porch area when it comes to Halloween decor. For us this year we started with nothing at all for the outdoors and this is what I came up with!
The Front Porch:

Don't let the ambiance of a spooky Halloween decorated house die at your front door!
There are a few simple ways you can spruce up that doorway:
A Spooky Doormat
Spiderweb
Attach Crows to the door frame
Swap your porch light out for an orange bulb.
Add a skeleton standing/sitting nearby.
Jack-o-lanterns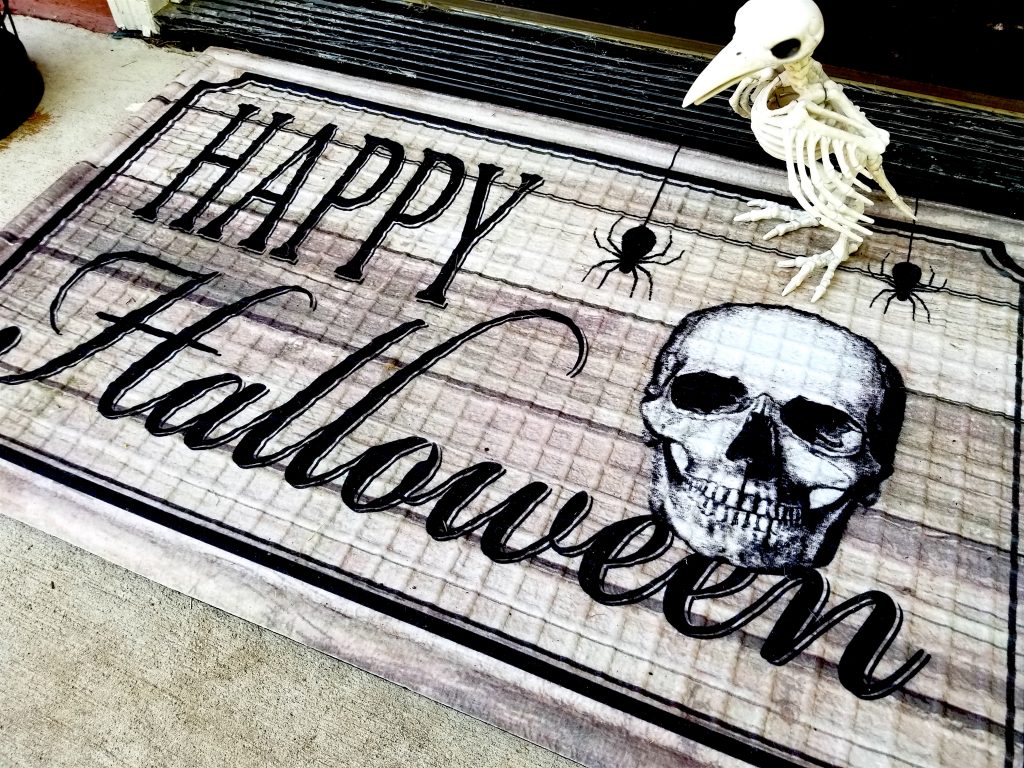 A great Halloween porch has a focal point – whether it's a scarecrow, a skeleton, or whatever it is that you really love. You need something that you love that grabs your attention when you walk up. Plus it helps distract people for any other spooky things you have planned!
I absolutely went NUTS over the bed and breakfast styled "Haunted" sign that I found at AtHome – it was my #1 grab item in the store. I added a skeleton hanging over the sign and voila – spookiness ensues! We don't really have a true porch, just a cement slab before you come indoors so this was perfect as I could place it next to the door.
The Front Walkway: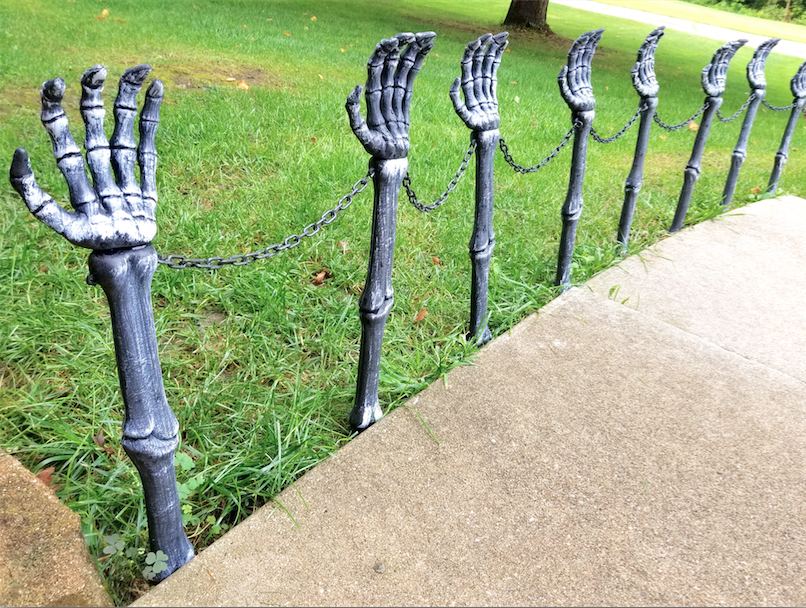 We have a fabulous long walkway to get up to our front door so I really wanted to do something to make my walkway stand out. These skeleton hands are AMAZING and were only $7.99 for a set of 2! They only take a few minutes to place in the ground and you can stack them in a corner to store. I love how they encourage people to stay on my walkway instead of venturing into the grass and they are so unique and simple to put up! It definitely "upped" the spook factor.
A Graveyard: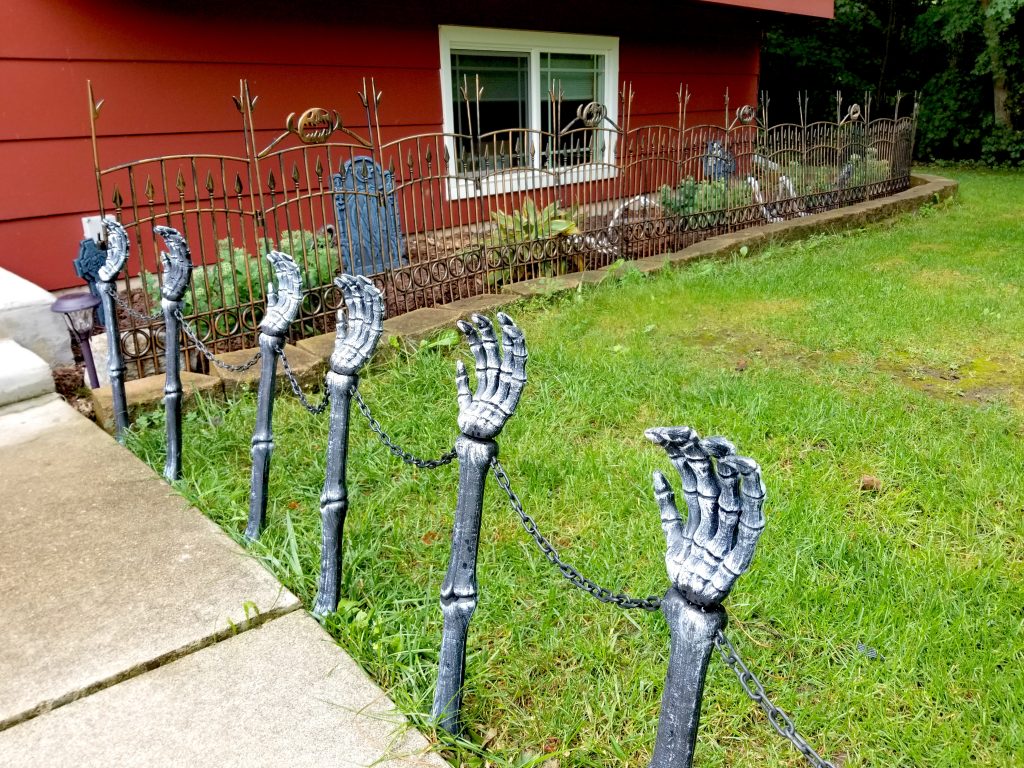 Although I am pretty obsessed with Halloween I do not like gory gross scenes in yards. I love spooky stuff – not gory stuff. But I knew I wanted a spooky graveyard that I could really build to over the years and play it up. But I wanted to do it right. I've seen DIY tutorials on Pinterest for graveyard fences but I don't have the time for that kind of project and to be honest it was totally worth just purchasing the fencing that I needed at AtHome.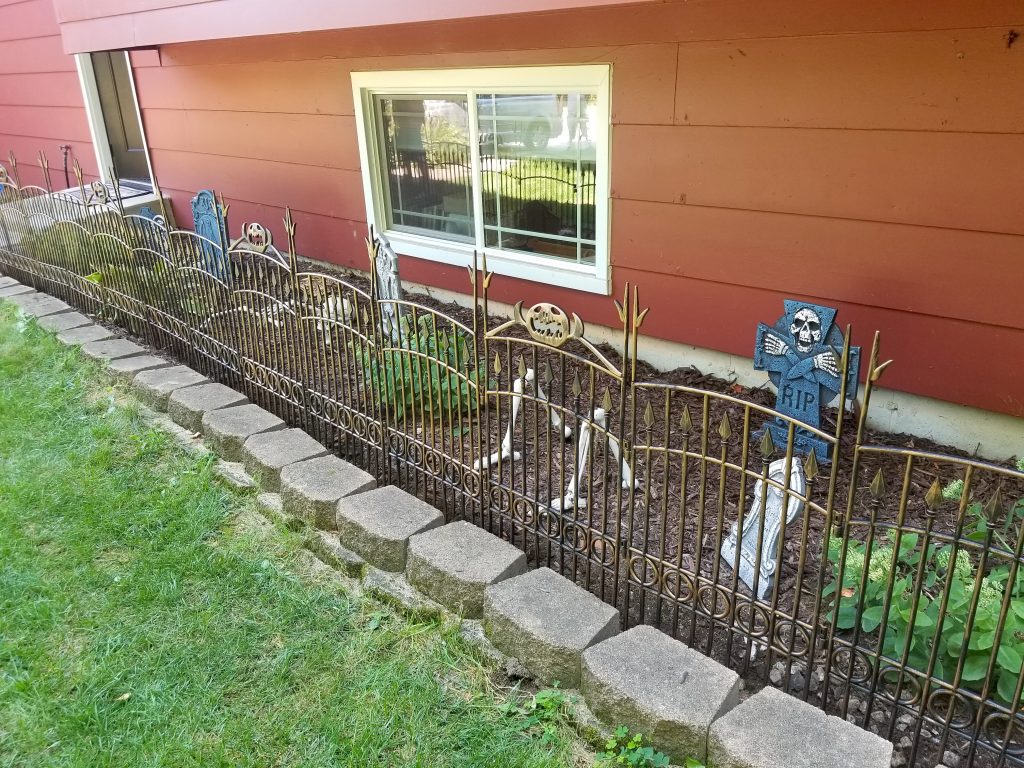 We saved a ton of time by buying spooky graveyard fencing at AtHome and it looks so good too! They had several options but we went with the haunted pumpkin fencing. If you're trying to cover a large area like we were most of your Halloween budget is going to go into this fence. But I promise you that it will make all the difference to your graveyard!
The great thing about a haunted graveyard for Halloween is that you can really space things out and take up a large area of your yard if you want. In addition to fencing you will need tombstones, and a skeleton or two. You can buy all of the tombstones and skeletons for a large area for under $50 and be set on your way! In fact I only spent about $35 and ended up with 6 tombstones and 2 halves of a fantastic skeleton "buried" in the ground which I actually separated in the yard.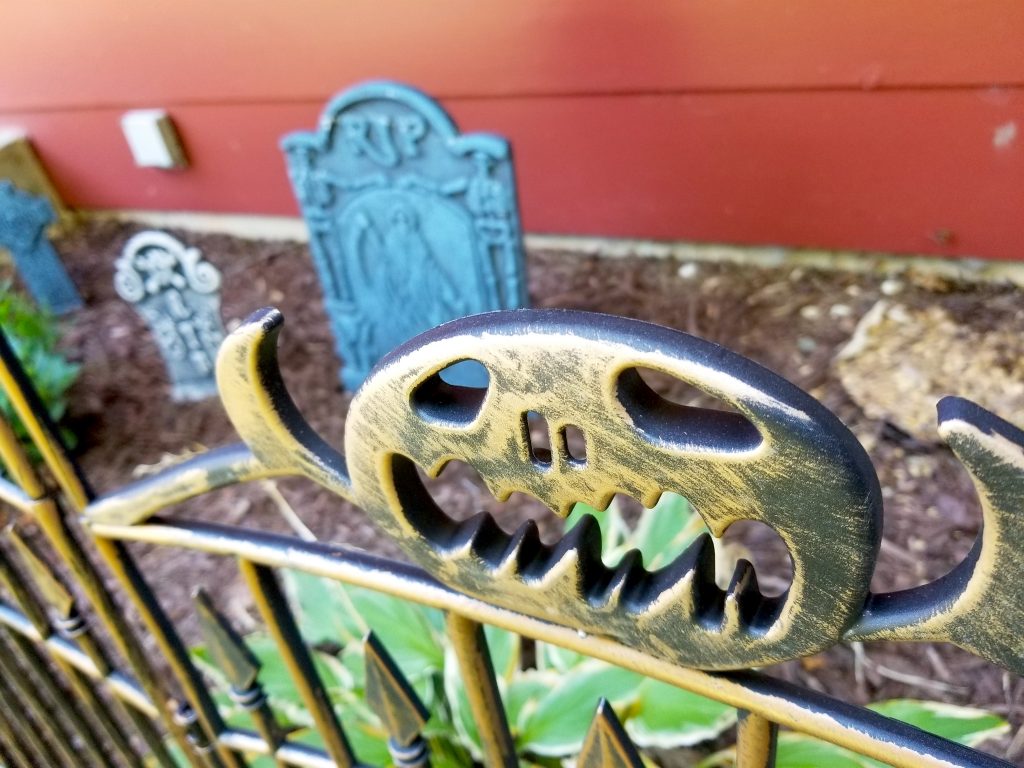 To give your graveyard a little more depth make sure to pick up both large and small tombstones.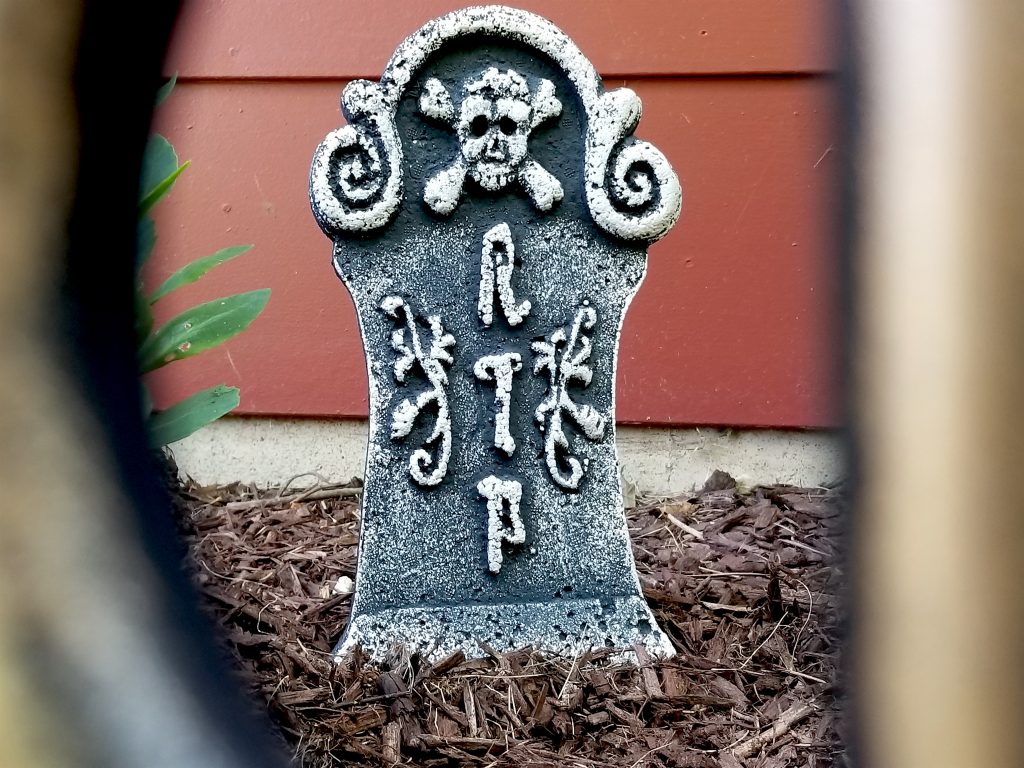 Although I haven't yet, you can absolutely place outdoor lights and/or stretched out spiderweb to maximize your outdoor area.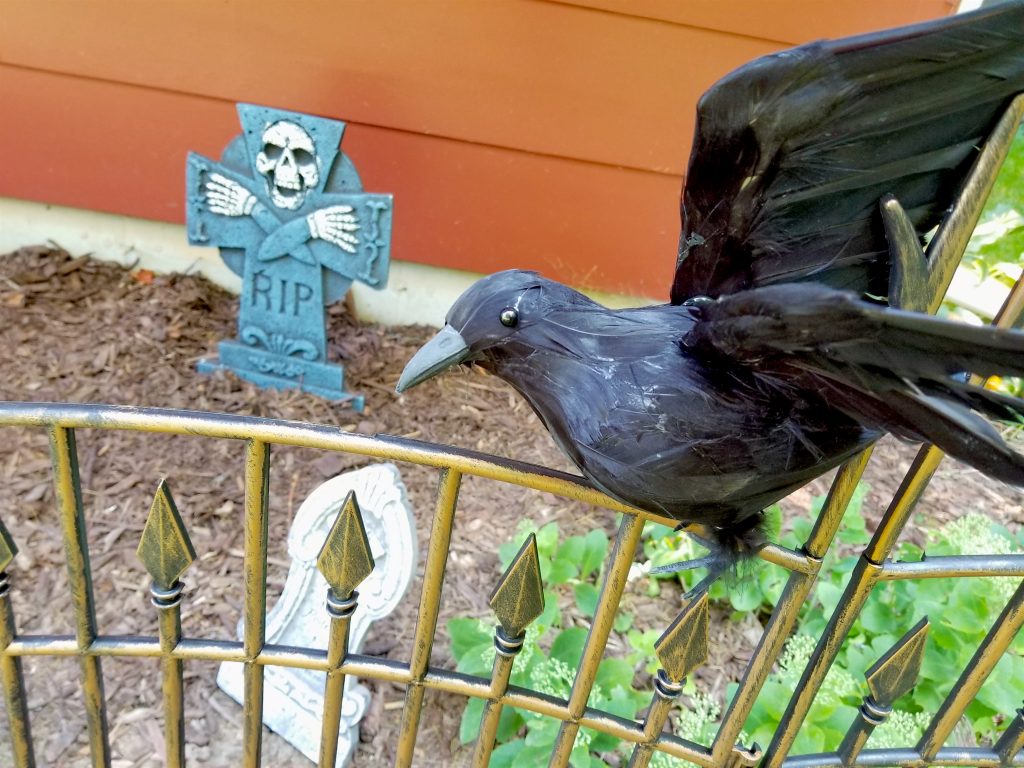 And please don't forget to pick up a few crows! Nothing says spooky more than a few large crows peering into your front entrance area. I literally attached one onto the top of the graveyard fencing!
The House / Windows:

A quick search online will garner literally thousands of ideas ranging from simple to difficult. Because the graveyard fencing and walkway were so much of a project for us on our busy schedule I wanted something insanely simple that provided a huge WOW factor – and these spooky eyes were it!
For $25 they take up a good portion of my window (they had a smaller set for $15) and absolutely upped the spook factor of my house. In fact as it gets closer to Halloween I will be creating "teeth" to hang outside my house underneath the window area so that it looks like a monster!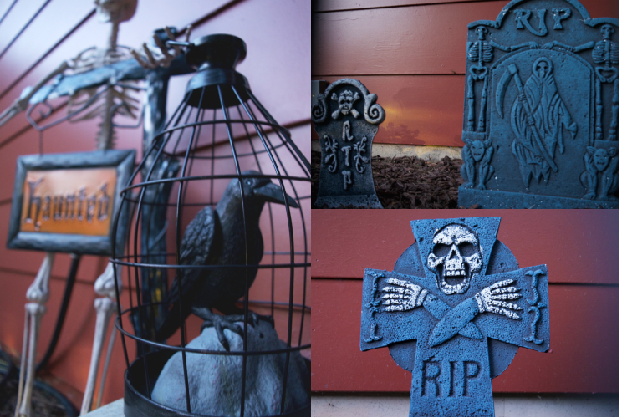 Check out AtHome for more spooky decor for Halloween!
Here's a quick walk through at my house: