Sunscreen Art & Science Experiments
This post may contain affiliate links, view our disclosure policy for details.
Thanks to Blue Lizard for partnering with us on this post!
One of our favorite experiments on a sunny day is by making sunscreen sun print art! You only need two ingredients, plus the sun! It's a great way to show kids how sunscreen really DOES help protect their skin from the sun and they will have an art project to remind them of this!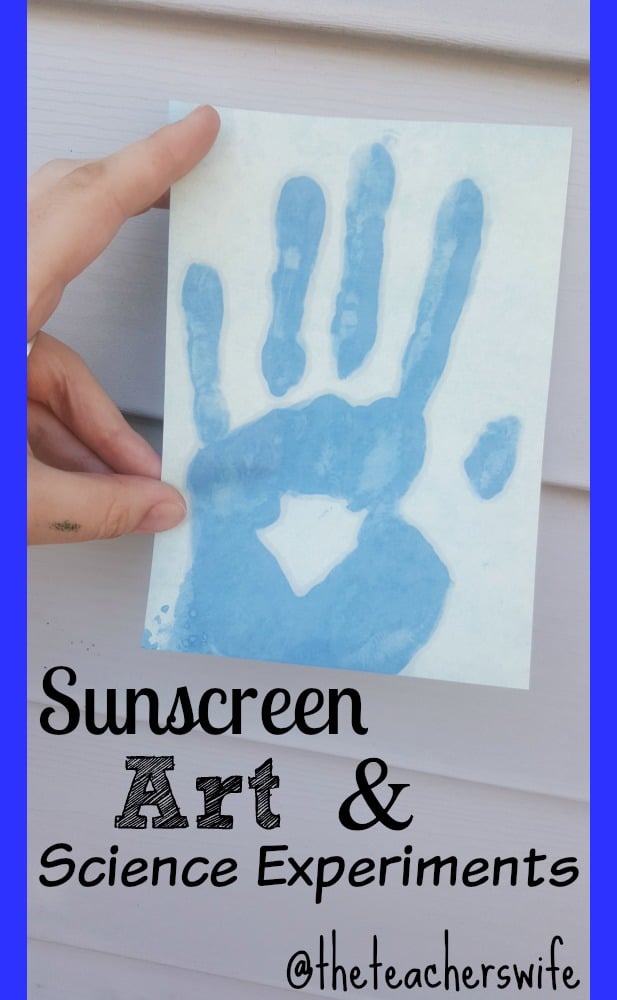 Sunscreen and sun safety is a very important discussion in our family thanks to my husband's unfortunate melanoma family history. We are extremely proactive with our children (and ourselves!) at protecting our skin and we use Blue Lizard sunscreen which is what our dermatologist recommended.
(Blue Lizard is a broad spectrum sunscreen which means it protects from both UVA and UVB rays and is water resistant. It's BPA free, gluten free, phthalate free, PABA free, and peanut & soy free! Plus they have a fundraising program!)
How to Use Sun Print Paper:
You do NOT need sunscreen to use sun print paper
. If you've never used sun print paper before, let me give you a quick run down of how to use it. As soon as the paper hits the sun it begins changing colors. So don't bring out your paper until you are ready to start using it!
Lay objects of any kind (or see sunscreen ideas below) and watch the sun change the paper color around that object! You'll be left with some cool "shadows" of the objects you used! Fun ideas are things like flowers, leaves, silhouettes, toys, etc.
Sunscreen Sun Print Ideas
Growing up my mom never made us wear sunscreen but we've drilled into our kids how important it is to protect their skin. Although we've explained the damage sun can do to our skin and they've seen my husband get multiple skin biopsies every 6 months at the dermatologist office, I wanted to give them a more visual example of what sunscreen can do for us. This would make an AWESOME base for science fair ideas too!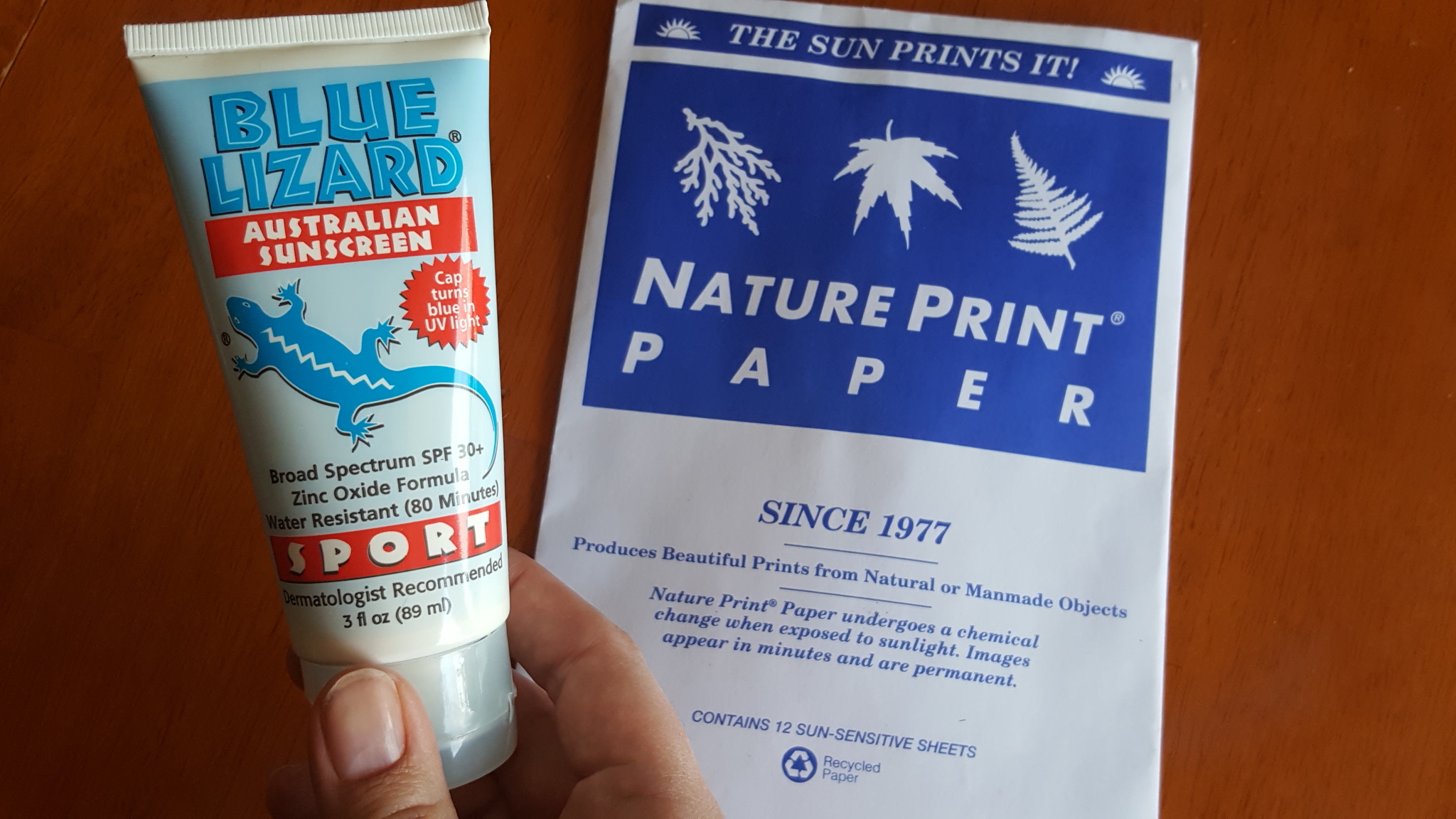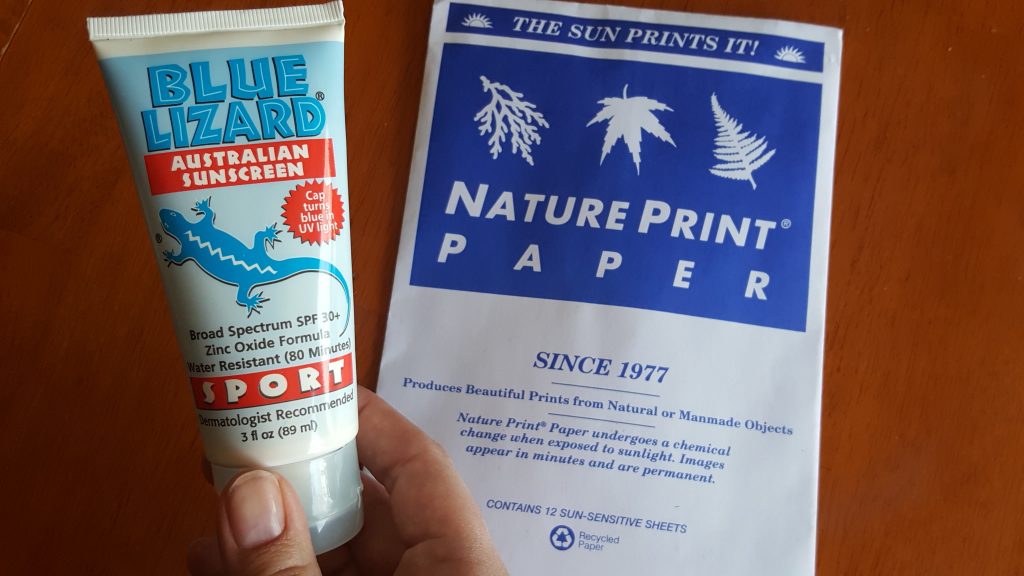 You'll need your favorite type of sunscreen (or compare a variety of sunscreens!) and a pack of Nature Print Paper.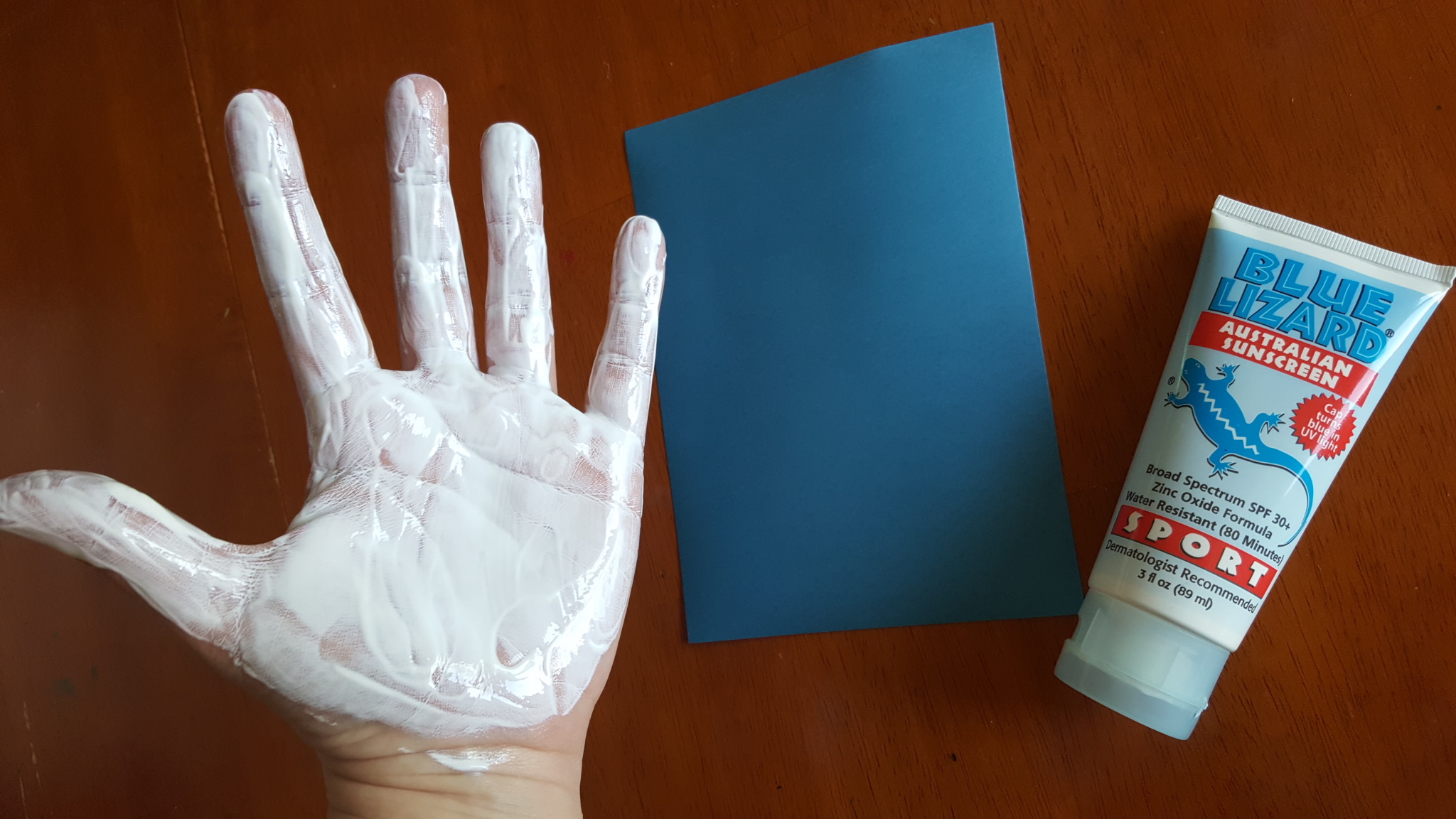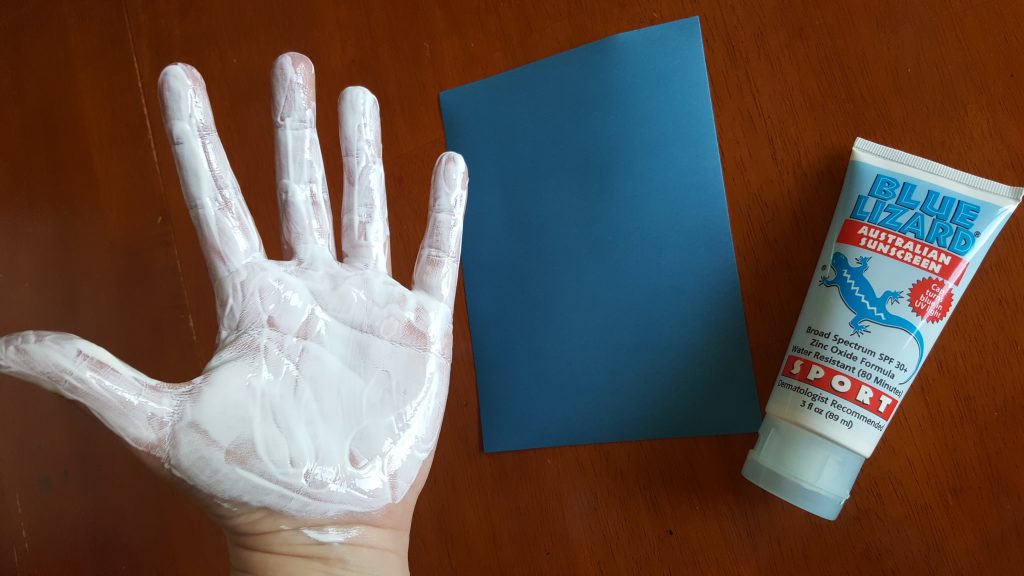 Spread the sunscreen all over the palm and fingers of one hand like shown. I used the Sport version for this particular experiment but it would be fun to measure an exact amount of sunscreen from different varieties and brands to draw a hypothesis on the variation of outcomes.
Just make sure if you're comparing types and brands of sunscreens to measure exactly how much sunscreen you're using so it stays constant!
TIP – Blue Lizard sunscreen goes a LONG way when applying to the skin but you'll want enough to press onto the sun paper for this experiment.
*Science Fair IDEA – compare the sun exposure of sunscreen vs. baby oil vs lotion.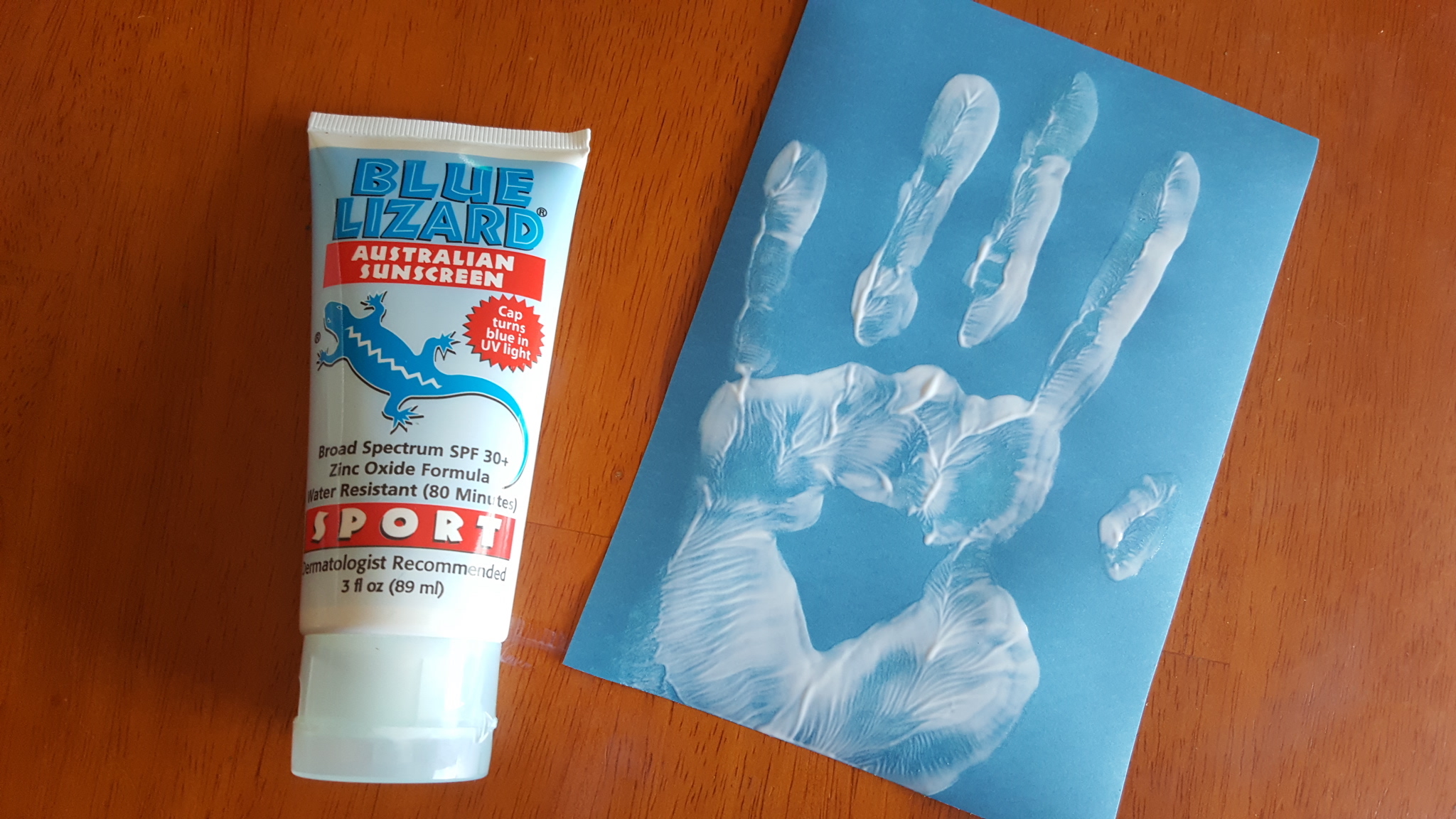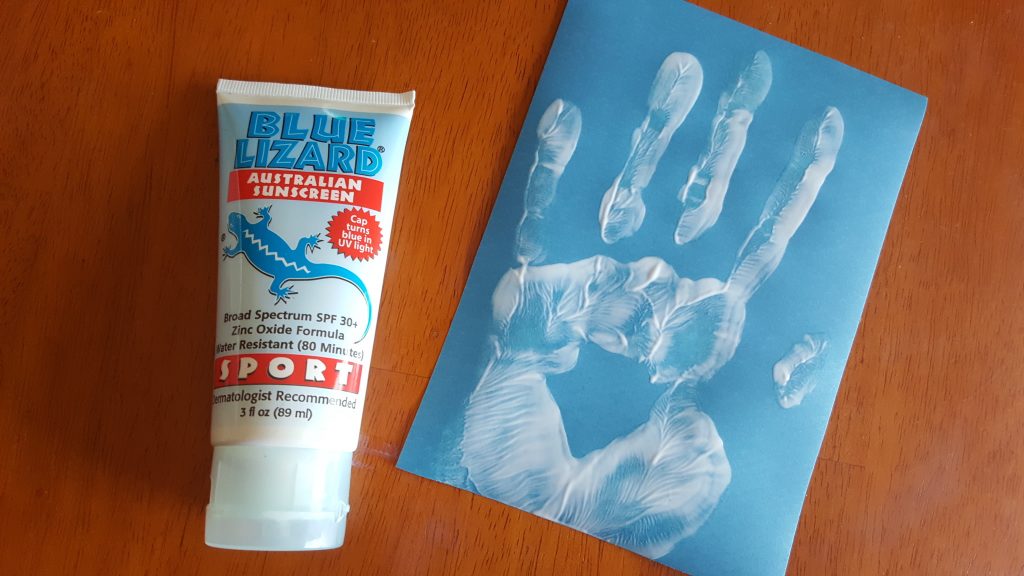 While still indoors press your sunscreen covered hand (or objects you're using) directly onto the sun print paper then take outdoors and let the sun change the paper! I didn't even leave mine out for an entire minute – you'll be able to see an immediate reaction when the sun hits the paper vs. where the sunscreen is located.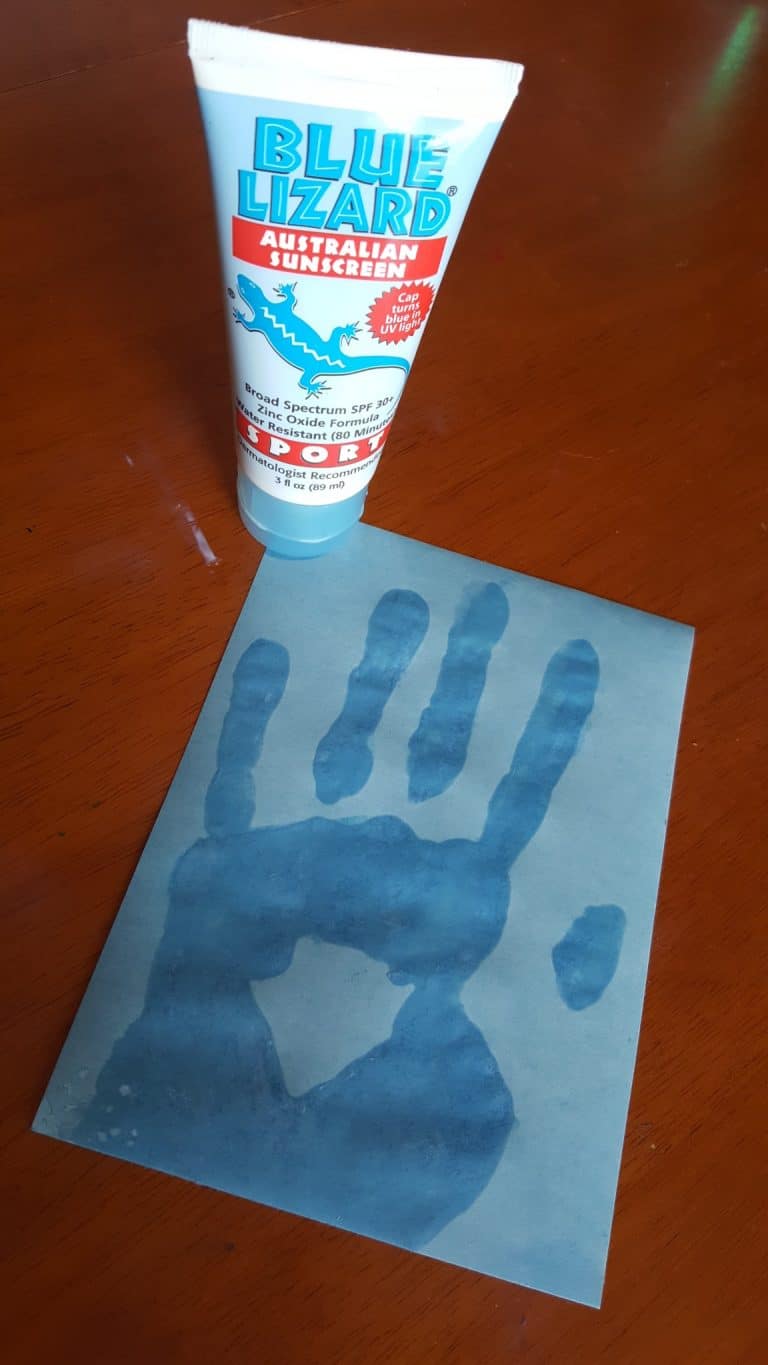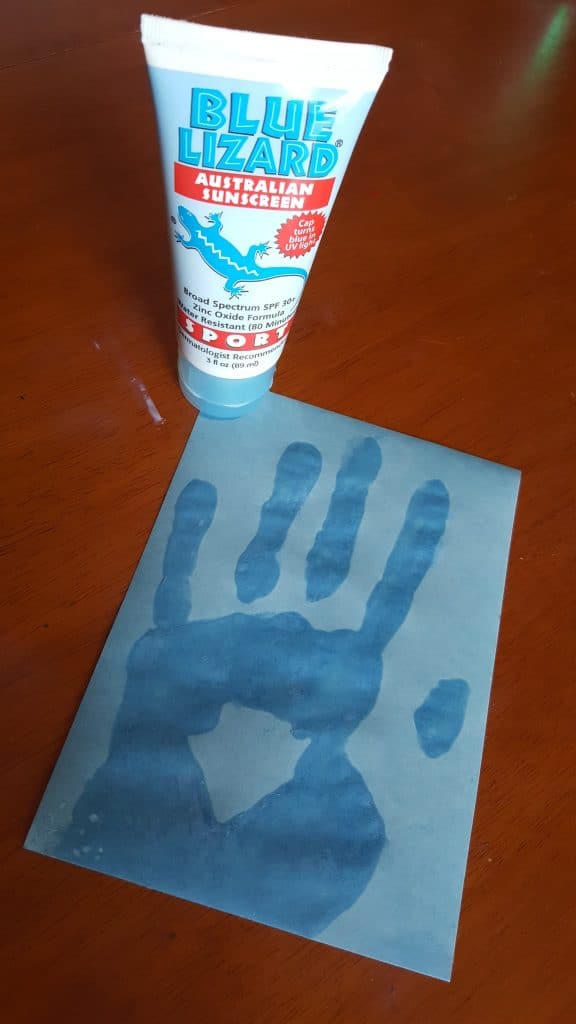 After bringing the sun paper back indoors lightly dab the excess sunscreen off with a tissue or square of toilet paper. You can see above I forgot to completely press part of my thumb down far enough! This is an awesome immediate visual for your kids to see how the sunscreen protected the paper from changing colors in the sun.
Science Fair Idea – compare the sun exposure to different brands and SPF strength of sunscreen.
Sunscreen Stamping Art Project
After doing a few sunscreen science experiments let your kids get creative by creating their own art projects! There are tons of ways you can have fun with this! Work on fine motor skills by "writing" their name with sunscreen on the paper, create patterns, lay leaves and other nature objects on the paper, etc. We decided to stamp on our sunscreen though!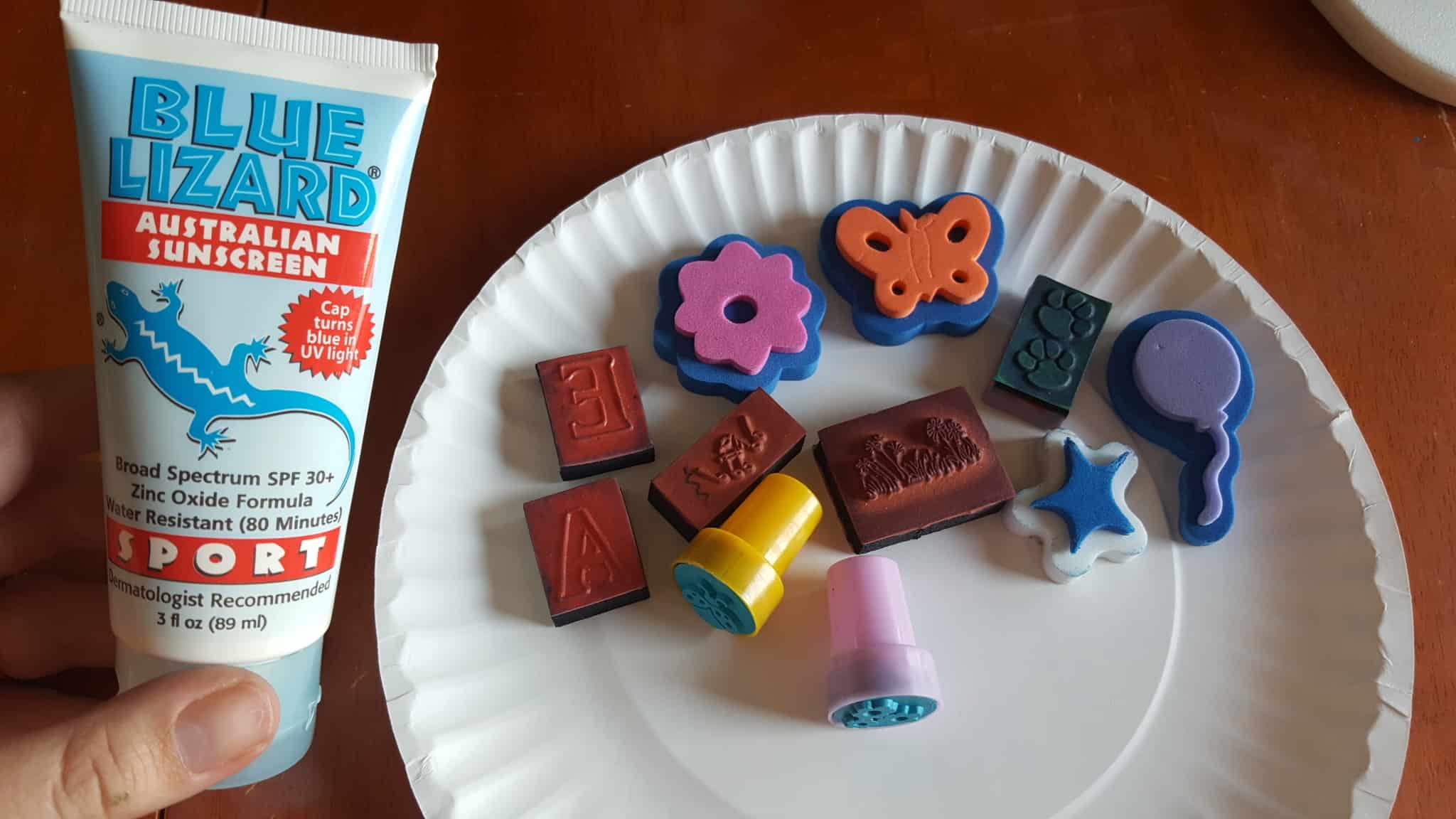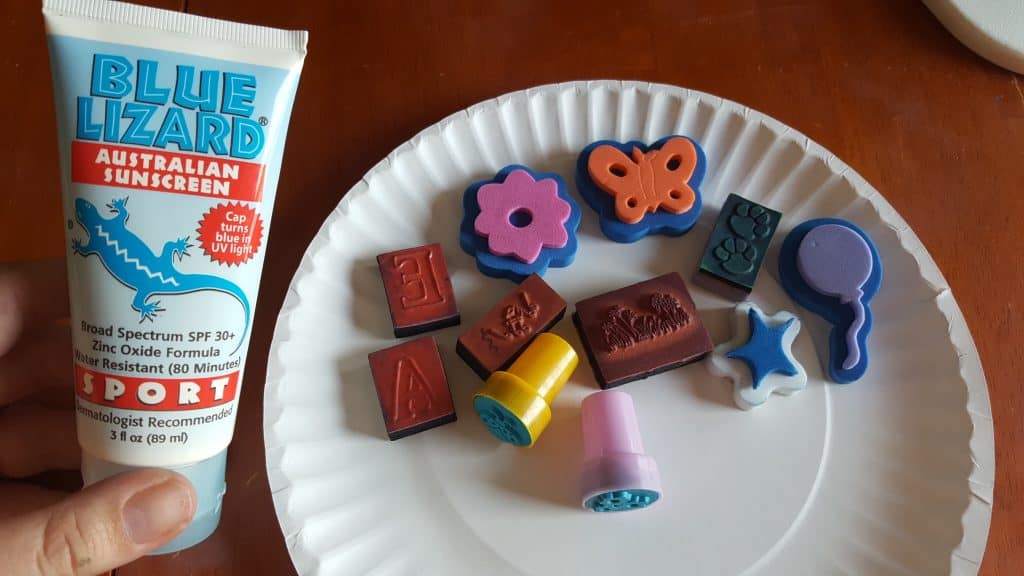 You'll need your pick of Blue Lizard sunscreen, stamps, and a paper plate.
TIP – use stamps that are simple shapes for a cleaner artwork.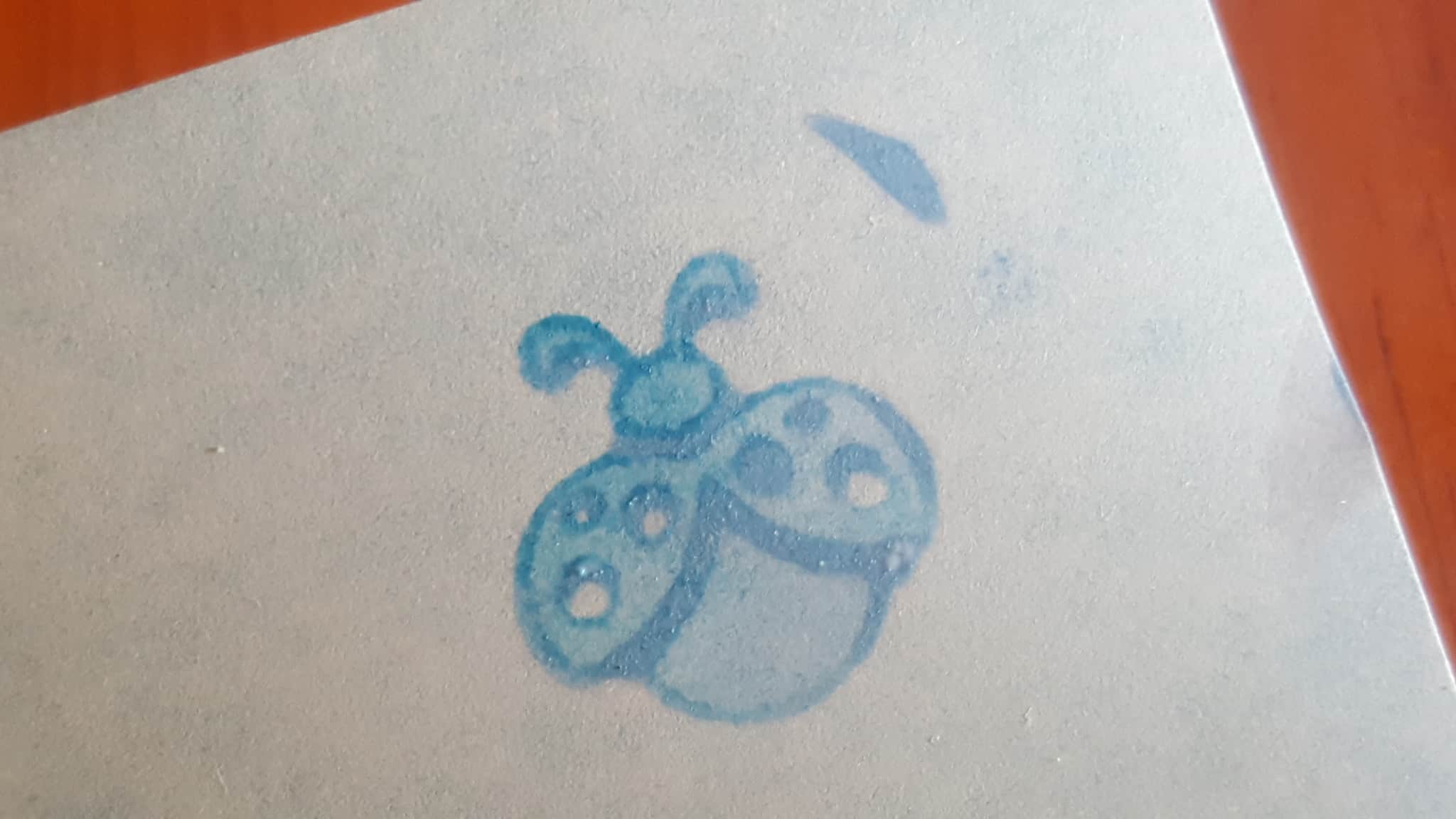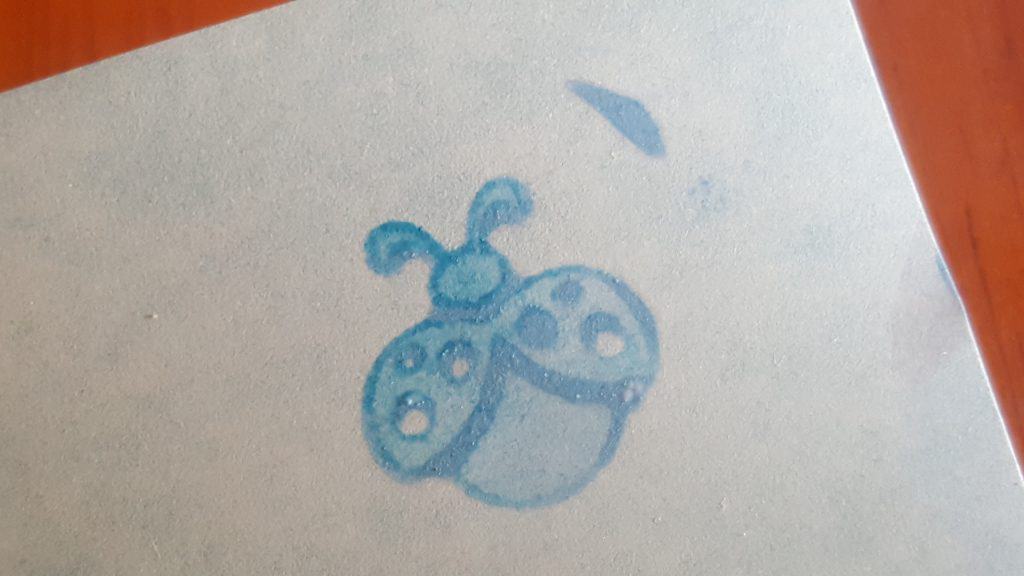 Dab the stamps directly into a small pile of sunscreen, lightly smear around on the plate to remove excess globs, and press firmly onto the sun print paper. Once you've "stamped" the sunscreen everywhere you want then take it out into the sun and watch the change!! Once you bring it inside take a piece of tissue or toilet paper and dab off the excess sunscreen.
Look how awesome my ladybug turned out above!! The darker lines on the ladybug is on the outline of the stamp where I had a higher concentration of sunscreen. It's a great visual picture for kids of the need to frequently reapply sunscreen for maximum sun protection as opposed to applying once. Plus the 5 oz bottles & 3 oz lids change colors when exposed to the sun which is another great visual of the sun's effects.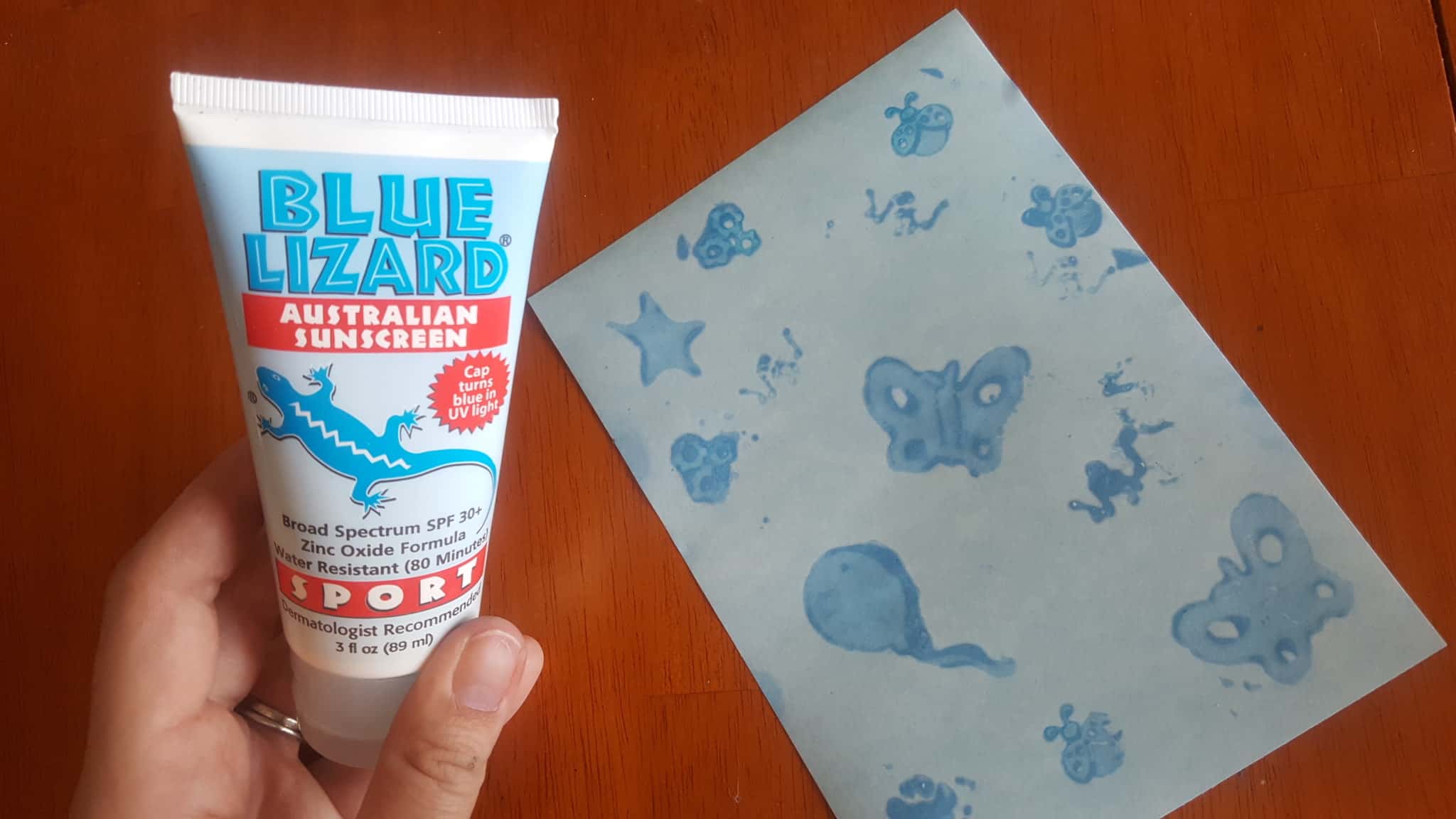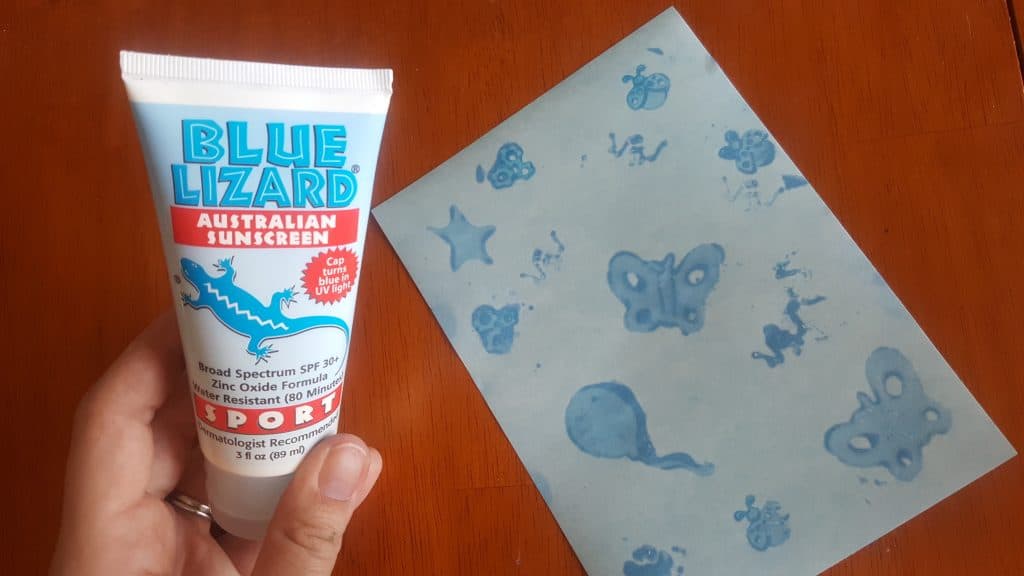 Here's my art collage that I made! Cool huh?! You can frame it or hang it on the fridge! This is a fun sensory project to incorporate learning letters, numbers, sight words, etc.