Family Traditions: Building a Gingerbread House
This post may contain affiliate links, view our disclosure policy for details.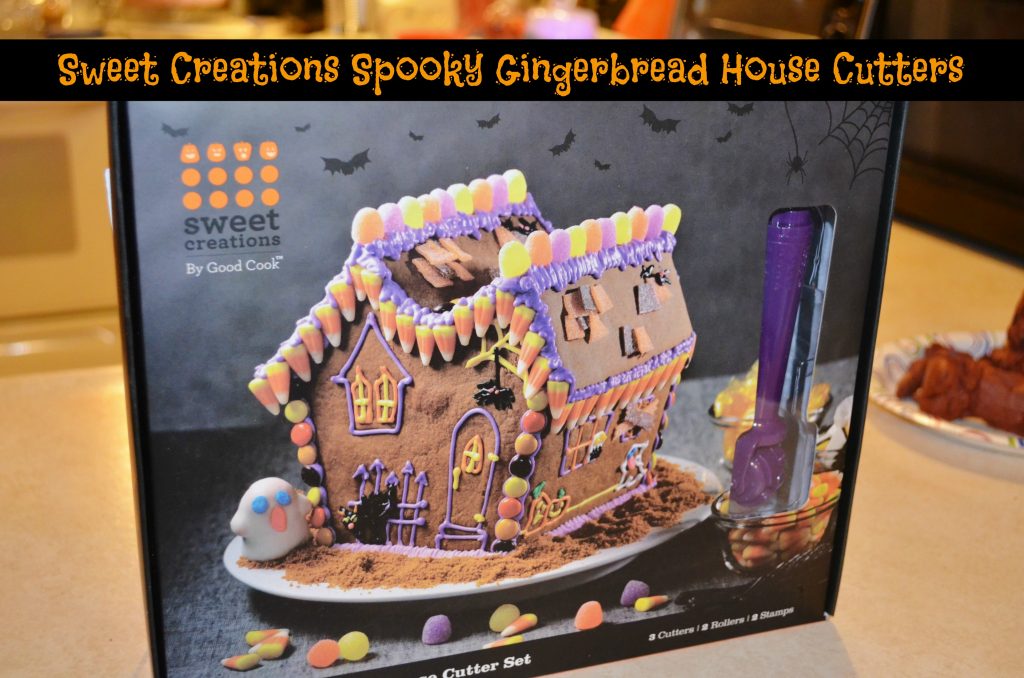 I shared with you about one of our fall family traditions of pumpkin carving but another one that we love is building and decorating gingerbread houses every year! We've always decorated pre-made kits at Christmastime but Sweet Creations sent us this spoooooky Haunted House Cookie Cutter Set. I was SO incredibly excited because Halloween is one of my favorite holidays and I had never seen gingerbread house cookie cutters before! This set has a LOT of fun extras and can actually be used for non-spooky holidays as well which makes it very versatile.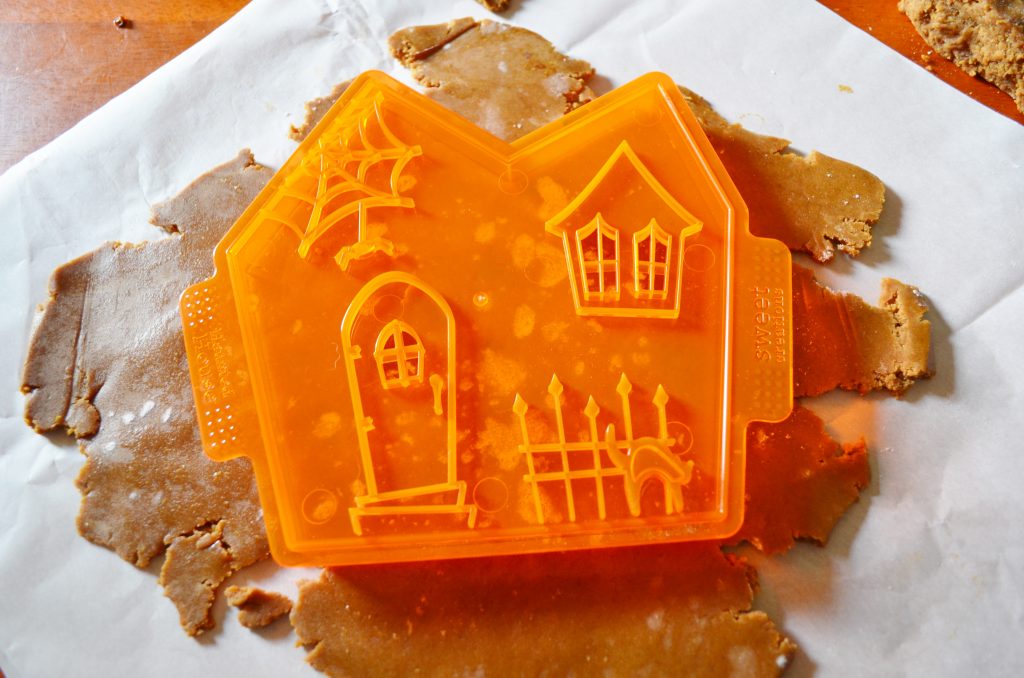 It includes cookie cutters for the front/back of your house, the sides, and the roof. These are not your average cookie cutters – these are SO cool because after you've cut your dough you just flip the cutter over to press a design into your house!! So if you want to use it for other holidays you can still cut a plain house out without the designs.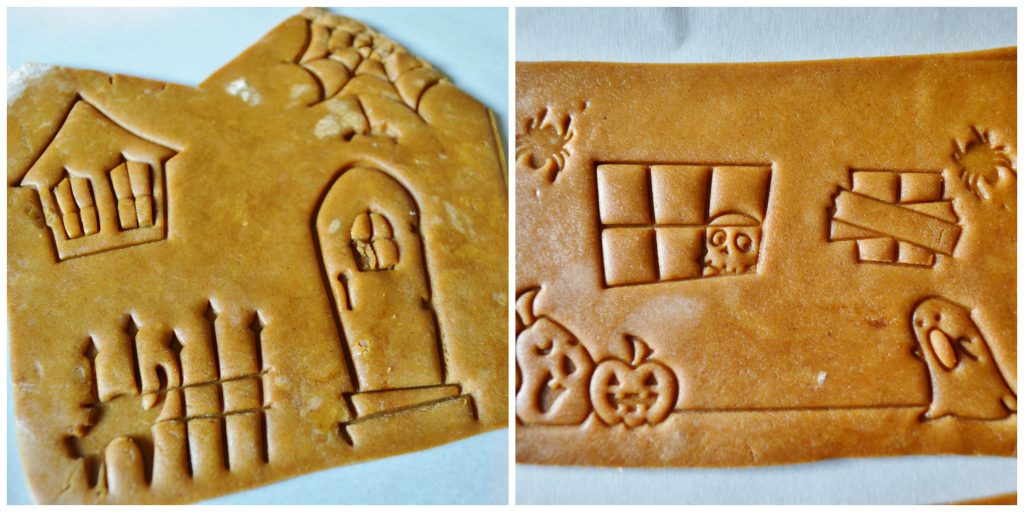 Check it out!! I had SO much fun pressing these cutters into the dough (I used the gingerbread dough recipe on the box) because my house was looking awesome already!! I am not good at making baking projects look all fancy so these tools really made me feel like my gingerbread house had hope!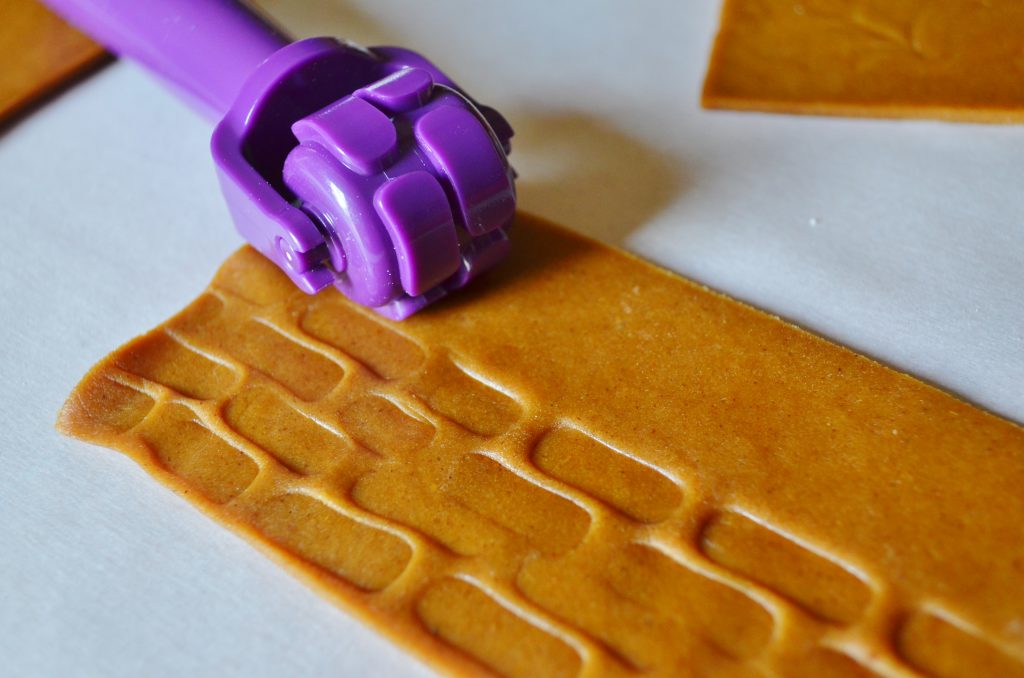 Also included in the kit are extra decorative pieces like this "brick" roller. There is also an attachment to roll spiders onto your dough, and at the end of the tool you can swap out ghost or bat stamps as well. This set definitely has some pretty sweet bells and whistles to get your spooky house looking creative before you even start decorating it!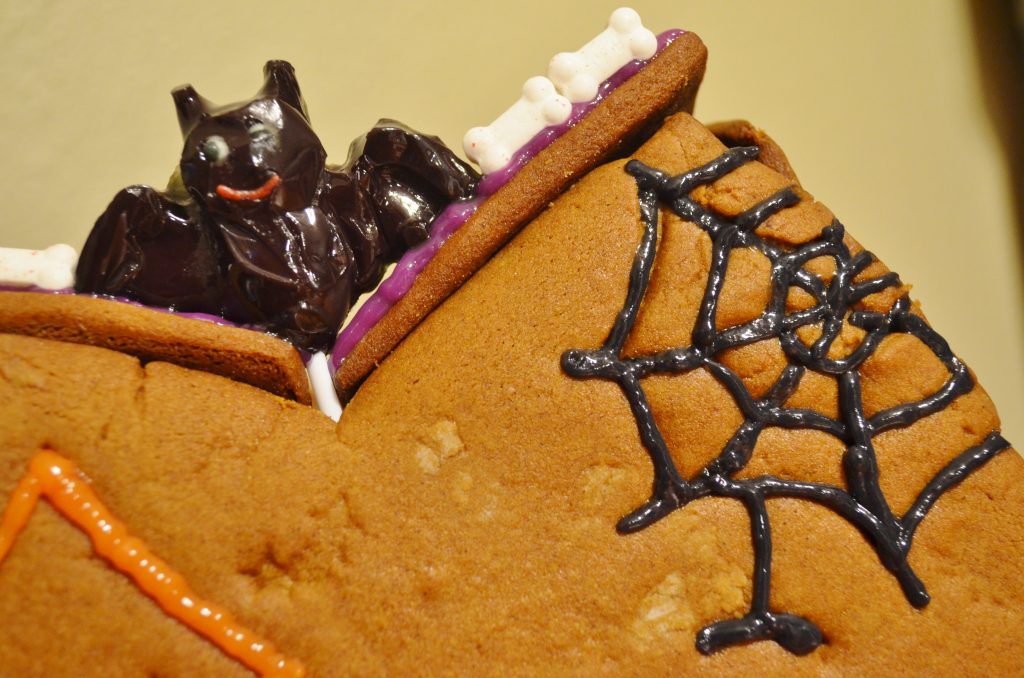 I used some gel icing to outline the cookie cutter impressions in the house after I baked all the pieces. And I scored some really cute Halloween candy (like the bat lollipop and bones!) at the Dollar Tree.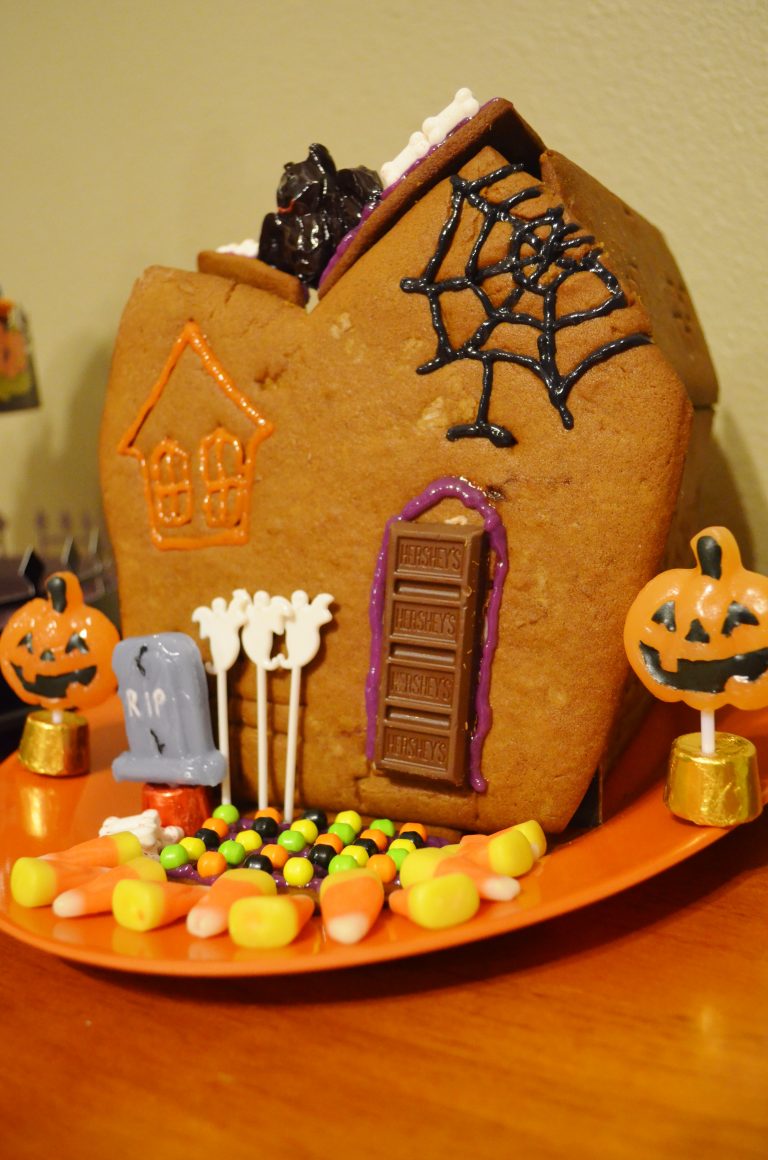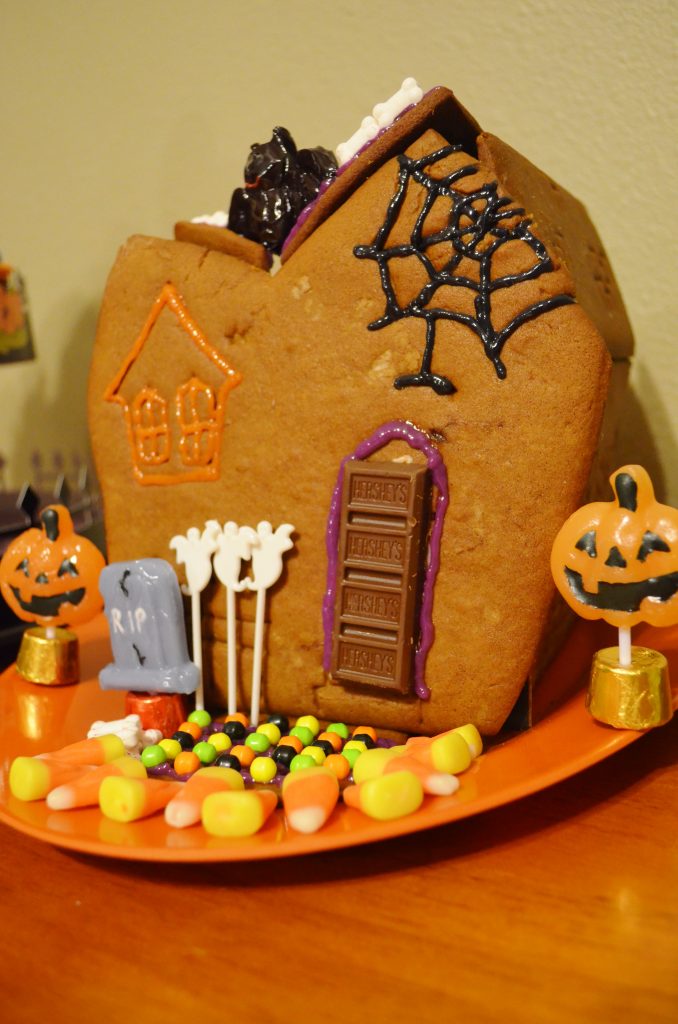 Decorating the spooky gingerbread house (and eating it of course!) were the easy parts!
As much as I wanted to completely deck out the whole house I am evidently not skilled enough to put together a non pre-fab gingerbread house! The recipe was so easy to create, the cookie cutters were easy to use but I totally failed at putting the house together! I finally ended up smearing icing all over the back of the walls and sticking it to a cardboard box – haha! If you've never created a gingerbread house from scratch – be forewarned – it's not as easy as it looks!! BUT I love that you can use these gingerbread house cookie cutters year-round for all sorts of themes so the set is pretty awesome. Just don't ask me to make anything too fancy! 🙂 Here's 25% off coupon to goodcook.com for any Sweet Creations Halloween product. Use CODE: HAUNTED23. You can find Good Cook on Facebook and on Twitter @goodcookcom.
Thanks to Good Cook I have 2 Sweet Creations Gingerbread Cutter sets to give away to my readers!! Whoo! Please note, the giveaway does not end until October 31st and it can take up to 10 weeks to receive prizes for this contest so this would be a great project for the upcoming holidays!
GIVEAWAY:HAS ENDED
Congratulations to our Winners:
Michele C.
Dawn M.
TO ENTER: Just leave a comment below letting me know what you would want your gingerbread house to look like or who would help you build it!
Giveaway Fine Print Details: Open to US only. Giveaway ends at midnight October 31, 2013. All prizes will be awarded 8-10 weeks after the giveaway has ended. Prizes are supplied and by Good Cook. One prize per household for this Good Cook Pumpkin Carving event. If someone wins on 2 or more blogs, they-or their family members- cannot win a second prize from another blog in this event. If a household has won a prize in a Good Cook event they can't win again for 6 months. Good Cook will confirm that winners are eligible and will disqualify anyone who has won more than once. You must be 18 or older to win. Good Cook reserves the right to substitute a prize of equal value if sufficient inventory is not available.