Hot Dots Learning Prize Package #Giveaway
This post may contain affiliate links, view our disclosure policy for details.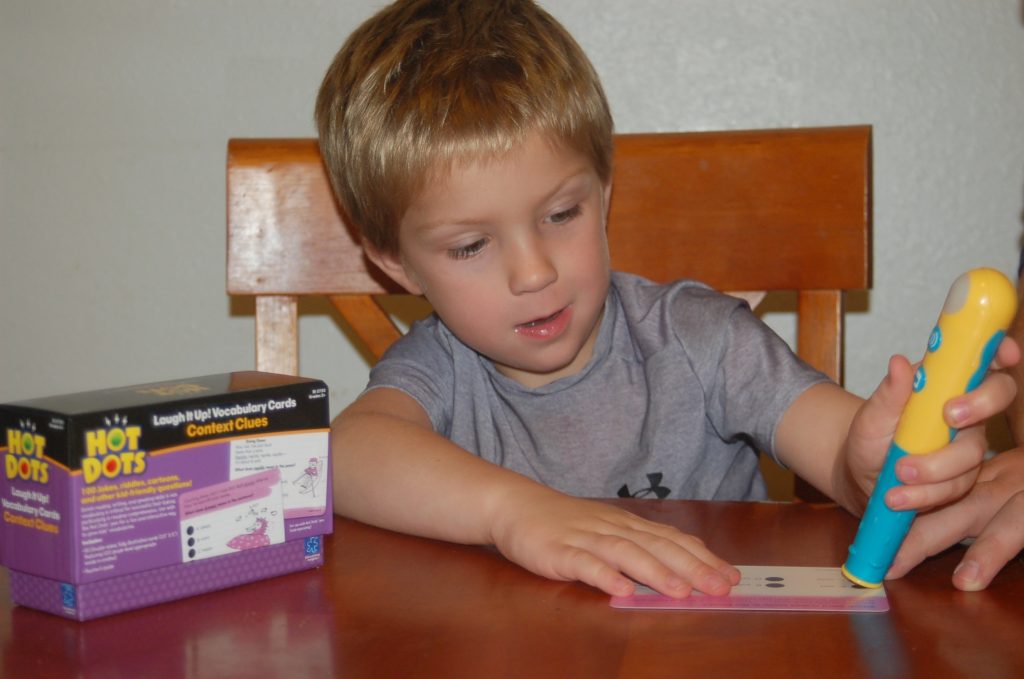 We had the chance to check out Educational Insights NEW Hot Dots Pen! Just in time for the school year to start too! We are so excited to bring our Hot Dots set with us to my husband's new school! These are great for guided and independent practice.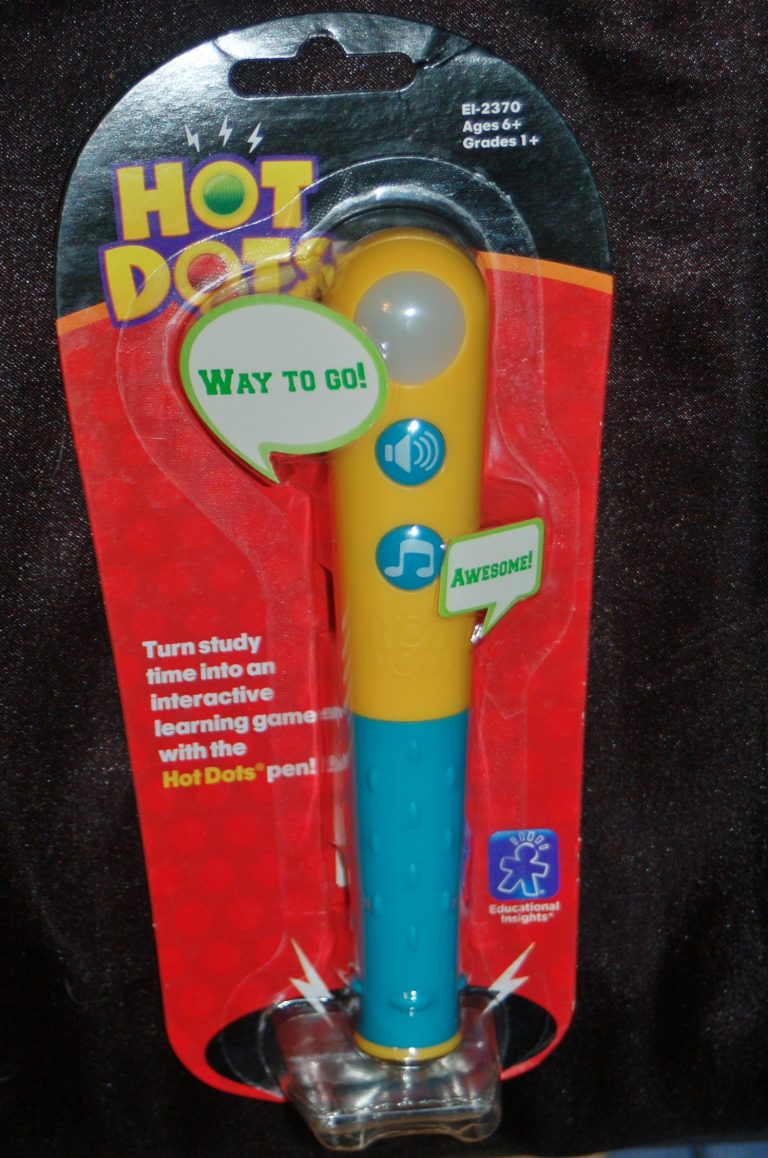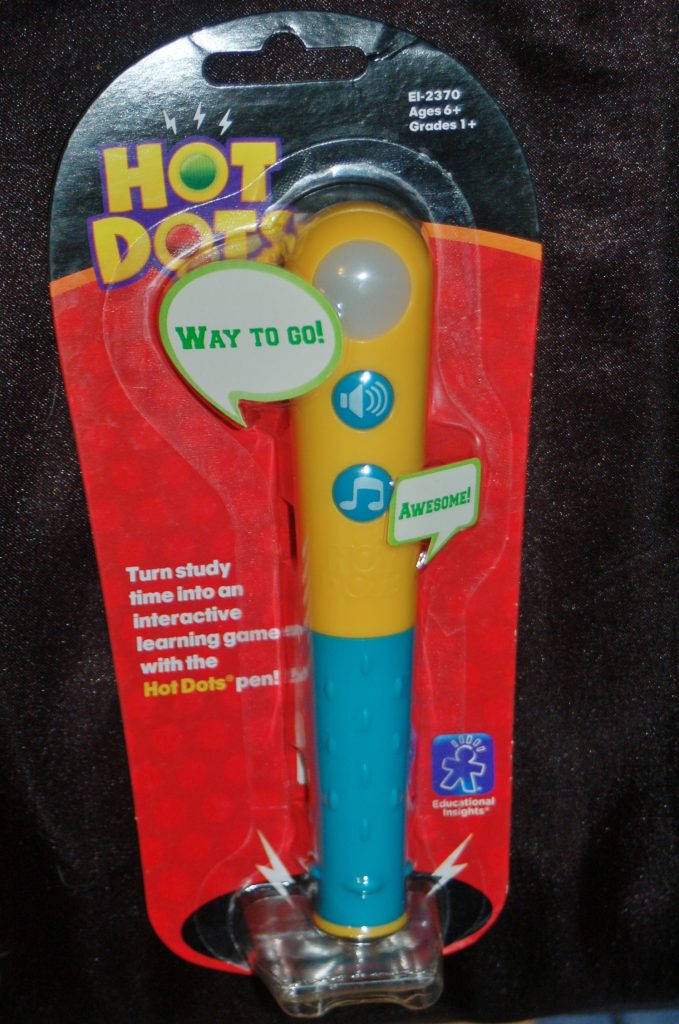 If you're not familiar with Hot Dots it's a fantastic electronic learning system from Educational Insights! Above you can see the Hot Dots pen which you use in conjunction with Hot Dots cards. The Hot Dots Cards cover everything from vocabulary, math, states/capitals, science, reading comprehension, make-your-own, and LOTS more! Each card will have a multiple choice answer with a black dot next to it. The child must read the question, then choose the answer by pressing the electronic pen on the black dot to determine whether or not they have chosen the correct answer. There is a volume adjuster which is nice  My husband invested in a huge classroom set of Hot Dots products last year ($300+ worth!) and used them all year long.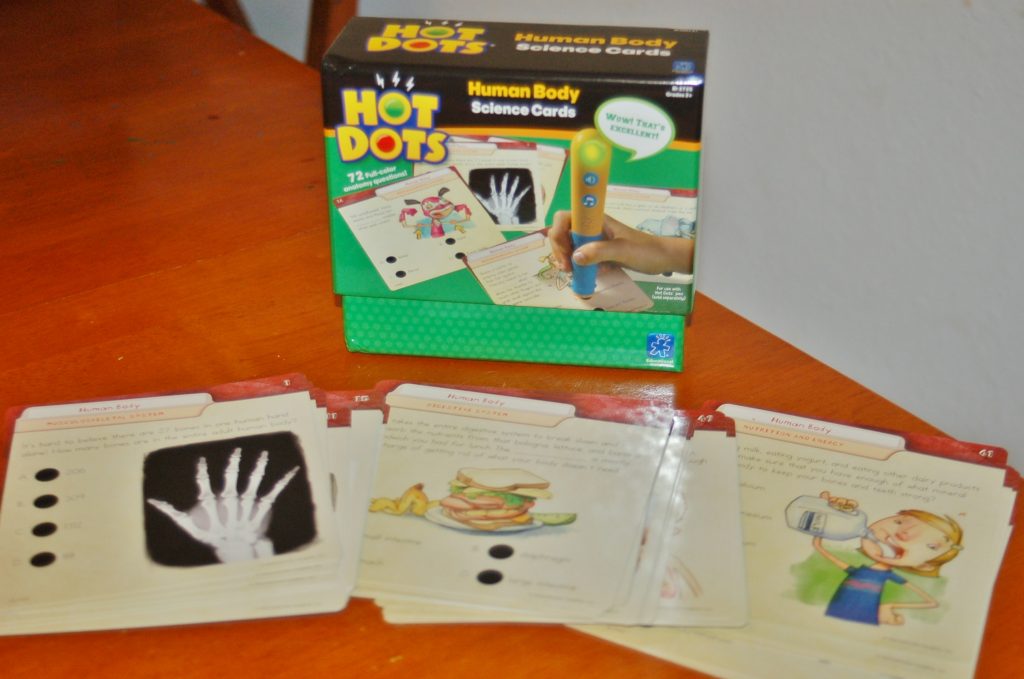 We received three sets of cards – the Human Body Science Cards, the Laugh it Up Vocabulary Cards Synonyms, and the Laugh it Up Vocabulary Cards Context Clues. Aside from this review we personally have about 15 additional sets. These newer Hot Dots cards have absolutely beautiful illustrations on them and are very eye-appealing. My husband noticed the difference from the older sets to these immediately! My son loved them!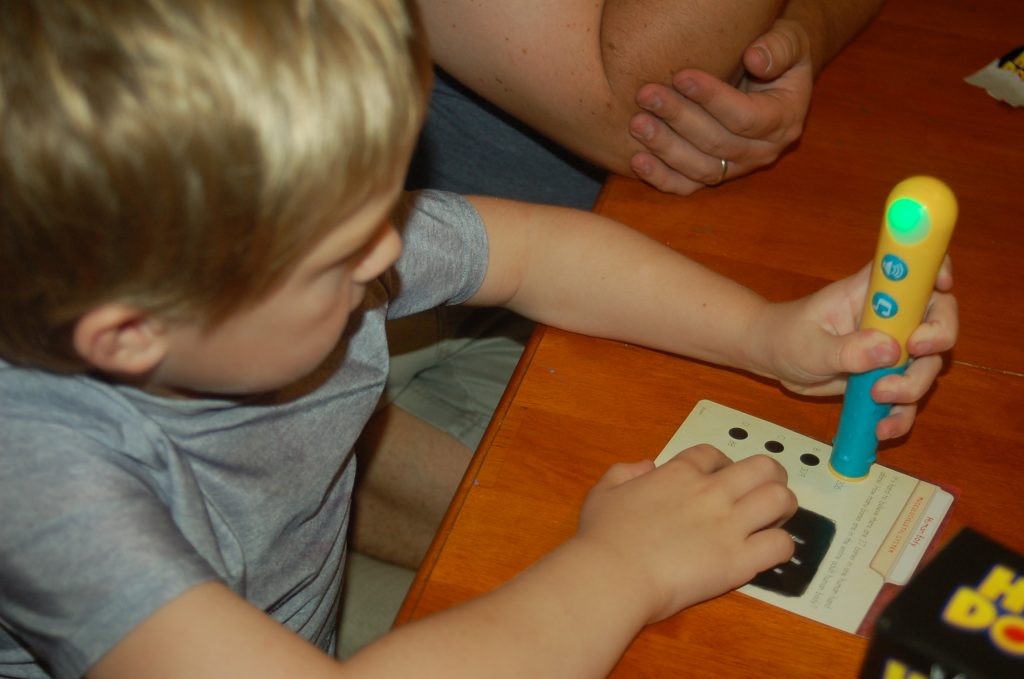 I LOVE the new pen version. Above you can see that at the top of the pen a light will turn RED or GREEN depending on whether the child has answered the question correctly. It really helps the child to visually and audibly accept whether or not they have chosen a correct answer instantly. The design is also easier for students to use compared to the original pens. Plus it's more stylish looking!
The Hot Dot cards are laminated which of course makes them sturdier for longer use and each set is stored nicely in a heavy duty cardboard box. I appreciate that these boxes don't take up a lot of room – especially when you have so many of them!!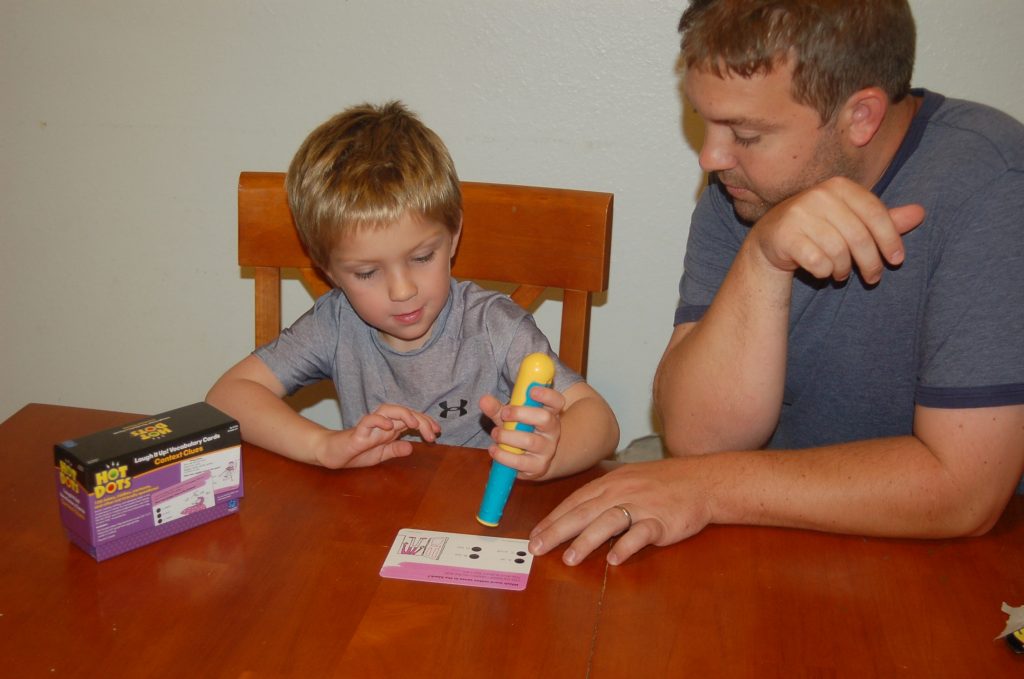 The other great thing about the Hot Dots learning set is that it is very versatile. Subject areas cover many specific interests and as well as age/ability levels. They make a great interactive study lesson for individual children as well as for teachers in a classroom or tutoring session. There is also a Hot Dots Jr. system for younger children as well.
Here are just a FEW of the subjects you can find in the Hot Dots set:
Synonyms
Antonyms
Homophones
Force, Motion, & Simple Machines
Prefixes & Suffixes
Matter & Energy
Animals, Plants, and Ecosystems
Astronomy
Earth & Weather
Standards Based Review Cards
Multiplication
Subtraction
Division
Telling Time
Money
Fractions
Comprehension
and MUCH MORE! 
*Don't forget that between now and August 11, 2012 use promo code HOTPEN to get a FREE talking Hot Dots pen when you buy any 2 Hot Dots card sets from Educational Insights!*
Educational Insights has generously offered for one of my readers to win a Hot Dots pen AND TWO of winner's choice of Hot Dots card sets!! Just fill out the Rafflecopter form below!
Disclosure: I was not compensated for this review. I received the above product in order to use and form my own opinions. All opinions are 100% my own. Giveaway is open to US AND Canada. Giveaway ends at 12:01 am est 8/9/12. Winner will be chosen randomly and have 48 hours to claim prize before a new winner is chosen.