Having a BLAST with Stomp Rockets for Kids STEM Toy Review
This post may contain affiliate links, view our disclosure policy for details.
If you're looking for an affordable STEM toy or last minute Christmas gift (or birthday gift!) Stomp Rockets are the perfect choice for your STEM loving kids! The thing I love about Stomp Rockets is that my 5 year old loves it, my 10 year old loves it, and my 12 year loves it! They can ALL use it together!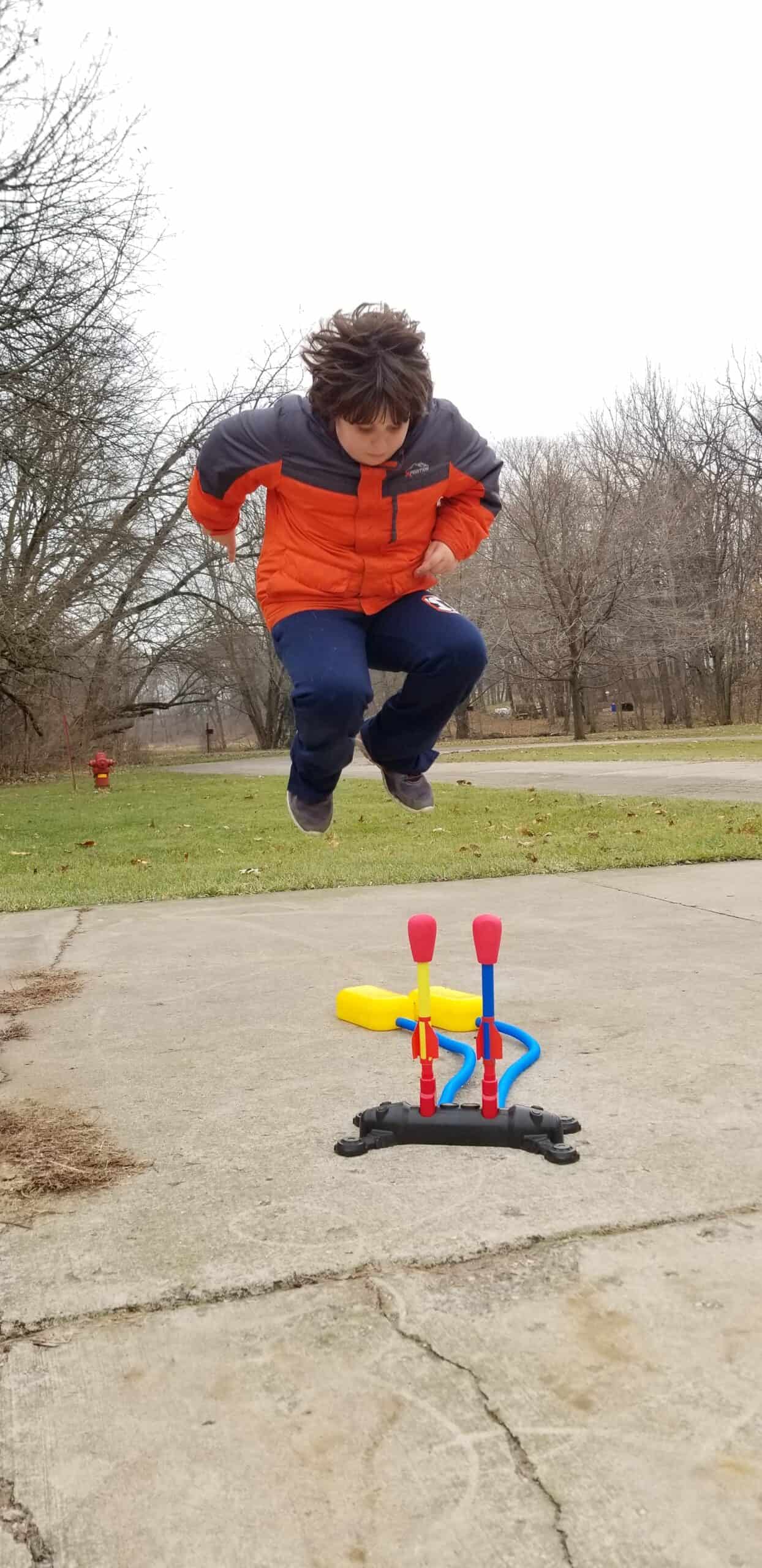 Although my kids have had various rocket sets throughout their childhood, I knew my middle son especially LOVES any kind of rocket you can stomp or shoot! So when the good folks at Stomp Rockets offered to send us their Dueling Rockets set
I said absolutely!
I was a little nervous that the set would break the day we received it simply because my boys are no small potatoes! But surprisingly this Stomp Rockets Dueling Rockets set has lasted us not only through the first day but my kids STILL use it and haven't broken anything! For $15ish this STEM kit is pretty dang awesome!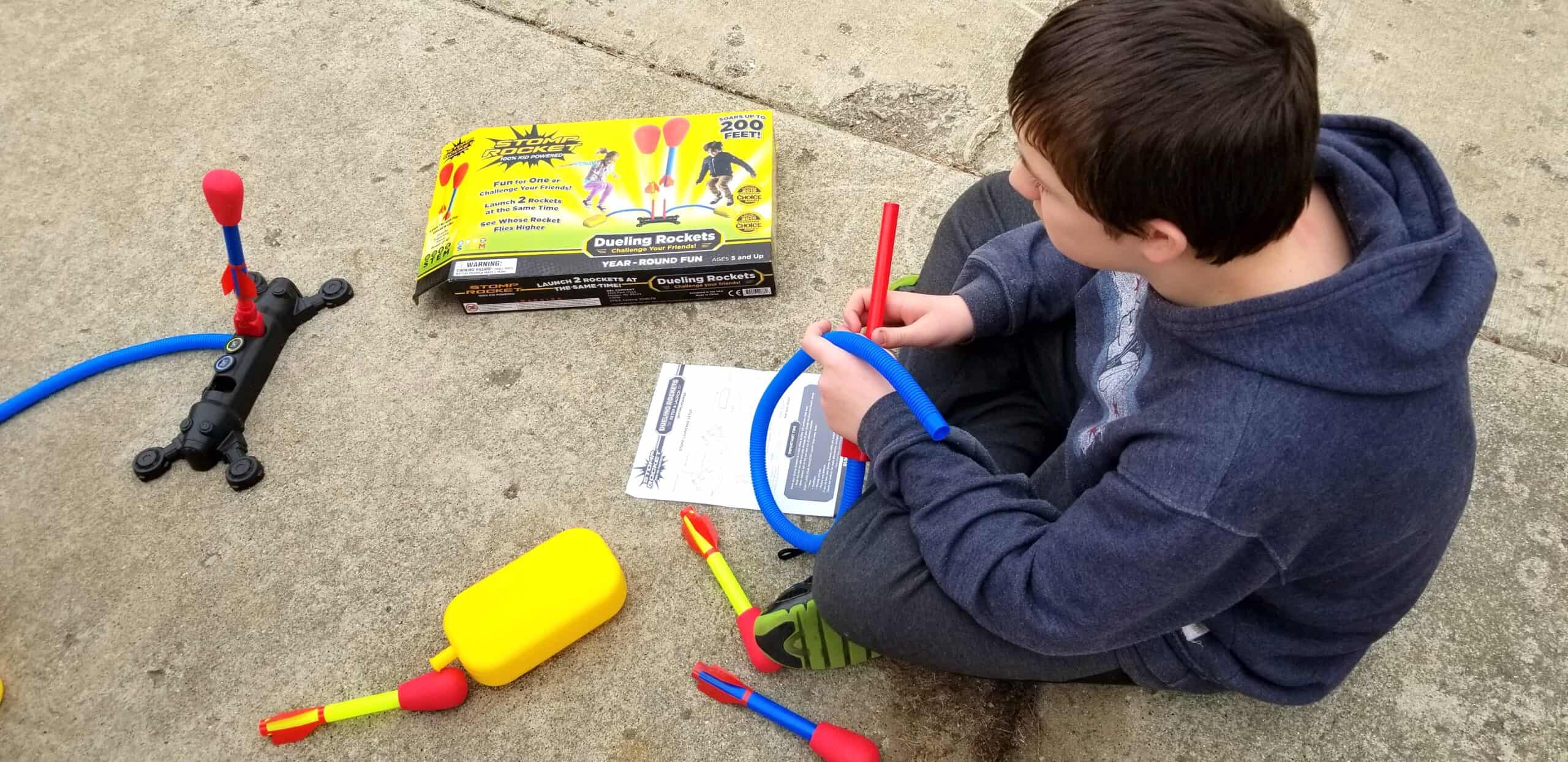 It's incredibly simple to put together right out of the box. My boys quickly put it all together – no instructions even needed – and were playing within minutes.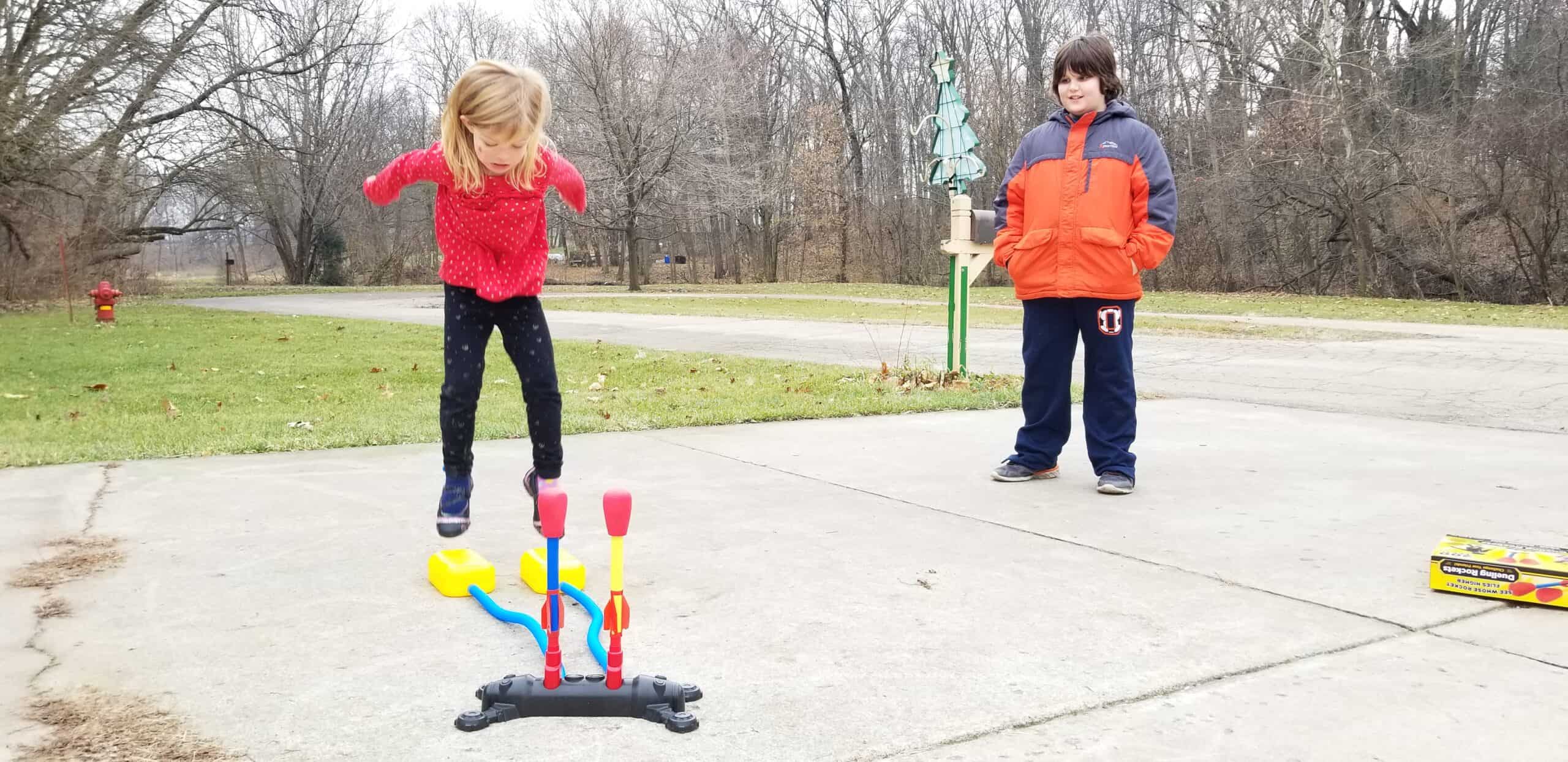 Many of the other Stomp Rockets kits
are for a single user so this Dueling set is pretty cool to use for siblings and classrooms! More than one kid can stomp at a time! OR one kid can stomp both sides – however you want to set it up!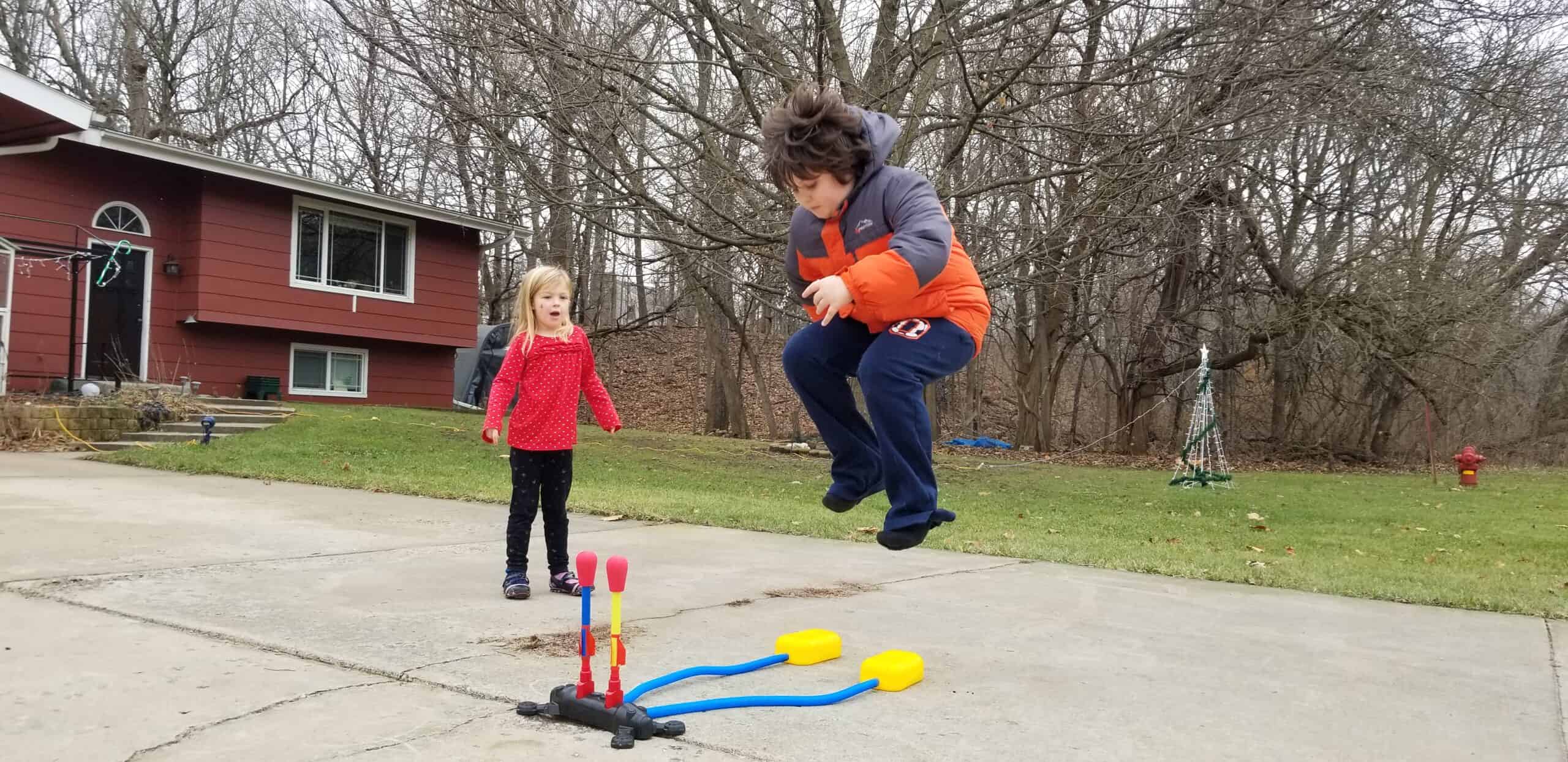 Although in all of these pictures you see the yellow stomping pads next to each other, we also had them dragged out across from each other so two kids could stomp on it at the same time. These things are WILD! They live up to their claim of launching 20 stories (200 feet!) high into the air! We have just over a half acre of property and my boys were able to tilt the rockets and launch them clear to the other side of the property! It was AWESOME!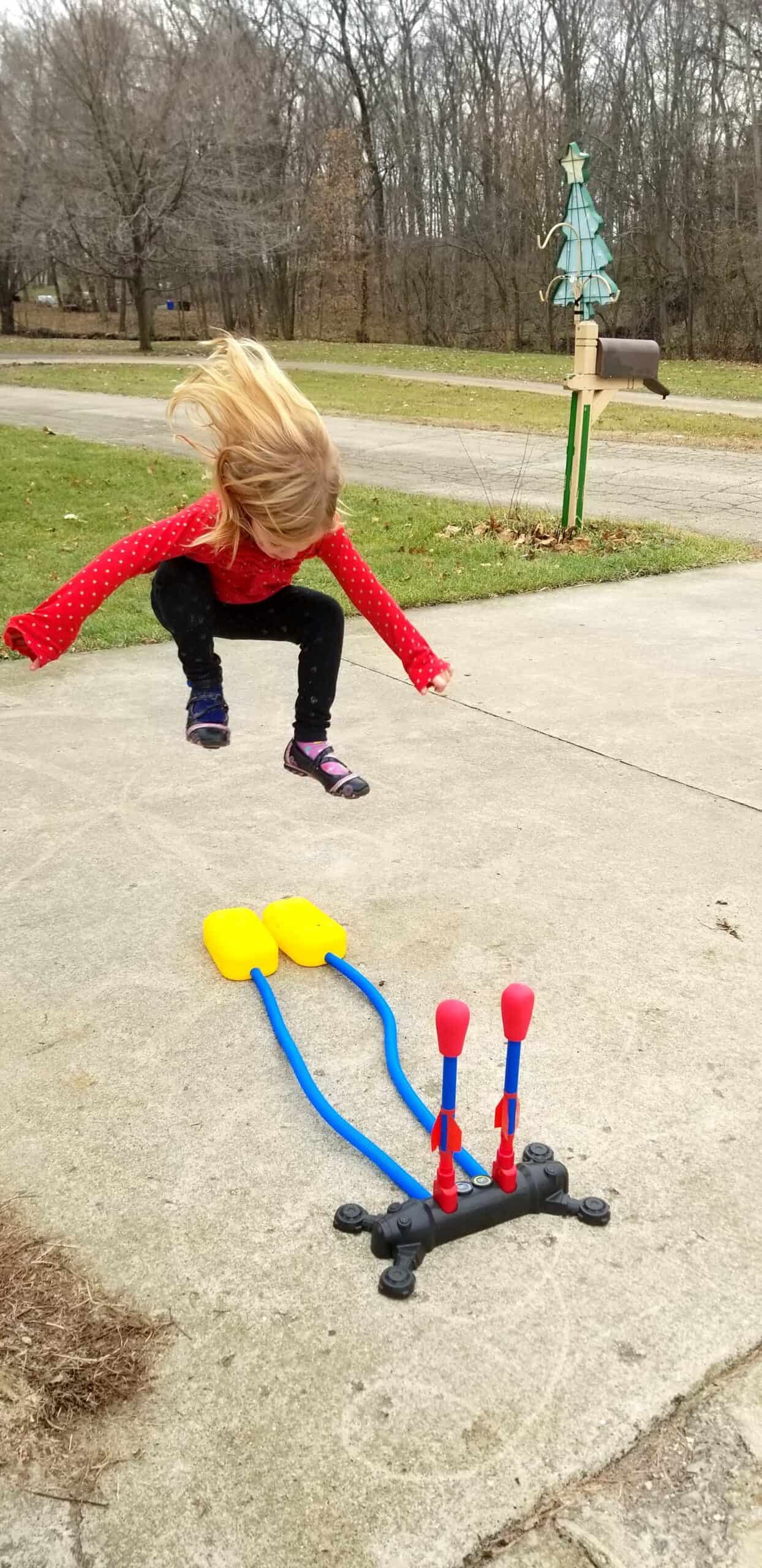 There are no batteries, no electronics, just a good quality toy to run outdoors with! These literally keep my kids busy for hours. It comes with four rockets which is nice because these things can go pretty far if it's windy or if you've tilted your rocket launcher! The kid that shoots them can run to grab them while someone else adds the other two rockets onto the launcher.
It's extremely simple to use, my 5 year old daughter had no problem sliding these rockets onto the launcher over and over again!
I HIGHLY recommend Stomp Rockets as an affordable STEM gift that will get kids off electronics and keep them busy launching rockets all over the place! It's definitely going to be my affordable "go to" gift for parties and kid rewards! For $10-$20 it'll provide hours of fun as kids spend time figuring out how to get their rocket to launch the highest!