How to Make Your Own DIY Pete the Cat T-shirt Tutorial for Kids Craft
This post may contain affiliate links, view our disclosure policy for details.
OK guys I am SO excited how well my DIY Pete the Cat t-shirt turned out and my son has been proudly showing off his new shirt at school this week!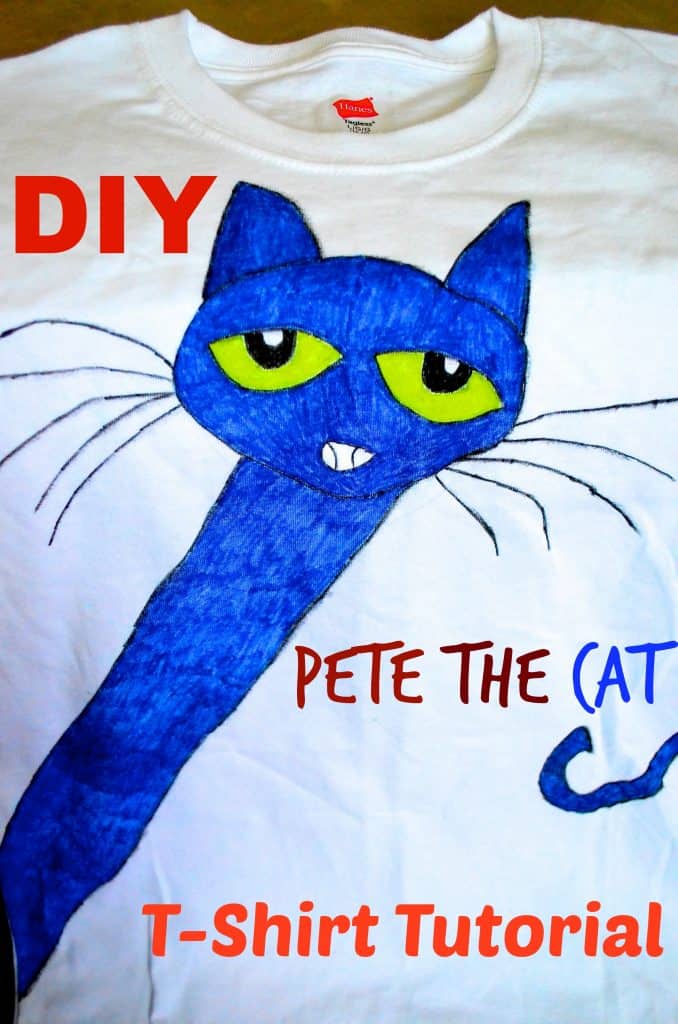 He is OBSESSED with Pete the Cat and to be honest I had never read any Pete the Cat books until I bought him Pete the Cat and His Four Groovy Buttons – it's a current favorite of our kindergarten class. Now I am HOOKED! Pete the Cat is SO cute!! So I looked online for some fun Pete the Cat gear to purchase as an incentive for my son as he learns how to read. I found this Pete the Cat t-shirt which was SO adorable – but I was NOT going to pay $25 for it! Ouch!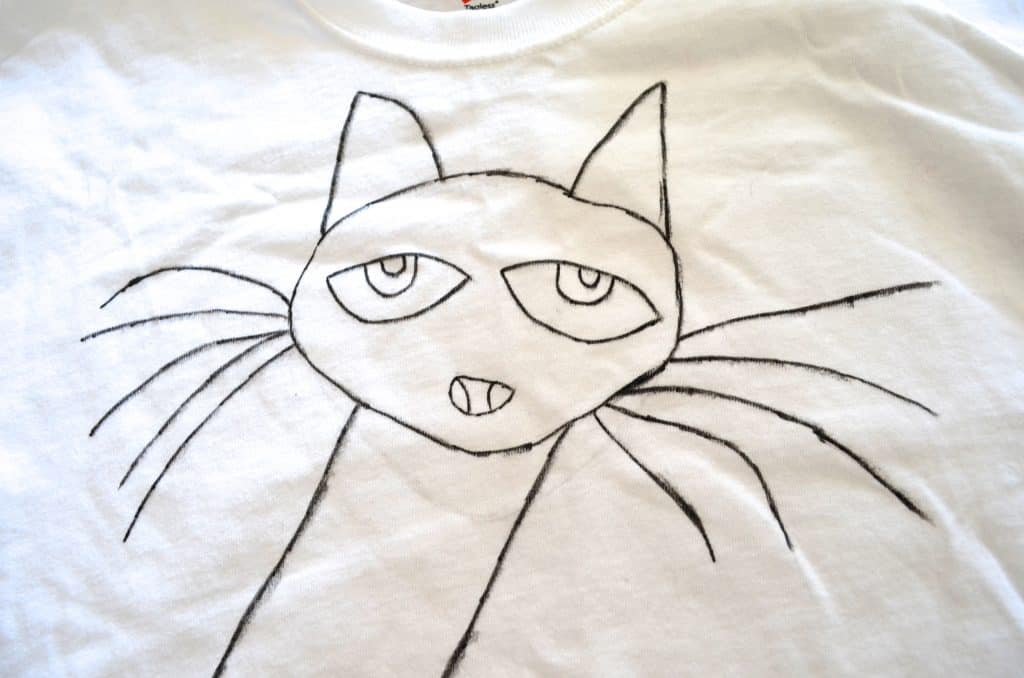 So being true to my nature I came up with a better alternative! I made it myself! Now I'm not super crafty or do great at drawing but if you look at this Pete the Cat t-shirt it looks like pretty basic shapes I could re-draw myself! First I grabbed a plain white t-shirt which you can find at Amazon, Walmart, Michael's, Hobby Lobby, etc.
I used a pencil to free draw my shapes and when I was happy with the image I used a Sharpie Black Fabric Marker to go over the pencil. (above you can actually see the pencil leftover on the chin which will just wash right out) The neck was basically two straight lines and the head was an oval shape. Add some ears, whiskers, the eyes and a nose and it's really pretty simple.
If you STILL feel like you can't hand draw it print out one of the photos on this blog post and either blow it up to place under the shirt or just lay it next to the shirt while you try to draw it!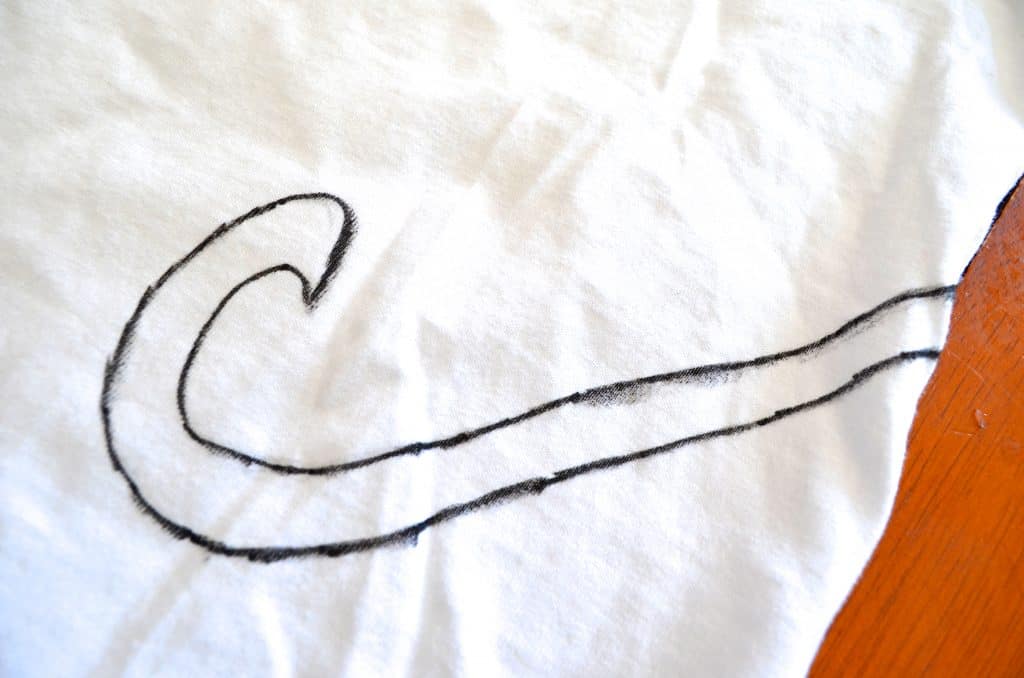 The tail was also very simple. I started on the seam side of the shirt and just drew the tail about half way into the shirt towards the bottom.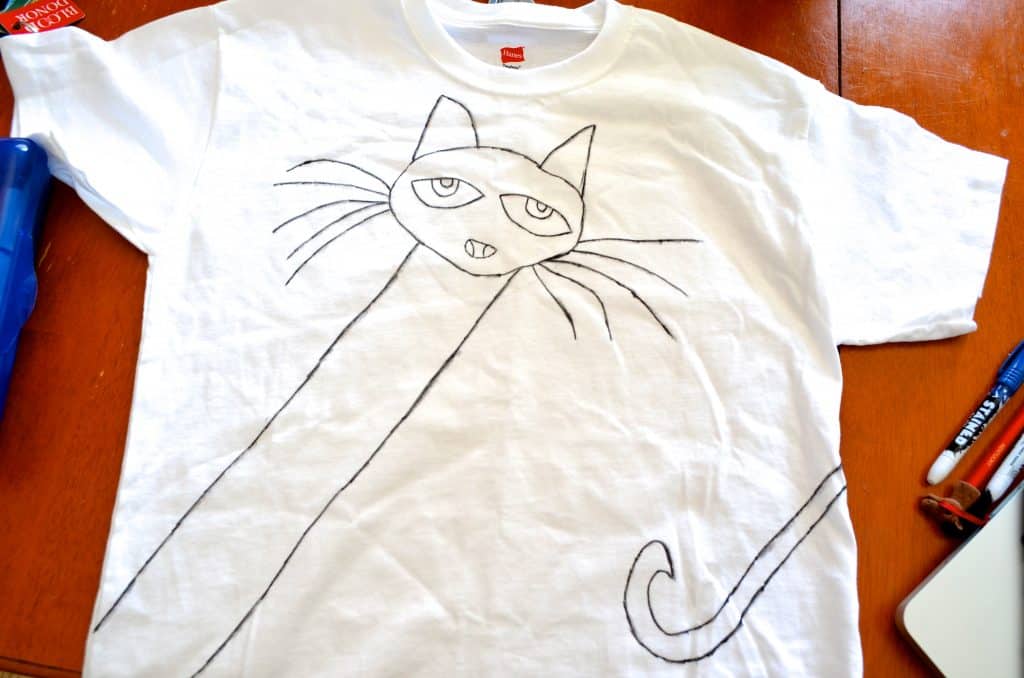 Here's a full view of how my Pete the Cat looks after drawing him in pencil and then outlining him in black Sharpie Fabric marker. I do recommend placing a piece of cardboard or layer in between the shirt so that you don't accidentally bleed marker through the back side. Hand drawing Pete the Cat was actually the quickest part and literally only took a few minutes.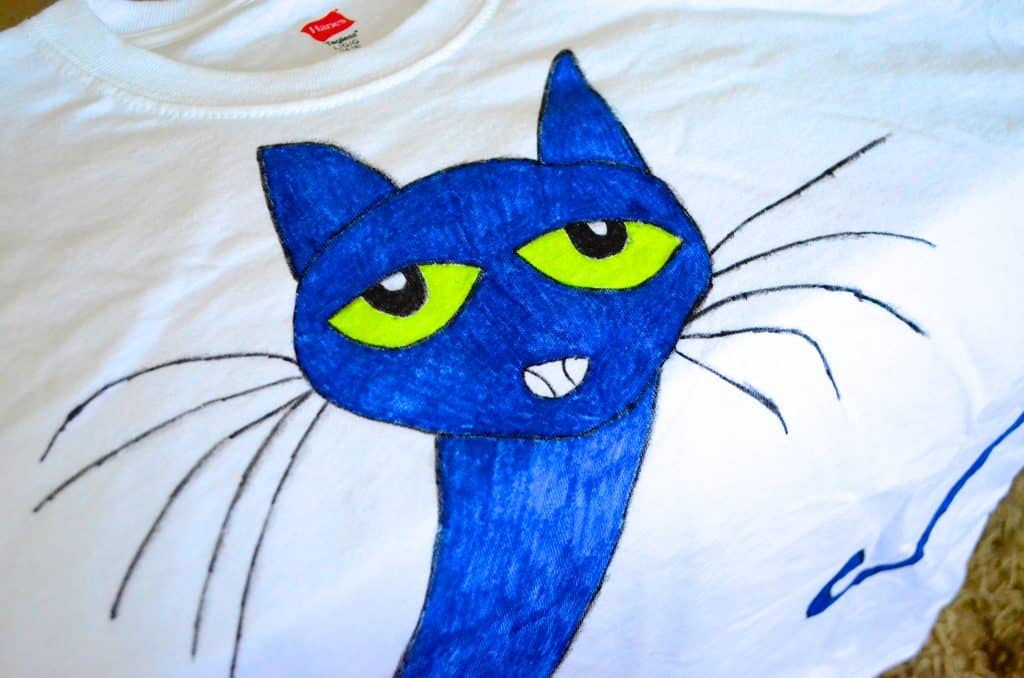 Coloring in Pete the Cat, although simple, took the longest. I used only 3 colors – black, yellow, and blue. I started by coloring in Pete's tail all blue. Then I moved up to the head and did the eyes….finished up the face, then moved down the neck.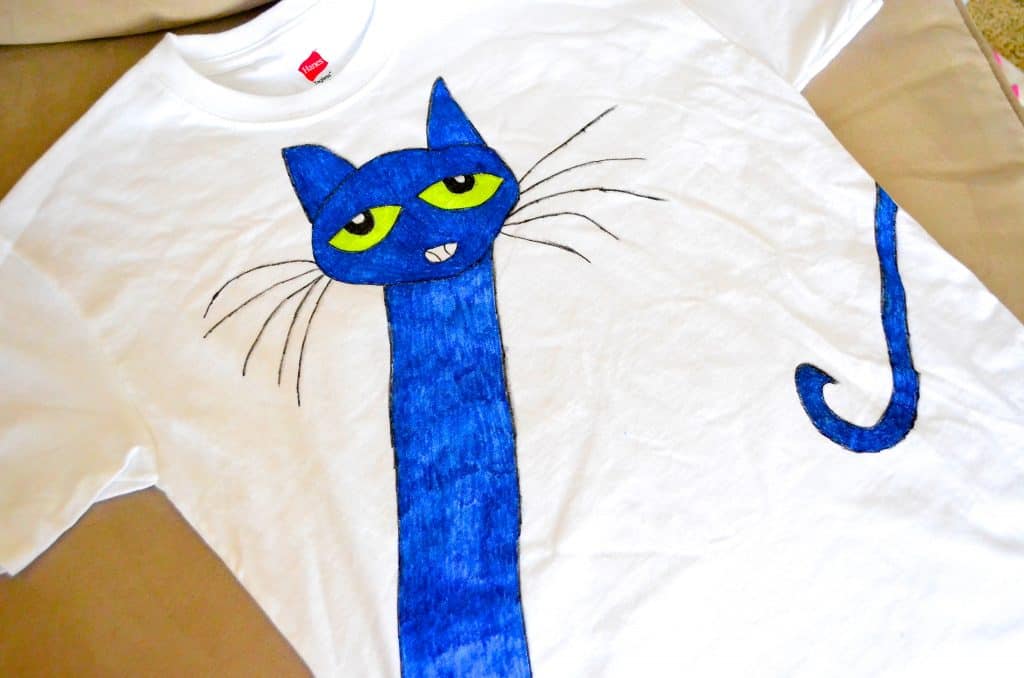 Ta-da! It's Pete the Cat!! SO simple!! Now that my son has worn his Pete the Cat shirt he's been begging for me to add 4 groovy buttons on. I was going to just hand draw them on and color them but he wants real buttons sewn on SO I'll have to add those pictures later since my husband is hand-sewing on 4 groovy buttons for my kiddo. You can sew it directly onto his neck but we're going to sew it in the blank white space between his neck and tail.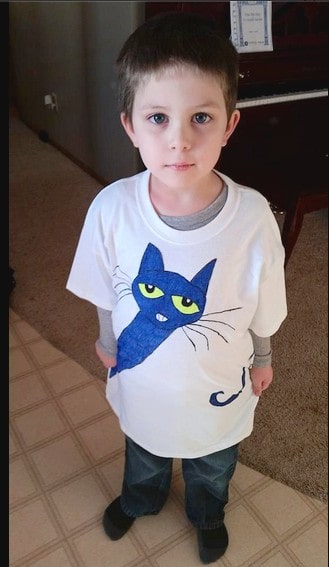 That's one proud kindergartener who's learning to read and can now wear his favorite book character to school any time he wants!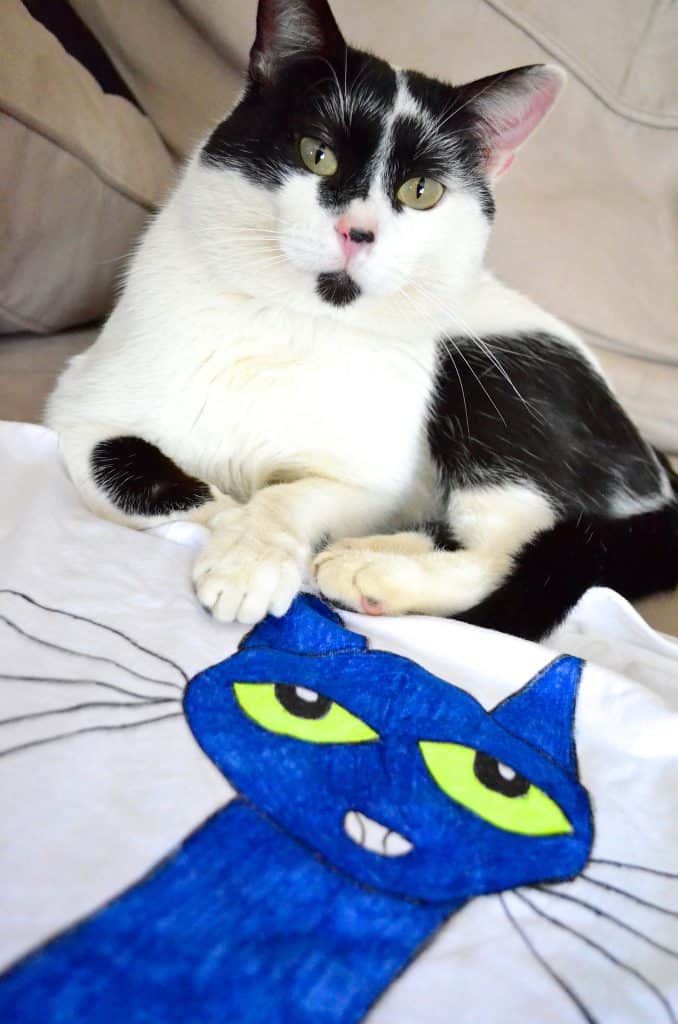 And I'm not going to lie….the cats like it too! 😉
You can use this same concept to design your OWN Pete the Cat coffee mug! Check out our simple tutorial:
Seriously – DIY t-shirts can be SO easy and fun – even if you aren't super crafty. Check out our DIY Big Hero 6 Baymax t-shirt that's even easier than this one and literally takes 5 minutes or less to finish the whole shirt!

Favorite Pete the Cat Products: