DIY The Very Hungry Caterpillar Children's Book Shoes Fashion Tutorial
This post may contain affiliate links, view our disclosure policy for details.
These are the shoes I've been waiting to show you! These DIY The Very Hungry Caterpillar shoes are SO ridiculously easy I PROMISE you that anyone can make them. Even your kids! I LOVE the way they turned out! You can see our other Hungry Caterpillar shoes tutorial we made with more white in them if you aren't into bold colors!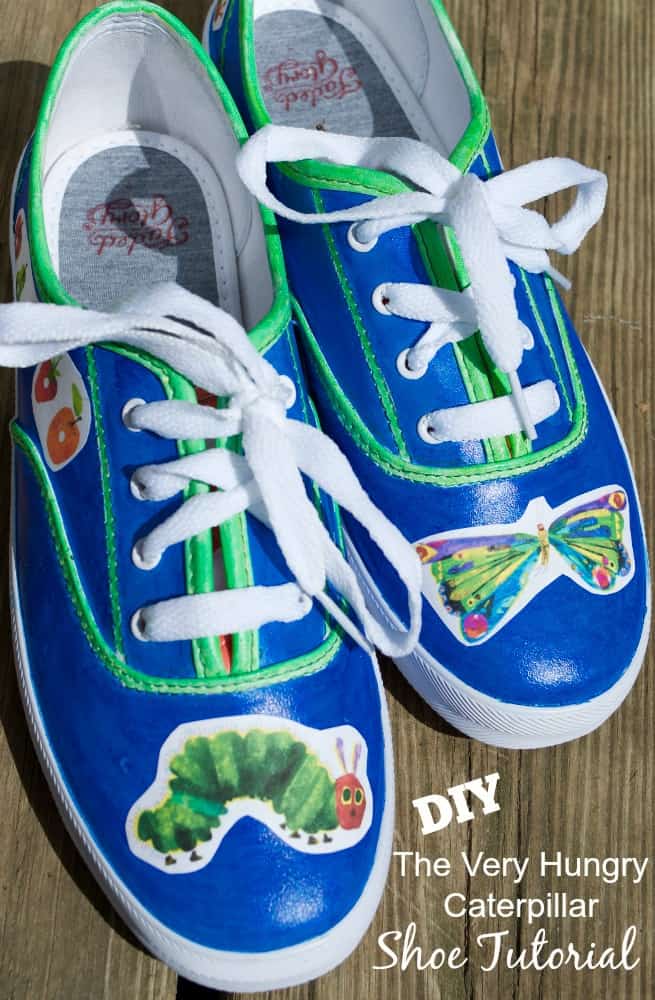 You'll need a pair of white non-canvas shoes (the smooth pleather type), this dark blue Sharpie Marker fabric marker, and the darker green marker in this Tulip Fabric Marker set. Oh yes – don't forget the Mod Podge!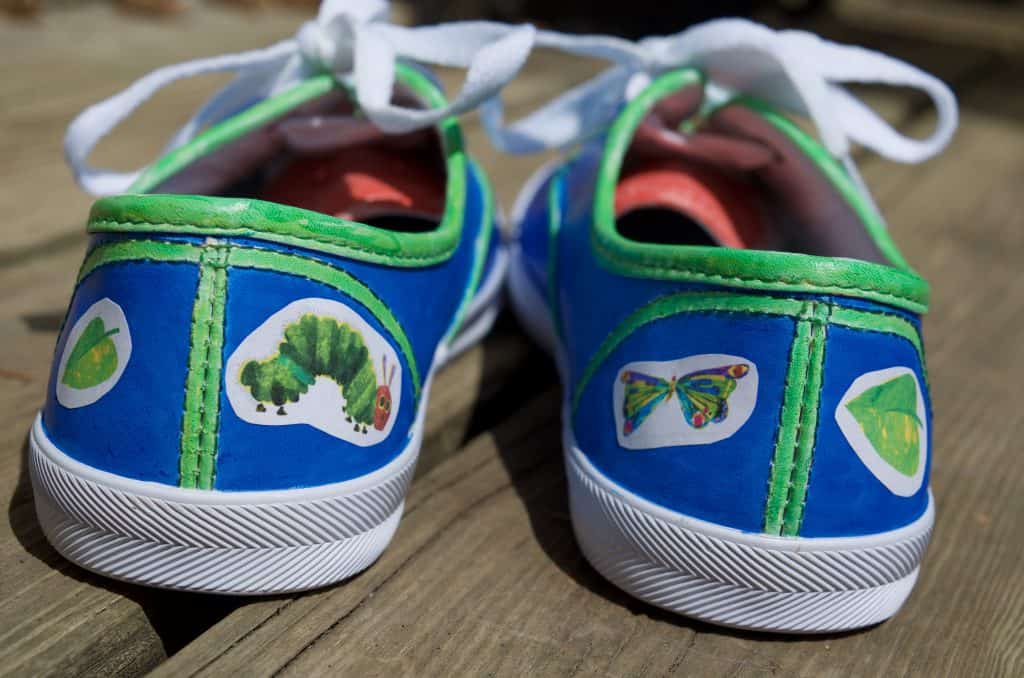 While hubby and I were watching TV one night I sat down with my pair of $3 clearance white shoes that I bought and starting coloring with the fabric markers. The "seams" I colored all green. The rest of the entire shoe I colored blue. After much debate I also colored the "tongue" of the shoe red although you could color it blue or just leave it white too.
I then simply Googled for Very Hungry Caterpillar images, printed them out on my printer (I have an HP Envy inkjet printer.), and then literally just cut them out and mod podged them right onto the shoes! That's it! I waited for them to dry, added more mod podge, dry, mod podge, etc. until I had 3 or 4 coats!
Spray them with a waterproof acrylic sealer after all of that too! You can literally do this with any character or theme you want! Seriously – for $3 these shoes ROCK!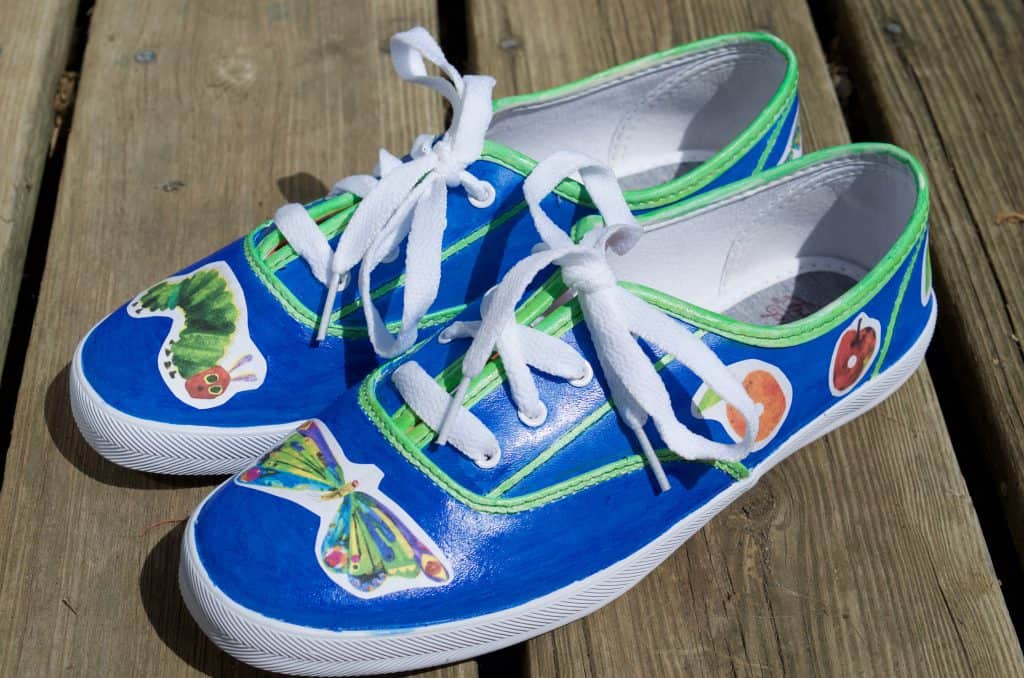 Now I have not worn them in the rain so I do not know how they hold up to being scuffed around and sloshed in water. I recommend perhaps just wearing these when it's dry and you're inside most of the day. Maybe even just store them under your desk at school to wear inside the classroom.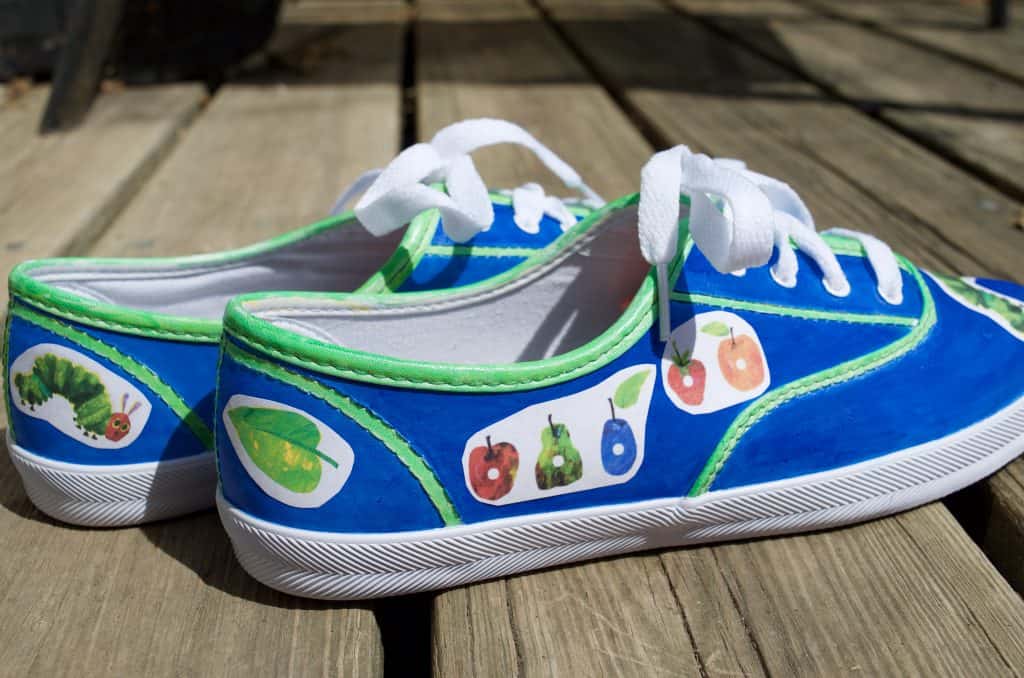 Like I mentioned in my other tutorial I normally buy white canvas shoes like this to design like we did for our Notebook Paper Shoes tutorial here. So I wanted to try something different! This Mod Podge idea is SO SO SO easy!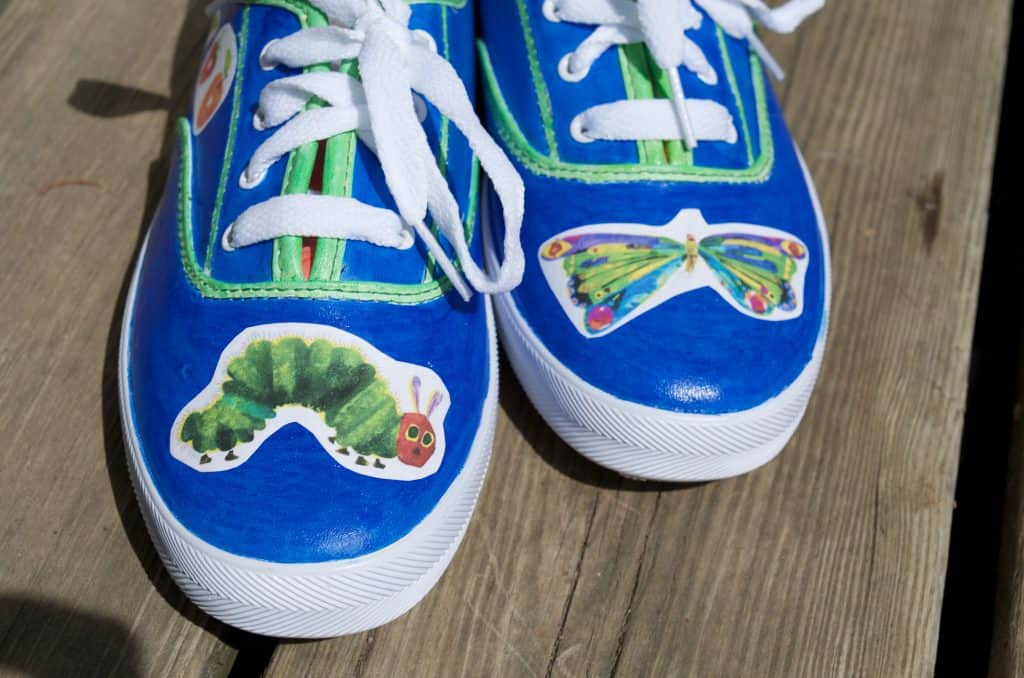 I think it's a lot of fun to make festive DIY children's book fashion! Whether you're making them for Halloween, to pair with a classroom book you're reading, or totally just sporting the style they are definitely eye catching!
Make your own CUSTOM COFFEE MUG Tutorial: