Choosing Our Spring Project #DigIn #HeartOutdoors
This post may contain affiliate links, view our disclosure policy for details.
This is a sponsored post written by me on behalf of The Home Depot.
We've been chatting for a while about spring projects and I know several on my list were a 50 ft. long veggie garden, a chicken coop, a dog house, and possibly a bird feeder area. I'm still undecided on the bird feeder as my cat is quite good at hunting and I'm afraid the birds will simply become a target! Most of you know that last August we moved from Florida (where I was born and raised) to Iowa (home of corn, cows, and not much else!). It was a HUGE move for us but one thing that I LOVE about living in Iowa is the open space! Look at the size of our backyard – it has SO much potential: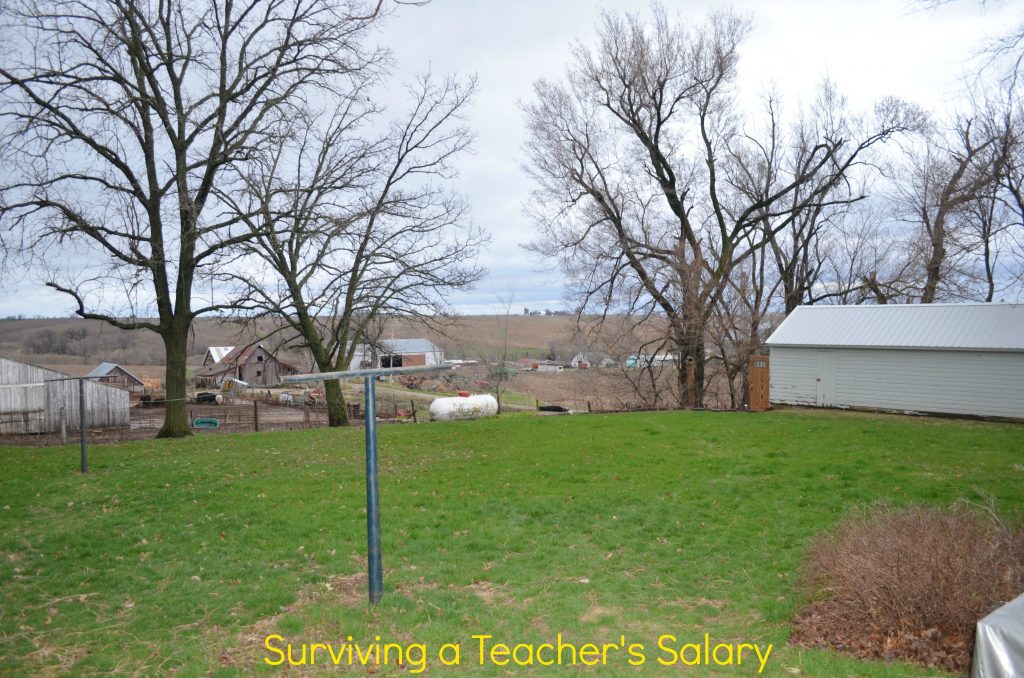 In fact I couldn't even get our backyard all in one photo. I took this picture from standing near my garage. The yard continues out both sides of this photo. However it is not our house, the school my husband is the principal at has provided this property for us to live at while he works there so although I would LOVE to utilize a good chunk of this yard I did not want to completely wreck it since we don't own the property! I did, however, REALLY want chickens! I miss the birds we used to raise in Florida and I knew we easily had room for at least a few chicks here so we decided that thanks to Home Depot our first project would be building a chicken coop.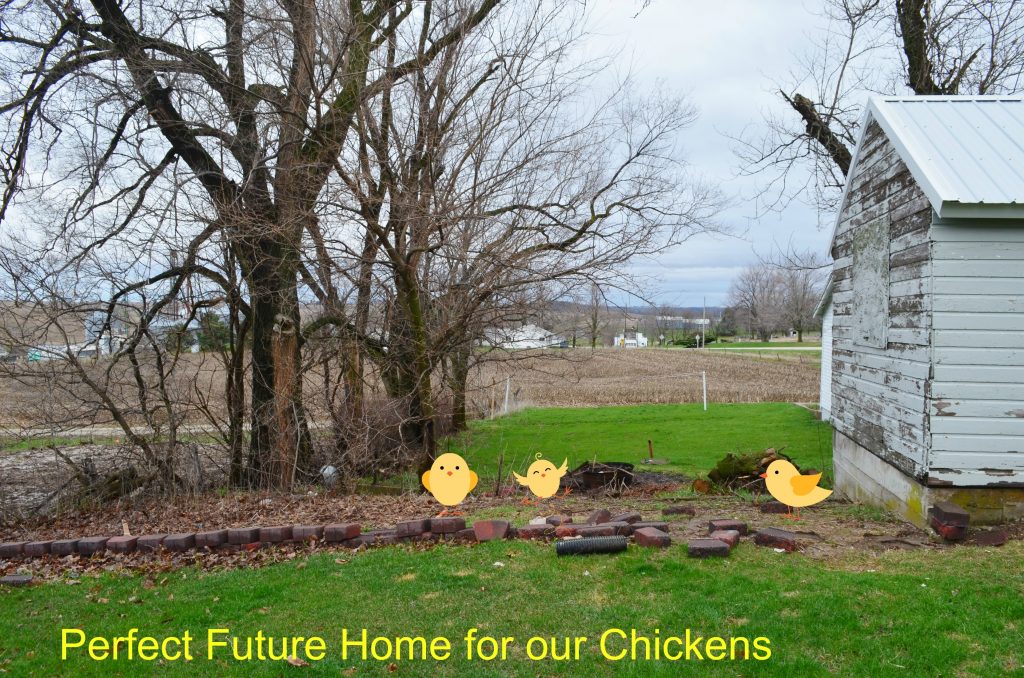 We found the perfect location too! Behind the shed on the side of the property is a large patch of ground that is pretty much just grown over with weeds. The cage can't be seen from the front of the property and there is easy access to any students who want to come over and help care for the chicks. I could hardly contain my excitement – I just HAD to buy chicks. I NEEDED them!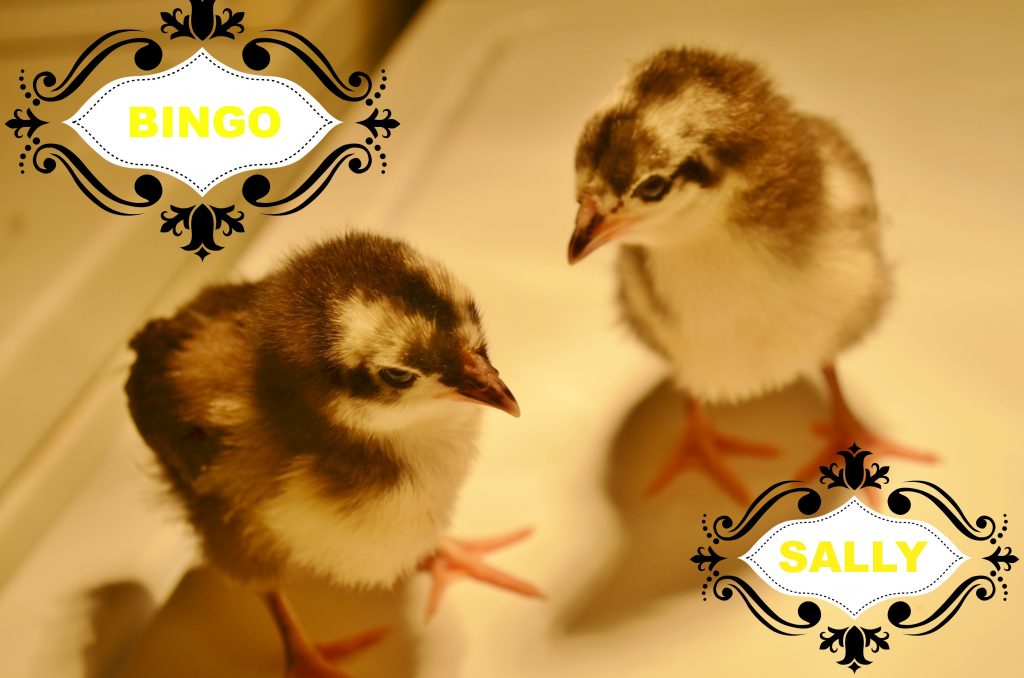 We bought 6 lovely little hens that are currently chirping in my laundry room until the coop gets completed. Above you can see Sally and Bingo. We also have Flitter, Pigeon, Pecky, and Prometheus. They are all California Greys which will be a grey and white striped chicken. And in just a few hours we are headed out to a nearby town to pick up 5 more hens – a Light Brahma (feather feet!), 2 Australorps (big black hens) and 2 Buff Orpingtons (fat feathery yellow/orange hens). You could definitely say we love animals. The chickens we will be keeping for fresh eggs, but we also have two cats, a German Shepherd and our newest pot-belly pig Ms. Ellie Mae.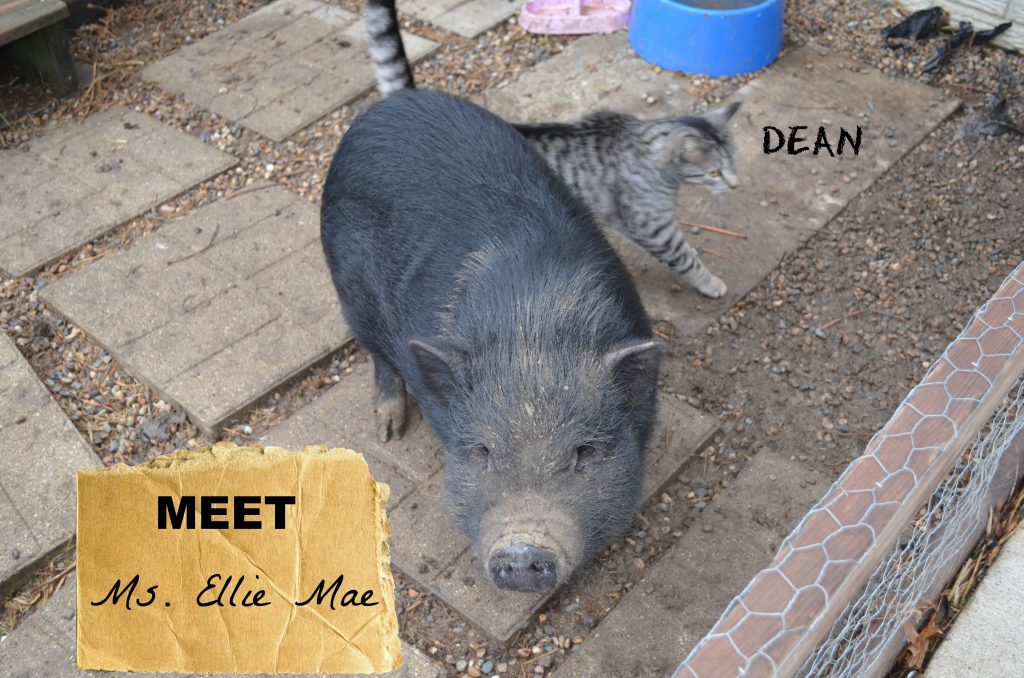 Some people think we're just nuts. Maybe it stems from a long childhood of only have 1 or 2 pets? Who knows! The pig and dog we specifically got with my son in mind who has Asperger's. When he's had a long day at school he comes home and is just smothered in love by our pets and it really helps him push away those grumpy attitudes. When we lived in Florida we had about 15-30 chickens, and actually had a nice rolling income to cover expenses just by selling the eggs. Now that we live in Iowa there are a lot of neighboring farmers that sell their chicken eggs so we definitely don't want to detract from their living. The eggs we get from our ladies will be used by us or given away for free to those that need them. Just having chickens is enough for me to be happy!
But we do have a few concerns that we will be address as we start building their chicken coop:
The winter months can get down to -30* (wind chill).

The wind storms can get over 60 mph.
Predators are a HUGE issue.
The weather here in Iowa is just nuts. Absolutely nuts. It can fluctuate OVER 50* in ONE day! Between harsh winds, ice storms, and just totally unpredictable weather we will need to make their chicken coop area not only extremely durable and sturdy but also plenty warm and have areas for them to hide from the wind, snow, ice, and other extreme weather. The other huge concern we have is predators. We live in a farming area. There's not much out here other than fields and a few houses scattered around but there is plenty of wildlife. We have a lot of stray cats, stray dogs, my own cats who hunt, foxes, raccoons, opossums, and other wildlife that shouldn't be a problem including deer, gophers, rabbits, etc. Their coop will absolutely have to be completely enclosed and safe. I would LOVE for them to free range, and we'll let them out in the backyard when we're outside with them, but I also have to keep them safe.
 My husband put together a list of supplies that we need and I'll be sharing a few more posts over the next few months so that you can follow us on our progress while we build our new chicken coop and yard. In fact you can follow up to date photos of our progress by following me on Instagram at: http://instagram.com/theteacherswife – we've got some of it already up!
It's home improvement time, and The Home Depot has everything you need to #DigIn for Spring. No matter what projects you want to tackle, they have great values on all you need. They're ready to help you with renovation ideas and expert advice, too.
Get over $300 in email exclusive savings each year, sneak peeks on new products, monthly lawn & garden ideas for your region and access to The Home Depot's gardening experts. Click here to join the world's largest garden community today! Or go to homedepot.com/gardenclub to see some of the many benefits of membership.
This is a sponsored post written by me on behalf of The Home Depot.