Chuggington Wooden Railway Wilson's Crane & Tunnel Set Review
This post may contain affiliate links, view our disclosure policy for details.
Chugga chugga chugga chugga CHOO CHOOOO!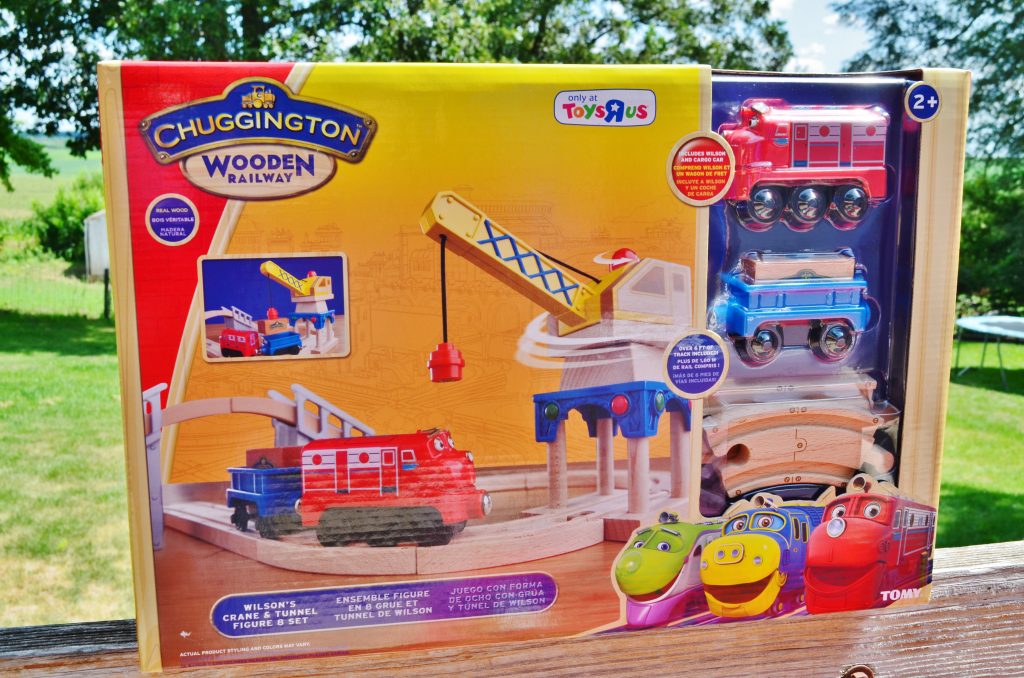 We have been playing with this Chuggington Wooden Railway Wilson's Crane & Tunnel Figure 8 Set that we received to review. I think it's pretty well known that kids LOVE train sets – especially my boys! Both of my kids have been obsessed with trains since they were old enough to play with toys so when this Chuggington set showed up at our house they were REALLY excited to play with it! I KNEW my 4 year old would go nuts over it but I wasn't expecting how crazy my 6 year old would go over it too.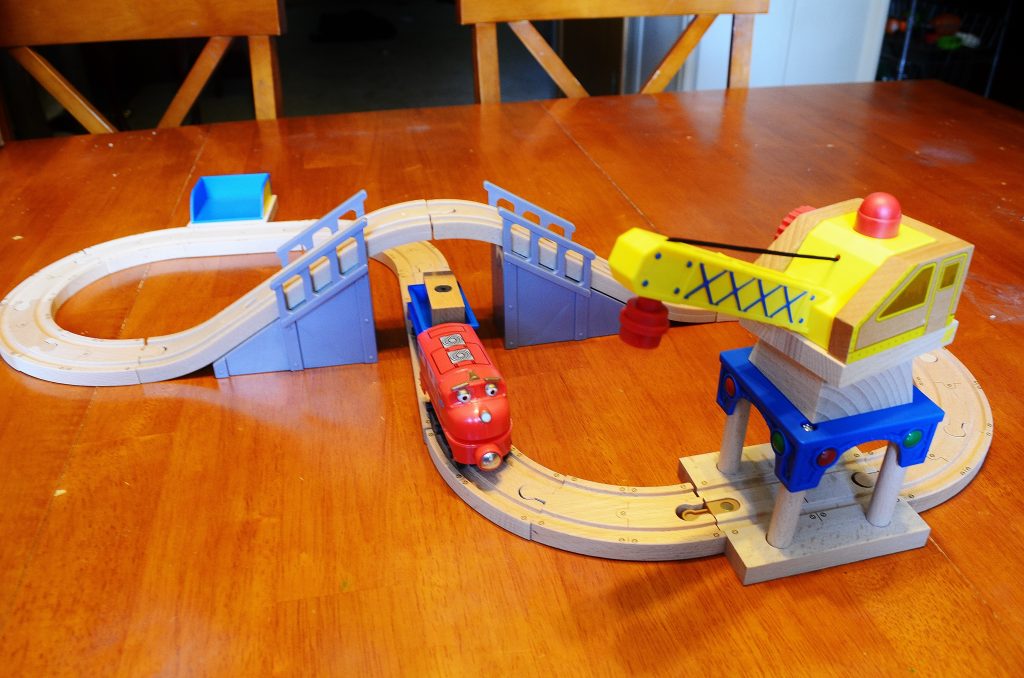 This is the entire set laid out, and yes, it does come with directions! Although I won't lie – it was really easy to set up. Even my kids can figure out how to set up this figure 8 track on their own. I think the bridge is pretty awesome because it's the wooden track laid on top of the plastic supports. And you can see that there is also a crane tunnel that Wilson can go under. The crane really works and picks up the piece of block that is in the back of Wilson's boxcar!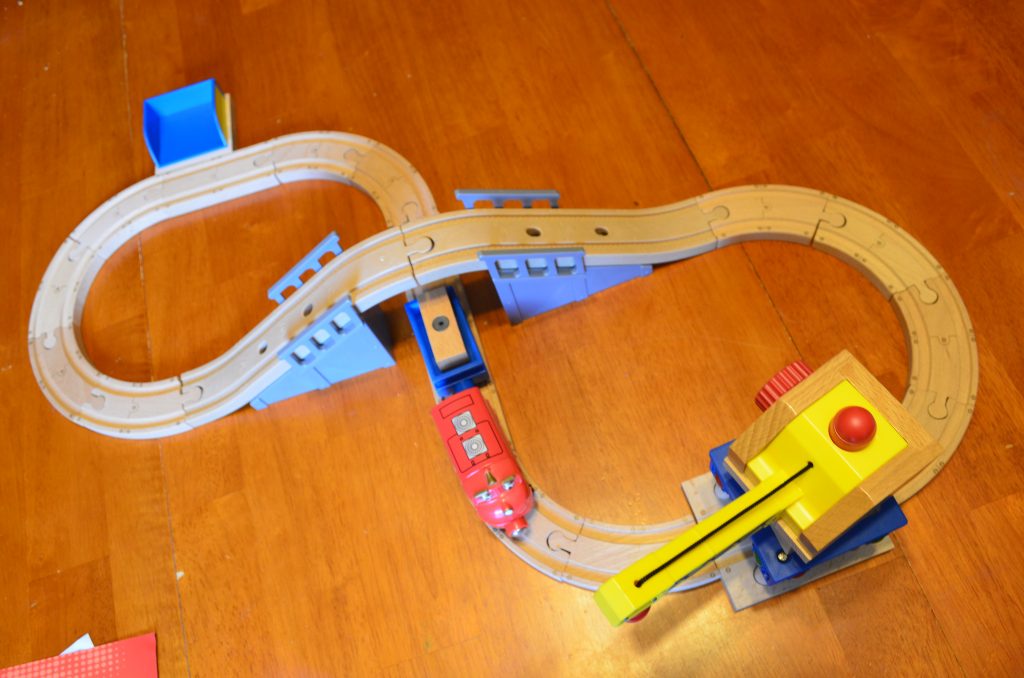 The set is plenty big enough for more than one kid to play on it and to set it up on your table too. We actually have an entire section of our basement dedicated to wooden railway train tracks for the kids to go down there and play together – it's been a HUGE hit in our house! We've tried all sorts of train sets and tracks over the years but by far my favorite is the wooden railway sets. I LOVE the wooden tracks because they are so durable. You don't have to worry about your kids snapping off plastic pieces or being compatible with other sets. I wish I had realized this 6 years ago before I spent so much money on other sets!! Wooden train tracks are definitely the way to go.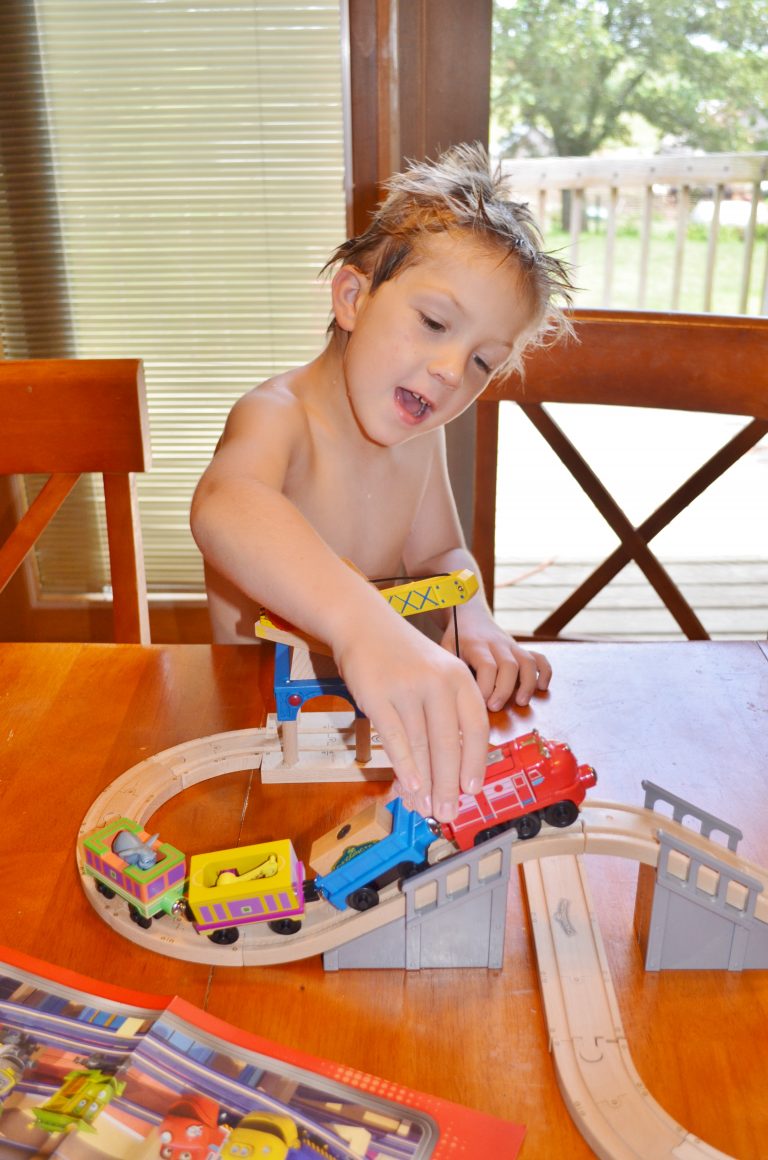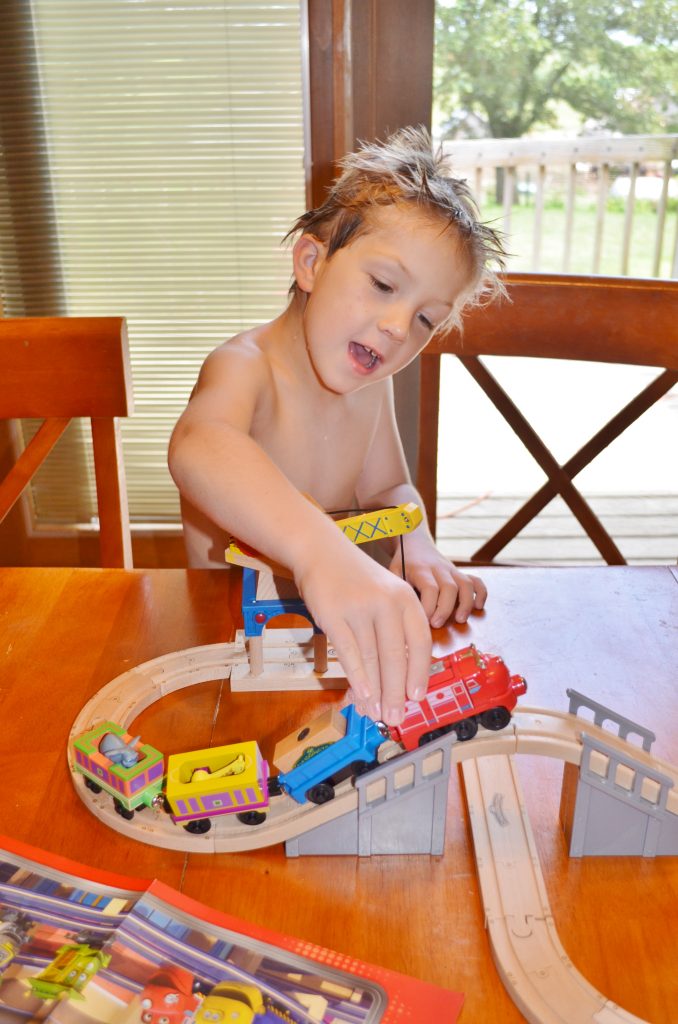 Here's my 6 year old playing with Wilson. The back two cars with the giraffe and elephant are from a different Chuggington toy set! The included trains are Wilson, and his Cargo Car with the block. They are the metal trains that "attach" to the trains in front or behind them magnetically.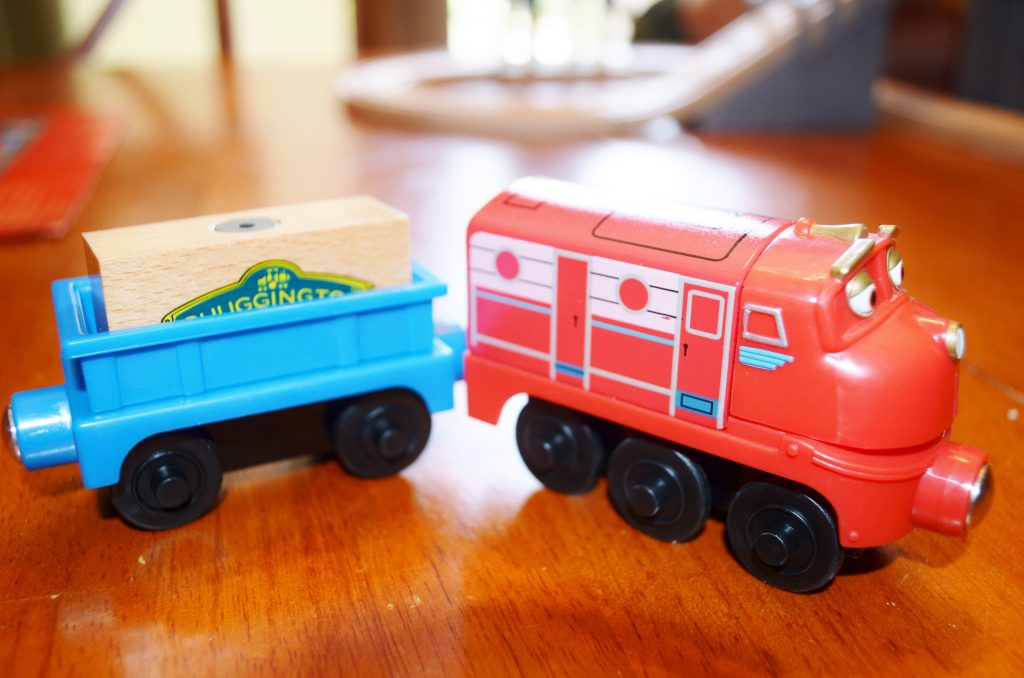 Here's an upclose shot. And for parents like me who just simply can't remember all of the characters names….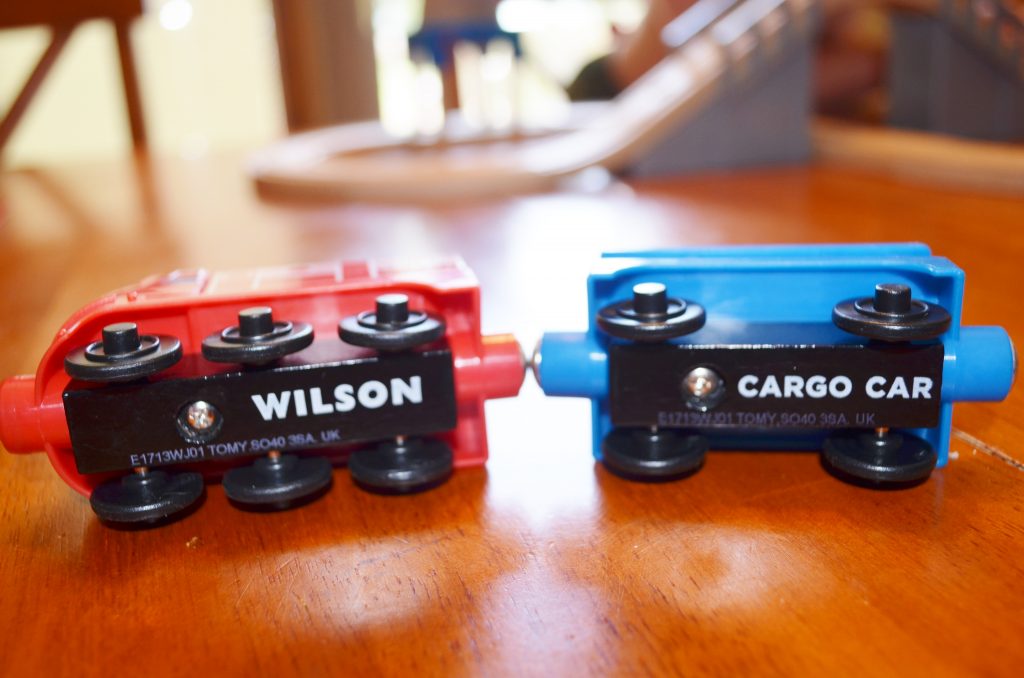 ….the bottom of the toys are actually labeled with the name of the train piece! I think this is SOOO incredibly awesome!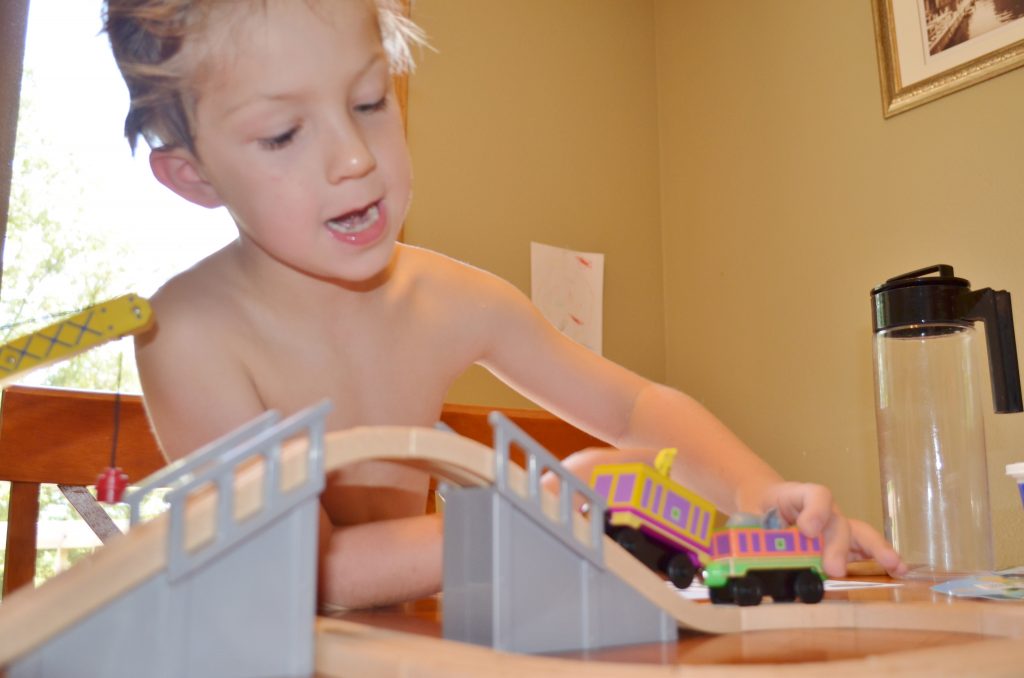 I mentioned the unique bridge set up before so here you can see it closer. I love the way that it's set up.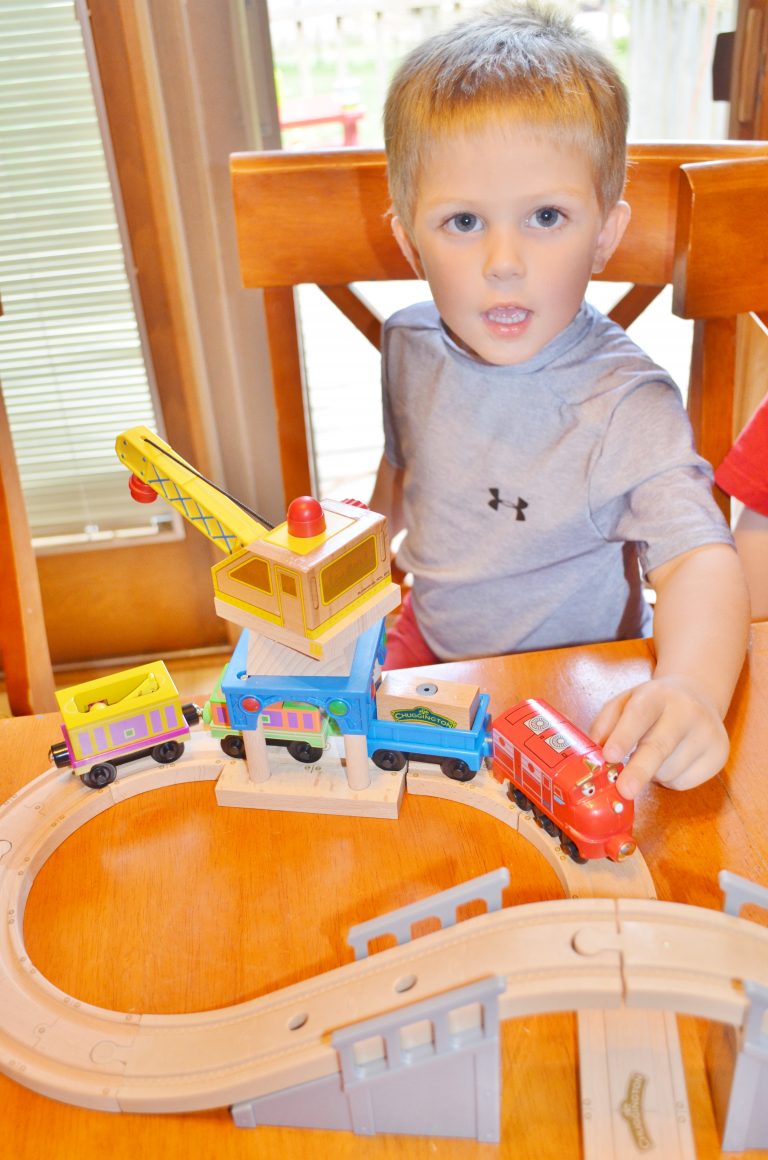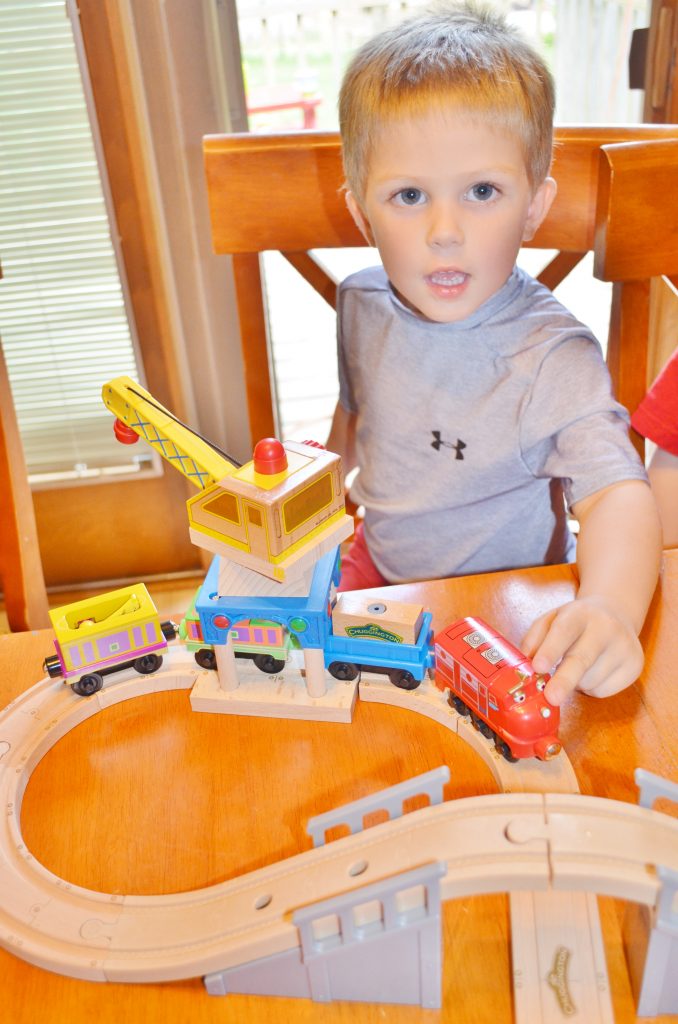 And here's my 4 year old enjoying the new train set! Plus keep an eye out for the newly launched Chug Patrol: Ready to Rescue DVD!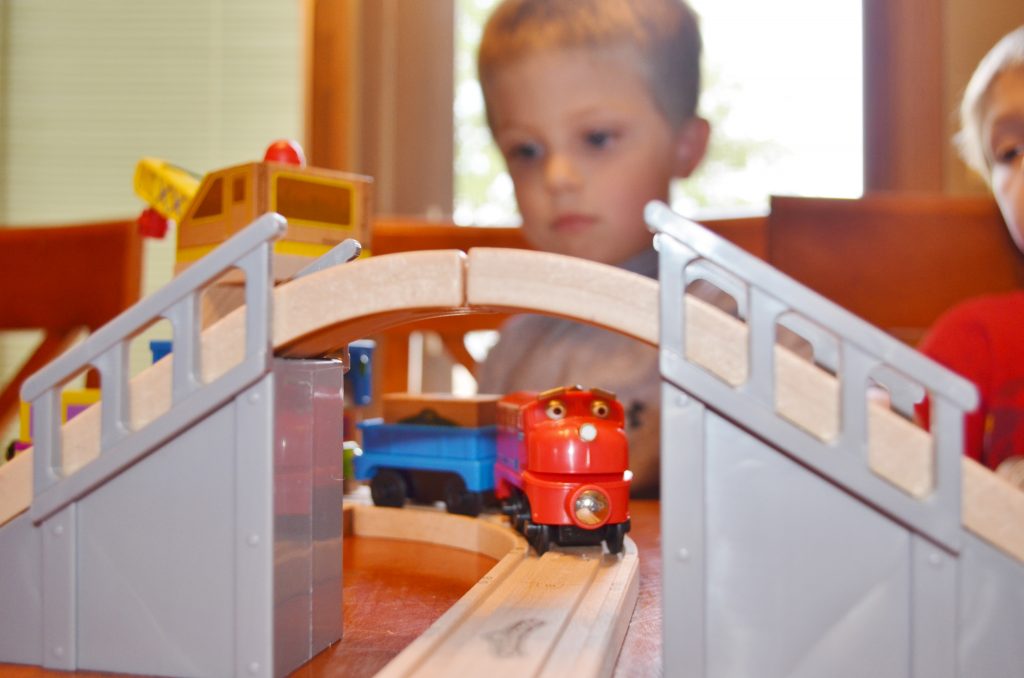 Although wooden railway sets are a little pricier they are definitely worth it. This Chuggington Wooden Railway set will last for years and probably passed on through the family if you keep them that long! I know I won't be getting rid of my kids wooden train sets!! I love that this Chuggington set is more interactive than just pushing the train around the tracks. The kids can use the crane to pick up the wooden block and shift it around and drop it off in the bin that's included. It's also a fantastic starter set and would make a great holiday/birthday gift.
Find Chuggington Railway sets at Toys R Us and Connect with TOMY on Facebook!
GIVEAWAY
WHOO for a FUN giveaway!! Leave a comment BELOW letting me know who would get this awesome Chuggington Wooden Railway set if you won!!
For more great giveaways, deals, reviews, and resources follow us on Facebook, Twitter, YouTube, Instagram, Google+ or Pinterest!
Disclosure: I was not compensated for this review. I received the above product to use in order to form my own opinions. All opinions are my own. Giveaway is open to US only and will end at 10AM est on Sept. 7, 2013. Winner will be chosen randomly and will have 48 hours to claim prize before a new winner is chosen.