Back to School S'mores Chalkboard Recipe
This post may contain affiliate links, view our disclosure policy for details.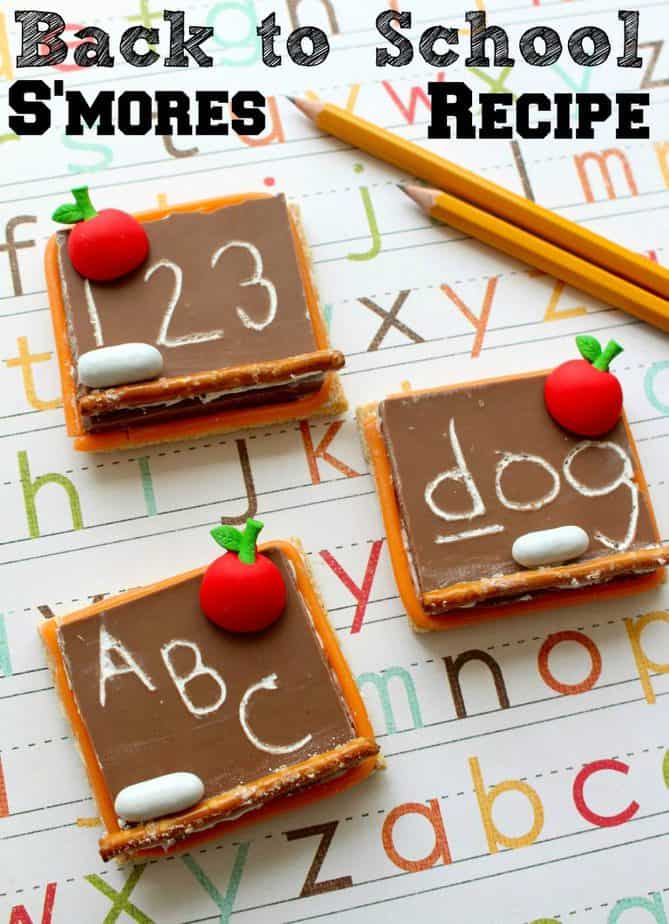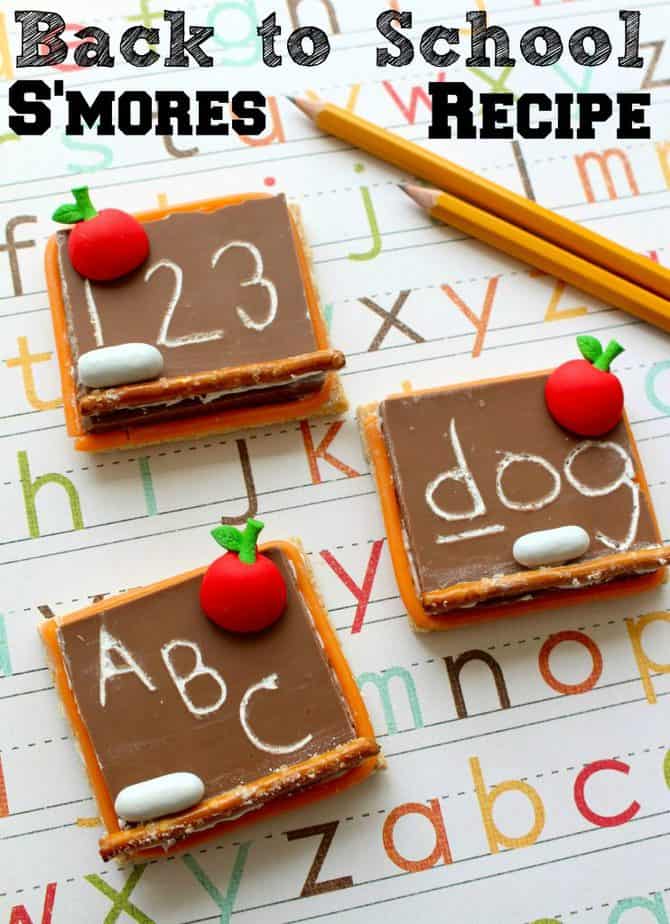 Back to School S'mores – can the back to school season get any more fantastic?! All the fun back to school recipes are just ALL delicious and quite clever! These easy to make treats are not only fun s'mores to make any time during the school year but can make great hands-on classroom activities during parties too!
I didn't snag any in process photos but the step by step directions below will have you making your own set in no time!
Check out our recipe and instructions below on how to make your own back to school s'mores!
Back to School S'mores INGREDIENTS:

Graham cracker squares
Marshmallow Creme
Chocolate bar (I used Hershey)
Powdered sugar
1 Tbsp ready to spread frosting (any color)
Pretzel sticks
Wilton white icing gel
Wilton sugared apples
White Mike and Ike candies
DIRECTIONS:
1. Take a graham cracker square and spread about 1 Tbsp of marshmallow creme on it.
2. Place a piece of chocolate on top covering the entire graham and press down gently to even out the marshmallow.
3. On a microwave-safe plate, place the chocolate and marshmallow graham cracker in the microwave and heat for 10 seconds. Do not overheat or the chocolate will begin to melt and lose shape. Let set to cool for at least 10 minutes.
4. Using a toothpick, carve a Back to School phrase into the chocolate (ABC, Back to School, etc). Be sure to make the ridges fairly deep.
5. Sprinkle powdered sugar all over the top of the chocolate s'mores piece.
6. With a lightly dampened paper towel, wipe the powdered sugar off the top of the chocolate, leaving the sugar in the carved ridges to resemble a word written in chalk.
7. Dip a toothpick into ready to spread frosting and use it to glue a pretzel stick to the bottom of the chocolate s'more, resembling the base of a chalkboard. Set aside and let set for at least 5 minutes.
8. Dip toothpick into ready to spread frosting and spread on back of the Wilton sugar Apple and press onto the chocolate chalkboard. Let set for a minute.
9. Dip toothpick into ready to spread frosting and spread on the back of a white Ike and Mike candy. Press onto the chocolate chalkboard right above the pretzel stick to resemble a piece of chalk. Let set one minute.
In the mood to make some more back to school recipes? Check out some of our favorites: