I Am Rosa Parks Mini Unit Study: Crafts, Vocab, Writing Prompts
This post may contain affiliate links, view our disclosure policy for details.
This important and FREE "I am Rosa Parks" unit study includes kid's crafts, vocabulary words to know, and even free printable worksheets and writing prompts.
I had the amazing opportunity to visit Detroit for the first time this month where I visited the Henry Ford Museum. If you've never been it's AMAZING and I HIGHLY recommend! Brightly colored and fully restored you'll find THE Rosa Parks bus made famous on December 1, 1955!
You can sit on every seat in the bus, and listen to the story about the mother of the modern civil rights movement.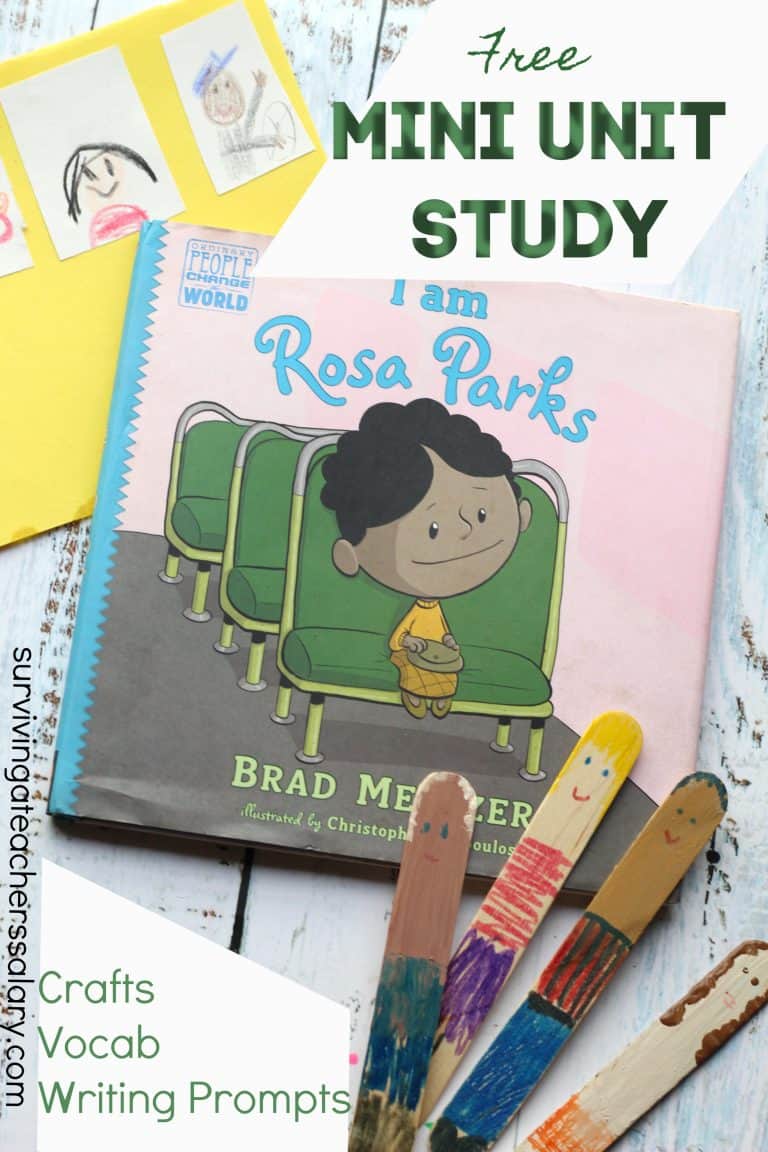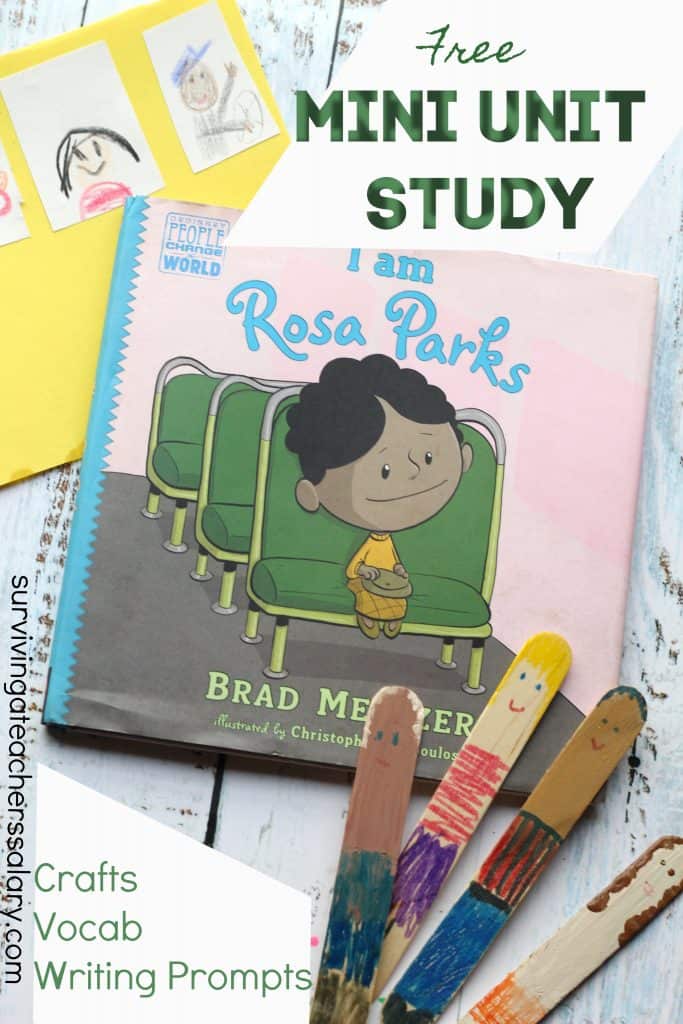 I highly recommend purchasing the children's book by Brad Meltzer, "I Am Rosa Parks" to pair with our Mini Unit Study below. You can also find a Rosa Parks worksheet in our "27 Famous People in History" writing worksheet set as well as well as in our "11 Famous People in History" workbook pack!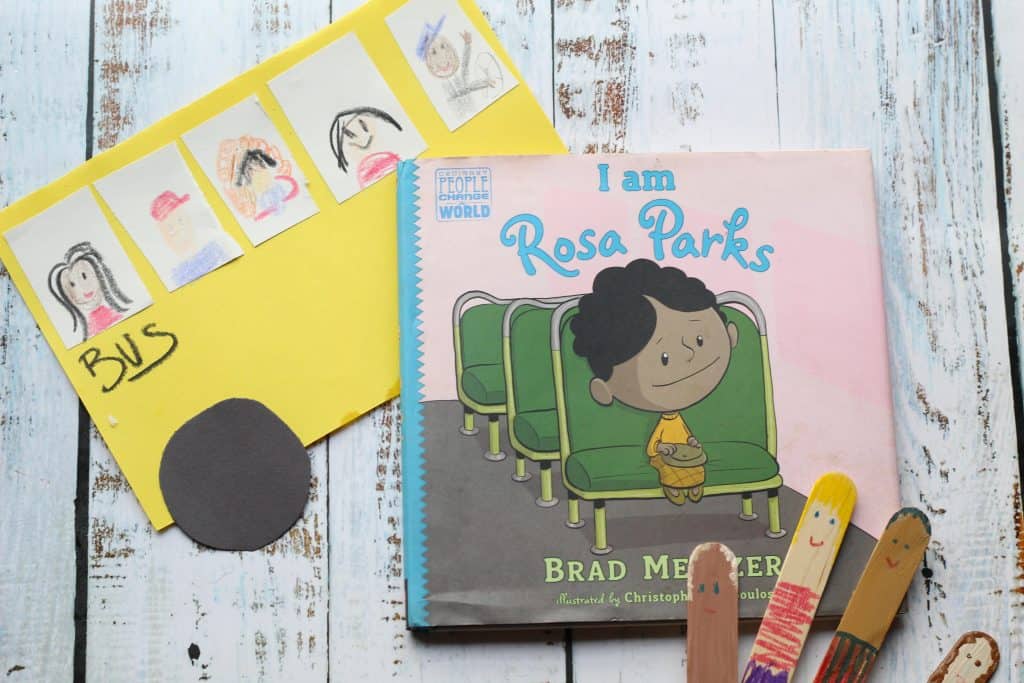 I have been in love with Brad Meltzer's series, Ordinary People Change the World for a few years now.  The sweet and colorful illustrations and the simple way that the stories amazing people from history are told make them great books for children and parents.
From preschoolers to upper elementary I believe these books are one of the best ways to infuse an understanding of how people just like them have made major impacts on the world.
This time we focused on I am Rosa Parks, a courageous woman who in the 1950s refused to give up her seat, tired of being considered less than because of the color of her skin.
I have worked hard to instill a love of people of all colors, backgrounds, and differences in my children and books like this that tell important stories have helped them understand the way things were and the way they still sometimes are.
Rosa

Parks Mini Unit Study
Let's "drive" right into some fun hands-on activities that really help kids see the importance of Rosa and her actions. The bus has become a symbol of Rosa Park's courageousness and the act helped spark a revolution that helped end segregation. 
No more using different water fountains, separate elevators, and no more eating in different restaurants because of the shade of your skin.
Montgomery Bus Shape Collage Craft Materials: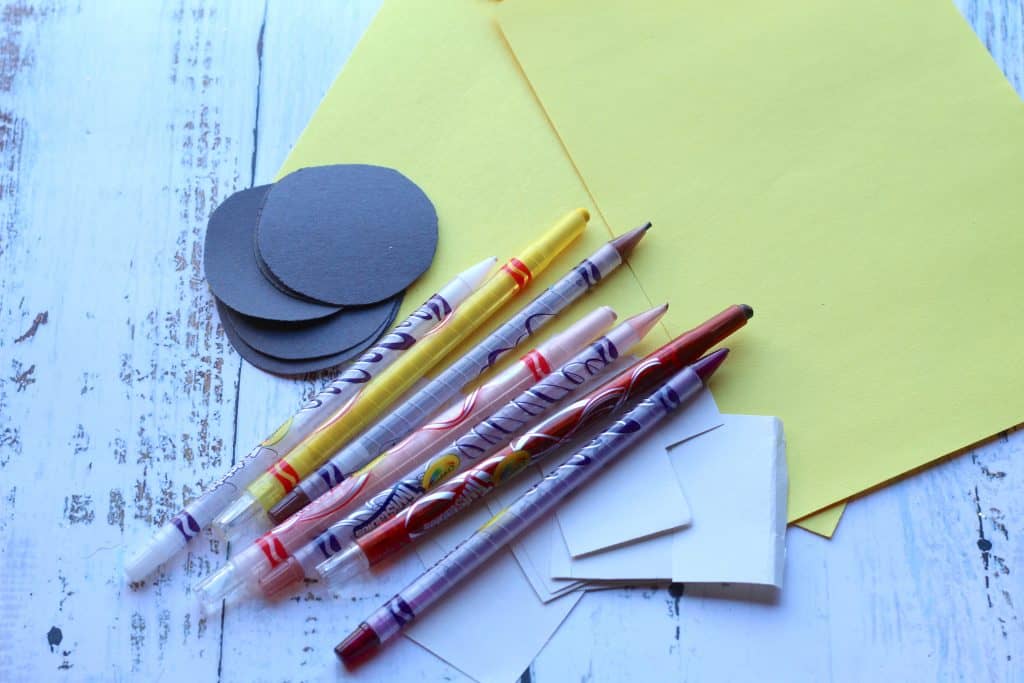 colored pencils
construction paper – black, yellow, white
glue stick
Montgomery Bus Collage Directions: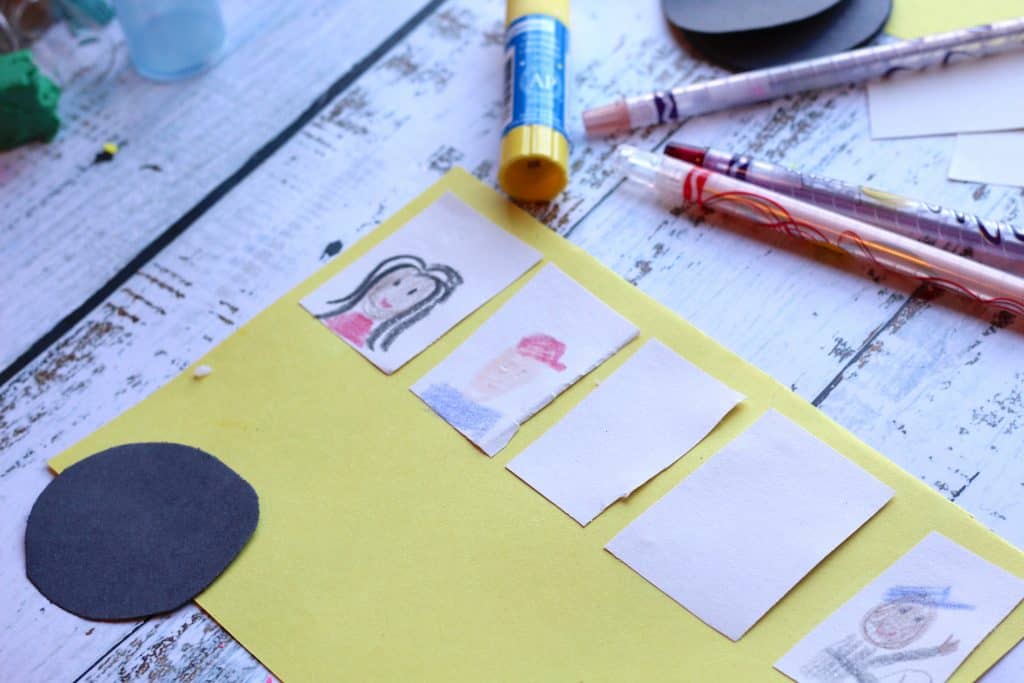 Prepare the following shapes in advance for your child if your children are younger:
one rectangle made of yellow construction paper
two black circles
4-8 white squares (to use as bus windows)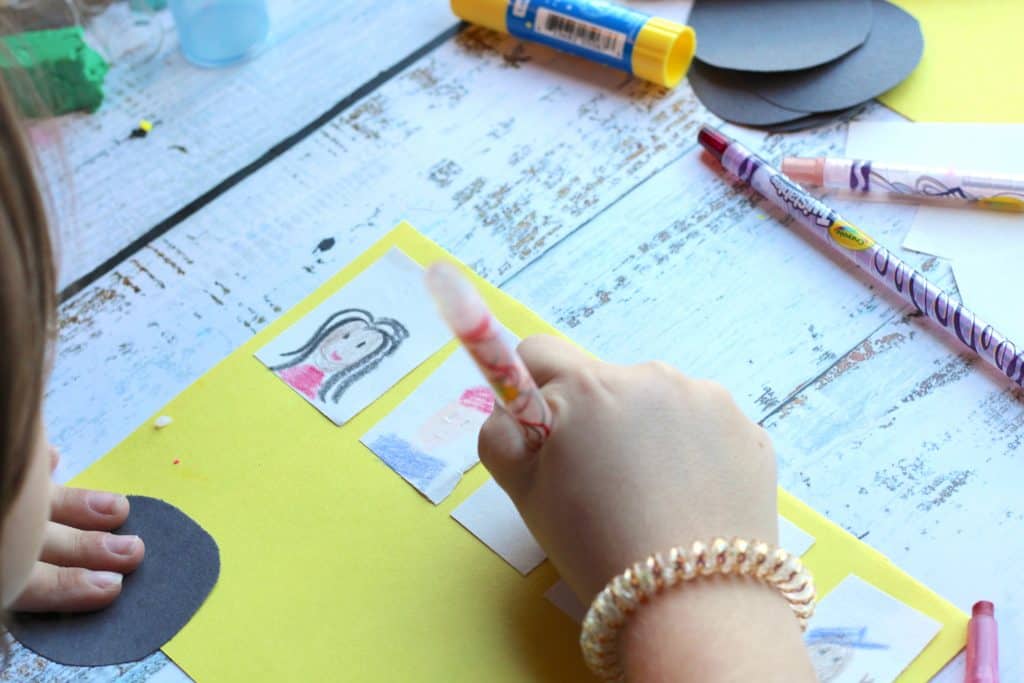 Next encourage your child to draw people of all colors in each of the windows then glue them into place with their glue stick. As your child assembles their bus you can read the story, or have a discussion about Rosa Park's actions that day.
Kids are smart, and perceptive, and have very strong feelings of right and wrong. Ask them how they feel about the way Rosa and others were and are still sometimes treated.
"The only tired I was, was tired of giving in." –
Rosa

Parks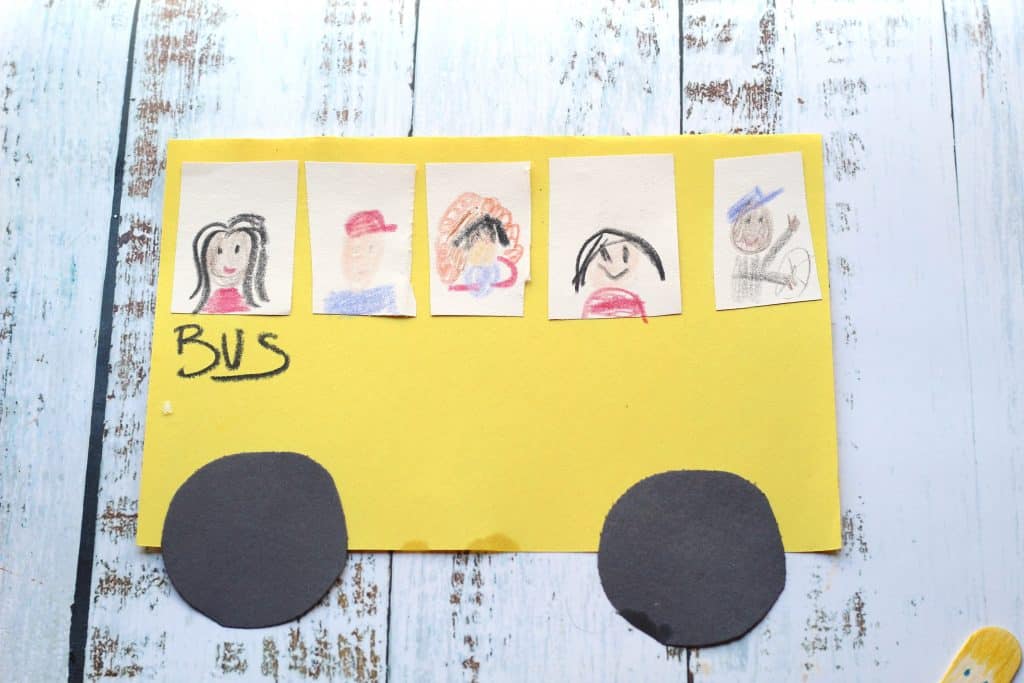 If you need to brush up on your history about Rosa Parks you can read more about her story, life, and family here. We also talked about how her actions ignited a movement – The Montgomery Bus Boycott. The Montgomery bus boycott was a 13-month mass protest that ended with the U.S. Supreme Court ruling that segregation on public buses is unconstitutional.
---
Discussions on Rosa Parks with Kids:
Does color really make a difference? I wanted a small quick activity where I could demonstrate to the kids how the color of the outside has nothing to do with the quality or content of the inside. Beyond that I wanted to get them thinking about not judging people period- for color, weight, size, shape, hair, etc… We did it two ways…
1.I grabbed a white and a brown egg from the grocery store. We cracked open each egg and I scrambled them up. Then I asked the kids this: " Once the eggs were out of the shell could you tell the difference?" No, it's because they are the same inside just like people.
2. I placed their favorite juice in two different colored cups and asked them to try them both. Is one better than the other? Why or why not? I showed them the bottle and we talked about how each cup held the same thing and there was no difference in quality, ingredients, amounts, etc… Do you think its the same with people?
Try putting something sweet in a plain cup, put something sweet in a favorite cup and see what happens when they drink. Did you judge the contents by the color of the outside? How silly! People are the same way! Simple activities like this are an easy way to get your kids thinking.
---
Multicultural Stick Puppets Craft:
One thing I want to instill in my children is that human rights and equality are not just something we study in February, but something that's important every single day of the year. I want it to be a natural part of their lives. With that in mind for our final project, we made multicultural stick puppets.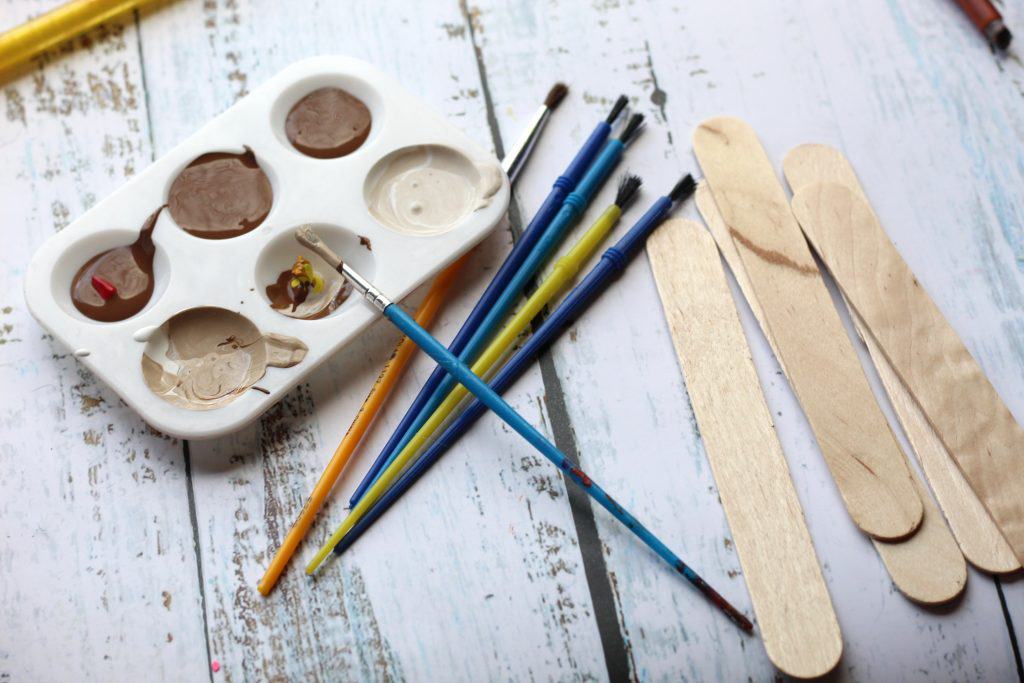 Materials Needed:
large craft sticks
glue
craft paint
markers
paper
yarn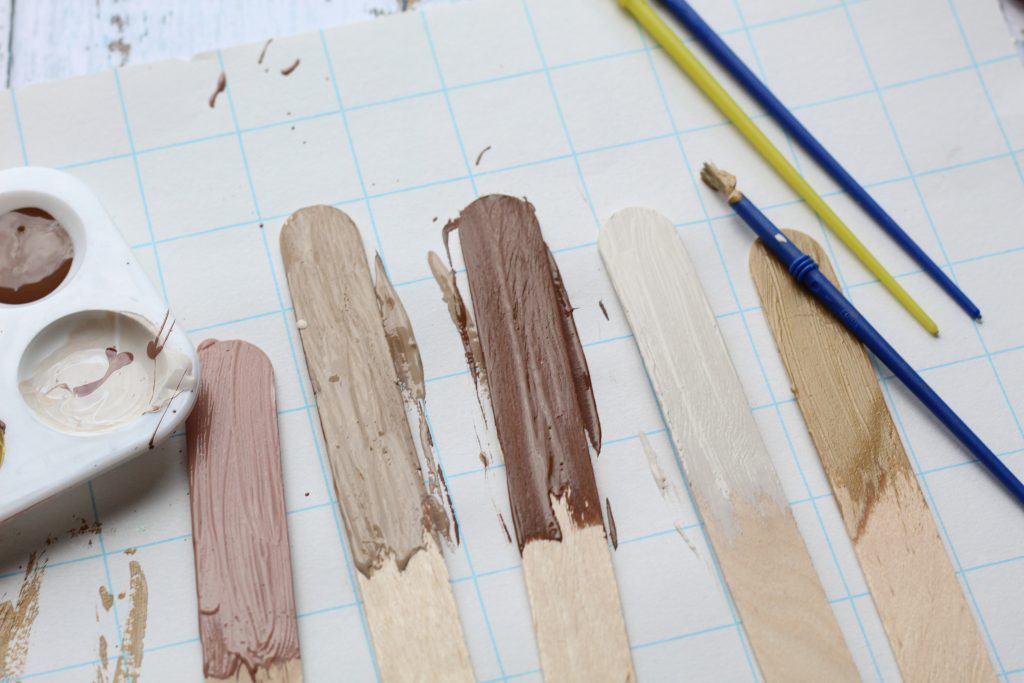 First, we made various skin toned paints using brown and white, here and there. We added a touch of yellow and red to get as many variations as we would. You can also buy paint that already comes in multi-cultural colors HERE.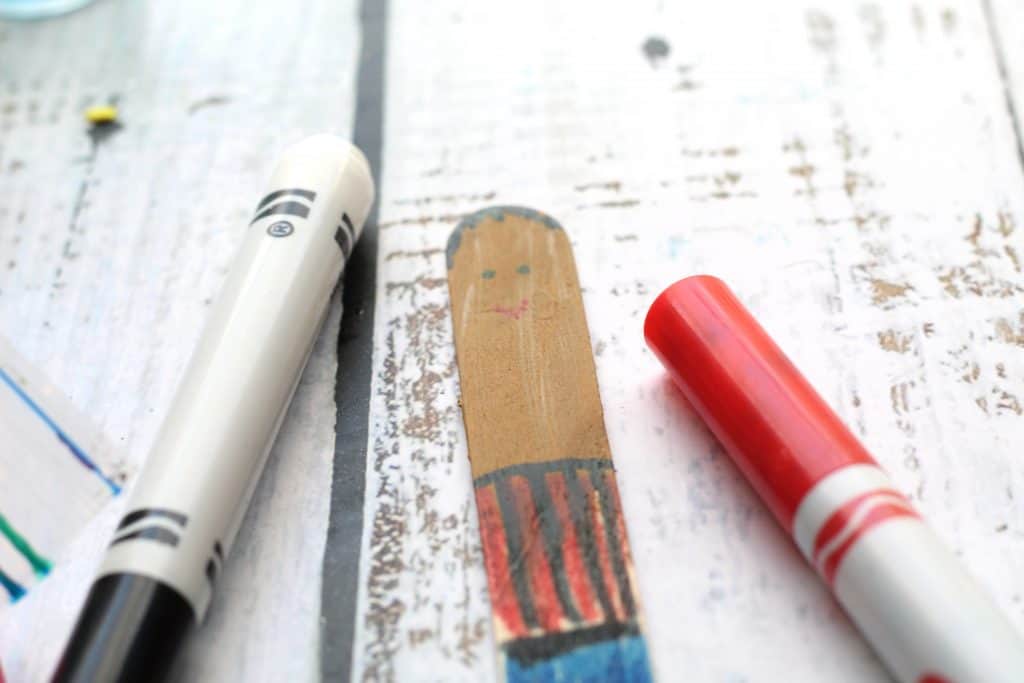 Then we painted our craft sticks halfway or more with our different skin tones and let them dry.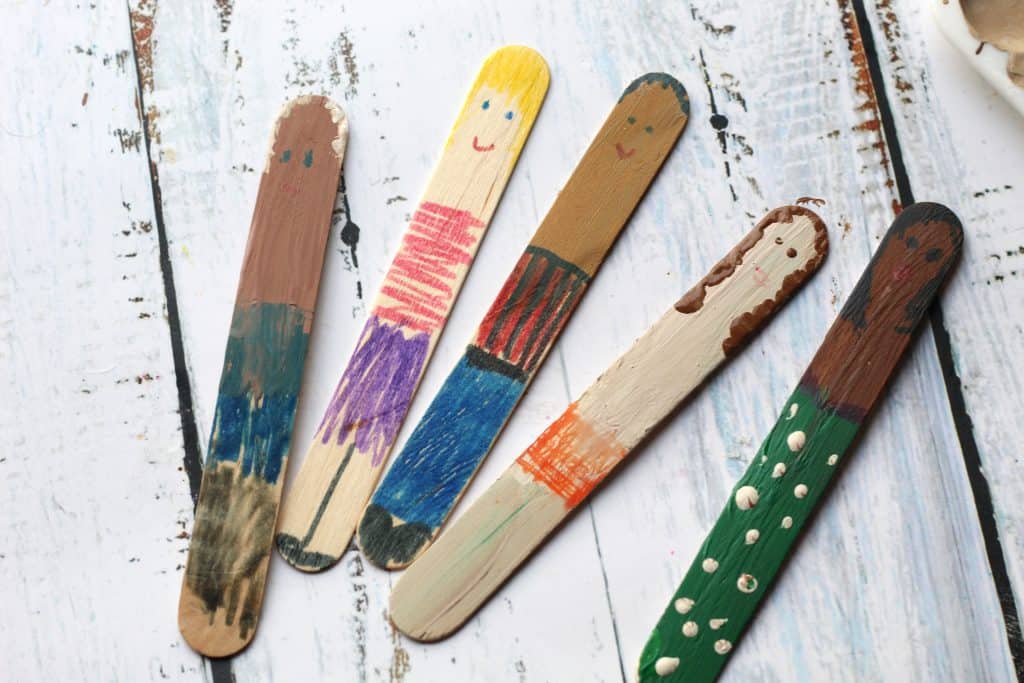 Finally, we added hair, eyes, and clothes with markers. You can also use scraps of fabric, felt, yarn, and paper if you like.
These stick puppets are an adorable kid made art project and can be used to tell Rosa Park's story as well as any other story during the year.
---
"I Am Rosa Parks" Vocabulary Words
The following are some words from the book that you can use as Vocabulary/Spelling Words, keep the explanations simple and help your child understand what each means.
Respect
Unfair
Civil Rights
Movement
NAACP
"I Am Rosa Parks" Writing Prompt Ideas
Whether you homeschool or you teach in a classroom, a writing journal is a great way to practice handwriting, sentence structure, grammar, punctuation, creative writing, and get kids creatively writing. 
They can write anywhere from one sentence to multiple pages depending on your child's age and skill level. I encourage you to include it daily and sometimes provide a guided prompt for them to use. I have written up a few writing prompt ideas to get you started…
What I would do if I saw injustice at school…
One day I sat down on the bus and…
Rosa Parks was…
One time that I chose to do the right thing even when it was hard…
What really matters about a person is…