20 Ways to Reuse Recycled Plastic Bottles for Earth Day Crafts
This post may contain affiliate links, view our disclosure policy for details.
Below are 20+ ways to reused recycled plastic bottles! Reusing plastic bottles makes cheap craft activities, fun art projects on a dime, and a great way to reuse containers for Earth Day! You can use them for far more than just crafts though! From fishing to animal habitats and gardening, I hope this list below inspires you to reuse your plastic bottles!

As you can imagine with kids in the house we go through fruit juice bottles quite a bit and I love reusing containers! We save our old plastic bottles throughout the year (after washing them out of course!) but I try to plan some extra special fun with them when it gets close to Earth Day!
My kids create all sorts of things with the leftover empty bottles so I put together a creative list of ideas on how to recycle your juice bottles below! Remember to rinse the bottle thoroughly with soap and water (and dry!) before reusing!
20+ Ways to Reuse your Empty Juice Bottles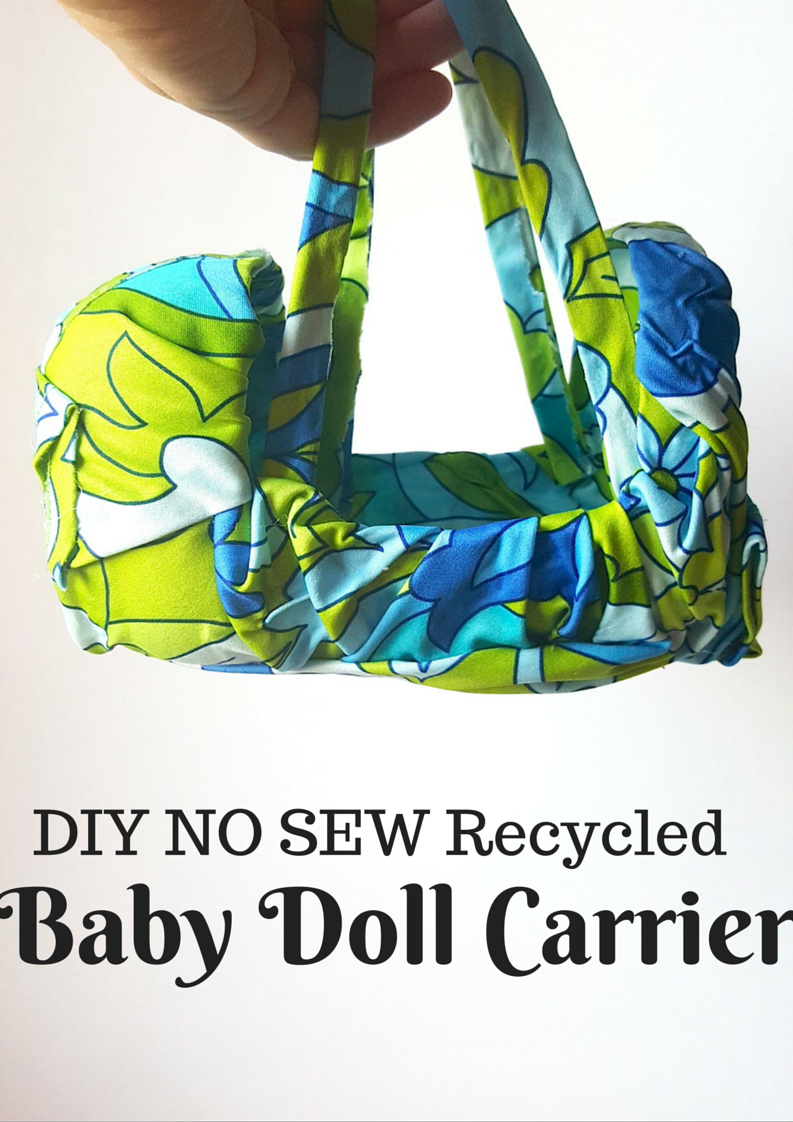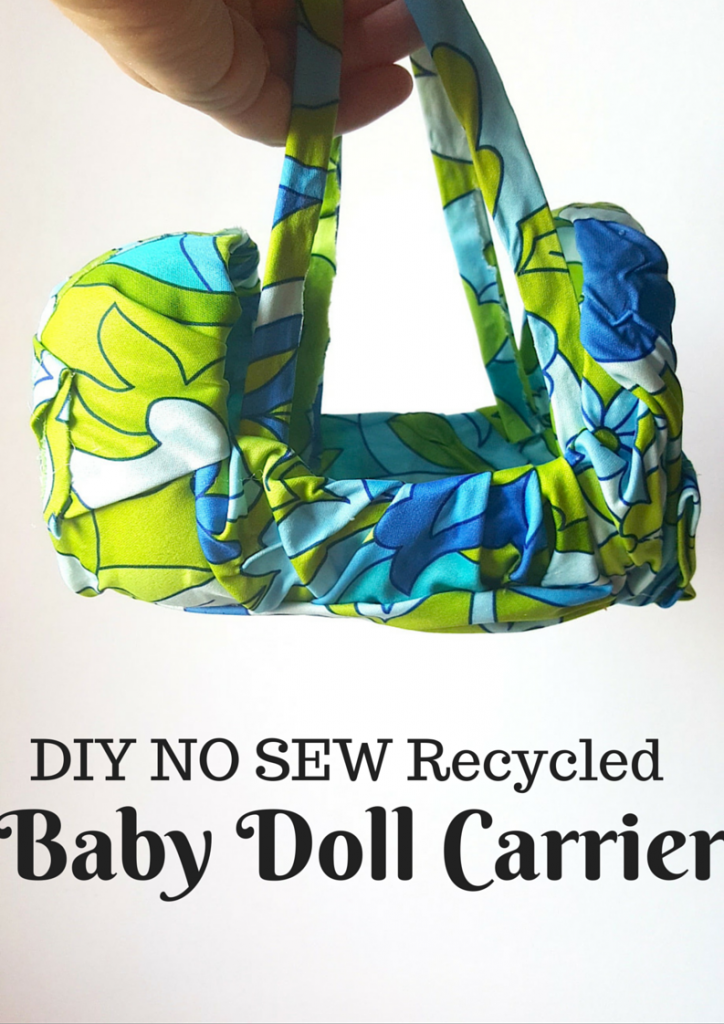 1.. Baby Doll Carrier – My little girl loves to tote around little purses and baby doll carriers so I made her a beautiful little baby doll carrier with one of our empty juice bottles! It's not as complicated as it looks! Simply cut off the top of the bottle, cut about 2/3 of the middle section of the bottle out, then lay on it's back side and hot glue
some fabric on! To make the carrier straps I simply cut a strip of fabric, folded it up and glued it in place!
2. Small Doll or Fairy House – Small doll houses and fairy houses are expensive to buy! Just cut a hole in the front of your bottle and decorate for your new little house with rocks, sticks and moss! You can use spray paint or fabric too. If you're feeling extra creative cut out some windows!
3. Seashell Sifter – This is an extremely resourceful idea to use at the beach or on fossil digs! Simply cut the top of the bottle off and drill some holds in the bottom and sides of the bottle. Fill it with seashells or fossils and then fill with water allowing the sand and silt to drain out of the bottom! You can use the same concept to make a mini gem panning station as well!
4. I Spy Container – Once completely dry fill the empty juice bottle with rice and very small objects. Use crazy glue to seal the cap on tight and your child can rotate the bottle around looking for specific items!
5. Piggy Bank – There is NO limit to how creative you can get with making a piggy bank from an empty juice bottle! It can be as simple as just dropping money in the top or painting and decorating it to look like an animal or favorite superhero!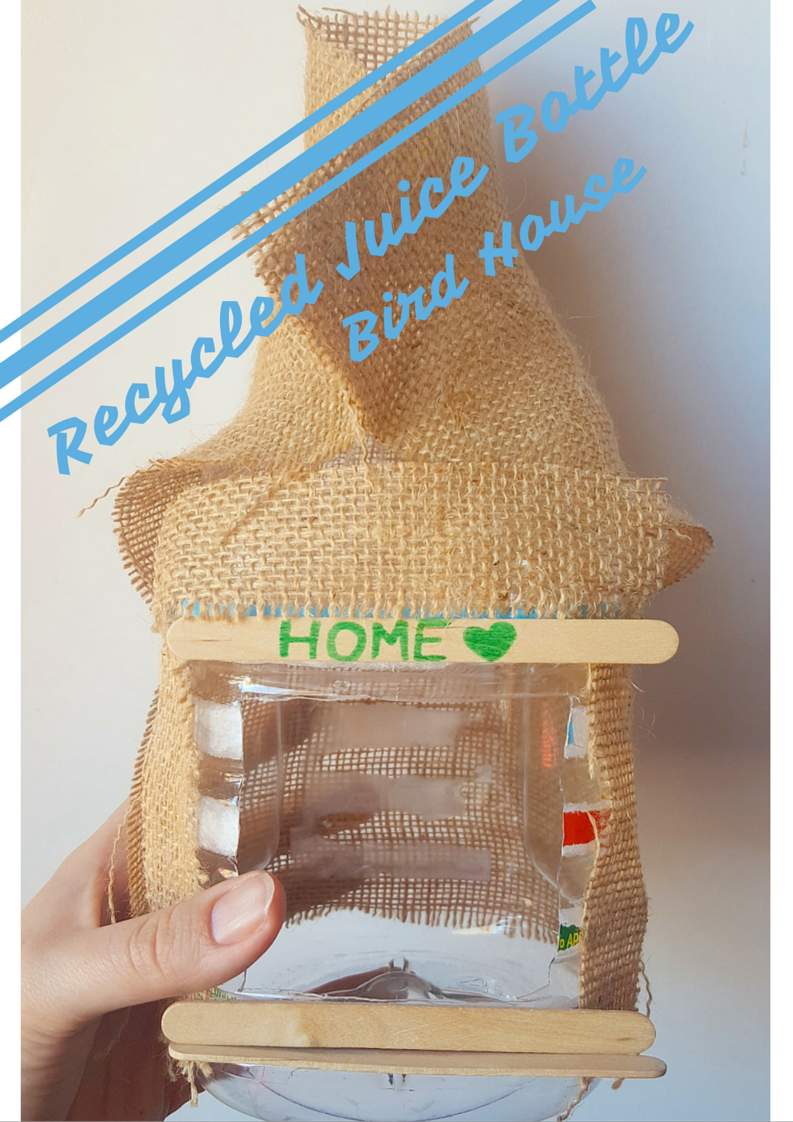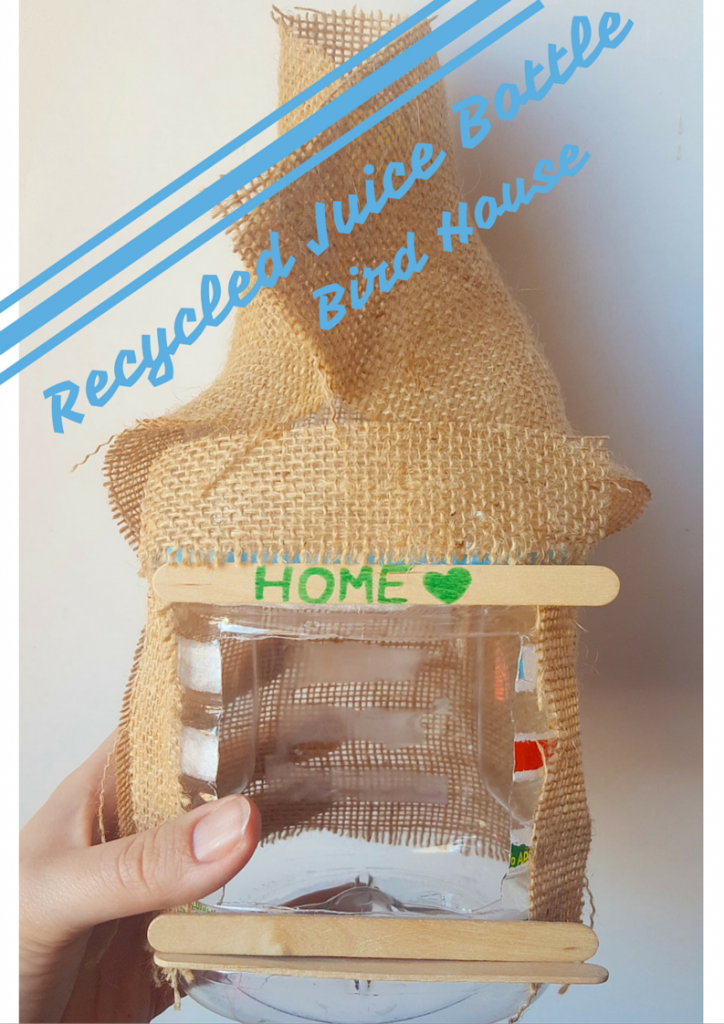 6. Bird House – Birds have been my pure enjoyment the past few years and my bird house, bath, and feeder set up has grown expansively! But it can be very expensive so I have decided to start creating my own out of empty plastic bottles! Just cut a hole in the front large enough for a bird and some sticks/yarn to go in! I recommend drilling a few tiny holes in the bottom to help with any rain water drainage.
7. Bird Feeder – Same as above – just cut a hole in the front with a few small holes drilled into the bottom and hang! I do recommend having some sort of stick or perch glued near the opening so the birds can sit on it!
8. Sensory Bottle – You can find tons of recipes online for this! Fun for themed science lessons!
9. Toad House – I LOVE toads. LOVE. I cut the bottom of the bottle off (just the very bottom) and press firmly down into the dirt with the cap on. You can either build up the mud and cover the rest of the bottle or glue sticks and leaves around the top for camouflage since toads like dark damp places.
10. Bug or Snake Habitat– ALL year my kids catch bugs and they could have an endless amount of habitats for them! Simply drill some air holes in the sides of the container or cut a square/rectangle out of the side and glue a mesh screen on. NOTE – do NOT leave the plastic bottle habitat in the sun or you will overheat your critters with dire consequences!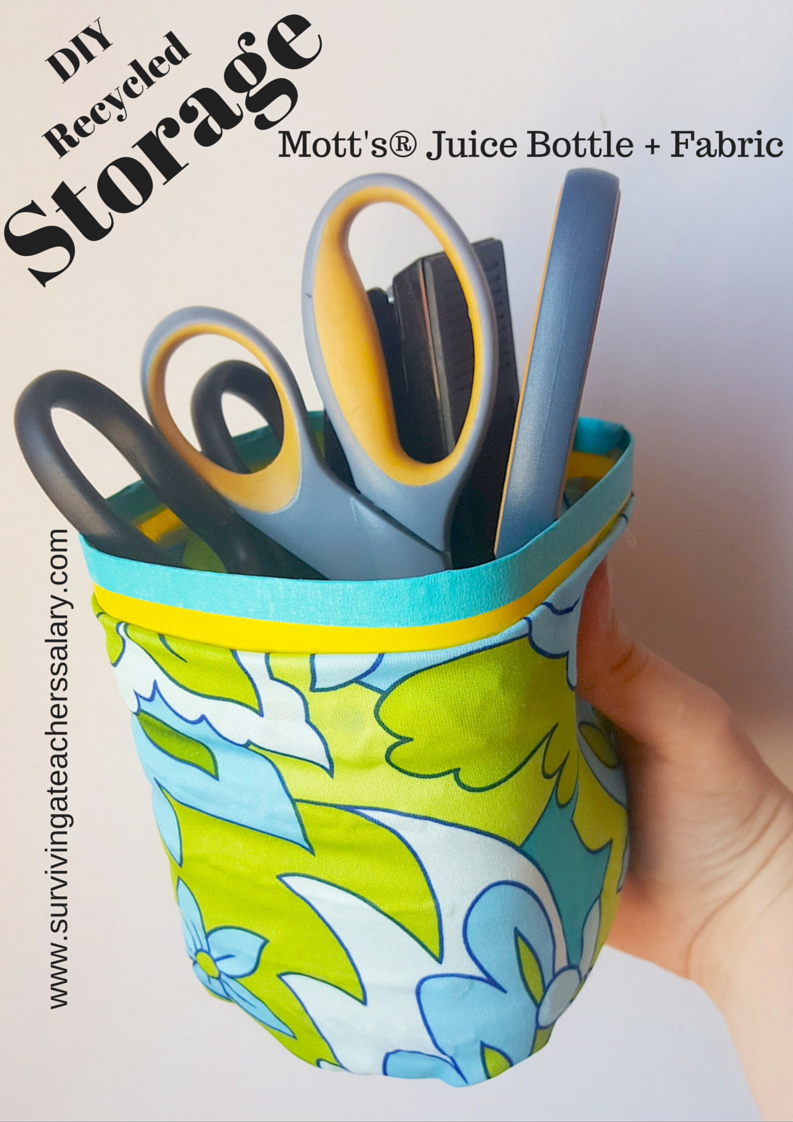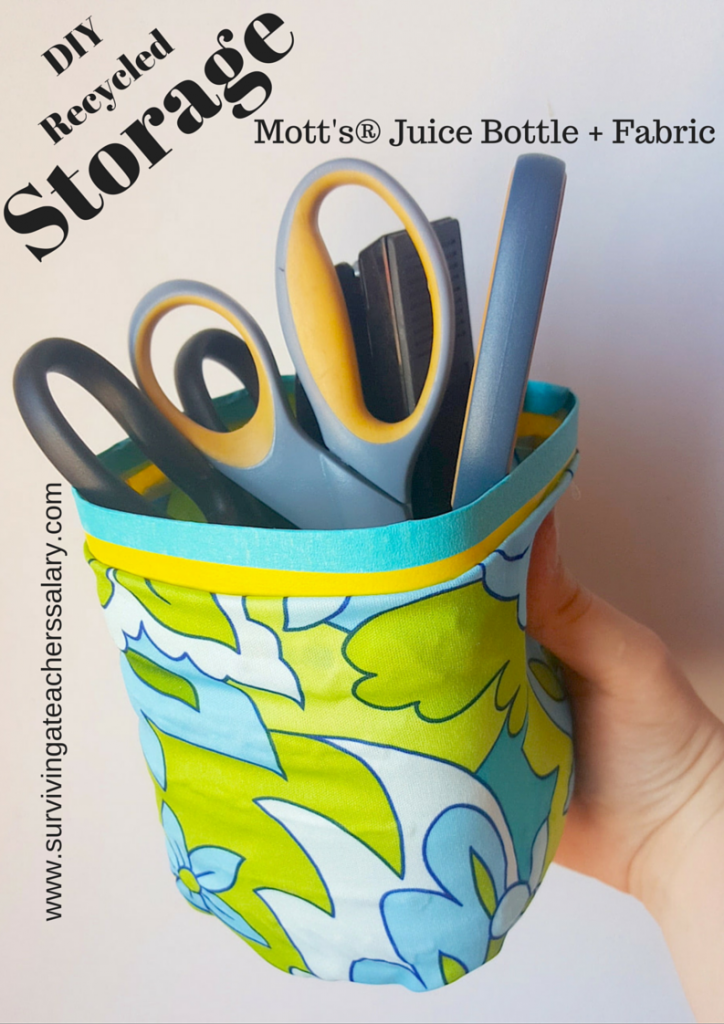 11. Storage Tote – We've all seen those cute ideas to recycle and reuse cereal boxes and cardboard boxes for storage but have you thought about all the things you can do with empty juice bottles? Just cut the top off, wrap the edges with washi tape
, and glue some fabric around the bottle!
12. Craft Supply Holder – This is especially important to me as I have a TON of loose craft supplies. You don't even need to do anything to your empty bottle! Just fill it with buttons, pom pom balls, google eyes, etc.
13. Pet Food / Water – Does your pet go hiking or camping with you? I like to reuse bottles for their food/water to take with me on the journey!
14. Camping Lantern Hack – Fill that empty bottle up with water and stick some glow sticks inside!
15. Flower Vase – Buy your mom or sweetheart some flowers and save your money buying a vase – just cut the lid off your empty juice bottle and fill it with water! Grow a bamboo garden!
16. Garden Container – There are all sorts of amazing ways to use your empty bottles to plant a garden! Whether you simply lay it on it's side and cut a rectangle out of the top to fill with dirt or you string up to make a wall of plants there is no limit to creativity in the green world!
17. Build a race car! – Lay your bottle on it's side, add some wheels and 2 axles and decorate your new race car! Cut a hole in the top if you want to stuff a plush animal inside!
18. Mini Greenhouse – Cut the base off of your juice bottle and press the bottle firmly into the dirt over new plants to create a greenhouse effect!
19. Jug Fishing – If you have a hankering for catfish and have access to a private lake or pond you're in luck! Take your empty bottles, tie fishing line tightly around the top or thread it through the bottle, and let the end of the line (with a hook and bait attached!) float in the lake till you collect it the next morning with a fish attached!
20. Crayfish Trap – Cut the top of your bottle off and poke holes around the edges of the bottle and the lid. Invert the lid into the open bottle and use fishing line to tie the pieces together so it looks like a funnel inside the open bottle. Place a few rocks in the bottom of the bottle with some bait and let it sink to the bottom of the lake. (Don't forget to tie a line to the bottle so you can pull it into shore!
21. Bait Bucket – Drill air holes in the top half of the bottle and attach a rope securely around the bottle. Fill it with live bait and toss it into the water! When you pull it up the bait will be swimming in the water at the bottom of your bottle!
22. Don't forget the bottle caps! Don't need the caps after you reuse your bottle? There are TONS of ways to recycle your bottle caps! String them together to make a snake for a preschool craft. Glue them together to make a yard decor sign. Use them for art stamping or creating your own recycled greeting cards!
Other Recycled Projects: