20+ Safe YouTube Learning Channels for Older Kids
This post may contain affiliate links, view our disclosure policy for details.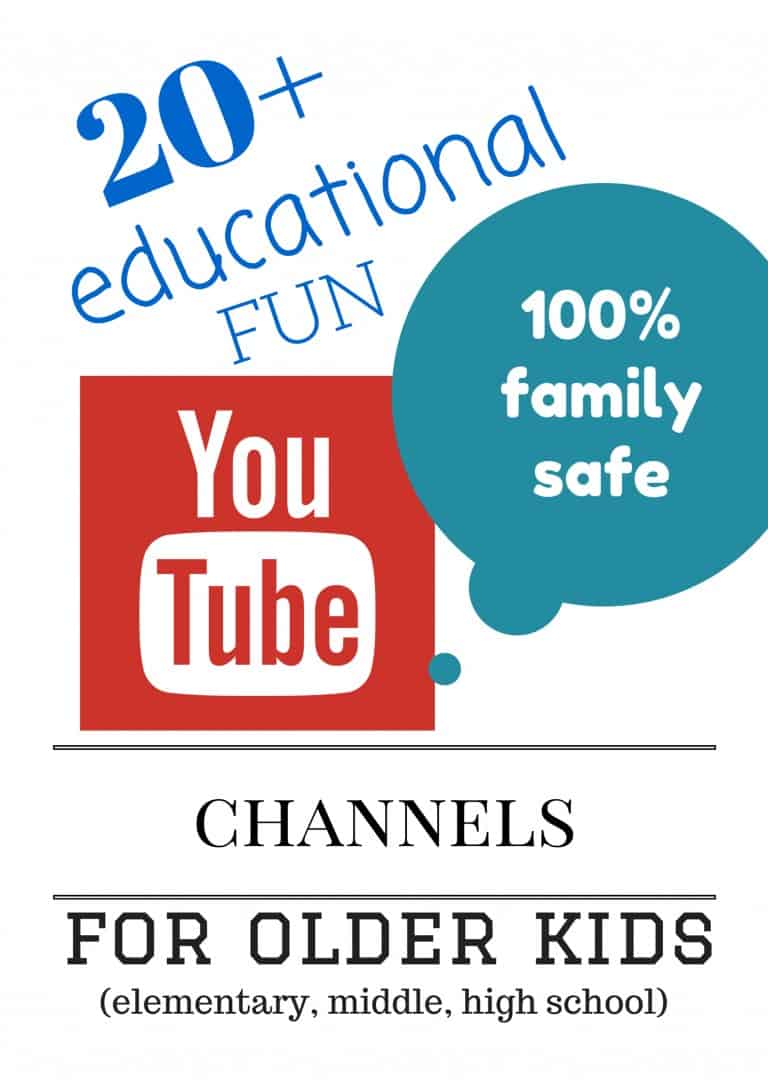 As my boys get older they are starting to become more tech savvy than I am in some areas they are branching out online and learning more about the digital world around them which can be both an exciting and dreadful place all at the same time! Although there are many filters and protective software out there for families I haven't found one that I am totally in love with yet so until I do we decided as a family to have other parameters set in place that are more hands on.
My son LOVES watching video tutorials on how to do things on YouTube but inadvertently he ends up falling prey to click bait and finding something inappropriate I'd rather him not watch. We have a safety mode set on our account which helps but obviously isn't the fix all. And there is a YouTube Kids app that's even safer but I find that it's geared more for preschool age and below.
Here are some great educational YouTube channels that are totally family safe and great at teaching the kids different hacks and skills as well as a variety of other educational content. These channels are geared more towards elementary ages kids and up. (some great tween ones in here!) Items with a * are specifically recommended by my kids for other kids:
*Life Hacks for Kids – From tutorials by kids for kids on how to make easy cat beds, tap shoes, science experiments, gifts, jewelry, costumes, or anything else this is my 9 year olds favorite hack channel! I Heart DIY is similar to life hacks but does more crafty tutorials for your tween/teen age.
*Art for Kids Hub – From drawing to painting, origami, and other mediums my 9 year old LOVES recreating simple step by step drawings here! He's learned to draw pugs, Russian Nesting Dolls, snakes, cats, and all sorts of other cool things.
*WhizKid Science – If your kids love science (or messes!) this kid's YouTube channel is perfect for independent kids who like to pull together their own experiments! This one is also by kids for kids. SciShow Kids and Crash Course Kids are also awesome channels for kids! Other notable ones are the Brain Scope at the Field Museum and AnimalWonders Montana.
Tinker Lab – I'm pretty sure when my kids discover this channel I will be able to add an asterisk to the category here although they really love the channels by kids for kids the most. This channel is definitely family friendly and has all sorts of interesting tutorials promoting creative actions like rubber cement watercolor, paper clip bracelets, tea bag rockets and so much more. Also along this lines is Babble Dabble Do and Red Ted Art.
Vi Hart – for quirky kids, math lovers, music lovers, and other kids that fall into this line of higher thinking interest she's got a unique platform that's quite clever some kids might dig. She's brilliant to say the least. Definitely geared to older kids and adults – more high school level. Minute Physics is also incredibly captivating and a great choice really for any age – don't let the term physics scare you.
TED-Ed – This is a great channel for both kids & adults and breaks down some fun questions kids might ask in an educational and visual way. For the most part AsapSCIENCE is really good too and might appeal to your older kids – especially those with a musical inclination. Deep Look is a great micro look at bugs if you have a nature lover. Gross Science is another educational science channel for older kids that's, well, gross – plenty of bodily functions and other educational ickies here.
Soul Pancake – Soul Pancake has several different channels it streams but I personally follow Kid President. He's an incredible kid who promotes inspirational messages and good ethical behavior that is so uplifting to kids and adults! I definitely recommend following him and showing your kids how they can use their voice to inspire others!
Beyond Science – If your kids are intrigued by other worldly discoveries, legends, conspiracy theories, etc. this is an interesting channel to check out. A few of the videos could spook younger kids just an fyi. Brusspup is also mostly family friendly and is full of cool illusions.
Other branded YouTube channels that are generally always family safe and educational:
Reading Rainbow , Khan Academy , PBS, National Geographic Kids.
There are SO many more family safe educational YouTube channels out there! Have a favorite? Leave the channel in the comments below and I'll check it out and add it to our list of family friendly and educational YouTube channels for older kids!