4th of July Edible Firecracker Rice Krispies Recipe
This post may contain affiliate links, view our disclosure policy for details.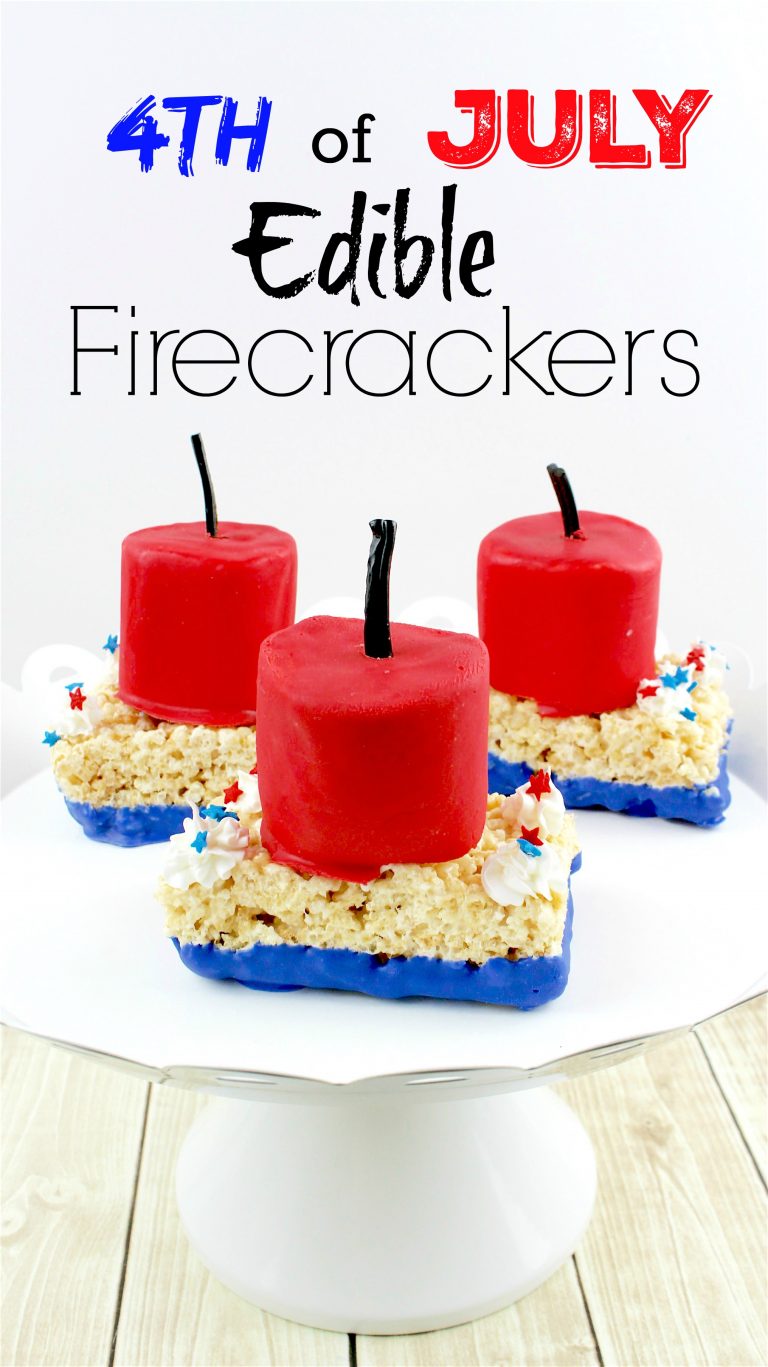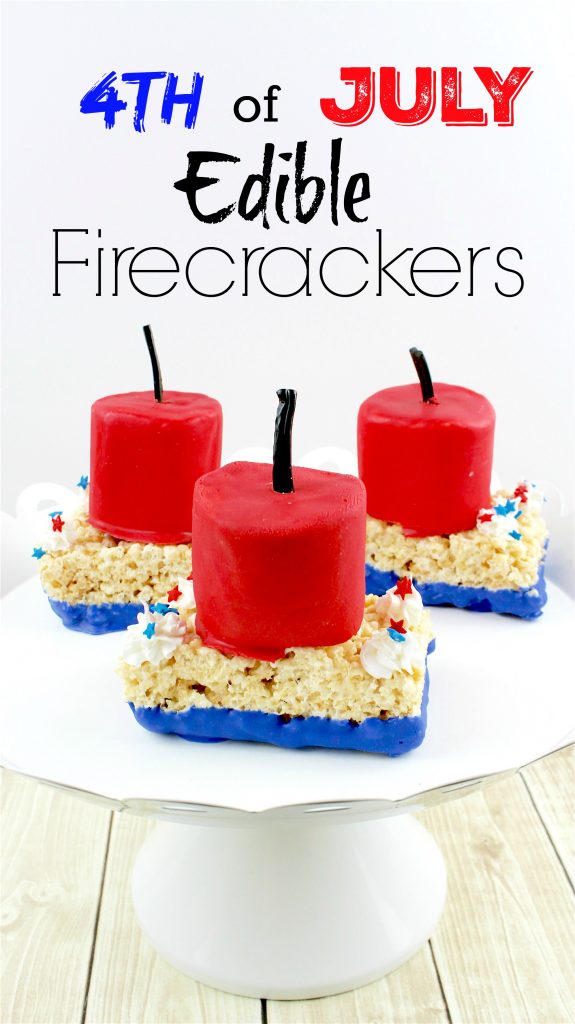 Whether it's the 4th of July or New Year's Eve it's pretty much always time for fireworks here at my house! My kids BEG to do fireworks anytime they think we'll say yes! Thankfully they are still young enough yet that the smaller fireworks are good enough!
Although they are not allowed to set off the fireworks they CAN create their very own edible firecrackers for the holidays! Not only are these Patriotic edible Firecrackers ridiculously easy to make (even with kids!) but they turn out looking stunning every time!
Edible Firecracker Recipe & Step by Step Directions: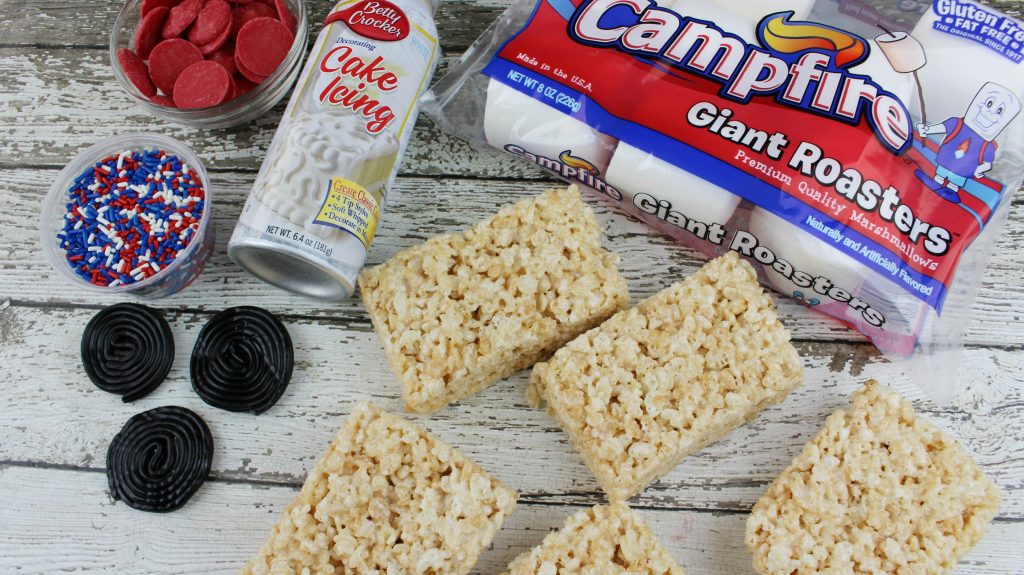 This recipe will yield 6 large Edible Firecracker Rice Krispies bars from a 9×9 pan.
INGREDIENTS:
1 cup (2 sticks) butter
Two 10 oz. bags of marshmallows
10 cups Rice Krispies cereal
1/4 teaspoon salt (optional)
3/4 cup Wilton Royal Blue Candy Melts
1/2 cup Wilton Red Candy Melts
6 jumbo marshmallows
1 black licorice wheel
Betty Crocker white cake frosting can with star tip (tip comes with it)
Red white and blue star sprinkles
DIRECTIONS TO MAKE RICE KRISPIES:
1.   Spray a 9×9 pan with a non-stick coating spray and set aside.
2.   In a large sauce pan, melt the butter over low heat.
3.   Add the marshmallows to the butter, stirring constantly until melted.
4.    Remove from heat and stir in the cereal and salt (optional) until well-coated.
5.   Transfer the cereal mixture to prepared pan and press down firmly.
6.   Cool for 30 minutes and cut into 6 large bars.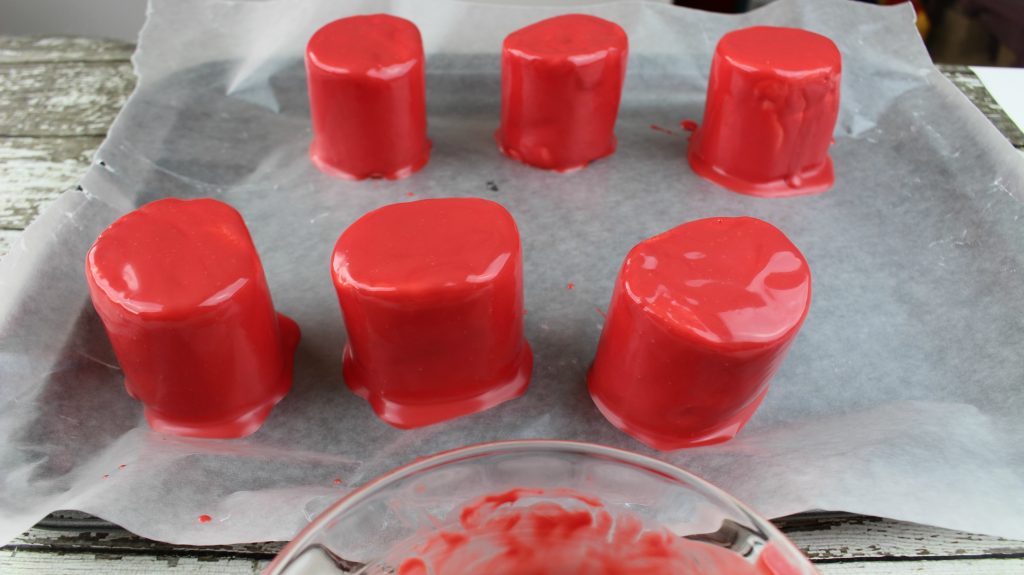 HOW TO DECORATE Edible FIRECRACKER RICE KRISPIES:
1.   Line 2 cookie sheets with waxed paper and set aside.
2.  In a double boiler pan (or in 15 second increments in the microwave), heat the blue candy melts until melted, stirring occasionally.
3.   Dip the bottom of each Rice Krispies bar into the melted chocolate. Set on first cookie sheet to harden.
4.  Microwave the red candy melts in a microwave safe bowl for 45 seconds. Stir until melted. (Depending on your microwave, you may have to heat in additional 8 second increments until melted).
5.   Roll each jumbo marshmallow in the melted red chocolate, covering each one entirely. Place on the second cookie sheet and refrigerate for 10 minutes to speed the hardening process. Set aside the remaining melted red chocolate for later.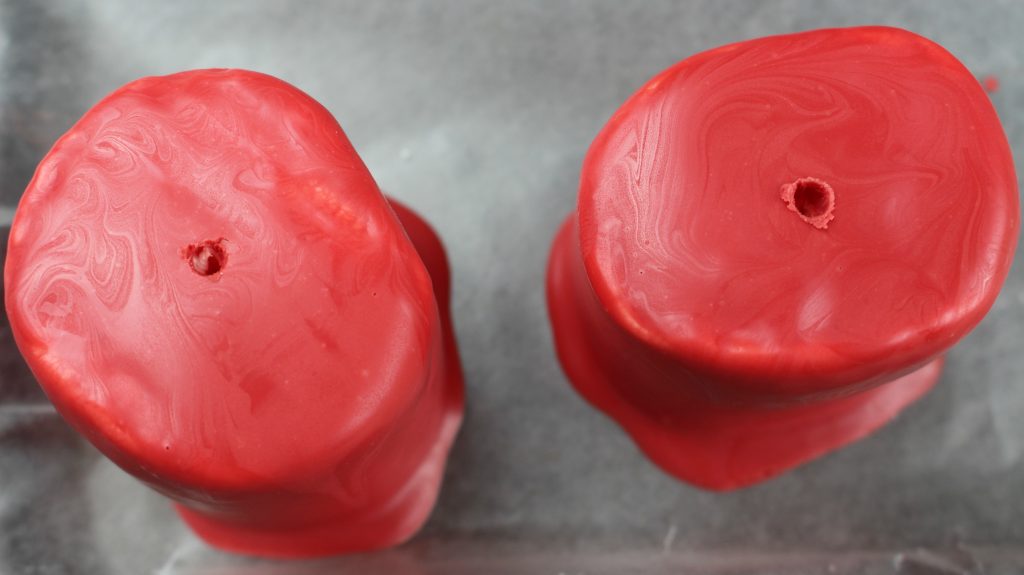 6.   Cut 6 two inch pieces from the black licorice wheel.
7.   After 10 minutes, remove the marshmallows from the refrigerator and take an ice pick or mini meat thermometer and poke a hole into the top of each marshmallow.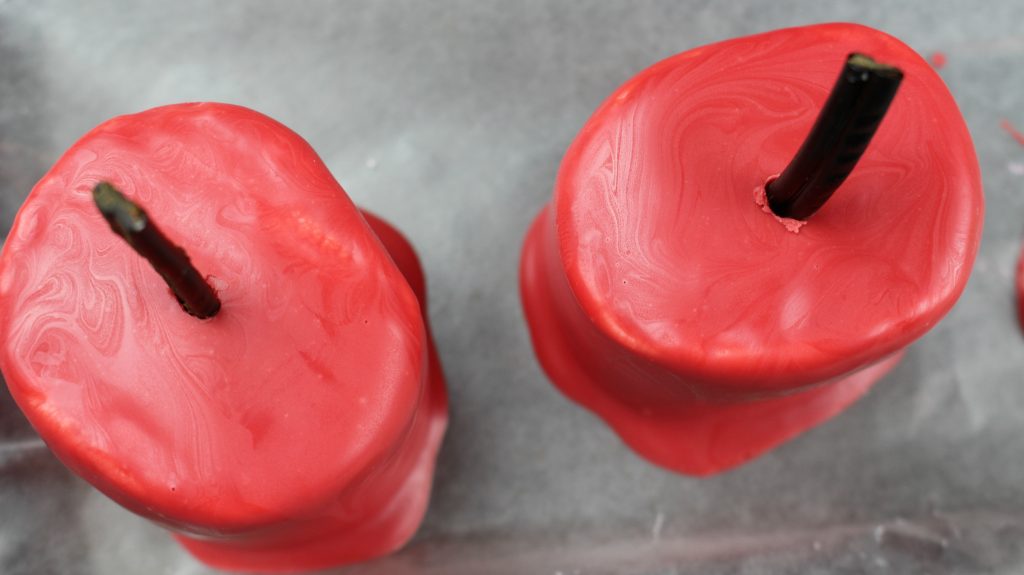 8.   Insert a 2 inch licorice strip into each firecracker to resemble the fuse.
9.   Reheat the leftover red chocolate in the microwave. Dip the bottom of each marshmallow into the melted red chocolate and place on top of each Rice Krispies bar, squared in the middle.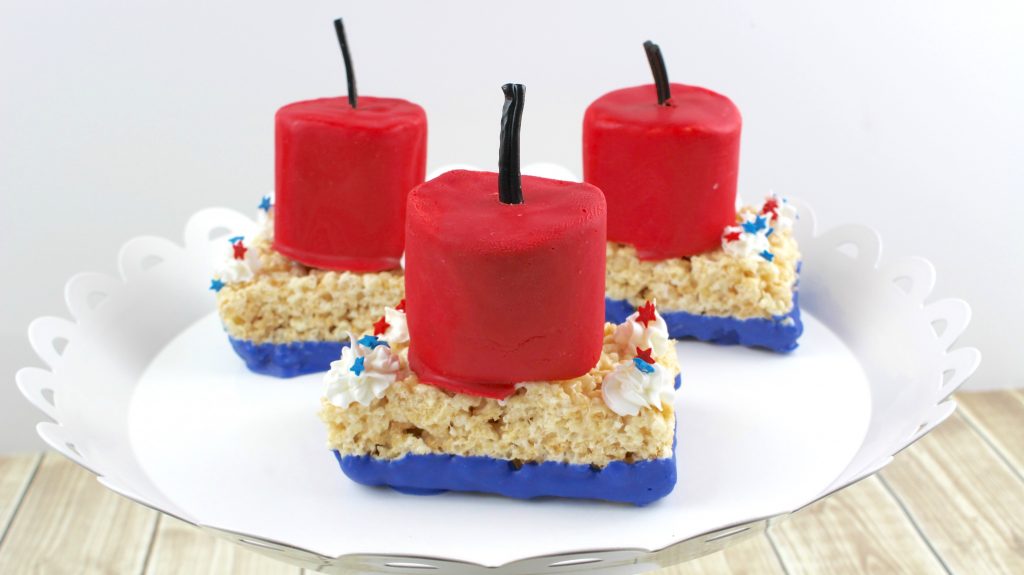 10.  Using a star tip, pipe the vanilla cake icing on all 4 corners of each Rice Krispies bar.
11.   Sprinkle the star sprinkles on top of each icing star.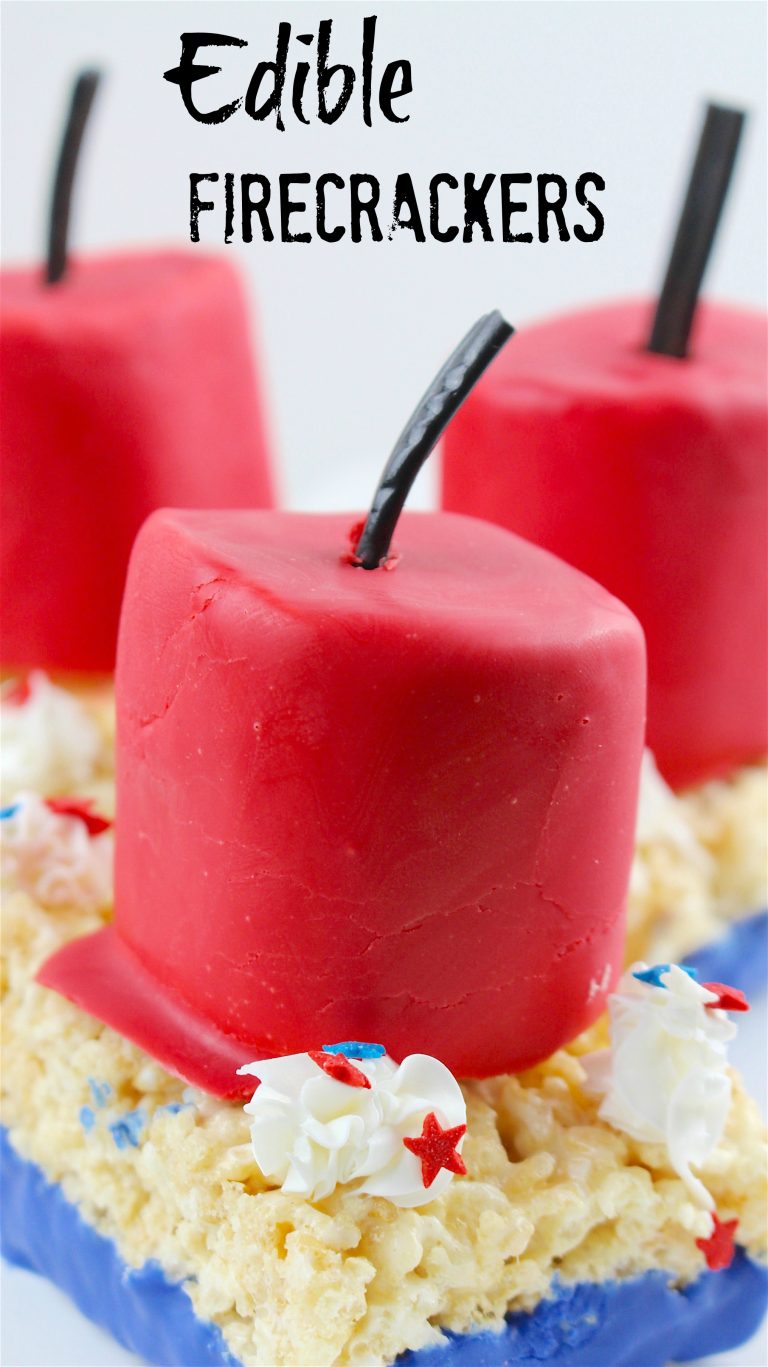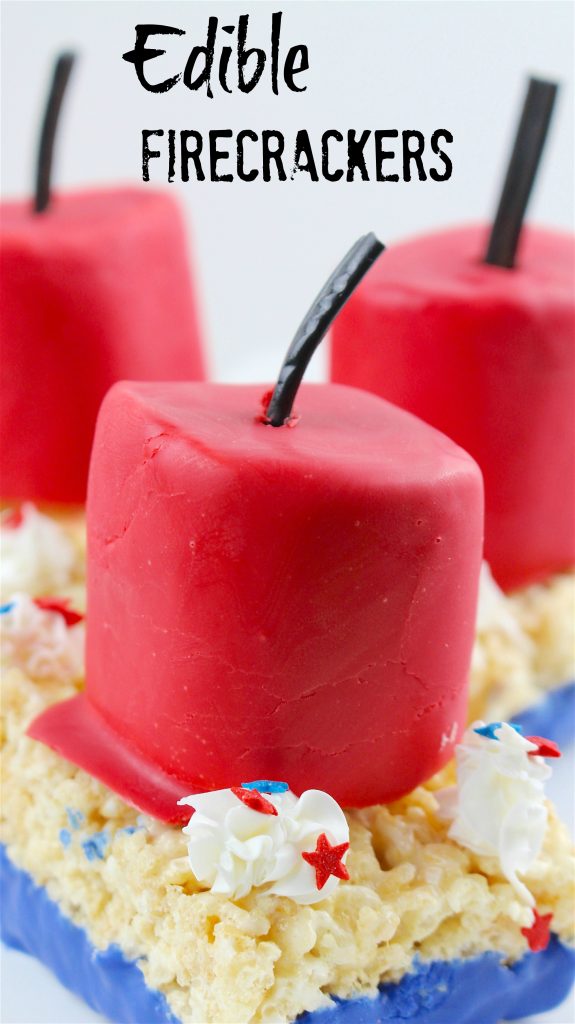 These edible firecracker rice krispies are AMAZING to make for parties and are sure to be the talk of the day! They are so incredibly simple to make even if you aren't that great at decorating like me! They are a huge hit with both kids and adults!
Buy ingredients for this recipe on Amazon here or click below!
Here are some of our other popular patriotic themed posts: