Learning Resources New Sprouts Fruit & Veggie Tote Review
This post may contain affiliate links, view our disclosure policy for details.
Disclosure: I received the below product to use for this review. All opinions are my own.
My son just started preschool a few months ago and although he loves to play with blocks, trains, and cars one thing he and the other kids in his class LOVE to do is to play with pretend food!
We've had all sorts of play food in our house (wooden, cheap plastic, felt, etc.) but by far my favorite type are the play foods we have received from Learning Resources. This New Sprouts Fresh Picked Fruit & Veggie Tote is no different!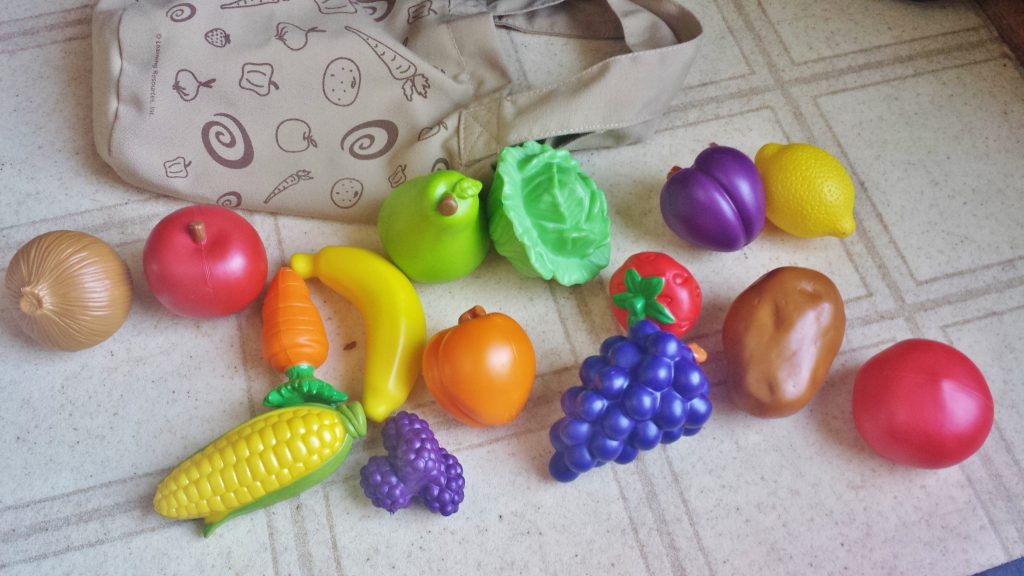 Why I LOVE Learning Resources play food:
1. It's realistic and comes with variety! It's not often I see an apricot, potato, or a head of lettuce in a set of play food! Over the years it's been great to use these realistic fruits and veggies to help my kids learn about all types of produce….even when it's out of season at the grocery store!
2. It's durable and doesn't hurt! Our New Sprouts play food has been stepped on, tossed down the stairs, and who knows what else! It has never flattened, got bent in, or even hurt someone in the event that it gets tossed across the room like our wooden pieces have.
They are made of a rubberized plastic type material that is pretty stiff (not very squeezable) but is a very forgiving material with kid-use!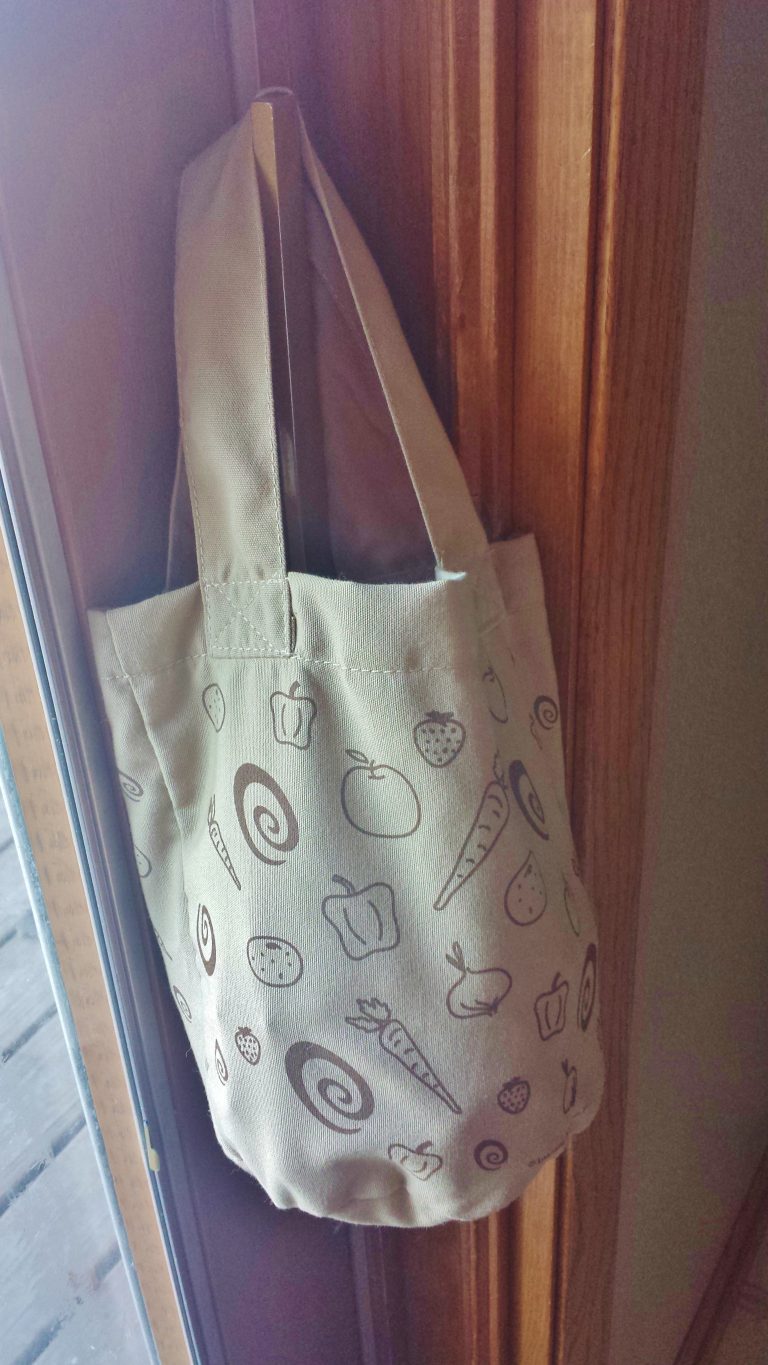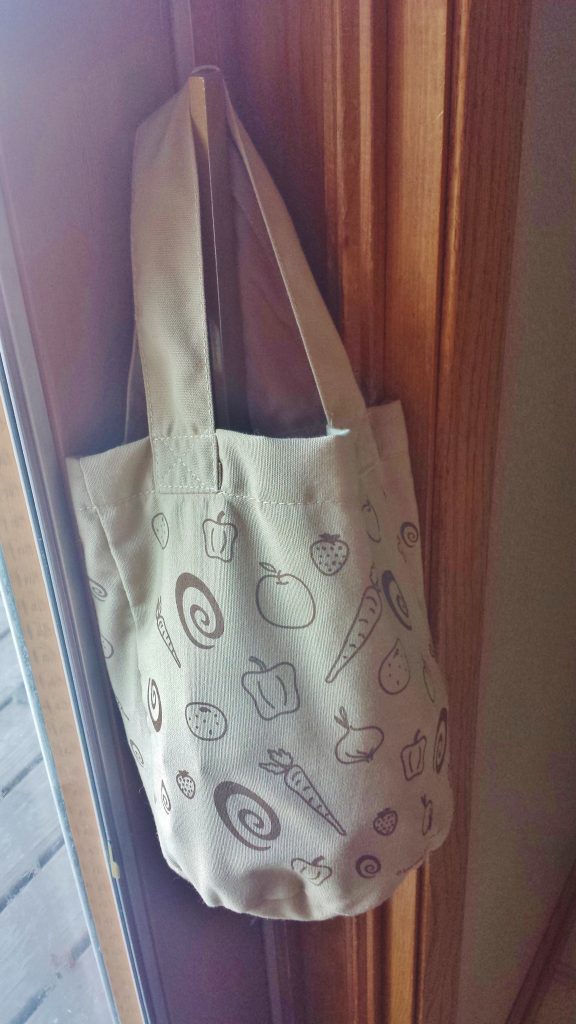 The cool thing about this particular New Sprouts set is that it comes with a canvas tote! This is not your typical flimsy play bag but is an actual good quality tote that's perfect for kid-sizes! I've tried giving my kids regular grocery canvas bags but they are so huge it becomes a bit comical for them to use!
The Learning Resources tote is the perfect size for a kid's should and of course holds all of the fruits and veggies that come with it.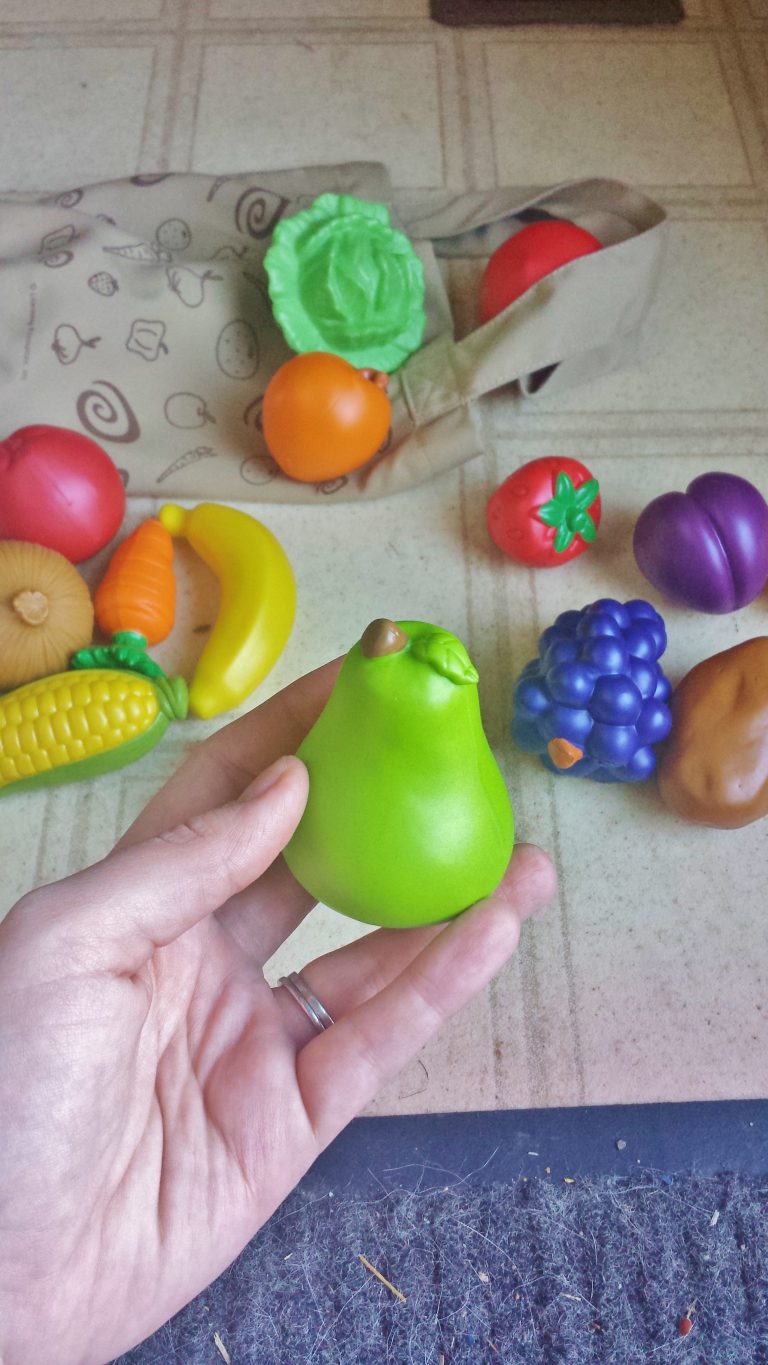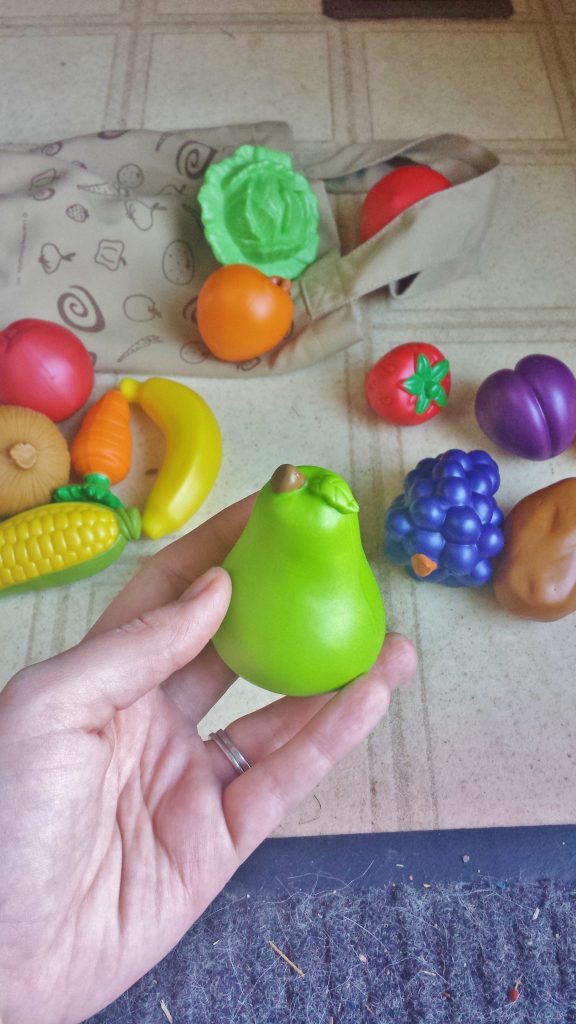 Mmmm look at that pear! The colors are so vibrant that it really makes fruits and veggies look appealing – even to those picky eaters! We have practiced colors, shapes, sizes, texture, and all sorts of other activities using the kid's play food in addition to of course actually using it to play!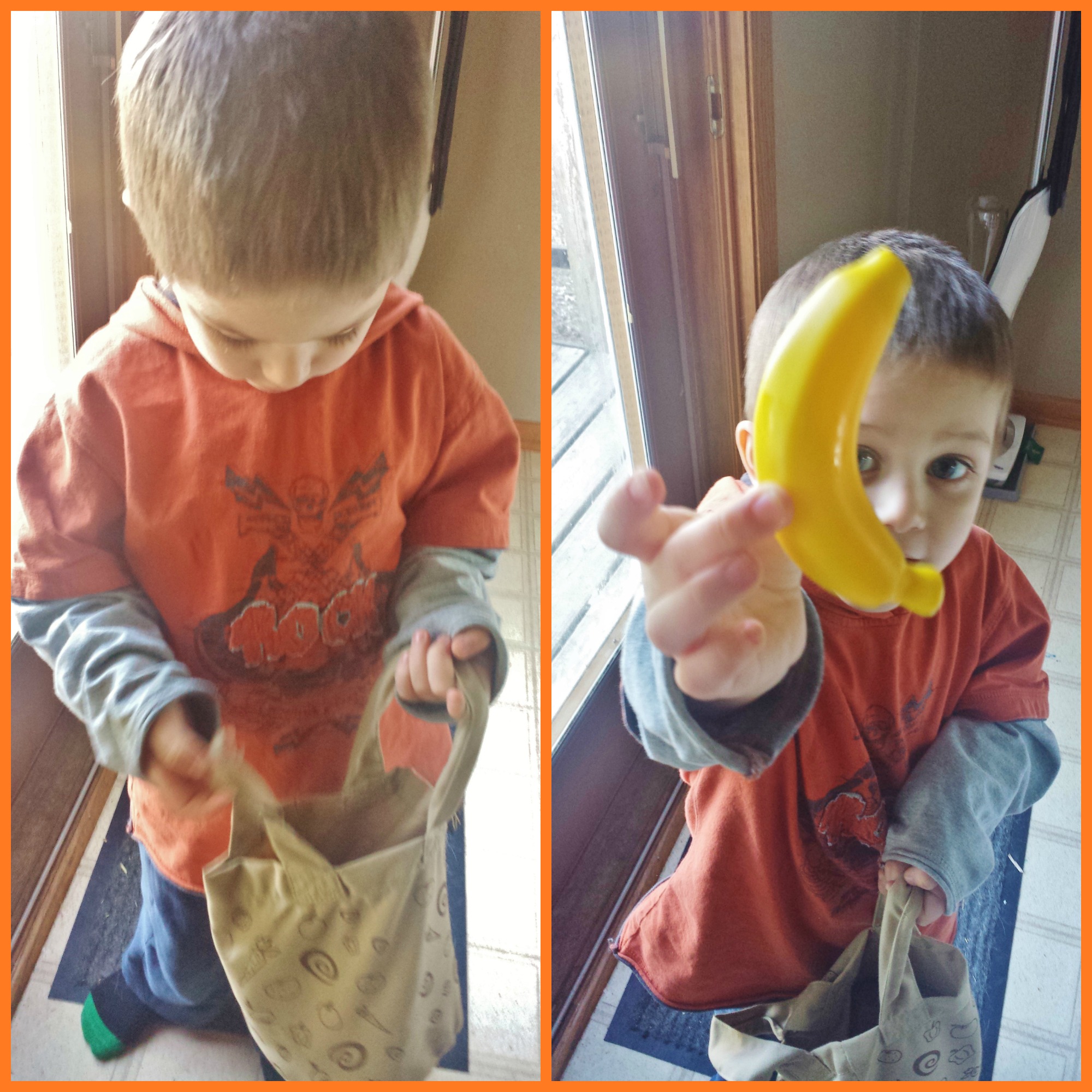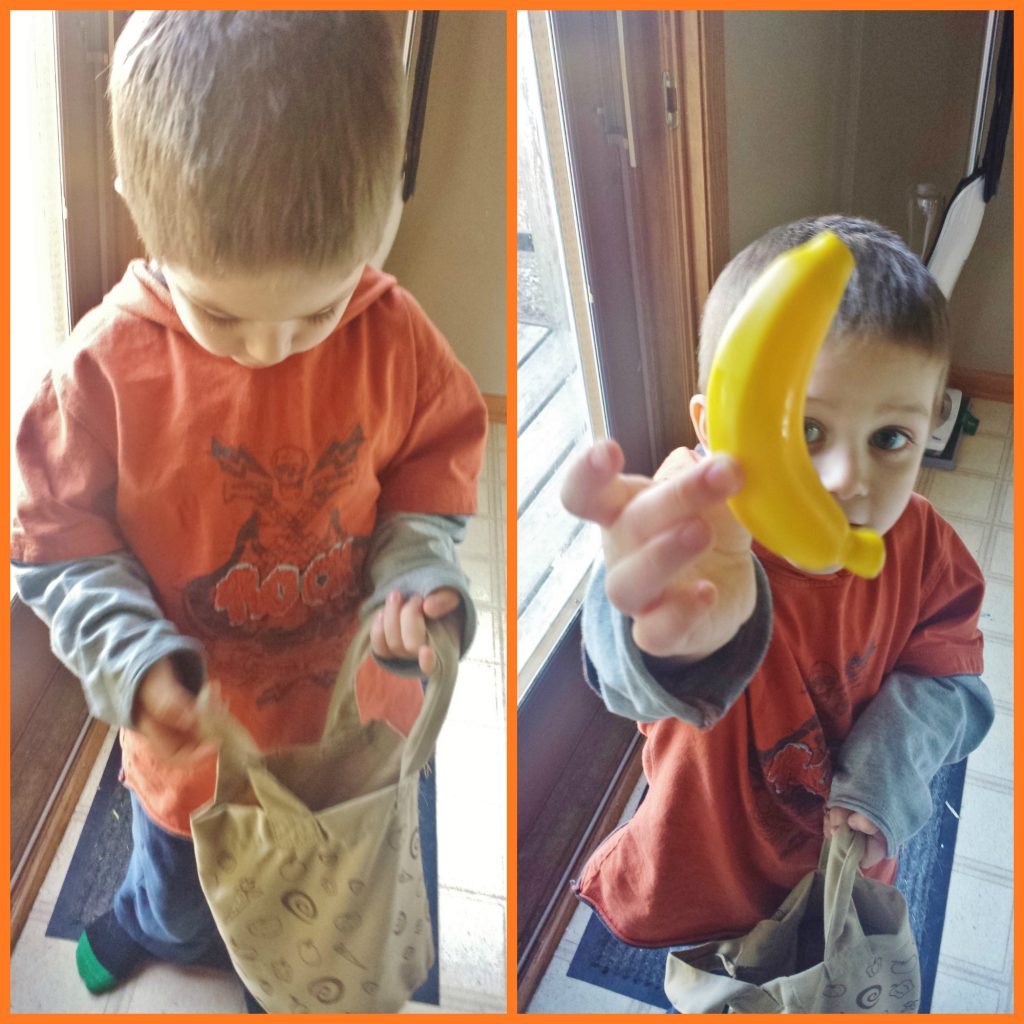 Overall, as with all of the other Learning Resources Sprouts items I have tried we LOVE this Fresh Pick Fruit & Veggies Tote set! Top quality, brightly colored, very realistic, and lots of fun! I also HIGHLY recommend their Farmer's Market set
and Attribute Apples set
!