Samsung Active Wash Washer & Dryer Review at Best Buy
This post may contain affiliate links, view our disclosure policy for details.
Disclosure: The reviewer has been compensated in the form of a Best Buy Gift Card and/or received the product/service at a reduced price or for free.
UPDATE on our Samsung Active Wash Washer & Dryer – I've been using this set since 2015 and it's still kicking great!! Occasionally my kids lose a tiny piece of something that clogs a pump but my husband has been able to fix our washer both times that's happened. Otherwise we've been in the clear for issues and still love having this set!
Check out this shiny new Samsung Active Wash Washer and Dryer from Best Buy!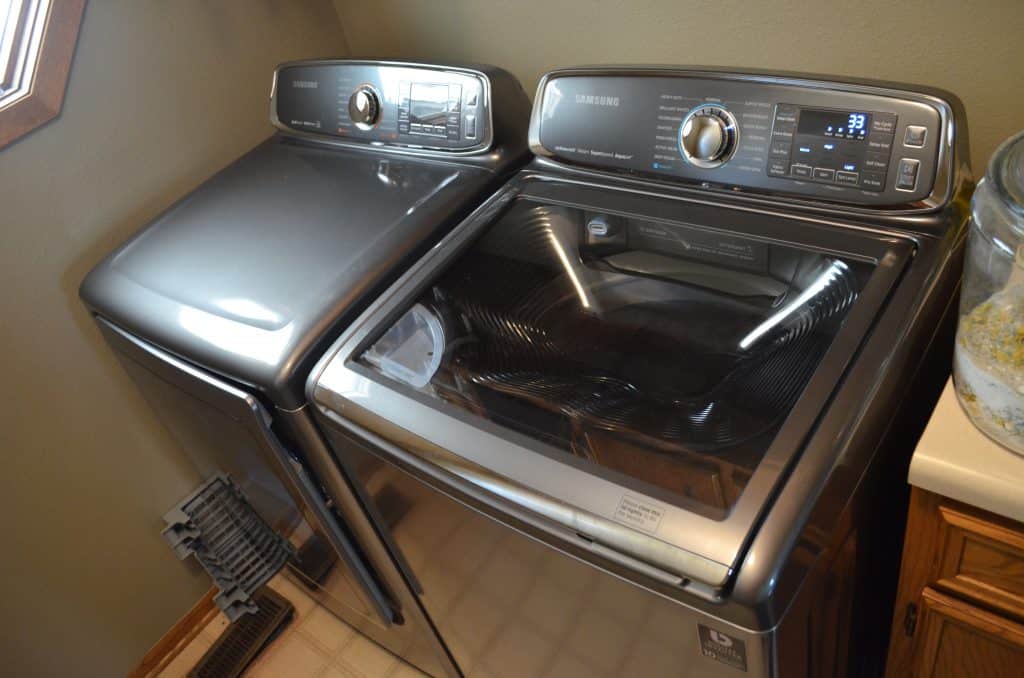 I love being able to check out a lot of the new technology at Best Buy there so when I heard there was a washing machine with a BUILT IN SINK my heart skipped a beat a little bit! My 6 month old wears cloth diapers and I have two very adventurous boys at home which means I am presoaking and pretreating a LOT of laundry! The new Samsung Activewash Washing Machine is nothing short of amazing for my family. Once I got over that this thing actually had a sink built in and that the appliance held an incredible amount of clothes in one load we've really fallen in love with the whole package.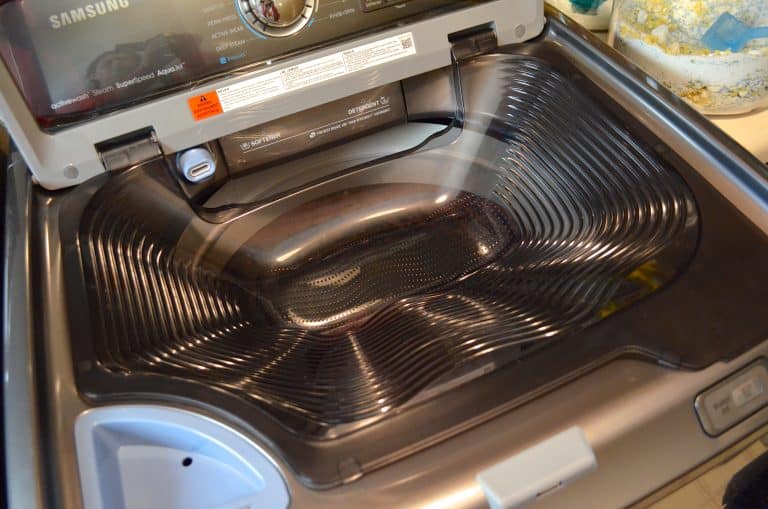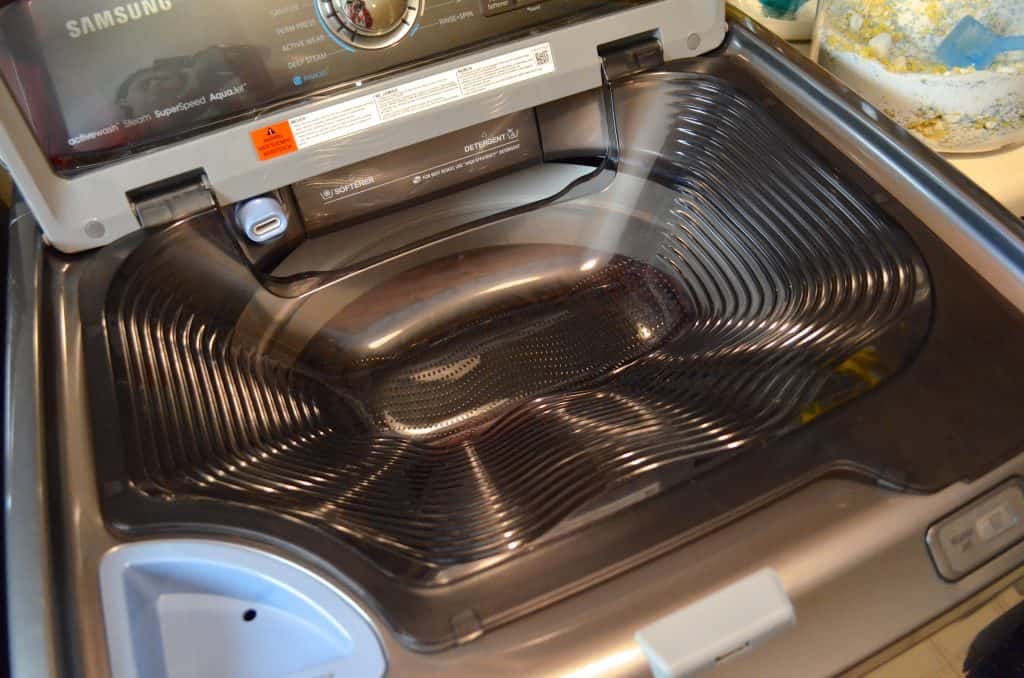 Before I give you all the techy specs I KNOW you want to see the sink! It's built into the washer and has ridges up the sides to scrub your dirty laundry with a washboard effect. Above it on the left is a jet that fills the sink with water, and after you've soaked your clothes you simply lift the sink up (not as heavy as you would think!) and all the water and my clothes just slide right down the back into the washing machine and drains.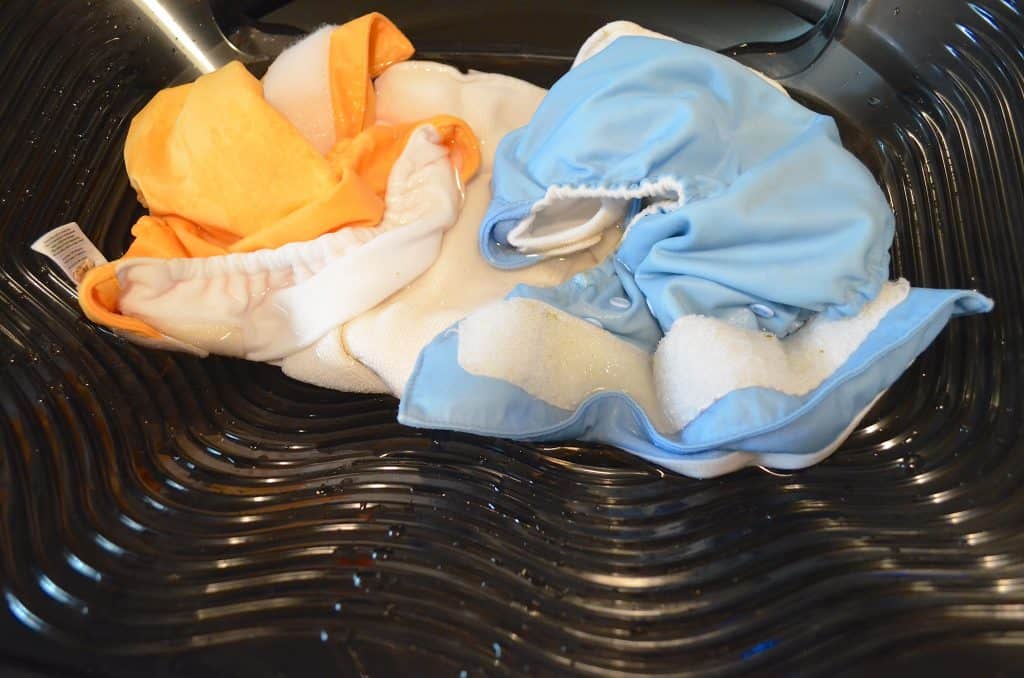 The sink itself is a nice size. It certainly wouldn't hold an entire load but it will hold everything I need to pre-soak and treat at one time. It has especially come in handy with our cloth diapers! I understand many of you won't have cloth diapers but it's great for pre-soaking and scrubbing grass stains, grease, dirt and anything else your family brings to your laundry machine. As for the washing machine itself it holds WAY more clothes than any of my previous washing machines.
In fact it's so large that I can barely reach the clothes on the bottom. I have to stand on my tippy toes to get them all! There is a slight learning curve with this however – for the first 10 loads I kept hitting my head on the built in sink every time I reached in! My husband laughed at me till he started doing it too! You think I would learn quicker than that!!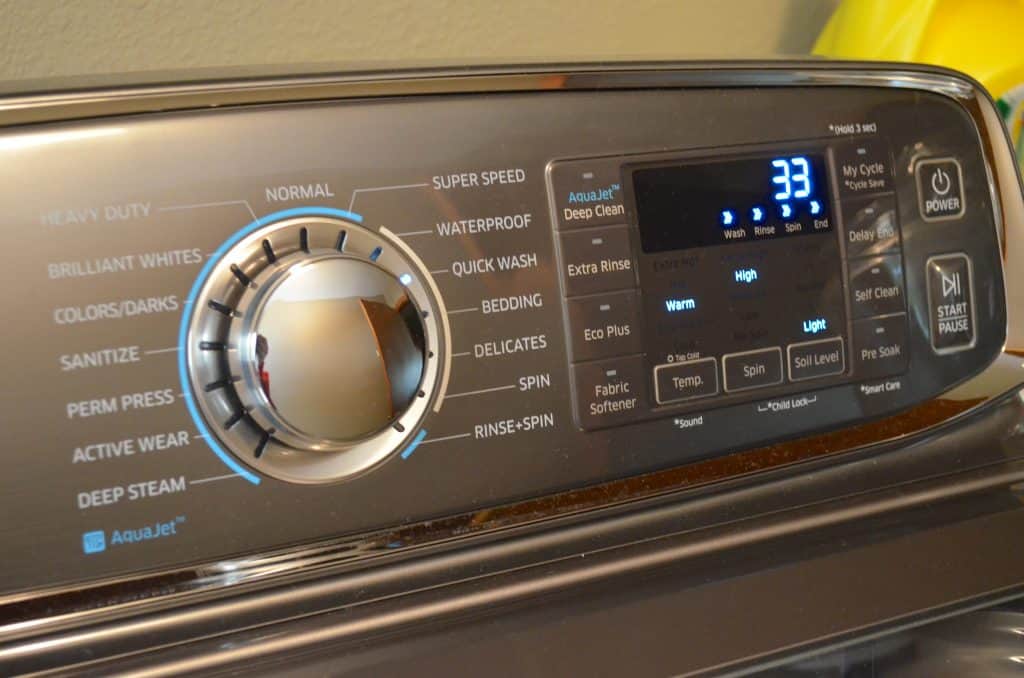 The first thing I actually washed in the Samsung Activewash Washer was my boys STINKY SMELLY shoes. OH my goodness they can clear a room (not kidding); I usually have to throw away their shoes when they start smelling because it gets SO bad. When I spotted the "SANITIZE" cycle I immediately called my kids to throw their shoes in as I haven't been able to figure out anything else to de-smellify them. Not only did the shoes not reak when I pulled them out but I actually sniffed right inside the shoes and they smelled good!
Another few things to note that you can see above is there are many more settings that my previous washers. You have "BEDDING" which is perfect because now our comforter actually fits in this washer! There is "ACTIVE WEAR", "DEEP STEAM", and even a "WATERPROOF" cycle. I did notice that a typical cycle takes much longer than my previous washing machines BUT it holds SO much more too. But you can still choose "QUICK WASH" and get your laundry done quickly. Additionally this washer has a "self clean" technology which helps keep those musty odors our of your washer.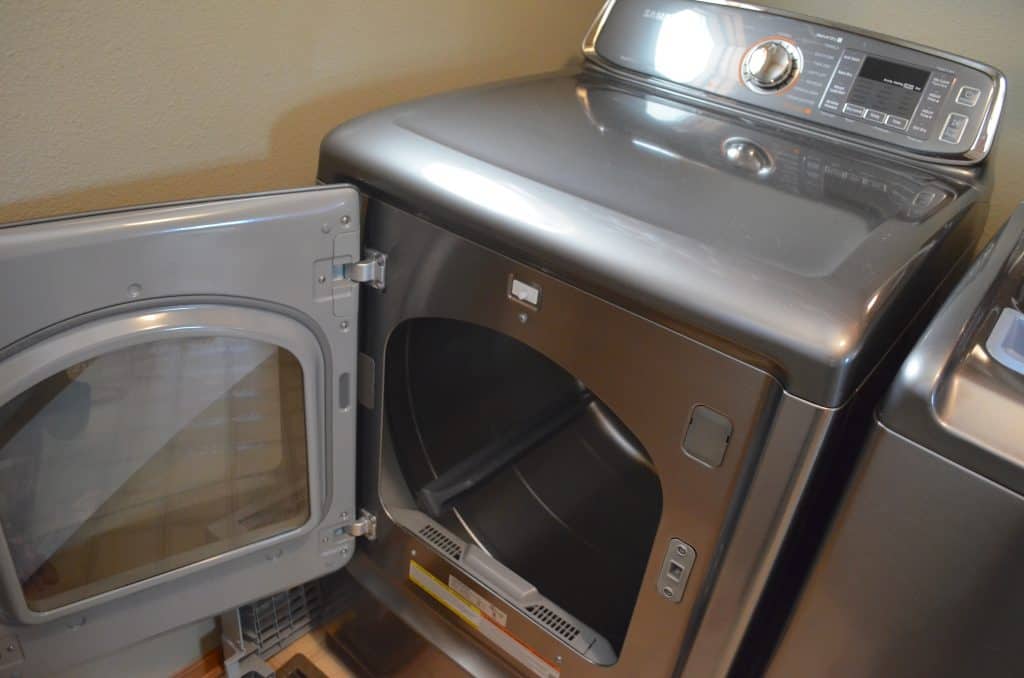 The Samsung Steam Smart Electric Dryer came with my laundry pair and it's got a huge capacity load which easily holds my extra big loads from the Activewash Washing Machine. PLUS it has a drying rack which was perfect for drying my shoe's no-longer-smelly shoes! It also has a "STEAM SANITIZE" cycle which I used. Plus if you run into issues you can troubleshoot with Smart Care via your iPhone 4, 4S, 5, 5S, Samsung Galaxy S, S2, S3, S4 Note, or Note 2.
A REALLY cool bonus feature that is perhaps one of the most useful to us is that the loading door is REVERSIBLE! We have a tiny laundry room so opening the dryer door can be extremely inconvenient if it's on the wrong side. It was so easy to just flip the loading door onto the preferred side!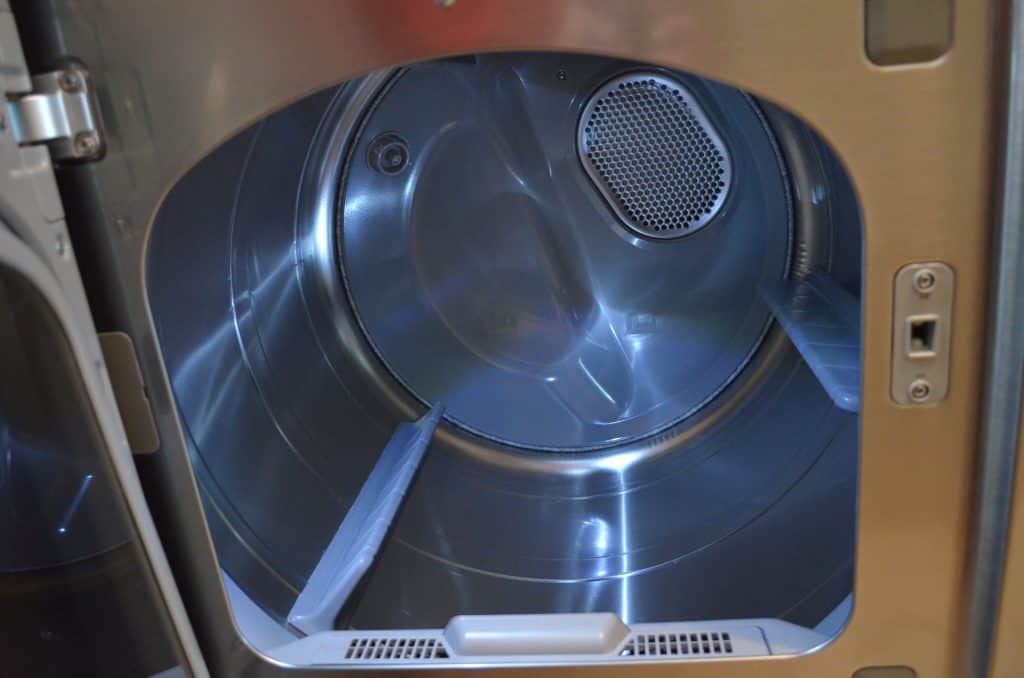 As you can see this dryer has a HUGE capacity for clothes and it actually also has a built in moisture sensor. It also has 15 different cycle settings which you can see a few photos down. And an additional safety feature which I appreciate is that this Samsung dryer has a Vent Sensor which shuts the machine down if the vent is clogged to prevent any fires from happening. I try so hard to keep our vents clean but we're so busy sometimes I'm just lucky to get the clothes done!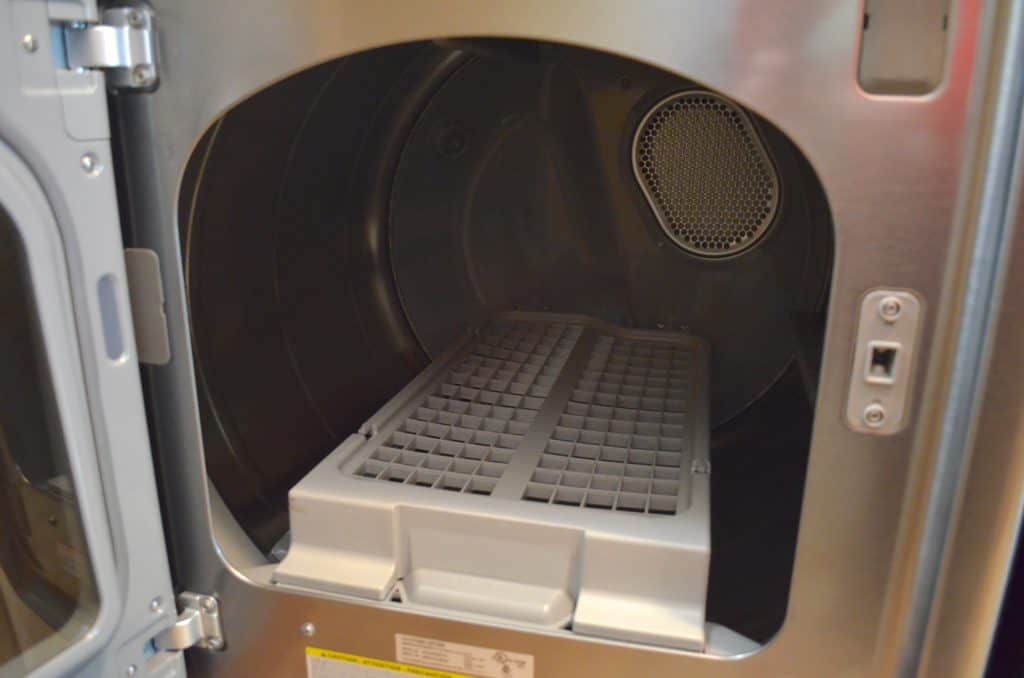 Here you can see the shoe rack which is super easy to put in.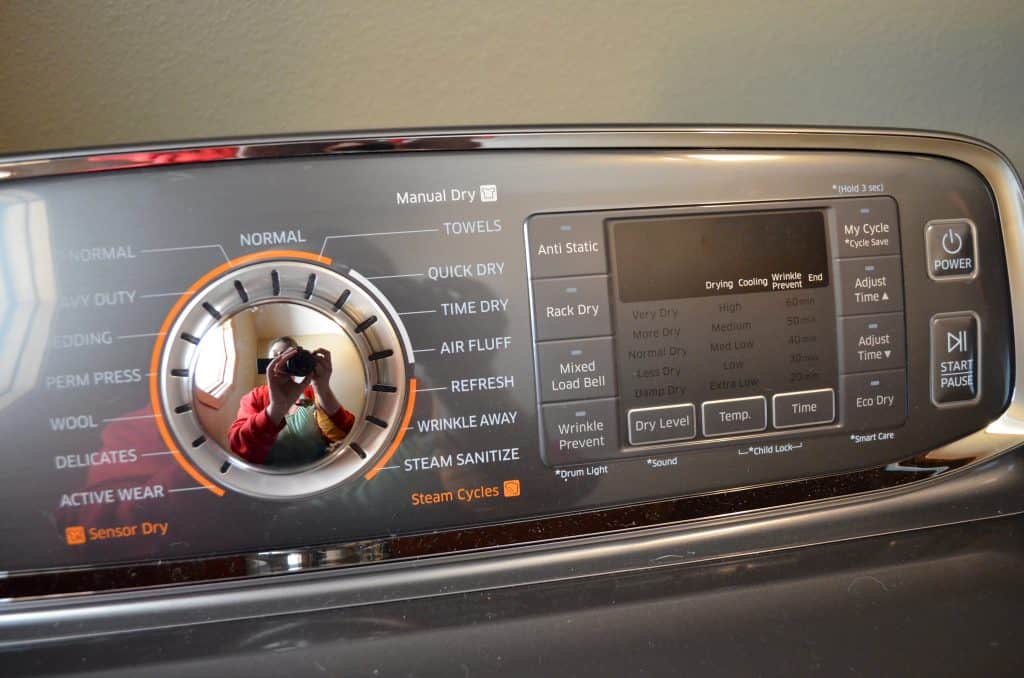 Each of these retail for $1199 which is pretty comparable to other high quality laundry pairs – although collectively I feel this is a better price for your value for several reasons. One it's definitely unique with the built in sink feature and the capacity on each of these machines far surpasses your typical laundry pairs!
Both machines feature a TON of customizable cycle settings allowing you to adjust the time, "ECO" dry / wash options, set the temperature, soil level, dry level, spin speed, etc. I absolutely ADORE the "SANITIZE" settings as a mom of 3 kids. There are some pretty nasty things that end up in our washer/dryer! And I haven't tried it yet but our dryer also has special settings to help with wrinkles.
E-star qualification saves you up to 25% in annual energy costs!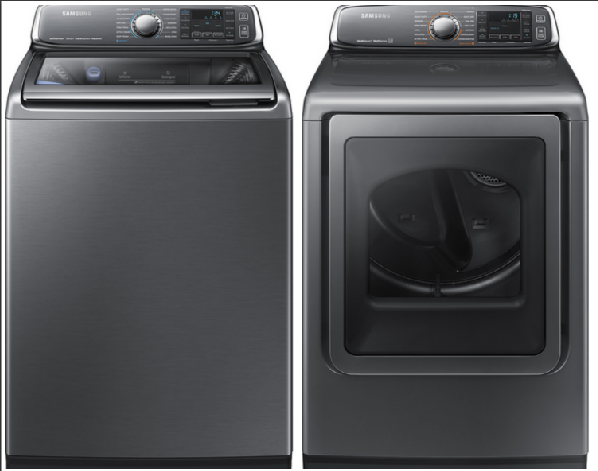 One fun little feature is that when each of the machines are done washing or drying it sings you a little tune to signal it's done instead of a beeping noise. For some reason this little tune makes me kids incredibly happy and sends them running into the laundry room to check out the clean clothes.
Compared to our last 11 years of washers and dryers these are DEFINITELY my favorite! I LOVE how HUGE they are – I was struggling to keep up with my kid's vast amount of laundry and these have helped a lot. Between their huge capacity, the cool sink, and offering an incredible amount of customizable cycle settings these are absolutely worth looking at if they are in your budget!