Disclosure: The PEEPS & COMPANY® products, information, and additional gift pack have been provided by PEEPS & COMPANY®. All opinions are my own.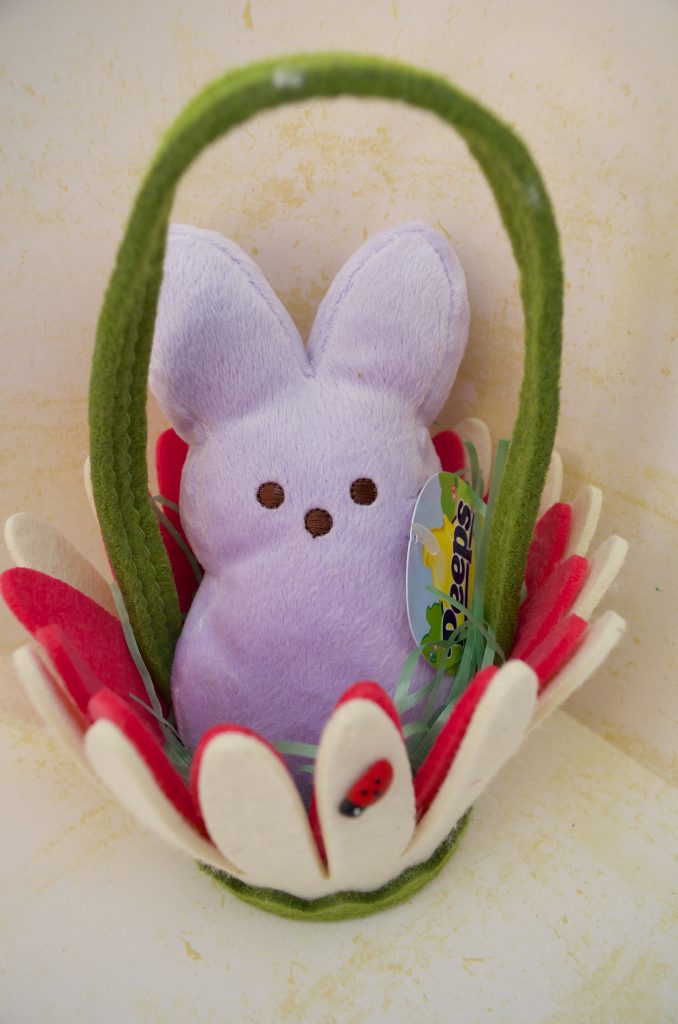 When I think of Easter I automatically think of bunnies, egg hunts, and PEEPS! This year is my daughter's first (mobile) Easter now that she's a year and a half so I am incredibly excited to do Easter egg hunts and Easter baskets with her! (Remember the NO SEW felt bunnies I made her?) Isn't her little Easter basket above adorable?! I'm sure she'll sneak a few bites of her brothers PEEPS though!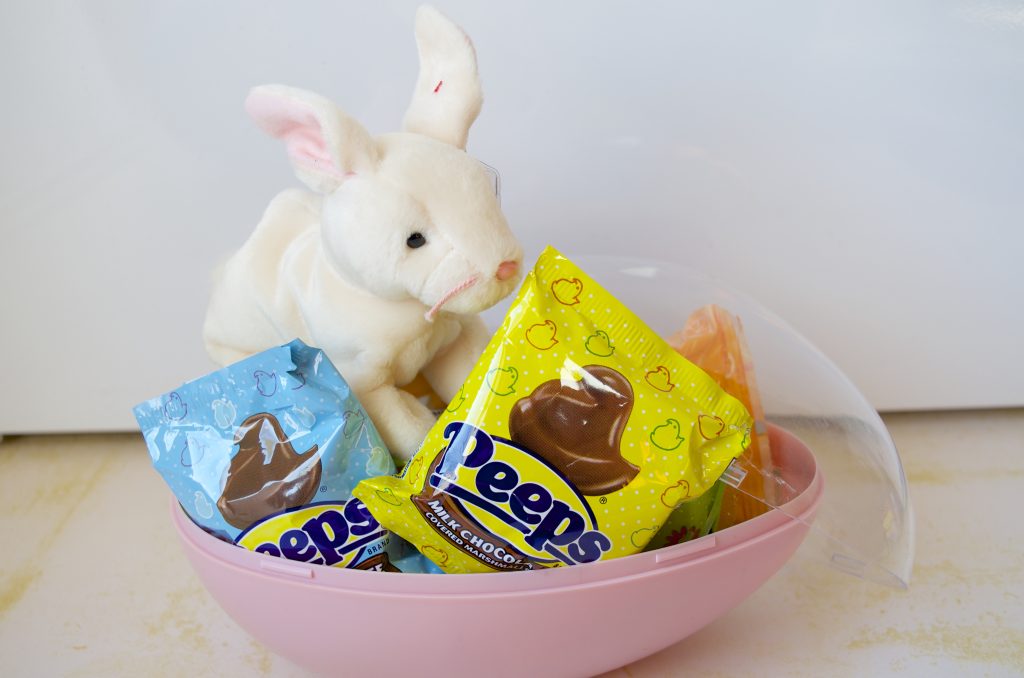 What I really love about the PEEPS & COMPANY® is that they have SO MANY different options for treats! One of my kids doesn't really care for chocolates so marshmallows are just perfect for him! His eyes light up any time he sees a package of PEEPS in our pantry – especially if I have a variety to choose from! My boys wanted to make their own special Easter gift for their little sister so I helped them pick out the individual PEEPS® PEEPSTERS® for her along with a little stuffed beanie bunny. We are also going to make these delicious chocolate dipped PEEPS for their classmates next week!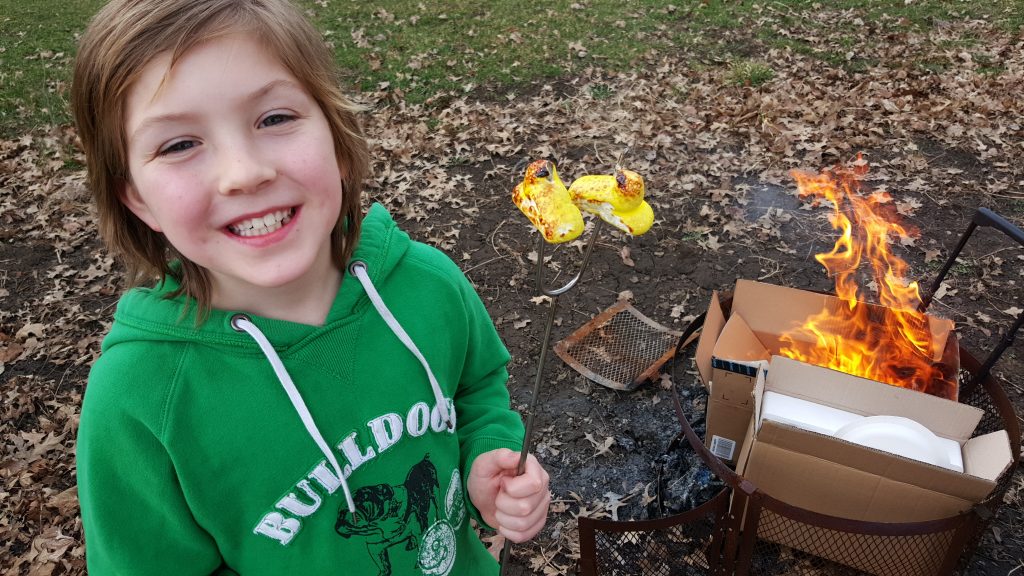 But PEEPS are for SO MUCH MORE than JUST eating! They are great for roasting too!! (Perfect for camping!) I can't help but buy a pack or 2 of PEEPS before Easter comes and use them for family fun nights! For a buck or 2 these make a great surprise and night of fun! We had a couple leftover so we put them to good use with a science experiment making them expand in the microwave and guessing which one would be the largest after 1 minute! (Spoiler alert – they were all pretty much the same size!) But the neat thing was after the cooled off they got rock hard and crunchy which is now my family's new favorite way to eat PEEPS!
Shop online for your favorite Easter treats and get 20% OFF (NO minimum purchase required!) from February 15 through April 15, 2016. Just use promo code EASTERTREATS at checkout!
Easter PEEPS GIVEAWAY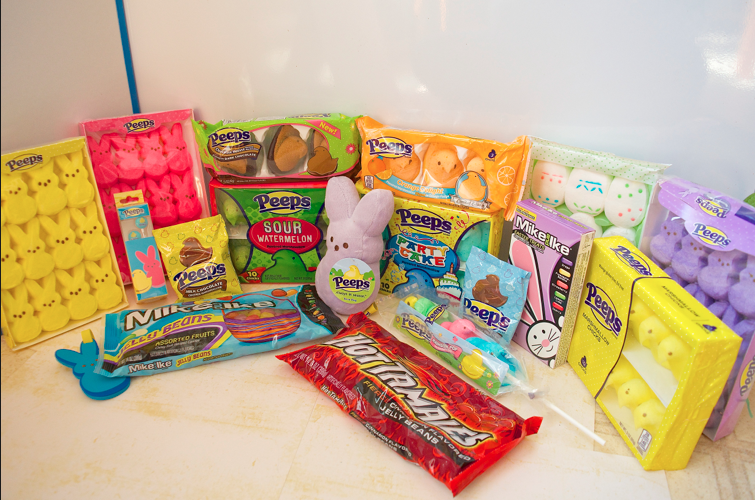 WOWEE do we have a giveaway for you! Thanks to our friends over at PEEPS & COMPANY® they are offering ALL of the following to one lucky winner! TO ENTER SIMPLY JUST COMMENT BELOW LETTING ME KNOW YOUR FAVORITE EASTER TREAT! You can find your favorite candies on Facebook here: PEEPS & COMPANY, PEEPS, MIKE & IKE, & HOT TAMALES!
PEEPS® Orange Delight Flavored Marshmallow Dipped in Orange Fudge
• PEEPS® Marshmallow Chicks
• PEEPS® Marshmallow Bunnies
• PEEPS® Decorated Eggs
• PEEPS® Party Cake Flavored Marshmallow Chicks
• PEEPS® Sour Watermelon Flavored Marshmallow Chicks
• PEEPS® Chocolate Dipped Mousse Flavored Marshmallow Chicks
• PEEPS® Chocolate Covered Marshmallow Chicks
• PEEPS® Rainbow Pop
• MIKE AND IKE® Easter Treats
• MIKE AND IKE® Jellybeans
• HOT TAMALES® Jellybeans
FINE PRINT: Giveaway open to US Residents only. Ends at 10pm CST on March 22, 2016. Prize shipped and responsible for by PEEPS & COMPANY®.