SodaStream Source Soda Maker Machine Holiday Review & Jet Soda Maker
This post may contain affiliate links, view our disclosure policy for details.
Disclosure: I received the product below in order to write this review. All opinions are my own.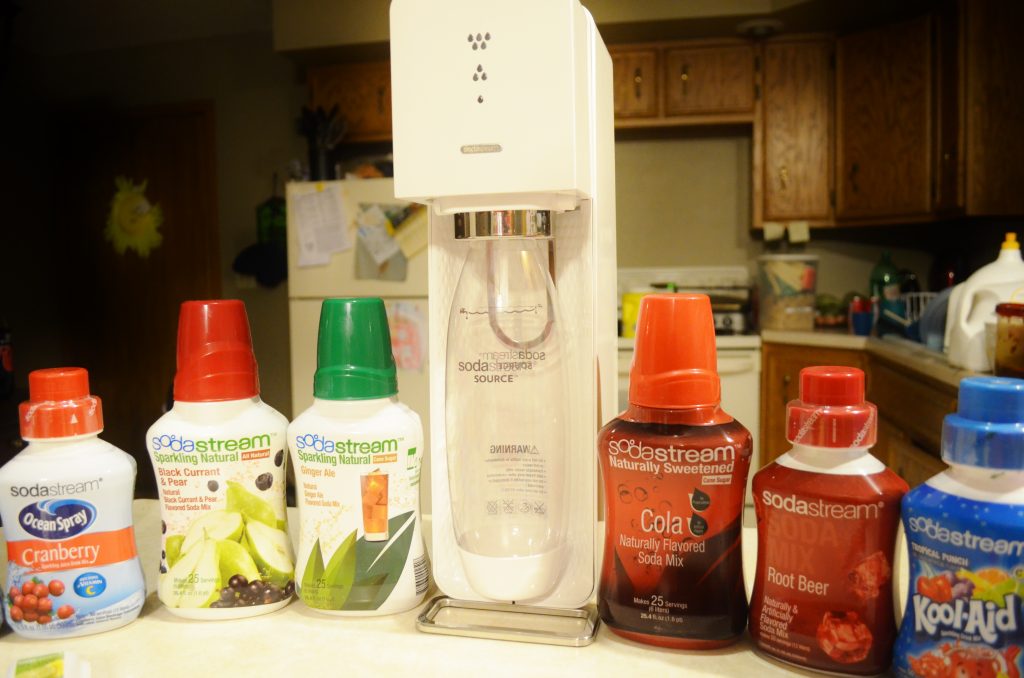 Every year for the holidays I'm such a practical gift giver (and receiver!), and that means that means I am always looking for that perfect gift that can be shared by the entire family. Something that would benefit all of us in the family, and even extended out to our company and guests throughout the year. We recently received the SodaStream Source Soda Maker which has been just fabulous the past couple of week that we've been using it! Not only are there a huge amount of flavors to choose from, but they are a healthier choice over regular soda brands of which I am desperately trying to break the habit of having so much!! Their SodaStream sodas have less sugar, carbs, calories, and sodium than regular brand soda – plus there is NO high fructose corn syrup.  AND my favorite? They have an entire "Naturals" soda line which is made with all-natural ingredients and really tastes great. No artificial flavors, in artificial sweeteners, no artificial colors and no preservatives!
All of the SodaStream machines are stylish and don't take up much room but the Source machine is particularly stunning – we have it out on the countertop when guests so they can choose their own flavors.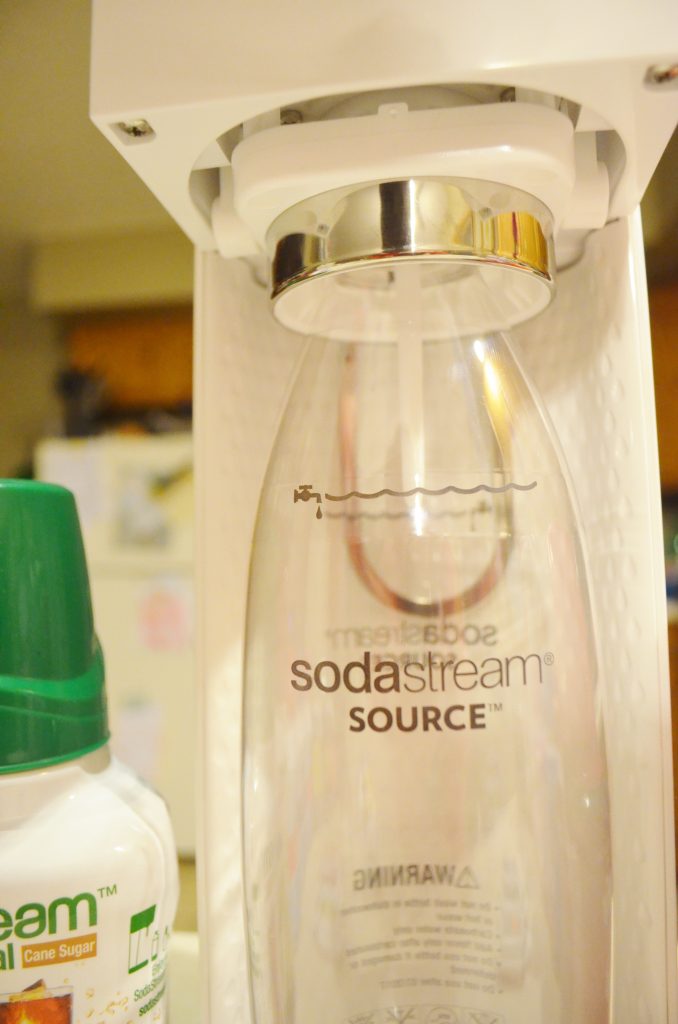 The machine comes with a specially designed bottle to carbonate your beverages in, a carbonation tank, the machine itself, and some sampler flavors. I highly recommend purchasing at least an extra set of bottles since you can only use these to make your beverage and it's nice to be able to have several flavors available and made at one time.  You just place the bottle with cool water (I like to keep mine in the fridge when not in use) up into the Source machine, push down to lock in place, and slide the entire front section down to automatically carbonate your drink. Voila! You're now ready to add the soda syrup of your choice! But be forewarned – you're going to want to slightly tilt your water bottle as you are pouring the syrup in otherwise you will have a bit of a soda explosion!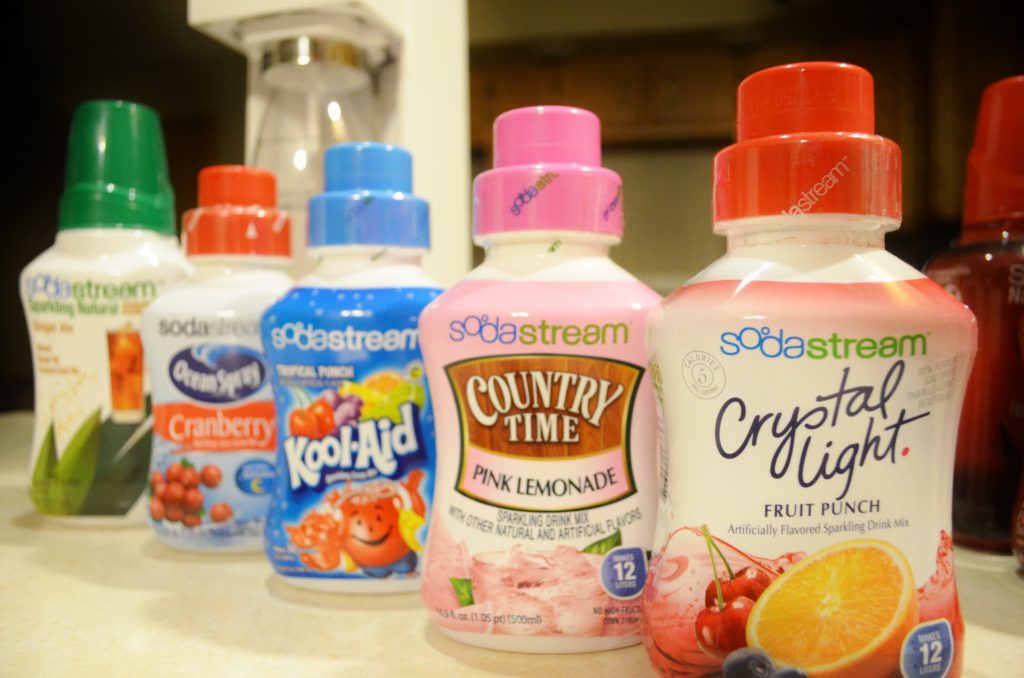 Oh goodness there are SO many reasons that I love this machine. For one, it's cheaper to buy (or make!) natural soda this way. Secondly, there are SO many choices! My husband can pick his Crystal Light flavors, my kids can choose soda (and natural soda!) and I can choose my natural beverages.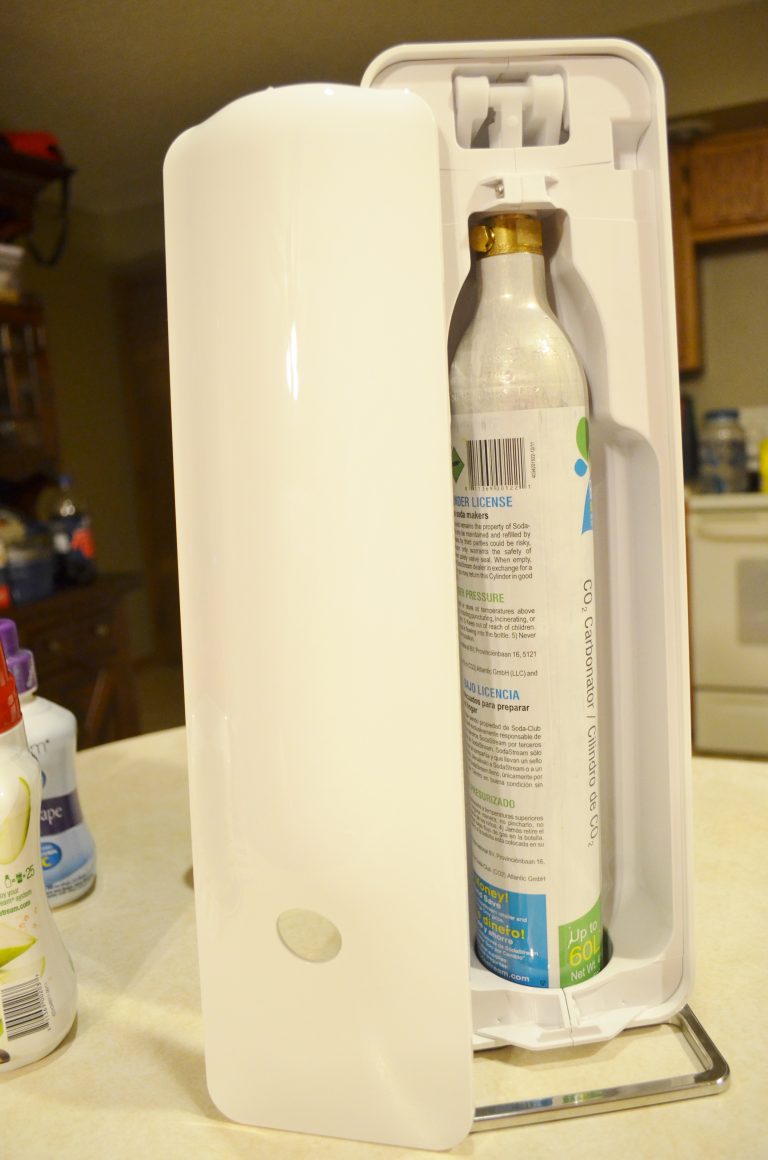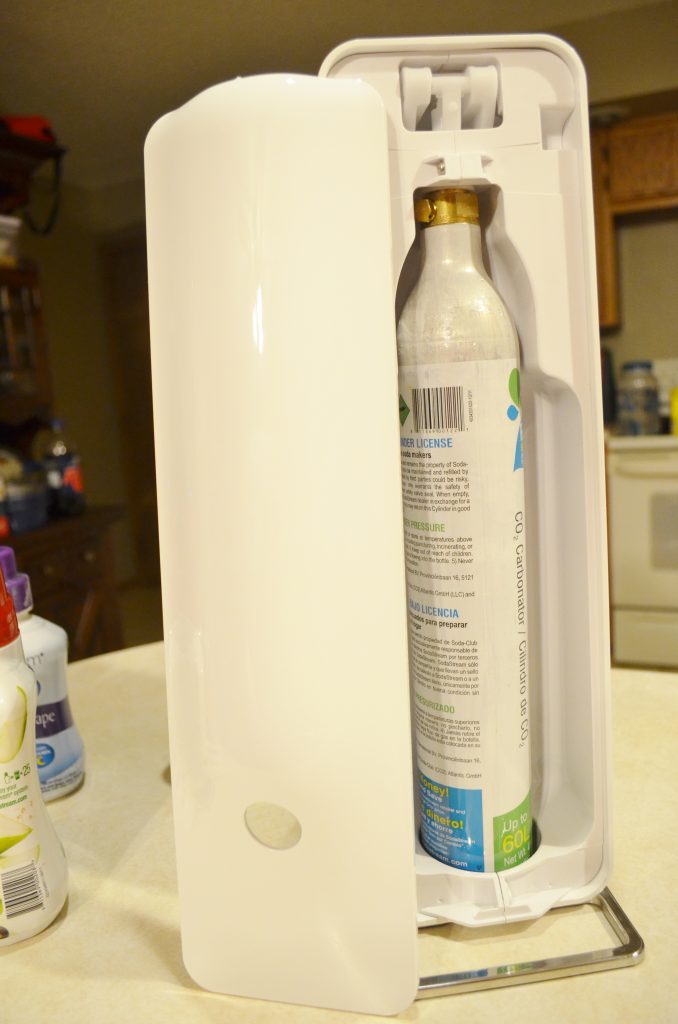 So what's the ongoing cost of actually owning a soda machine? The biggest expenses are the carbonation tank, and the soda syrup itself. There are many retail locations that sell the carbonation tank brand new, BUT you can also take in your old one and  exchange it for a new one which is about half the price ($15ish). Of course a lot depends on how much you actually drink, etc. The soda syrup also varies on price depending on whether you buy the naturals line or other flavors. Each of the regular soda flavors makes about 12 liters of soda (equivalent to about 33 cans) and runs roughly $5-$7 depending on the flavor/brand. The naturals soda runs about $10 and each bottle has about 6 liters in it. But don't forget to factor in the fact that it's considerably healthier than your alternative soda options! I will pay more money just for that alone and really, you're really not paying that much more when you factor it all in – it's pretty comparable in price!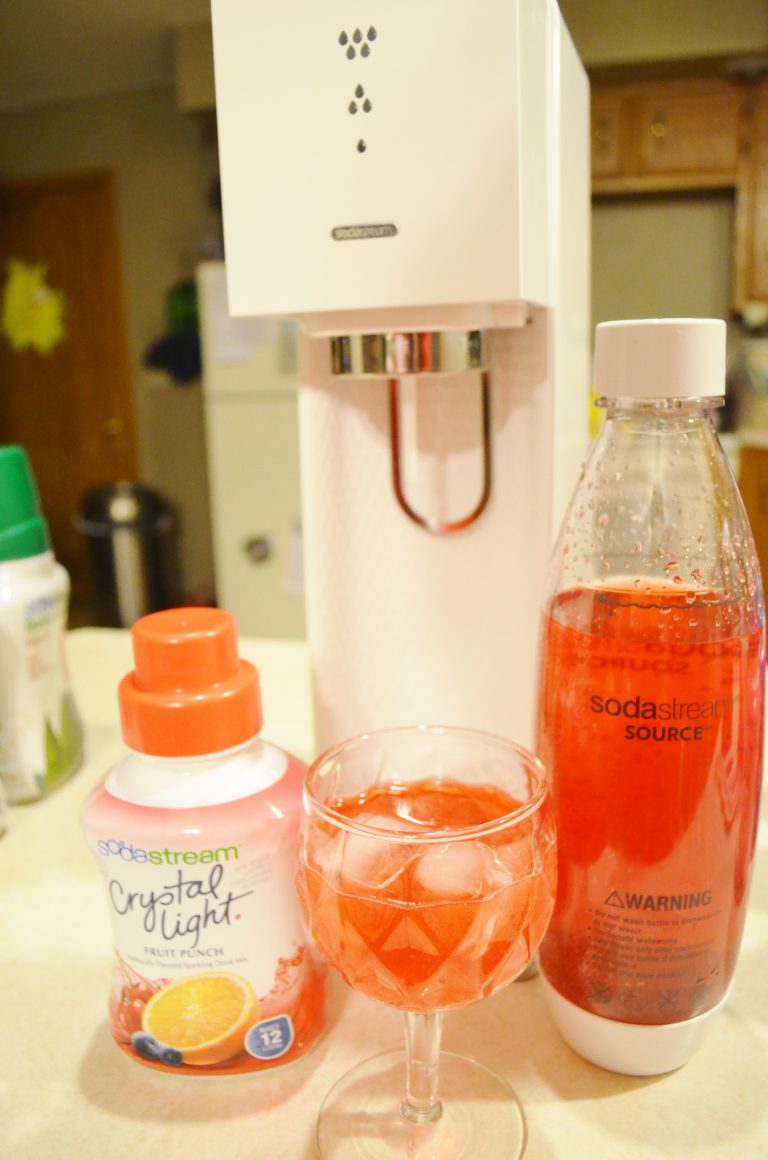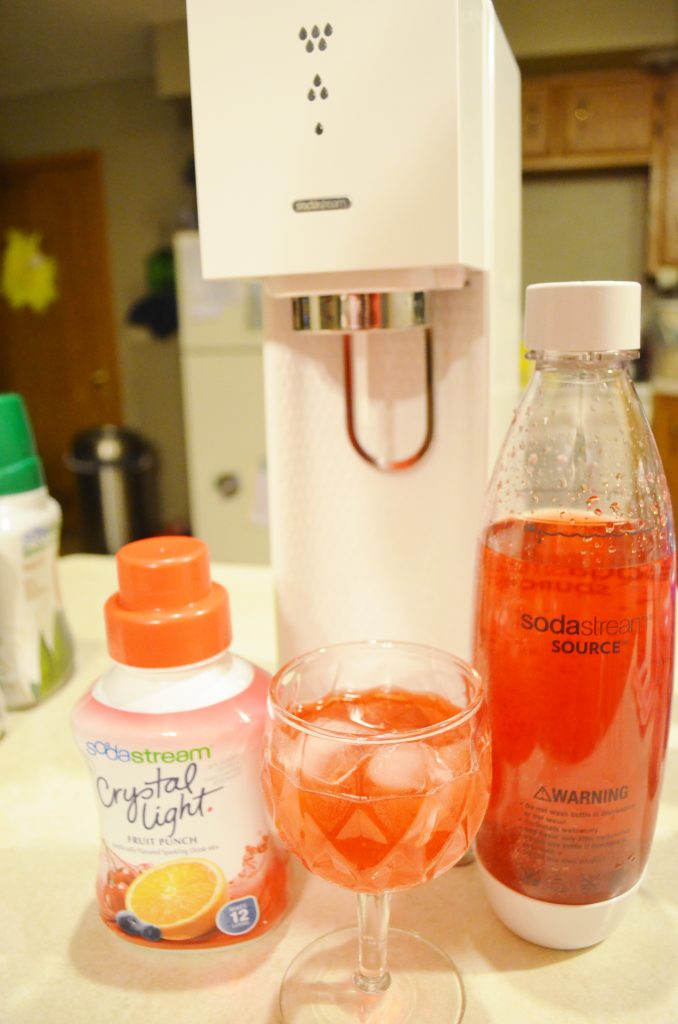 Honestly just for the ease and convenience of making your own sodas at home, and the fact that you can purchase natural sodas, and that all of them are a healthier option – I would say it's totally worth the price. And to be totally honest we have used this for MORE than just making soda! We have turned it into a science lesson both with our own kids and with the students at school. The machine is so easy to take to class since it's light and portable and makes a great hands-on activity when learning about gases! Trust me – the kids go NUTS for it!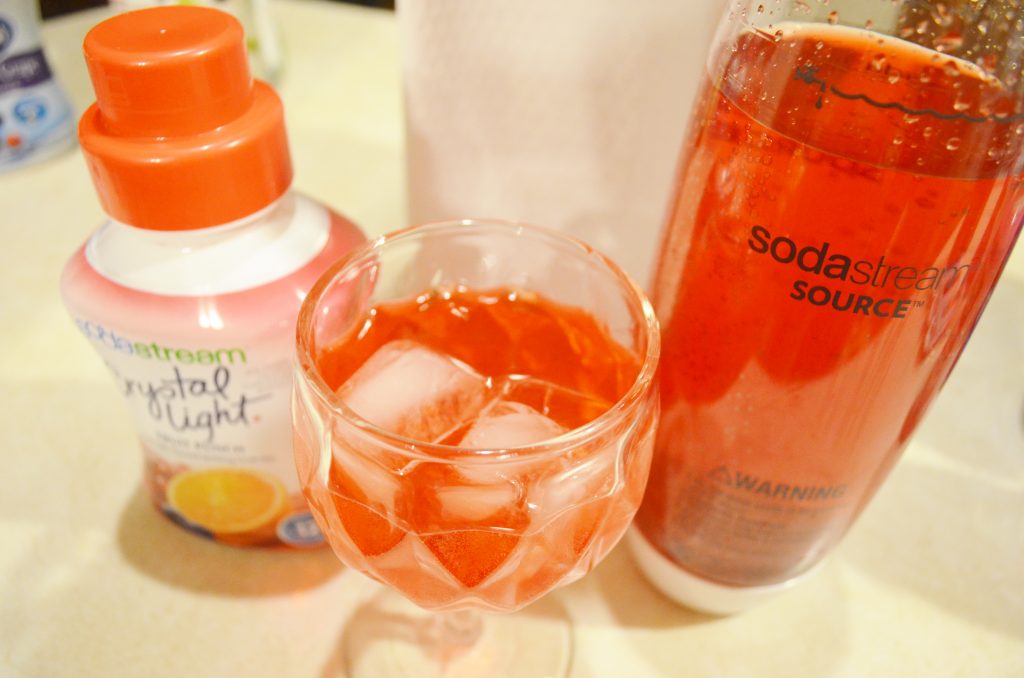 Overall – a very well made product with a LOT of options!  I am just super thrilled to see the brand expansion into natural beverages, Crystal Light, Ocean Spray, Kool-Aid, Country Time, Cocktail Mixers, and even energy drinks along with their regular and diet soda flavors. I have already seen some fantastic prices this year on SodaStream machines too! SodaStream doubles as a fun way to create your own sodas and entertain guests, and well as strive for healthier soda options in your house. SodaStream products are available of course through SodaStream directly, online (Amazon etc.)and also at major retailers like Best Buy . (view all available stores here)
GIVEAWAY
And WHOO! SodaStream has generously offered the chance for one of my readers to win their own SodaStream machine!! Here's what is included in the prize package:
      Fountain Jet Soda Maker– winner's choice of color (black/silver, red/silver or white)
–          1 carbonating bottle, reusable for up to 3 years
–          Reusable carbonator to fizz up to 60L of soda
–          Variety 6-pack of popular sample-size flavors
–          3 full-sized flavors of the winner's choice
To enter just fill out the Rafflecopter form below!