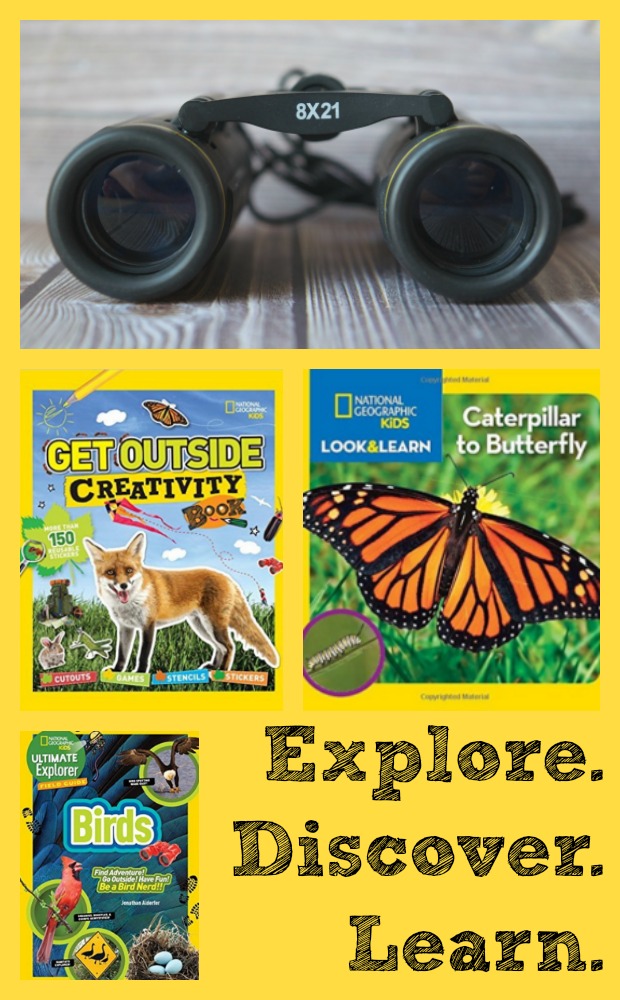 I was sent a fun selection of National Geographic Kids books to KICK OFF the spring season and at the bottom of this post we've got the same package to offer one lucky winner as well! I wanted to give you a quick over view of the books though because your kids NEED THEM! Ok, so maybe I'm biased because I'm a huge fan of the educational quality that National Geographic puts out for both kids and adults. I absolutely LOVE combining books with my kid's outdoor explorations or putting together fun "gifts" for the summer that revolve around the outdoors. For example, we are spending our spring break and summer camping in various state parks so this set of books we received is perfect. I really love capturing their interest and put small gifts together that will help them expand their exploring time outdoors like a little "basket" or gift set.
An outdoors exploration "basket" I might put together for my kids would include things like binoculars, bug nets, small bug habitats, the below Birds Field Guide, and perhaps a snack or set of field tools to use. Or even a scat guide! If we're going on a long road trip I prefer to include books like the Get Outside Creativity Book or one of the National Geographic Fill-ins to keep the kids busy in the car! And if you're setting off on a nature hike make sure you always bring a container for the kids to stash their favorite treasures in!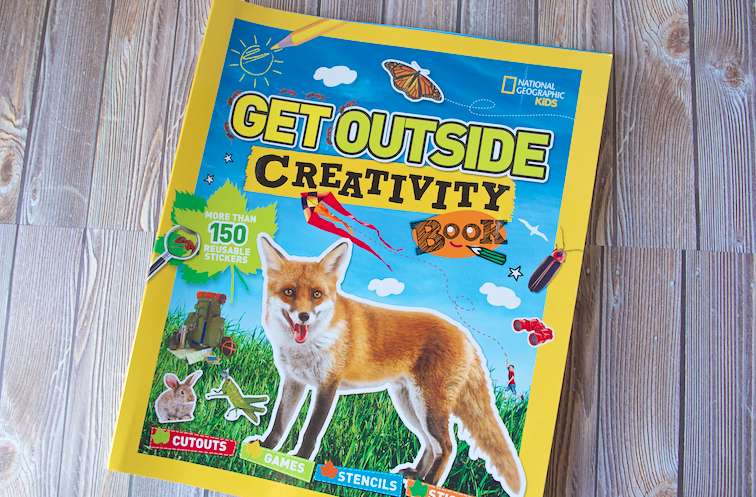 The Get Outside Creativity Book by National Geographic Kids is geared for kids ages 6-9 and is PACKED with a wide variety of activities to do! I can promise this will keep my kids more than busy for quite some time on a long road trip!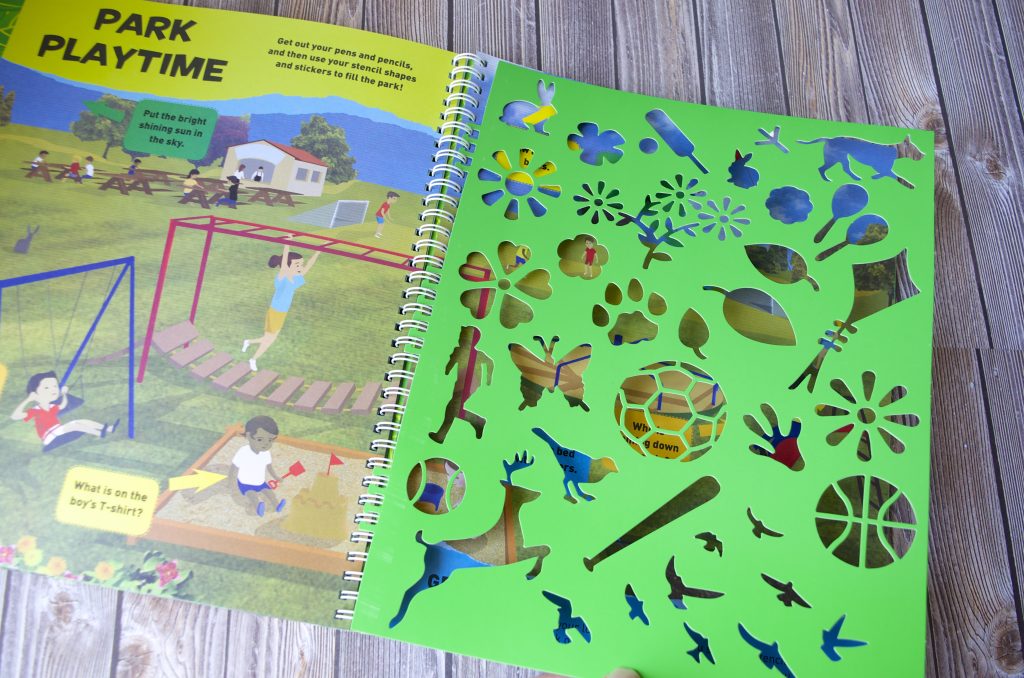 Inside you'll find stencils, trivia, puzzles, games…..


…..stickers and play sets, cutouts, and TONS of other things to keep them occupied!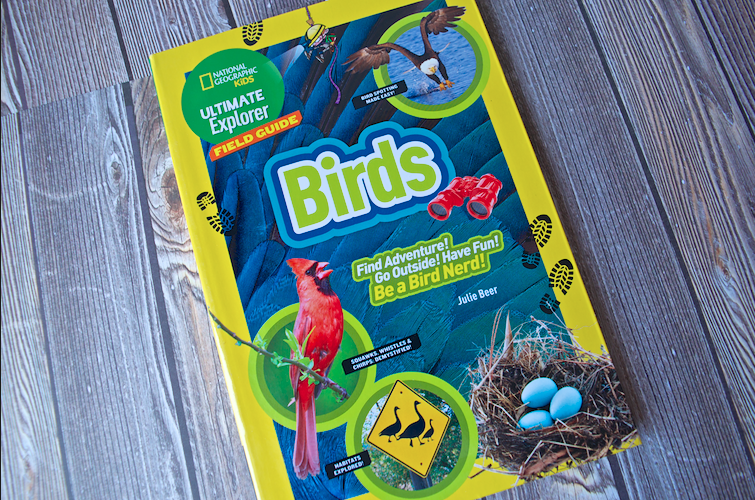 The Birds Ultimate Explorer Field Guide is perhaps my personal favorite of the bunch because of it's educational value and attractive layout. We have recently discovered a few fabulous state parks near us that have stellar bird blinds so my kids are really interested in bird watching. In fact we have put up quite a few bird feeders across our backyard this year and are learning about the various birds that stop by the feeders and what type of seeds will attract different types!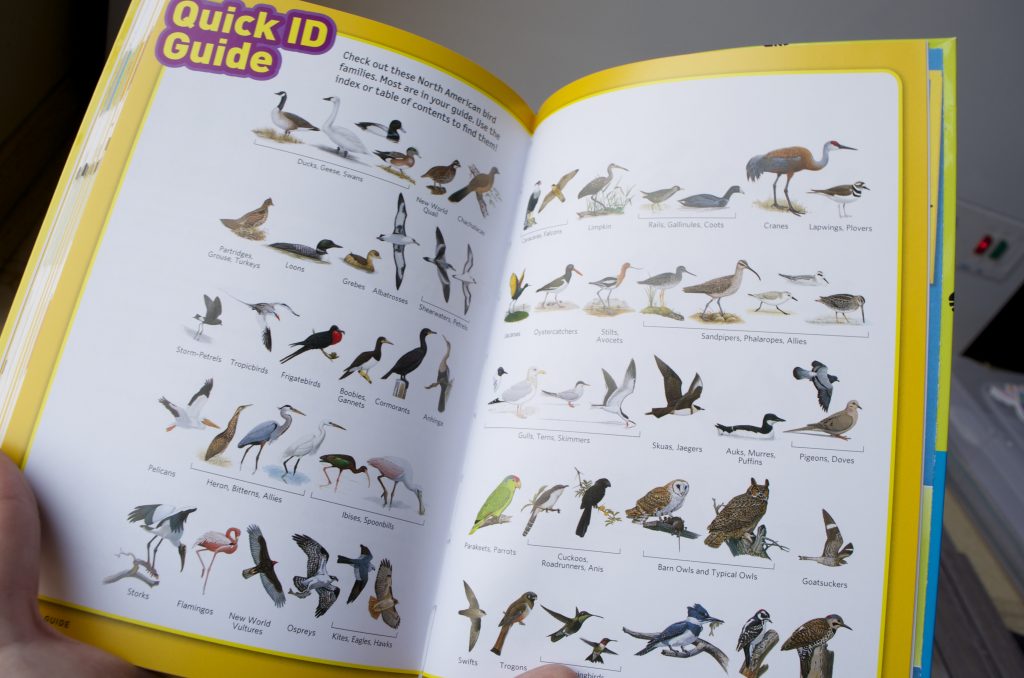 Not only are there great visual guides for different species of birds…..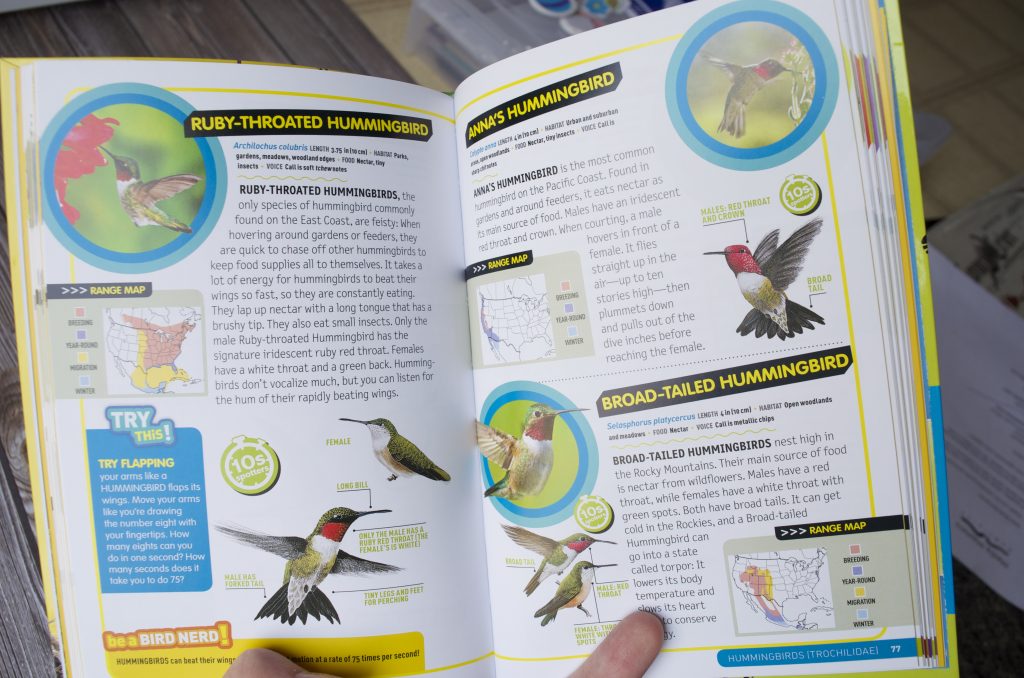 …..but the guide is sectioned off for various parts of the country and different types of birds. You'll see above that each species has a USA map highlighted of where you will find that bird along with activities and facts about each bird! This one is geared more for kids ages 8-12. This book will definitely be going with us over the next few years as we hit the road around the USA. I'd definitely offer a set of binoculars with this one!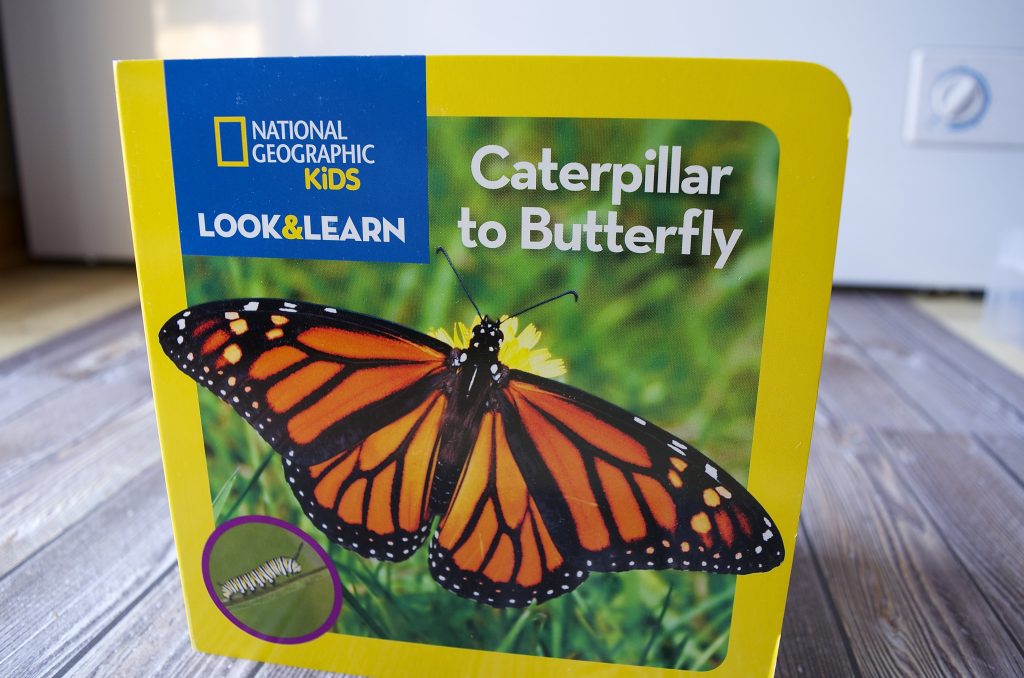 I especially love the Look & Learn Caterpillar to Butterfly board book for my toddler. Our family spends a lot of time in the spring through fall searching for caterpillars, monitoring chrysalis activity, and tagging and releasing butterflies. This is the perfect visual book for my daughter to keep all to herself and get a closer look at the animals without accidentally squishing their fragile beauty!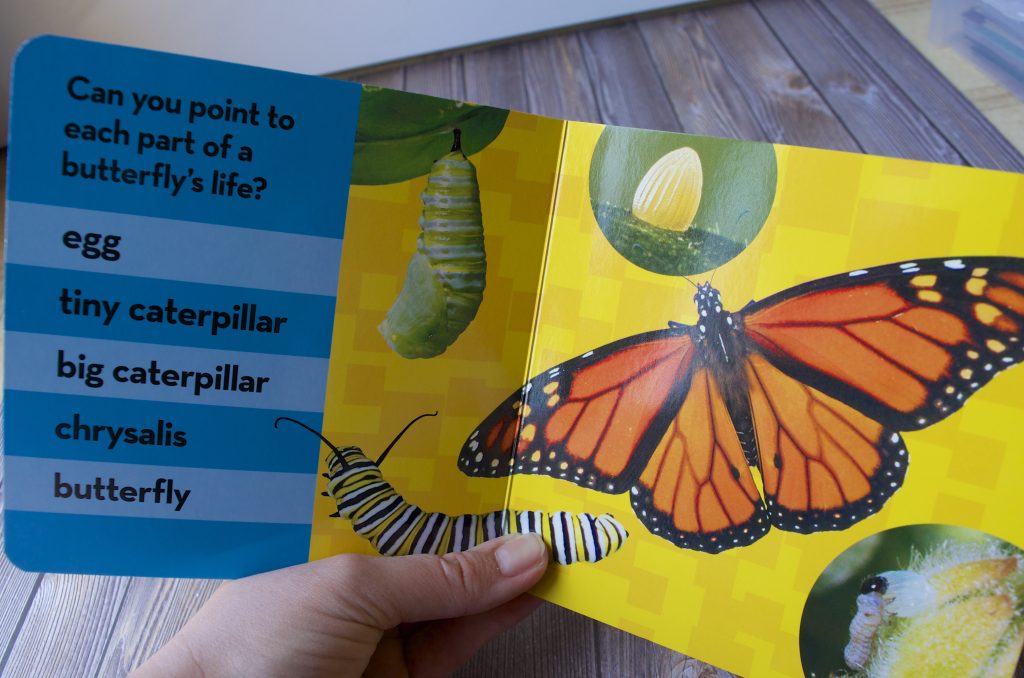 It does a good job of encouraging interaction with the book to ensure the kids can point out the different stages of the butterfly's life cycle.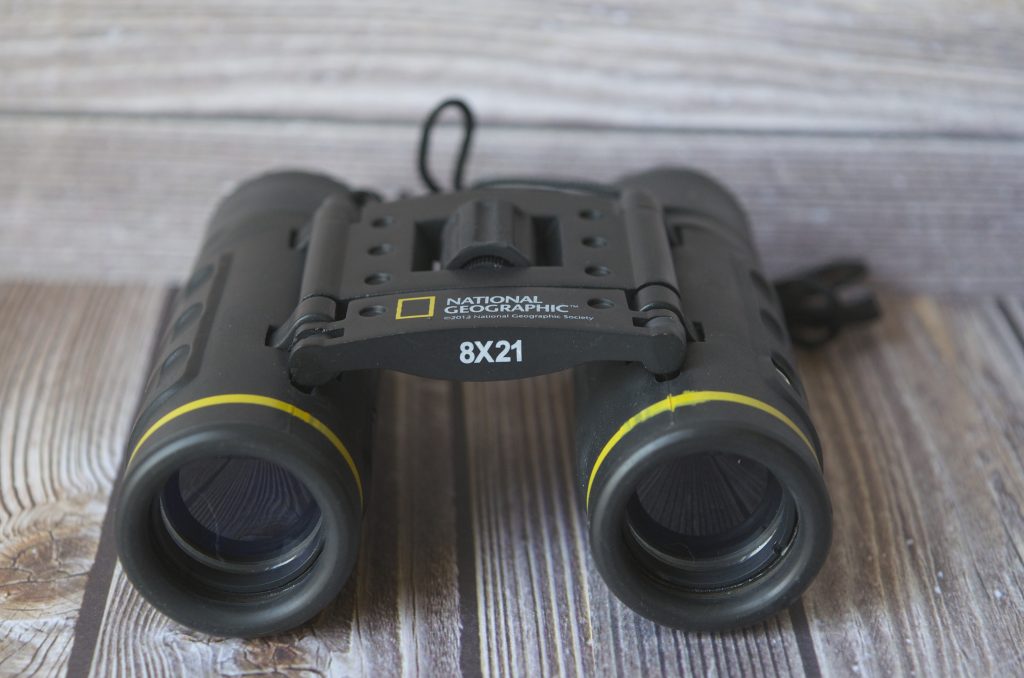 And no true backyard discoverer should be without a good set of binoculars! We have quite a few pairs of binoculars on hands so that each of our kids and their friends (when they visit) can use them! These particular Nat Geo binoculars are water resistant and rubber armored – perfect for your older children who are serious about seeking out wildlife! We will be taking these with us to search for coyotes when we visit Yellowstone next year!
GIVEAWAY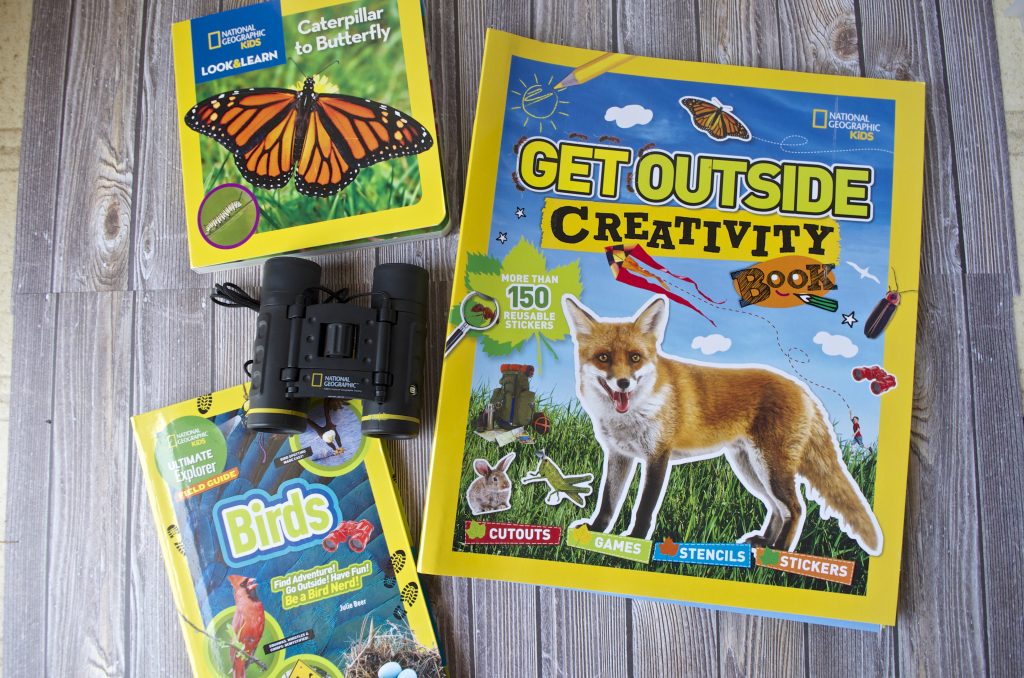 We have the awesome pleasure of offering up all 4 items featured in this post as a special Explore the Outdoors National Geographic Kids PRIZE PACK! Just enter the Rafflecopter form below and a winner will be selected randomly on 3/23/16. Open to US Residents only.