Hasbro Games Bejeweled Review
This post may contain affiliate links, view our disclosure policy for details.
Have you ever played Bejewled? It's ADDICTING! It's Grandma's fault I ever even learned about this addiction. She had bought the computer game Bejeweled and not only was I hooked but my 5 year old was surprisingly really good at it too! We actually had to fight over the computer to play it when we visited Grandma. I absolutely LOVE it. So when I found out that Hasbro Games has turned PopCap's Bejeweled game into a REAL physical (not digital) game I begged them to send it to me!! (and then crossed my fingers and toes hoping I would get it!) If you haven't played Bejeweled the object of the game is to swap gems directly next to each other (horizontally or vertically, not diagonally) to match 3 in a row. Traditionally it's been in a computer software or app form – now, the madness can come to your dining room table!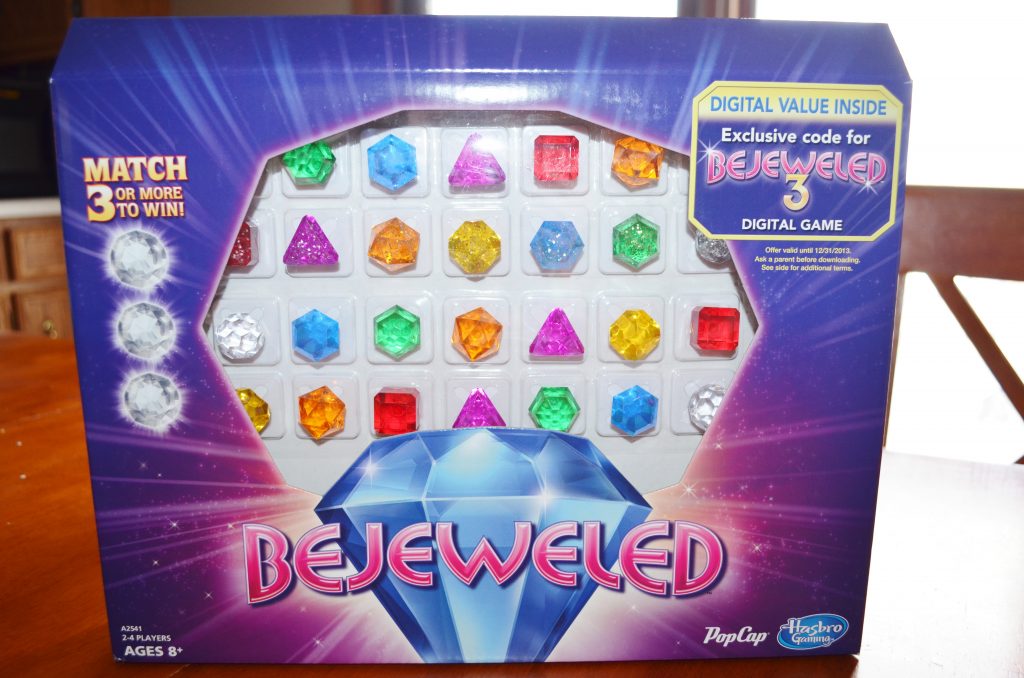 *BLING* How exciting! I am so excited that Hasbro agreed to let me review their new Bejeweled game and I haven't been able to put it away since I got it! In fact my son hogged the game the entire night when we first opened it!! It says it's for ages 8+ but my highly gifted 6 year old has no problems playing it. AND you can have up to 4 players for this Bejeweled game so it's definitely a fun choice for a family game night.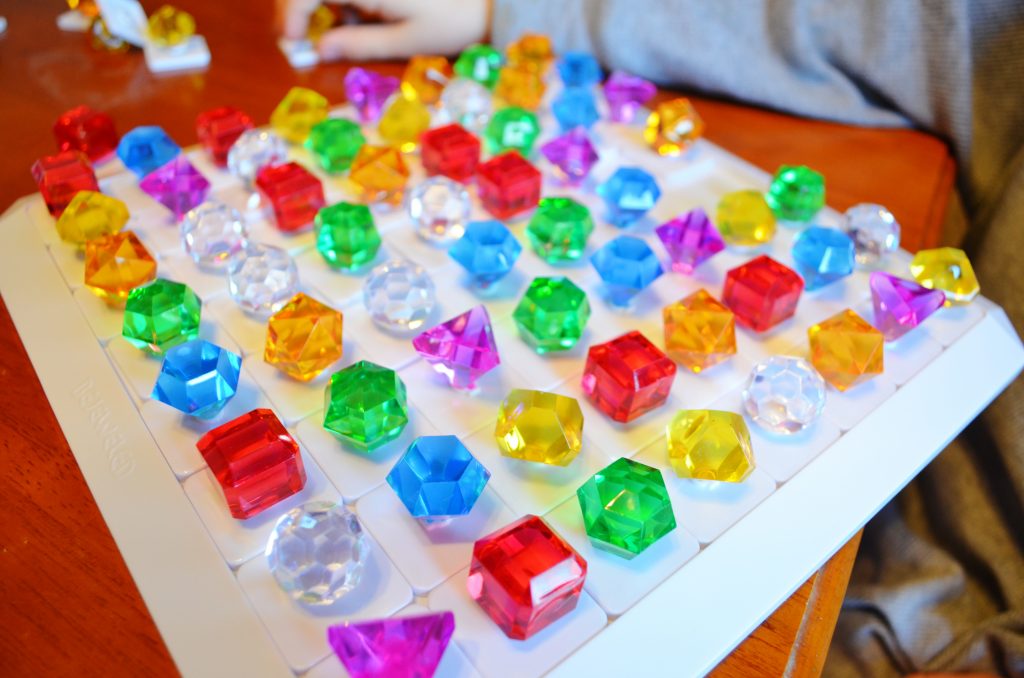 Looking at this game just makes me smile. You have NO idea how much I love these types of games. I LOVE that they created a "real-life" version of Bejeweled and it's very easy to play. You just have to set up the board up which takes a few minutes initially – place all of the jewels on the game board and try not to make matches as you're setting it up.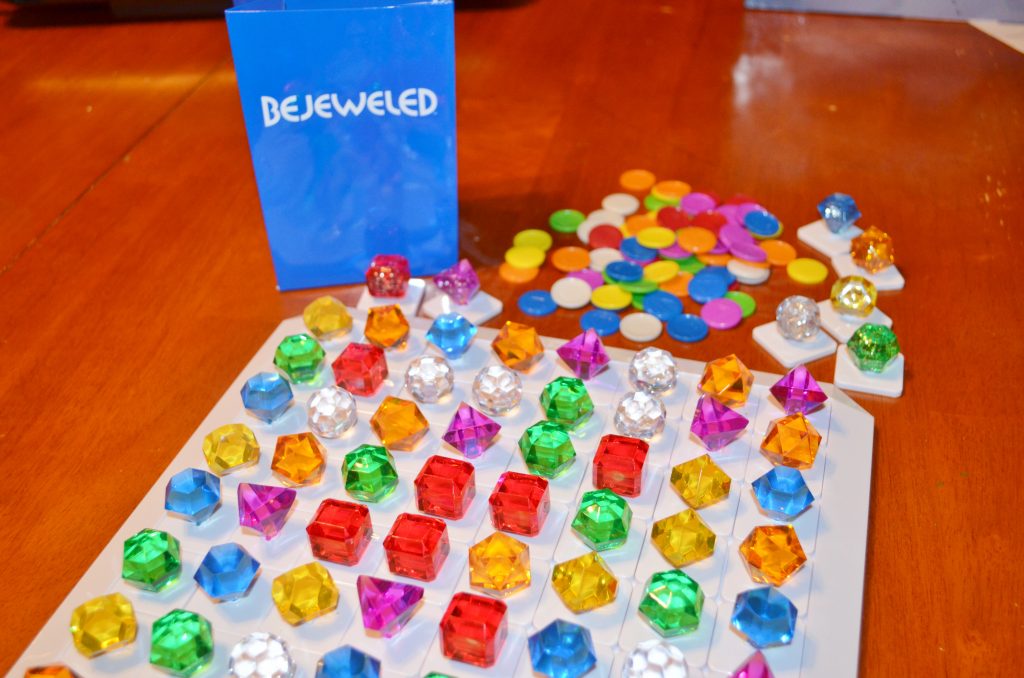 It also comes with glitter jewels that you add in to the game as you play so you have to work around them just as you would on the digital Bejeweled game. And it includes "coins" that you collect as you create your matches. You can take 1 coin for every match of 3, 2 coins for matches of 5, etc. As you pick up your matches of 3+ gems off of the board you have to slide the remaining row of gems up and replace the empty places with new gems out of the bag.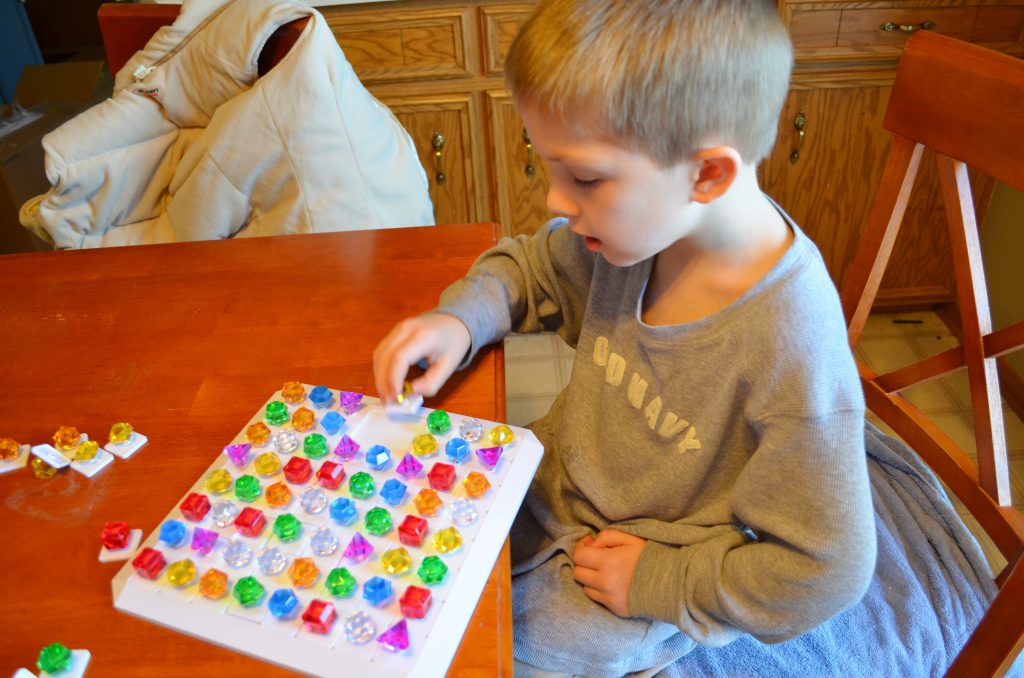 I think my son sat at the table for almost 2 hours the first night playing it with himself. Of course it was sort of an endless game but he loved it! Then my husband and I played it together – the first one to win 3 of the same colored coins wins! The jewels themselves seem pretty sturdy and don't look like they'll break unless you stomp on them pretty hard. I did have to grab a ziploc bag to store all of our coins & gems in but it was no big deal. Besides the awesomeness of having Bejeweled "in real life"  you know what else we loved? It came with a free Bejeweled 3 app download! We hadn't even set the game up and my son was begging me to "hurry up and download it already"! Hah! I love it! It's a great strategy game – and if you haven't played it,  you need to join the addiction! 🙂 Seriously I am SO SO SO happy they made this non-digital game version of Bejeweled and it's incredibly simple to play on your table.
Buy Jeweled for $19.99 now at Amazon, Hasbro Toy Shop or Target!
Enter for the chance to win your own Bejeweled from Hasbro by filling out the Rafflecopter form below!
Disclosure: Hasbro sent me this game to use in order to form my own opinions. All opinions are my own. Giveaway is open to US only and ends 4/11/13 at 12:00AM est. Winner has 48 hours to claim prize before a new winner is chosen.