nabi 2 Disney Edition Tablet Review
This post may contain affiliate links, view our disclosure policy for details.
I received the product show in as part of the Best Buy Ambassador Board. All opinions are my own.
Over the past few years I have had my hands on many different brands and types geared for different ages – and also found what does and does not work for my family. When Best Buy offered to send me a nabi 2 Disney Edition tablet I was really excited because not only had I never experienced nabi personally I really wanted to see what all of the fuss was about. My kids have seemed to get bored with the "kid-geared" tablet-like toys and the nabi 2 is definitely more a real tablet than a "kids tablet-like toy".
 I was really impressed with how incredibly sturdy the 7″ tablet itself was. AND the fact that it came with an ADDITIONAL $200 of Disney content. Not kidding – there is plenty on the tablet to keep my boys busy – and it's not just all games either! There are tons of reading books, music, sing alongs, and all sorts of other types of apps that my kids have been enjoying. The content included is worth the price of the tablet alone so it is very generous in apps! There is a good balance of Disney characters so it's really gender neutral!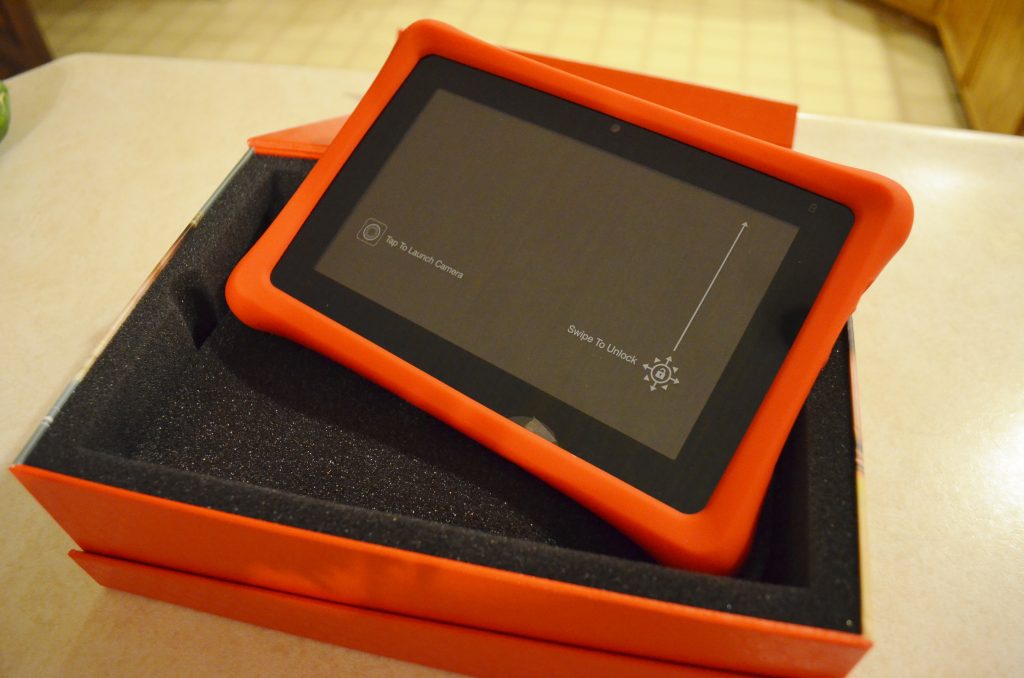 It arrived in a fancy sturdy and well padded box! It of course has a camera built in and also has a mini HDMI, Micro USB port, MicroSD  slot, microphone, audio jack, and DC Connector. It's also Wi-Fi and Bluetooth capable. AND it came with a drop safe bumper which again, is normally an extra expense! Check out the top of the box – I fell in love: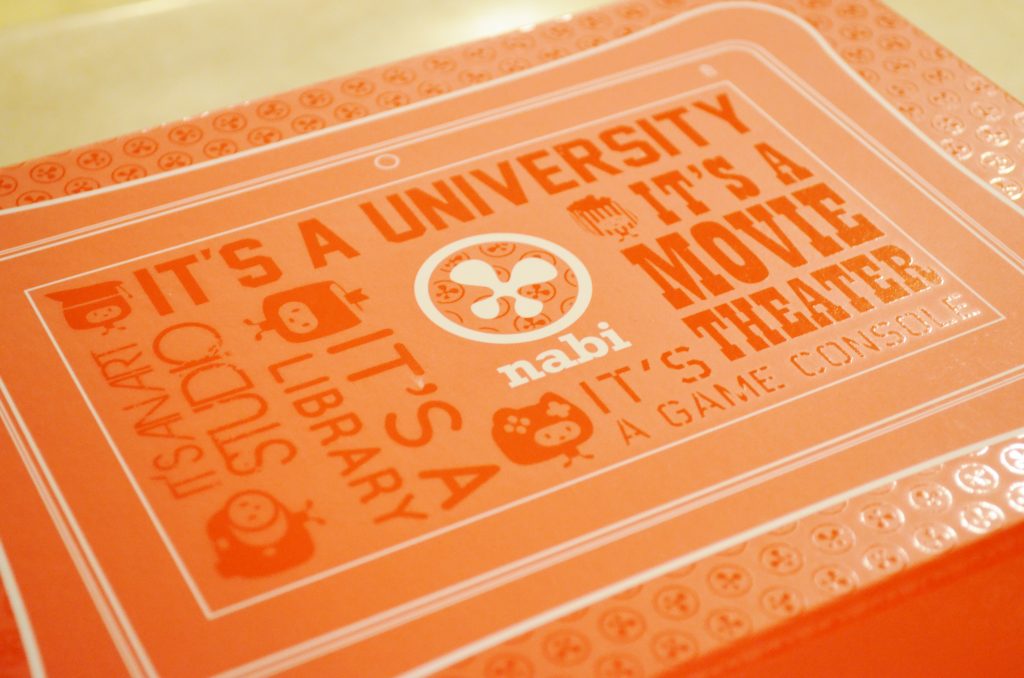 A lot of care was taken in developing the packaging and protection for this tablet and it definitely shows.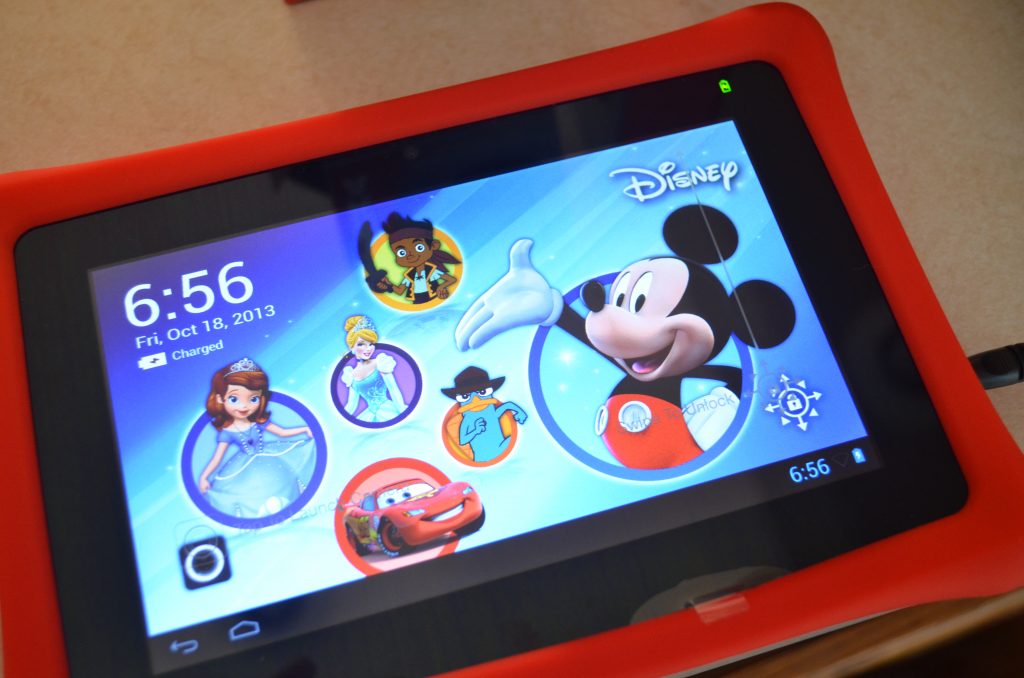 The initial image is of course Disney characters and you have to swipe the screen to unlock it just like a regular tablet. You may recognize the Android 4.1 Jelly Bean platform too. It has 1GB RAM Memory and 8GB Storage with the option of expanding via MicroSD up to 32GB which is plenty! Plus it comes with 2GB free cloud storage too! So there is definitely room to grow with this tablet! There is no need to purchase a different tablet due to storage space.

Above you can see the "Read", "Watch", "Sing a Long", and "Listen" Disney sections of the nabi 2 tablet. It includes 6 full length Disney episodes (Phineas & Ferb, Jake & the Never Land Pirates, etc.), 50 Disney music tracks, Radio Disney Live, Disney Channel TV apps, 6 Disney e-books and other popular Disney apps and games. And that's just Disney material – a LOT of other apps and ebooks are included!
The nabi 2 Tablet, however, is very different in that it has a pretty extensive parental control system (which I LOVE!). It's like there are several "sides" to the tablet. There is the Disney side you can see above which is all of the fun pre-loaded Disney content, there is a regular app section where you can download all sorts of other android apps, the Fooz kids "page" and then there is the parental dashboard which is password protected where you can actually set limits to each app that the kids play, time limits, limits on what TYPE of apps they play (games vs educational), etc. You can also choose to reward them more points for educational apps as opposed to just "fun" apps.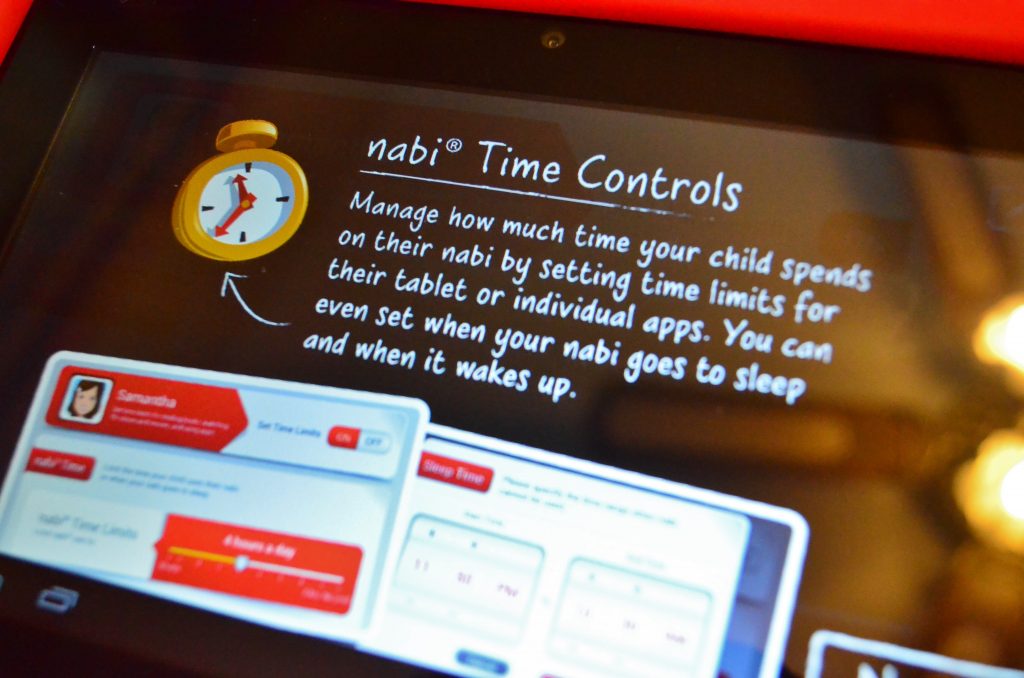 Here you can see the time control settings – it's a pretty extensive and customizable system. It works well too when you're on the road to set a time limit for the kids so that the tablet automatically goes to sleep when it's time to switch turns!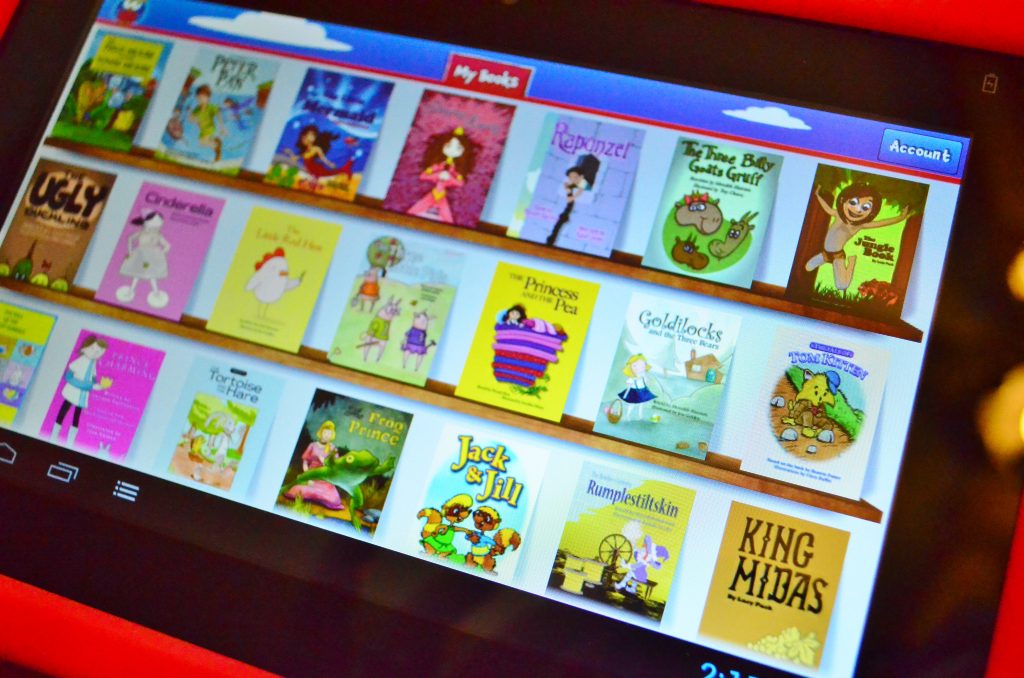 Here's the ebook library I discovered on my son's nabi 2 tablet. It's fully stocked!! I can of course ad more but I REALLY appreciated the educational aspect to this tablet – and that I didn't have to purchase all sorts of ebooks and apps to be functional out of the box.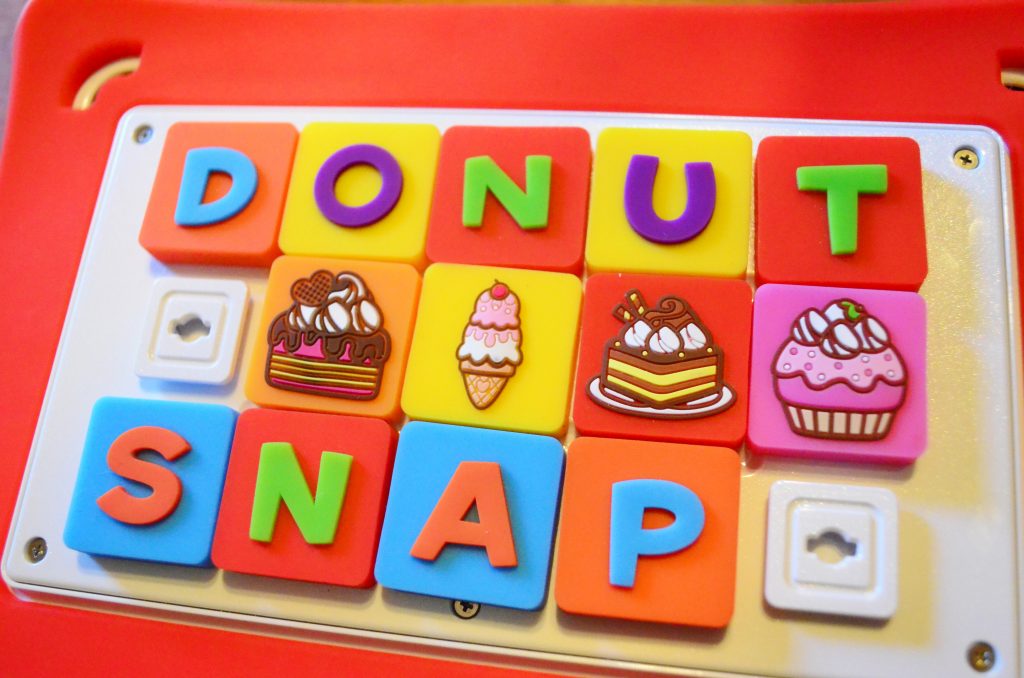 We were also sent some accessories including the KINABIs Letter Pack and the KINABIs Dessert Pack – both of which are a little pricey but good quality and built well. The back of the tablet as you can see above has a grid of raised squares which you can attach the rubber KINABIs onto to personalize it. It is a LOT of fun although I will caution you with the letter pack – there is only one of every letter so if your child has several of the same letter in his/her name they won't be able to personalize it. My sons name, LANDON, we were able to "create" an extra "N" by flipping the "Z" on it's side.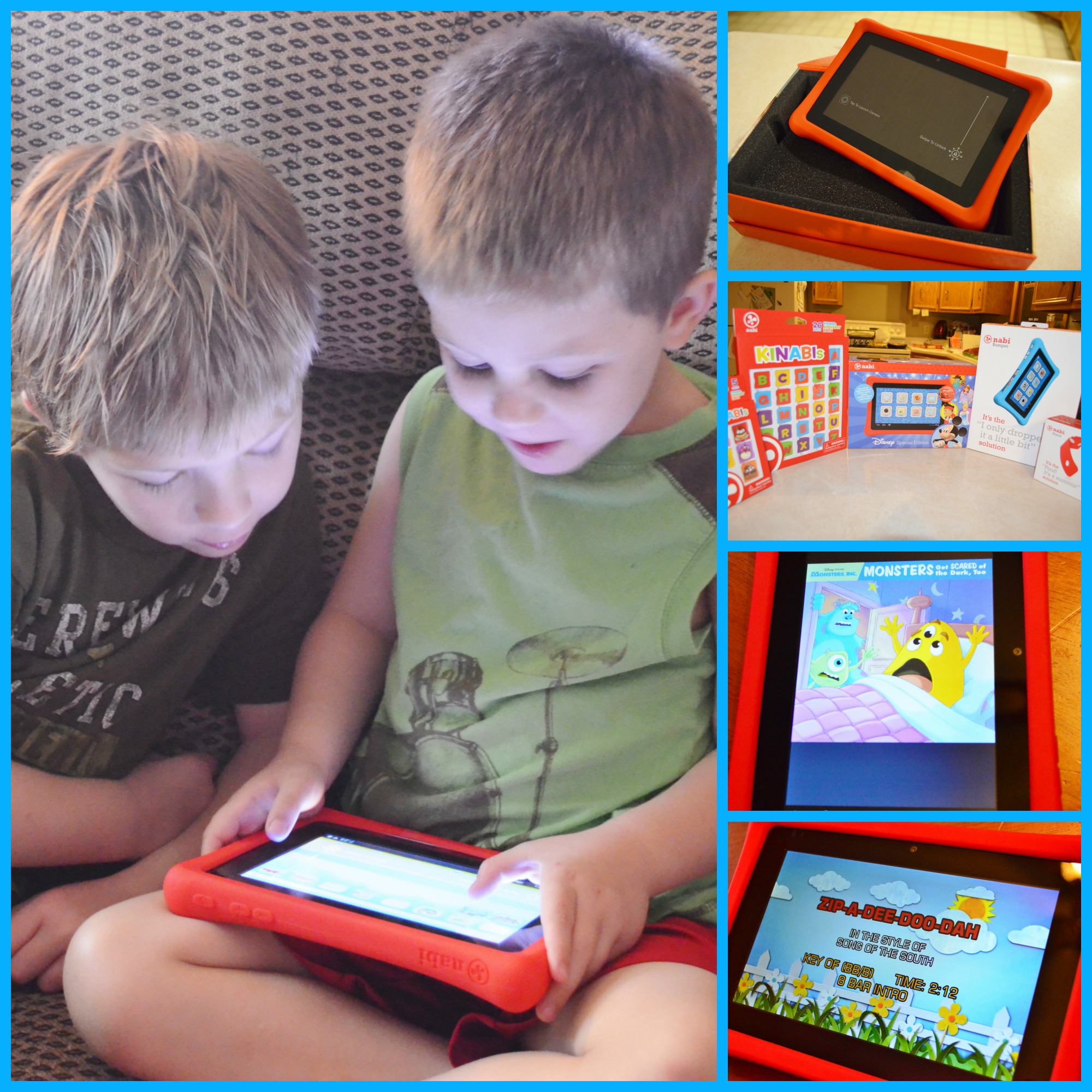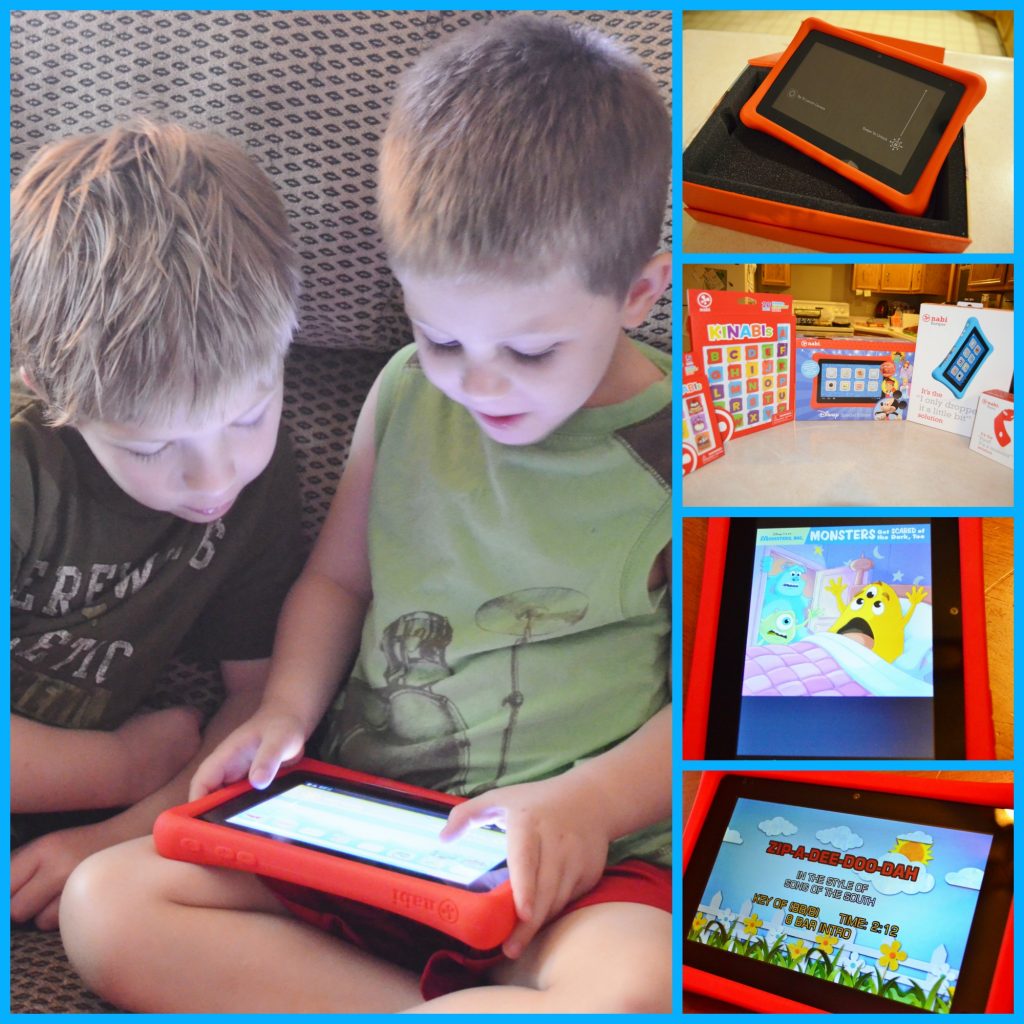 I also purchased the ZAGG InvisibleSHIELD for our nabi 2 Tablet which is scratch resistant and military grade – I HIGHLY recommend it! It's a little tricky to install so if you want it to look perfect I recommend paying the extra $8ish in store to have them put it on for you.
SUMMARY:
Overall, this tablet is by far the most similar to an adult tablet for kids and by far the sturdiest. I NEVER worry about my son dropping this – it doesn't even cross my mind. In fact I love the cover on the front of the bumper box – it says it's the "I only dropped it a little" solution! It's a high quality built device with the option of extremely customizable parental controls. Everything from the design, to the packaging, to the little key ring and wallet card with nabi's customer service contact information has made reviewing the nabi 2 tablet a pleasant experience. It includes the bumper guard and $200 worth of Disney apps which runs for retail price of  $199.99 at Best Buy  breaking down to a pretty generous package for the price.
Having tried many different types of tablets and "kid" tablets if I could do it all over again I would have started with the nabi 2 because it grows with your kids. I think in the long run of technology with kids, although pricier up front, this is the cheapest option in the long run. Kids won't "outgrow" their kiddie tablet as fast because this really can be used as an ereader and regular tablet even for your oldest kids, and it comes pre-loaded with SO many apps and options that your kids will be busy for quite some time before they are asking for new materials. Check out a short video clip of my kids using the nabi 2 tablet!