Vitabath Spa Day Holiday Gift Idea
This post may contain affiliate links, view our disclosure policy for details.
Disclosure: I received product to use in order to form my own opinions for this review. All opinions are my own.
What do you get for the person who has everything or claims they don't need anything? That seems to be my problem every year – mainly for my parents and grandparents. So I look for practical gifts that are thoughtful but can still be used and not end up in their closet! When I came across Vitabath I was really excited because I am such a nut about good bath products (it's my way to relax!) and also because I tend to stick with making bath gift baskets for my mom for the holidays!
You can find the entire Vitabath Fragrance Collection line with 16 different fragrances at Kmart! You'll find the Fragrance Mist, Body Wash, and the hydrating Lotion. I received the Spa Day Lavender Chamomile fragrance which I LOVE!! It's the perfect scent – not overbearing – but not weird smelling either. In fact, even my husband has been using the body wash!! And even the lotion – but don't tell him I told you! It's not a greasy lotion like some are and the scent is pretty light which is nice because I don't care for over-powering scents! Although it smells very pleasant and not too "fragrancy" the mist is the perfect aroma too! It doesn't give me a headache at all. PLUS if you like holiday scents they have an entire new holiday collection too!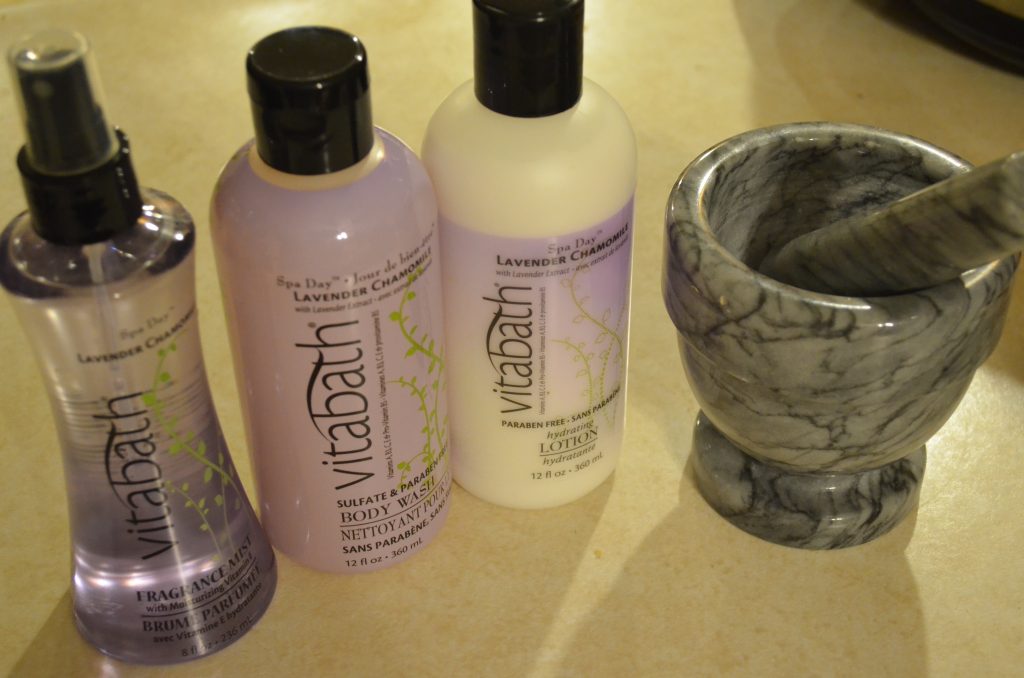 The package design is very appealing and it's easy to match things with it for a gift basket! You can put in things like hot teas, bath salts, a mortar/pestle with bath spices, a loofah, washcloths, candles, or anything else you can think of! There are other Spa Day Collections which include: Green Tea & Sage, Cucumber and White Tea, and Citron Leaves with Lemongrass Extract. I love that you can shop online based on a lot of different categories – by scent, by product, and by price! Check out the Vitabath website for more product information and fragrances, then head to your local Kmart to pick out the perfect products for your gift basket!