Using Remote Controlled Cars to Work on Fine Motor Skills and Coordination
This post may contain affiliate links, view our disclosure policy for details.
One year ago we realized after testing that my oldest son (just turning 4 years old at the time) had a fine motor delay of more than 18 months! We knew his fine motor skills were delayed but we had no clue how bad it was! After 6 months of occupational therapy he had caught back up to his age appropriate level, but I am always looking for ideas to continue to strengthen those skills. One of the ways to REALLY fine tune his coordination skills is by racing cars! Over the weekend I had the opportunity to attend SheCon here in Florida (a blogger's conference) and the wonderful rep from Toy State Industrial sent this AWESOME DUB Garage Control Freakz remote control car home for my son!! Oooooh he was SO excited & has been begging me for a remote control car for months! This car is really cool – it even has lights underneath the car & on the rear wheels!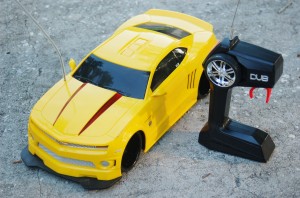 It sure didn't last in the packaging long! My son could barely contain himself when we showed it to him! Not only can you control it with the remote but the car also makes noises on the top which both of my boys loved! My son could even drive the car which was on the drive way while standing in my kitchen – I couldn't believe the remote control worked so far away from the car!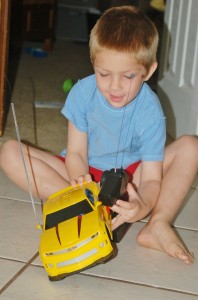 For a child who has difficulty with coordination or fine motor skills you wouldn't believe how incredibly difficult it is to maneuver a remote control car. It's hard! Now that my son has a pretty good handle on racing and driving his car we make it even harder by building obstacle courses that he has to maneuver around on the driveway or in the living room. It's a challenge for him but obviously a lot of fun to play with – and he doesn't even realize we're really just making him work! 🙂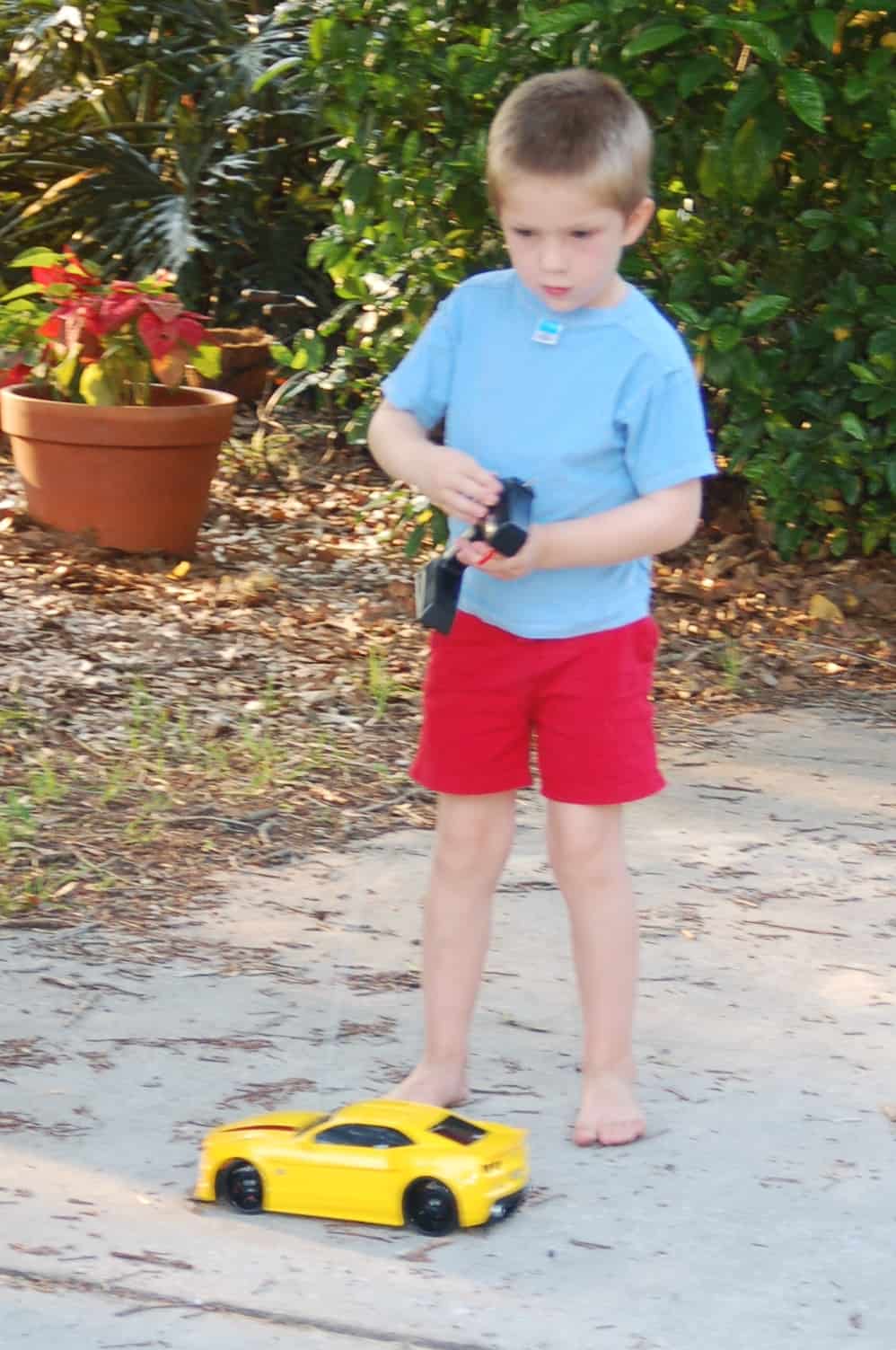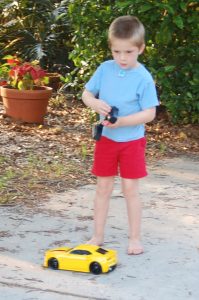 Look at how hard he has to concentrate not to run into things! For the cold or rainy days you can take it indoors, but if you have carpet we have come up with another solution.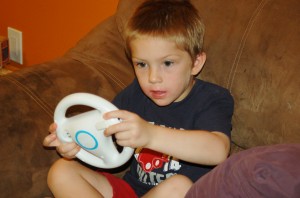 Mario Kart Wii. This Wii car racing game comes with a steering wheel and the kids virtually drive their cars just like they would in a video arcade. Although I don't encourage screen play all day this is a fabulous tool for honing in on coordination skills. It's definitely not as easy as it looks and seemed impossible when my son first tried to play!! When my son first tried Mario Kart Wii it looked like someone was just waving the remote control around – the car just didn't make it anywhere! At first he was quite frustrated – but it was such a cool game that he kept trying and trying and trying. Now he does SO good at maneuvering VERY difficult (virtual) obstacle courses that he comes out in 1st place most of the time and is unlocking levels even my husband has never seen before. I know he has far surpassed my virtual driving skills!!
These are just two ways that we have really encouraged my son to play while working. Invest in one or two things you think your kids would love, then let them "work" on their skills through play! We have had Mario Kart Wii for many years now and I know that our new Dub Garage remote control car will be around for just as long! It SURE beats the price of therapy and my kids are having a BLAST! I love knowing they will remember all the fun they had with these items growing up!