Less Mess Sand Art Sensory Activity
This post may contain affiliate links, view our disclosure policy for details.
To cut down on the kids screen time I like to schedule in some no mess sensory activities that will take them some extra time so I can do a few things around the house.
Today we decided to do sand art (make your own non-toxic art sand tutorial) but I wanted to keep the mess to a minimal! Sand can get a little crazy with kids!
First, tape down newspapers on your table so that when you are finished you can just un-tape the papers and throw them all away.
Believe it or not our table was almost spotless after our art sand project!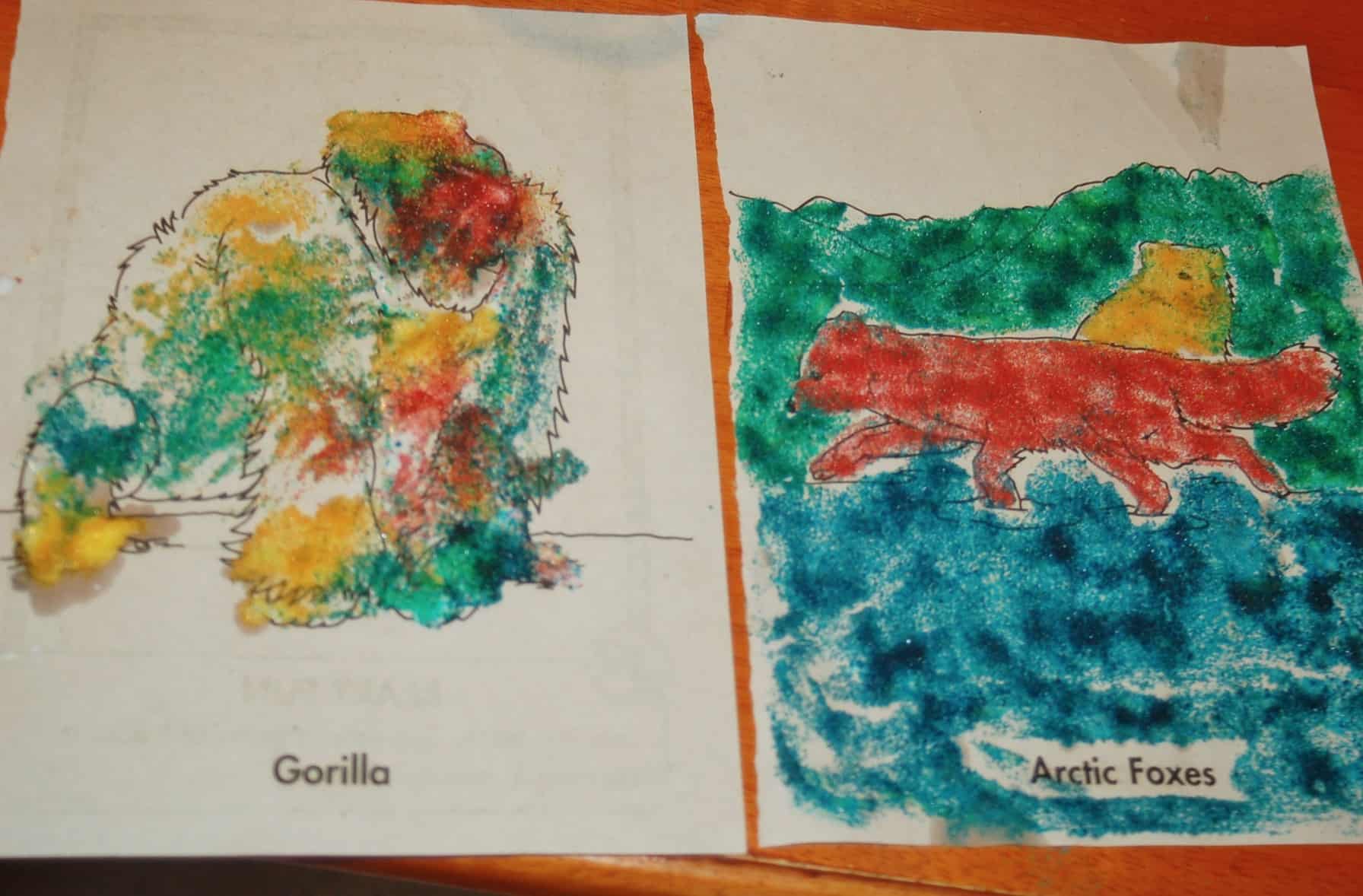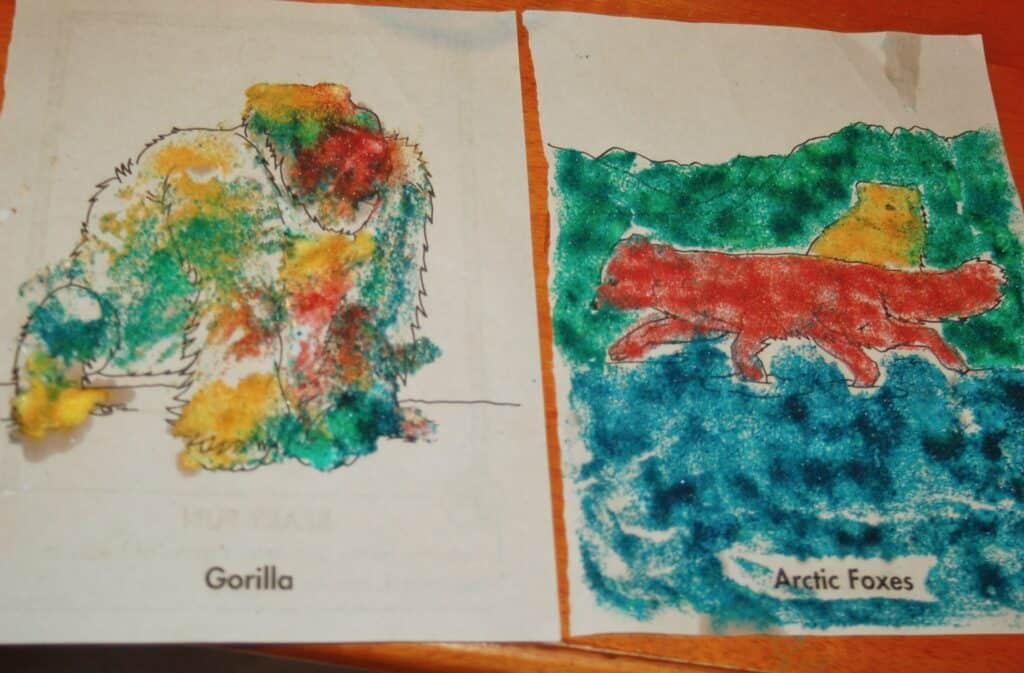 Next, instead of handing the kids a bottle of glue we decided to dip paintbrushes into the glue. It made things a LOT less sticky! You can also pour a small amount of glue into a small bowl.
Their hands stayed clean, my table stayed clean, and it cut down on excessive glue all over the paper.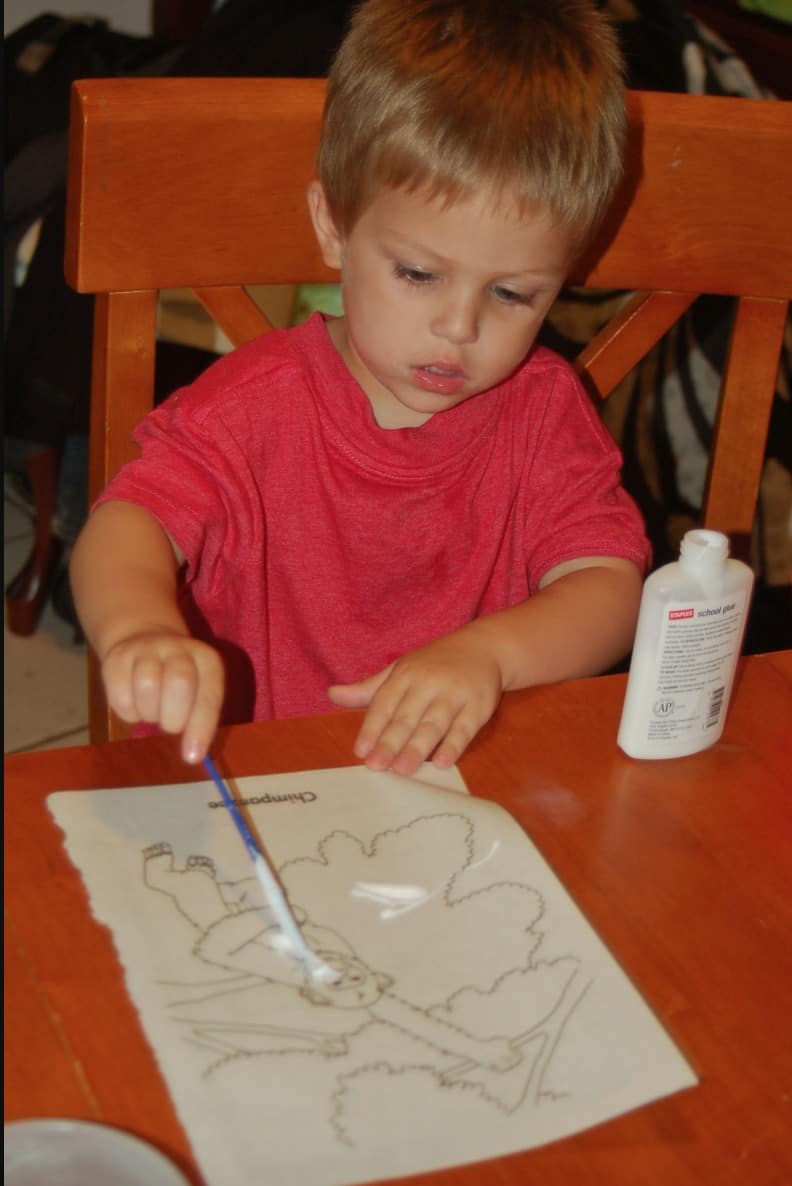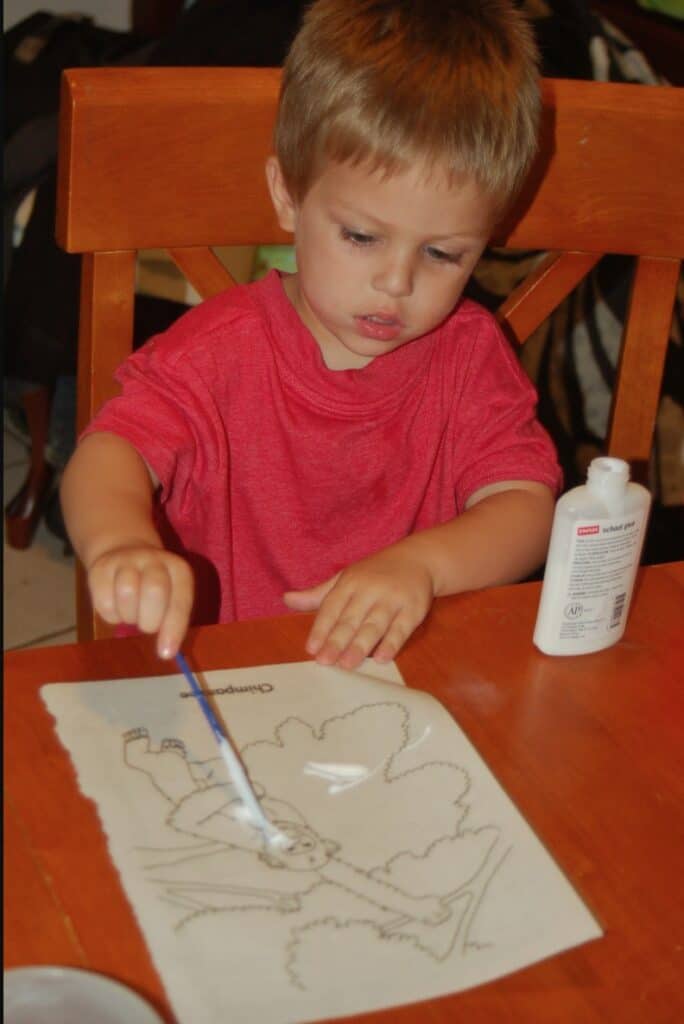 I then told the kids they had to use only two fingers to pick up the colored sand. (their thumb and pointer finger)
This prevented an extra mass of sand being dumped everywhere!! Plus it took them longer and is a good exercise for fine motor development.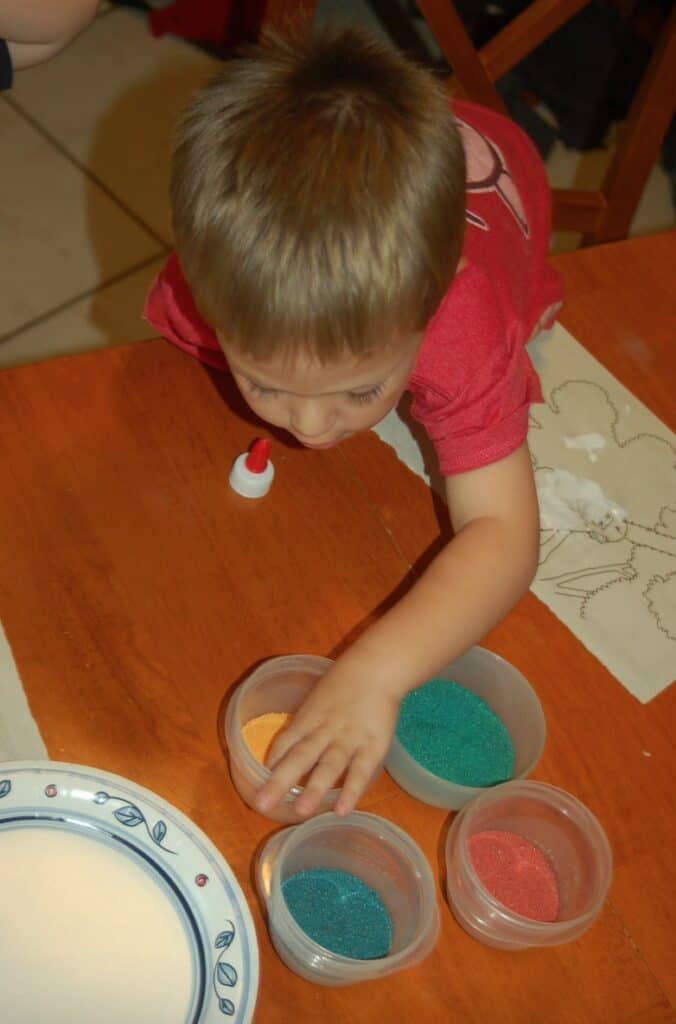 It also allowed the kids to have a little more creativity since they could paint certain sections on their paper for one specific sand color.
We just used a coloring book for our pages but you can also print coloring sheets for free online. My kids both wanted monkeys from our Animal Planet coloring book.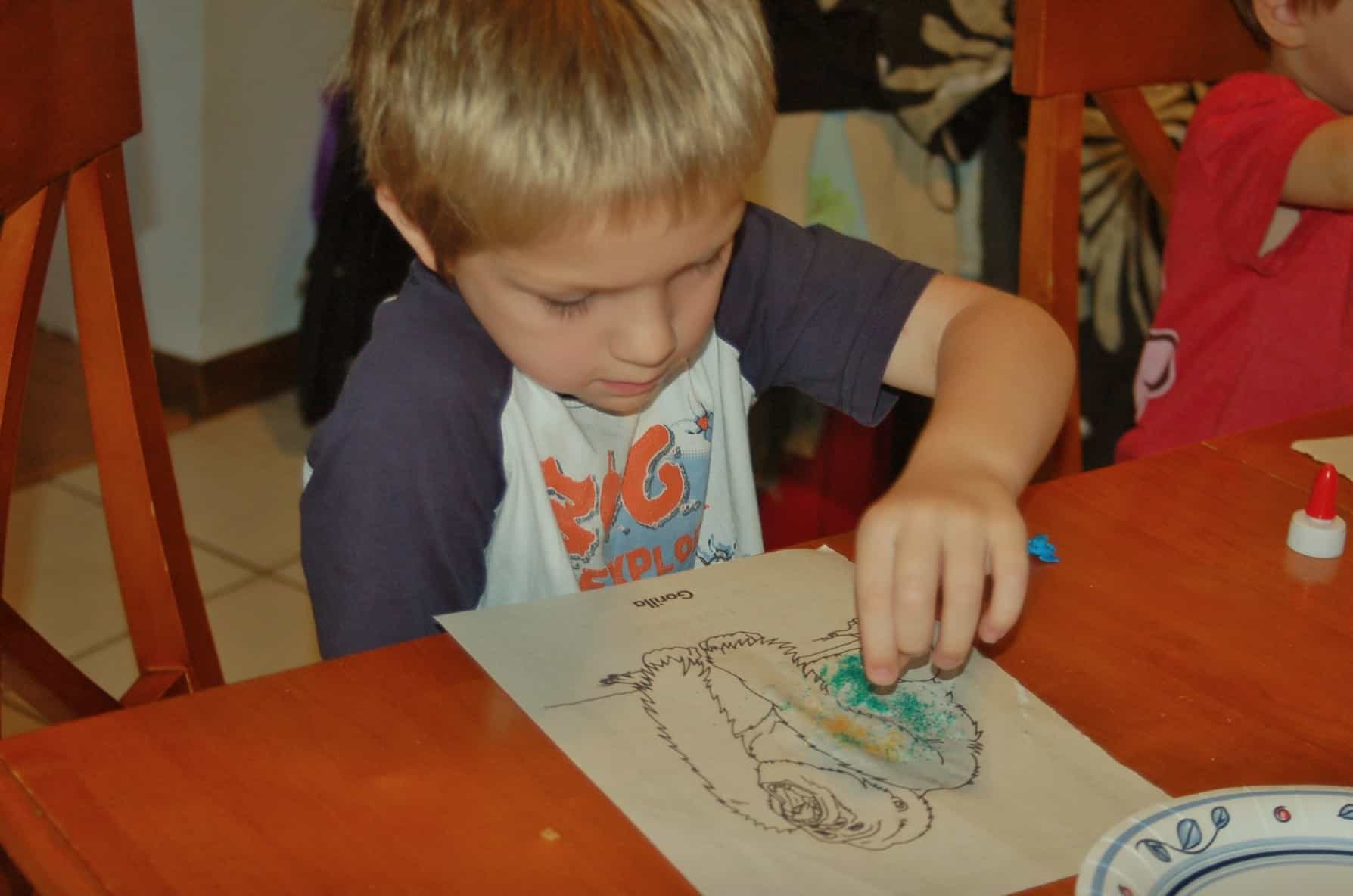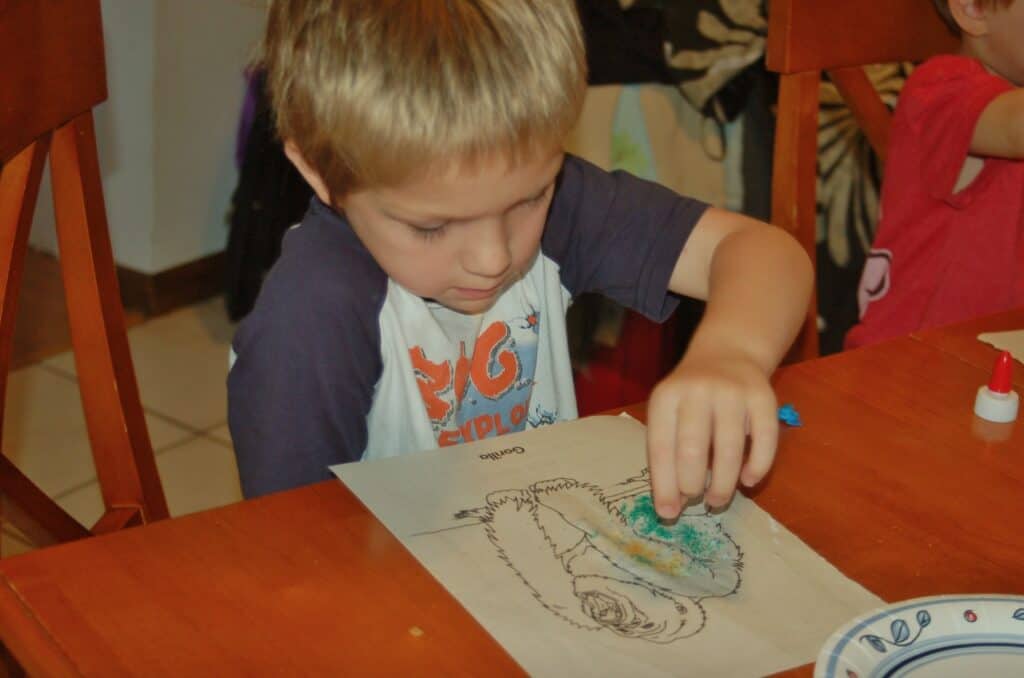 Lastly I placed a paper plate (or a shallow plastic container works great!) for the kids to dump their excess sand in. But to be totally honest since they just used two fingers to pick up the sand they hardly had any extra sand on their papers.
My table came away with NO glue on it and barely any sand!! It was fantastic! 🙂
This activity is great to promote creativity, fine motor skills, and a variety of other things depending on how you spin your activity!
You can even choose a simple color sheet and number it for specific colors if you want your children to work on number recognition and color matching!