Learning to Read with The Reading Game Review
This post may contain affiliate links, view our disclosure policy for details.
Disclosure: I received the below product to facilitate this review. All opinions are my own.
This "The Reading Game
" review I originally wrote and posted in 2015! We are STILL using this game in our house and I've even shared it with my kids' teachers. Two of my children have now been through this game setup and both enjoyed it immensely (one boy and one girl).
I have found it a FUN way for kids to "earn" new books without feeling like they are just coming home and practicing their sight words. It makes a fun way for kids to not only feel confident in being able to read full books by themselves (and not just easy BOB books either!), but it also takes away the pains of constant reading "practice" with kids who are less interested in practicing.
Below you can see a full overview of The Reading Game, but it basically is a color coded flashcard card and book set. Start by reading the sight words on a specific color set. Once your child learns those specific sight words they earn the same colored flashcards. Then the corresponding book.
The sight words are built so that they can read the entire book on their own. Once they've accomplished that they move to the next color. The books are illustrated and are great stories about all sorts of things from skunks to snakes!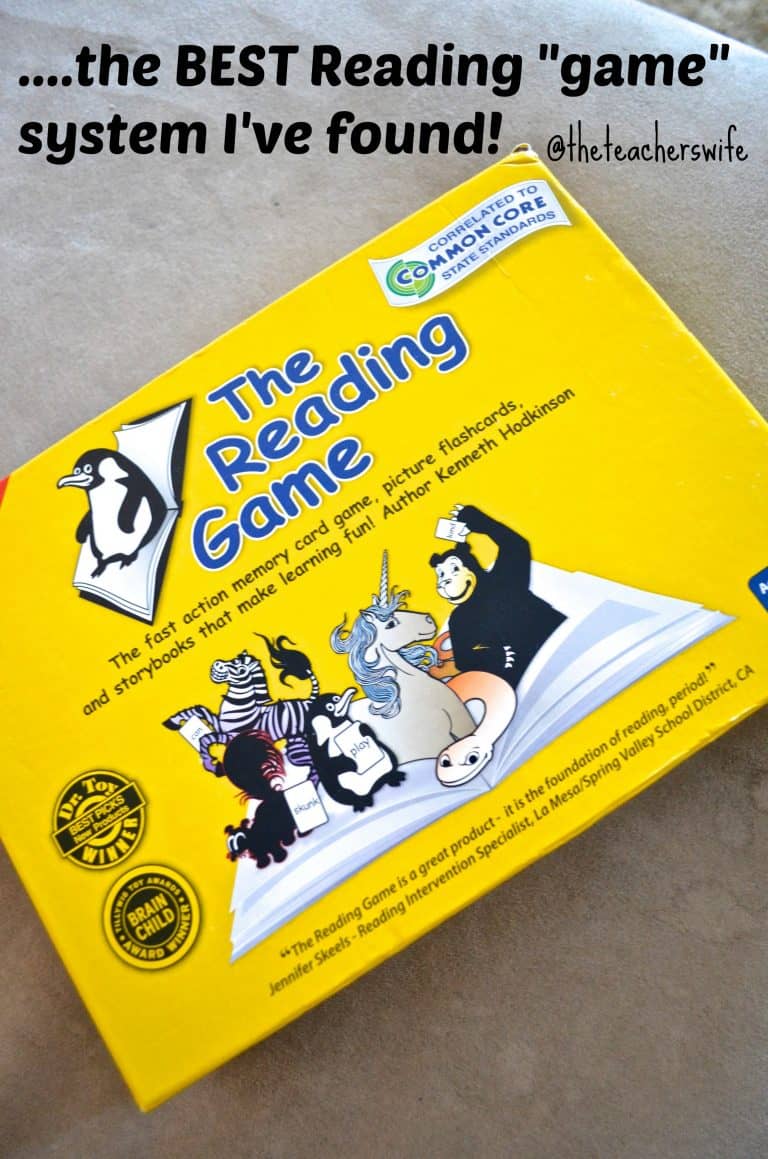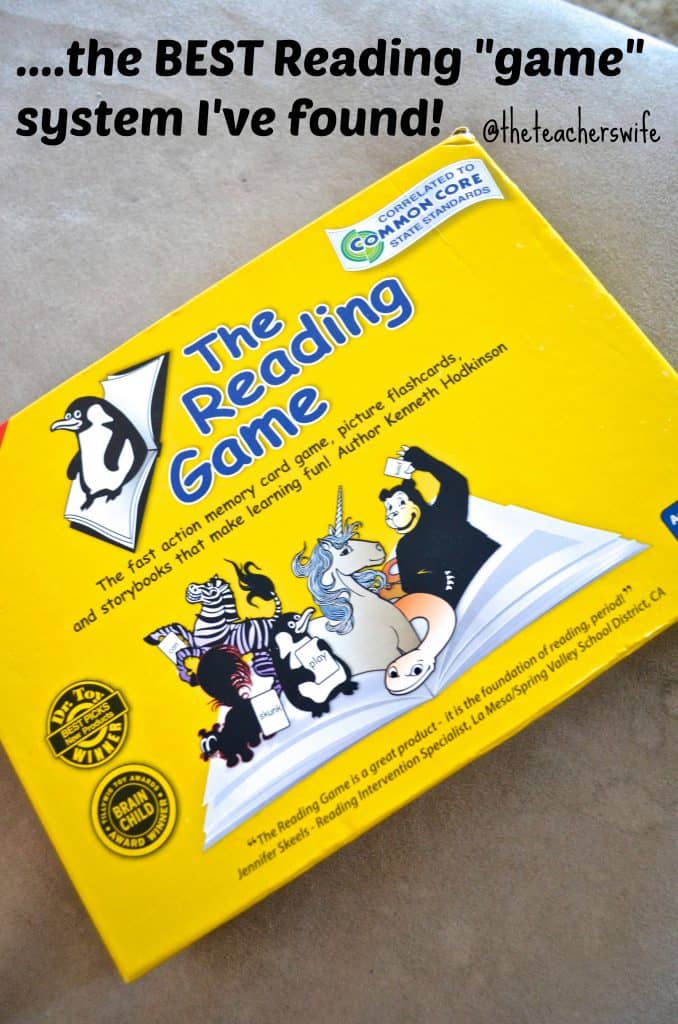 The Reading Game is one of those fantastic brands that I discovered while I was at EDexpo in Atlanta a few years ago. Maybe because my son was in kindergarten at the time working hard on reading, but I was extra excited when I saw how this game worked. It is SO fun, rewarding, and definitely has a more "big kid" feel to reading than BOB books. I immediately knew my son would go nuts over it.
Since then (now that he's 12!) I've also used this reading game with my daughter to engage her in reading practice at home. The outside of the game box didn't really draw me into it but don't judge a book by it's cover! (er….a game!)
Levels in The Reading Game: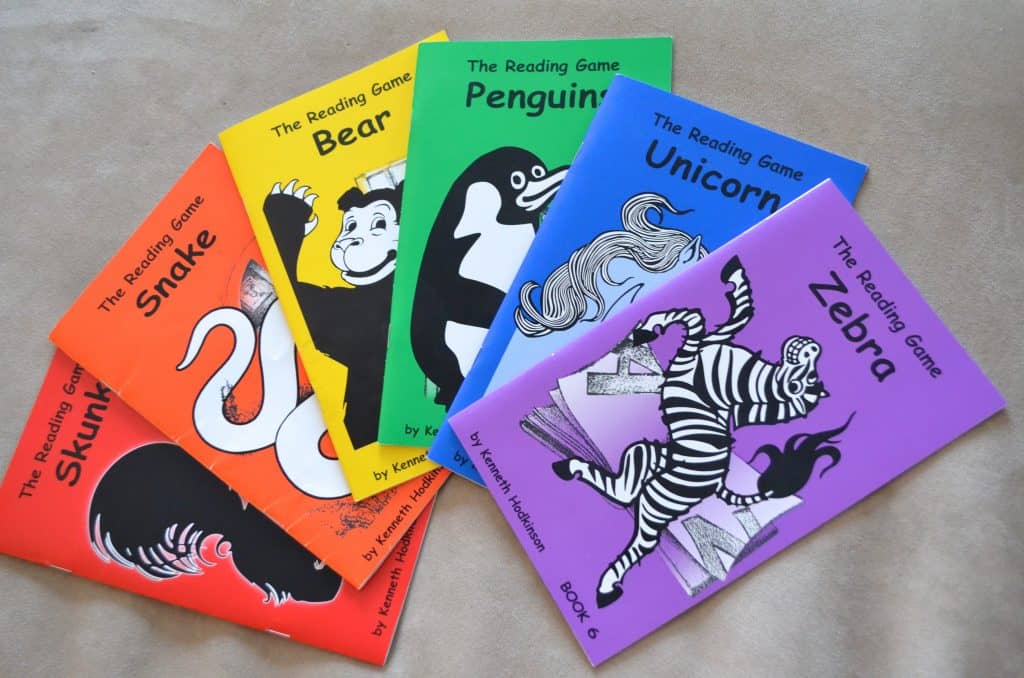 There are 6 complete "levels" to this reading system starting from left (skunk) to right (zebra). Everything is color coded and extremely simple to follow. When all of the levels are complete your child or student will have learned 180 vocabulary words, many of them Dolch and High Frequency words. (Plus if you use Wordly Wise like we did – this game is by the author of Wordly Wise!)
Ok – so 6 levels – let me break it down extremely simple for you. I'll show you how the first level works and every level after that is the exact same for it's color.
How to Use The Reading Game: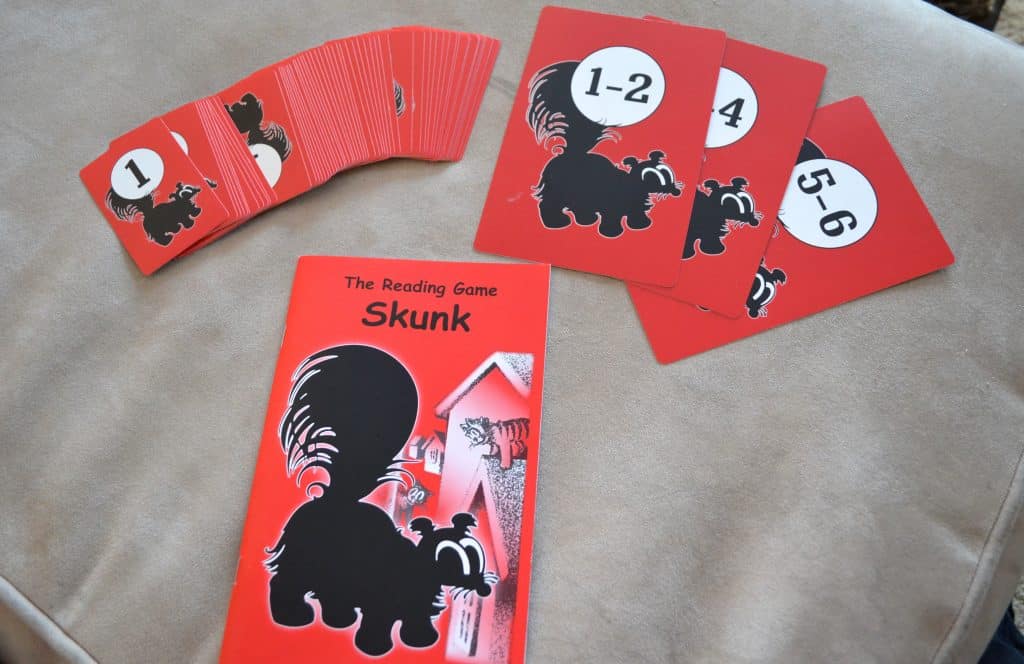 Every level is themed by an animal and color coded. The skunk here is all red. The FIRST step is to take the number 1 cards you see at the top left and lay them out – it will be a memory matching game with the vocabulary words. Once the child has learned the words and paired up matches in the memory game you move on to the number 2 memory card words. Once that is completed the child has earned the 1-2 Skunk Flashcard you see at the top left.
On the back of that card is a picture and paragraph that the child can read which uses only the vocabulary words they just learned in the memory match game. After that they can go through memory matching game cards 3 and 4, earn flashcard 3-4, then finish up with memory matching games 5 and 6 and earn flashcard 5-6. At this time the child is rewards with the very first book in the series!!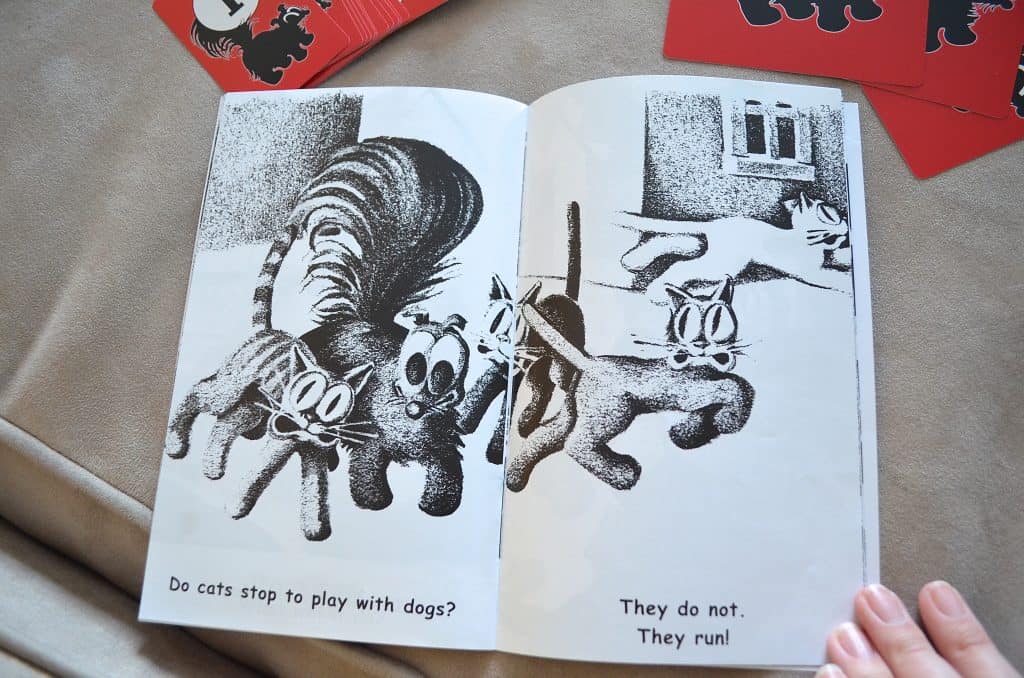 Not only is the book a large size like an older child's book (not the tiny "See Jane Run" books) but the illustrations are also fantastic! The entire book is only created using the memory card vocabulary words to ensure that the child can read it. My son noticed right away that it was like a "real" book, not a "baby" book as he calls his BOB books at school.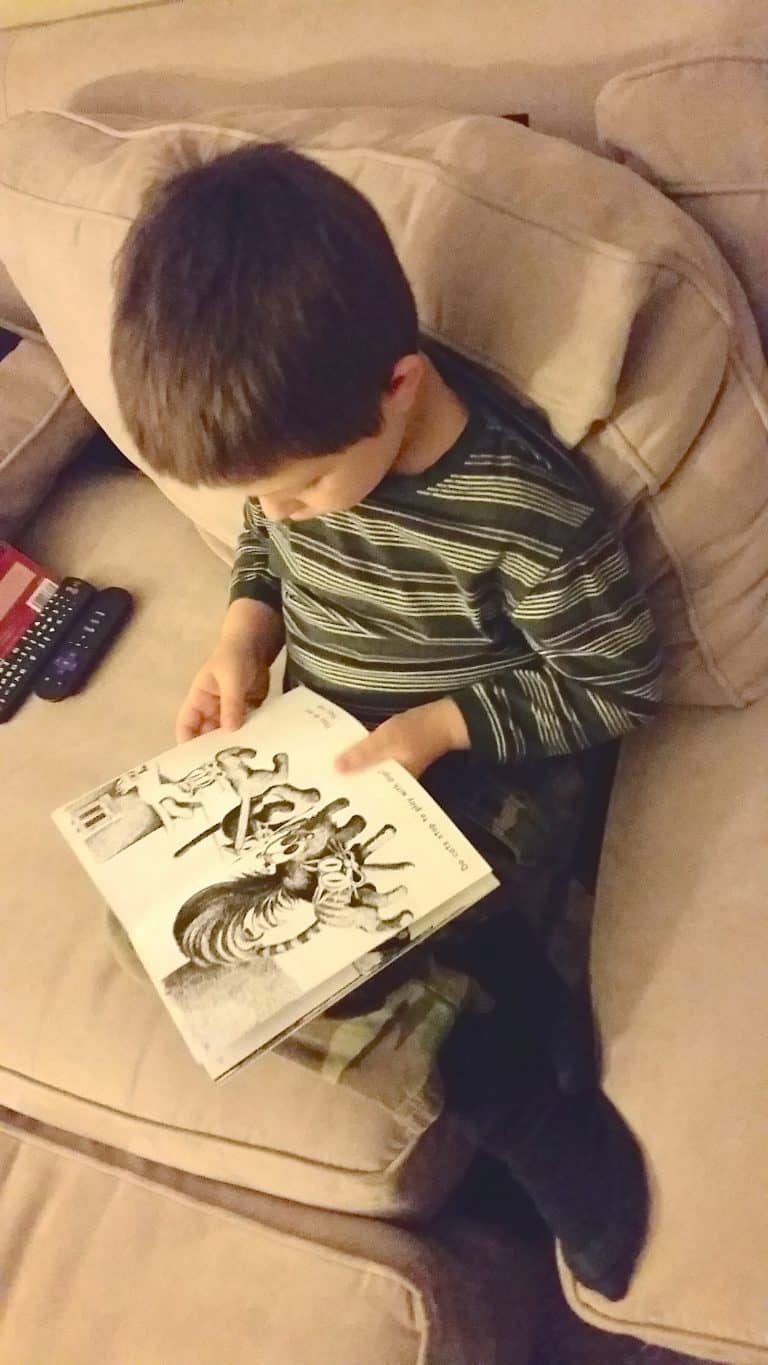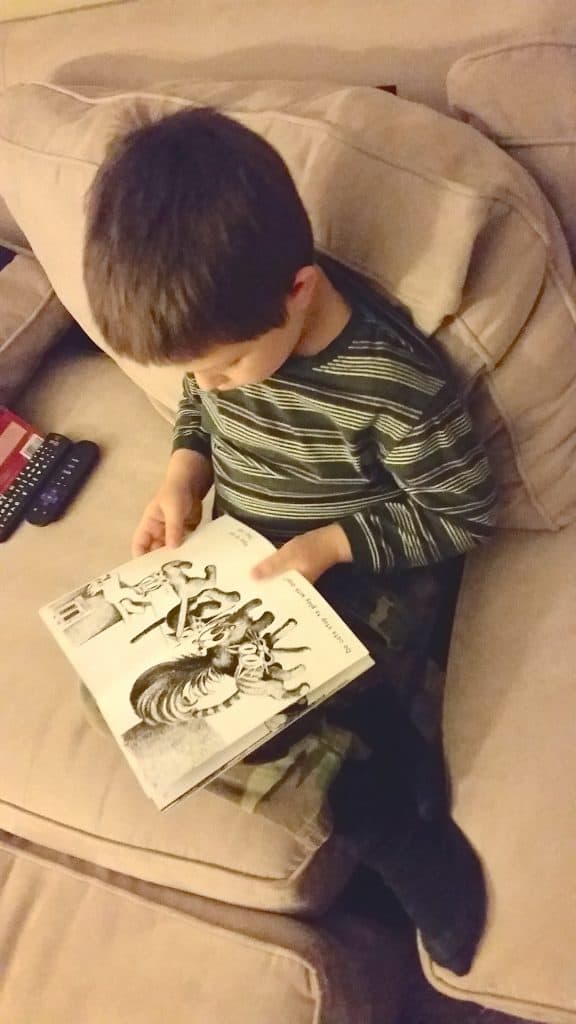 Let me tell you a little about my son. He is a very smart child and ahead of the kids in his class, but he does NOT like to work at all – I can't tell whether he is lazy or bored! Either way he hates being required to do school work of any kind. However the first day I showed him The Reading Game he literally spent FIVE STRAIGHT HOURS reading. I was absolutely floored.
Every day he comes to me wanting to do more memory card games so he can get his books. I am incredibly proud of him. I don't let him take the memory cards until he says aloud the vocabulary word every time he flips the card.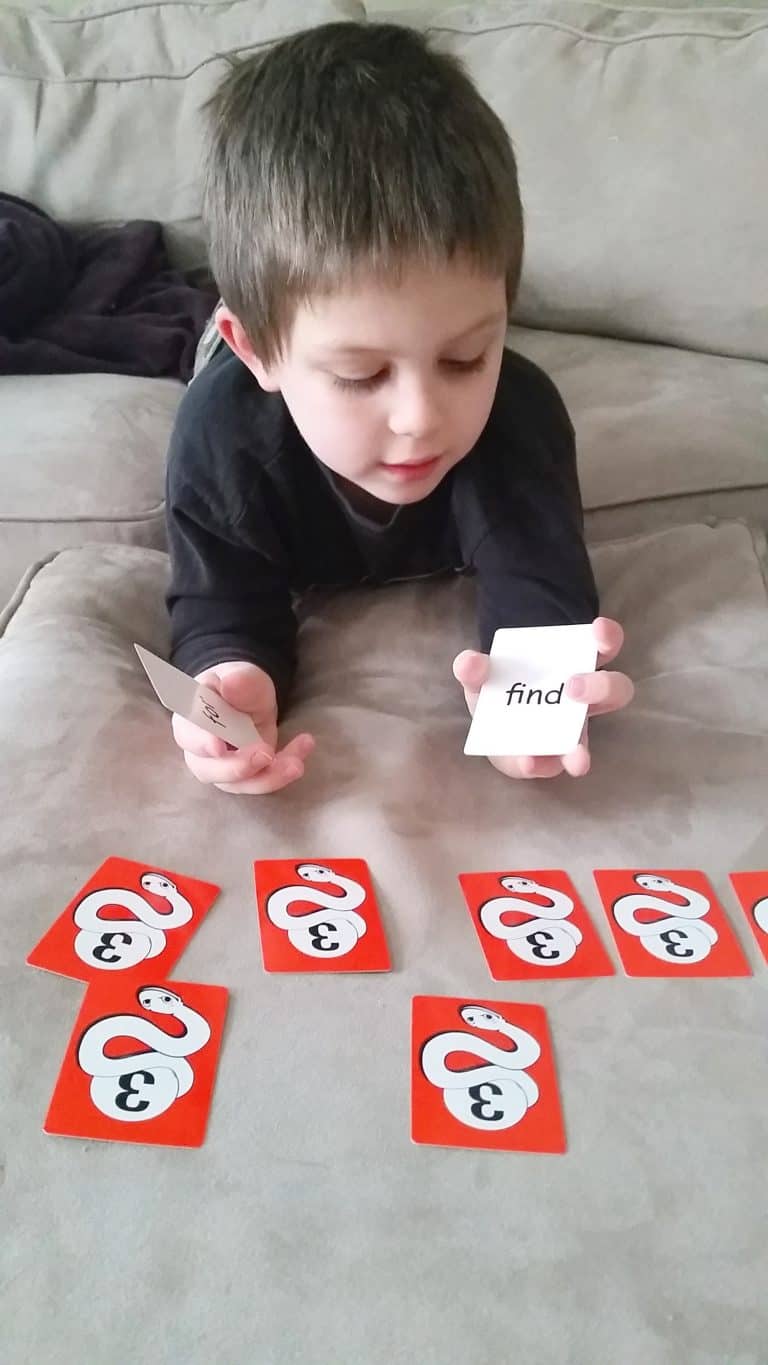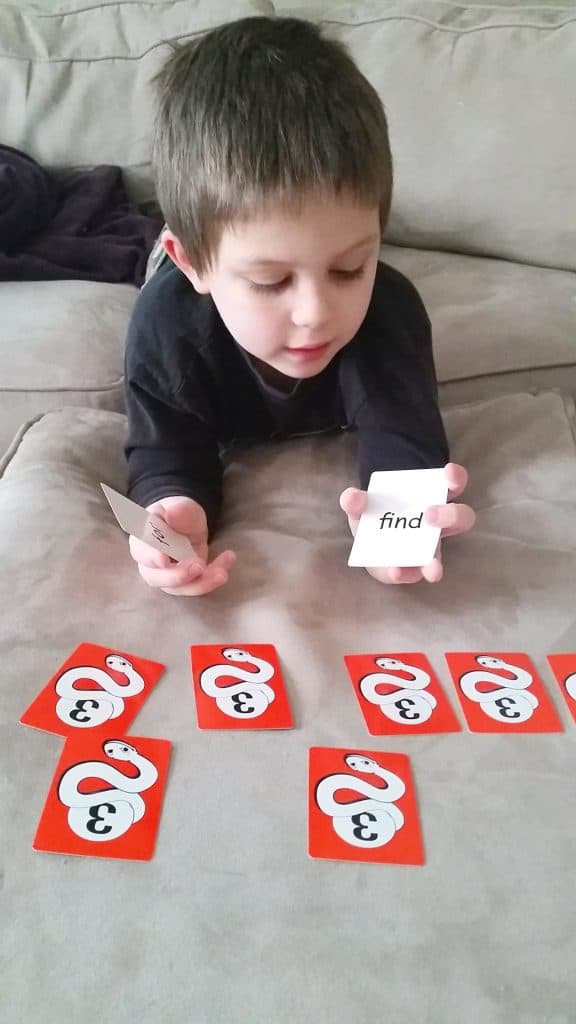 After he earned his Skunk book he moved on to the Snake cards and book.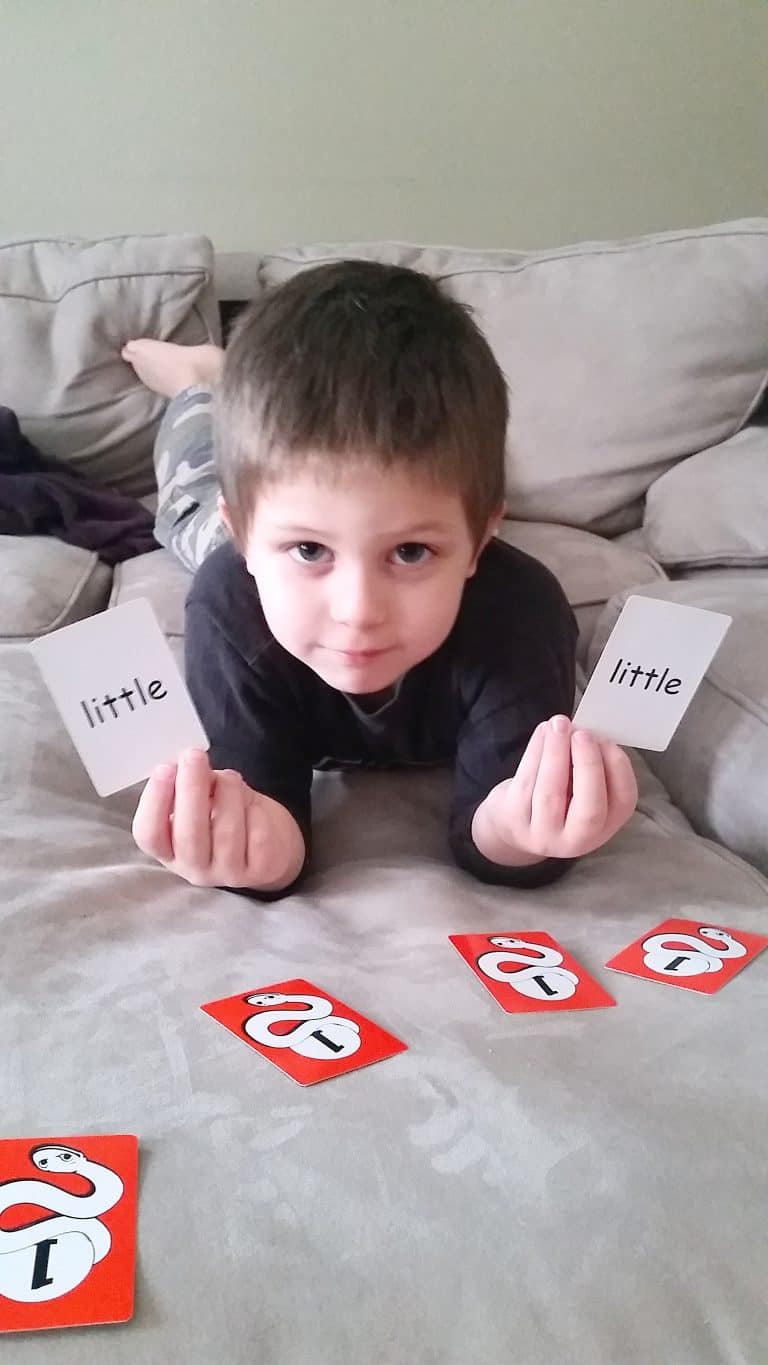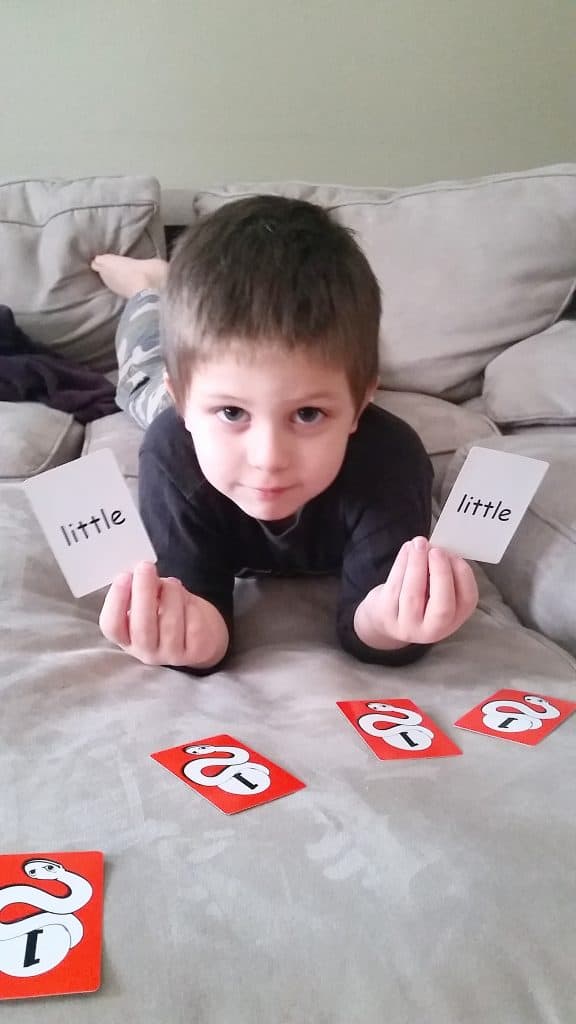 I freaking LOVE this reading game set. It makes learning to read fun with the memory card game and my son felt like he is earning a reward every time he gets a flashcard and ultimately a book. My daughter just begged for reading time so she could earn a new book.
We were currently half way through The Reading Game and my son often brought the game to me saying he wanted to work on his next animal. Each memory card game teaches only a few new words at a time. The stories are funny and clever and of course everything meets Common Core Standards.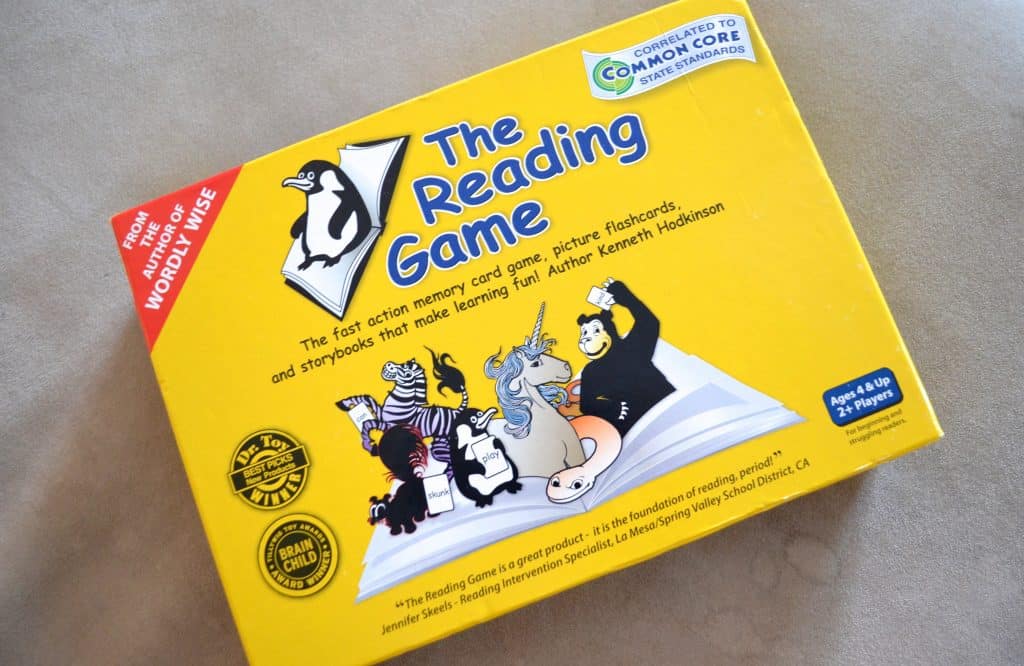 Overall – this is hands down the BEST, easiest, and most encouraging reading system I've encountered. I HIGHLY recommend it! It's great for beginning readers like my son was as well as for struggling readers up through the 4th grade.
You can find out even more details on The Reading Game's website and can even purchase it here on Amazon. You can also get the game with Scholastic Book Club Bonus Points, if you do the Scholastic Reading Club.  It is only 1190 points. (Item # 045696).
More Reading Fun: