Froggy Feeding Fun Review from Learning Resources
This post may contain affiliate links, view our disclosure policy for details.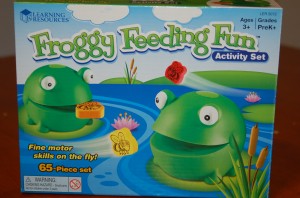 How cute are those big round frogs? Our family is oddly enough huge frog & toad lovers so when I spotted this Froggy Feeding Fun game from Learning Resources I knew my boys would love it! My husband and I got to try it out at the Toy Fair last February and I immediately recognized that this would be a fantastic game to help encourage strong fine motor skills!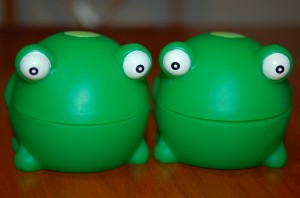 Meet the frogs! I think they are the cutest things! The basis of the game is to roll the dice which determines which flies to eat! There is a color dice and a number dice included…..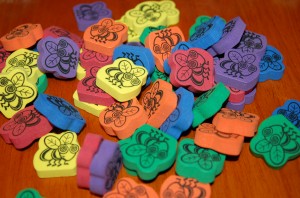 …..along with a whole 'lotta flies! GULP! The flies are made of a sturdy foam.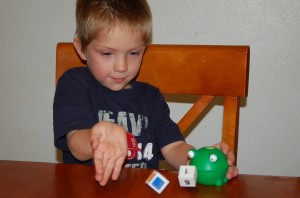 Not only does Froggy Feeding Fun help with your fine motor skills but it also helps with number and color recognition and matching! Once the dice are rolled the child has to read the number and colors off to decide how many and which flies to eat.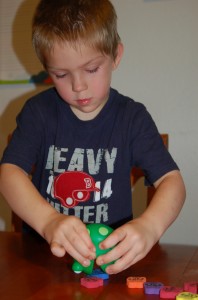 We loved this game. But I have to be honest, my 5 year old has a fine motor skills delay and had an incredibly difficult time using the frogs! With one hand you are supposed to squeeze the frog at the corners of his mouth so that it will open and then use the frog to pick up the flies.
My son was so frustrated that he cried during the first game, so as you can see above we let him use two hands to squeeze the frog. Although that makes it sound bad it's actually a GOOD thing. We can use this game to work on his fine motor skills.
Not only will continued use of this game help him with his development but I think it will strengthen his hands for writing skills too. He's a lousy writer and I think it's partly because he just gets too tired to write.
Overall I recommend Froggy Feeding Fun! It's a great game!! If your child has a fine motor issue be forewarned that this game will be work for them! 🙂

Disclosure:  I was not compensated for this review. I received the above product in order to use and form my own opinions. All opinions are 100% my own.