Learning Resources Pretend & Play Calculator Cash Register – Limited Edition Review
This post may contain affiliate links, view our disclosure policy for details.
Disclosure: I received the below product in order to facilitate this review. All opinions are my own.
One of those amazing and captivating ways to get kids working on their math skills is by investing in a good cash register for them to use! I am a HUGE fan of educational "toys" and consider them a necessity in our household. Whether kids are 3 years old or 10 years old I have found that kids just LOVE cash registers!
The more buttons, features, and beeping noises the better! My kids have been playing with the new Learning Resources Pretend & Play Calculator Cash Register (Limited Edition 30 year anniversary!) and it has been a hit in our house since we opened the box!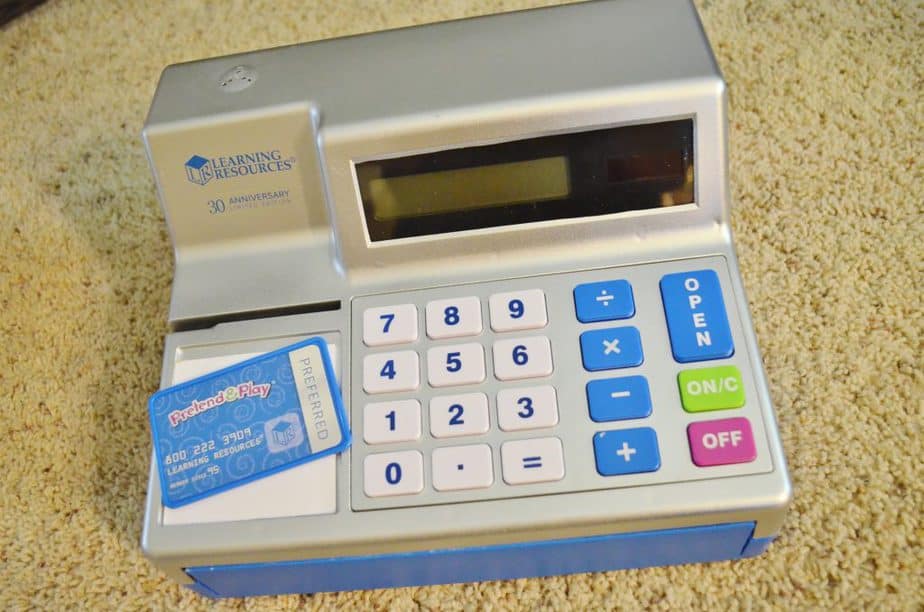 I love that it not only has addition and subtraction buttons but also multiplication and division buttons so that both my kindergarten kid and my 3rd grader can play with this based on their growing math levels! You can see that it more closely resembles a calculator than a true cash register which is great for teaching early calculator skills too!
The numbers show up on the little solar digital screen and even has a slot to swipe the Pretend & Play credit card in. And of course the buttons and the credit card swipe beep and make noise!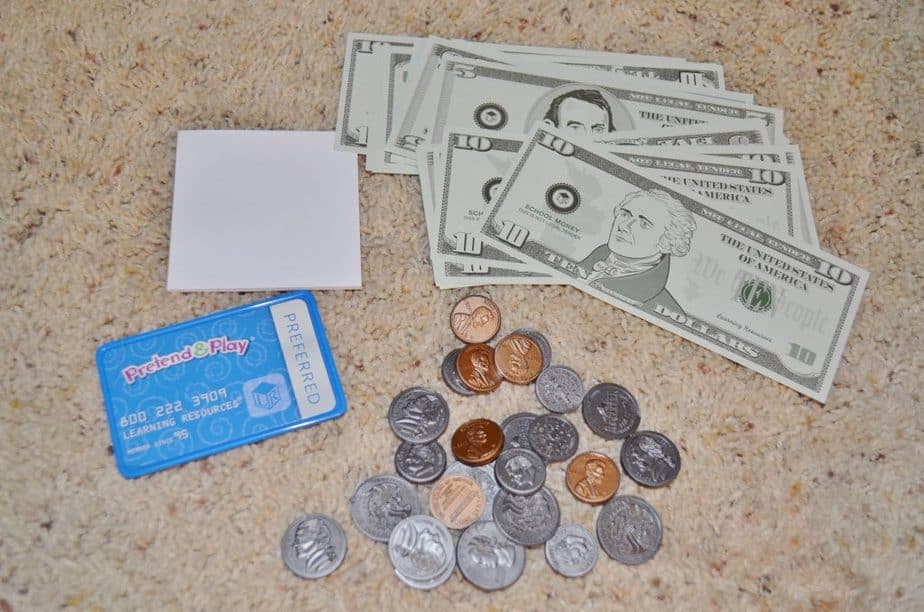 In addition to the pretend credit card it also comes with a small pad of paper (and a spot to put it on the register) as well as 40 plastic coins and 30 life-sized (pretend of course!) bills. Although since my kids are a little older (5 & 7) we'll probably swap the pretend coins out for real ones the included money is pretty realistic and easily recognizable for kids.
We've used some play money that doesn't even resemble real money but my kids can easily identify all of the bills and coins included.
One thing I will note, however, is that inside the cash register drawer there is a slot to hold each of the types of coins (quarters, dimes, nickels, pennies) but there are only 3 slots for the dollar bills because of the size. So although it comes with $20 bills, $10 bills, $5 bills and $1 bills there are only 3 slots so some of the bills will have to be combined.
Also as with all toys makes sure to keep the coins away from younger siblings that might try to put them in their mouths!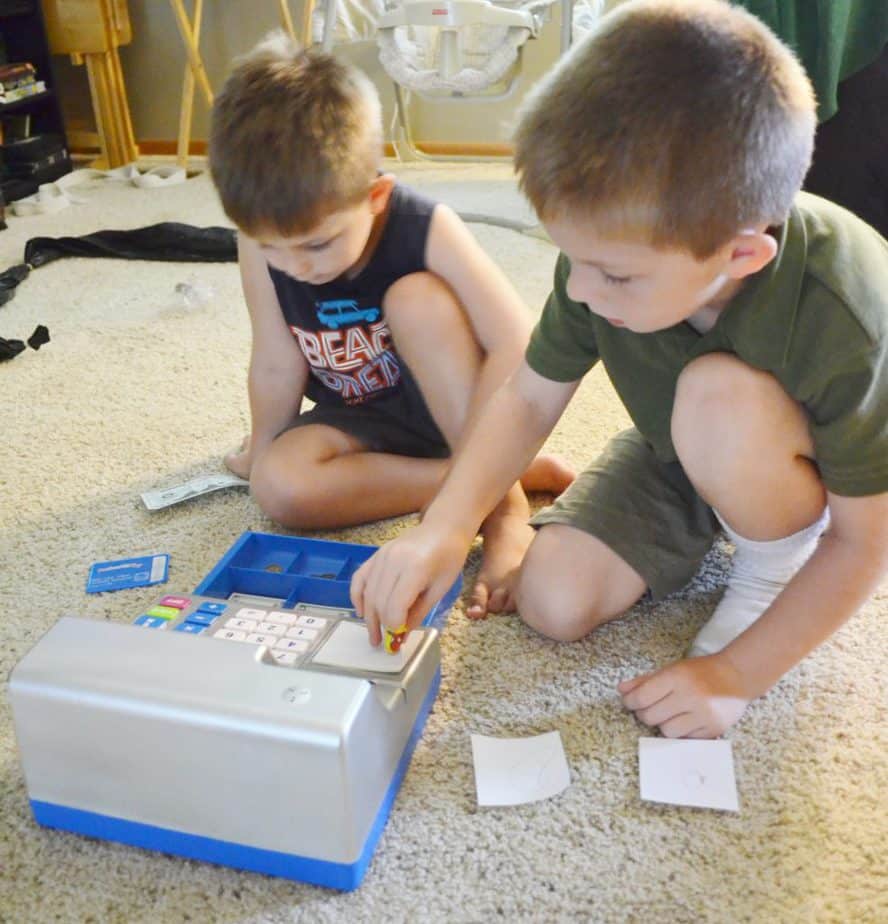 To be honest when I see my kids playing with a cash register I don't think "just for fun" I think "educational learning"! My oldest son helps my younger son learn how to count the money and use the calculator pad to "add up" what they are buying! I LOVE that this has a special little spot for a pad of paper too so that the kids can write down their purchases and enhance their creative play.
Although this product comes with an activity guide book there are SO many creative ways that you can use this! For us it will be stored with our play kitchen so the kids can use it to "buy groceries". But I have a LOT of other ideas of how to incorporate Pretend & Play Cash Register into working on their math skills! Here are a few ideas that I'm throwing around in addition to just regular play time:
Use the cash register to:
Earn & buy snacks from our fridge

Earn & buy rewards from mom & dad for doing extra chores

Extending math homework into fun play

Go "shopping" for siblings for the holidays with some help from mom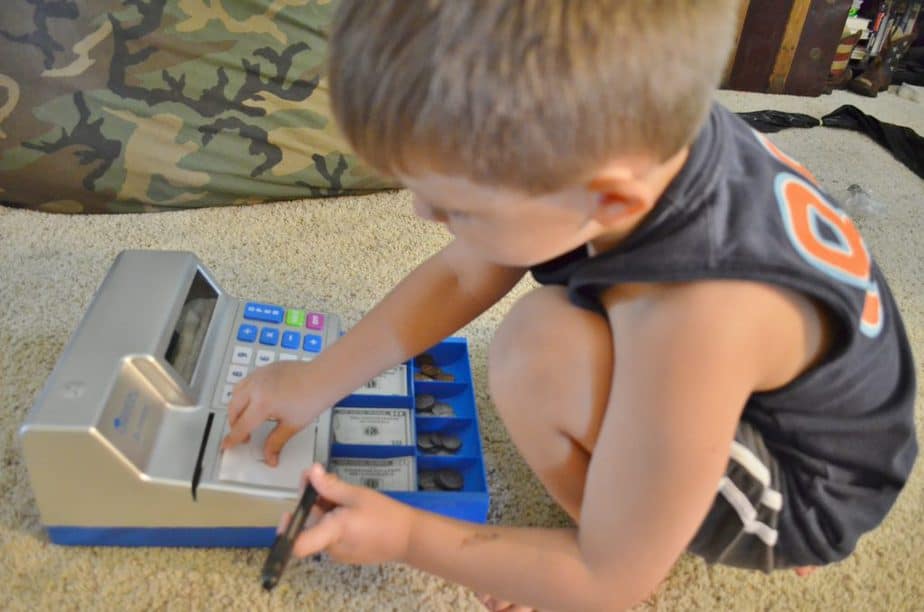 My youngest son is in kindergarten and he is just soaking up school like a sponge right now. He is SO insanely interested in learning everything from reading to math and this has been the perfect toy to encourage math learning even further!
Now that he knows how to write his numbers his creative "pretend" play can easily be guided into real life math skills that he will still view as playing but that I can guide as real practice!
The cash register is made of plastic but seems to be pretty sturdy and works well. It's a nice larger size which I appreciate – I don't like those tiny little registers that are hard to use! I want something more realistic for the kids to experience!
The drawer pops out easily when you press the open button and there is plenty of room to store all of the included pieces. I also love that there are no batteries involved so I don't have to constantly replace anything! This can really be used for any ages 3+, not just for younger kids.