ThinkFun ShapeOMetry Game Review
This post may contain affiliate links, view our disclosure policy for details.
I love how many varieties of games and strategy puzzles ThinkFun
offers and I couldn't pass up the opportunity to try out their ShapeOMetry game
! It initially caught my eye because of the Tetris type shapes and I am a Tetris nut! But let me tell you that ShapeOMetry is even trickier than Tetris!!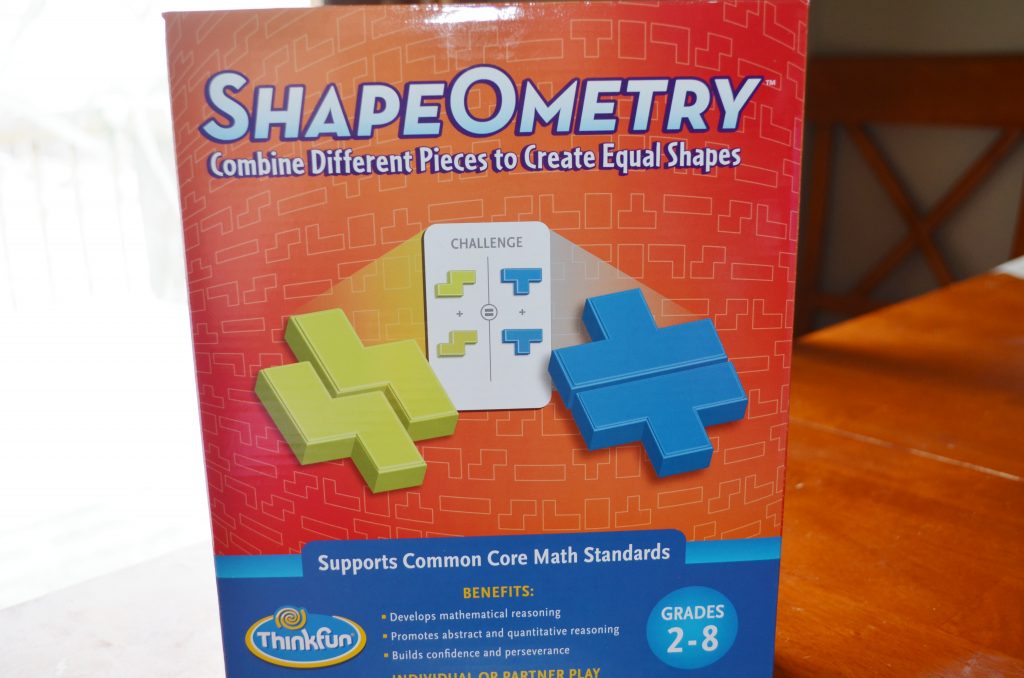 It's geared for grades 2-8 but it is an awesome challenge for adults as well. It supports common core math standards and would make the perfect math center for your classroom!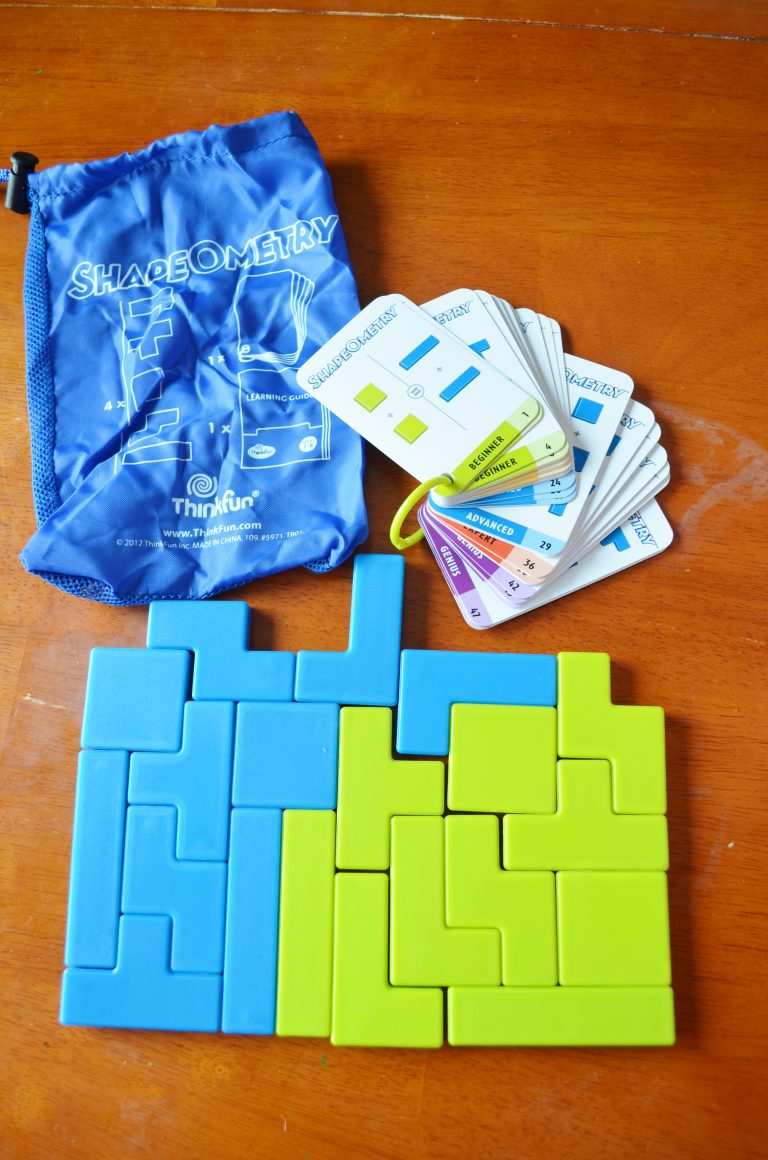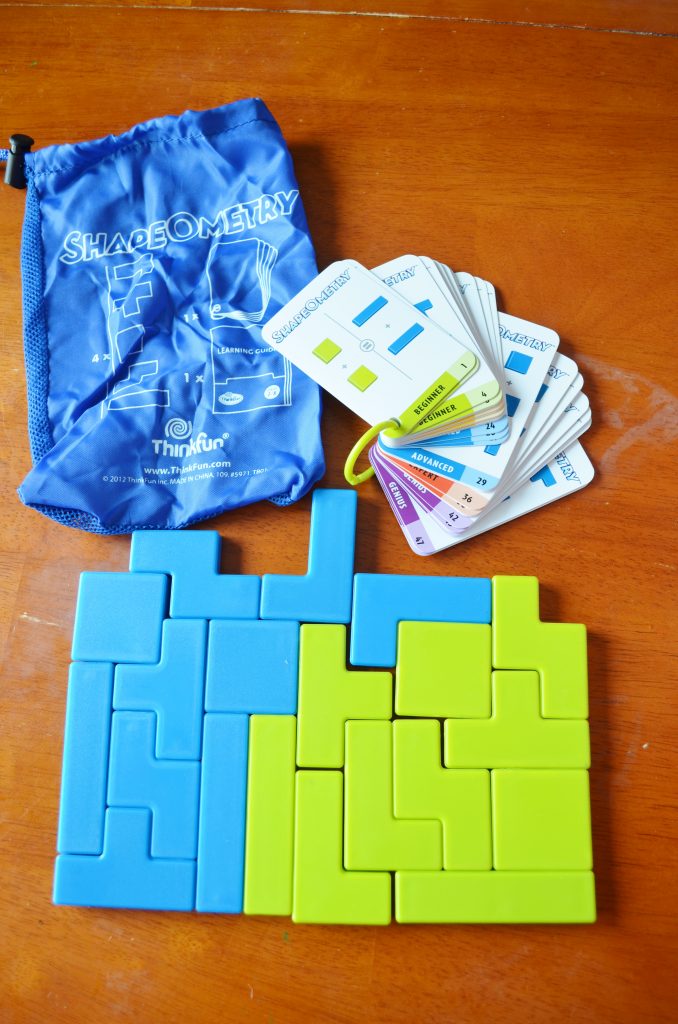 It includes the shape pieces, laminated cards on a ring, and a storage bag. Did I ever tell you how much I LOVE games that can be stored in a small storage bag?! Well I do!! Not only does it help conserve space in my ridiculously large game area in my house but it definitely helps to conserve space when you're storing it in an all-ready packed classroom!!
So how do you play? Start with the easiest card in the deck (trust me!), find the colors/shapes that are shown on the card, and then you have to manipulate the shapes in their group to match the shapes manipulated in the other group. See my simple example below:

The two green squares and the two blue rectangles were combined to each show the exact shape. This can be a very difficult spatial concept to understand for some kids so starting on the simple cards is perfect for them!

Here's a more complicated one! I won't lie – these were touch even for me as I tend to lose patience with figuring puzzles out! BUT it's great for not only spatial skills but deductive reasoning as well.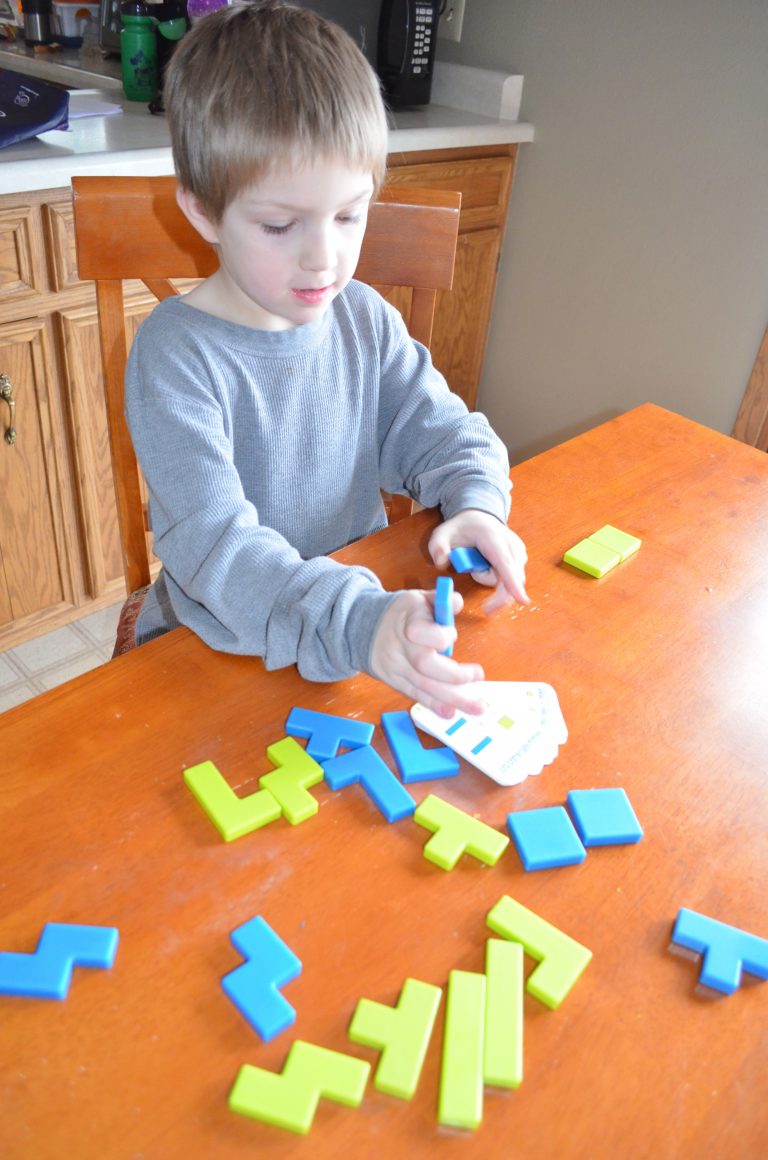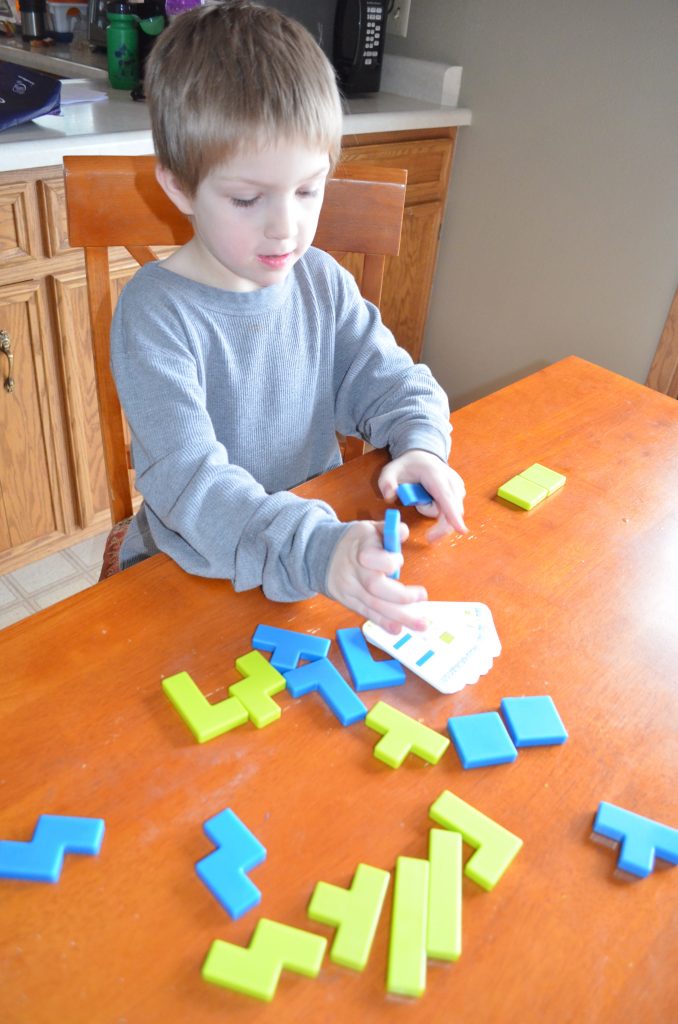 Although this is geared for second grade and higher I was curious to see if my 5 year old would be able to try it at all since we had the game in the house, and honestly he saw me playing it and begged to have a try! So I set him up with the simplest card and explained how to "play". At first he couldn't seem to get the concept of visualizing the shape outline but then he figured it out and did quite well on the next one.  As you can see this is predominately a single player activity (although I suppose you could set up small teams of 2 if you needed in a classroom) so this makes a great center activity or "busywork" bag activity. If your students are done with their work early this is the perfect (and quiet!) game for them to try their hand at!
You can find ShapeOMetry for just under $20 on ThinkFun as well as on Amazon!
Disclosure: I received the above game to use in order to form my own opinion. All opinions are my own.