Math Apps & Programs for Kids – Learning Resources at Home
This post may contain affiliate links, view our disclosure policy for details.
With the frantic last few weeks of both parents and teachers scrambling to switch to e-learning, these paid and free math apps and math programs for kids are a great resource for you to help smooth the process over!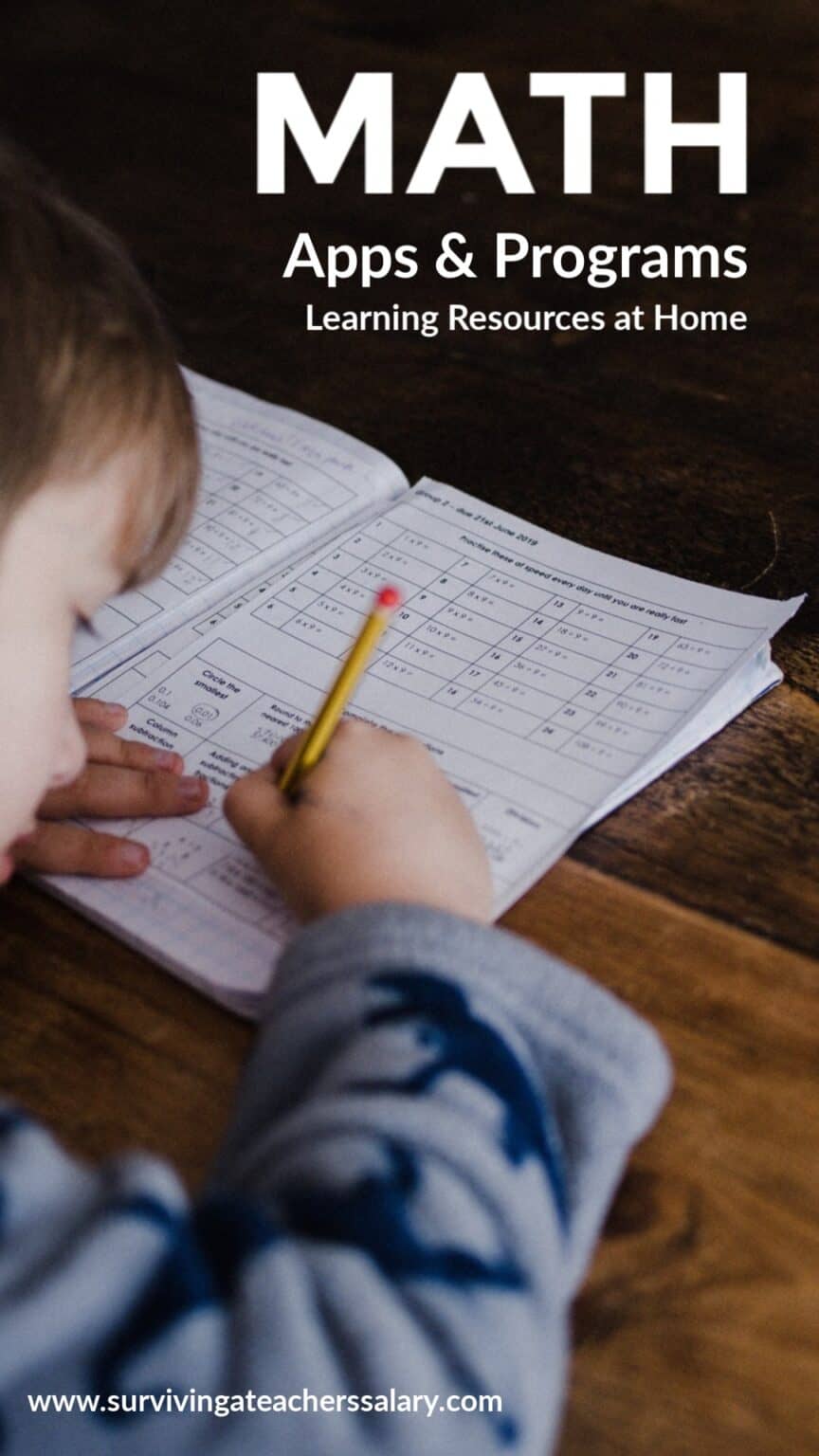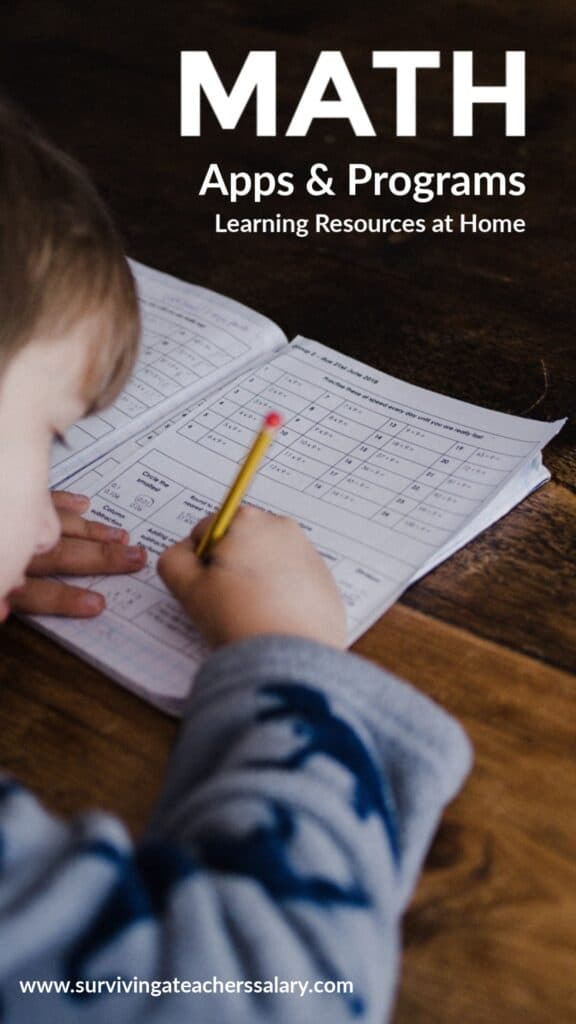 Prodigy:
Prodigy Math is a curriculum aligned math game for grades 1-8 that is very popular and comes highly recommended by many. Its adaptive which means it gets harder as the kids learn more.
Kids can push a button to have the question read to them if they can't read yet. They can also do a placement test or enter their level manually.
Download the app free on Google Play or in the Apple Store. The website is free to use although they offer premium paid options.
DragonBox Math Apps:
DragonBox is another highly recommend math program that many love. Games that teach algebra
DragonBox Algebra ages 5+ (paid app) – Apple Store (addition, division, multiplication, linear equations)
DragonBox Algebra ages 12+ (paid app) – Apple Store, Google Play (parenthesis, addition of fractions, positive/negative, like terms, factorization, substitution)
DragonBox Elements ages 8+ (paid app) – Apple Store, Google Play
Elephant Learning:
The nice thing about Elephant Learning is that no reading is required (perfect for younger kids!) and it's an adaptive program. It's a paid program that automates math for ages 2-16. They have some pretty impressive guarantees that will make you think twice about picking any other program for math.
Adaptive learning through gamification, Elephant Learning charges per family, not per student. It includes real time progress reports, merit based scholarships, apps and more!
ABCMouse:
ABCMouse.com is a popular program for kids ages 2-8 that offers a free 30 day trial and more than 9000 learning lessons. Monitor your child's progress with easy to read graphs. Kids can earn virtual tickets to purchase items in their classroom.
Xtra Math:
Xtra Math is a FREE program for parents, students AND teachers. They offer weekly e-mail progress reports about each child's math progress. The apps, however, are around $4.99 each.
Sumdog:
Because of digital schooling conditions Sumdog is currently free for schools! Geared for ages 5-14, this adaptive learning program even offers multi-player games to strengthen learning! It covers not just math but also spelling and grammar too!
There is a version free at all times for families as well as a paid version.
ixl.com:
ixl.com is another popular school program that has a comprehensive curriculum covering more than 8000 skills in 5 subject areas. It offers real-time progress and insights for K-12. Ready made learning plans are easily accesible to parents for all grade levels and even includes printable resources.
Download their free apps in the Apple Store and Google Play Store.
Time 4 Learning:
Time 4 Learning is another paid program that covers preschool-12th grade in math, language arts, science, social studies and more. It's a self-paced learning system that allows students to become self sufficient in their learning. Geared towards homeschoolers, it's a resource touted as good for flexible learning.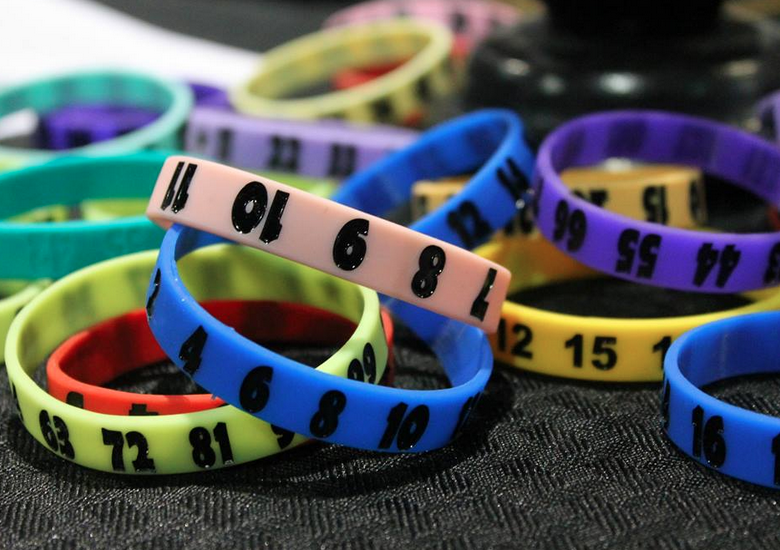 Beast Academy:
Beast Academy is a complete math curriculum for ages 8-13 that promotes strong problem solving skills through puzzles and games. It does rely heavy on word problems so requires children that have strong reading capabilities.
They also offer cool highly illustrated math practice books as well.
Math Seeds:
Math Seeds is a program run by Reading Eggs for kids ages 3-9. It focuses on core math skills and problem solving skills in a structured but interactive lesson reward style. Right now they are offering a 30 days free trial.
Dreambox:
Right now Dreambox is offering a free 90 day trial for parents. All lessons for grades K-8 are available in English and Spanish. The program progressively gets harder and offers over 2000 lessons to help build conceptual understanding, increase procedural fluency and increase student achievement.
Khan Academy Kids:
Khan Academy Kids is free to use and ad free for kids ages 2-7. It focuses on core subjects from math, language, reading, writing and early literacy. It uses whimsical characters to help guide kids through interactive engaging programs.
Offers an adaptive learning path and encourages independent learning for kids ages 2-5. Download the Khan Academy for Kids app on the Google Play Store and Apple Store.
SplashLearn:
SplashLearn for grades K-5 uses interactive games and rewards to movitate kids in practicing addition, subtraction, mixed operations, geometry and money. It's a free program that also offers free math apps for each grade level.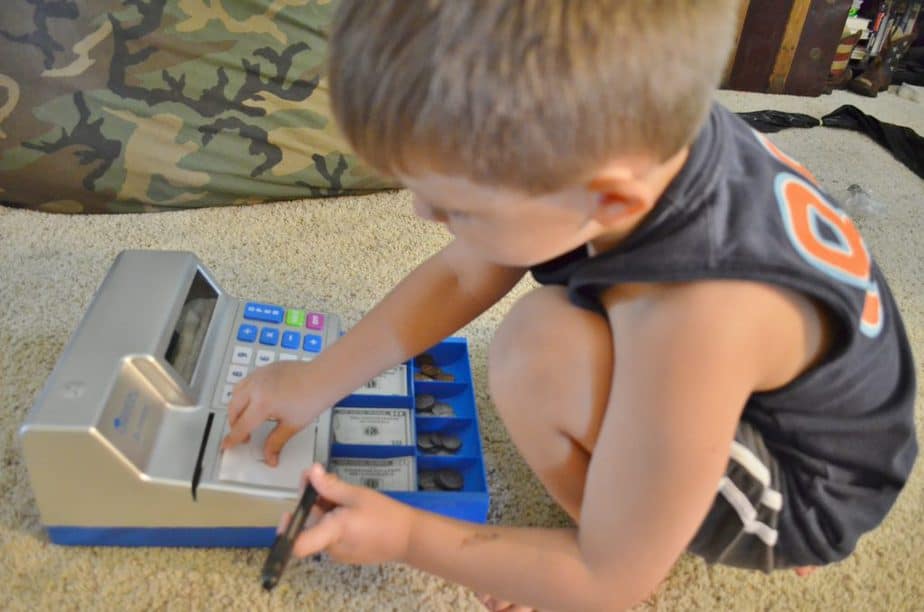 More Math Apps for At Home Learning:
Big Seed App: – This free app develops visual-spatial skills as you flip shapes to cover the presented puzzle.
Sushi Monster App – This free math app by Houghton Mifflin Harcourt has 12 sequenced levels working on addition, multiplication and other math concepts that feeds the monster.
Geoboard by the Math Learning Center – Another free math app, Geoboard is geared for both elementary and middle school students. It is a digital geoboard that allows students to manipulatie open ended projects and shapes as well as fractions.
Greater Gator – Greater Gator is a paid app ($.99) that helps students learn about comparing numbers. It's a fun chomping game geared towards younger math learners.
Mystery Math Museum – This highly rated paid app offers flexible math practice with strategy. Kids need to use math and strategy to rescue missing dragonflies lost in 8 themed museums. Museums themed in sports, wild west, vehicles, aerospace, music, art, dinosaurs and ancient history.
It allows you to customize as many user accounts as you want and practice addition, subtraction, multiplication, divisions, and varied number representations like dice and tallies.
Daily Set Puzzle – Every day play a new puzzle and see how you score around the globe!
Math Games:
Free Math Resources: