Root Vue Farm by HSP Nature Toys Review
This post may contain affiliate links, view our disclosure policy for details.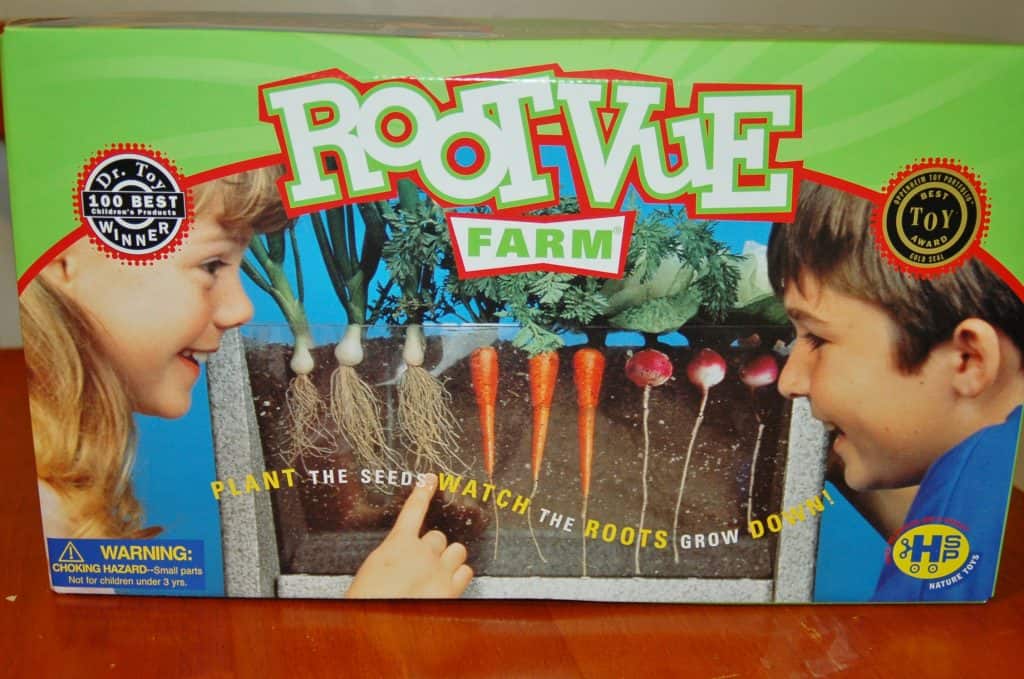 What better to enjoy the spring & summer months than by planting veggies with your kids! We met HSP Nature Toys at Toy Fair in NYC and had the opportunity to check out their Root Vue Farm which they sent us to try out for our "Spring Fling & Summer Fun" event! I'll have to update you as our plants get bigger but let me tell you a little bit about it first!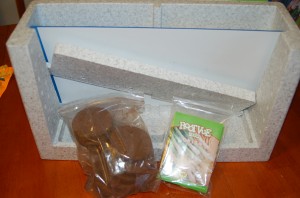 The Root Vue Farm comes with everything that you need to grow your veggies – except the water of course! It comes with the container, the see-thru panel and cover, dirt wafers, veggie seeds (carrots, onions & radish), ID labels, and water wicks for a pretty cool self-watering system! The container to plant the veggies in is designed with a special built in basin and drainage reservoir which I thought was really neat. I loved that they even provided the dirt to go in the kit. I was figured I would have to go out and purchase dirt and was thrilled when I realized this kit really was a complete set. Nothing else (other than water) is needed.
The prep before planting was very simple and only took a few minutes to do. Above you can see how it looks just before you add the dirt. Three self-watering wicks are thread through the bottom shelf and set in place. Underneath that shelf is where you will pour the water. The wicks will then carry the water up into the dirt.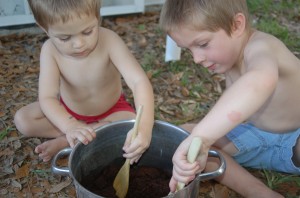 We let the boys prep the dirt. We placed all 7 dirt "wafers" into a big pot and poured in about 7 cups of warm water. Once they had expanded we let the boys mix mix mix!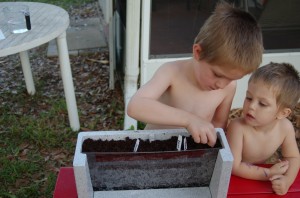 I then carefully spooned the dirt in making sure that the wicks were sticking straight up. I poked little holes into the dirt and let the boys plant all of the seed!
Once the seeds were in we covered the see-through window up and poured water in the bottom basin to get it started! Now came the waiting game! 🙂 I was so surprised but within 2 days our radishes weren't just sprouting – they were popping up like crazy!! A day or two later our carrots followed! I will keep you guys updated with photos as our veggies grow & we see the roots but for right now my plants are just coming to life! Stay tuned for more photos as the veggies get bigger & the roots show through!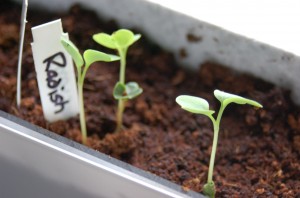 Check out HSP Nature Toys – not only do they have this great Root Vue Farm but they also have a Worm Vue Farm, replacement pieces as well as other great nature-related articles! 
Disclosure: Disclosure: I was not compensated for this review. I received the above product in order to use and form my own opinions. All opinions are 100% my own.