Tips for Change to Keep your Activia Challenge on Track
This post may contain affiliate links, view our disclosure policy for details.
Disclosure: This campaign brought to you by Dannon Activia. All opinions and experiences are my own. 
 A few weeks ago I shared with you that our family as a team had decided to take the Activia Challenge which means what we eat Activia twice a day for four weeks! (Learn more about the Activia Challenge here and their "It works or it's FREE guarantee!" purchase must be complete by 11/30/2014 up to $65.) You can totally pair up with a co-worked or other friend to  and join the challenge together! The great thing about that is that my family loves yogurt AND that there are SO many flavors to choose from! And not just flavors but varieties too! I always like to buy a wide variety of flavors to keep on stock at our house since there are four of us taking the challenge, all with very different preferences! But I know how it goes – you can have every intention of sticking to a healthy routine and stock up on the same few items but after a week or so you quickly are looking for some variety and change which is what I want to address! Keep reading for some tips below on throwing some change into your routine to stay on the healthy track!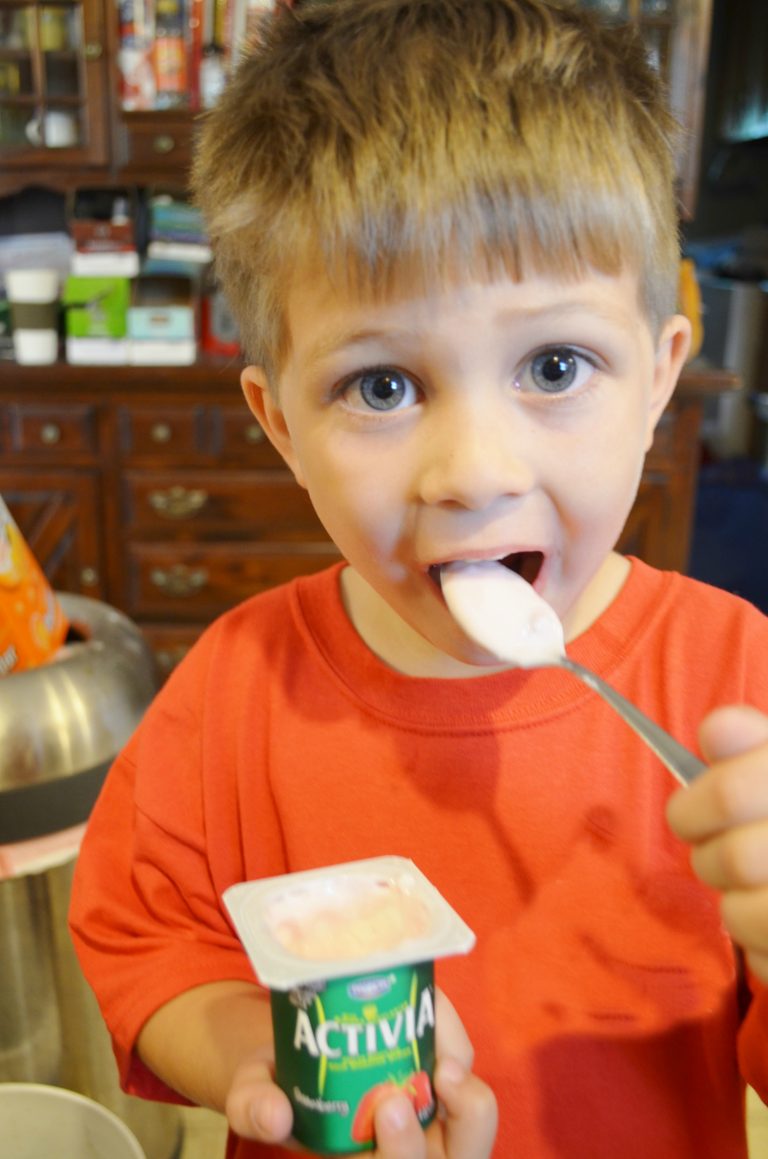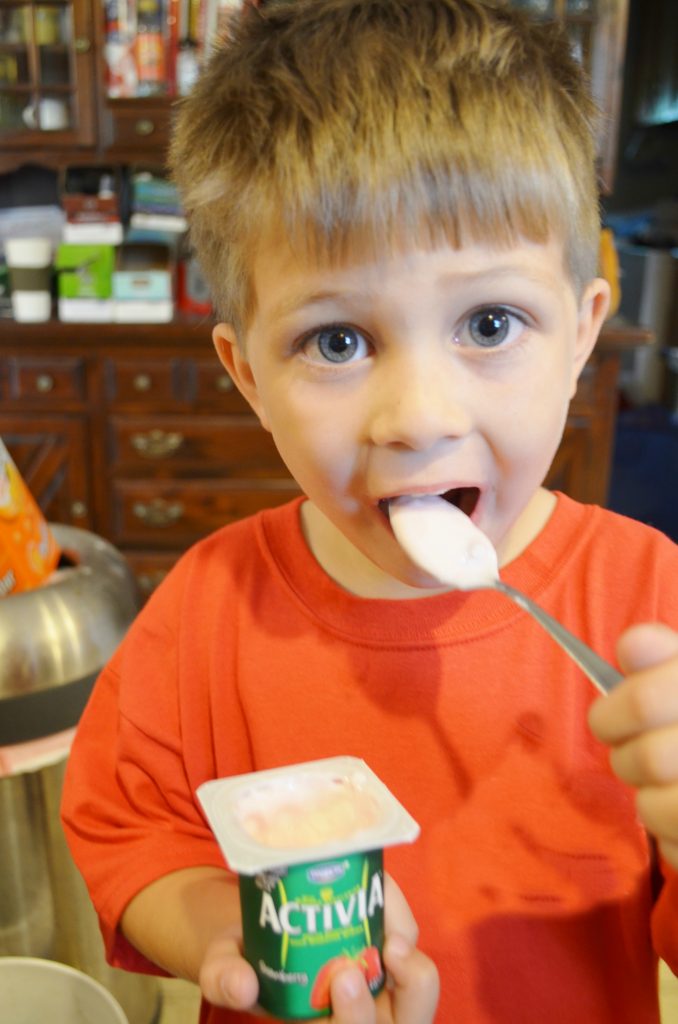 Check out some of these varieties and styles of Dannon Activia depending on what you like:
Some of the Varieties & Flavors Available:
Activia Yogurt
(Cherry, Prune, Strawberry banana, Peach, Mixed Berry, Blueberry, Strawberry, Vanilla)
Activia Greek
(Vanilla, Garden Blueberry, Strawberry Patch, Orchard Peach, Tropical Fruit, Raspberry, Black Cherry)
Activia Greek Light
(Strawberry, Blueberry, Cherry, Peach, Vanilla – 80 calories, 0% fat!)
Activia Smoothies
Activia Light Yogurt
Activia Fiber Yogurt
Having a hard time staying consistent with your Activia Challenge? Here are a few tips we've come up with this past week to help us stay on track!
TIP – Change it up a bit – sprinkle some granola on the top of your yogurt for an extra crunch!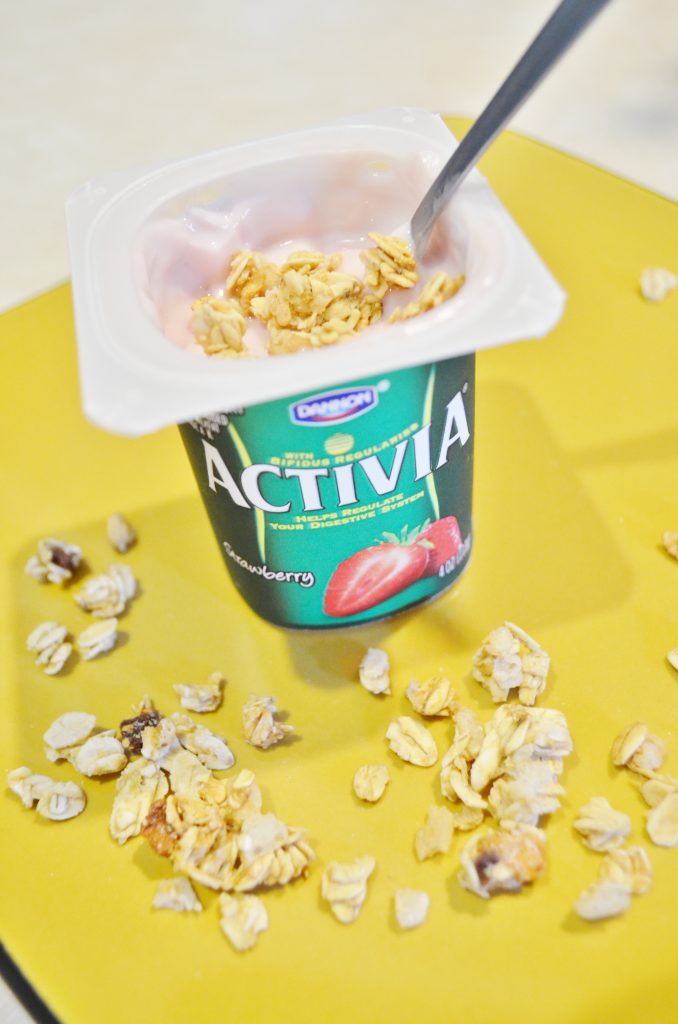 TIP – Add an additional spoonful of blueberries, other fruit, or nuts to your yogurt!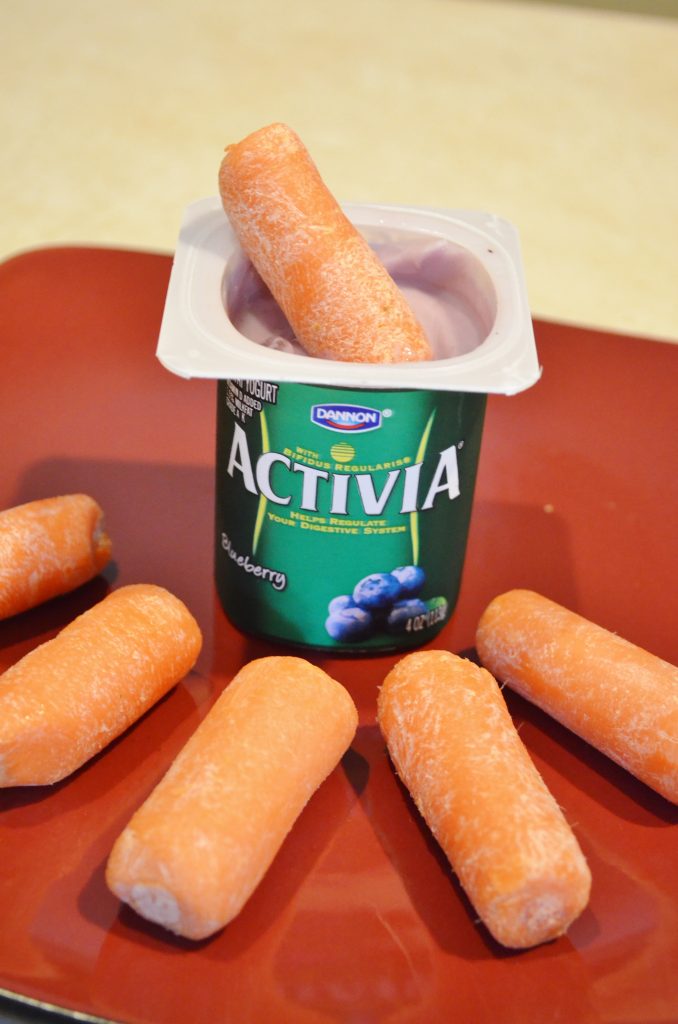 TIP – Get Creative! Dip carrots or celery sticks into your yogurt! Or try spreading some yogurt onto whole wheat crackers for a different style!
TIP –  Add your Activia yogurt into a homemade smoothie for a special treat! 
TRY SOMETHING NEW this week!! We are ALMOST half way through our Activia Challenge so to change things up a bit I decided to try some new flavors and styles for our family during my grocery shopping this week! My kids LOVE these smoothies so they've been the perfect healthier snack to send in their lunchboxes each day for school. Because I have gestational diabetes with my current pregnancy I have been eating very healthy but finding those "QUICK" go-to snacks and meals to prep for my family has been difficult because I'm not always feeling good enough to spend a lot of time making food! These Dannon Activia yogurts have REALLY come in handy to offer to my family for a quick snack! And not only that but it has helped my husband jumpstart a healthier eating habit as well as he is trying to join me in eating healthier! He has committed to eating them every day for his lunch during the challenge!
Activia's Brand Ambassador is Laila Ali and she really has offered some great tips for living a healthy lifestyle. Here are a few of her tips:
Start the Day off Right!
Work Out – fit it in when you can!
Pack in the Protein!  (Activia Greek Light is great!)
Laugh!
Make Wise Food Choices! 
To learn more about the Activia Challenge visit here!
Follow Activia this month on Facebook and Twitter!
GIVEAWAY
WHOO! We have yet another great Activia giveaway for you! One lucky winner will receive TEN FREE product coupons for Activia yogurt! To enter the giveaway, readers are required to follow @Activia on Twitter and/or tweets within the giveaway time period (9/19/14-10/3/14). Readers will be allowed to enter the giveaway twice, but can only enter via one blog site.
Giveaway Terms:
August 25, 2014 – September 28, 2014. Administrator: Mom It Forward; Sponsor: Legend PR. The Dannon Company, Inc. is included in rights granted hereunder. No purchase necessary to enter. No more than one entry per person via each of the methods listed in the Giveaway details. The odds of winning a Giveaway depend on the number of eligible entries. Winners will be selected randomly by Mom It Forward using http://random.org as a selection tool. All decisions of Mom It Forward are final. Employees of Mom It Forward and the Giveaway sponsor are not eligible to participate. All entries received after the Giveaway closing date and time will not be considered. Entries that do not follow all of the entry requirements will not be considered. Winners will be notified via email and will have 24 hours to confirm receipt of the e- mail. If the winner does not reply within 24 hours, another winner will be selected. Open to participants in the US (excluding the following states: NJ, CA, TN, NV, ND and LA) and Canada who are 18 years and older. Void where prohibited. Taxes on Giveaways are solely the responsibility of the winner. Winner agrees to permit Mom It Forward and the Giveaway Sponsor to use her or his name, voice, photo, or likeness for reasonable promotional and marketing purposes for up to 90 days after the end of the Giveaway. Mom It Forward and Sponsor are not liable for late or misdirected entries, entry errors, or transmission problems. Mom It Forward reserves the right to terminate the Giveaway in the event of technical problems, or to correct typographical or technical errors, or to amend these rules. All participants should review the Mom It Forward disclosure and privacy policies. By entering, participants agree to release and hold harmless Mom It Forward, Sponsor, The Dannon Company, Inc., and their respective parents, subsidiaries, affiliates, directors, officers, employees, and agents from any and all liability or any injuries, loss, or damage of any kind arising from or in connection with a Giveaway. Mom It Forward will provide the name of the winner for any Giveaway, upon request via email to Mom It Forward, for 90 days after that Giveaway's entry period ends. Unless otherwise provided by the Sponsor, no substitution, transfer, or assignment of prizes is permitted. Non-winning entries from one Giveaway are not carried forward to future Giveaways.
Disclosure: This campaign brought to you by Dannon Activia. All opinions and experiences are my own.