LeapFrog Imagicard & LeapPad Platinum Tablet Review
This post may contain affiliate links, view our disclosure policy for details.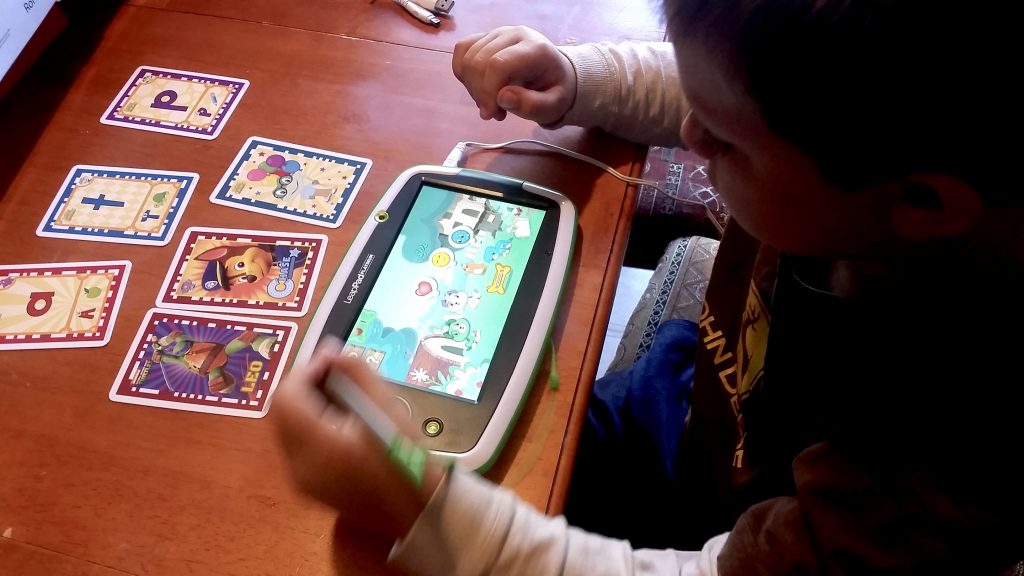 Recently I accepted a (FUN!) opportunity to be a LeapFrog Ambassador which fits perfectly both into my family and my blog. Educational fun has always been a passion of mine and my children have learned SO much just by using the LeapFrog products. In fact my son taught himself how to read using the LeapFrog TAG pen when he was little. As an ambassador I have the opportunity to check out some of LeapFrog's products throughout the year and review them to share with you guys. We've been using their LeapFrog LeapPad Platinum Tablet with Imagicard sets which are a LOT more interactive than I expected!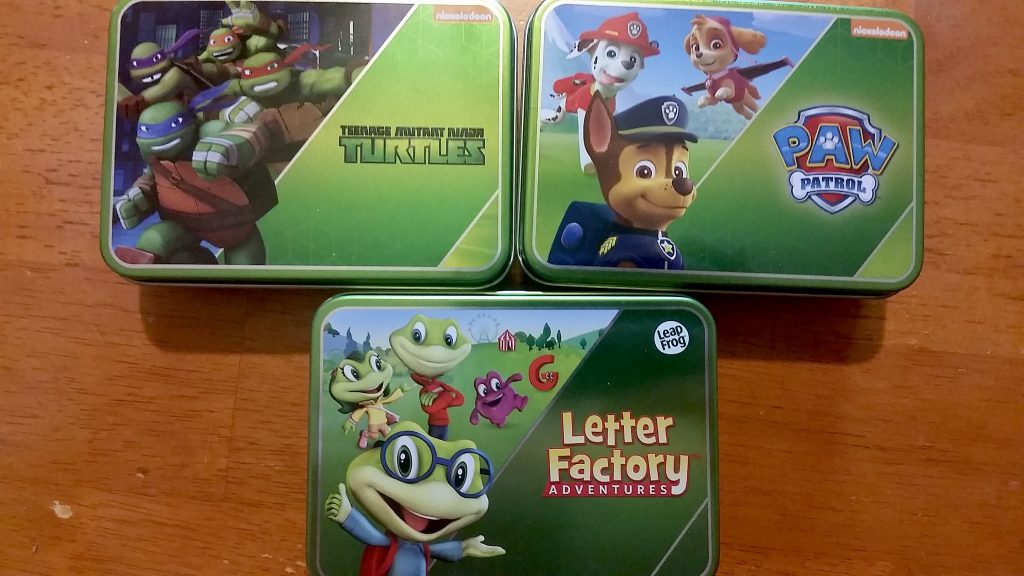 Let me introduce you to the LeapFrog Imagicard! They are essentially an augmented reality educational "game" for kids. Each set purchased comes in a small tin storage container and contains what looks like flashcards inside. However these are no ordinary flashcards!
Note – MOST Imagicard sets are compatible with LeapPad 2, LeapPad 3, LeapPad Ultra, & LeapPad Platinum.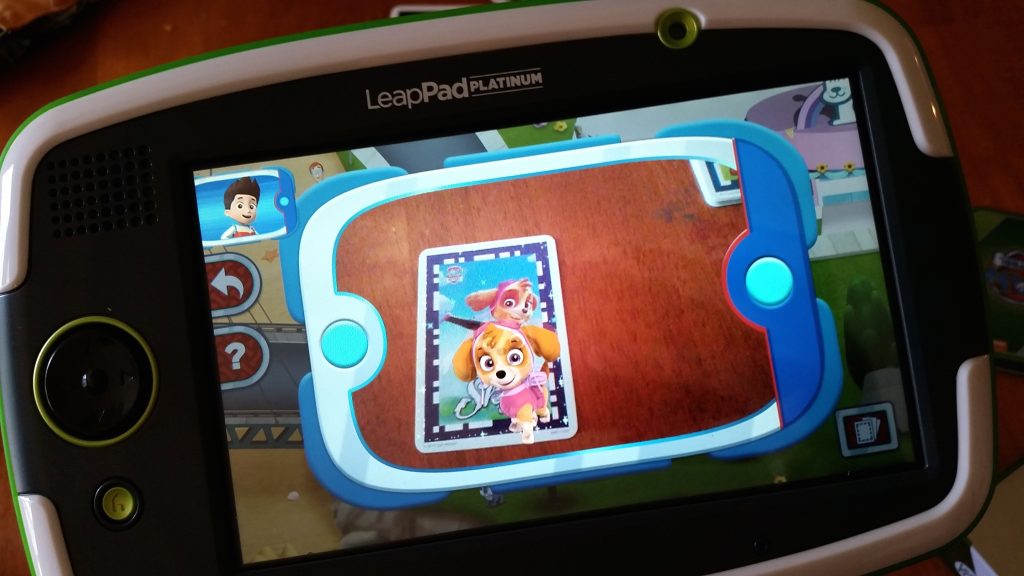 When you are in the game app on your LeapFrog tablet for a specific Imagicard set you can point your tablet at one of the flashcards and the character, number, or letter pops up on your tablet screen and "comes to life"! Each set has a different age level and subject area it's geared for and you can play in a story or game mode as well as simply play with the flashcards themselves. Above you can see the digital puppy "popping out" of the flashcard that I have my tablet pointed at on my table. For that particular photo we were playing a game where we had to search for very specific cards which made it a great hide & seek game!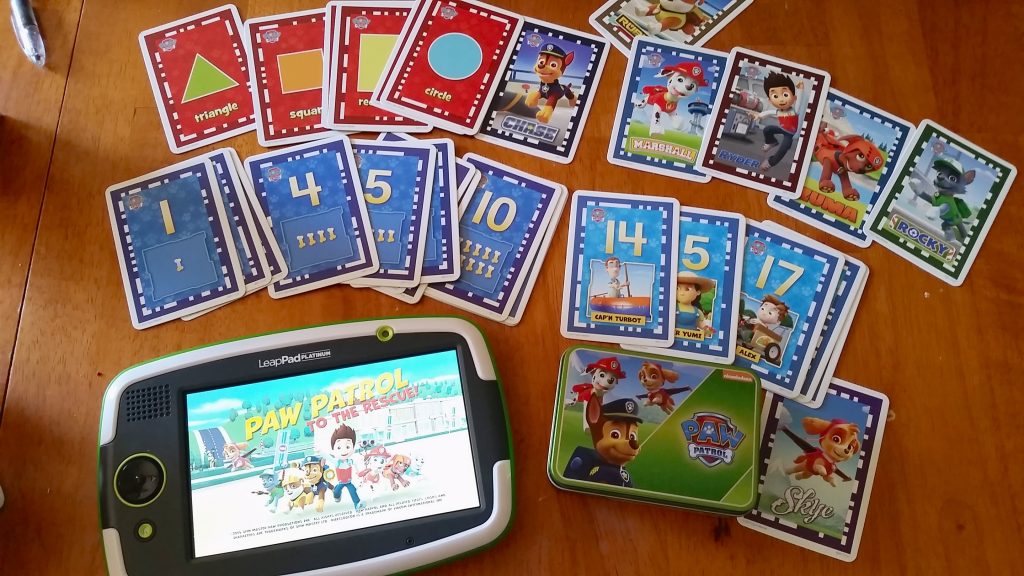 LeapFrog Imagicard PAW Patrol – Geared for ages 3-5 years old although my 6 year old is in LOVE with this one! This game is a learning game of math where kids have to complete different tasks in order to receive Good Citizen Badges. You can see that it includes shapes, numbers and character cards which all used at various points throughout the game.
LeapFrog Imagicard Letter Factory Adventures – Geared for ages 4-7. This is another favorite of my 6 year old who is quite familiar with Tad, Lily, and Leap. Letter Factory is as you might have guessed – a reading game! Perfect for my early reader to really capture his interest. He is not a student who really likes to work at reading so I love incorporating LeapFrog letter and reading games like this Imagicard set.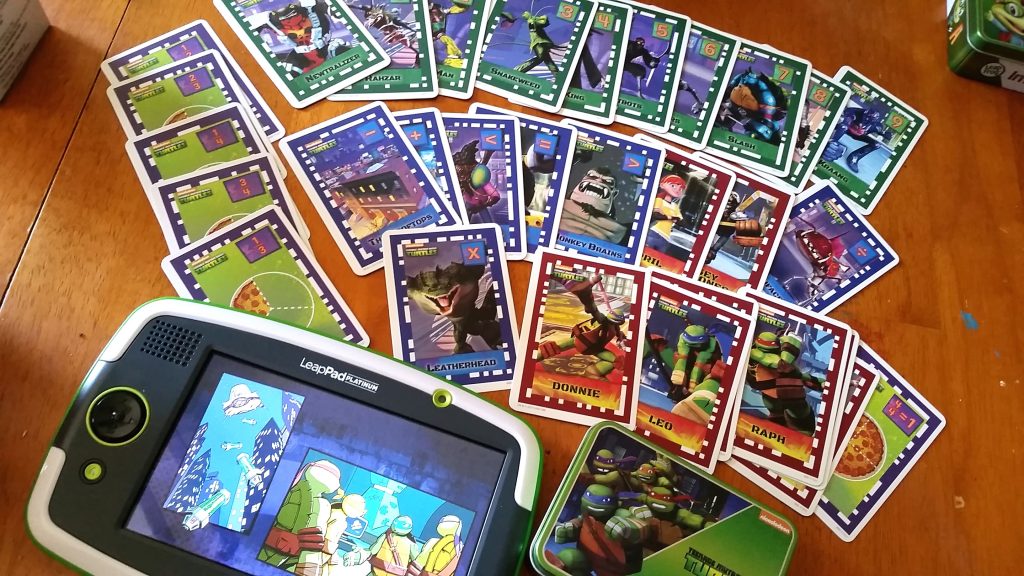 LeapFrog Imagicard Teenage Mutant Ninja Turtles- Geared to ages 5-8. This math game most resonates with my 8 year old because of the style of game play and because it's TMNT. Cards include characters, fractions, numbers and math symbols and the levels you have to complete are more your typical gaming / arcade style games.
In the past we've had the LeapPad and LeapPad 2 tablets. The Platinum is much more sleek looking and thinner making it feel like a real adult type tablet. It also has an attached tablet right in the middle which is perfect for my two boys who are lefties since the stylus easily reaches both sides of the tablet. I was able to transfer all of my old LeapFrog apps that we had purchased 6 years ago onto our new Platinum tablet which was awesome – talk about a money saver! And I was able to put a profile on for all 3 of my children. There is also a parent section where you can control the limits for your child's account.
I REALLY love the new Imagicard options. They aren't cheap (roughly $25/set) but they are SO much more extensive than just virtual "flashcards". They incorporate an entire leveled game system with each set that really gets your kids interacting both on their tablet and off.