Last Minute Stocking Stuffer Ideas for a Fashionable Him & Her
This post may contain affiliate links, view our disclosure policy for details.
 EEK! Do you have last minute shopping to do? I had some serious stocking stuffer shopping to do and I knew just what I wanted to focus on. Kids are easy to get stocking stuffers for so I wanted to focus on Look for Less His & Her Stocking Stuffer Ideas – stylish, practical, and on a budget.We are bracing for a pretty big snowstorm here in Iowa (about 8 inches of snow!) so I wanted to make sure I had my stockings stuffed before the storm hits. I'm really excited with what I found! Making a stocking is a great gift too for those people who are hard to shop for! And especially great for the in-laws.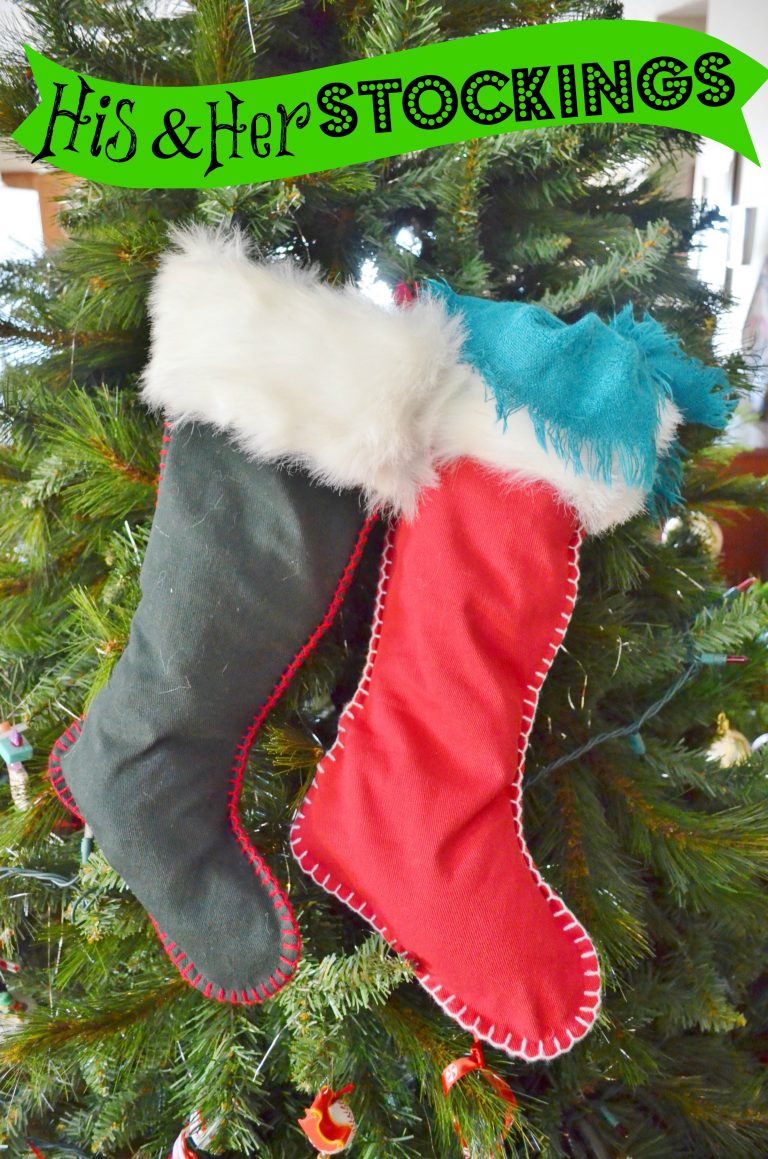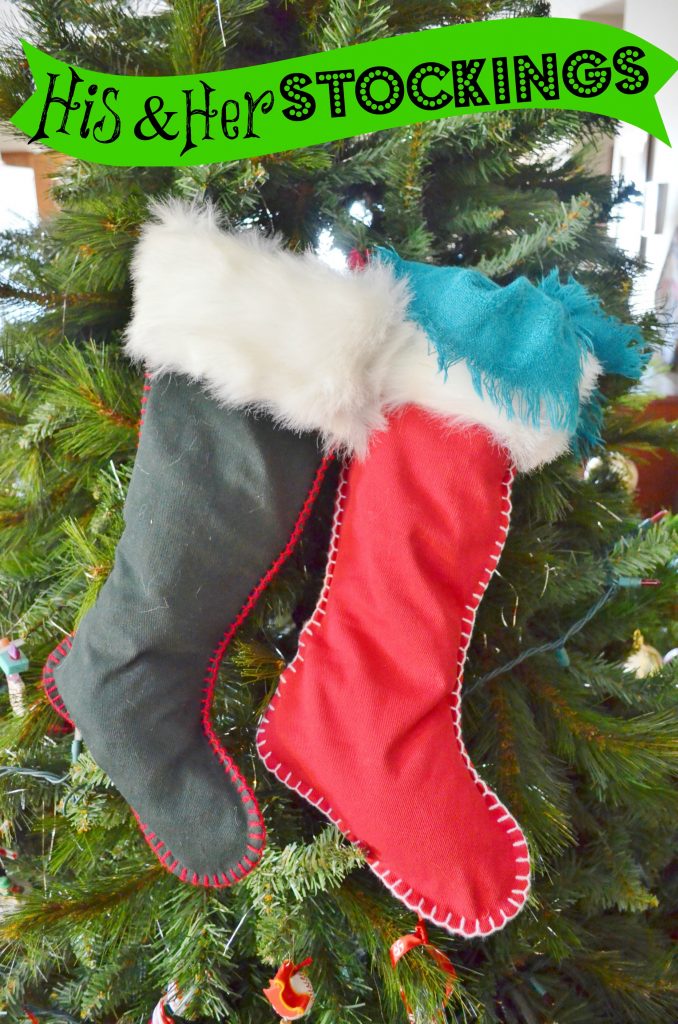 When I fill stockings I want to fill it with practical wear things that one might not normally splurge on just for themselves. That pretty scarf or jewelry, the stylish winter hat……I hurried out to my local store to see what they had to offer! I knew there would be special displays and end caps to give me some fabulous ideas! I started with shopping for a guy because they are so much harder to shop for! With it being SO cold where we live stylish winter wear was definitely high on my list to buy. I also wanted to include something stylish that wasn't wintery as well so that it could be used year-round. I settled right away on a tie since they were the first thing I saw when I walked in the door. Not to mention there was a clearance tie section and I snagged a U.S. Polo tie for under $10!
One thing I have learned not to skimp on, however, are winter gloves and hats. We spent our first year in Iowa at the store almost every week buying cheap gloves and hats that would rip holes in them and it was certainly not worth skimping on. Lesson learned. Now I only purchase good quality winter gear and both the winter hat that I chose and the fingerless winter gloves I chose were 50% OFF! I was so excited and they are really heavy-duty! They were a steal and paired with the tie it would be a perfectly full stocking! I was extremely happy with the choices I had available to me.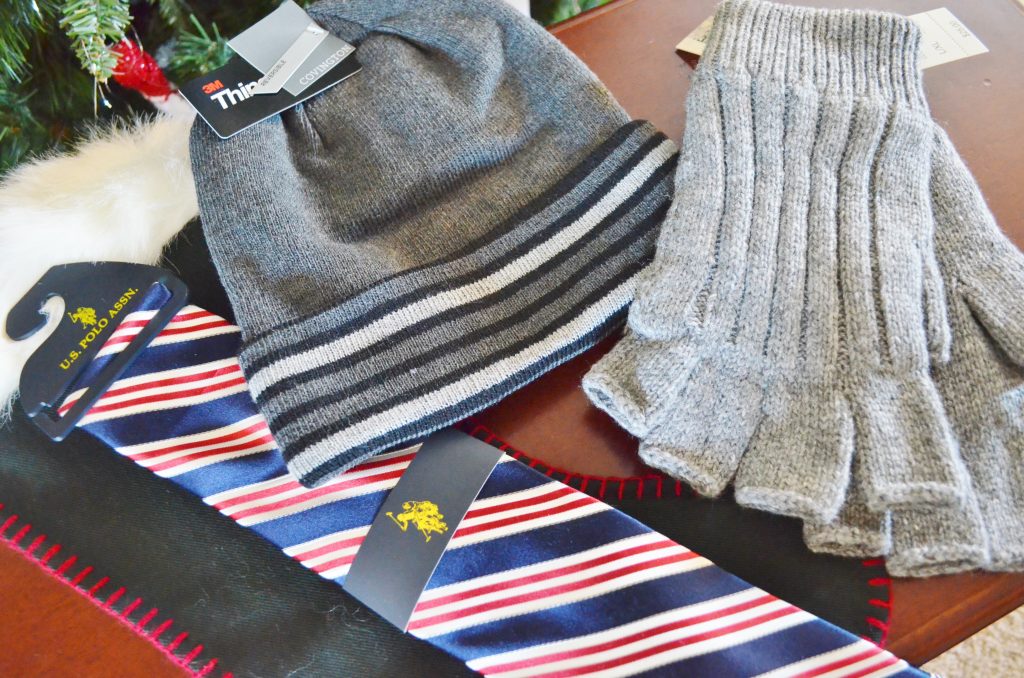 I did go out of my comfort zone and hit up the tool section which has awesome crates and displays of all sorts of holiday ideas. I REALLY appreciated that because I would have had no idea what to look for in that section of the store! I also bought a magnetic tool bowl but I knew my hubby already had one….good thing I didn't because I didn't have any more room in the stocking!
 Next came the fun part – shopping for Her. It is SO fun shopping for a girl because there are just a zillion selections and ideas to pair together. I looked at everything from slippers to perfume but I decided to settle on something I knew I would love to buy  but on a budget I probably wouldn't splurge for. I headed straight to the jewelry and the fashion scarves. Winter scarves are always a necessity but pretty fashionable scarves….it's a splurge not everyone will buy for themselves! There were tons of displays showcasing fashionable scarves but I wanted to find the perfect one.
I wanted a solid color so that it could be mixed & matched with all sorts of outfits and styles, but I didn't want it to be too plain. I knew it the minute I saw it too – it was SO incredibly soft. My total budget for everything was $50 and the scarf was a couple more bucks than I had wanted but it was absolutely perfect. I knew I couldn't put it back.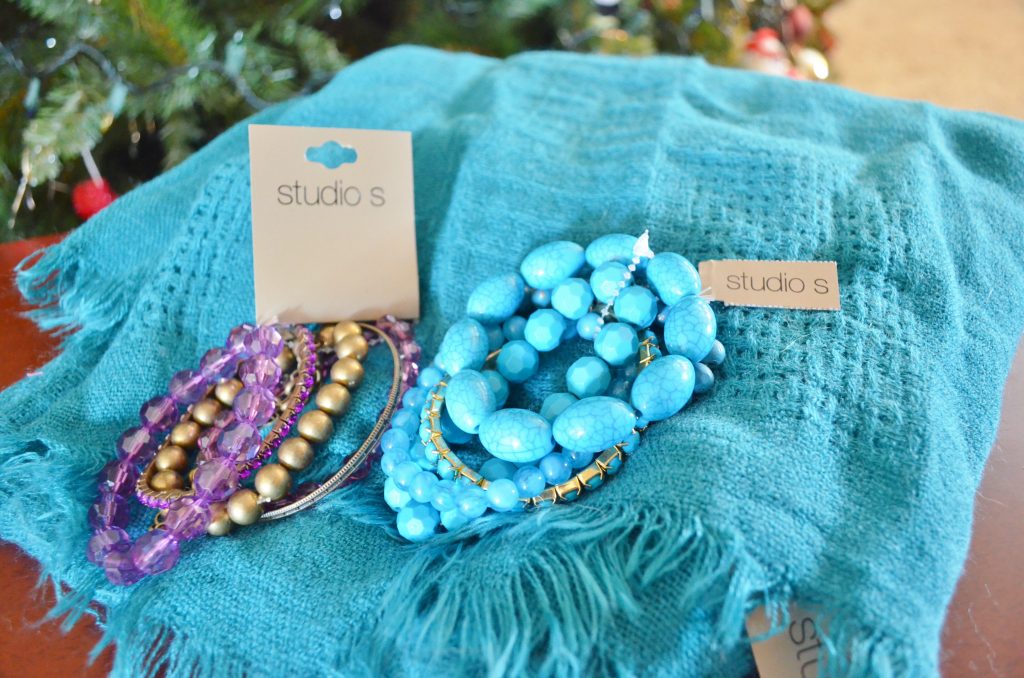 And what better to stuff in a stocking than jewelry to accessorize with the scarf? That's where the hard part came in – there were SO many things I saw that were pretty! But, true to my nature, I went for the clearance!! Check it out – the bracelets above came in a colored set and were on clearance! One was under $2 and one was under $4! I really wanted the blue to go with her scarf, but the purple was so beautiful I just couldn't put it back….so I bought both! For under $6 I got a whole lot of pretty bracelets!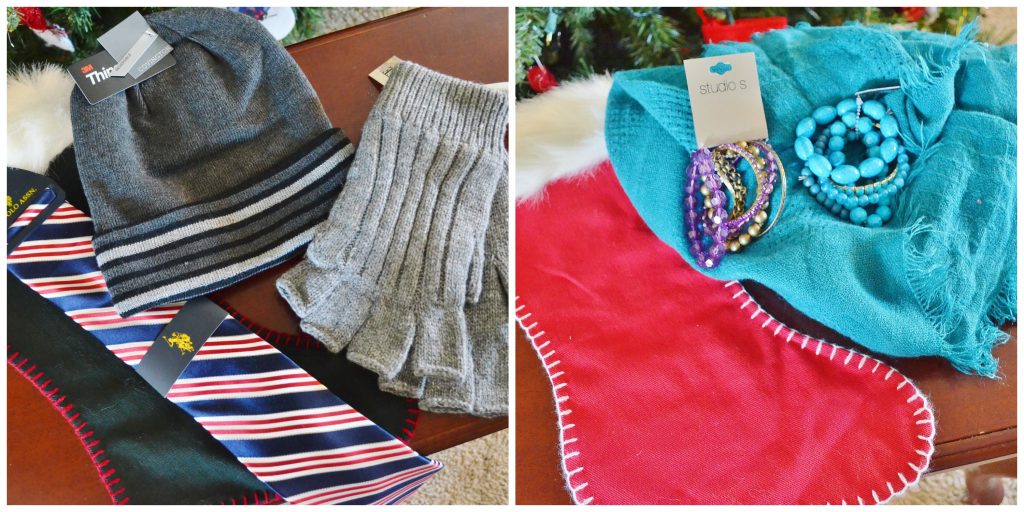 So here comes the awesome part. I had set my budget to a total of $50 (tax included!) and with the blue scarf that I just HAD to buy I knew it was going to put me at about $54ish. BUT I knew I would regret not buying it so it was worth the splurge. I had some absolutely fabulous choices that would last a LOT longer and were much nicer than stuffing with a ton of little items. It was practical, stylish, and something we would have purchased anyway but now it was a gift.
So I got up to the register to check out and it landed my final total to $49 and change! SCORE! I totally made my $50 budget and saved a bundle by shopping the sales and clearance! And of course, I was thrilled to have the scarf that I just couldn't pass up. I walked out feeling very successful and extremely content that I had made the best choices for my stocking stuffer gifts.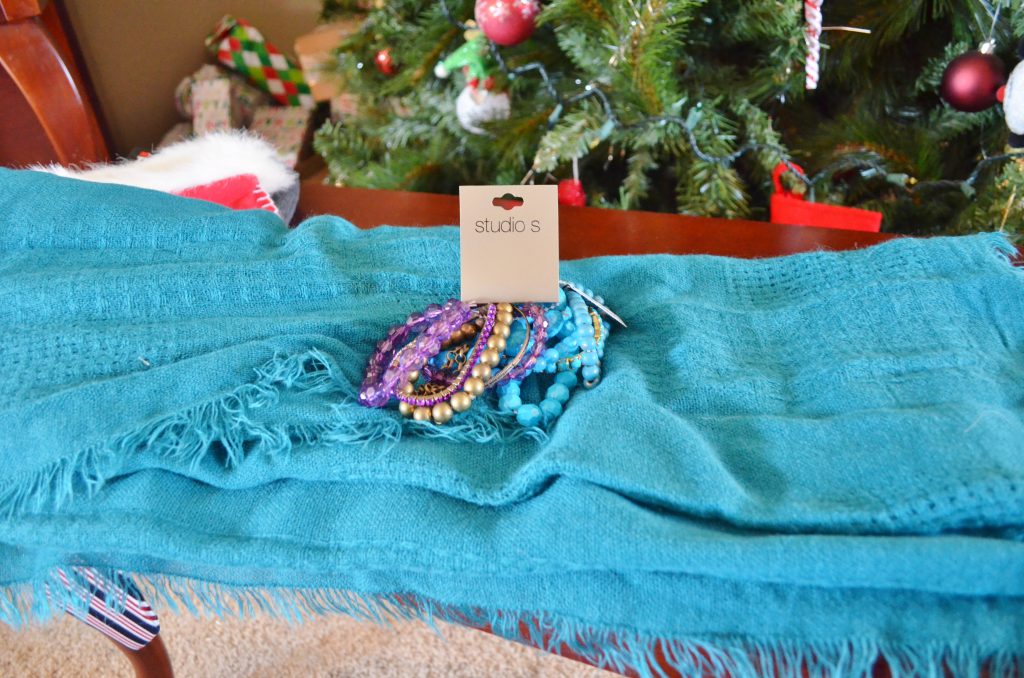 I made sure everything that I purchased would easily slide into stockings, and I loved that the scarf I chose had pretty fringe on the ends to hang outside of Her stocking. It added an extra special flair that felt like the stocking itself was dressed up for the holidays.