Invasion of the Cow Snatchers Game Night Review by ThinkFun
This post may contain affiliate links, view our disclosure policy for details.
When I first saw Invasion of the Cow Snatchers
I was hooked—er, should I say abducted?!  My family loves all things alien and cryptozoology so this game was destined for us. This single player magnetic strategy game by ThinkFun is a FANTASTIC choice for kids and adults alike! They sent us this game so that we could include it in our Game Night Gift Guide!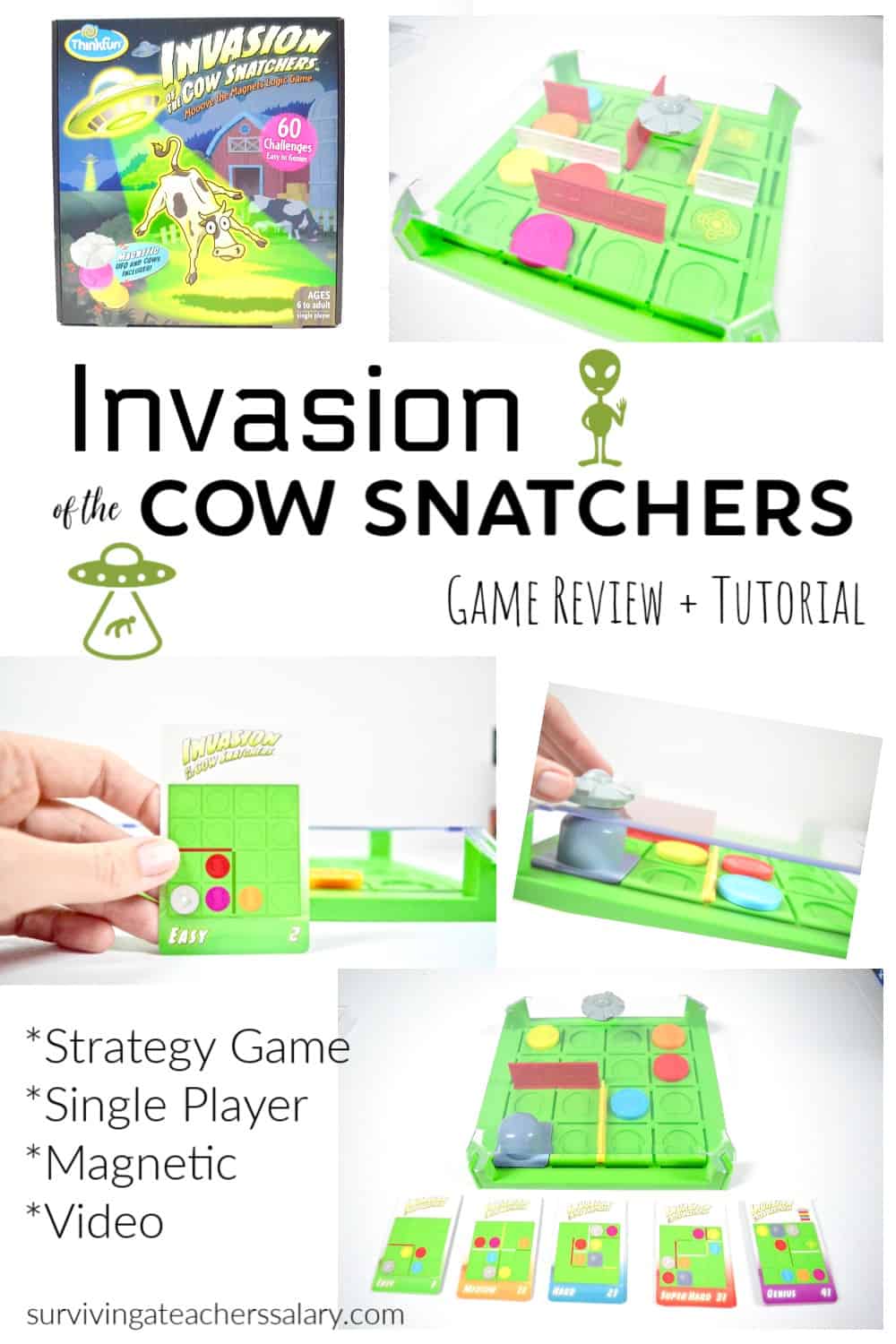 As you can see the game layout itself is pretty simple and straight forward and brightly colored! I LOVE the spin off of your traditional "slider" type games that are single player. So creative! The basic idea of the game is exactly what it's named – invade the cow fields and abduct them to win!
Rather watch a video? Check out our simple video overview!
Included in the Game:
game grid
60 challenge cards (with solutions)
6 magnetic tokens (including a UFO)
4 cows
2 bull
9 walls
1 silo
5 crop circles
instructions
How to Play Invasion of the Cow Snatchers Game:
It's a simple strategy game really….until it's not! There are 60 challenge cards for this single player game and you'll need to set up your "field" between each play.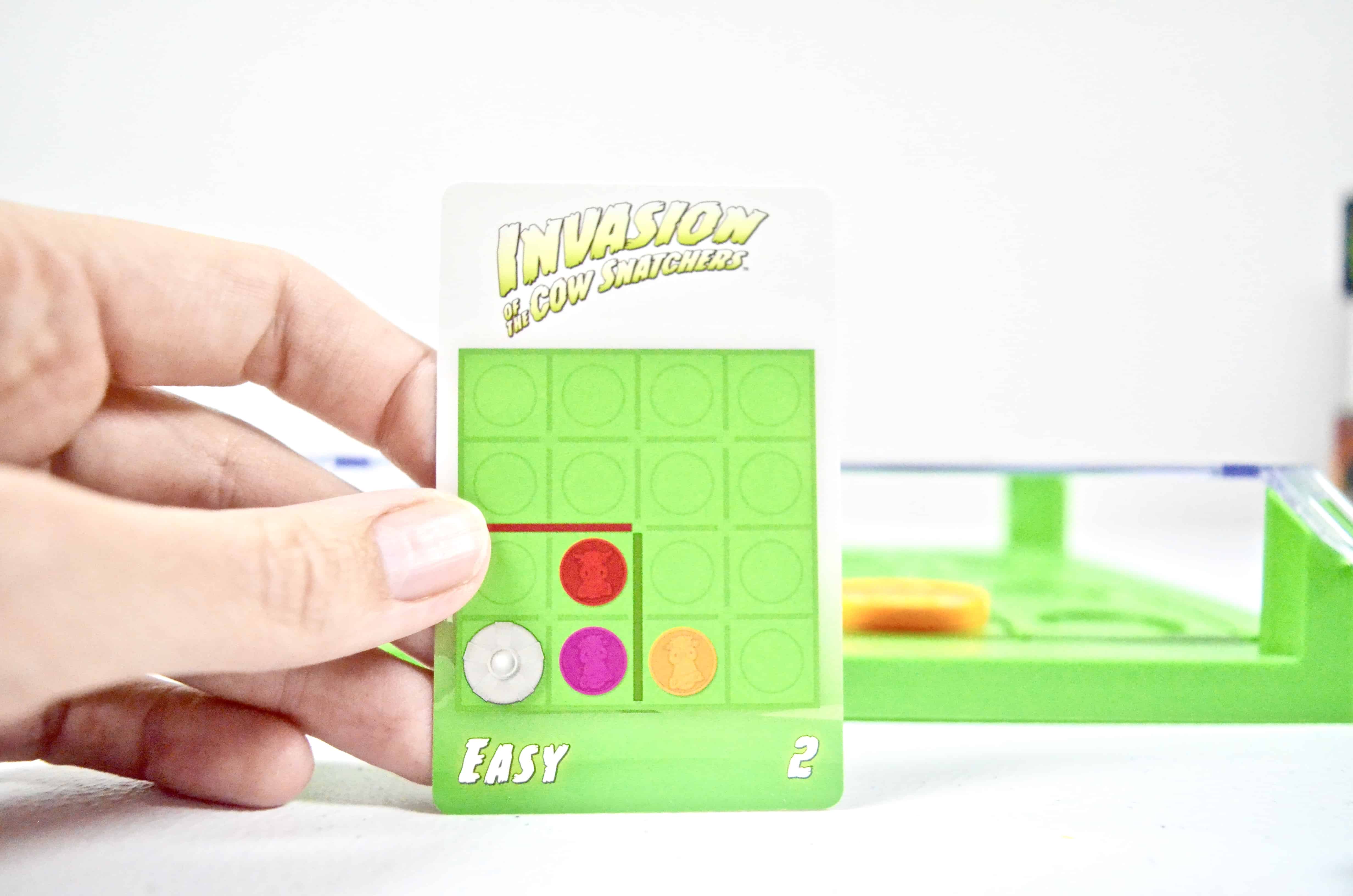 Each card will show you how to place your cows, bull, silo, alien spacecraft, and fencing. These "borders" all come in different sizes, colors and heights with scenery depicted on them such as barn doors, corn fields, hay bales, etc. They are obstacles you must work around as you  plan your strategy for each level of the game.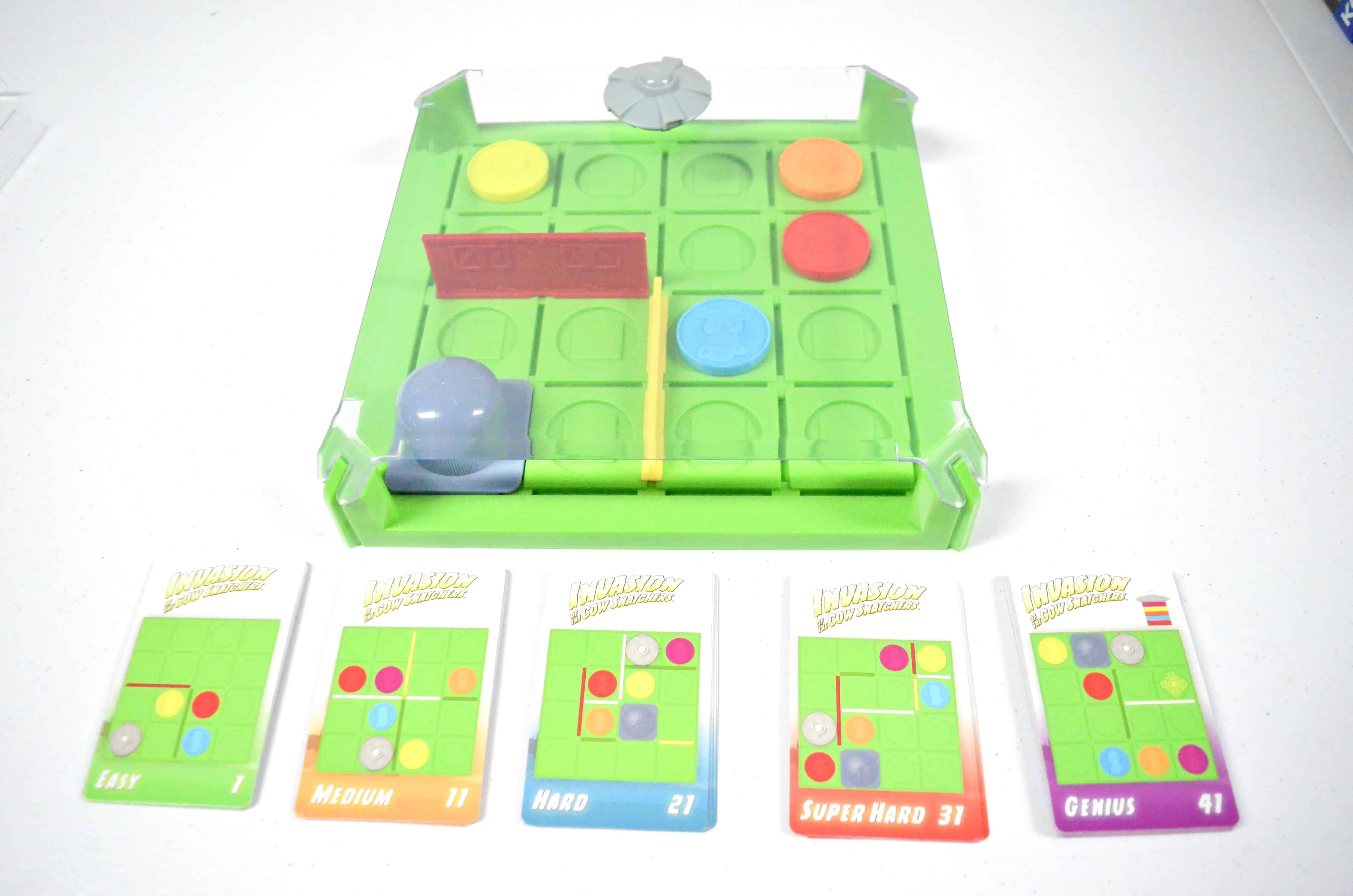 As I mentioned there are 60 different challenge cards and you can see that they are color coded on the bottom of each card based on its difficulty level. Each card is also numbered making it easy to remember which challenges you've done if you keep them in order!
The simplicity of the game layout is what I love! It's incredibly simple to set up each game challenge and keep moving ahead when you've met your challenge! It's simple enough even for younger children to set up on their own! And definitely hard enough to even stump adults as you get to the higher challenge levels!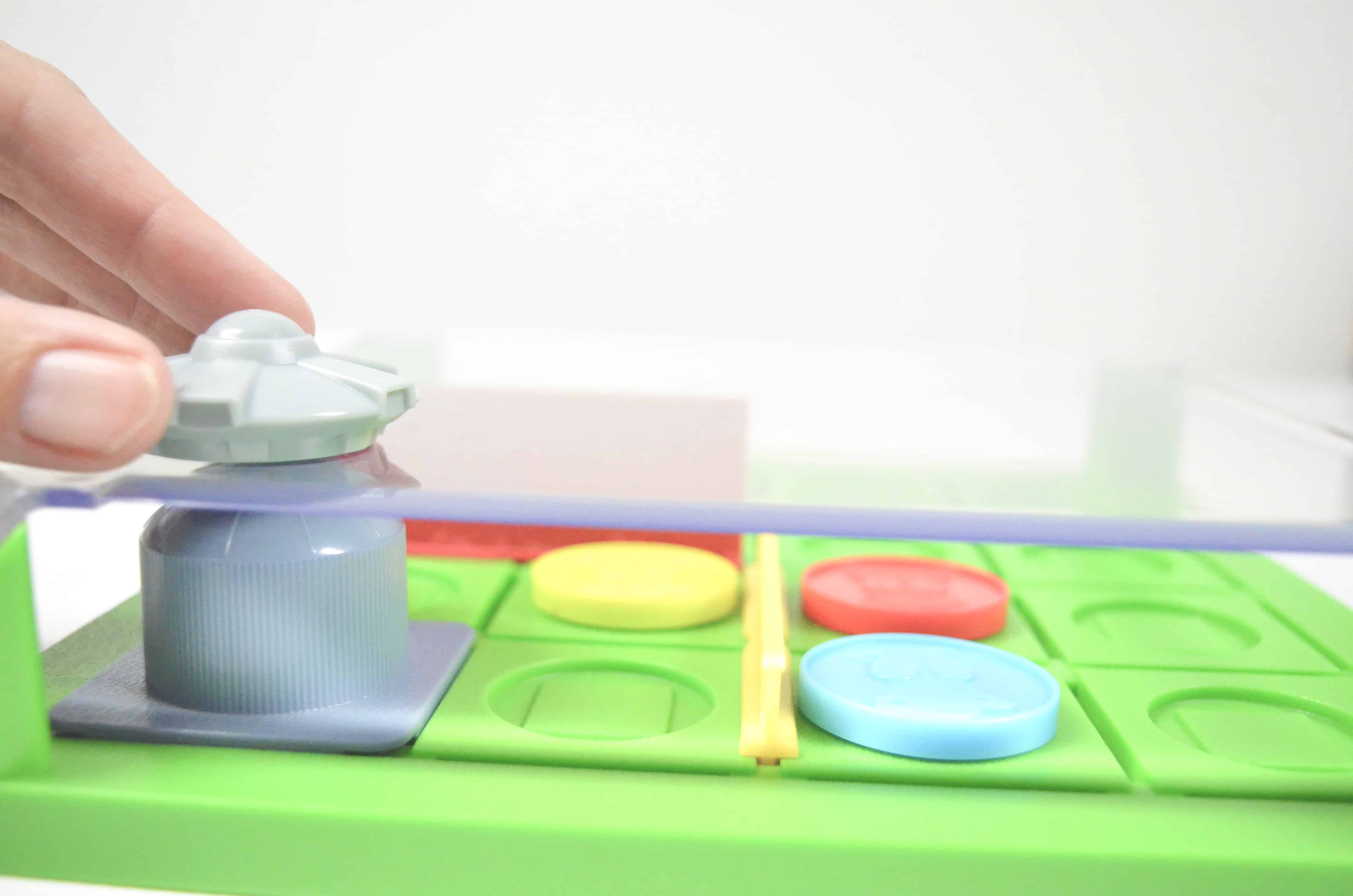 Here you can also see both the alien ship on top, and the silo underneath.
The basic way to play is to slide your alien ship on top of the clear layer across the paths to "abduct" the cows. There are a few catches though!
You cannot knock over any fencing or barriers.
You must collect all of the cows.
You MUST pick up the (red) bull LAST.
You must also slide your alien ship AND all cows with bull off of the edge of the game without knocking down any barriers.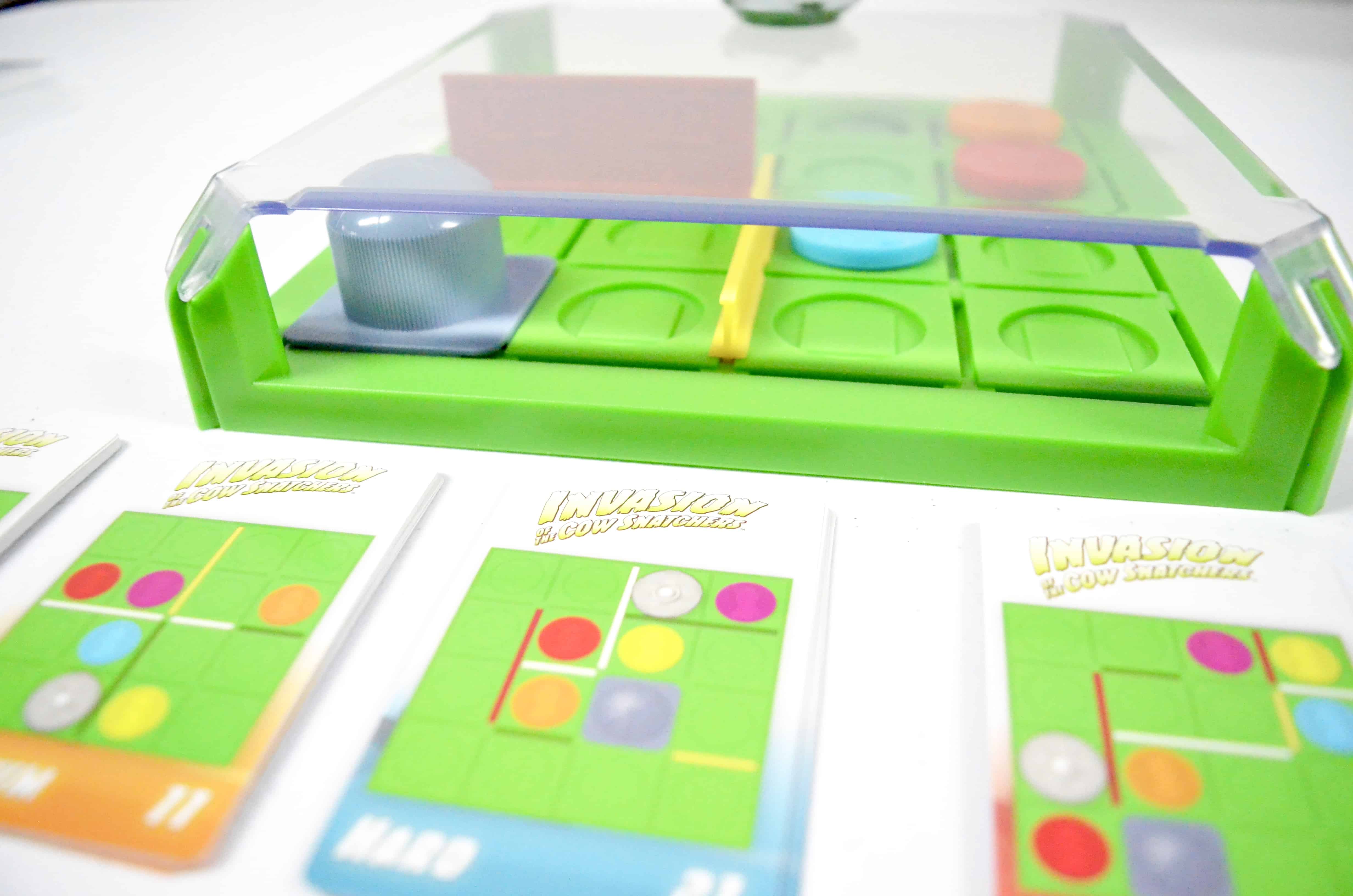 I absolutely recommend Invasion of the Cow Snatchers by ThinkFun! The pieces of this game are high quality and sturdy which will last for a long time! The magnets work just as I'd hoped and immediately attach together when you slide your alien craft off and "abduct" the cows! It's REALLY cool! You can get a better visual of this in the video above. The only thing is that there is no holding pouch or bag for the pieces so grab a ziploc bag to store all of your cards and parts in.
Brain games like Invasion of the Cow Snatchers are a great mental exercise for any age level! Developing critical thinking and logic skills are made so much more fun with problem solving challenges like this game! It's quiet enough that you can keep this game in your classroom or in a waiting room and eye catching for anyone! I absolutely LOVE the graphics on the front of the box! It's so catchy and clever!
Teachers – check out ThinkFun's Educator Resources including downloadable games for your classroom!