QUICK Math Game – Ubongo! Extreme KOSMOS Road Trip Travel Game
This post may contain affiliate links, view our disclosure policy for details.
When you think tangram in math, you think puzzle. But when you add some friendly competition to it, like in the quick math game by KOSMOS, their Ubongo! Extreme game, you've added a whole new dimension!
Ubongo! Extreme is a portable game perfect for taking on road trips and while you travel through the airports. The box itself is no bigger than 5″x7″ so plenty small enough to stuff in a purse or travel backpack.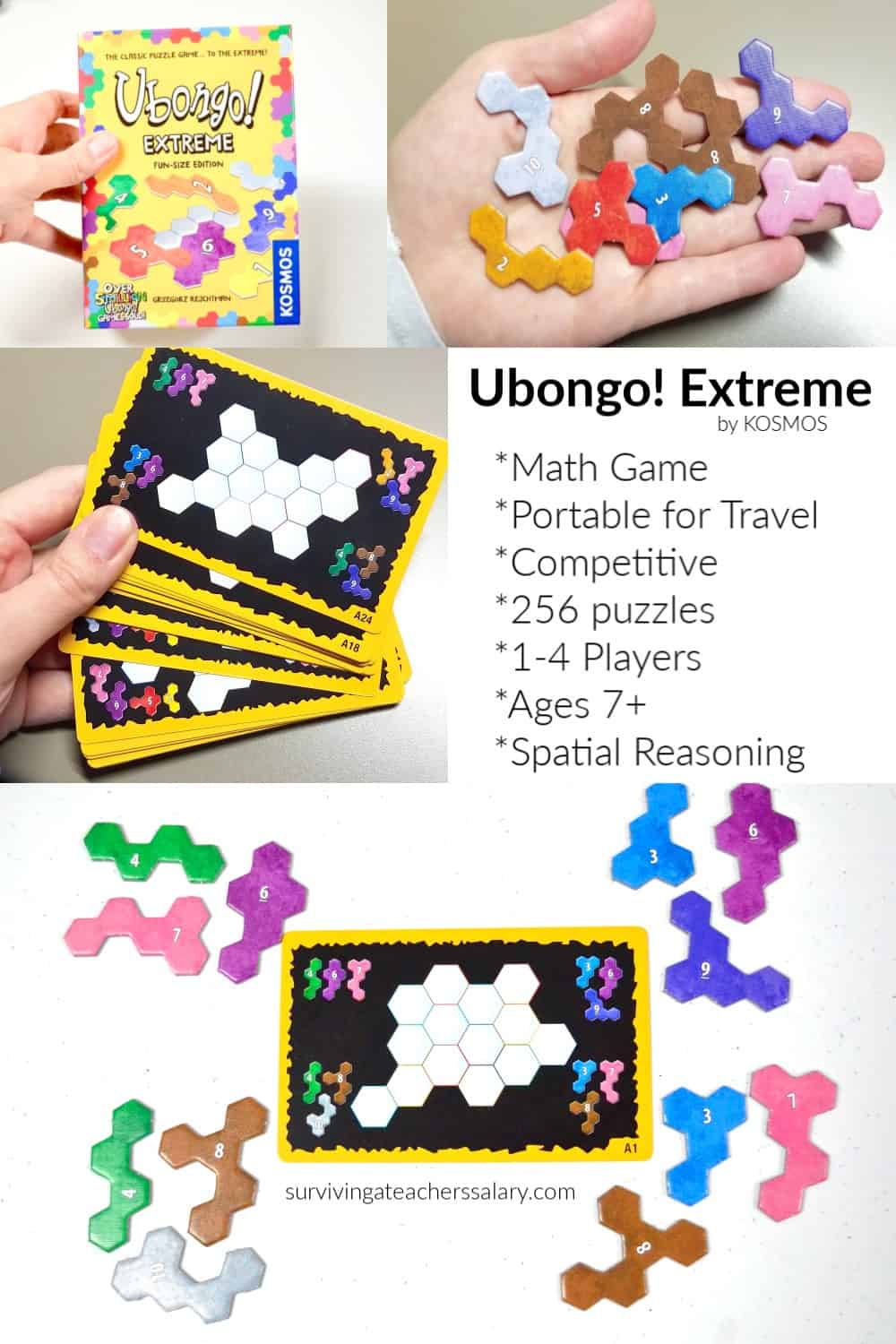 If you need a quick math game this is it! Plus it's geared for ages 7+ so the puzzles are simple enough that your 2nd-3rd graders can pick the game up with you and play too which is nice. Up to four players at a time can join in on a game lasting anywhere from 15 minutes to however long you want to play for!
What's inside the box?: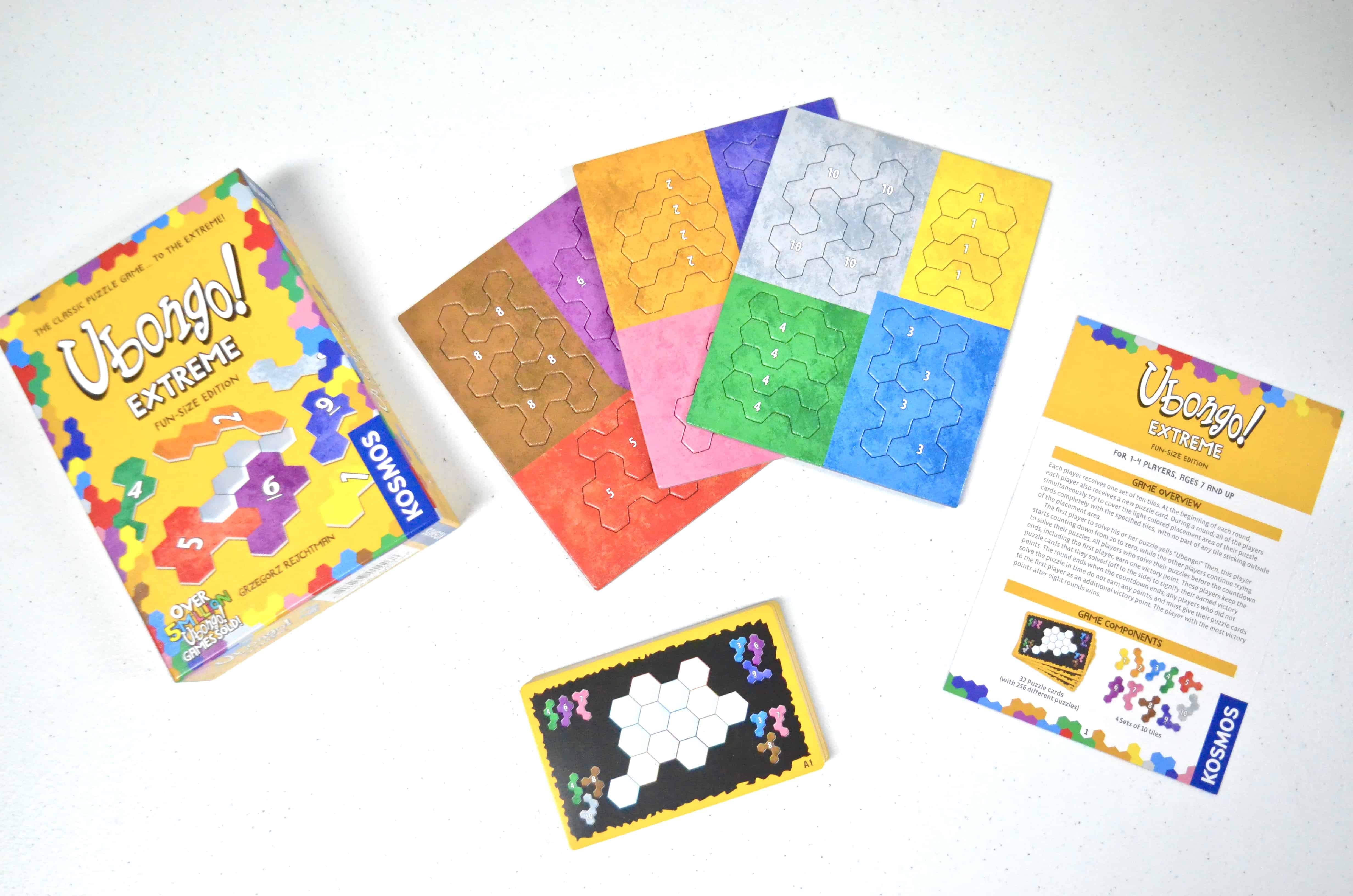 Ubongo! Extreme by KOSMOS includes:
Instruction booklet
32 Double Sided Puzzle Cards (256 total puzzles)
4 sets of 10 cardboard tiles
How to Play Ubongo! Extreme:
Portable game = easy play! Ubongo! Extreme literally only takes a few minutes to pull out, understand the instructions, and begin play! I LOVE how easy this is to grab and play. Plus you can play as little or as long as you have time for!
To begin playing Ubongo! Extreme each player will need one card. The cards are double sided – "A" is the easier puzzles and "B" are the harder puzzles. Each side includes four different puzzles. In each round of play you begin with:
Round 1: Top Left Puzzle
Round 2: Top Right Puzzle
Round 3: Bottom Left Puzzle
Round 4: Bottom Right Puzzle
Repeat for both the "A" and "B" sides of the cards depending on the age group involved. When we started playing Ubongo! Extreme with our kids my husband and I played the "B" side which is more difficult while the kids played the "A" side making it a little more level for us all.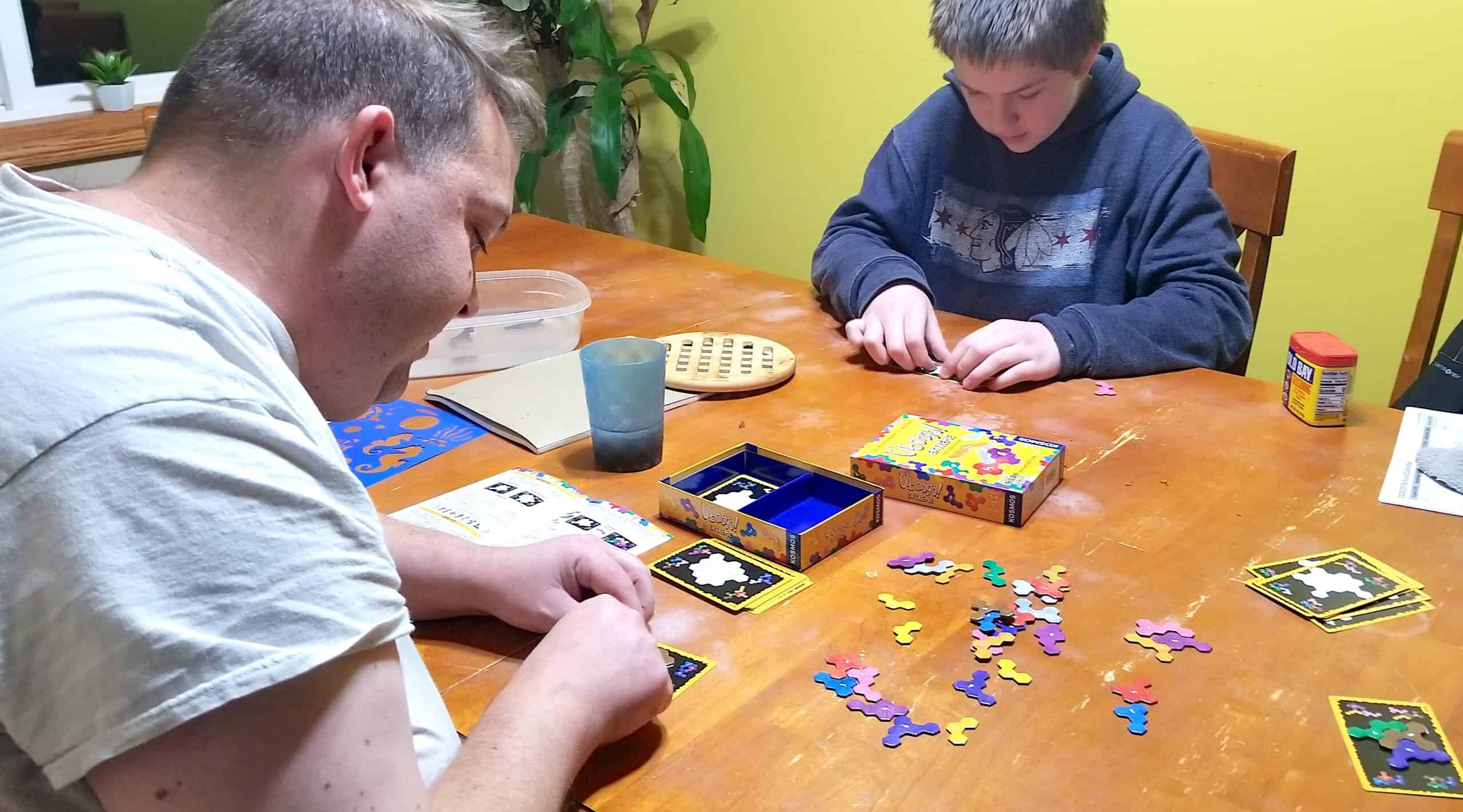 Everyone playing plays at the SAME TIME – it's a competition! Once you've completed your puzzle you shout "UBONGO" and then begin counting to 20. The other players will then have until you count to 20 to complete their puzzle card. If they cannot complete the card during that time frame then they will have to give you their card. If they CAN solve their puzzle card in the 20 second time frame then they will get to keep their card.
Whoever has the most cards at the end wins!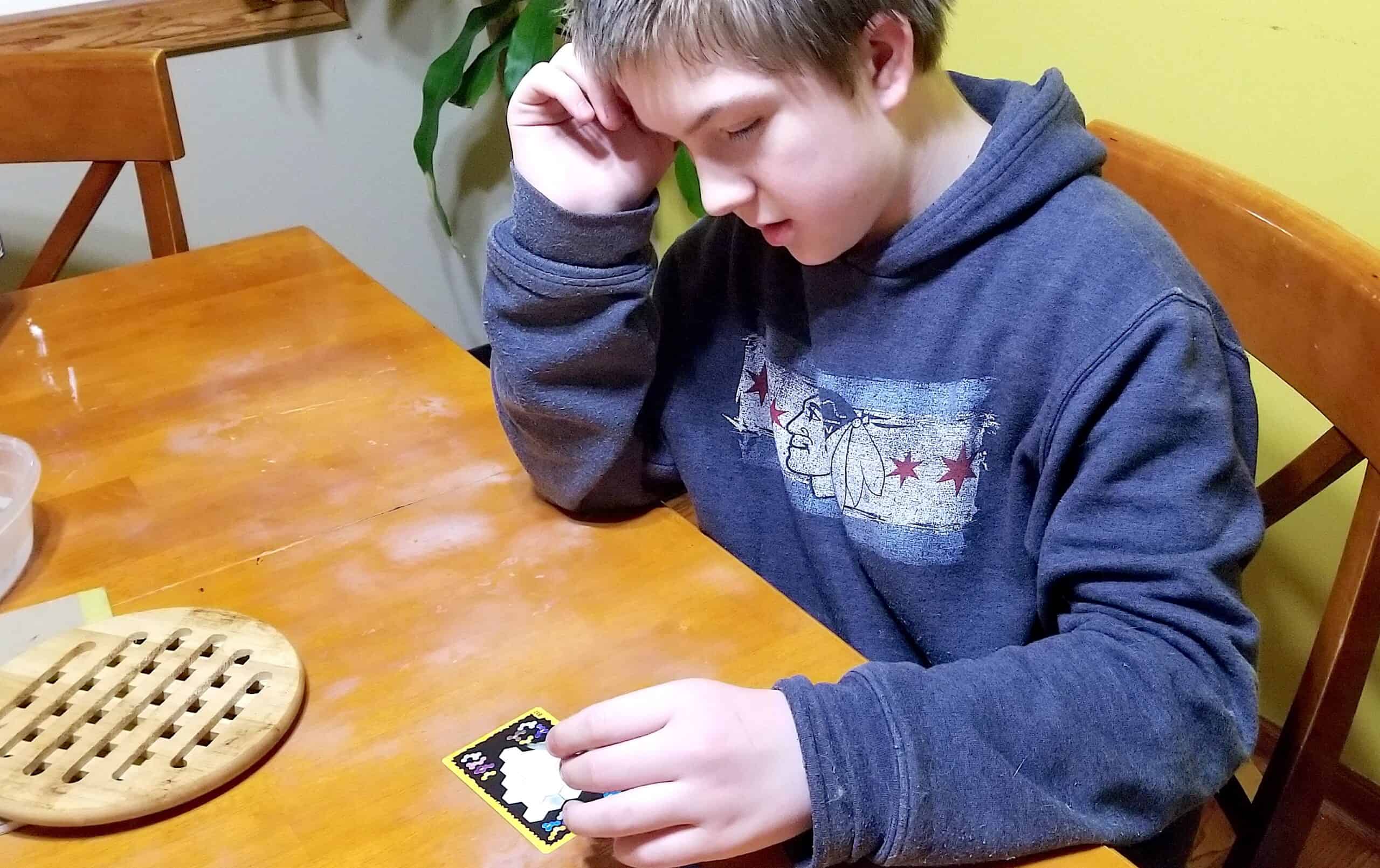 This game is SO FUN! My 12 year old played with us just last night and he was so addicted to it! We probably played for a good hour before diverting him back to his homework for the evening! It's become our "go to" fun game to break up the homework routine for him when he gets overwhelmed with his projects!
After playing I've heard him several times tell his younger brother he wants to play with him. In fact we are going on a road trip for the holidays and we've already got Ubongo! Extreme on our packing list!
I didn't realize it but there are other Ubongo games in the series too! I featured them below on our Amazon widget so you can find them easily! Check out the other games in our Strategy Game Gift Guide too!