6 Easy Tips: How to Keep More Germs Out of Your Classroom
This post may contain affiliate links, view our disclosure policy for details.
Keeping more germs out of your classroom doesn't have to be tedious or difficult! I have partnered with GOJO, the maker of PURELL® products, for this post, however all opinions are my own.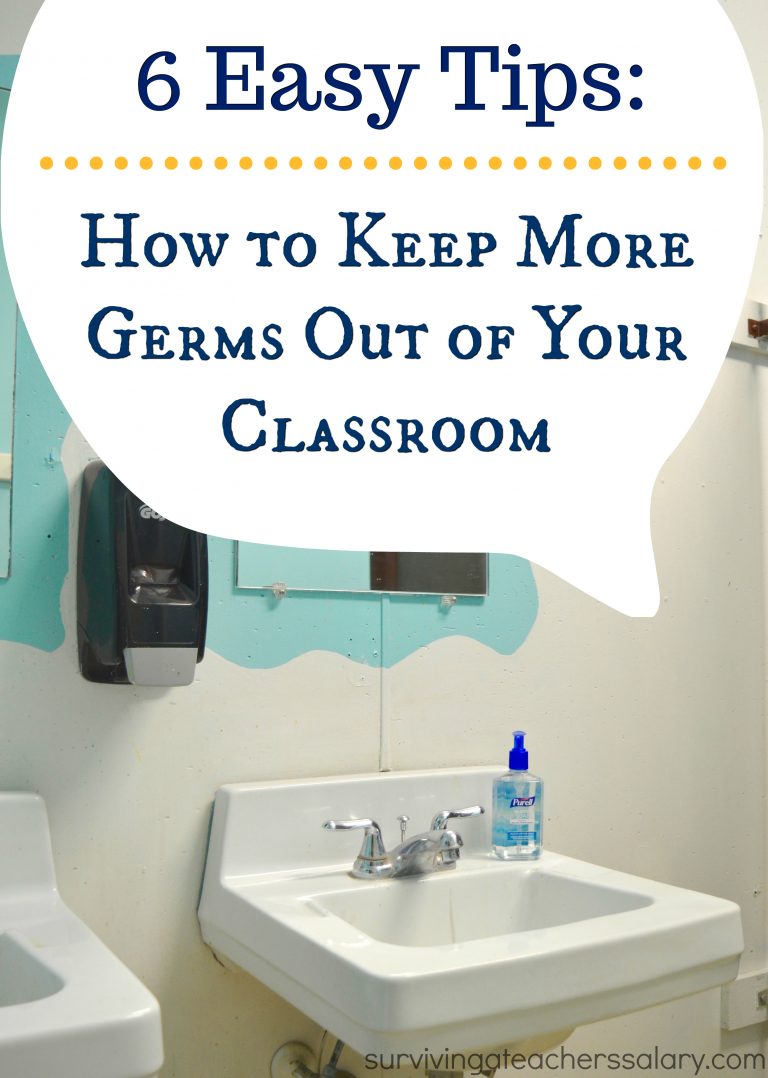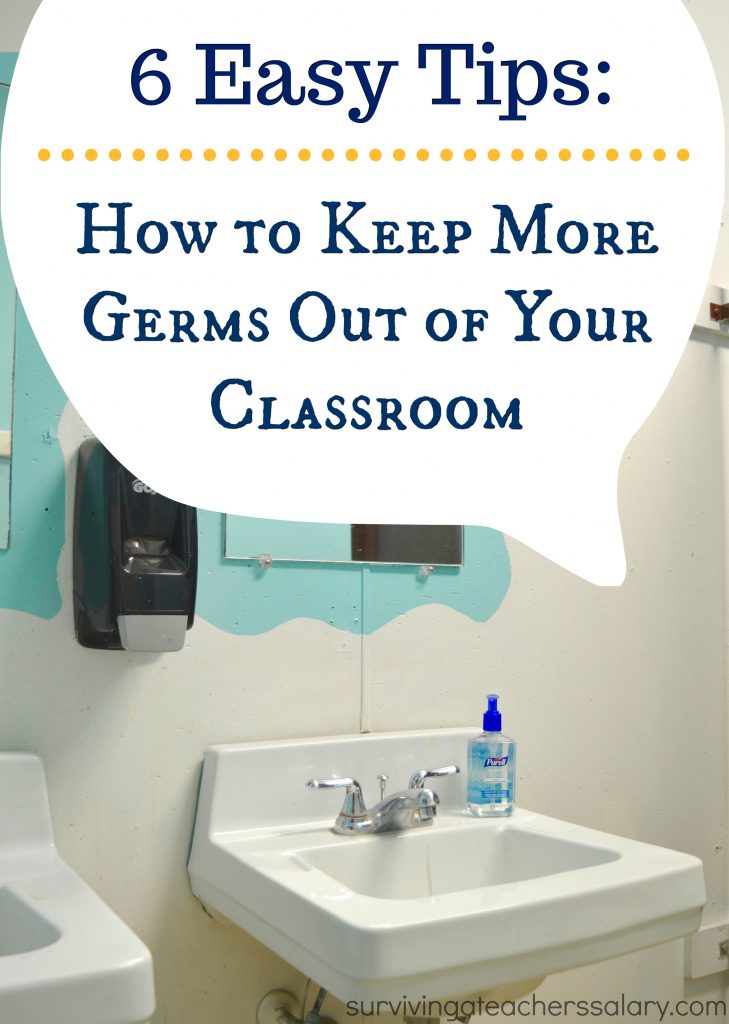 Unfortunately there is no way to keep your classroom 100% germ-free, especially with kids trekking in and out each day, but there are some things you can do to help your kids and students be exposed to less germs at school! My son's best friend in school, as well as a few other students in our school, have life threatening diseases which means that their immune systems are low. The past year I've had to think about germs more than ever! If my kids have even a sniffle I ask them to try to distance themselves a little bit and keep their hands clean at all times so that their friends don't end up in the hospital!
If you're a teacher I invite you to join our Classroom Management & Engagement Resources e-mail list here!
Here are 6 tips that will help you keep more germs out of your classroom:
1.Never run out of soap!
Eager little hands lining up at the sink to wash up for lunch or after an art project. Two hands per kid times twenty kids in the classroom? That's FORTY little hands full of germs and grime – you do NOT want to run out of soap. I LOVE the PURELL® brand Healthy Soap® because I feel like the kids can lather it up easier in between their fingers. It's Paraben-Free and Triclosan-Free too! If nothing else collect piles of soap bars from your summer travels and stash them under your sink! Ask for parents to donate their travel soaps too. Having a timer next to the sink will help younger ones wash their hands long enough!
2. Hand Sanitizer for all!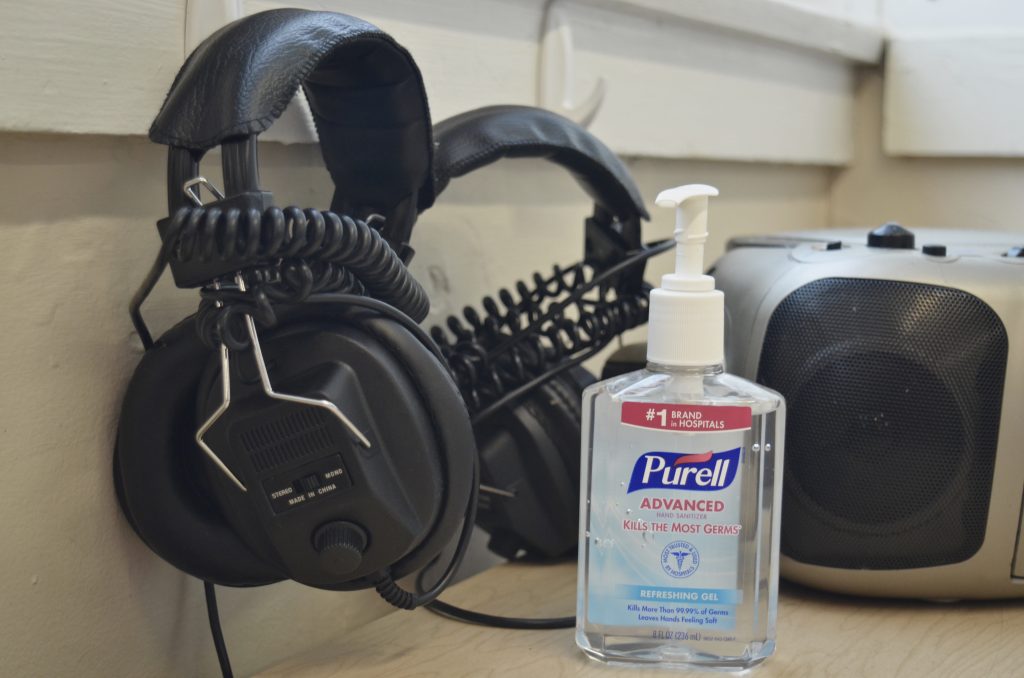 Keep it on your desk, put it in the school office, stash it in the teacher's lounge – it should be everywhere! Especially in locations where sinks and soap aren't easily available. I attach the travel size PURELL®Advanced Hand Sanitizer bottles to my kids' backpacks. If I as much as think a kid is going to sneeze during the flu season I start reaching for the hand sanitizer. And I'm not even a germ freak! But with all of the illnesses we've had over the years, I'd rather kill off 99.99% of the germs on my hands with PURELL® Advanced Hand Sanitizer then invite them back home with me.
*TIP for teachers – Keep a bottle of PURELL® Advanced Hand Sanitizer just outside of inside your classroom door so that students can use it as they walk in and out of your classroom!
*TIP for parents – Keep a bottle of PURELL® Advanced Hand Sanitizer right inside the door you most frequently use to walk in your house after picking up your kids at school! My kids know they get a squirt every time we walk in the door from school!
3. Keep PURELL Hand Wipes in lunch boxes.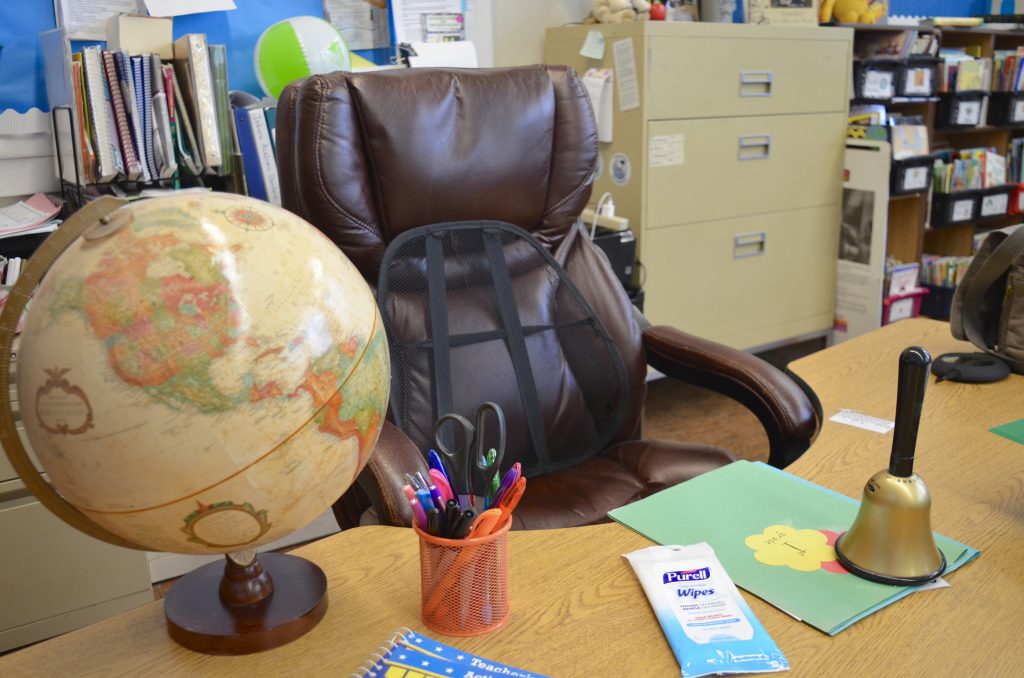 Last year I did not know about this necessary product, but this year – LOOK OUT! These PURELL® Hand Sanitizing Wipes are AMAZING! They come in small packs so you can easily throw it in your desk, glovebox, or purse. For my kids I add a few into a zippered bag in their lunch box and they can wipe down during lunch time. If your kids don't take a lunch box you can still send them wipes in a zippered back and they can wipe down their cafeteria trays and lunch table area! They disinfect 99.9% of germs and are perfect for little hands!
4. Declare a disinfecting weekend!
Although this tends to be most important for younger grades you can adjust it to meet the needs of your kids or students. Box up anything that can be put in the dishwasher, a sink of soapy water, or just heavily sprayed down and bring it home to clean it up. Plastic bricks, dolls, cars, any manipulative, fraction tiles, plastic containers, stuffed animals, pillows, math counters, etc. – bring it home and disinfect it! Although it's great to do this on a semi-regular basis, it's really crucial during flu season!
5. Spray, spray, spray that disinfecting spray!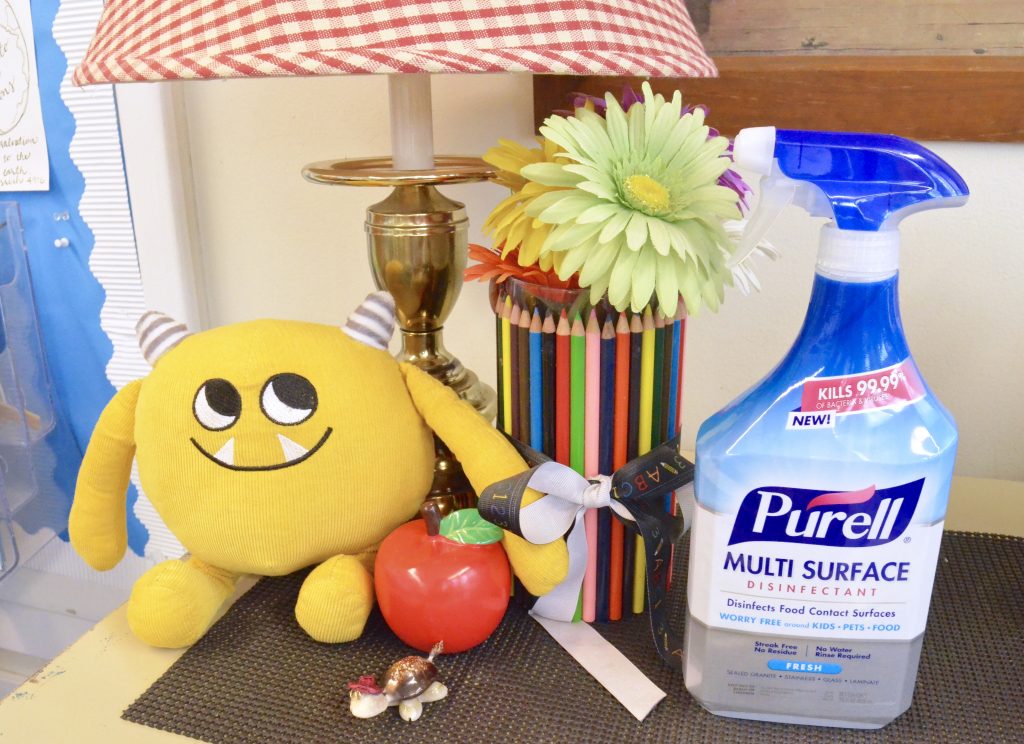 This has to be my new favorite PURELL® product this year! The PURELL Multi Surface Disinfecting Spray of course kills 99.99% of viruses and bacteria in 30 seconds (including strep, flu, & cold) BUT it's WORRY-FREE around kids! NO bleach, NO harsh chemicals, NO harsh fumes, NO toxic residue – it's even approved for food prep surfaces! Help keep those germs away by spraying and wiping desk tops, door knobs, light switches, pencil sharpeners, faucet handles, reward boxes, and anywhere else your students touch (or sneeze on!) throughout the day.
6. Playground & PE Germ Fighters Brigade!
OK – so you might think this idea sounds a little silly BUT it will help keep germs out of your classroom if your kids and students aren't picking up germs in the first place, right!? Think of how many students in the school sneeze, slobber, and hack all over community PE equipment and playground slides and swings! Instill a Germ Fighting Brigade to help your students keep germs away! Ask a family to volunteer to wipe down community sports and playground equipment once a week. Rotate classroom teams in the school to send your students and teachers out armed with disinfectants to wipe down before they play.
BONUS TIP: HEPA Air Purifier In the Room
If you have an immune-compromised student, a generous donor, or just happen to have an extra HEPA air purifier laying around then this is an additional option you may want to consider having in the classroom!
Still squeezing in some camping time? Check out these safety tips + MUST BRING items: