Camping with Kids: Must Bring Items to Make Camping Easier
This post may contain affiliate links, view our disclosure policy for details.
Camping with kids can provide a special challenge all on its own but to be honest with you – ALL of these items below are needed when you camp, even if you are camping without kids! I have partnered with GOJO, the maker of PURELL® products, for this post, however all opinions are my own.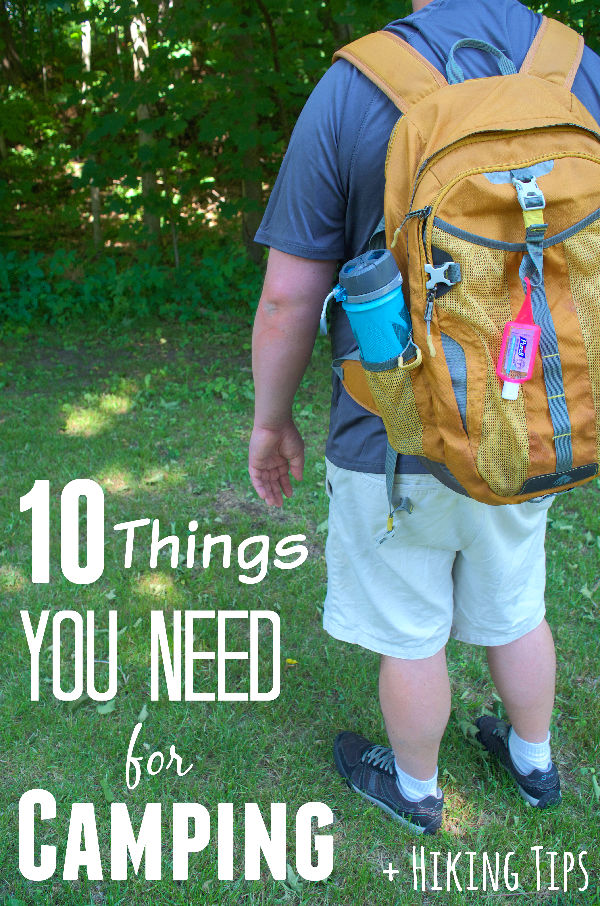 It's no secret that my family loves camping! Last year we owned a travel trailer but unfortunately it was in a bad accident and was irreparable. So this year (and next year!) we're tent camping! In fact next year we'll be tent camping with kids across 7000 miles of the USA! I can hardly wait! Trust me when I tell you that we have taken road trips in all sorts of weather, sickness, and adventures across tens of thousands of mile! From cave exploring to history museums, severe bouts of sudden flu, flat tires and family emergencies – we've done it all!
Whether you are traveling with kids or just with a friend, I've put together some important tips for you below. These are things we bring every single time we go camping and they have made our lives a whole lot easier by being prepared! (I'm skipping the basic tent and sleeping bag on the list – those are a given!)
FUN FACT! Did you know that the FIRST-EVER hand sanitizer and was invented by the PURELL® brand in 1988?!
Tips & Must Have Items for Camping with Kids:
Water Bottles + Gallon Jug of Water –
I can't stress enough HOW IMPORTANT it is to have fresh water with you at ALL times! Every time we head out to go hiking, camping, or on a road trip, I fill up a water bottle for each person in our family (that's 5!) AND I put a gallon jug of water in the car. We don't always use the extra gallon but when we do it was very needed!
Whether it's a hot day and you need extra water, your car breaks down driving through the desert, or one of your children gets sick in the car – you will be so glad you decided to bring the extra water with you! In some rare instances you can use your gallon of water in an emergency if your car overheats (temporarily).
2. First Aid Kit + Supplies-
Honestly this is one of those things you should just keep in each of your cars all the time, but you should especially have a first aid kit and supplies easily available while on a road trip and camping with kids! Bandages, antibiotic ointment, gauze, anti-itch cream, tweezers, fingernail clippers (for cutting and scraping) and medical tape are some great starter suggestions!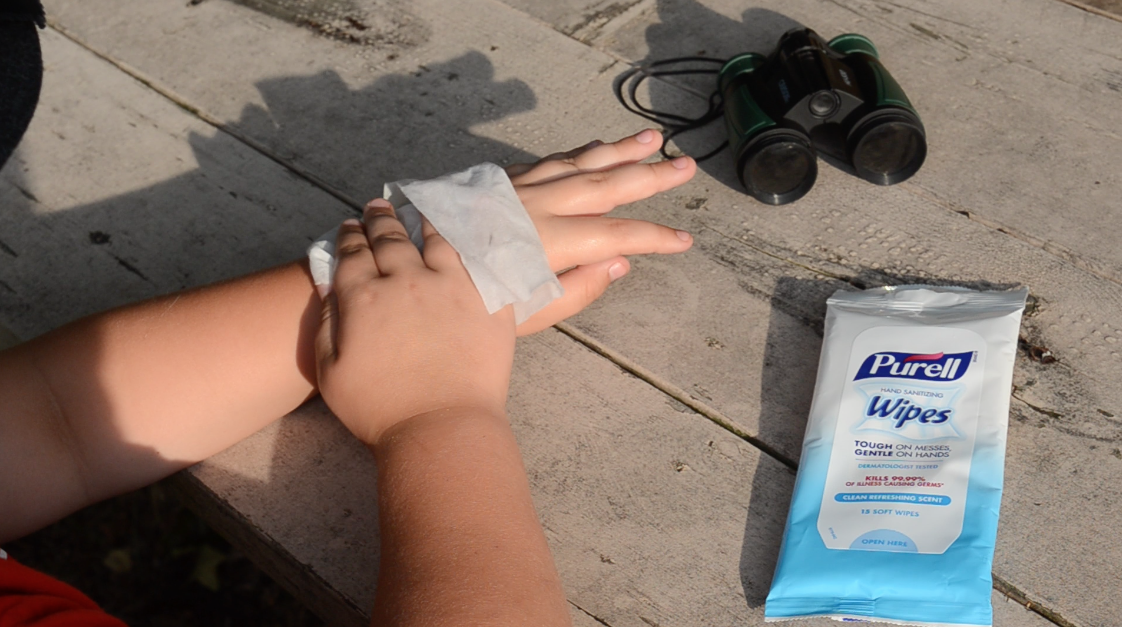 3. PURELL® Hand Sanitizing Wipes-
Normally I travel with a bottle of PURELL® Advanced Hand Sanitizer (you can see our travel bottle attached to my backpack!) but since I found out about PURELL® Hand Sanitizing Wipes I'm IN LOVE with these for traveling! (It kills 99.99% of illness-causing germs on hands which I can guarantee you we've come in contact with in our travels!)
Soap and water of course is always best when possible but these wipes are so handy for cleaning my kids hands! Do you have any idea how many worms, frogs, snakes, and other critters my kids catch? And they're even MORE handy tip clean your hands off when you're hitting a campground bathroom (just saying!).
4. Empty Plastic Bags-
I learned this vital tip REALLY quickly after my two adventurous boys came along! They'll jump in any lake that we come across regardless of what they're wearing! Recycle used plastic grocery bags to hold wet clothes, muddy shoes, trash, camping dishes, bath towels, beach toys and more. Plastic grocery bags are also great to store messy shampoo or sunscreen bottles when the caps have broken!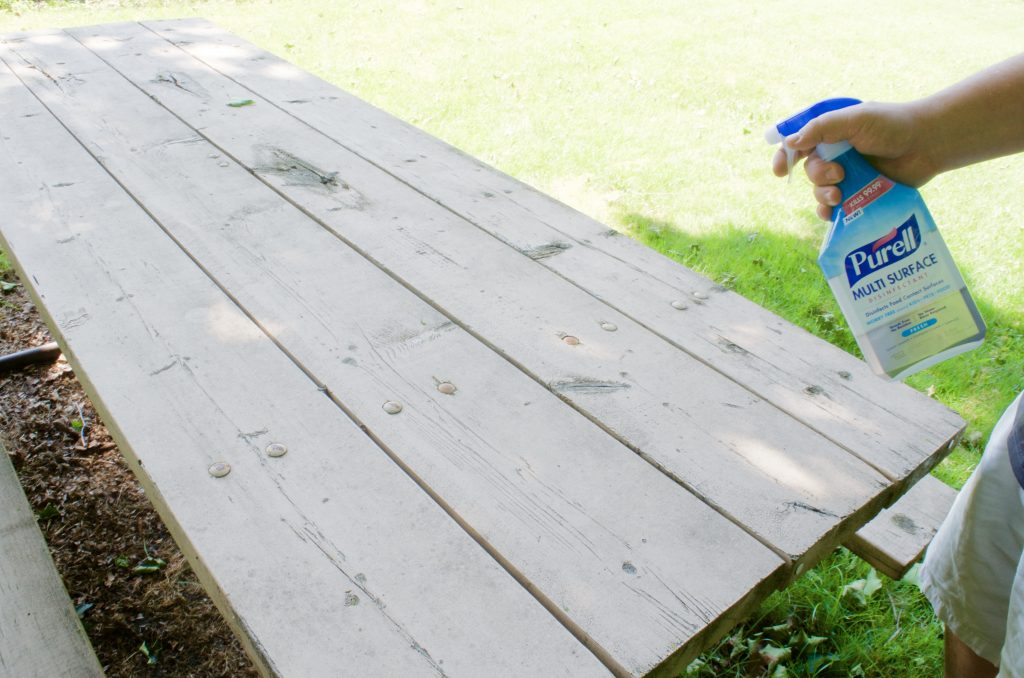 5. PURELL® Multi Surface Disinfectant-
Until I decided to work with the PURELL® brand I did not know about the PURELL® Multi Surface Disinfectant – it's AMAZING! I wish I had known about this product about 10,000 miles ago. It kills 99.9% of virus and bacteria IN 30 SECONDS! (this includes the cold, flu and norovirus!)
Do you know many gross fly infested grimy picnic tables we have come across in our years of camping?! A LOT! You can use this stuff to spray down picnic tables (and bathrooms!) and other food-contact surfaces worry-free! There's no harsh chemicals or toxic residue (no bleach!) and you don't have to rinse it off before prepping food!
And let's be real here – if you are travelling or camping with kids you will inevitably take a trip that ends up with a potty accident or some sort of illness in your camp. From vomiting to pooping to everything else in between – there's nothing worse than camping as a family and feeling germ-infested! I wish I could go back in time and bring a bottle of PURELL® Multi Surface Disinfectant with me to disinfect our tent, car, and even hotel room!
6. Bug Spray –
Bug spray is one that I never really used to use, but after finding numerous ticks over the years crawling on both myself and my children we now use a strong bug spray and cover our shoes at the very least. Mosquitos can also carry some pretty gnarly diseases so this extra step of precaution for your family is pretty important.
7. Airtight Containers –
When bringing food for any kind of camping trip you should also pack airtight containers! This will prevent the bugs, small animals (like raccoons which can carry rabies), and yes, even bears out of your campsite!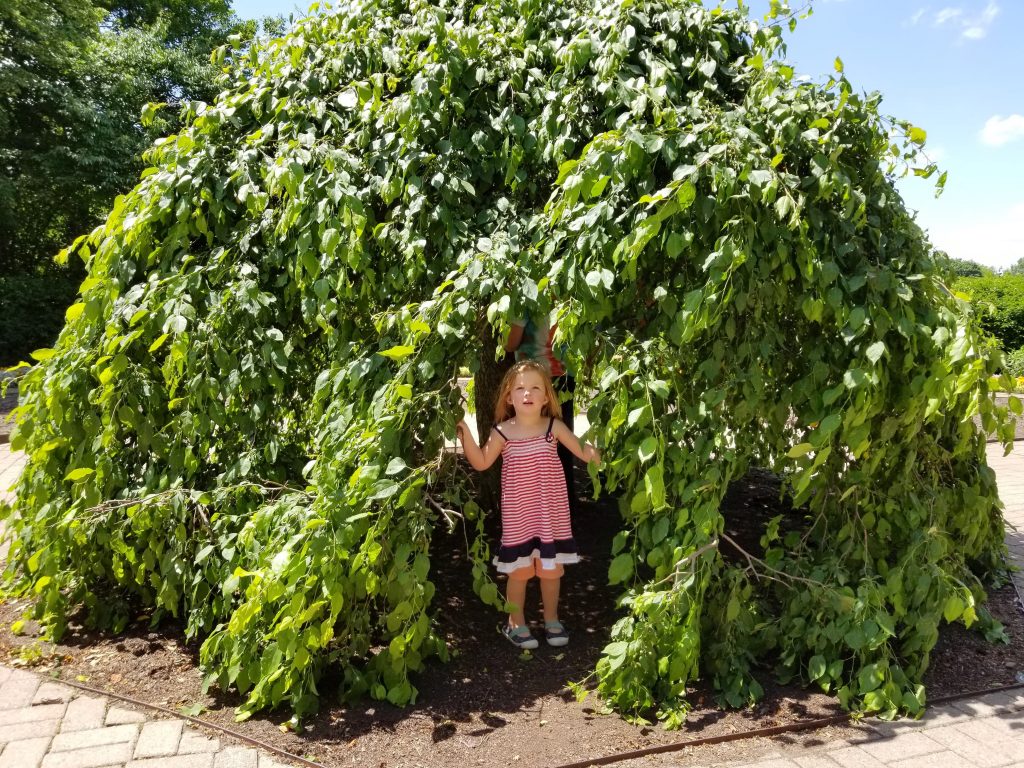 8. White Noise Machine or App –
This is one tip I wish I had known when we first started camping as a family! Most of the time we are pretty nice quiet campgrounds and people are respectful of those sleeping around them. But several times we have ended up at the "party" campground where it seems noise restrictions are just a suggestion. To be honest I don't know HOW my kids ever fell asleep those nights without a white noise machine!
There are plenty of free white noise apps that we use on our phones as well but they can quickly drain your phone battery which I highly recommend keeping well charged while you are camping!
9. Camera / Phone –
I absolutely recommend at the very least having a phone with you, although I know typically most of us are pretty glued to our phones! While you may not get the best cell reception if hiking backwoods you can use GPS apps, compass apps, and of course send out messages in case of an emergency. You never know what will happen when you are camping with kids! It can also be used to snap a photo of a snake or insect you are bitten by for later confirmation of species.
10. Busy Bags / Activities –
Especially helpful when camping with kids, one bag of busy items and activities to keep your kids busy during the down time is vital! It doesn't have to be anything fancy. Add in a ball, a few resealable bags, binoculars, etc.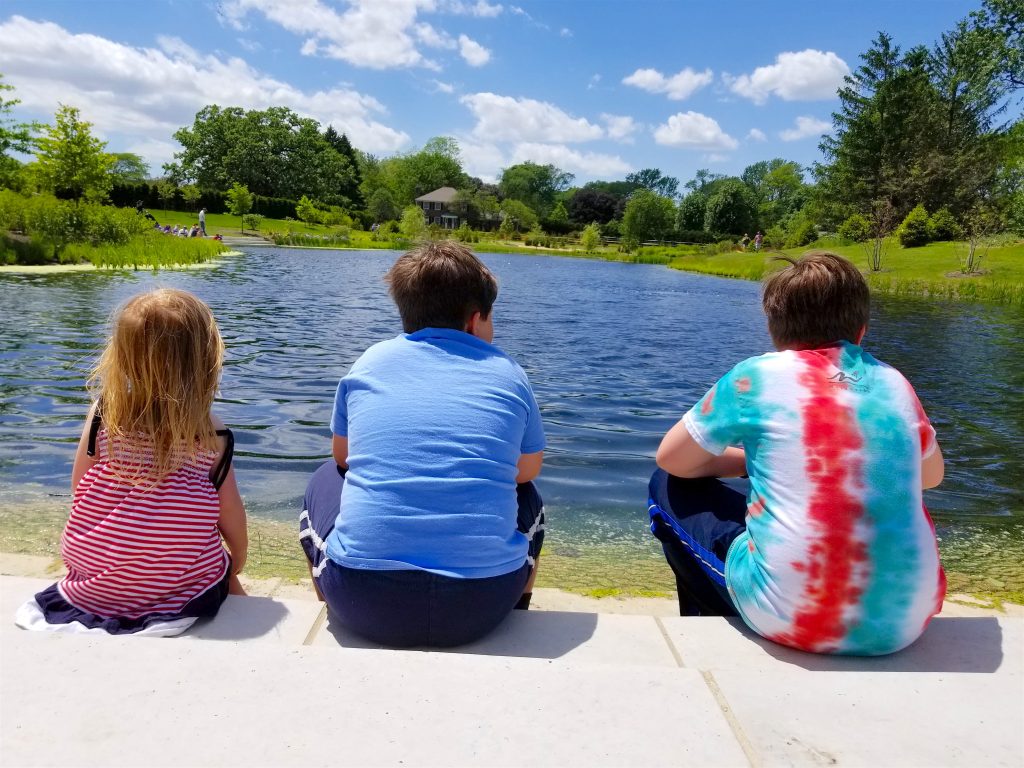 EXTRA TIPS for Hiking & Cave Exploring:
Safety First!
Our family does a lot of hiking and cave exploring when we go on road trips and camping. Not only do we love the outdoors and nature but we also get great exercise while hiking and save a lot of money in the process! Although we have a safety rule of always hiking with at least 2 people together, I've taken careful precaution with our kids because things do happen.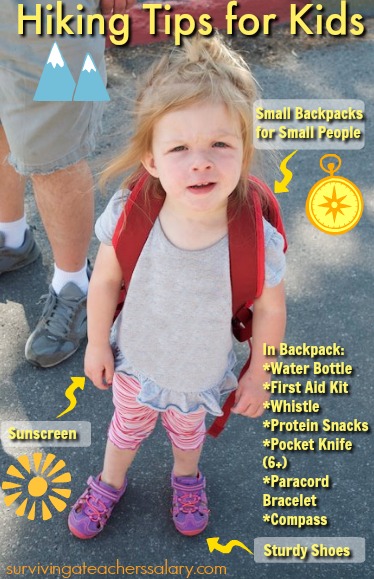 In addition to basic first aid supplies I also make each person in my family carry these 7 items:
Paracord bracelet – Each of my kids wears a paracord bracelet while we are hiking. The bracelets have roughly 8-10 feet of paracord in them and come in handy if lost.
Whistle – A whistle is an absolute must. If you are lost your whistle can be heard much further than your yell – especially when you're tired!
Pocket Knife – YES – each of my children carry a pocket knife with them in case of emergency and understand how to use it safely. This can be used for protection as well as for cutting wood. For my kids once they turn about 6 (depending on the kid) they get one.
Filtered water straw – If we are hiking across large areas like in the mountains or through national parks I've recently added a filtered water straw into my children's backpacks. Should they ever get lost this type of straw will allow them to safely drink from any river or water source.
Water Bottle – Aside from the obvious reason of staying hydrated, a water bottle can be used to collect water if lost in the
woods as well as contain any small animal that has bitten you if you're concerned that it's poisonous so it can be identified.
Protein Snacks – Even if I don't think they'll eat it I make my kids pack protein snacks in their backpack in the unfortunate event we were ever separated and they needed food.
Compass – Your youngest kids might not understand how to use a compass but as your kids get older this is a great tool to learn how to use!