SmartLab Squishy TRex Fun Gift for Dinosaur Birthday Parties
This post may contain affiliate links, view our disclosure policy for details.
You know this week is our much anticipated Fossils & Dinosaurs week and we've got a fun squishy sensory product to feature – The Amazing Squishy T-Rex by SmartLab! PLUS right now through April 30, 2013 save 25% at smartlabtoys.com by entering BLOGDEAL0313 at checkout!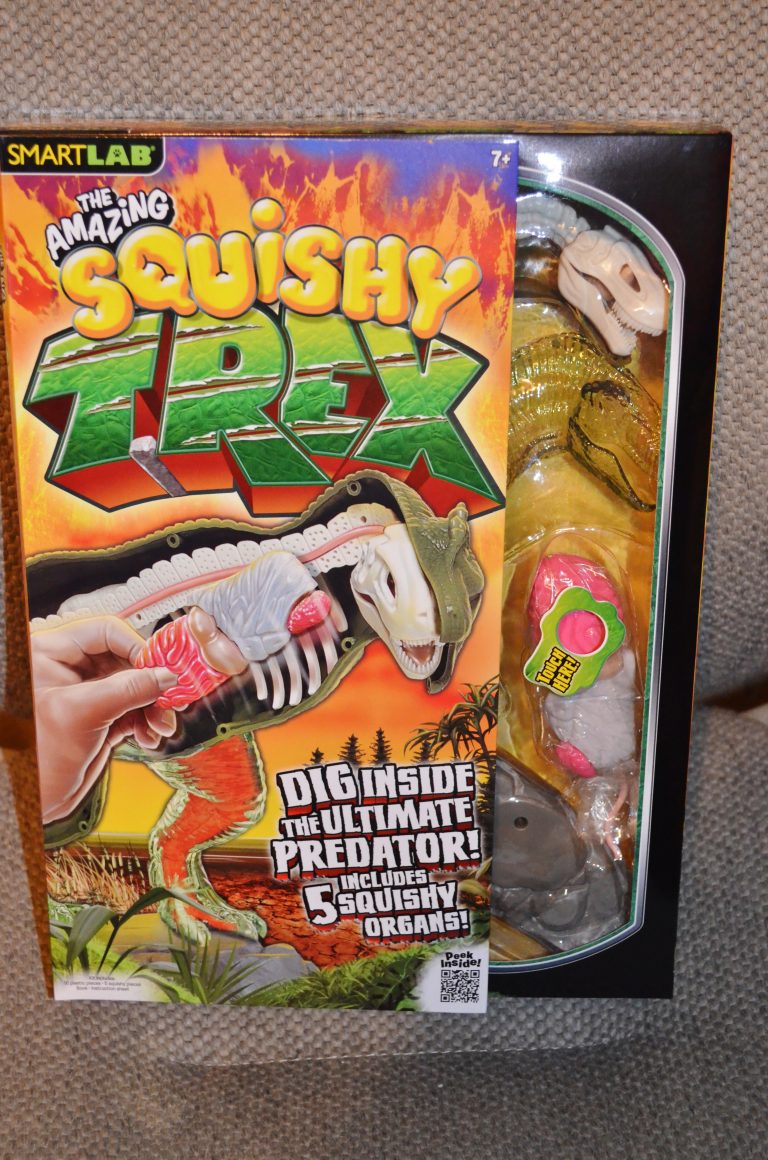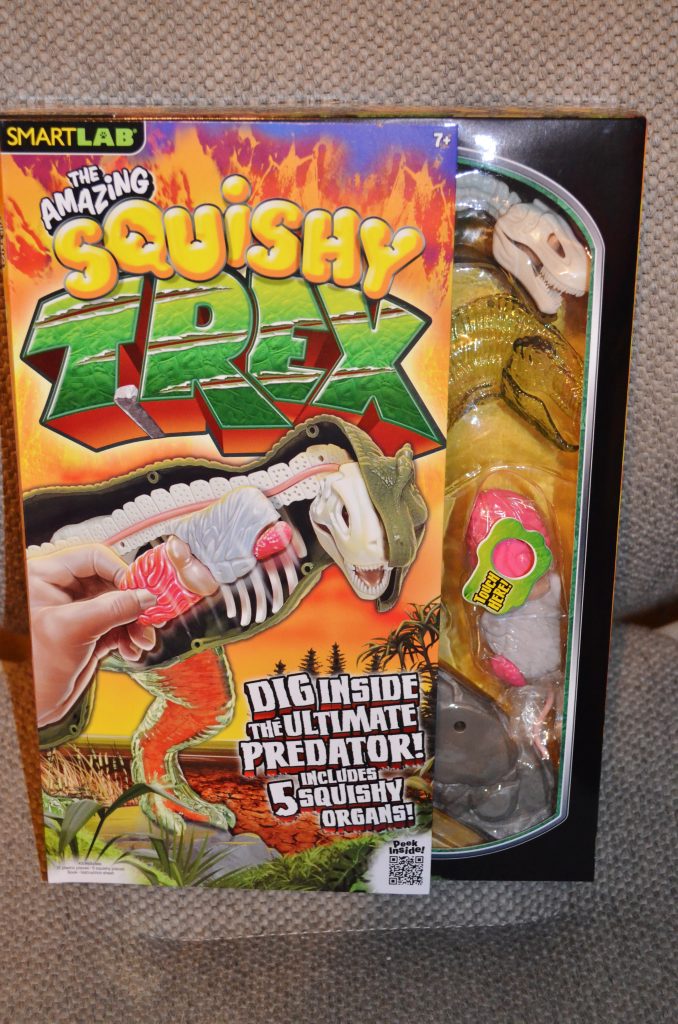 This squishy t-rex, perfect for Fossil & Dinosaur parties, is a plastic T-rex with 5 squishy organs inside and a squishy tongue! For some reason my kids just thought the squishy tongue was crazy cool! It looked pretty real which was a little unsettling! 🙂 But seriously these squishy organs were great – VERY sticky, but it did NOT leave sticky on our hands at all which I really appreciated!!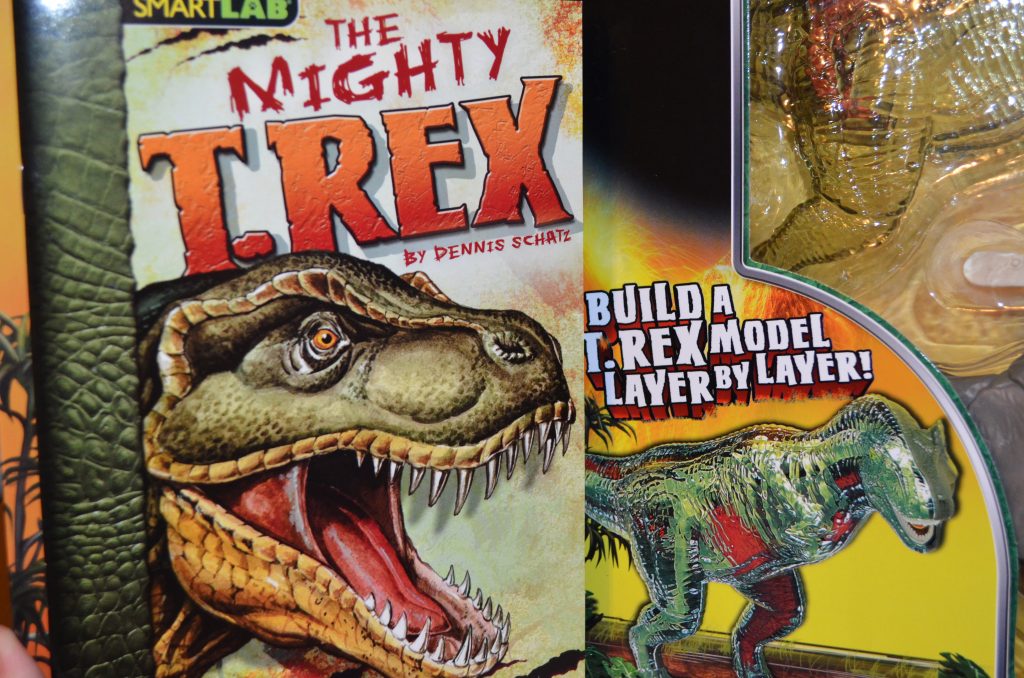 It also comes with a T-Rex book and AWESOME packaging! They really did a great job designing this box! It has an open flap on the front so you can see the dino inside.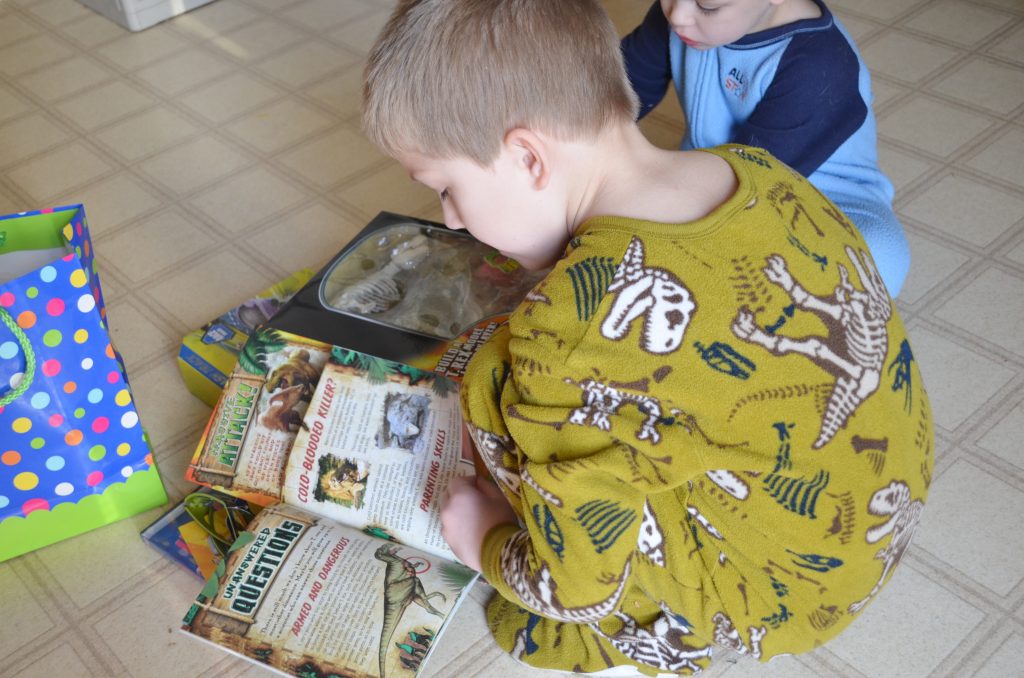 My son woke up on his 6th birthday sporting his dinosaur fossil pajamas and opened up this Squishy T-Rex. You can see him above reading through the book.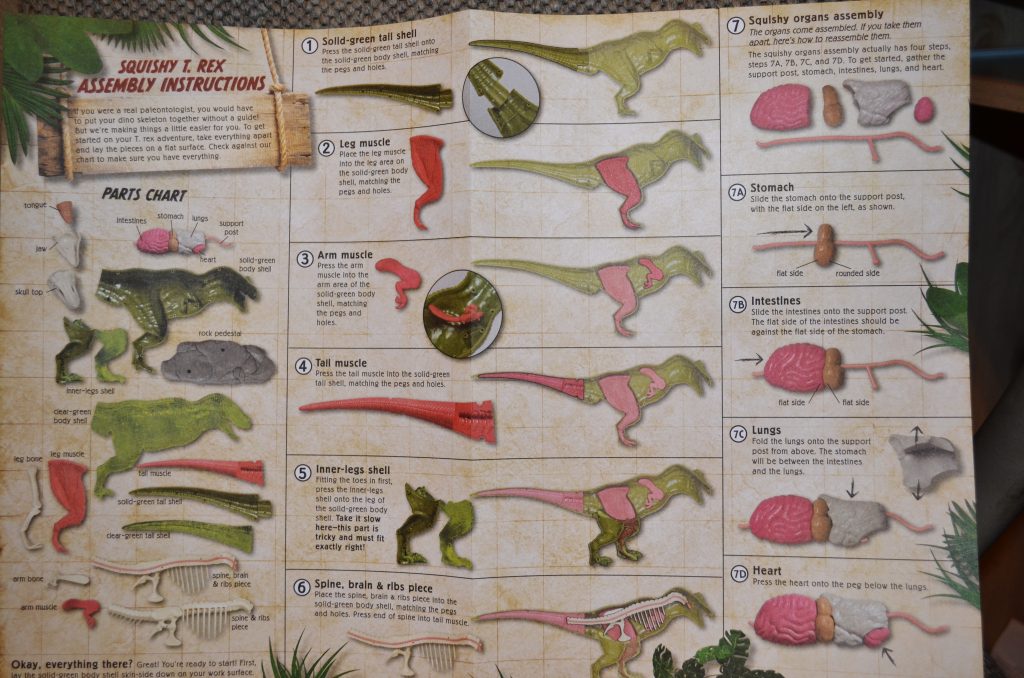 Inside is a fantastic detailed guide of how to  build this model. Fantastic presentation and easy to follow.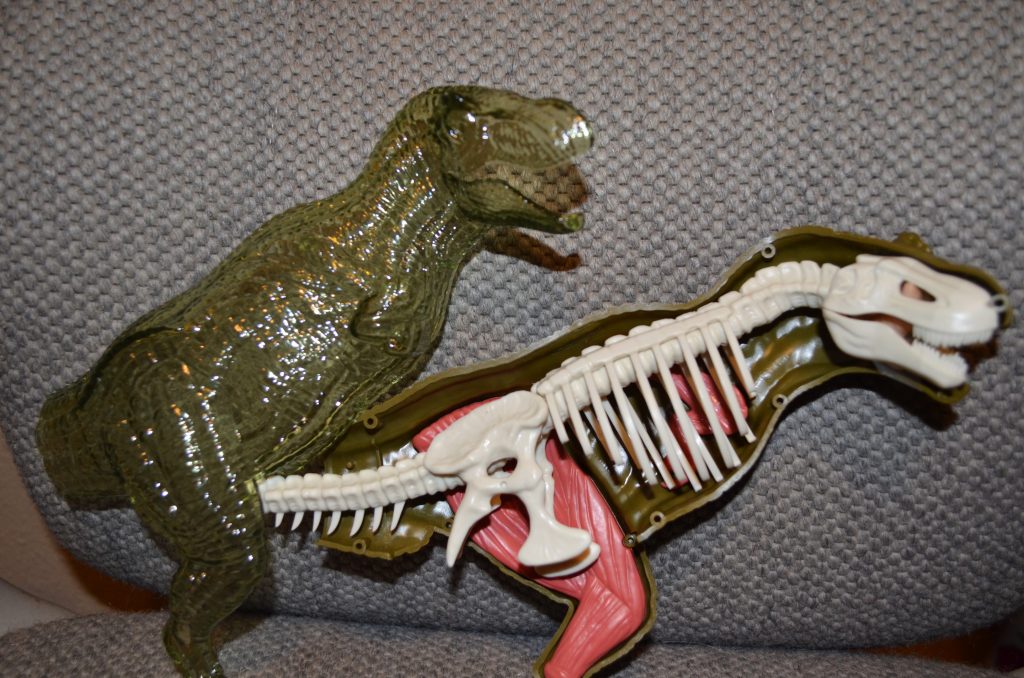 Here you can see the plastic shell, the skeleton, and the leg muscles that all snap into place. It was very easy to snap together.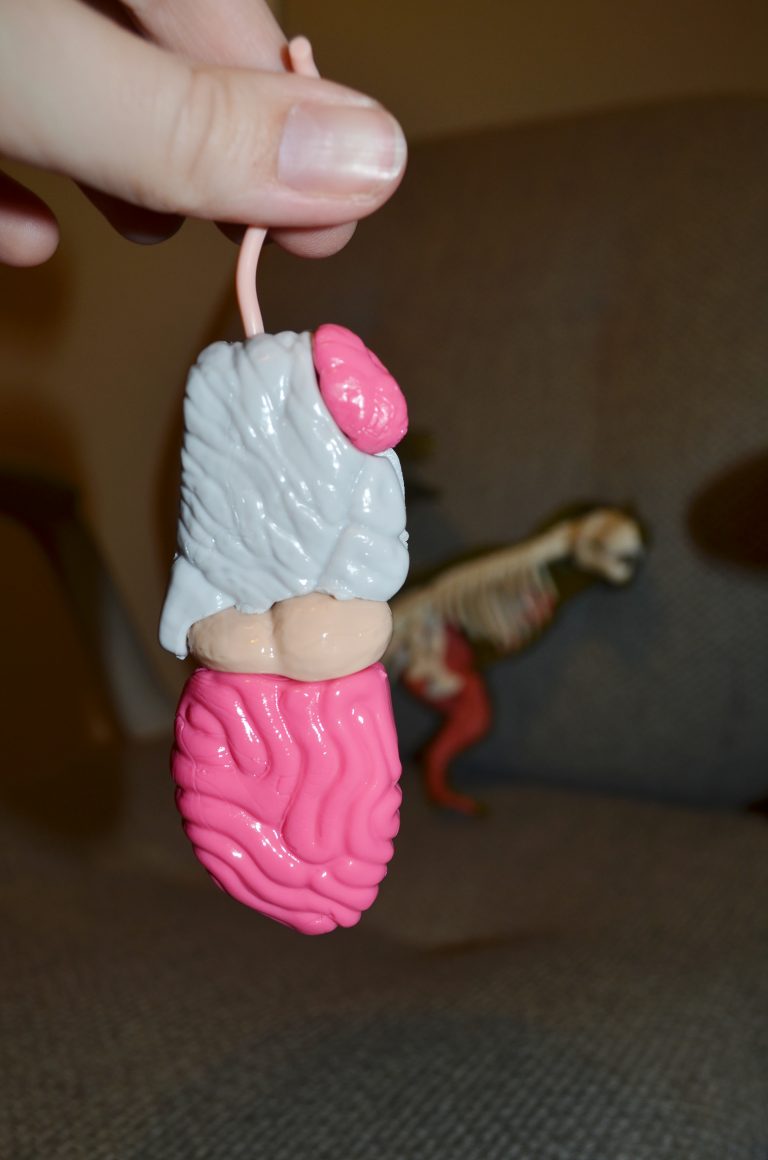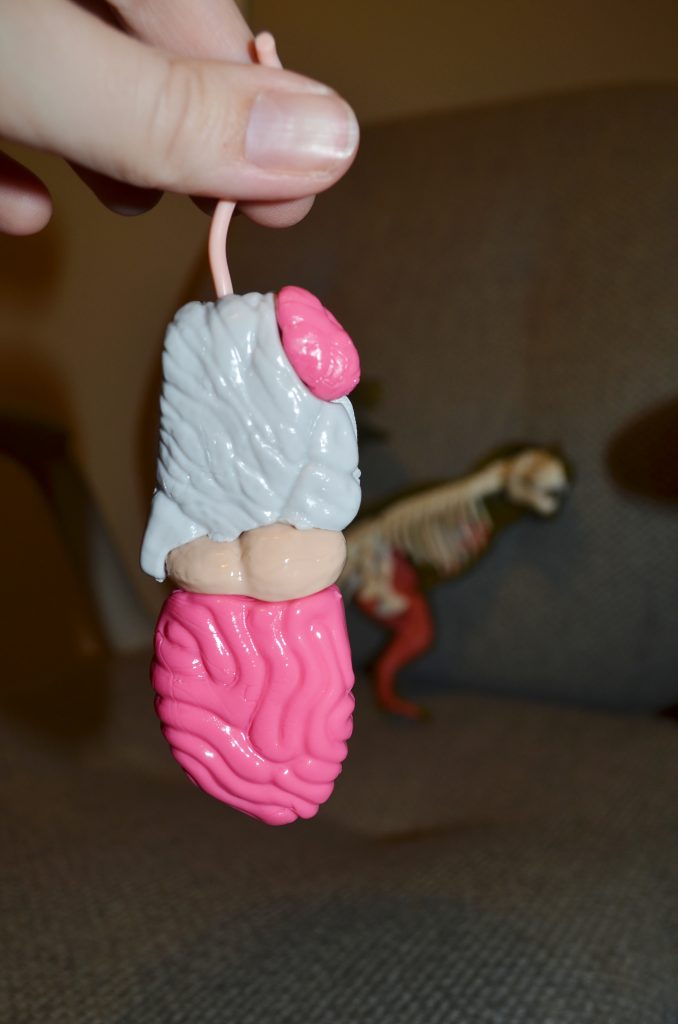 Then we unwrapped the organs which come all in one piece but you can easily pull the organs apart to separate them. Squishy squishy squishy! My son played with them for a while before deciding to actually put the rest of his T-Rex together!

The tail was extremely simple to snap together as well. It comes in 3 parts and unfortunately none of it is squishy but it was fun to have extra pieces to snap together.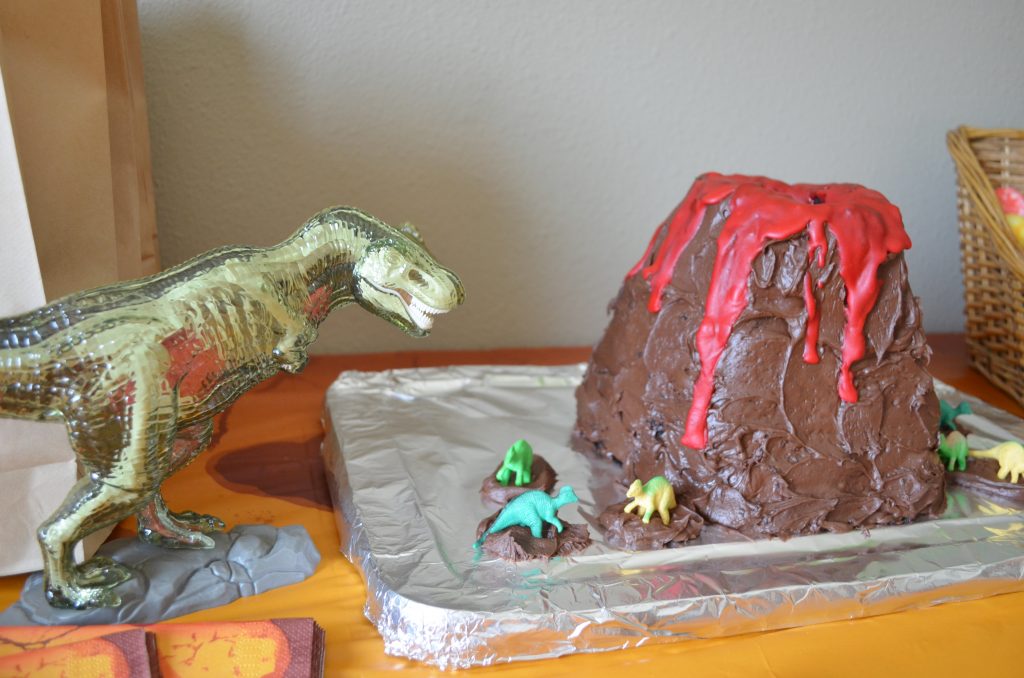 After my son had fun playing with his dino the morning he opened it we actually displayed it on our party table at our Fossils & Dinosaur party. It's really a large stunning T-Rex. Again I love the squishy tongue inside the mouth – it's eerily real!
As for the product itself overall we really like it. It was initially easy to snap the pieces together but at the end I had a little bit of a difficult time getting them to all snap together so if you have a younger kiddo they may need a little hand at the end finish up their dino. The dino mounts onto a rock to stand on and actually stand very well. It doesn't tip in the slightest and is very well grounded. When the plastic dinosaur frame is all put together you can't really squishy anything unless you re-open the dinosaur back up but I guess it keeps the organs cleaner that way!
Make sure to check out these other squishy toys in the series – Squishy Human Body, Squishy Brain, and Squishy Science from head to toe. You can also find these on Amazon. AND don't forget to check out SmartLab's FREE ZONE full of free activities, coloring sheets, and trivia!!
Disclosure: I received the above product to use in order to form my own opinion. All opinions are my own. Giveaway is open to US only and will end at 12am est on April 30, 2013. Winner has 48 hours to respond to winners email or a new winner will be chosen. Prize provided by SmartLab Toys.