Tips for Taking Care of the Family Dog
This post may contain affiliate links, view our disclosure policy for details.
If you've been a reader here for a while you have met our dog Jenny! If you haven't met her – she's the wonderful German Shepard mix that we rescued from our local animal shelter last fall. We specifically adopted her for our oldest son who has very high functioning Asperger's. She's been with us for almost a year now and has learned a lot since she's been with us!! Recently, however, she had a horrible attack of fleas regardless of all the flea stuff we had her on so we actually had to take her into the vet for some extra help because she was scratching open sores on herself! Although the fleas and sores have been taken care of I knew her skin was still irritating her! We were offered to try some John Paul Pet products which I really was excited to learn more about! Did you know that John Paul, co-founder of Paul Mitchell, has a pet care line? I couldn't wait to give my Jenny a bath in their Tea Tree Shampoo!
The John Paul pet line also makes products for cats and horses!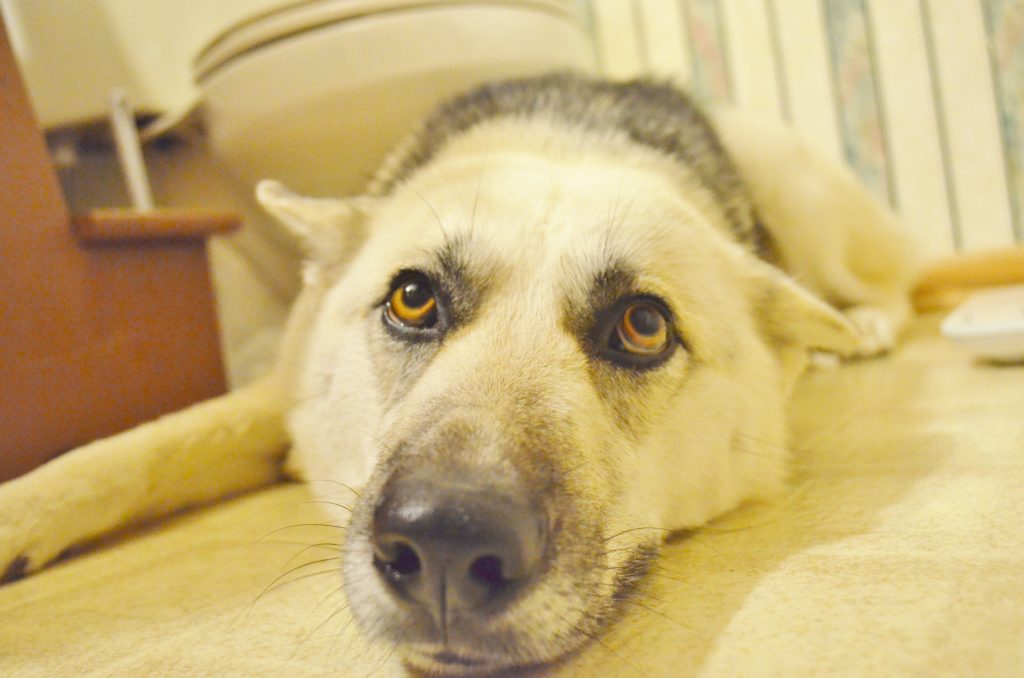 This is what Jenny looks like when she knows she's getting a bath! She is pretty scared of our garden hose so we have to bath her inside in the tub…..but that doesn't mean she's a fan of it!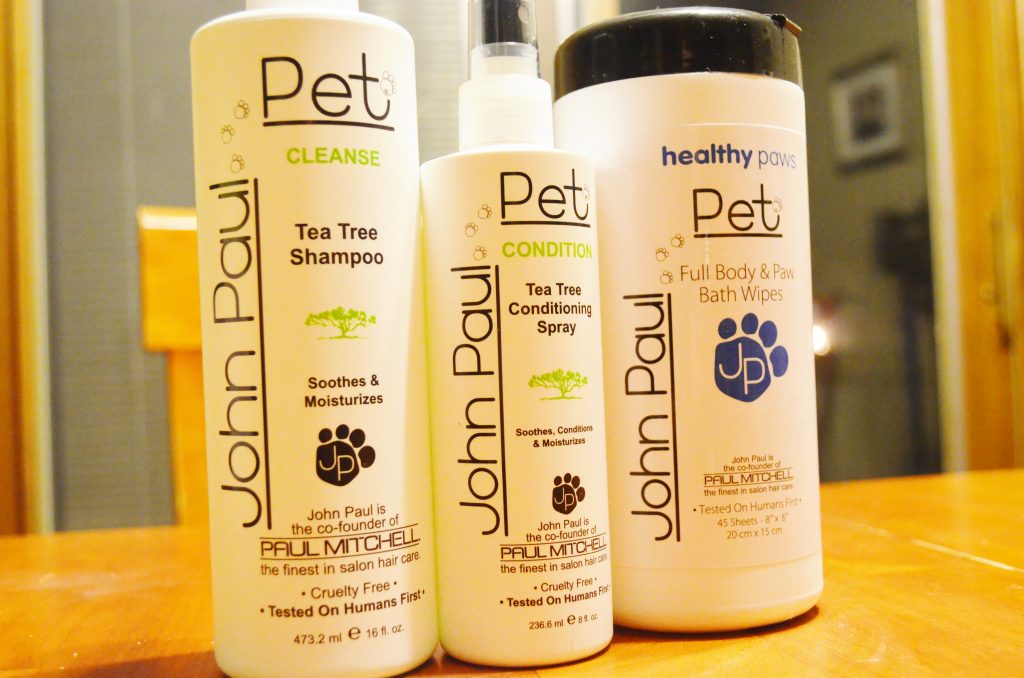 In the nice gift box we received was their entire John Paul Tea Tree Pack which included the Tea Tree Shampoo, Tea Tree Conditioning Spray, and Full Body & Paw Bath Wipes. Although we don't typically do a lot of grooming with our dog I was very interested in trying out all of the products that were sent to us. Naturally I wanted to smell everything first since I love tea tree and it was a lovely smell! Not strong at all! Plus I noticed on all of the products that it states "Test on Humans First" – so I definitely felt comfortable using them on my dog!
I had never used a conditioning spray on her before but let me tell you – our dog has a LOT of fur! I'm telling you a LOT! It literally takes about half a bottle of shampoo to give her a really good bath! Plus the bath wipes will really come in handy!! We live out in the country and it can get ridiculously mucky out here with all of the ice/snow storms and of course the rain storms. We finally broke down and bought our kids mucking boots but didn't have anything for the animals! We will be saving these wipes for the muckiest of times for both our pig and our dog!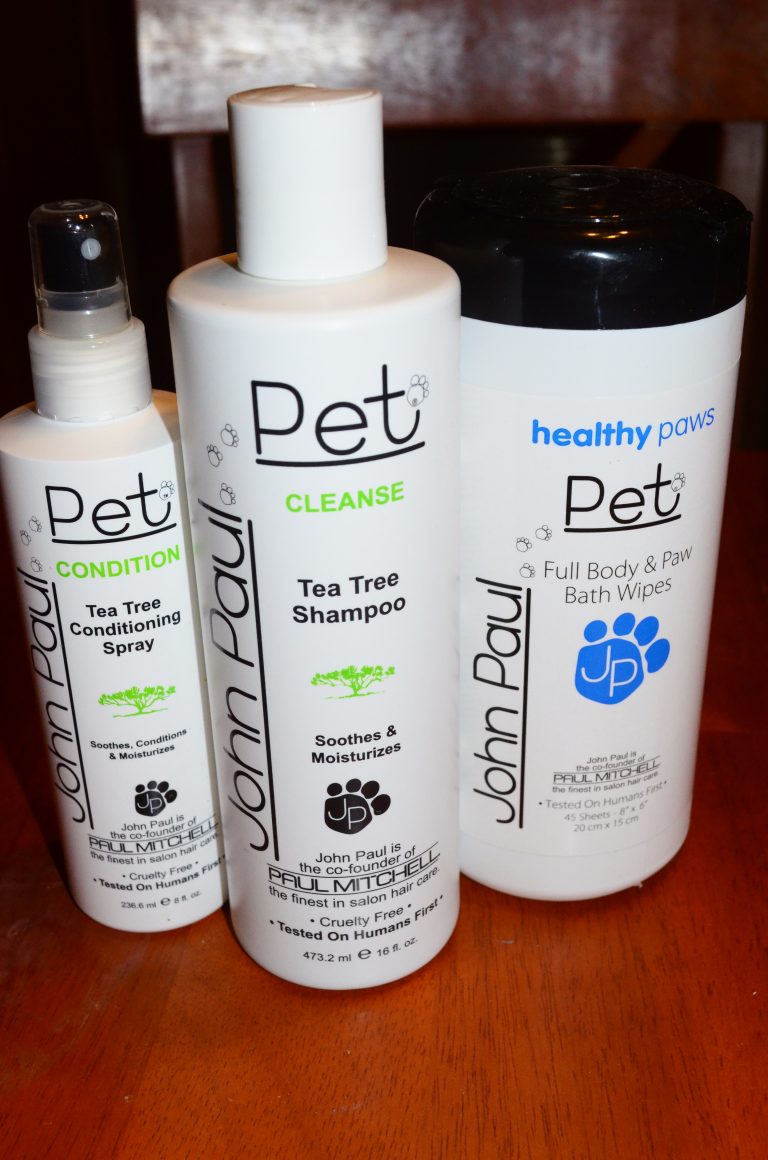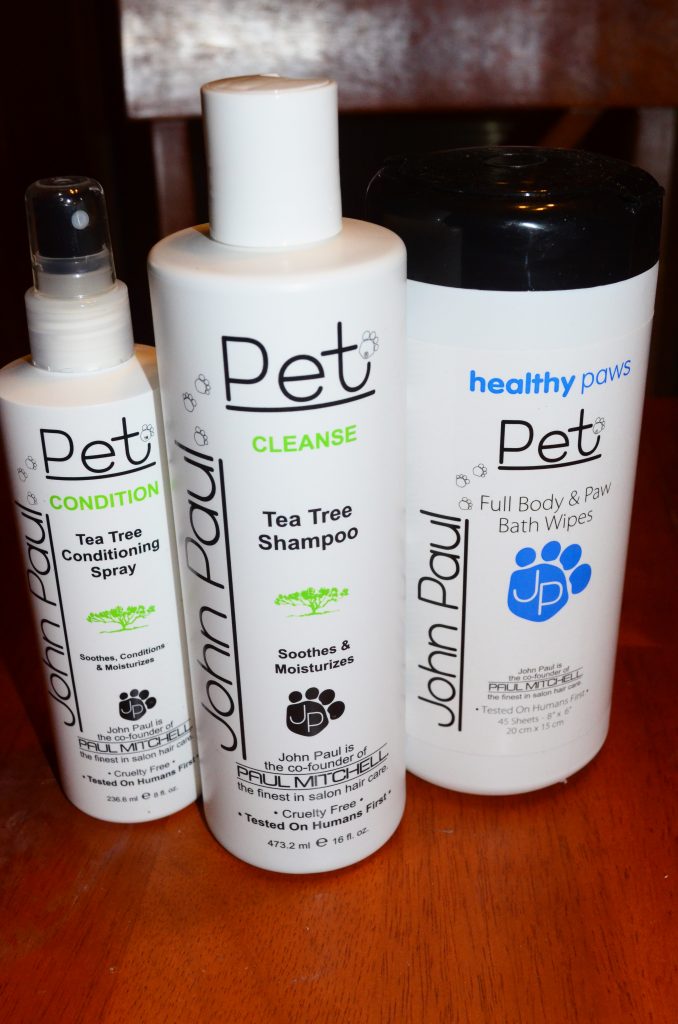 I am really impressed with these products. We've tried purchasing cheap dog shampoo in the past and I will tell you – it's not worth it! My dog always smells worse after the bath than she did before! And honestly other than rinsing mud off of her I'm not sure that they did a lot of good. After using the John Paul Tea Tree Shampoo was the first time that Jenny actually smelled OK after her bath and I can definitely tell a big difference in her fur and skin! She has stopped scratching and itching so bad and really seems to be a lot happier with her skin after we used the John Paul products!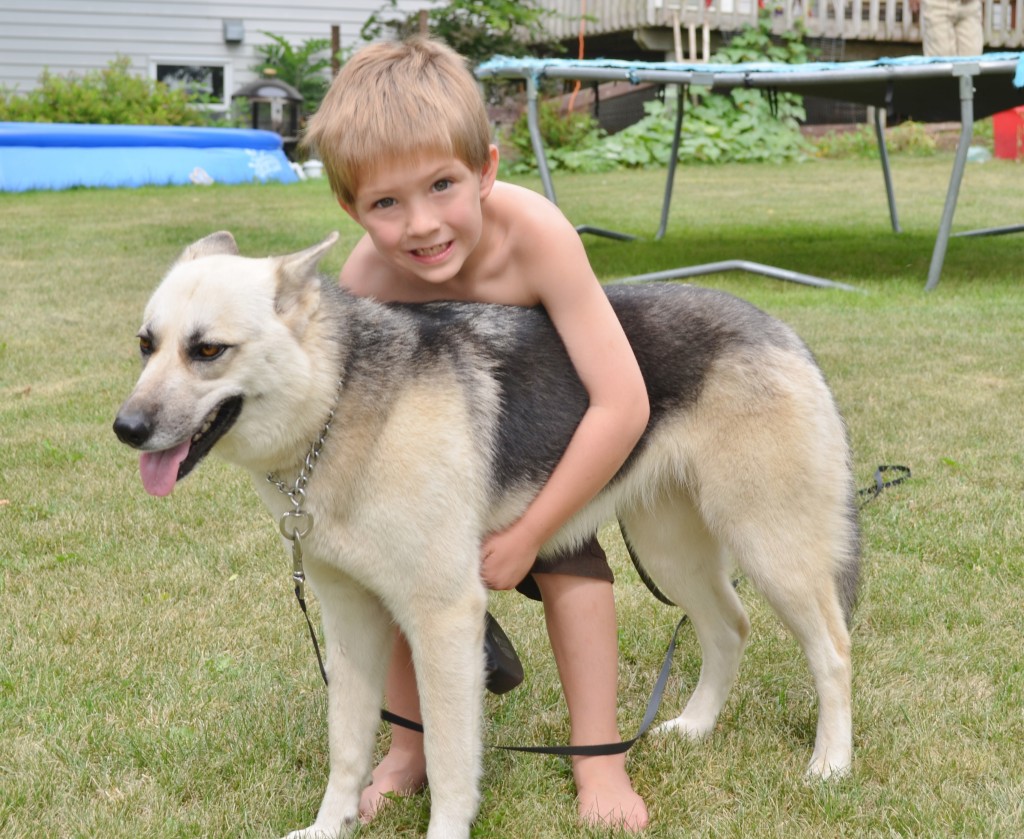 And when Jenny is happier we are all happier! My boys (and I!) especially really dote on her a lot! She's a great dog, a fantastic family pet, and I have been working very diligently the past year since we've had her to treat her the right way and make sure she's well cared for.
My husband thinks I'm crazy but Jenny's fur is SO soft and we washed her in the Tea Tree Shampoo and also used the Tea Tree Conditioning Spray!!! I LOVE her fur now! I'm definitely going to start using this conditioning spray on her every time we give her a bath – it is absolutely fantastic! And I didn't even spray that much on her or soak her too much in the bath!
I am SO excited that one of your dogs has the chance to win a John Paul Pet Grooming System Prepack! Well, you can win it for your dog! 🙂 And if you don't have a dog feel free to enter and donate them to your local animal shelter! You can also follow John Paul Pet on Facebook, Pinterest and on Twitter!