Classroom Button Kit by Roylco
This post may contain affiliate links, view our disclosure policy for details.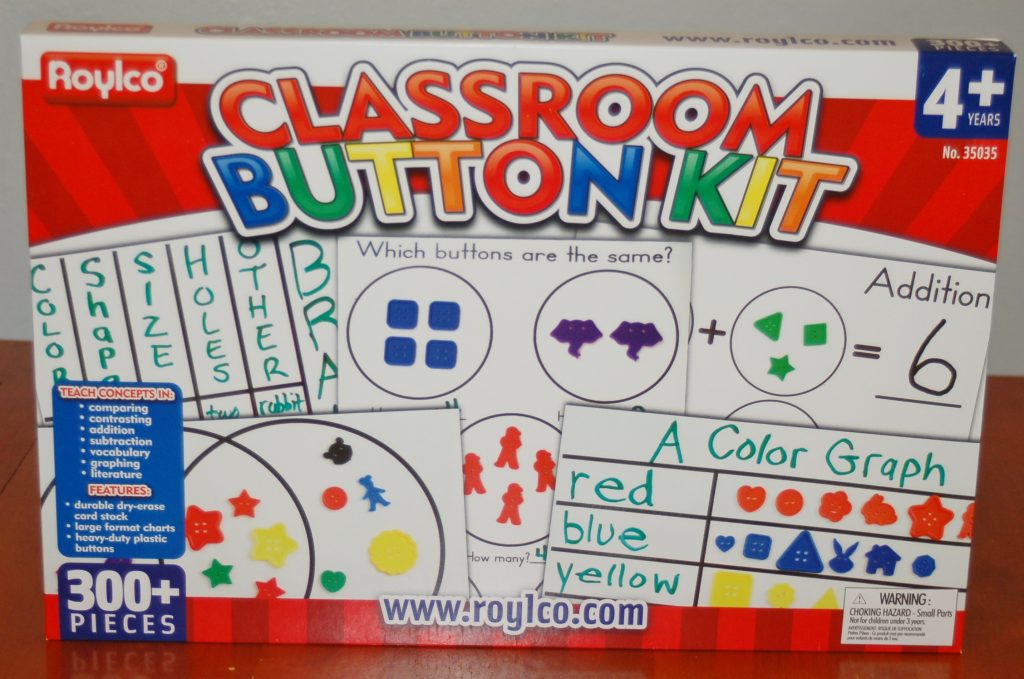 This Classroom Button Kit from Roylco is very versatile and great for many different age groups. It comes with large dry erase charts which can be used for a huge amount of different activities. This set covers areas like compare/contract, addition, subtraction, Venn Diagram, graphing, literature, and more. The set comes with 350+ pieces!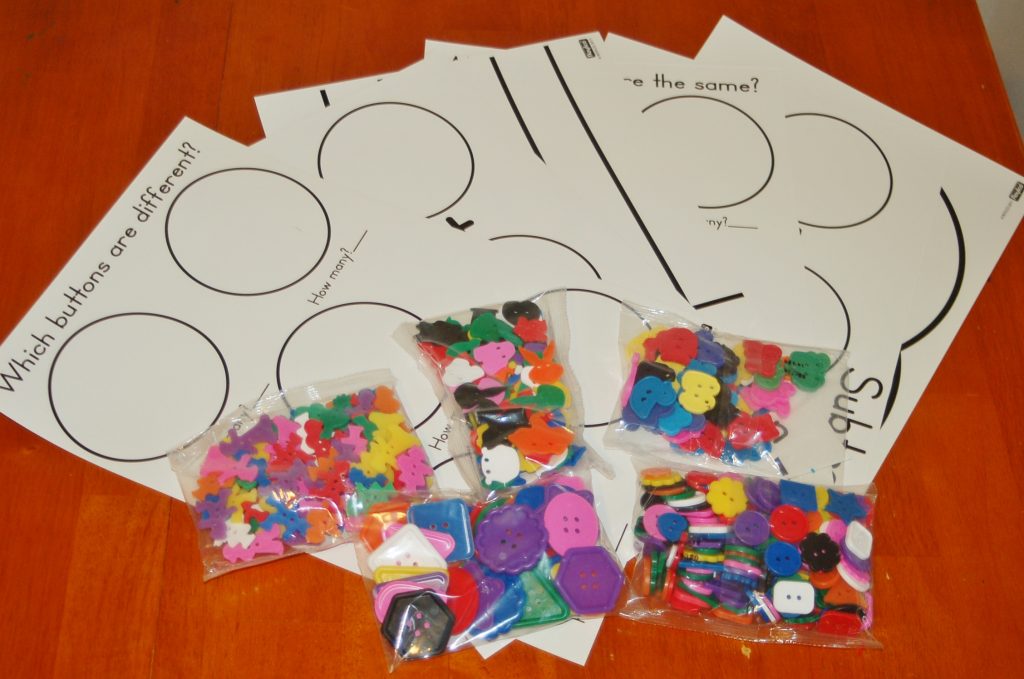 As you can see there are five different bags of buttons. One was large shapes, one was small shapes, one was people shapes, one was textured animal shapes, and one was a misc. bag of shapes. The buttons did not come in resealable bags so I did have to re-bag them after we used our buttons. Wasn't a huge deal – just wanted to point it out.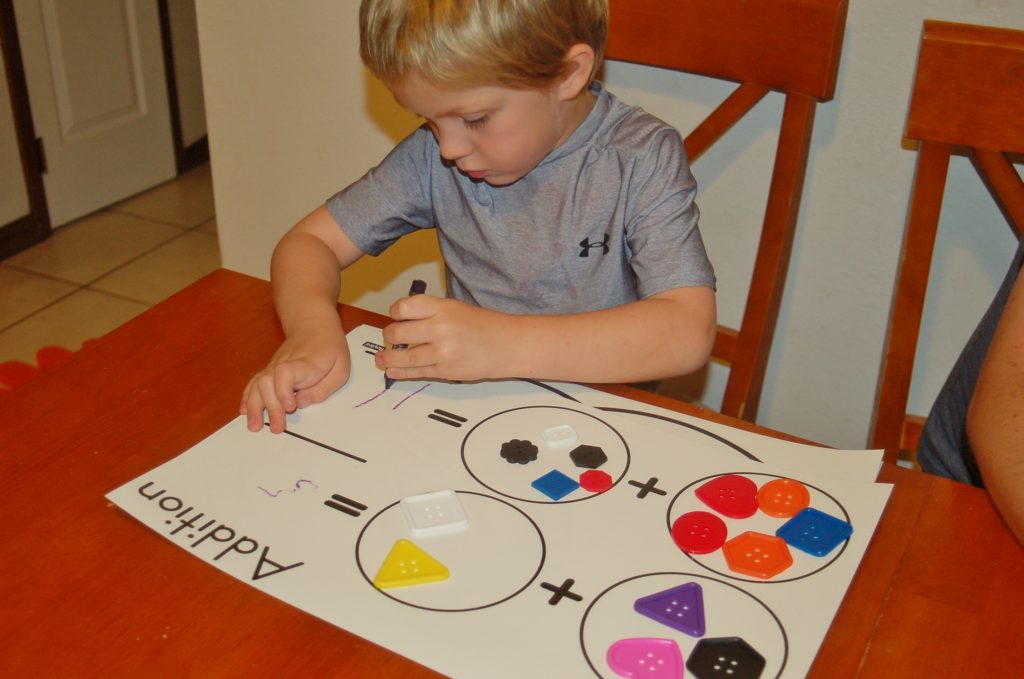 The set also does not include any dry-erase markers/crayons so make sure you have them handy if you want to use this set! When we first pulled out our set we started with some simple addition problems for my son. My son has learned how to recognize amounts of items together in a group instead of having to count them all so this was great to try new groups of numbers and also different sized buttons to work at his new skill. He is also just learning how to write several of the numbers so this was great practice for him!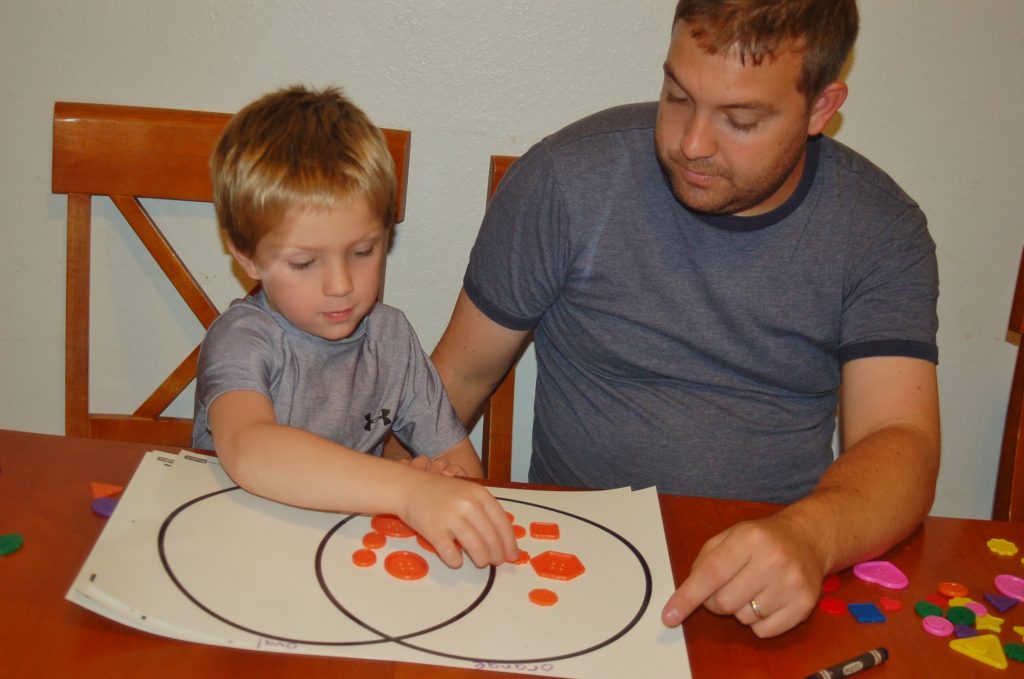 Next we worked with the Venn Diagram chart. I wasn't sure how my son would do with this as he had never seen one before but he was able to figure it out immediately. We decided to put all orange buttons of any shape on one side, all ovals of any color on the other side, and we wanted to slide all orange ovals into the middle of the diagram. This chart alone provides a huge number of alternative activities. You can choose activities by color, shape, button holes, size, etc.
You can view all of the included charts on Roylco's site at Brightside Products. 
We loved this set! This would be a great tool for both teachers and homeschooling parents. Especially since you can use it on many different age and ability levels. The charts are laminated making this entire set durable for a LOT of use. It stores in a very thing box so it doesn't take up a lot of room on your shelf either. It's a fantastic use of higher order thinking skills with a hands-on manipulative. My husband in addition to being a new principal will be in charge of resource activities for all of the students at his new school and he is just incredibly thrilled to have this Classroom Button kit. He can really use it for any of his K5-8th grade
GIVEAWAY
Want to win your own Classroom Button Kit? Don't worry – you don't have to be a teacher to enter! This is open to everyone in the US! Roylco has generously offered one of my readers to win their own set! Just fill out the Rafflecopter form below!
Disclosure: I was not compensated for this review. I received the above product in order to use and form my own opinions. All opinions are 100% my own. Giveaway is open to US only and ends at 12:01 am est on 8/8/12. Winner will have 48 hours to claim prize before a new winner is chosen.