Learning Resources New Sprouts Super Sandwich Set Review
This post may contain affiliate links, view our disclosure policy for details.
Disclosure: I received the below product to use for this review. All opinions are my own.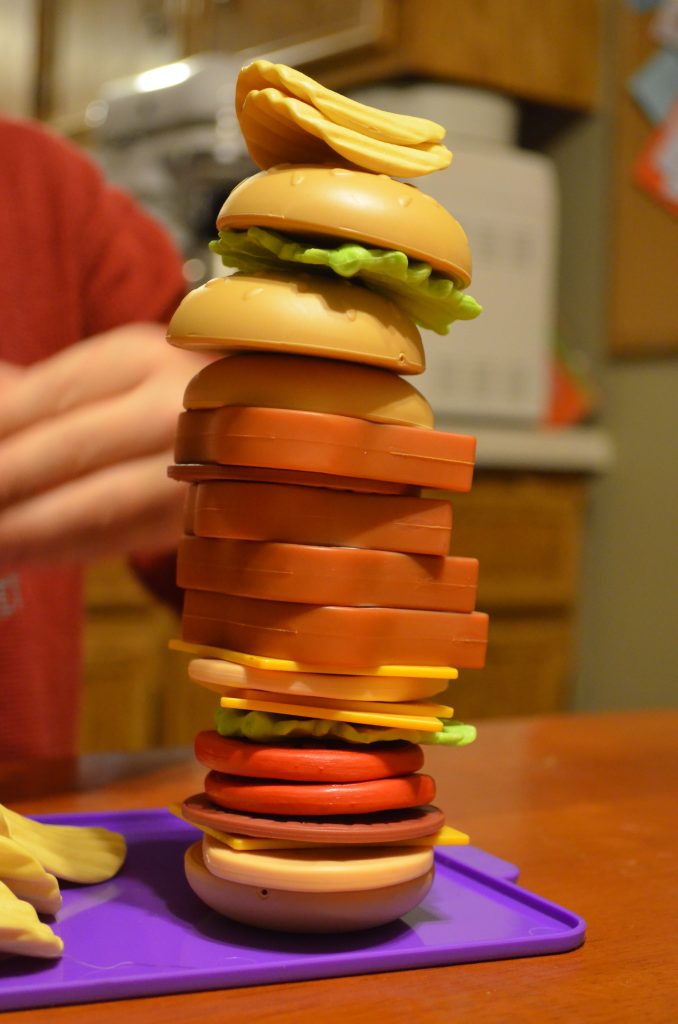 Girls have their tea parties….and boys have BIG appetites! I mean HUGE appetites! It was no surprise to me that when we opened up the new Learning Resources Sprouts Super Sandwich set what do you think my boys built?
The most gigantic sandwich they'd ever seen! This 29 piece set comes with 4 slices of bread, 4 pieces of bun bread (2 whole buns), 2 slices of cheese, 2 slices of turkey, 2 slices of salami, 2 lettuce leaves, 2 tomatoes, 8 potato chips and a serving tray! (can double as a pretend cutting board!)
The pieces are made out of a rubberized plastic so you can't squish them in like the cheap plastic food but they aren't as hard as wooden food.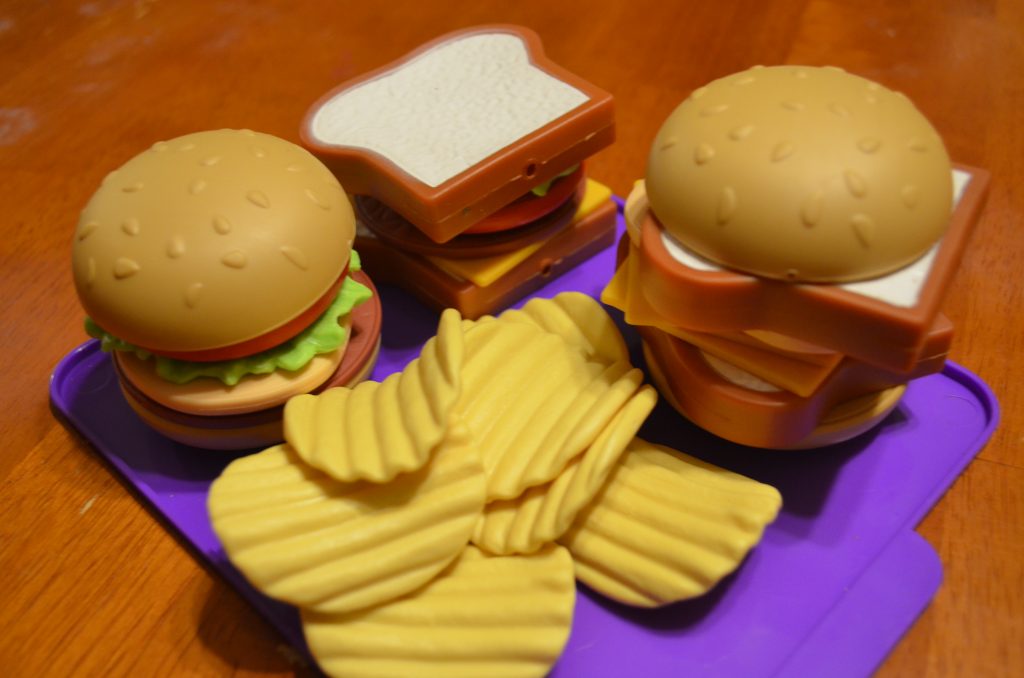 Ok ok – so here's how the sandwiches SHOULD look! 🙂 Well….almost….! This new Sprouts play food is just fabulous. It's the right size for little hands (ages 2+), includes a nice variety of meats, veggies, and cheese, as well as various types of bread – so there are a lot of options within the set for the kids to make.
There is plenty of materials to make 4 sets of sandwiches – and your gluten free kiddos can even pretend to make lettuce sandwiches instead! I always loved play sets like this when my kids were little because not only does it encourage their imaginative skills but it also helps with coordination and fine motor skills as well.
My kids are 6 and 4 years old and are still loving to play with pretend food! This set just seems SO realistic compared to other play food sets we've used!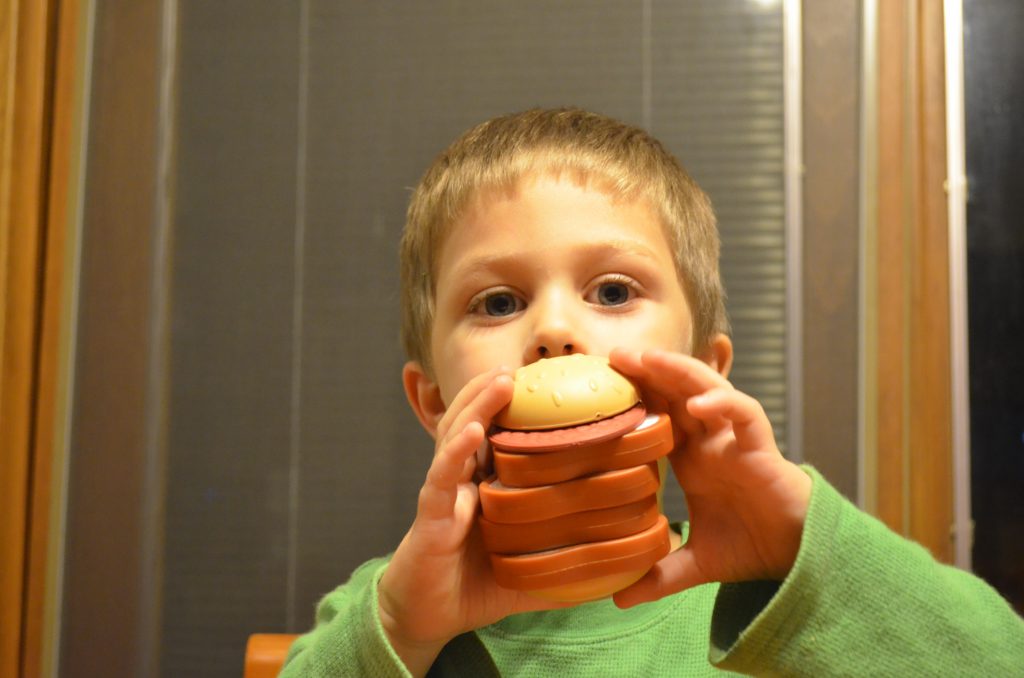 I'm sure the boys would have liked to eat this….eeerrrr….bread sandwich! Hah!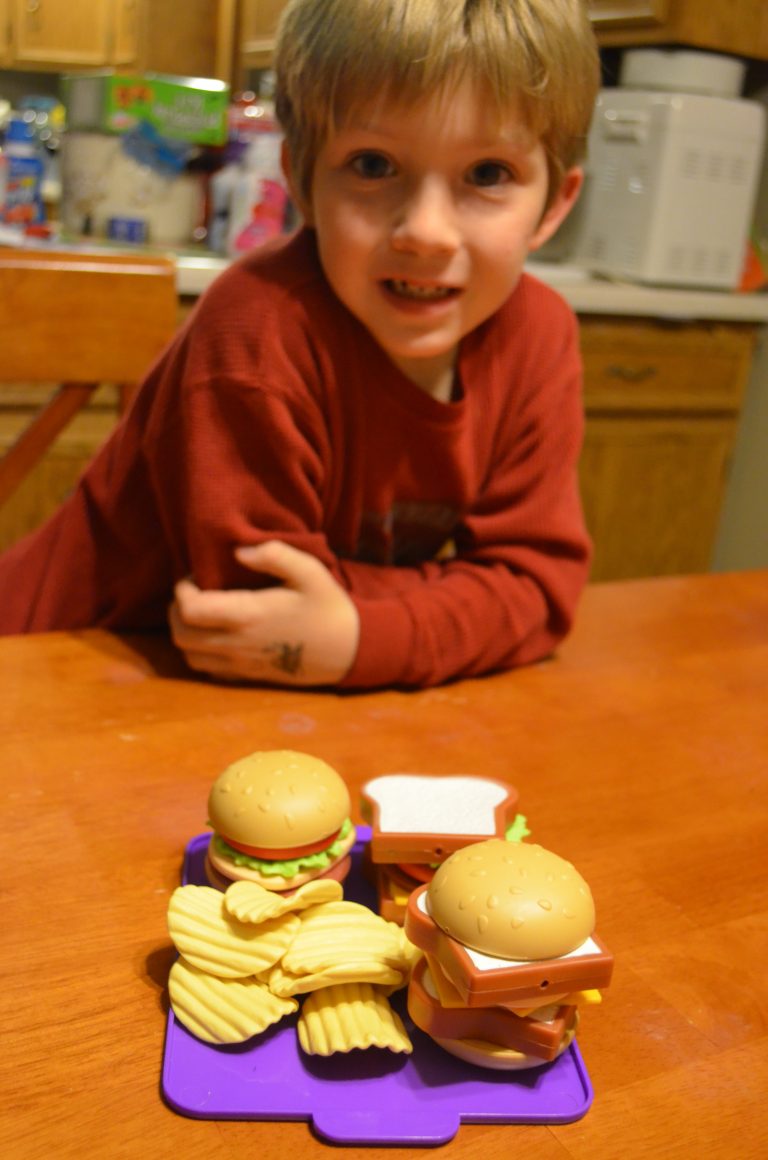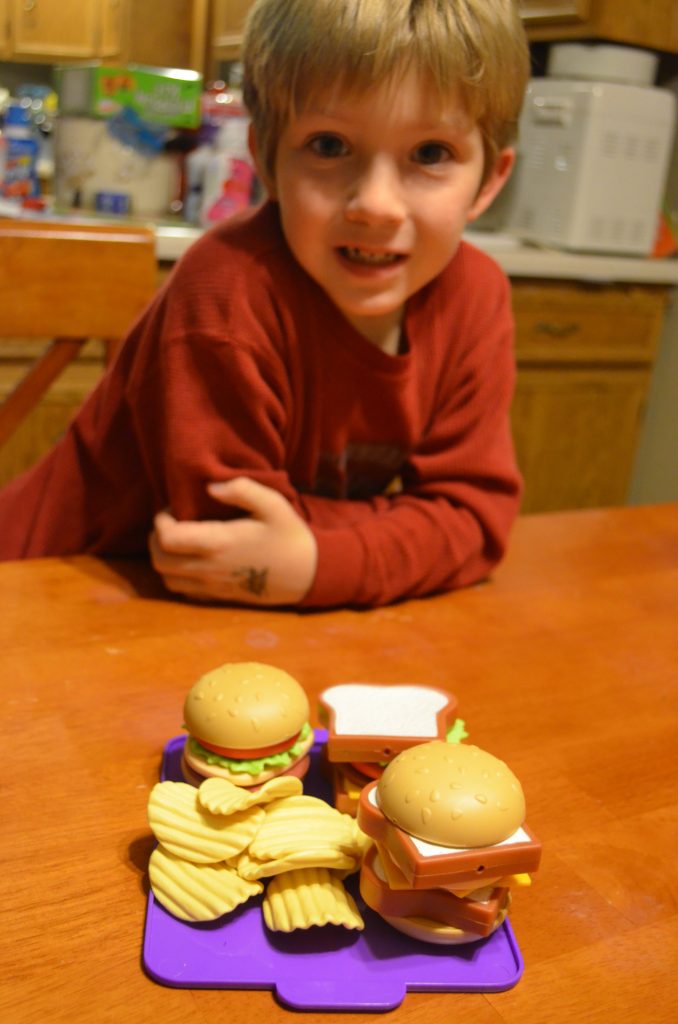 You can see above the buns even have pretend sesame seeds on top and the chips are wavy which all add extra texture into the play time. I have been very happy with all of the play food sets we have used from Learning Resources!
They are good quality and will last through my kids "play kitchen years" for sure! I used to buy the cheapy plastic food pieces but so many of them got horribly damaged and thrown away it was a waste of money.
I would much rather have invested in play food with a better quality that my kids can use for years and then we can donate to our local preschool when my kids are older! You can also buy these on Amazon as well.