Silver Dollar City & Marvel Cave Family Fun in Branson- #explorebranson
This post may contain affiliate links, view our disclosure policy for details.
 I  received media passes to visit this attraction. No compensation was received. 
One of our busiest days in Branson we had the opportunity to visit Silver Dollar City and Marvel Cave which we can hardly wait to go back to someday! Silver Dollar City is one of those amusement parks where you need at LEAST 2 days to explore – and it's FREE to take a cave tour in Marvel Cave (although I HIGHLY recommend signing up FIRST thing in the morning to make sure you get in!). Considering I've been everywhere from Disney to Sea World and Six Flags I think this is truly the first amusement park I've ever felt the need to go back and explore because we simply just didn't have enough time to do it all! In fact I feel like we still had half of the park to explore!!
The great thing about Silver Dollar City is not only that it's fun of course (it is an amusement park after all!) but it's got SOOOO much history and is highly educational as well!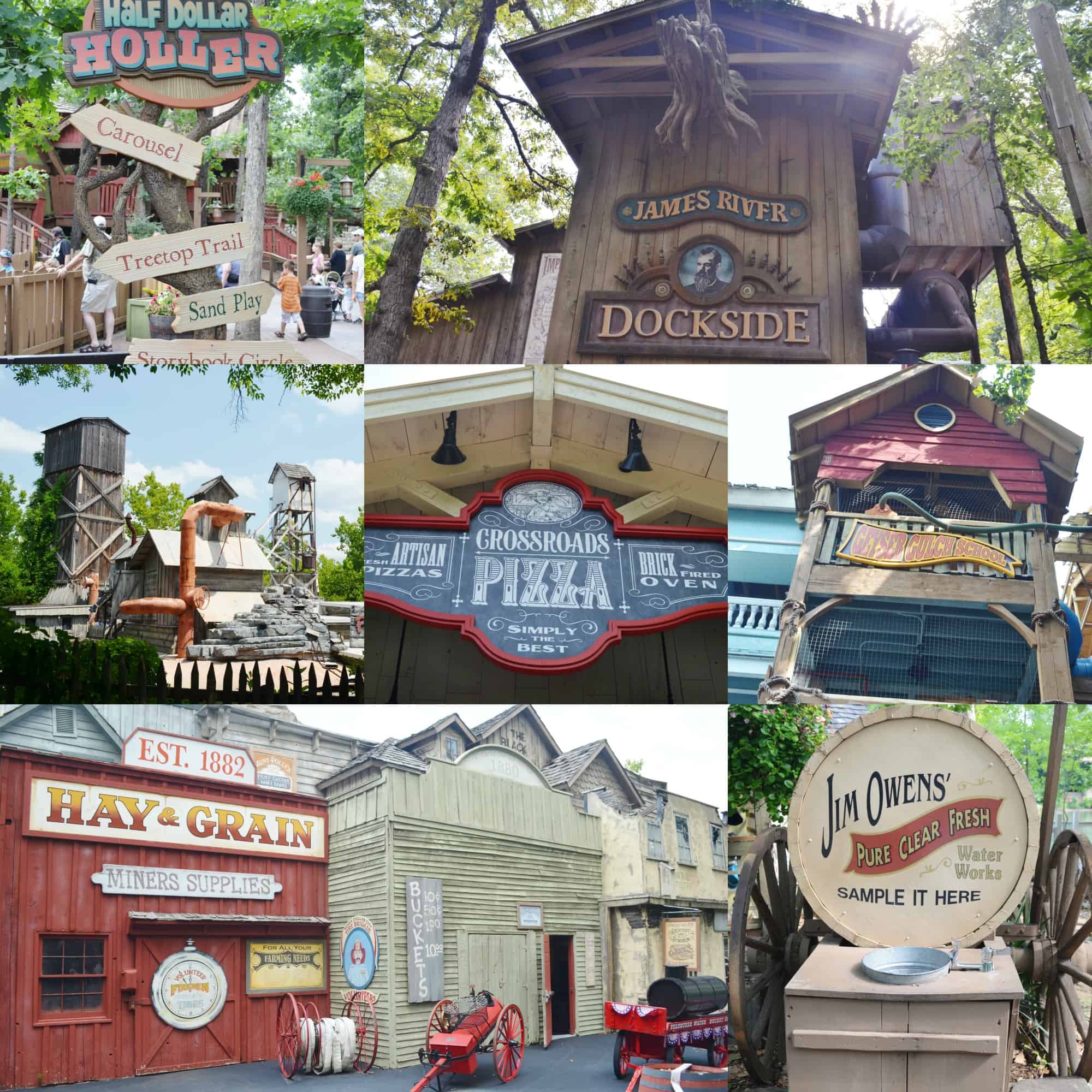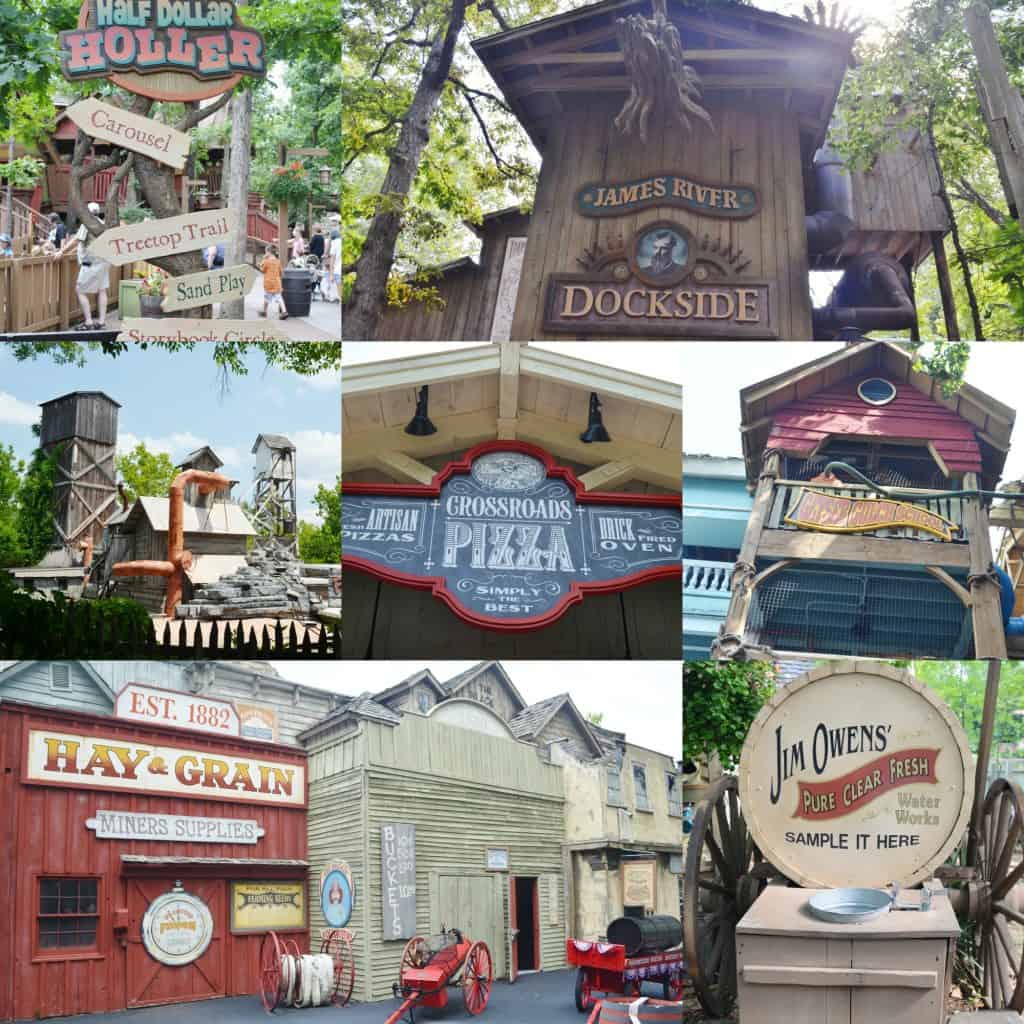 Silver Dollar City is owned by Herschend Family Entertainment and really began it's journey in history in the 1880's with the discovery of Marvel Cave. (if you've been around Surviving a Teacher's Salary for a while you know I'm a NUT about caves!) Originally they thought the cave could be used for mining marble so it was named "Marble Cave", but it turned out to be just limestone. However the interesting thing is that they DID mine bat guano (yes, bat poop) which was sold and used for gunpowder through the war!
In 1960 the Herscend Family (who was already showcasing Marvel Cave at the time) decided to open Main Street of Silver Dollar City to attract guests that perhaps weren't adventurous to go down into the cave. You have to remember there wasn't nice walkways and railing back then in the cave!! And trust me – it's no picnic to go through it now, but I'll talk more about the cave at the end of the post! The park actually got it's name because they used to pass out real silver dollars……it was advertised on Beverly Hillbillies and in 1972 became registered as a National Natural Landmark. There is SO much more history behind it  but the "Main Street" has now expanded into an 1880's town with real craftsman blowing glass, making pastries, and all sorts of other past careers where you can watch and learn about their occupation!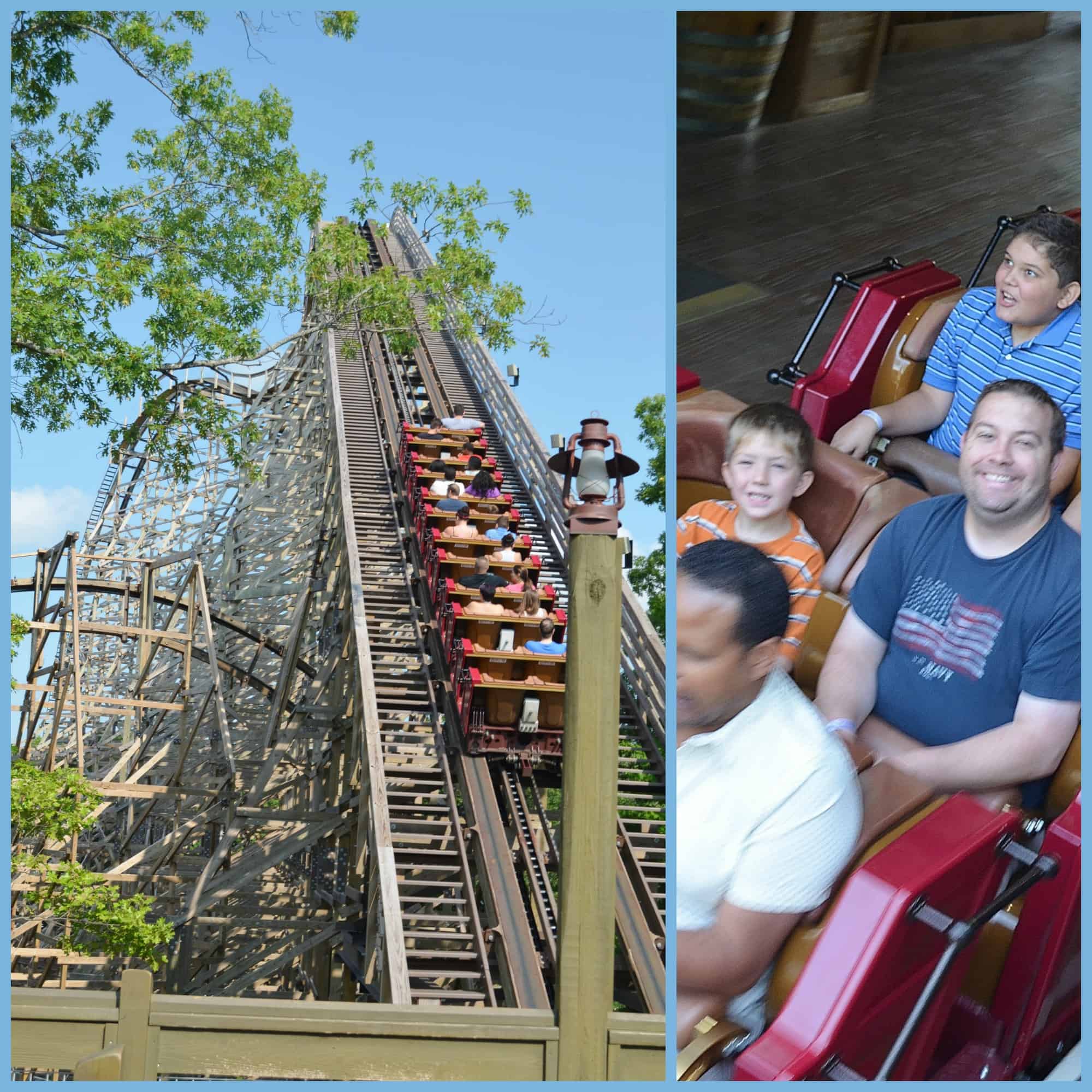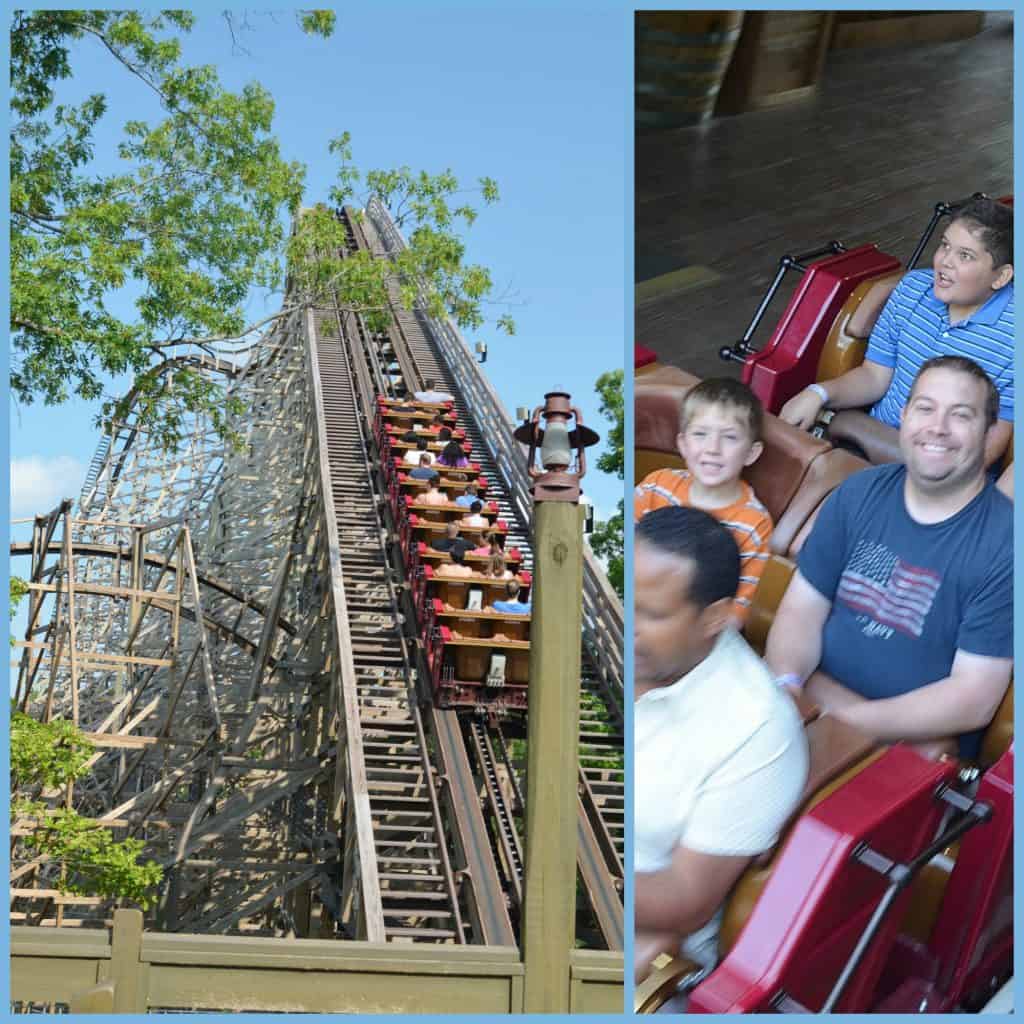 However most people may know Silver Dollar City for it's awesome roller coasters and rides! My kids and husband experienced this first hand! (remember I'm 6 months pregnant so I just got to watch!) We met in the morning for breakfast with a press group of other bloggers so our family had the first opportunity of the day to ride Outlaw Run which boasts itself as the world's only wooden roller coaster to twist upside down 3 times with a double barrel roll. My 7 year old was SO eager to go on this, and although he loves roller coasters of all kinds I had a feeling he was in for quite the ride of his life on this one!! And sure enough I was right – poor kid came off of Outlaw Run white as a sheet and needed a few minutes to sit and compose himself. Later when he got over the shock he of course boasted how much he loved it! My husband, who is an avid roller coaster fan, said he's never been on a coaster like this and was SO happy he rode it!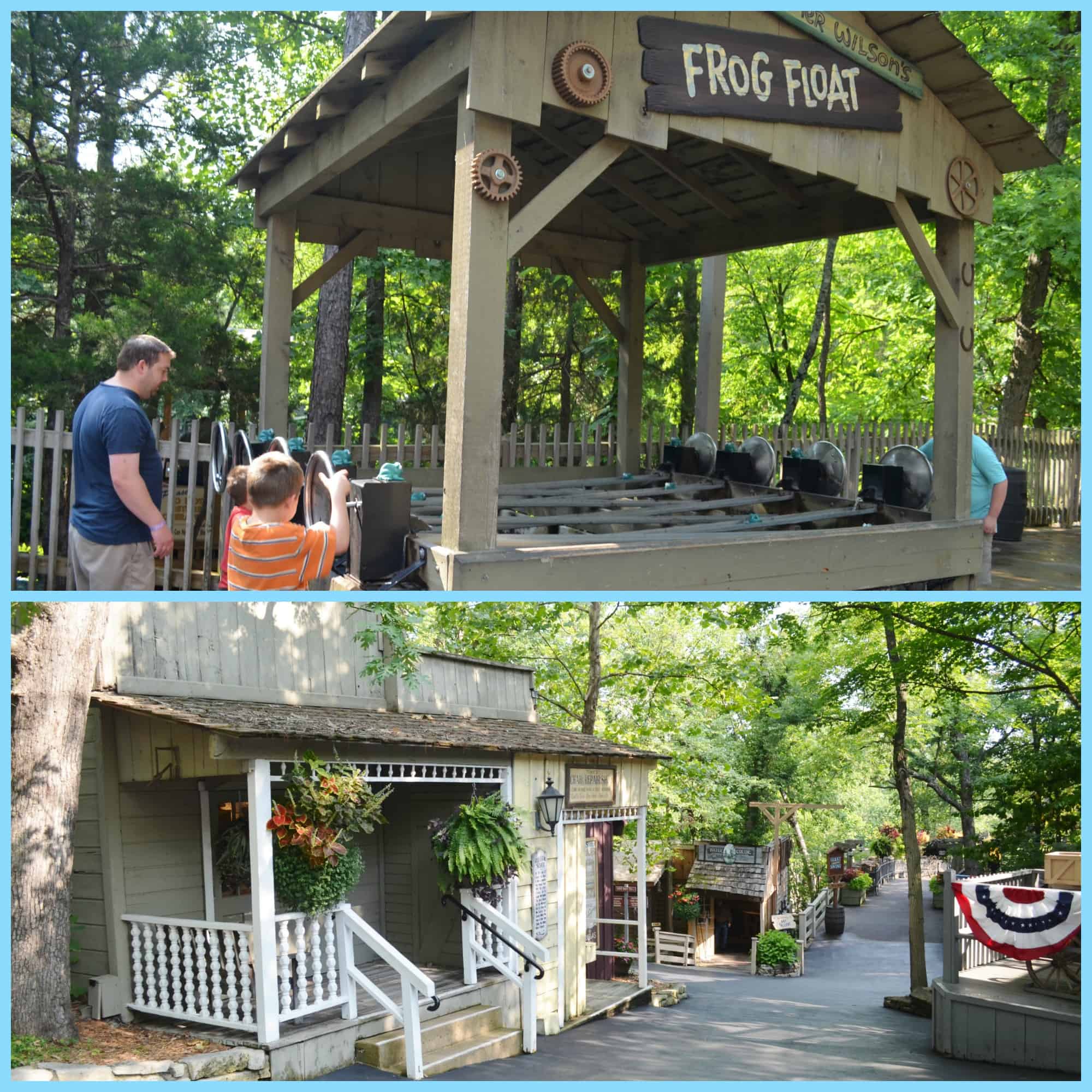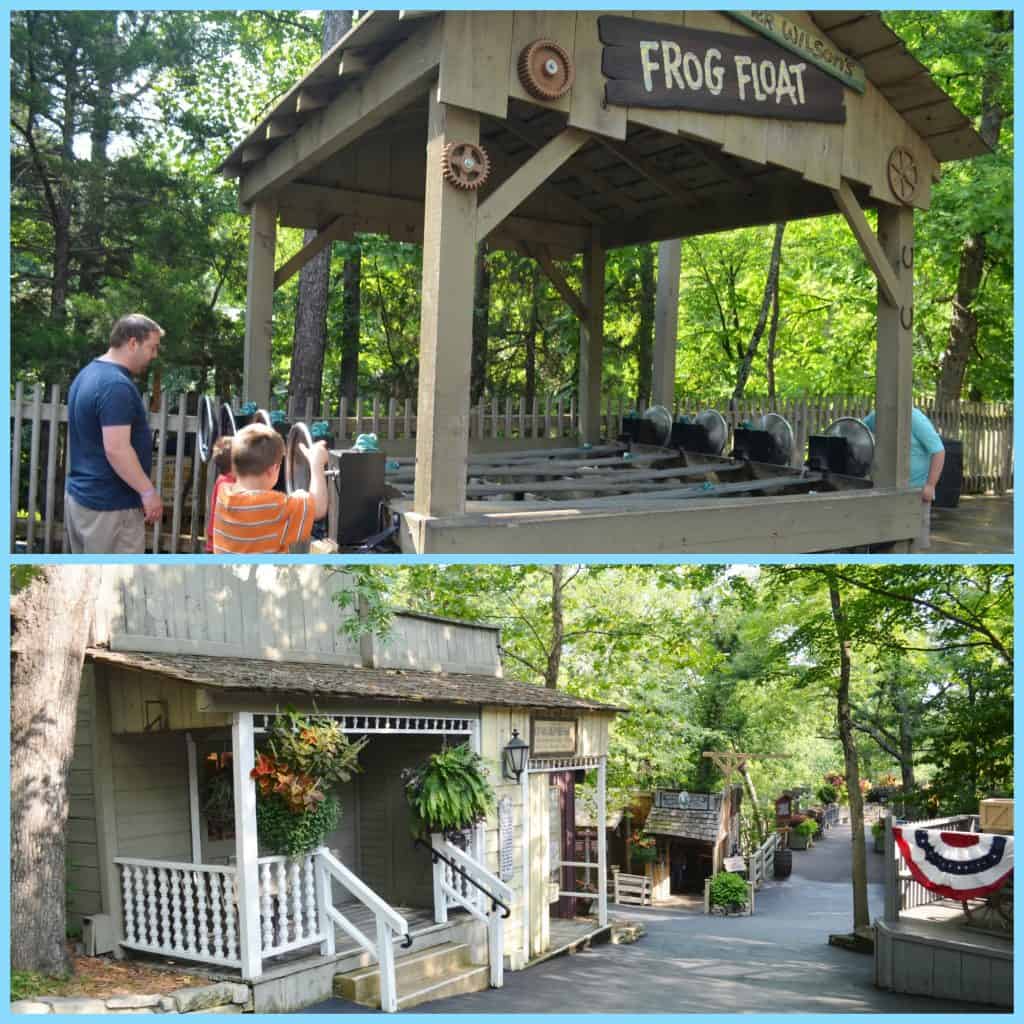 The entire park was built AROUND the trees and so most of the park is completely shaded which is fabulous on a hot summer day! I certainly appreciated it! The 1880's setting and aura of the place was just fabulous- you really felt like you were stepping into another place in time (except of course for the roller coasters). All of the employees were dressed up in era clothing and we loved going by the food vendors to watch them cook their potatoes and such in the HUGEST cast iron skillets I've seen in my entire life. Although I am pregnant and couldn't personally enjoy the rides there was SO much for me to look at and see, which is also great for any elderly, handicapped, and young children who may not be able to ride the rides.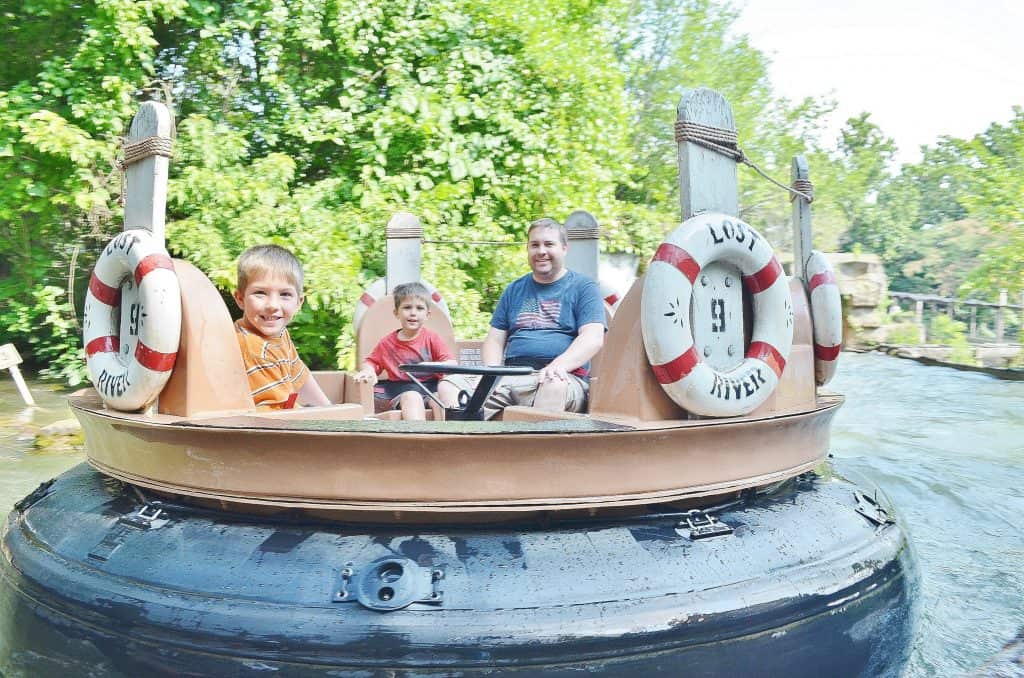 Every ride my family went on passed by great locations for me to take photos of them which was a lot of fun!
Foam Fort: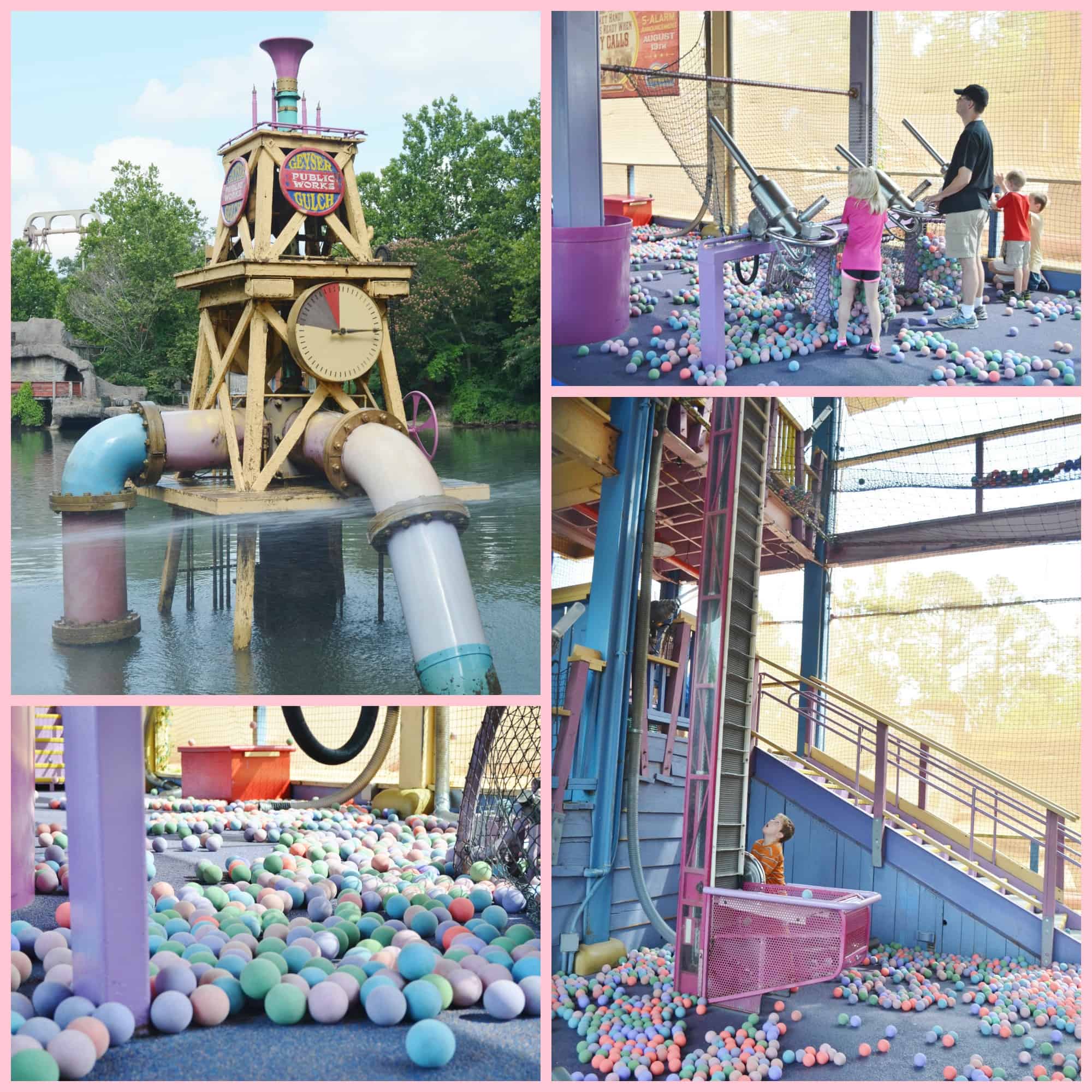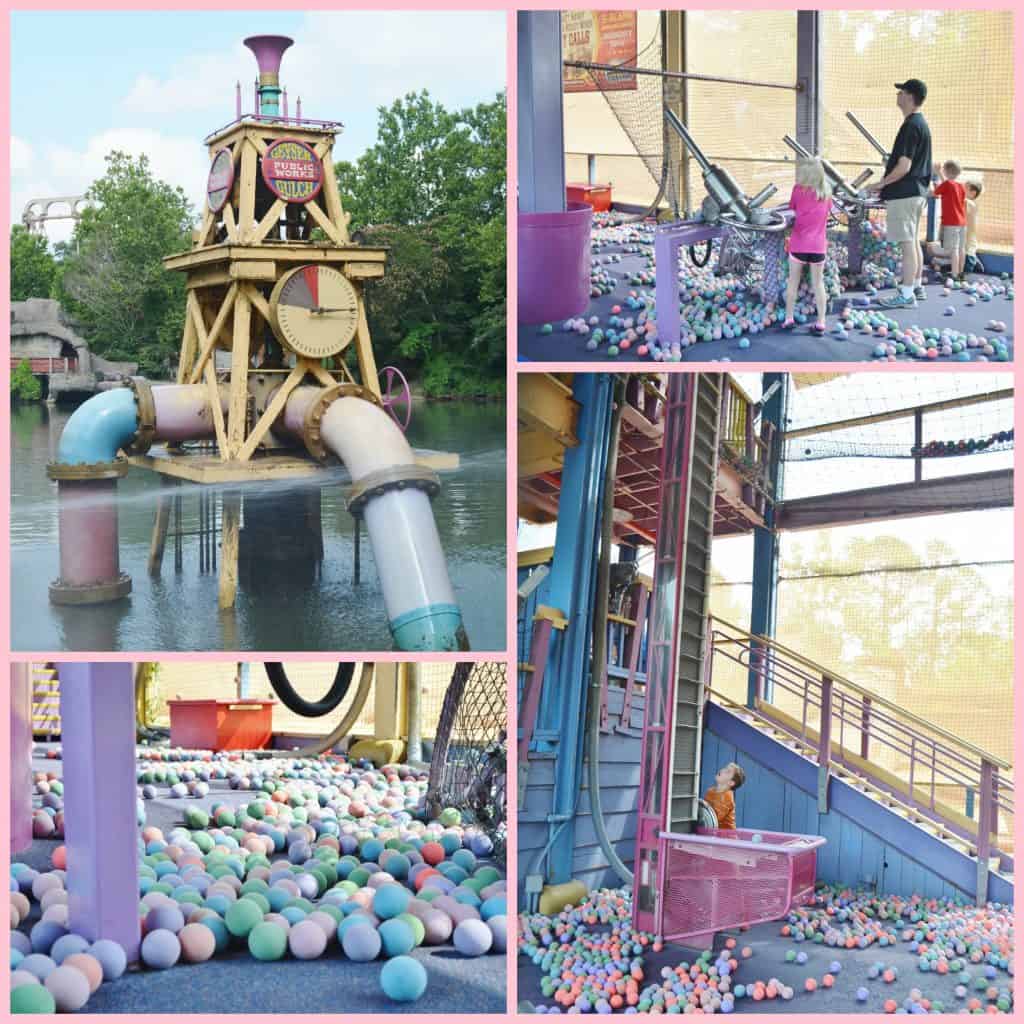 There is an area called "Geyser Gulch" (although it's soon to be remodeled) that was perfect for kids of all ages! In fact there were several locations and play areas in the park that were perfect for kids who couldn't ride rides. Our favorite here besides the constant water squirting battles to cool off in the hot sun was the Foam Fort which was by FAR the largest Foam Fort I've seen in my entire life! If you've never been in one they are AWESOME. You collect foam balls (which you see laying all around the floors) and can shoot them in cannons onto one of 4 different floors! Each floor has various cannons and carriers to move the foam balls around. We spent well over an hour here.
Indoor Science Show: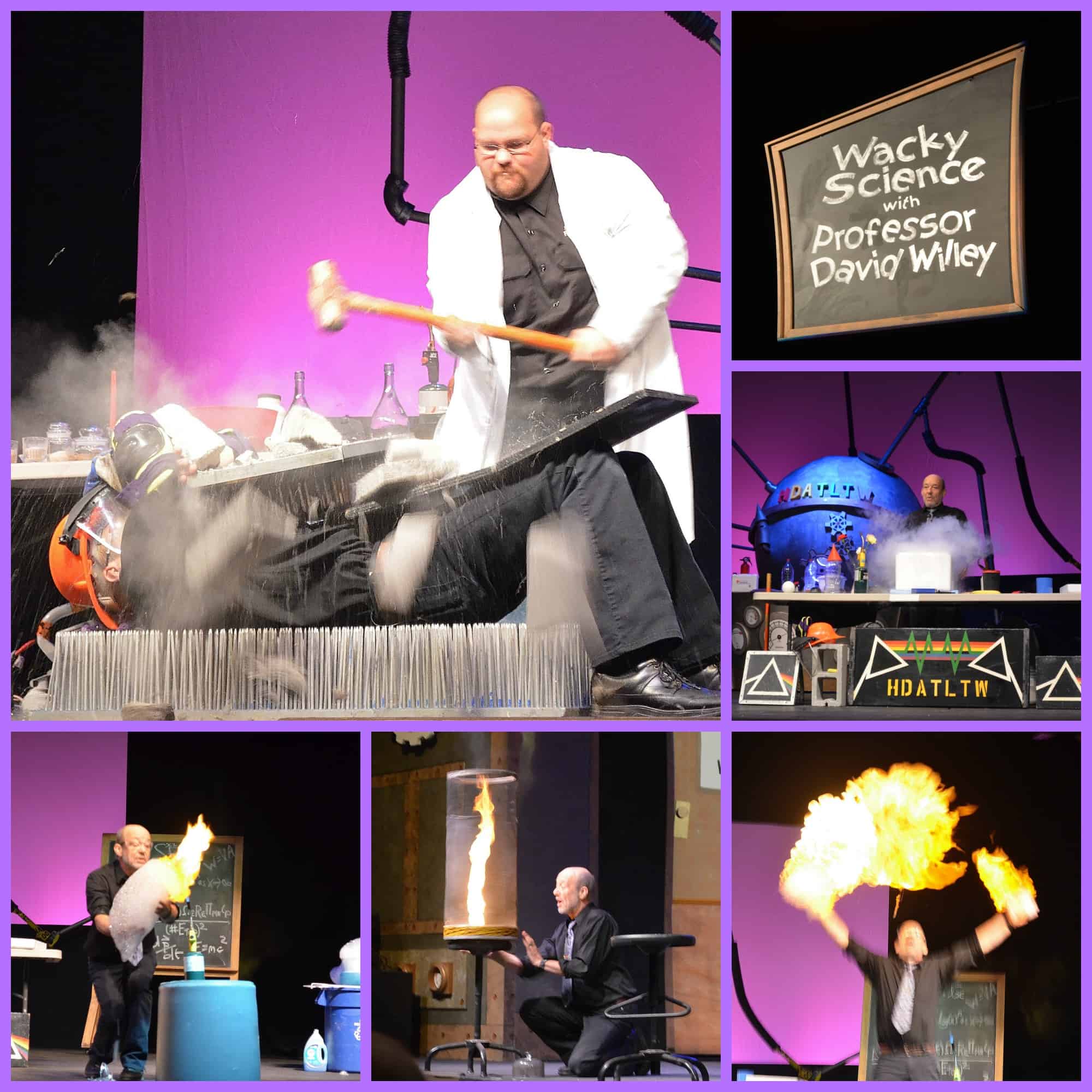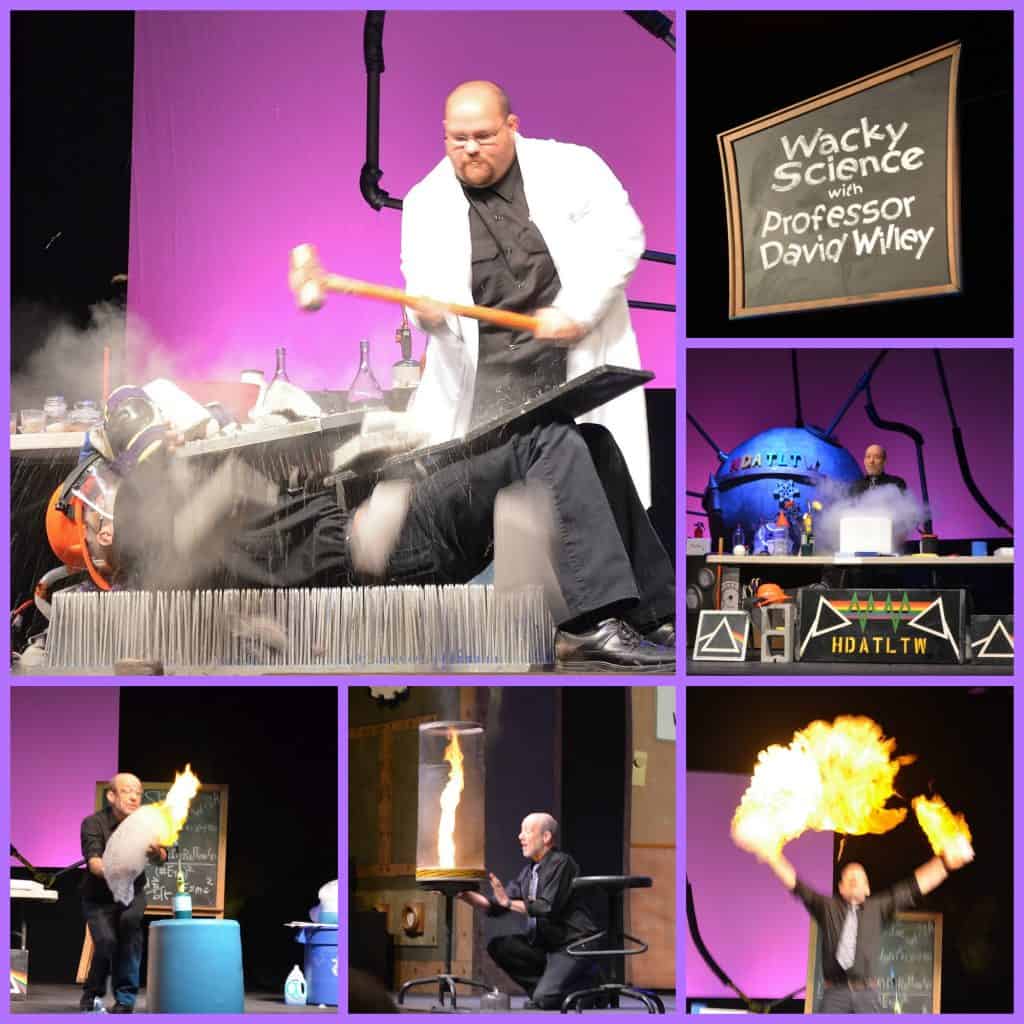 Although there are quite a few shows showcased throughout the day at Silver Dollar City we only had time to visit Wacky Science with Professor David Willey. These are my favorite types of shows because of it's high educational value and having a science degree myself I love the "shock" factor these shows produce for kids. My 7 year old was in awe of the liquid nitrogen experiments, methane and fire shows, the jet propulsion rockets built on stage, watching the professor getting a cement block hammered on top of him while he lay on a bed of nails and MORE! What I really appreciated is that the Professor not only thoroughly explained physics concepts on a level even my 7 year old could understand but he also taught science safety and showed what would go wrong if you weren't careful.
Water Rides at Silver Dollar City: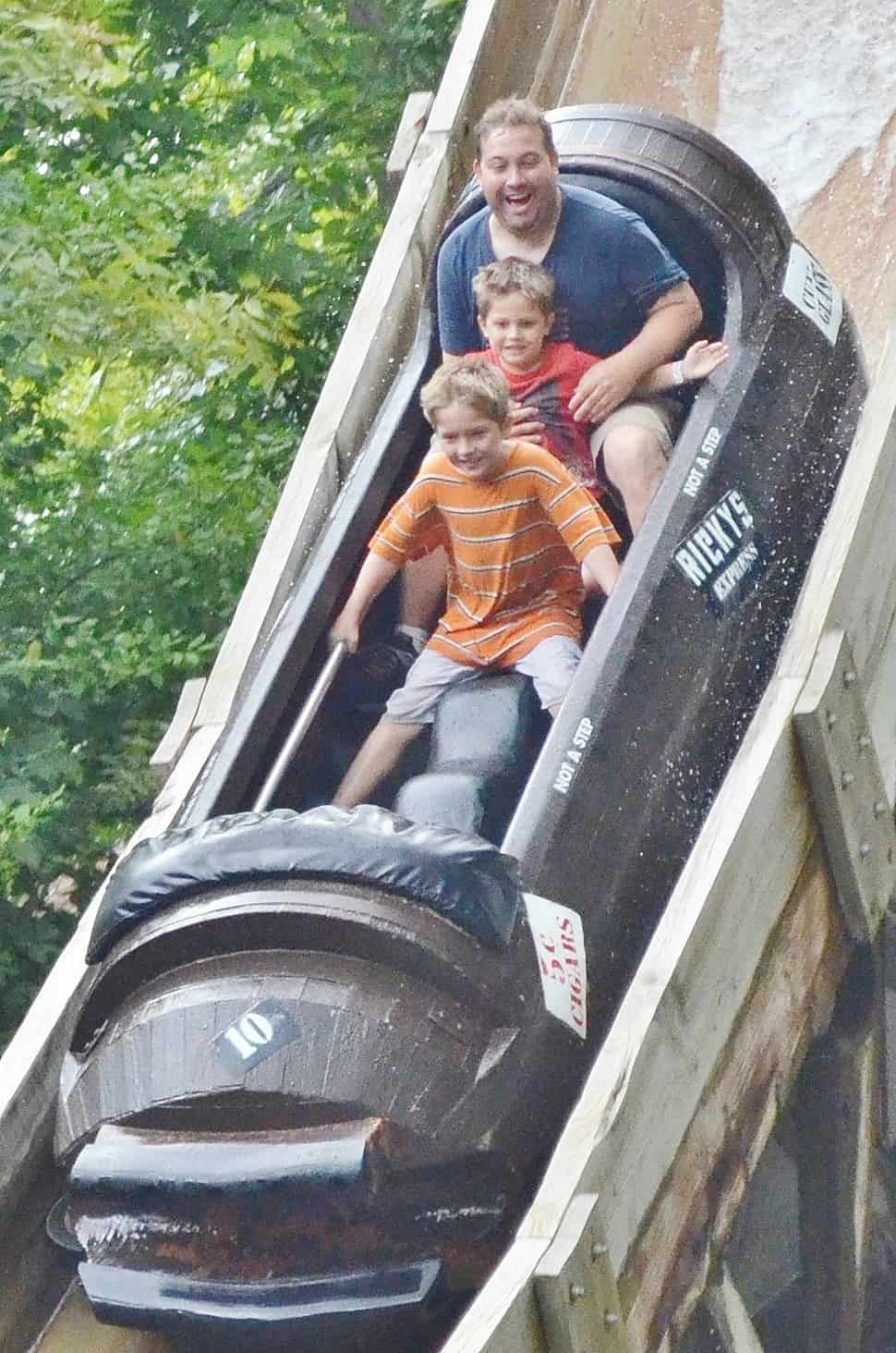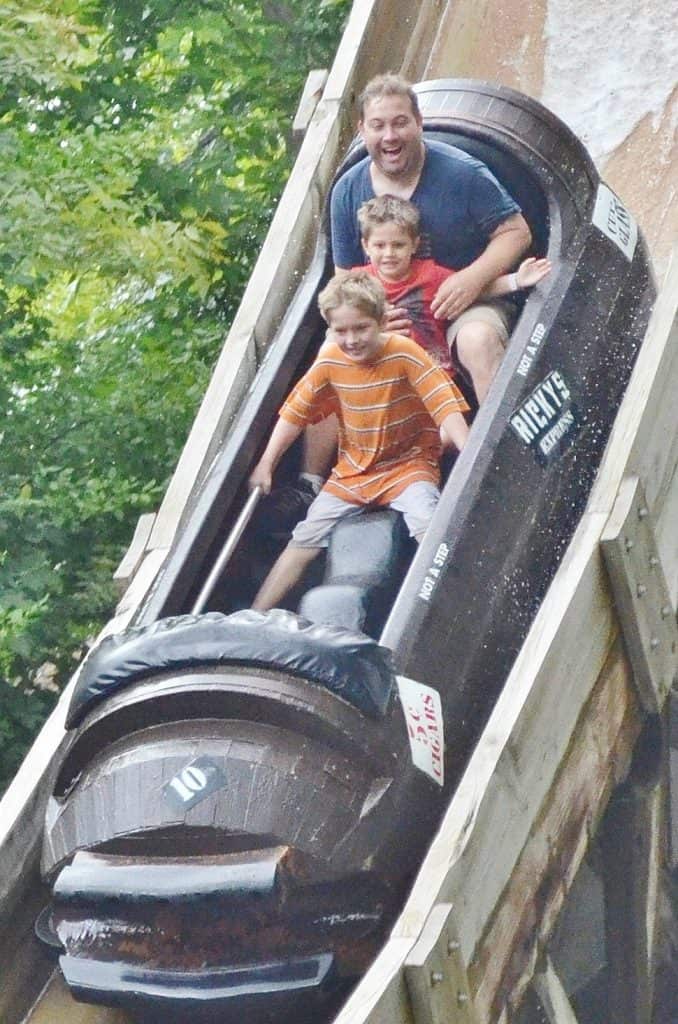 There were plenty of rides that my family could go on together like the American Plunge which was another favorite for my boys.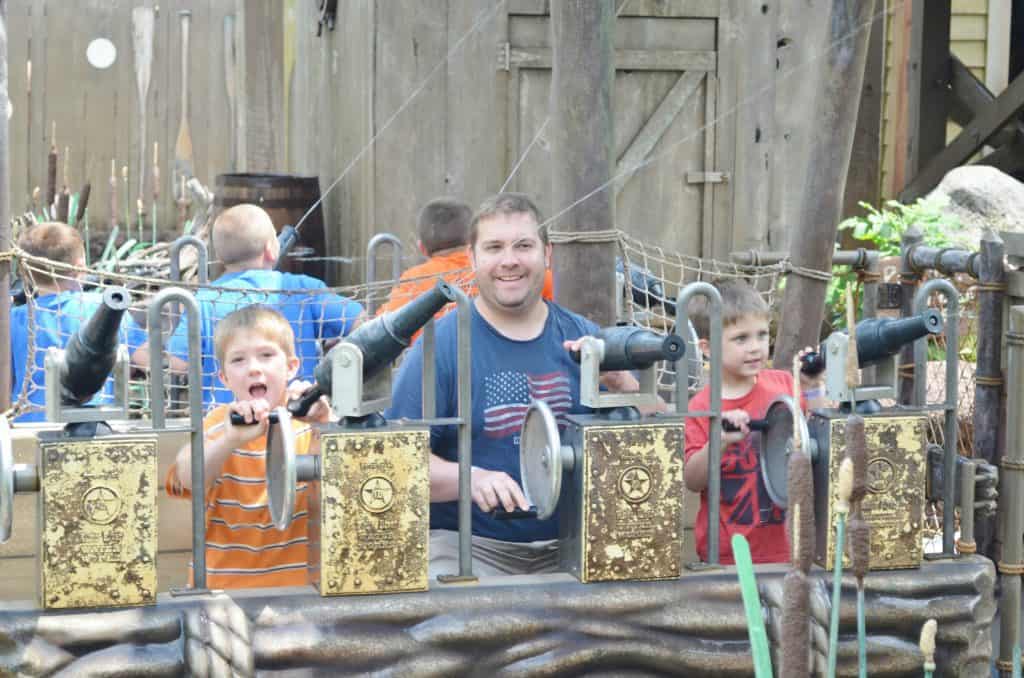 And here's yet another family ride – and also another one where you get quite wet! There was certainly plenty of opportunities throughout the park to cool off both by riding rides that would soak you and even by simply walking past rides like this one where participants can shoot water at innocent bystanders! This was our last full day in Branson so my kids were pretty exhausted but you won't see anything other than smiles on their face this day – they had a BLAST!
Marvel Cave:
Since I'm such a CAVE NUT I saved Marvel Cave for last!! Normally I would do a separate cave blog post but I couldn't get enough decent photos as the tour guide really kept us moving. So I apologize especially for this first photo which is pretty blurry, but I wanted you to see the vastness of the cave. It's NOT a tour for anyone that isn't in good shape, very small children, elderly, anyone with recent surgeries or injuries, claustrophobia, and really for pregnant ladies. However I ignored the pregnancy warning as I've been in a dozen caves before and had a good idea of what I was getting myself into – but it was still quite strenuous and I certainly wouldn't have made it back through a second time!! One HUGE TIP I have for you – if you want to see Marvel Cave do it FIRST THING in the morning!! This cave tour (because it's free with your park admission) fills up VERY quickly! You can ONLY visit the cave if you have admission to the park so it's not something you can just drive by and see like other caves. The first day we attended Silver Dollar City we showed up at 3pm to go on a cave tour and they were booked out for a few hours so we didn't get to go. Thankfully I had a VERY generous PR rep who allowed us to come the next day for the cave tour….and we still had quite a wait to get in on a tour! Plan for a few hours of waiting and touring depending on when you make it over to the cave area! Trust me – it's worth it, but you need to preplan this portion of your trip!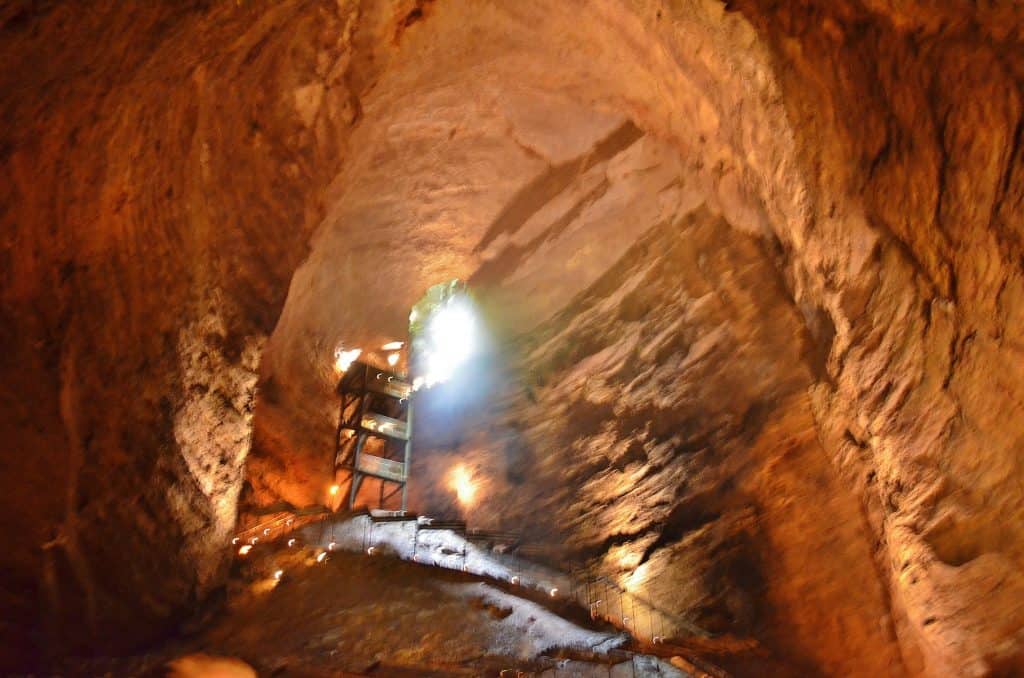 This is the Cathedral Room which is one of the largest cave entrances in the USA and is the deepest one in Missouri (20 stories!!). YES you start at the very top of those stairs and have to hike down about 500ish stairs to where I took this photo. It's moist – you'll NEED good gripping shoes for the steep walkways. Now, I am afraid of heights but I was OK in this cave! The stair way is WAY less scary than it may look from this angle and you don't have to peer over the edge unless you want to walk up to the side of the "deck" which isn't necessary (but it is a stunning view if you do!). Believe it or not they had FIVE full sized hot air balloons inside this room flying at ONE time for a special celebration a while back! Insane and amazing!!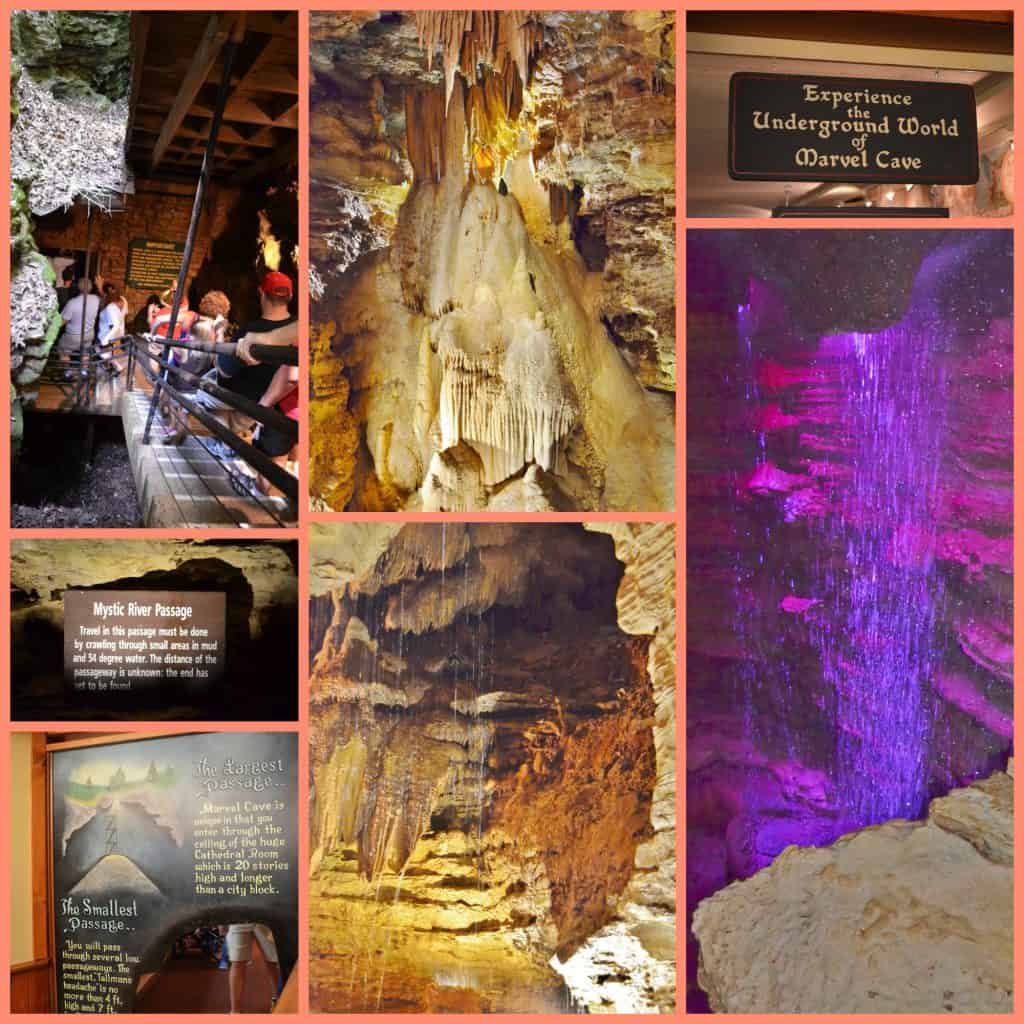 The vastness of this cave is absolutely incredible and one of the most amazing caves I've been in due to that fact. It's also home to over 80,000 bats although we didn't spot any. It's got plenty of water, little pools, waterfalls, and other beautiful water settings inside. After you make it down about 500 or so stairs and wind through a half mile of walkways, sometimes in VERY tight spaces, you'll have another 200 or stairs to climb up before you make it to the end where a cable car will actually climb you out of the cave (thank goodness!). It's an amazing adventure if you're up for it!! My 7 & 5 year old had NO problems exploring this cave on their own, but I sure wouldn't have wanted to carry a little tike through this cave!!
OVERALL – Silver Dollar City & White Water were two of our most favorite experiences in Branson simply because they were full day experiences and had SO much to offer – especially for me, the caves! Silver Dollar City is one location we'll definitely be paying to go back to when we make it back into the Branson area. I feel like we missed out on so much of the educational 1880's village, other shows we wanted to see, and even some of the rides simply because we ran out of town! The GREAT thing however is that they offer VERY DEEP discounts for combining multiple days at the park as well as discounts when combined with other local area attractions. AND for 2014 if you were BORN or MARRIED in 1976 make sure you look up how to get your FREE annual pass!!